A rocking camp chair gives you a nice dose for relaxed comfort. The rocking chairs you take to camping have to be slightly different than conventional chairs to navigate the surface better.
Support and the surface matter for a good rocker. The ground won't always be as convenient for a rocking chair like the floor of your living room or study. Being portable and lightweight are virtues too. And these (and more) are all challenges that the chairs listed here completely rock.
10 Impressive Outdoor Rocking Chairs
Some Tips To Note When Buying Rocking Chairs For Camping
Let Your Requirements Be Your Guide
Your explicit requirements and features on offer make any chair worth your while. While it won't be a problem with most people, if you're big, it is best to also consider the weight limit of your chair. A heavy duty chair not just for big people, but also for those who prefer their chairs to be spacious.
Also consider features like a canopy, cup holder, and footrest for your chair. While the latter is a rarity with camping chairs, having a footrest handy can work wonders. Other points to consider are headrests.
All these accessories are wonderful, but keep your foremost requirements in mind. And remember that not all accessories work with a rocking chair! I mean cupholders are awesome, as are camping chairs with tables. But you can't rock your chair and hope the cup with drinks doesn't spill or things don't slide off the table as the chair rocks.
My advice is to keep comfort as your only priority for outdoor rocking chairs. Accessories can be considered separately.
Portability And Longevity For Folding Rocking Chair
When your intention is to use something outdoors, portability and longevity become major factors. A folding rocking chair should be easily portable. Being lightweight is awesome, but it should also pack into a relatively compact package for easier movement.
Similar ideas apply to longevity. A chair placed outdoors has to deal with the forces of nature. It should be capable of handling wind, rain, dirt, and the mechanical challenges of portability. In short, we expect our chairs to last years and they must deliver!
Reviewed: The 10 Chairs That Rock
1. GCI Outdoor Freestyle Rocker Portable Folding Rocking Chair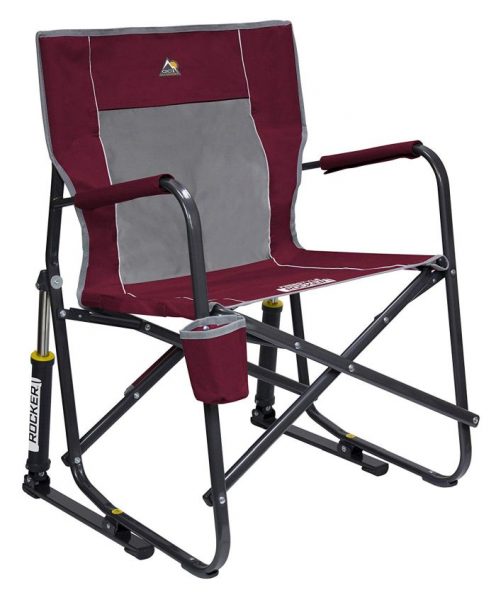 This is a frontrunner and one of the most popular rocking camp chairs available on the market today. Several factors contribute to this success of the GCI Outdoor Freestyle Rocker Portable Folding Rocking Chair. It has a sturdy build with solid armrests that contribute greatly to comfort.
The rocking action is handled by a patented spring-action rocking technology. Its overall structure is quite similar to a conventional camping chair. However, the spring-action system placed at the back towards the foot of the chair enables it to have a motion similar to a rocking chair. The larger advantage of this design over conventional curved bases is that this system makes it possible to use your chair on a variety of terrains.
You could very well place your chair outside your tent or RV and relax comfortably knowing that the chair is on a stable footing. Other features of this chair remain as thoughtful as the rocking action. The seat-height is placed at 19.5-inches, which makes it comfortable to sit or get up from this chair. Even a tall person would find this chair reasonably good and easy to handle.
It has padded armrests – a feature people often overlook, but one that makes a big difference in rocking chairs. A cup holder is placed at the front of the chair, almost at the same height as the seat. The goal here is to reduce motion for the cup holder and reduce the risk of spillage. It works fairly well, but I think placing a bottle is more fruitful and useful for a rocking chair's cup holder.
GCI Outdoor rocking chair is easy enough to fold and goes into a compact package. It weighs a reasonable 12.1 pounds, and when open has measurements of 24x25x34.8 inches. Maximum suggested weight is 250lbs.
Pros:
Strong and solid footing
Convenient rocking action
Easy to fold and portable
Cons:
Assembly may require some effort and expertise
2. AmazonBasics Outdoor Patio Folding Rocking Chair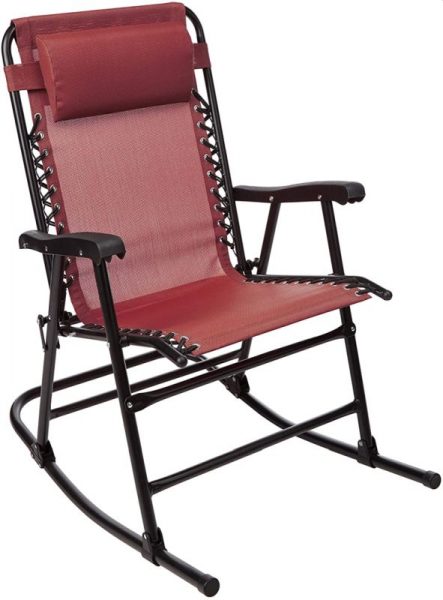 A well-priced chair from AmazonBasics, this patio rocking chair should fit the bill for most requirements. It's designed as a simple chair, not much by way of frills or features. And that's fine because what we really want from these chairs is comfort and convenience.
AmazonBasics Outdoor Patio Folding Rocking Chair is an excellent pick. It's comfortable, lightweight, and yes, it rocks. The rocking mechanism here is formed by the curved bars at the bottom of the chair. For the outdoors, this is the most basic way to go about things, but it works just fine for a patio chair.
When not in use, the chair can be folded away and be transported with relative ease. At just 16.09 pounds, this rocking chair isn't all that heavy. Enhanced versatility and dependability come from its construction.
The chair has a steel frame, where elastic cords tie it to the Textilene mesh seat. Presence of the mesh allows for better ventilation and makes the chair feel more comfortable. This combination makes it a comfortable seating option with excellent support for the body and spine.
A removable padded headrest is available at the top of the chair for added comfort. However, you will notice that the chair feels a bit flimsy. The supported weight here is just 200 pounds, so exercise some caution.
Overall, you could spend a nice and comfortable day in this chair, chilling and rocking!
Pros:
Excellent price point
Good quality construction and good design
Armrests offer good support
Good ventilation and comfort
Cons:
Supports a maximum weight of 200 pounds
Questionable longevity
3. GCI Outdoor RoadTrip Rocker Outdoor Rocking Chair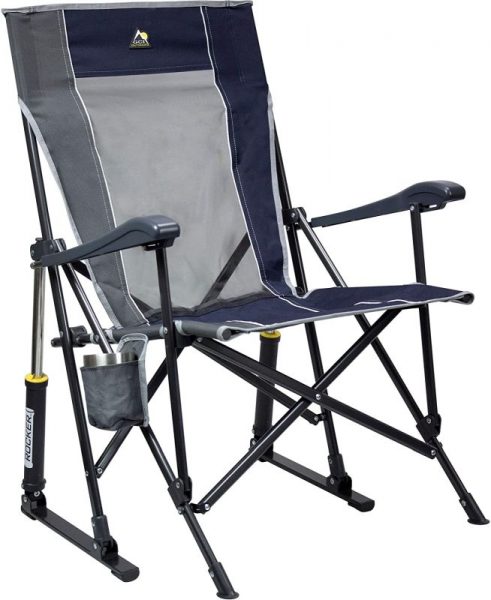 We could perhaps fill this entire selection with GCI rocking chairs for the outdoors. The thing is, the rocking system on GCI chairs is far more suitable for the outdoors. Most chairs use a curved base for the rocking motion. And that's great when you have a solid, flat surface.
Outdoor surfaces usually aren't that smooth or flat. This is why rocking a chair on its curved side can be a bit finicky, to say the least. GCI uses Spring Action Rocking Technology, where springs loaded in the back support/legs of the chair provide the rocking motion.
It's not the smoothest of motions compared to conventional chairs, but it is one of the best (if not the best) rocking chair solutions for the outdoors.
GCI Outdoor RoadTrip Rocker Outdoor Rocking Chair is our top pick for these reasons, though the chair has more to offer as well. It's built to be comfortable and the fabric with mesh panels allows good ventilation. There's plenty of support from the seating to make the experience comfortable.
For portability, you can fold the chair into compact dimensions (8.1 x 9.1 x 43.3 inches) and move it using a bag and a shoulder strap. The chair weighs just 12.8 pounds and is built around a lightweight Steel/Aluminum hybrid frame. The seat height is 19.7 inches and the maximum supported weight is 250 pounds.
Pros:
Best rocking motion if you're camping outdoors
Good and reliable construction
Comfortable seating
Includes cup holder and armrests
No assembly required
Cons:
Rocking motion requires continuous effort
4. ALPS Mountaineering Low Rocker Chair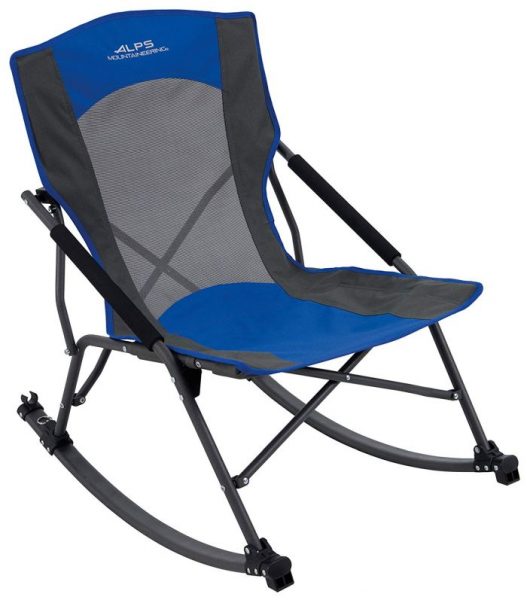 ALPS Mountaineering Low Rocker Chair is a quality chair at a good value. The chair benefits from the company's experience in camping gear and chairs. It is well-built and presents a solid option to consider for those looking to buy a chair. The frame used here is powder-coated steel, which ensures longevity as well as good support and load-bearing capacity for this chair.
Low Rocker Chair makes use of TechMesh fabric that keeps it well-ventilated. The fabric is well-built and provides excellent support as well as comfort. It has padded armrests that slant and go straight towards the base. I call them "armrests" because of their position, their practical use as armrests is thoroughly limited.
As a low rocker, the chair's seat height is quite low and you'll pretty much lean back and have your feet extended on the ground. In a way, this helps in ensuring proper support and balance. The base of the chair is adequately shaped to allow rocking and the frame is sturdy enough to take the pressure and force exerted. Of course, the low profile limits motion a bit, but the overall effect remains comfortable.
Alps Mountaineering Low Rocker chair weighs just 11lbs and has a maximum recommended weight capacity of 300lbs. It can be folded into a compact size to allow easier transportation. When fully expanded, the chair has the dimensions of 22x17x31 inches.
Pros:
Well-built steel frame
Comfortable and quality fabric
Lightweight and easily portable
Cons:
Seat height is just 15-inches
Armrests don't offer much support
5. Browning Camping Cabin Chair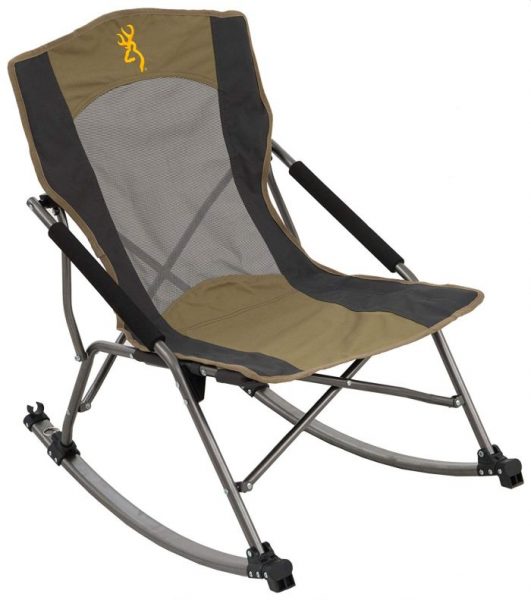 In looks and design, Browning Camping Cabin Chair is pretty much a twin of the ALPS Mountaineering Low Rocker Chair, which is also placed on this list. This one too has a powder-coated steel frame for better longevity and performance. The fabric used for the seat is TechNet, which remains breathable and provides comfortable seating. Its mesh-style back is especially useful for warm days where a breathable fabric can make a big difference.
The armrests are padded, but they slant and you'll likely not have much use for them while you're sitting on the chair. Given that the seat height is low and barely reaches 15-inch off the ground, the lack of supportive armrests will be felt every time you sit or get up from this chair. Low rockers like these are not the best option for tall people.
The benefit of the low seat height is stability. You can rock this chair while staying assured that the chair will stay stable on the ground. A higher rocking chair with that curved base won't do all too well on ground and will need a paved surface or floor. By reducing the height, the chair gains more stability and thus can be used on conventional camping grounds.
When fully expanded, this chair has dimensions of 22x17x31 inches. It weighs 11lbs and has a maximum rated capacity of 300lbs. It can be folded and packed away in an included shoulder bag for easy portability.
Pros:
Sturdy construction
Stable profile for rocking
Comfortable and quality fabric
Cons:
Little to no support from armrests
Seat height of the low rocker is just 15-inches
Questionable value for money
6. Timber Ridge Catalpa Relax & Rock Chair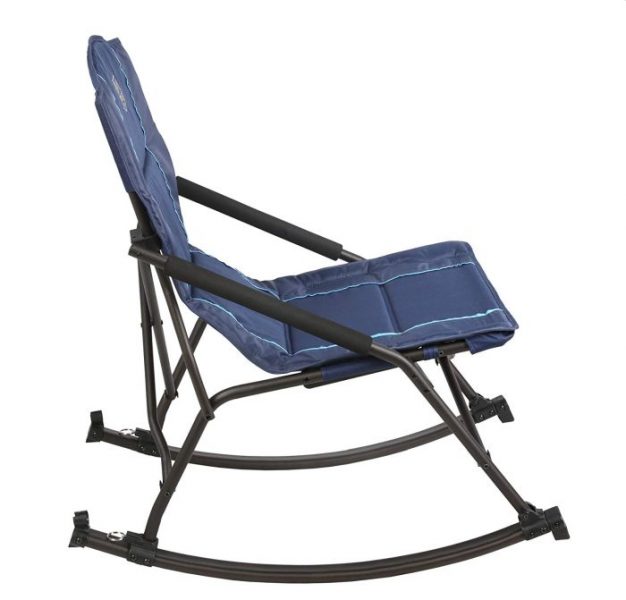 Timber Ridge Catalpa Relax & Rock Chair is pretty much a companion to the ALPS Mountaineering Low Rocker Chair and Browning Camping Cabin Chair we see on this list. The larger difference for this chair is in the specifications. The sturdy steel frame with slanted armrests and curved rocking base are pretty much the same as we've seen in the chairs mentioned here.
Though it is slightly higher, the Timber Ridge Catalpa Relax & Rock Chair is still a low rocker. It offers stability while you rock the chair, but it can be difficult to get in/out of the chair, especially for tall people. One significant way this chair differs from the others is that it has a padded polyester seating area. There is no ventilating mesh, but it is slightly more comfortable to sit on. Unless it's a hot day, where mesh really does help!
This chair has a recommended maximum weight of 250lbs and can be folded for easier portability. A mesh pocket is placed under the seat to hold your belongings, like a mobile phone.
Pros:
Stable rocking chair
Sturdy frame
Easily portable
Cons:
Folding the chair can be a bit of a chore
No armrests for support
7. GCI Outdoor FirePit Rocker Portable Folding Low Rocking Chair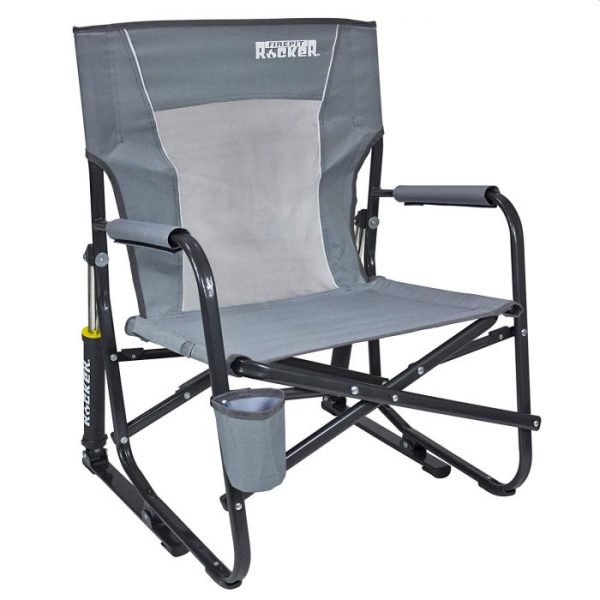 GCI Outdoor FirePit Rocker Portable Folding Low Rocking Chair is a sibling of the more famous GCI Outdoor Freestyle Rocker. The difference between both these models is basically the seat height. FirePit Rocker is a low rocking chair with a seat-height of just 14.8-inches.
As you can guess, the chair enjoys a good and stable profile for rocking. However, the low seat height may feel tough when getting in/ out of the chair. The reasons low rockers are popular are the stability and the overall comfortable position they can afford. You could stay reclined in the chair and enjoy a relaxing pose.
This chair too utilizes GCI's well-liked spring action rocking technology. This system makes the rocking motion smooth, while overall maintaining a wide profile and stable base over the ground. Other features include padded armrests and a cup holder placed at the front of the chair with one of its legs. This position keeps the rocking effect on the cup low to reduce risk of spillage, but there is still some risk.
The chair can be folded for transportation and has an open size of 25.6×24.4×33.1 inches. It weighs 12.1 pounds and is rated to holding a maximum weight of 250 lbs.
Pros:
Good, comfortable seating area
Solid support and stable on the ground
Includes cup holder
Easy to fold and portable
Armrests offer good support
Cons:
Low seat height may not be suitable for everyone
8. Timber Ridge Smooth Glide Lightweight Padded Folding Rocking Chair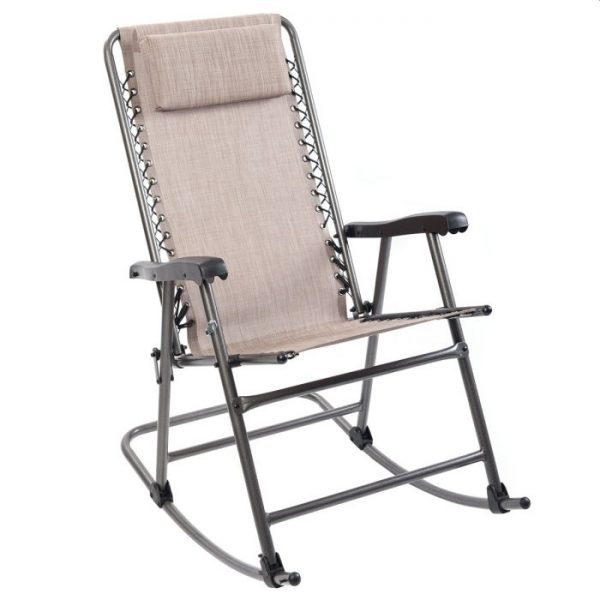 Timber Ridge Smooth Glide Lightweight Padded Folding Rocking Chair could very well pass off as a conventional rocking chair. It is tall, comfortable, and lends itself well to rocking. However, as a folding camping chair, it has discernible characteristics that take it away from that classic look.
The chair frame is steel and is sturdy enough to be used outdoors and you can reasonably expect it to last a long time. Its fabric makes a similar commitment to quality and comfort. The seating area is polyester and a durable mesh is also employed for greater breathability of the material. Its padded headrest completes the picture of comfort.
Being tall, the chair is comfortable, especially so for tall people who may find other chairs to be difficult to get in or out of. Its quality armrests add support and comfort. The chair is designed to handle a maximum weight of 300lbs.
Pros:
Sturdy construction
High seat height makes it more comfortable
Durable and comfortable fabric
Cons:
Questionable value for money (seems more expensive than it should be)
9. PORTAL Oversized Quad Folding Camping Chair High Back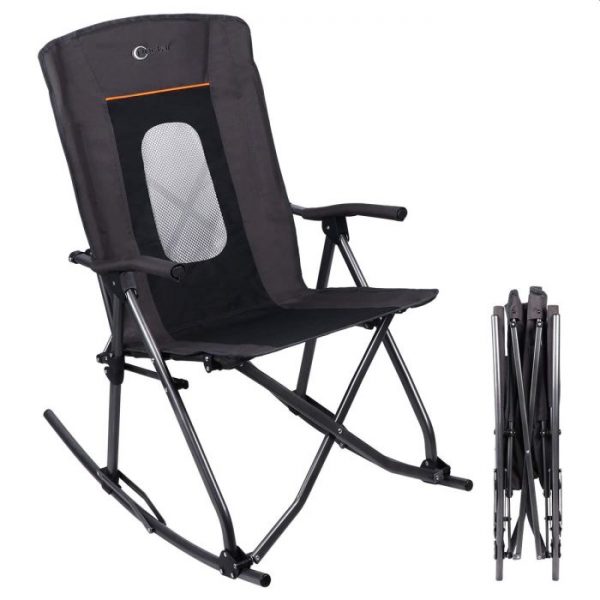 The general build of this chair makes one think of Coleman, though the famous company has nothing to do with this chair. In any case, this chair maintains its usability and appears as a quality option for a rocking camp chair.
Its high back style adds an extra touch of comfort, while the durable steel frame keeps it stable as well as sturdy. The seating area is made from high-density polyester to ensure both longevity and comfort. Mesh has been included in this seating area to allow for better breathability.
The padded armrests are well-built and add another touch of comfort. Its frame is solid and the rocking base is sturdy. However, it looks unstable. Mind you, it's not actually unstable, it's just the construction style that made me wonder if the chair could be considered dependably stable as it is rocked.
Portal's folding rocking chair is rated for 300lbs maximum weight and can be folded into a conveniently small package for portability. A pocket is available under the seat to store small items like mobile phones.
Pros:
Well-built and sturdy construction
High back adds some comfort
Durable fabric
Cons:
At 16.5 lbs, the chair is heavy
10. Westfield Outdoor Folding Camp Rocking Chair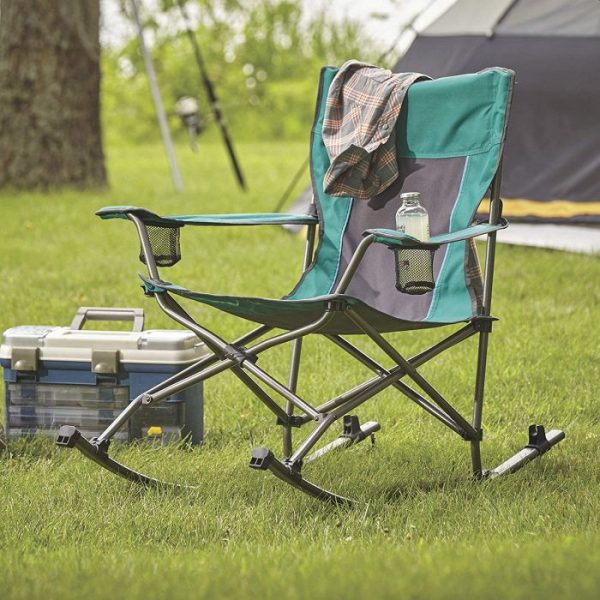 Westfield Outdoor Folding Camp Rocking Chair has fairly simple looks, but it is quite comfortable and does very well with its rocking functionality. Interestingly, this chair has two cup holders, one for each armrest. As we've seen, most rocking chairs avoid cup holders due to the inherent risk of spilling beverages. However, if you really do need cup holders for your chair, and that too in armrests, this is the option to pick.
The chair has a powder-coated steel frame for stability and sturdy construction. A 600D polyester fabric is used for the seating area. Mesh is also included with the fabric for enhanced breathability. The rocking part is handled by a curved base with sufficient construction support.
The maximum recommended weight limit for this chair is 300 lbs and it can be folded for easy portability. When fully expanded, the chair measures 21.30×17.70×37.40 inches.
Pros:
Sturdy construction
Includes two cup holders, one for each armrest (best for specific requirements, be careful of spills!)
Good value for money
Cons:
The Best Pick For My Rocking Chair
When picking a rocking camp chair, be especially careful of the ground or surface you intend for use. While most chairs will work on paved surfaces or built areas like decks, you may need to be more careful when putting the chair on the ground. Seat height is a worthy consideration as well, many people end up buying low rockers, only to realize that they are too low. However, if you want the reclining goodness offered by low rockers, they are a fantastic choice!