Best heavy duty camping chair for the big, tall, and heavy person should be able to handle a large amount of weight. At the same time, it is desirable that the chair maintain other necessary qualities of good camping equipment. Being lightweight, easily portable and long-lasting are important qualifications for a heavy duty chair. With that in mind, let's look at the top candidates available in the market today.
Top 10 Heavy Duty Camping Chairs
Factors That Help Pick A Heavy Duty Camping Chair
What Is The Maximum Weight You Want?
Weight is perhaps the first consideration you want when picking a chair for a heavier person. It's a good idea to leave a healthy margin from the maximum weight limit listed by the manufacturer. We don't want the chair to always be at the brink.
A conventional folding chair is usually rated in the neighborhood of 300lbs. When picking heavy duty outdoor folding chairs, it's better to look at 400lbs. Of course, chairs with larger numbers are available, 400lbs is a good place to start looking at the chair for big guys.
Chair Seating Area Width, Comfort, And Seat Height
Best camping chair for heavy person should also be able to accommodate the width of the person. Ease of sitting on the chair and comfort should be similar and clear. The reasoning is simple; a heavier person is very likely to need more width on the chair than the average Joe. A wider chair helps big time.
Tall people will find that a higher seat height works wonders. Not having to put in extra effort every time you want to get in or off the chair makes a huge difference. Sure, it's a small annoyance, but true comfort is the lack of these small problems.
Heavy Duty Camping Chair Contenders Reviewed
1. Oniva Big Bear XXL Camp Chair — 500-lb Capacity Heavy-duty Portable Chair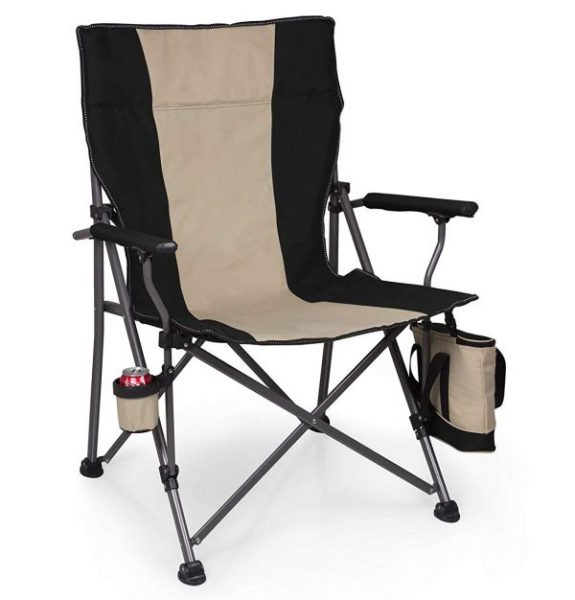 A formidable 500-lb. capacity heavy-duty portable chair, the Oniva Big Bear XXL Camp Chair is a pretty good option for heavy people. The chair matches its strength with quality and comfort to make for an amazing combination that's worthy of attention. To make way for handling big loads, the chair utilizes a stainless steel frame that keeps it strong and stable.
Its hinged feet easily adjust to uneven ground and can keep the chair well in place in tough conditions. Accessories include a retractable cup holder that can fold into the frame for overall compact dimensions of the chair. On the other side, you'll find a detachable cooler that's insulated to store food and drinks. It's a soft side cooler, and while it won't hold up to quality competition like the Yeti Hopper, but it will keep things acceptably cool for a few hours.
The seating area has generous dimensions of 24×25 inches and is sturdy enough to hold the weight while keeping the user in relative comfort. The fabric used is a durable polyester canvas that keeps the seat somewhat breathable and comfortable, even with an overall rugged construction.
Highlights:
Max weight capacity at 500lb
Seating area measures 24×25 inches
Includes cup holder
Removable insulated cooler on one side
Steel frame
2. Guide Gear Oversized Club Camp Chair
I like the looks and style of the Guide Gear Oversized Club Camp Chair. It looks so delightfully comfortable and inviting! This plush and padded chair is available in a few colors to offer more choices. The fabric used is 600D polyester with polyurethane coating. This is a sturdy material that can handle weight and last a long time.
Guide Gear's Club Camp Chair is rated for a maximum of 500lb weight. It rests on a sturdy steel frame that can be folded for easier storage. The well-constructed frame ensures that the chair can have good support. You'll find a bottle holder on the side along with a mesh pocket for some quick storage options.
Dimensions of this chair are 34x25x37 inches, which make it pretty useful and comfortable for larger people. Interestingly, even with its sturdy construction and quality build, the chair manages to keep a relatively low weight at just about 13lbs.
Highlights:
Maximum weight capacity at 500lbs
Chair weighs 13.2lbs
Steel frame
Fabric used is 600D polyester with polyurethane coating
Includes cup holder and a small pocket for storage
3. Earth Executive VIP Tall Directors Chair With Side Table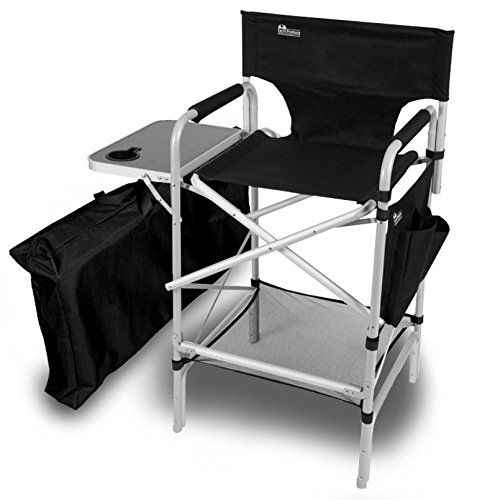 Earth Executive VIP Tall Directors Chair With Side Table is the chair to pick if you're tall. It does okay in terms of maximum weight, but it really shines through for taller people. An anodized aluminum frame helps keep the chair lightweight, yet sturdy. The fabric used is 600D polyester, which is pretty standard for most quality chairs in this niche.
The eight-point ground contacts keep the chair fairly stable, which is another thing that comes in handy for taller people. Its maximum rated weight is 375lbs that makes it comfortable for use by most people. At a seating height of 31-inches, it has a ground clearance higher than most chairs and thus can be pretty useful for taller people.
A very cool feature is the foldable side table. It adds usability to this chair and its cup holder has room for placing the handle of a cup. The overall versatility of the chair is one reason it is one of our top choices for camping chairs with tables.
Its seat is slightly smaller at 21×24 inches, though that shouldn't be a dealbreaker where seating for tall people is concerned. I repeatedly mention tall people because it's a great solution due to its higher seat. However, it's as good for anyone who has to stand up and sit several times during the course of the day.
Highlights:
Maximum weight capacity 375lbs
Chair weighs 16lbs
Fabric used is 600D polyester
Relatively higher seat position at 31-inches can be useful for many people
Includes side table with cup holder
4. ALPS Mountaineering King Kong Chair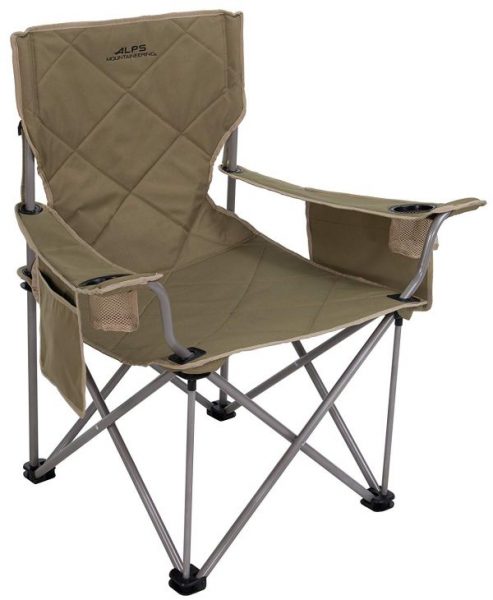 ALPS Mountaineering King Kong Chair is one of the most popular camping chairs, and for good reason. This sturdy and comfortable beast can go along on your camping trips for several years. It takes weight easily and its construction bodes well for one of the best heavy duty camping chairs available today.
One factor that wins this chair its coveted position as a heavy duty chair is the maximum weight limit of 800lbs! I don't think anyone who owns this chair will ever have to worry about its capability to hold someone. The chair is built on a sturdy powder-coated steel frame and uses a thick 600D polyester fabric.
Both armrests on the chair include a cupholder each and you'll also find a small pocket on one side to store sundry items. King Kong is spacious and comfortable. The sitting area measures 38×20 inches, showing off the generous dimensions available on this chair.
Highlights:
Maximum weight capacity is 800lbs
Chair weighs 12.5lbs
High-quality powder-coated steel frame
Includes cup holder in both adjustable armrests
A small pocket for storage is available on the side
5. Browning Camping Kodiak Chair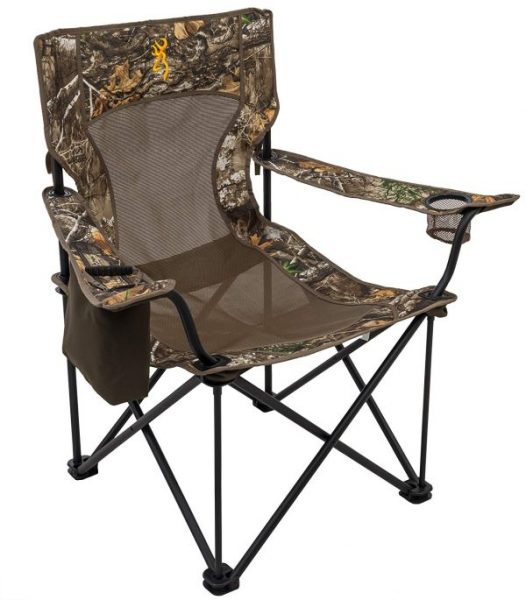 Even with a sturdy steel frame and liberal use of mesh as the fabric, this chair's high weight rating is a bit of a surprise. Well, not the steel frame part, we can pretty much expect it to deliver, but what's impressive is that with a fabric that's largely mesh, the chair manages a maximum weight limit of 800lbs!
It's tough enough for regular fabric to manage that kind of weight, but expecting mesh to do that is surprising. The chair depends on sturdy layers of 600D polyester to keep the weight limit going. Though it is sturdy and strong, the chair weighs just 13lbs, so I guess it is full of surprises.
Other interesting features on this chair include a mesh cup holder on one armrest. The other armrest gets an insulated cooler pouch to store more of your items and keep your food and beverages cold. As a chair built for larger people, it makes an effort to be spacious and extra large with seating. The seating area is 38×20 inches, which is pretty generous. The use of mesh also makes the chair breathable, allowing easier use for summers.
Highlights:
Maximum weight capacity is 800lbs
Chair weighs 13lbs
Steel frame for the chair
Fabric used is 600D polyester with mesh
Includes mesh cup holder on one armrest
Has an insulated cooler on the other armrest
6. Coleman Big-N-Tall Quad Camping Chair — 600lb Capacity Folding Chair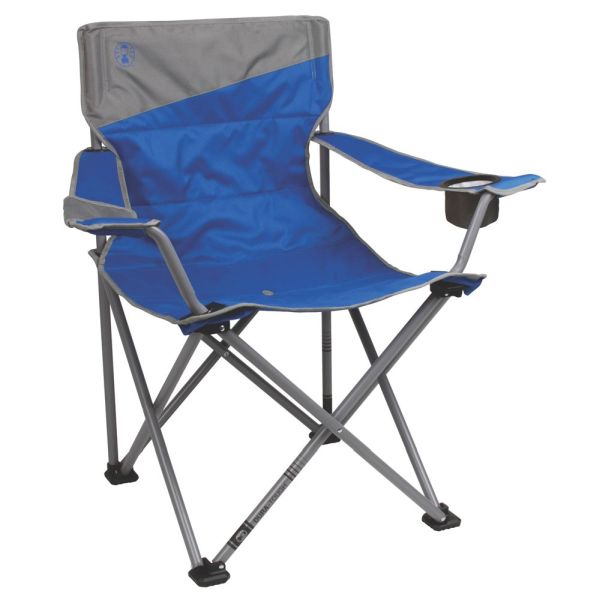 Coleman Big-N-Tall Quad Camping Chair is a great, well-priced and with excellent product qualities. This sturdy 600 lb capacity folding chair could surprise onlookers with its quality construction and solid performance.
The extra large camping chair is made using a steel frame, which helps its sturdiness and longevity. It features an oversized seat and adjustable arm heights that make it useful for bigger people. The wide and oversized feet help it stay comfortable and stable on the ground and make it easier to distribute weight.
Staying true to its name, the Big-N-Tall camping chair also makes use of a higher seat height at 19-inch. The seat and back on this big and tall camping chair are cushioned for easier relaxation. The roomy 24-inches seat has a SeatDrain system that helps it dry up quickly in events where the chair gets wet or rained on. A cup holder is integrated into one armrest, while the other gets a clear water-resistant sleeve.
Highlights:
Maximum recommended weight is 600lbs
Includes insulated cup holder built into an armrest
Comfortable seating area measures 24-inches
Strong steel frame
7. Mossy Oak Heavy Duty Folding Camping Chairs — 400 lb Capacity Folding Chair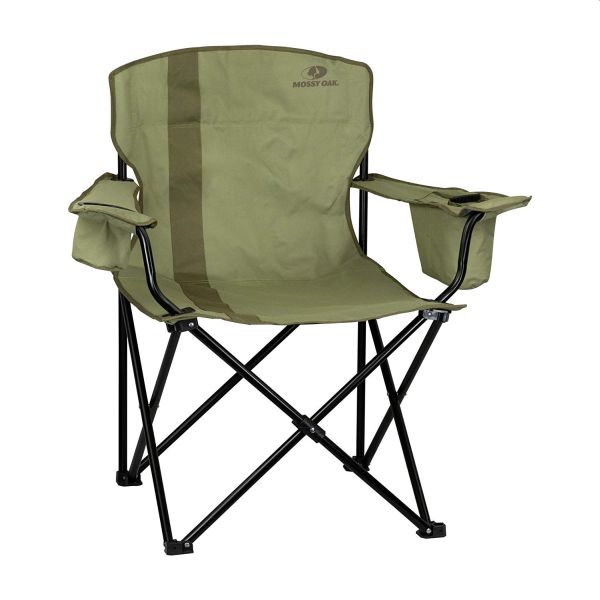 Mossy Oak Heavy Duty Folding Camping Chairs works to provide a healthy mix of sturdiness and versatility. It has a maximum weight rating of 400lbs, achieved in part by a frame made from steel tubes covered in powder-coating. The other part is handled by quality 600D polyester fabric. A foam upper back pad is included with the chair fabric for greater comfort when sitting.
Even with its sturdy and solid build, the chair manages to be reasonably lightweight. This one weighs just 8.5 pounds and packs away nicely to be portable. One armrest of this 400 lb capacity folding chair includes an oversized cup holder. On the other armrest, you'll find an insulated cooler with enough room for four standard-sized cans.
The feet of this chair are designed to be wide, thus providing additional support for the chair while also providing strength to the frame. The chair folds up into a compact size and can be easily carried along in an included carry bag with shoulder straps.
Highlights:
Maximum recommended weight is 400lbs
The chair weighs 8.5lbs
Wide and comfortable seating area
Fabric used is 600D polyester
Sturdy steel frame
Includes cup holder and insulated cooler
8. Timber Ridge Zero Gravity Locking Lounge Chair Oversize XL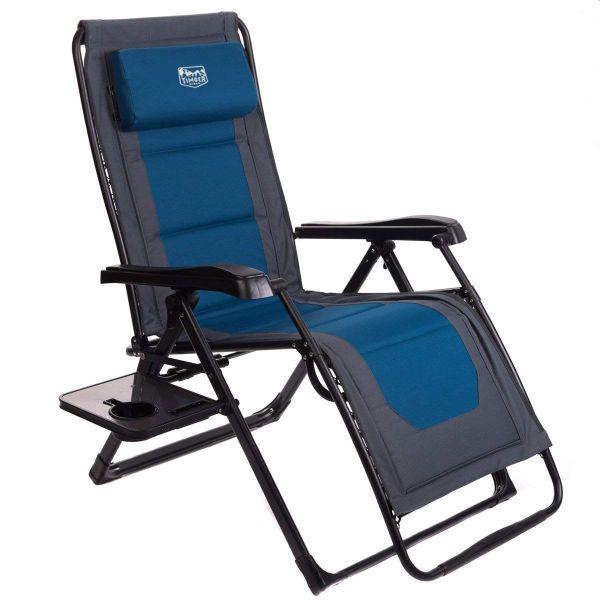 Timber Ridge Zero Gravity Locking Lounge Chair Oversize XL is built to be useful for tall people. It's fairly average when it comes to weight capacity, handling just 350lbs. It does, however, score big on comfort thanks to the oversize extra large lounge chair construction.
The chair rests on a sturdy steel frame with a bungee suspension system for extra comfort. The fabric used is quality polyester padded for extra comfort. An additional layer of padding is placed on the pillow side and lumbar support is added for greater comfort. When fully reclined, the chair measures a good 72-inches, allowing plenty of space and length for the user to relax.
A side table with cup holder is included for greater usability. The reclining chair has easy locking positions to allow it to settle into customized positions. While the frame is made from steel, the side tables and armrests are made from plastic.
Highlights:
Maximum recommended weight is 350lbs
Comfortable recliner can be placed in several positions
Steel frame
Polyester fabric
Lumbar support and padded headrest
Side table with cupholder
9. Ozark Trail XXL Director Chair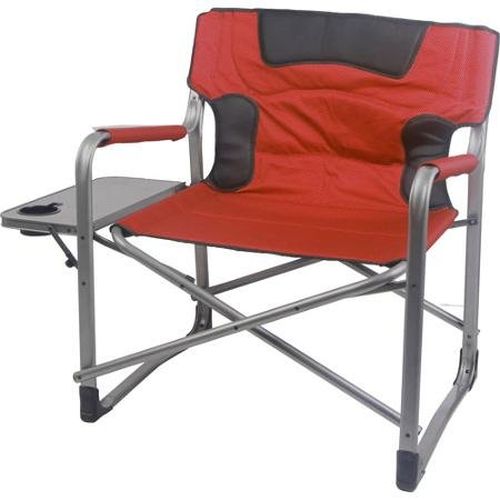 This chair is an excellent camping companion for heavy people. In fact, it is pretty good for regular use as well. It's wide, comfortable, and sturdy, and comes with a solid construction. The maximum suggested weight limit of the chair is 500lbs. The wide chair is strategically padded for greater comfort for the user.
Dimensions for the seating area on this chair are 42.9×25.60 inches, which is wide enough for greater comfort and usability. The chair includes a foldable side table with cupholder with additional room for the handle of the cup.
Highlights:
Maximum suggested weight capacity is 500lbs
Polyester fabric
Wide seating area
Side table with cupholder
10. Kijaro XXL Dual Lock Portable Camping and Sports Chair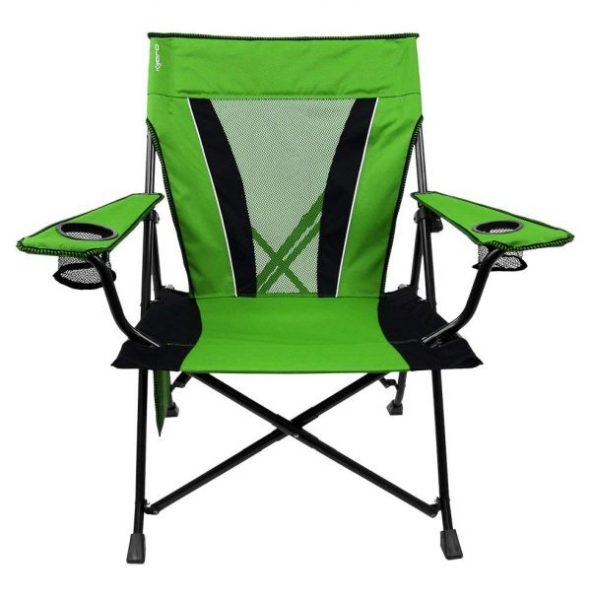 Kijaro XXL Dual Lock Portable Camping and Sports Chair looks deceptively fragile, but it is a well-built heavy duty camping chair. The maximum rated weight for this chair is 400lbs. It uses a diamond ripstop fabric with mesh at the back for better support and comfort. The mesh also ensures ventilation and breathability, making the chair great for summer use.
There are two mesh cup holders on this chair, one on each armrest. Additionally, you'll also find extra storage space with an organizer and mesh pockets to store miscellaneous items. The chair is available in several colors and lends itself well to camping use. Plus, the wider variety of options also makes it slightly more attractive for purchase.
Highlights:
Maximum suggested weight capacity is 400lbs
Polyester fabric
Mesh at the back
Wide seating area
Cupholder on each armrest
Pouch and mesh pockets for storage
The Heavy Duty Camping Chair To Buy
As you see here, there is a healthy selection to pick the best heavy duty camping chair. With these well-rated chairs, you can take your time to pick one that's best suited for your requirements. Considering the variety, maybe even take some time to be partial to cosmetic details like color and shape. After all, the variety makes it possible for the consumer to have more choices at a better price.