The secret of relaxation lies with a cool portable folding hammock. Portability simply implies that you don't need to worry about the availability of support like trees to tie up the hammock. The portable ones include the support to make that magic happen. All you have to do is chill. While these can be fairly lightweight, these are best used with car camping and would not be practical for hikers and backpackers. Let's take a look at the best on offer!
Best Portable Folding Hammocks For 2019
Factors That Make A Good Portable Hammock
Weight And Portability
For collapsible hammocks to be really portable, weight and ease of movement have to be taken into account. While your car will carry the hammock for you, there could still be a fair distance where you will have to move the hammock and its stand. Something crazy heavy simply won't work.
A portable hammock is bound to be heavier than a classic hammock with mosquito net. That's because you carry the necessary support along with the hammock. So the weight and the space it needs for storage are both increased. However, a good quality hammock will be able to deal with these issues comfortably.
The weight capacity of fold up hammocks is worthy of consideration as well. You don't want the hammock creaking under your weight, and certainly not if you intend to share it with another person.
Additional Features With Dimensions
Portable hammocks can include quite a variety of options to pick. For example, you might find a folding hammock with removable canopy, or one that can be used independently without the need for supports. Availability of cup holders, pillows, storage pockets, etc. should also be considered to match up the hammock to your requirements and comfort.
Review Of The Top Portable Folding Hammocks
1. Vivere Double Sunbrella Hammock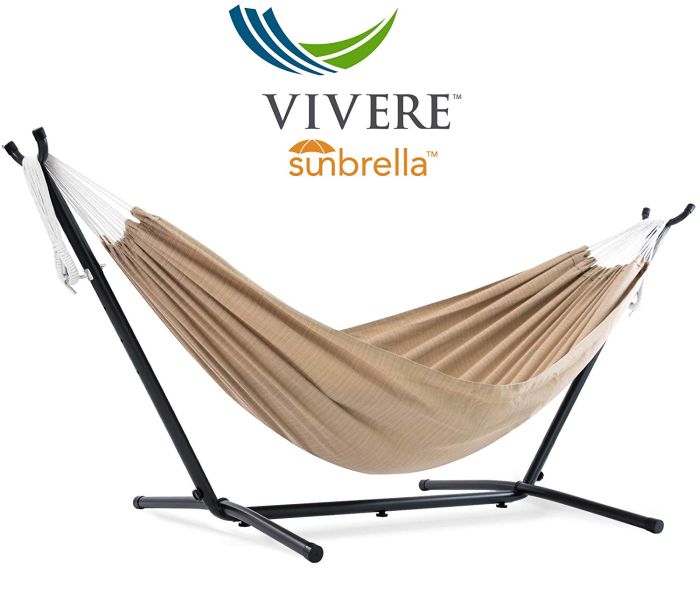 Vivere Double Sunbrella Hammock is one of the most popular picks. That popularity is easy to understand given the sheer variety and numerous qualities these hammocks have to offer. From frame to fabric and color, these hammocks have an excellent selection to pick from.
For greater stability and longevity, the stand is made from steel. It can be assembled quickly wherever needed and does not need any specialized tools for assembly. The stand is complemented by the hammock, which is available in either cotton or polyester, depending on your choice of pattern and fabric.
Generally speaking, these hammocks are capable of handling 450 lbs of weight. Hammock sizes vary, though they are generally available with good dimensions and quality.
Pros:
Available in several options for fabric, size, color, and pattern
Frame is easily portable and does not need specialized tools for assembly
Quality construction
Cons:
Longevity varies dramatically with cost, the higher priced options perform exponentially better than cheaper variants
2. Bliss Hammocks Q-806Ar Stow-EZ Portable Hammock
What I like about this hammock is that it manages to present a minimalist picture, even though its workings can be complex. Where comfort and features are concerned, this could very well be considered the best camping hammock.
Bliss Hammocks Q-806Ar Stow-EZ Portable Hammock weighs just 24lbs. It also includes additional and useful features like a small pillow, magazine holder, and a cup holder. There's also a possibility of stowing away some belongings at the base of this portable hammock. The removable canopy is a nice option, especially for the times when you want to relax outside, but the sun is unbearably strong. Hey, just lathering sunscreen isn't always an option!
There's a small choice of color options available, so you may be able to find one that works for your specific needs. It's easy to fold and can be packed into an included carrying bag with ease. The downside is that the weight limit is 300 lbs, which seems on the lower end of things. So don't be surprised if this feels fragile. Personally, I'd recommend not pushing it beyond 200 lbs. Another point worth noting for this and other portable folding hammocks of similar construction is that they can end up feeling somewhat like cots. Maybe a cot tent is worthy of consideration (minus the wheels, of course).
Pros:
Good looks and feature-rich design
Lightweight and easily portable
Easy to fold and pack away
Cons:
The recommended weight limit seems insufficient
The wheels have questionable performance
3. Zenithen Limited Guidesman Portable Blue Folding Hammock

Zenithen Limited Guidesman Portable Blue Folding Hammock is an excellent option. It's easy to fold and can be packed away rather quickly. Similarly, it is easy to set up. You'll find a cup holder, pillow, and mesh pocket on the hammock for added convenience.
This portable hammock's frame is made from stainless steel and the fabric used is polyester. With a construction like that, I'd expect a high weight rating. However, this one's limited to just 225 lbs. It's good enough for an average person, but I'll say if you weigh above 150lbs, you might be pushing it.
Although that kind of construction does have its benefits – most notably in weight. Zenithen Folding Hammock weighs just about 10 lbs and is incredibly easy to transport. There is no canopy, but within its operating range, the hammock is pretty comfortable.
Pros:
Easily portable and lightweight
Includes cup holders and extra storage
Comfortable
Cons:
Maximum weight limit is just 225lbs
Can feel more like a cot than a hammock
4. Fold and Go Travel Hammock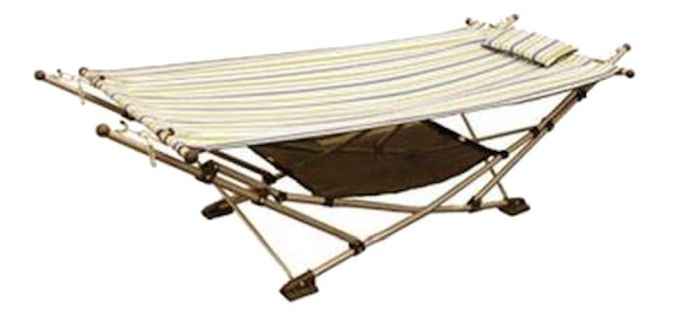 Fold and Go Travel Hammock is pretty much true to its name. It is very portable and can be folded or set up in a few seconds. Interestingly, this too follows the more cot-like design for the hammock. The main reason for that approach in a pop up hammock like this is the speed with which it can be set up. A conventional hammock with stand requires you to carry the stands and then tie up the hammock as usual. These do not require that hassle and thus can be way faster to deploy.
The hammock sits on a sturdy steel frame and the fabric used is double layer of polyester. The combination gives it a good and sturdy design. However, the maximum weight limit remains at the somewhat low figure of 225lbs.
Pros:
Easy to set up and pack away
Strong and durable construction
The mesh cradle at the bottom can be used for extra storage
Cons:
Maximum weight limit is 225 lbs
Has something of a cot-like feel and does not swing like a hammock
5. Mac Sports Outdoor Indoor Collapsible Portable Hammock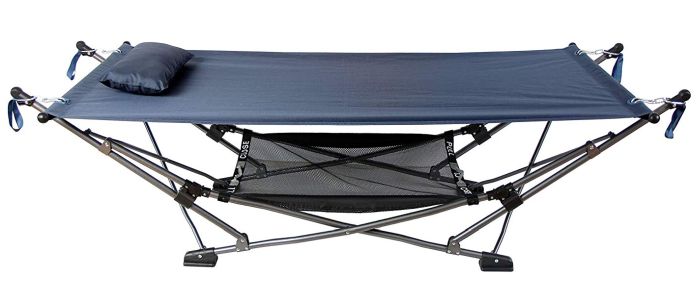 Mac Sports Outdoor Indoor Collapsible Portable Hammock is another one of those cool, cot-style hammocks. As a standalone hammock, this one follows others in its category and includes a pillow and a mesh layer at the bottom for storage. There's also room to attach a canopy if you feel like it. Although that is sold separately.
The hammock is made from powder-coated steel frame and polyester fabric. This one has a slightly higher weight rating than others in this category, though it's still 250lbs. This folding camping hammock is easy to set up and pack away, and all that work can be completed in seconds. The hammock folds well and can be moved easily in the included carry bag with wheels.
Pros:
Easily portable
Well-constructed
Includes room for additions like camp stools and canopy
Cons:
Does not swing due to cot-style construction
6. AmazonBasics Fabric Hammock with Stand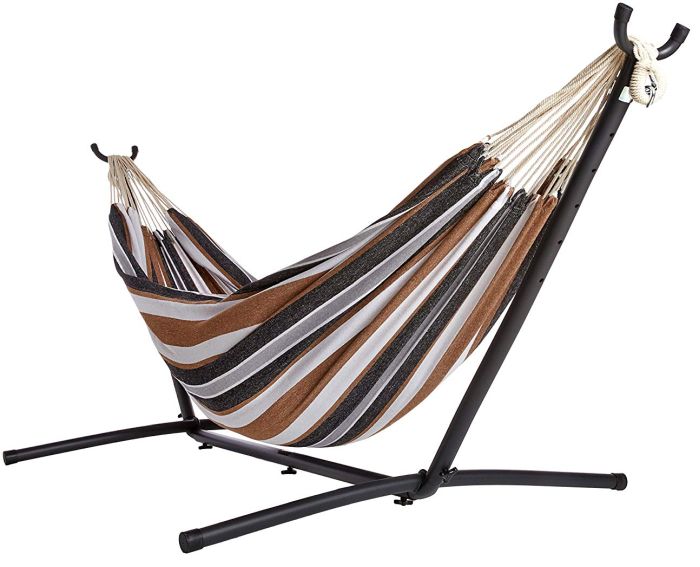 AmazonBasics Fabric Hammock with Stand follows the theme of providing excellent value and quality. The portable hammock comes with steel supports that can hold up pretty well and can be set up easily. The hammock itself is a fabric blend made from polyester, cotton, rayon, and nylon.
Working with the heavy duty and well-constructed support stands, the hammock can handle a maximum weight of 400 lbs. The hammock measures 94×63 inches, making it spacious and comfortable. Since these hammocks use a traditional style, they behave more like conventional hammocks. They swing, they're relaxing, and have the true feel of hammocks. The downside is that they take a longer time to set up and can be more complex.
Pros:
Well-built, quality construction
Recommended maximum weight is 400 lbs
Comfortable, convenient, and feels like a conventional hammock
Good value
Cons:
Can take some time to set up completely
Hammock fabric tends to wrap up on the user
7. Guide Gear Portable Folding Hammock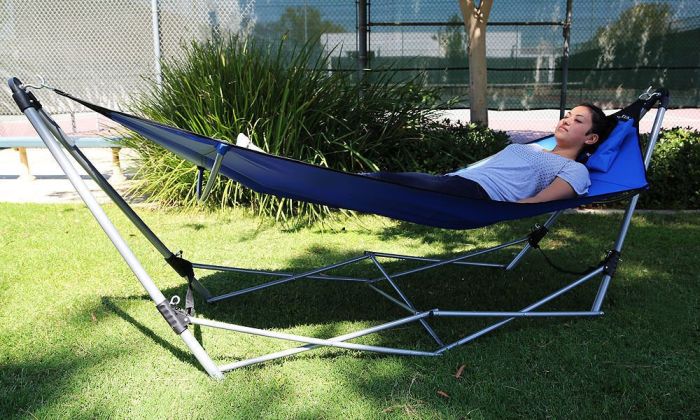 Guide Gear Portable Folding Hammock is one of the more popular options. This one's also notable because rather than taking a cot-style or traditional hammock style, it takes the middle path and makes the best of both approaches.
The wide and ultra-long steel frame lays low, providing excellent support for this portable hammock. And it needs that, because rather than being fixed in place like a cot-style, this hammock actually has room to swing. And since it follows a fixed construction, you can set it up or pack it away in mere seconds.
Fun and simple, clearly one of the best portable folding hammocks available.
The fabric is made from 600D polyester with PVC coating for greater longevity. The hammock uses hooks to connect to the frame, freeing you of worries about putting on ropes and affixing them in place. There is a compromise in the form of not being able to adjust the tightness of your hammock using a rope, but that's a small price to pay for the fun and convenience.
Pros:
Very comfortable to use
Easy to set up and pack away
Spacious
Cons:
Weight capacity limited to a max of 225lbs
8. Kamp-Rite Kwik Set Hammock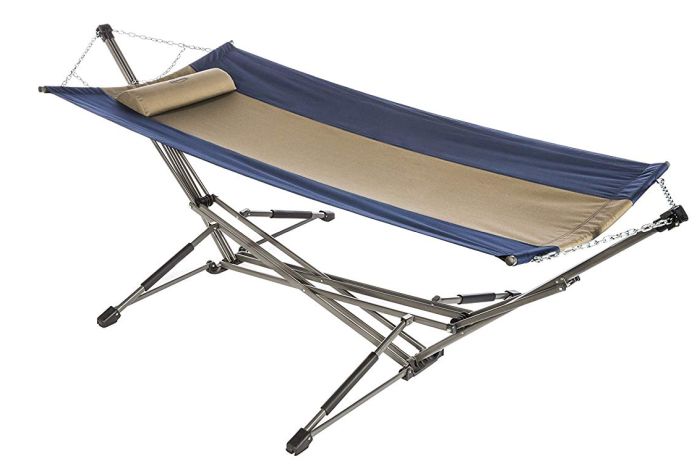 Kamp-Rite Kwik Set Hammock sees a polyester hammock attached to the frame. The design is well-constructed to be stable and sturdy. The hammock here connects to the frame by means of metallic chains. This setup enables it to swing like a conventional hammock, while also keeping it in a relatively fixed position.
A small pillow is included for additional comfort, though there are no additional accessories available. However, that matters little considering that this folding camping hammock is easy to use, comfortable, and portable. It's also quick to set up and pack away, giving it the best of both worlds.
Pros:
Comfortable to use
Convenient and lightweight
Quick to set up and pack away
Cons:
9. Best Choice Products Double Hammock With Steel Stand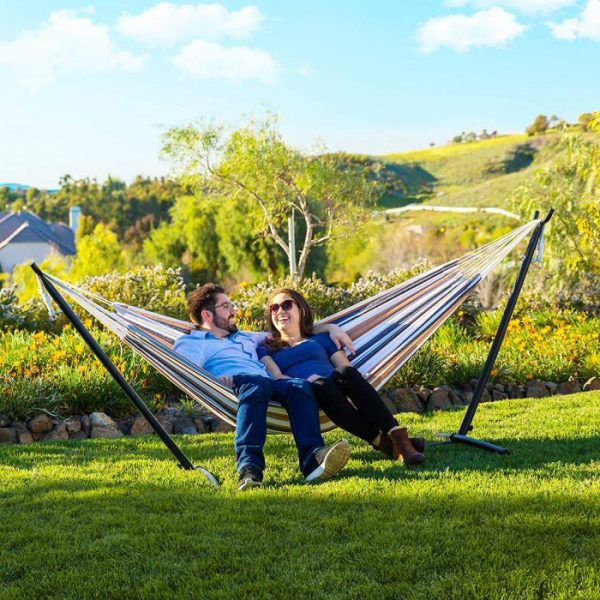 Best Choice Products Double Hammock With Steel Stand puts up a wider berth for its hammock. It's labeled as a 2-person portable folding hammock. Given the width of 48-inches, I'd say the 2-person claim is possible, though perhaps not entirely comfortable. The maximum weight limit recommended is 450lbs. Now that's enough for two people, though notice that it isn't remarkably higher than similar, single-person hammocks.
The hammock and steel stand can be folded and packed away into a conveniently sized carrying case. The full setup weighs 30lbs, which is an acceptable number for a hammock of this size and construction.
Pros:
Sturdy construction
Wide enough to fit 2-people
Steel frame with cotton hammock
Maximum suggested weight capacity at 450lbs
Cons:
Assembly and packing can be time consuming
Weighs 30 lbs
The Right Portable Hammock For Your Trips
The larger choice you have when picking the best portable folding hammock is in choosing between the cot-style and conventional hammock-style products. If you want a more authentic hammock feeling, go for the latter. However, if quick set up is your choice, the cot-style collapsible hammocks work great for usage as well as portability. Take a look at the selection here to pick the best one for you.