Getting the best reclining camp chair fulfills one of the greatest pursuits of humanity. That is, to kick back, relax, and have a pleasant time. I'm not overselling it, as a civilization, we do go far in search of comfort. A reclining chair adds that small touch that makes a lazy afternoon at the campsite an excellent getaway. Let's see the best on offer!
Top Reclining Chairs For Camping In 2019
Things That Matter For A Portable Recliner Chair
Quality And Workmanship
General quality and workmanship go a long way with reclining chairs. When moving parts, like those used for reclining are involved, quality construction matters a lot. While fixed chairs can be stronger given their structural integrity, there is a possibility of more stress on recliners.
Reclining Camping Chairs With Footrest And Other Accessories
Accessories play a big role in adding comfort and convenience. Getting reclining camping chairs with footrest enables you to take a more relaxed position. Other factors worthy of consideration include the presence of cup holders, headrests, canopy for your chair, and table for your camping chair.
Top Reclining Chairs Reviewed
1. Big Jumbo Heavy Duty XL Aluminum Beach Chair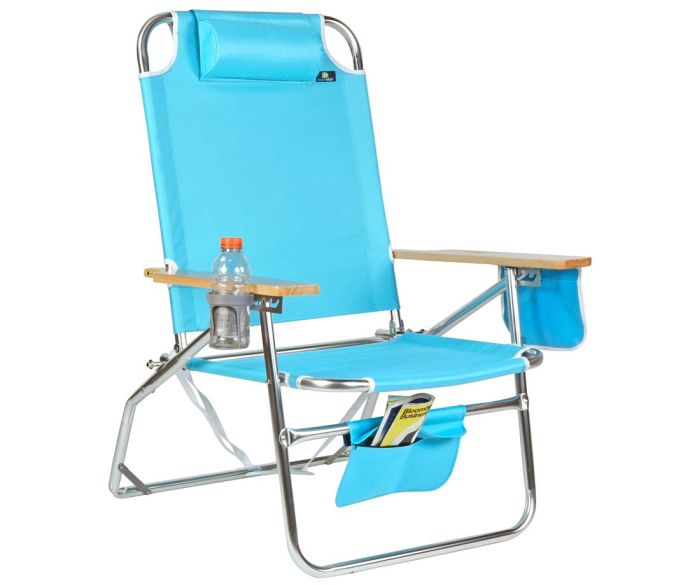 Big Jumbo Heavy Duty XL Aluminum Beach Chair is a great option for the big and tall person. The chair has a frame made from aluminum, which helps it stay relatively lightweight. Conventionally, it would be expected for a heavy duty chair to be exclusively stainless steel. However, this chair does amazingly well with aluminum. The combination of anodized aluminum with reinforced steel on the interiors is the main force behind this performance.
It is rated for a maximum weight of 500lbs. That's an impressive number, and it means you won't have to ever worry about the chair giving way. When fully expanded, the chair measures 23×22 inches. That's fairly comfortable, though I would have expected a big and tall chair to be slightly wider. Besides, the seat height of just 16 inches means some tall people may have trouble getting on/off the chair.
The fabric used is 600D polyester, which is both sturdy and comfortable. The chair is capable of reclining in four positions and can be easily moved to any of these positions as necessary. Its low seat height works well with the reclined positions for more comfort.
Highlights:
Four reclining positions
Heavy duty chair can handle a maximum recommended weight of 400 lbs
The chair weighs 16 lbs
Anodized aluminum frame with reinforced steel support
Includes swivel cup holder on armrest, carry pouch, and additional zippered storage pouch
2. Earth Products Ultimate Outdoor Adjustable Fishing Chair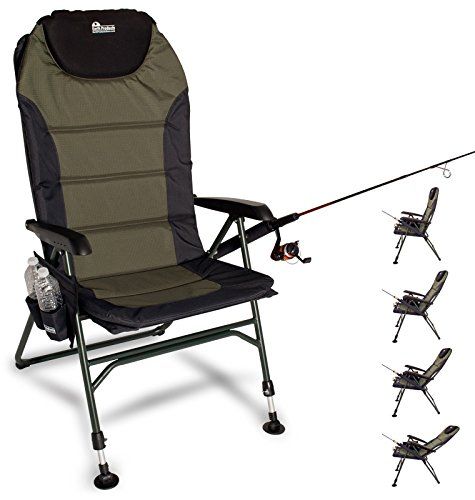 This is the chair built especially for those who love fishing. Earth Products Ultimate Outdoor Adjustable Fishing Chair includes a dedicated spot to hold a fishing pole, making it a convenient chair for fishing expeditions. The reclining chair can be moved to four positions and its adjustable front legs and swivel feet make sure the chair stays comfortably on the ground on uneven terrain as well.
The seating area of the chair is padded to provide a good, comfortable surface. To ensure quality and better performance in the outdoors, the fabric used is 600D polyester. An aluminum and steel frame gives the chair good support.
For additional comforts, the chair includes two drink holders, plastic armrests, and a zippered storage pouch. The overall weight of this chair is just 10.5 pounds and its rated weight capacity is 250 pounds.
Highlights:
Four position reclining chair
Has adjustable front feet to negotiate uneven terrain
Weighs 10.5 pounds, and rated for a max weight of 250 pounds
Aluminum and steel frame
Padded seating
3. Timber Ridge TRFCH011LA Camping Chair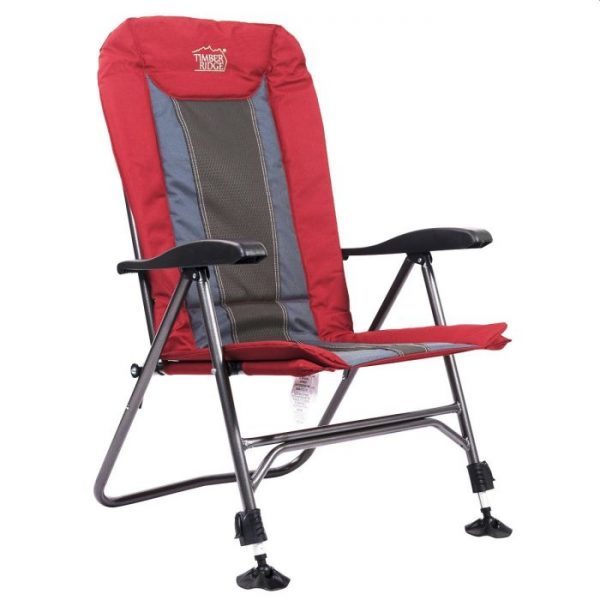 Timber Ridge TRFCH011LA Camping Chair with a decent profile. The seating area is fully padded and has a high-side cushion design. Its plastic armrests add a nice touch, but there is a rather noticeable lack of additional accessories like cup holders.
However, when it comes to reclining, this chair does its job pretty well. It can be fixed into three positions. All of these make reclining and relaxing easier. To better navigate rough ground, the front feet of the chair are adjustable. These "duck feet" are wide and can be individually moved to positions most favorable for the user's interests.
The chair folds up nicely to be easily portable. Other features notable for this chair are a seating area of 22×19 inches and a seat height of 25 inches. It makes use of a steel tube frame that is sturdy and can handle 300lbs of weight.
Highlights:
Can be adjusted to three reclining positions
Padded seating
No cup holder or similar accessories
Adjustable front legs
Maximum recommended weight is 300lbs
4. PHI VILLA Padded Zero Gravity Lounge Chair
PHI VILLA Padded Zero Gravity Lounge Chair gives off the look of luxury and comfort. It's a chair you expect to feel great while your recline, maybe in some shade, and enjoy your time. A side table includes a cup holder and some space for other assorted items.
The chair can be adjusted to reach your desired reclining angle and pose. Rather than fixed positions, it takes a more flexible approach. You disengage a clip and move the chair to the desired position. When the chair is at the correct angle, simply engage the clip again and the chair will stay locked in position. It adds complexity as compared to fixed position recliners, but the prospect of customizing to just where you like it is worth the effort.
It uses a metal frame and an oxford fabric on the seating area. The fabric is bound to the frame with double bungee cords, which are reliable. However, these are also the points most prone to failure. It isn't a big shift, but as your chair ages, the ropes will probably be the first part that shows signs of failure. Maximum recommended weight for the chair is 300lbs
Highlights:
Can be adjusted to customized position
Padded seating area
Includes removable side table with cup holder
Maximum recommended weight is 300lbs
Convenient to fold and pack away
5. KingCamp Camping Chair Oversized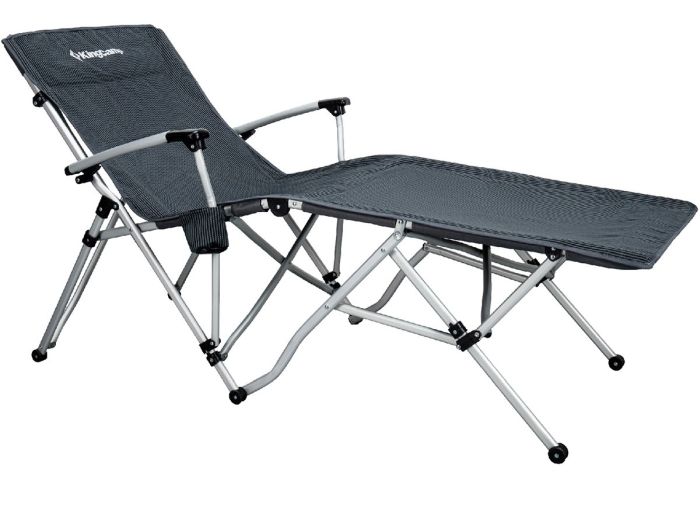 KingCamp Camping Chair Oversized is a folding patio lounge chaise with comfort that's tough to beat. The oversized chaise offers a large surface area to rest and relax, yet weighs a relatively small amount and can be folded into a compact package. The fabric used here is 1200D polyester, which is stronger and more durable than what other chairs in this niche generally employ.
The chair frame is aluminum tubes, which contribute to the overall lightweight design, but also keep the oversized chair sturdy. This one is rated for a maximum weight of 350 lbs, which is quite generous when you consider the aluminum body and the fact that it weighs just 9.2 lbs. When packed, the dimensions of this chair are just 42.5×9.5×12 inches.
When expanded, this chair measures 66x30x19.5/32 inches. This folding reclining camping chair's dimensions are great, whether fully expanded or packed. Other factors of note include a padded, comfortable headrest and a cup holder placed near one of the armrests.
Highlights:
Comfortable seating
Fabric used is 1200D polyester
Maximum recommended weight is 350 lbs, chair weight is 9 lbs
Includes cup holder and headrest
6. Kelty Deluxe Reclining Lounge Chair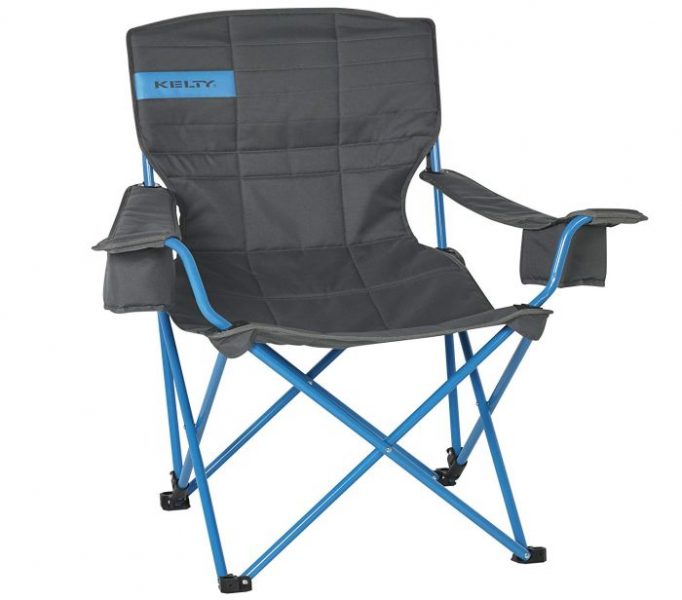 Kelty Deluxe Reclining Lounge Chair is a camping recliner that can be adjusted into multiple positions. So you get a wide variety to choose from, and can very well take your pick of the different mechanisms available. As with most chairs in this category, the Kelty has a durable steel frame, a fabric body made from 600D polyester, and adjustable armrests.
Its look is quite simplistic, but the chair feels positively great. And though it is a quality build, it maintains a low weight. Kelty Deluxe Recliner weighs just 10.5 lbs and is capable of handling a maximum weight of 325lbs. I like how well the padded and adjustable armrests work. As an additional advantage, the beverage holder is insulated, thus offering some protection for your drink as you savor it while reclining in your favorite spot!
The chair has dimensions of 24.5x25x37.5 inches and its seat height is placed at 19 inches. It packs away nicely and is easy to carry around. As the open dimensions of the char go, it is comfortable enough to seat someone big and large. The seat height surely helps their case.
Highlights:
Can be adjusted into various reclining positions
Maximum recommended weight is 325lbs, chair weighs 10.5 lbs
Wide and comfortable seating are
Good quality construction
7. SwimWays Kelsyus Original Canopy Chair with Ottoman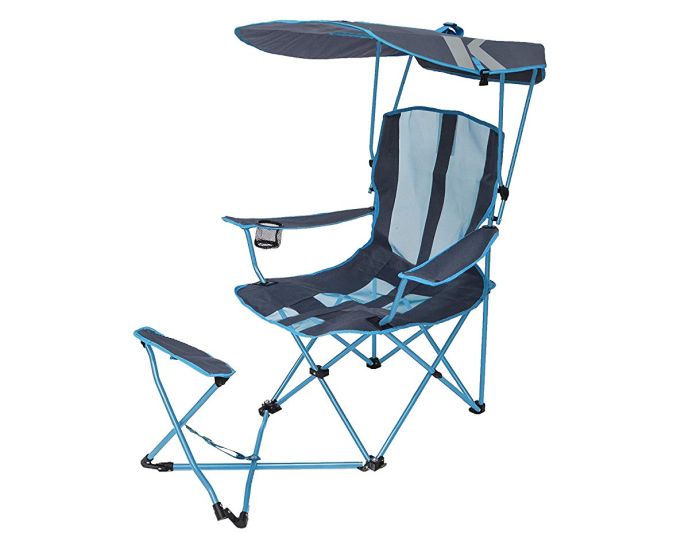 This is one of the unique designs on our list, simply on account of the chair including a canopy. SwimWays Kelsyus Original Canopy Chair with Ottoman takes some extra steps for comfort, like including a canopy and an ottoman.
The canopy is fairly wide and can be considered to be providing adequate coverage for acceptable sun protection. The company says the canopy adds 50+ UPF sun protection. On the other hand, the ottoman included looks rather inadequate. Sure it works conveniently as footrests, but its width seems too low to be comfortable for long beyond a few minutes. It would be more useful if there was actually enough room to hang the feet, rather than just letting them dangle.
SwimWays Kelsyus Original Canopy Chair with Ottoman has a powder-coated steel frame, which is both rugged and supportive. The chair's fabric boasts a comfortable does of mesh, which helps it stay breathable and well-ventilated. A cup holder is built into one of the armrests.
Packing away the chair is relatively easy. When the chair is folded, its canopy becomes the carry bag and handle for the chair.
Dimensions of the chair are 41.34×36.61×51.57 inches, and it is rated for a maximum weight of 250 lbs.
Highlights:
Very comfortable to recline on
Does not have full adjustability for reclining
Maximum recommended weight limit is 250lbs\
The footrest is perfunctory and should have been wider to provide actual support
8. ALPS Mountaineering Escape Chair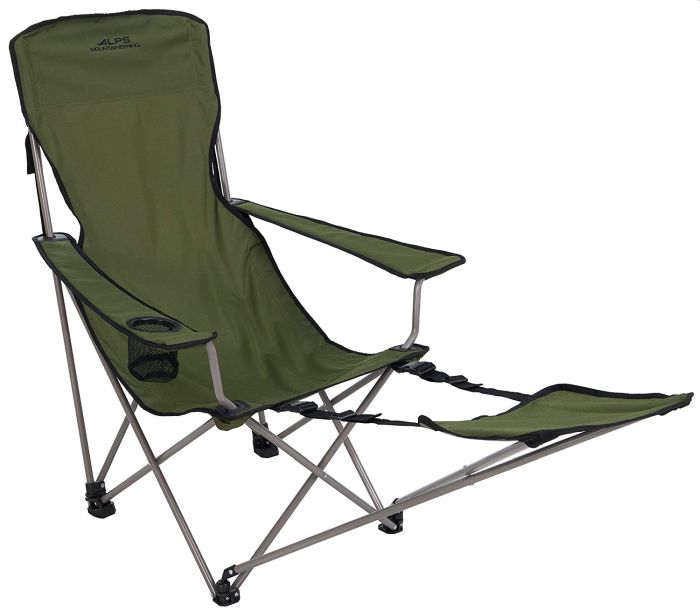 ALPS Mountaineering Escape Chair is one of the best camping chairs with a very inviting and sturdy design. The convenient footrest is adjustable and makes it possible to recline on this chair without a worry in the world. It isn't quite the same as a zero gravity recliner, but with the adjustable armrests and footrests working in tandem, you certainly get a lot of comfort out of this chair.
The general specifications are quite similar to the other chairs available. This one has a steel frame with 600D polyester fabric. However, the thing that makes it the best reclining camp chair is the relative ease of use combined with simplistic design. Adjusting the armrests and footrest is convenient, which in turn lets you set your position to be most comfortable to you. The presence of a cupholder is a nice touch and works well in favor of this chair.
When set up, the chair has the dimensions of 32x26x41 inches. The overall weight of the chair is just 10lbs, while its rated weight capacity is 225lbs. This is a versatile chair and also features as one of our top choices for camping chairs with footrests.
Highlights:
Good value for money
Very comfortable
Adjustable footrest and armrests
Chair weighs just 10 lbs, max recommended weight is 225lbs
9. GCI Outdoor 3-Position Reclining Director's Chair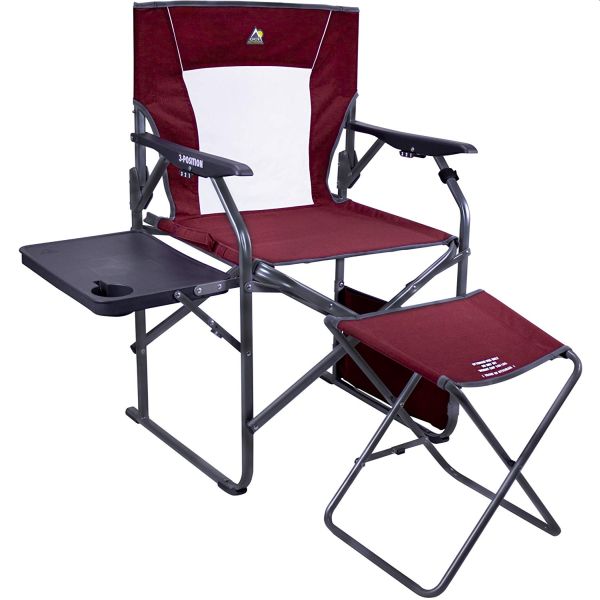 An excellent mix of comfort and value, GCI Outdoor 3-Position Reclining Director's Chair brings several important accessories and a well-constructed body. The chair has a three point reclining position. Users can choose the angle and move the chair to the right spot before locking it in position again.
The strength and stability of the chair are brought by a metallic frame. The fabric used is polyester and nylon mesh. Polyester is long lasting and sturdy, while the nylon mesh allows breathability on hot days. The chair includes an ottoman and a side table with a cup holder. The ottoman works as an excellent footrest, allowing you to stretch and relax on this chair. Inclusion of a side table gives you room to place your drinks and other items while keeping them within reach.
When expanded, the chair measures 21.75x4x32.25 inches. The chair is rated for a maximum of 250 lbs. It can be folded flat and packed away for better portability. The table as well as the footrest fold flat. In fact, the ottoman fits securely inside the chair when not in use.
Highlights:
Three points of adjustment for backrest
Includes ottoman and side table
Maximum weight capacity at 250 lbs
Folds down to compact dimensions
Check current price and discounts
10. Nemo Stargaze Recliner Luxury Camp Chair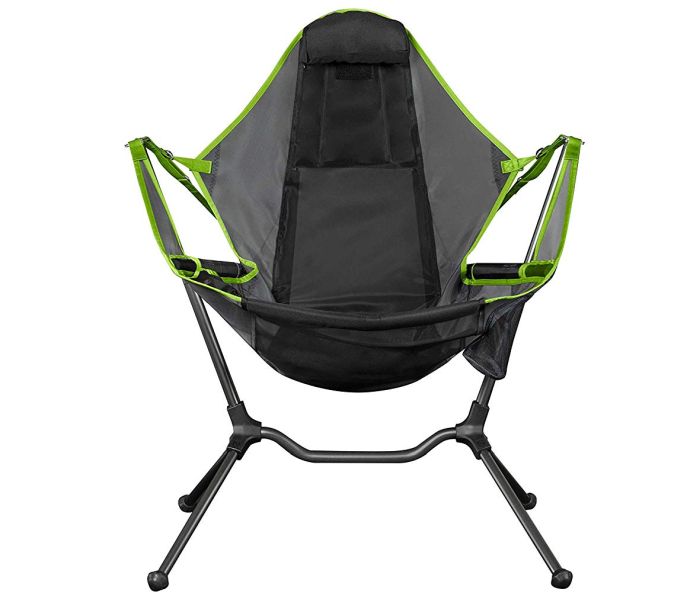 Nemo Stargaze Recliner Luxury Camp Chair is a modern design that banks on its looks as much as it depends on its quality. Once you're on this chair, you can take on a reclining position. Interestingly enough, it will also leave room to be used as a rocking chair. The behavior is more like a portable folding hammock, but given the dimensions of the chair a rocking motion is the more accurate description.
The frame is an "aircraft grade" aluminum suspension. When I read this, I assume it is just regular aluminum, because while companies keep throwing around that term, it really doesn't mean much. Aircrafts use all kinds of aluminum, so unless something very specific is described, my suggestion is to not be swayed by anything "aircraft grade". Just to be clear, the frame is good quality and seems durable, it's just that the "aircraft grade" schtick has little practical value.
Going back to the specifications, this chair weighs just 7 lbs and is rated for a weight capacity of 300 lbs and can be folded into compact dimensions. The chair has an integrated no-slip cup holder for easier use.
Highlights:
Excellent, modern design
Lightweight at just 7lbs
Maximum recommended weight is 300lbs
Comfortable recliner
Expensive
Reclining Camp Chair To Buy
Getting the best reclining camp chair is full of plenty of great options for you to choose from. Not only is there a variety of options, buyers can also look at a range of features to pick from. Weight, ease of use, portability, and budget are important factors to consider before you buy a chair.