Getting the best tent seam sealer is an essential part of maintaining your tent. Even if you buy a completely waterproof high-quality tent, it will eventually need maintenance. Knowing how to seam seal a tent will save you a lot of hassle. And for that to work, you'll need a good seam sealer. Seam sealers need to be compatible with the waterproof coating on your tent. We'll talk more about those requirements, but let's start with a look at this year's top seam sealers.
Top Tent Seam Sealers In 2019
1. Gear Aid Seam Grip WP Waterproof Sealant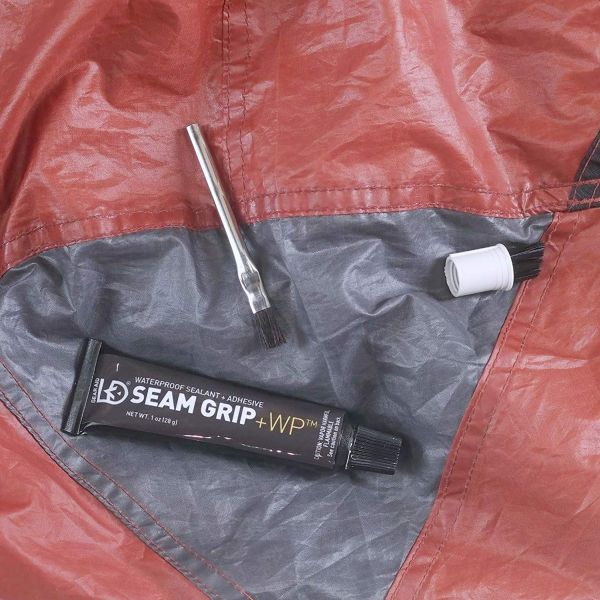 Gear Aid Seam Grip WP Waterproof Sealant can work with most popular fabric types including polyester, vinyl, nylon, and canvas. This is a versatile sealant that can be used with other outdoor and camping gear like awnings, tarps, and thermarest sleeping pads.
Each one-ounce tube contains enough sealant to cover 12-foot of fabric. That's good enough to completely cover a 2-3 person tent. It's better to keep a few tubes available or choose the sealant in a larger 8-ounce pack. That's especially true if you're using a larger tent like an 8-person tent.
Every tube of the sealant includes applicator brushes to make sealing and repairing work more convenient. As a classic sealant, the Gear Aid Seam Grip WP takes almost a day to dry. At the very least, it should be left overnight to dry.
The sealant forms a permanent rubber seal that is flexible enough to move with the tent. It doesn't crack or break easily, enabling users to make use of the tent without worrying about the seal's performance.
2. Texsport Polyurethane Waterproof Seam Sealer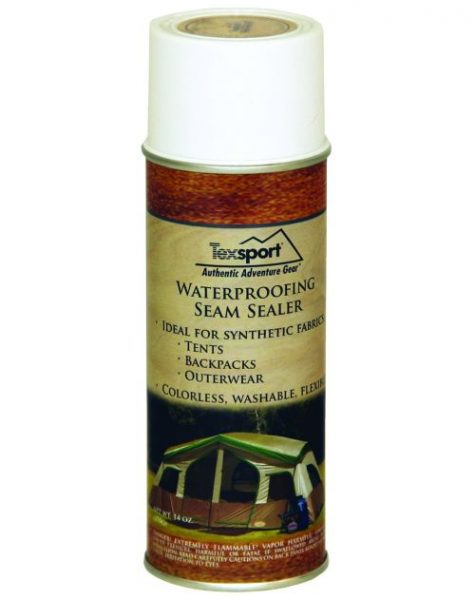 This polyurethane seam sealer is best used with synthetic fabrics. PU is an obvious choice, though it can be used with others as well. The spray is versatile enough to be used on some fabrics as well, provided they are built to be waterproof.
Ideally, you should let the sealer dry for about 24 hours after you apply the sealer. In some cases, it may be necessary to apply a double-coating of the seam sealer to get the best results. Since this is a spray, it can be more convenient to apply.
On the other hand, since there is no applicator brush to control the spread and location of the sealant, it is recommended to be more careful when applying this sealer. It's also part of the reason why it's a better choice to apply two coats of this spray.
3. Kenyon Peregrine Kenyon Seam Seal 3

Kenyon Peregrine Kenyon Seam Seal 3 is an aqueous urethane seam sealer. It's fit to be used with most synthetic fabrics, including nylon. It is generally available as a 2-ounce bottle that includes an applicator for added convenience. Although other sizes are also available.
One notable feature here is that the sealer does not leave an overly shiny glow once dried. It's more in the invisible range and is barely visible once fully dried. As usual, be sure you allow this seam sealer to dry for a day or more.
I think its packaging could be better — it looks like something you'd buy off a poorly-made infomercial. Except, it actually works and does not need hyperbolic statements for its use. Even so, it's difficult to trust it considering its weird packaging.
4. Coleman Seam Sealer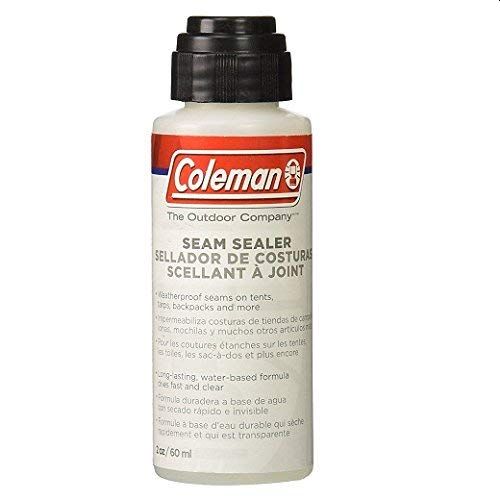 One of the well-known products in this niche, Coleman Seam Sealer is a popular product. As you can guess, it can work with most Coleman products, though it can be used with other brands as well.
It works off a water-based urethane formula and works with most synthetic fabrics. This is supposed to be a quick-dry formula, but it's still better to let it air out for a day. Leaving it overnight is good too, but I think keeping it up for a day is a better option.
The bottle includes a foam applicator pad for convenience. The foam also serves the purpose of preventing the sealer from spilling onto the fabric or tent. It is good enough to be used on other waterproof fabric products as well. Once it dries up, Coleman Seam Sealer has a clear and waxy look. It's not overly shiny to be distracting, but you will certainly be able to identify points where the sealer has been applied.
Read more about the Coleman Seam Sealer
5. Gear Aid Seam Grip SIL Silicone Sealant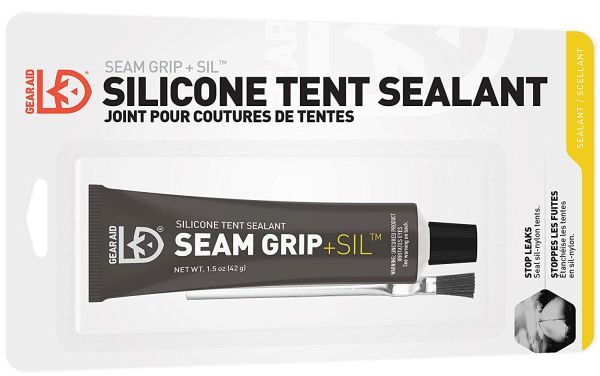 Gear Aid Seam Grip SIL Silicone Sealant is meant for silnylon fabrics. These fabrics don't often have fully taped seams, so it makes sense to use a sealant to keep them waterproof. The fabric doesn't play well with conventional sealants, so a specialized sealant is a good idea.
The sealant is designed to be waterproof and weather-resistant. This means it can take on the swings in temperature that come with using your tent in different weather conditions. It's a system that works exceptionally well for this fabric. A brush is included to help apply the sealant better and make things easier.
It's worth noting that this is a permanent sealer. It will bond permanently to silicone-treated fabrics and stay on for a long time. In case you need it for repairs or would like to remove the sealant for other purposes, mineral oil can be employed to remove the sealant.
6. Gear Aid Seam Grip FC Fast Cure Sealant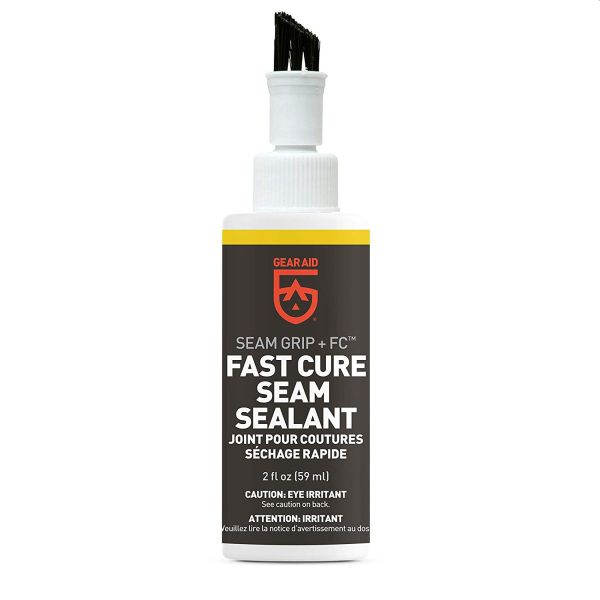 Gear Aid Seam Grip FC Fast Cure Sealant is a quick fix to seams. This small bottle of fast cure sealant can fix up about 60' of seams on a tent. This sealant can be used on a variety of fabrics including nylon, polyester, and silicone.
The water-based seam sealant has an applicator brush that makes things easier. It dries up in about 2-3 hours, so it is a quick working sealant. Consider it more of a quick fix than a conventional solution. This sealant isn't bad, but those take longer to cure usually also last longer and have generally better results. The seal is nearly invisible, but it does have a small gloss that makes it visible.
Notes To Help You Pick The Right Seam Sealer
Prepare First
Seam sealing requires some careful preparation if it is going to be effective. Read our guide on how to seam seal a tent to start. Get the right seam sealer and fabric combo. In case you are unsure of the fabric and waterproofing coating on your tent, ask the tent manufacturer. It's better to be sure than take a risk.
Choose The Right Viscosity
The right viscosity is something of a matter of personal preference. Sealants that have thinner viscosity are easier to apply. They make the work a lot more convenient. Thicker seam sealers need more effort to be put onto seams, but they can have their uses.
Finally, if a sealer is way too thick, you can consider putting in some additives to make things easier. Silicone sealant, for example, can be made thinner by adding a small amount of mineral oil.
DIY Route To A Seam Sealer
It is perfectly okay to make your own DIY seam sealant. It isn't too difficult, but having some experience working with the materials helps. In case you are a beginner and don't quite have a grip on things yet, it's best to use a sealer available in the market.
Those who'd like to make their seam sealer can start with GE Silicone II Caulk and Odorless Mineral spirits. Mixing these materials will get you a seam sealer that's as good as any you can buy. Keep in mind, this is a silicone-based sealant and should only be used with compatible products.
Should I Use Duct Tape To Seal A Tent?
Ideally, no. duct tape can harm the fabric of your tent and it will not come off easily; if it does, there's a good chance it'll drag some fabric along. However, if you're in a pinch and absolutely need a quick fix enough to sacrifice the fabric of the tent, go ahead.
Duct tape will stop the water from entering the tent. Again, it's not an ideal solution, but if the situation demands it, there's not much you can do. A viable option is using specially designed tape like Gorilla Tape. This tape is easier to pull off and thus can be a better option than conventional duct tape.
The Seam Sealer For Your Needs
Choosing the best tent seam sealer can be easy. Most of these options have been available on the market for decades and are well-regarded. In most cases, all you need is to be sure that you have the right seam sealer for your tent fabric and waterproof coating. As long as you know the fabric and the right sealer to use, any of the options presented in the review here will work to your advantage.