Yeti is the biggest name in high-end coolers. You can expect a Yeti to keep items cool for 4-7 days. Even more, if the weather is conducive. That great quality comes at a price, and Yeti coolers are expensive. Thankfully, the Yeti cooler alternatives have caught up, and there's no need to take chances on a cheap Yeti knockoff that may or may not work. Many Yeti type coolers offer similar quality for a lower price. We'll see many of these coolers in this list, and even consider some more expensive than the Yeti!
Best Coolers Like Yeti In 2019
Things To Know When Picking Coolers Comparable To Yeti
What's The Deal With Yeti?
Yeti practically created the market for high-end coolers with its launch in 2006. At that time, Yeti's rotomolded coolers were far ahead of the competition. Their hard coolers could keep things inside cold for days! That's the feature that drew the hunting and fishing crowd to Yeti, and others followed suit.
That was a long time ago, but Yeti has managed to keep up with quality and trends. Plus, there marketing is pretty much on point too. However, Yeti coolers come with a price tag that many may not be willing to pay. There may also be other preferences involved that may encourage someone to choose a cooler other than Yeti.
Should I Consider Buying From Yeti Competitors?
Absolutely! The competition has more or less caught up with Yeti in performance and quality. They offer some pretty good features at decent prices to encourage users. It's worth noting that Yeti competitors aren't just cheap knockoff brands. Many of these have put in a decent effort to compete with the big brand – Yeti.
They may have pioneered the high-end cooler market, but Yeti isn't the only brand available. You can find coolers comparable to Yeti in performance and quality. Much like Yeti, these coolers boast of the ability to keep their contents cool for 4-7 days.
In most cases, this is a conservative estimate and you may be able to get a couple more days of cooling. Now that's some serious quality!
Just be careful of what you buy because there are knockoff products as well and they obviously aren't good. Also, prepare to shell out some money for a quality cooler. Many of the coolers listed here are cheaper than a Yeti, but not all of them can be considered "cheap" in terms of money spent.
Top 12 Yeti Cooler Alternatives Reviewed
1. Pelican Products Progear Elite Cooler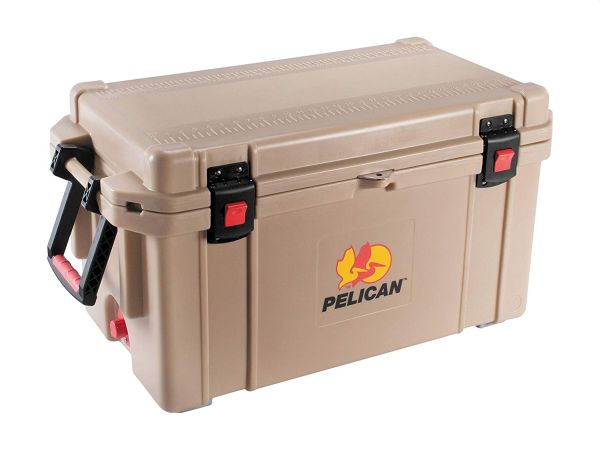 Pelican Coolers are one of the more serious Yeti competitors. This is a name you'll almost always see as one of the best Yeti cooler alternatives. These coolers are pretty close to Yeti in quality, construction, and features.
It is worth noting that Pelican does not necessarily try to be cheaper than Yeti. In fact, the prices can be pretty close, and in some cases, even higher. Pelican's appearance as a legitimate Yeti alternative comes with the brand's attempts to be a better quality cooler than Yeti.
Many users of these coolers agree that Pelican is a legitimate competition to Yeti and can, in some cases, do better. High-quality Pelican coolers can offer almost 10 days of ice retention. A thick polyurethane insulation and freezer grade gasket play a big role in that performance.
The gasket on Pelican Progear can be considered superior to the one used on Yeti. It maintains a similar quality in other areas as well, and you can consider Pelican coolers a good quality, similarly priced alternative to Yeti.
Highlights:
Competes with Yeti on quality
Similarly priced as Yeti coolers
Can hold ice for up to 10 days
Excellent cooling
2. ORCA Cooler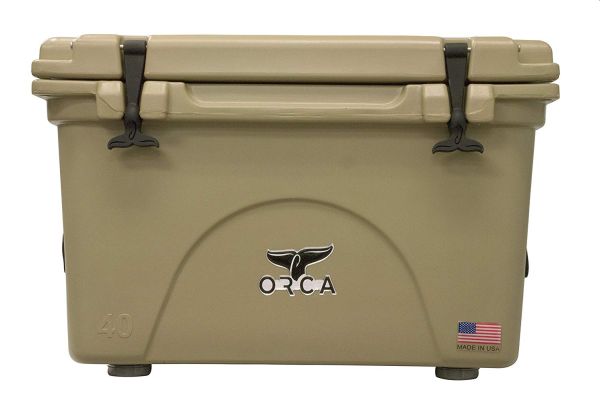 Orca is another brand that does not quite market itself as being cheaper than Yeti. This brand too aims to compete with the market leader on the principle of quality and value. As such, Orca coolers are pretty well made and boast ice retention of up to 10 days – similar to Yeti.
One thing that has been working in favor of Orca is that unlike Yeti, these coolers are manufactured in the USA. That is encouragement enough for some people to pay a premium to buy Orca coolers. It does help that Orca coolers are actually high-quality and can be a viable alternative to Yeti, though at a similar price.
The general construction and features are quite similar to other high-quality hard coolers. Orca coolers are endowed with a quality lid gasket, easy-flow spout, ergonomic handles, and whale tail latch. The coolers are available in several sizes, so you can take your pick.
Highlights:
Made in the USA
High-quality construction
Priced similarly to Yeti
Can hold ice for up to 10 days
3. RTIC Cooler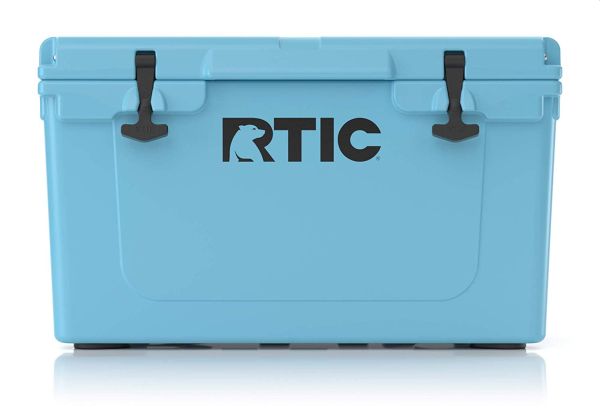 Here's another quality competitor to the Yeti. RTIC coolers offer good quality, while being priced well below competing Yeti coolers. RTIC initially caused quite an uproar by positioning (and marketing) itself as a Yeti knockoff at a better price. To no one's surprise, it brought on a (now-settled) lawsuit. So while RTIC has lived to fight another day, it no longer positions itself as a cheaper Yeti.
In any case, RTIC coolers still are good quality products that take their cooling duties seriously. Their brazen comparisons with Yeti inspired many people to put this brand through the test. In most cases, these coolers proved to be a viable alternative.
Similar quality at a significantly lower price sounds like an excellent deal, so there's no wonder there are people lining up to buy these coolers. I wouldn't say it is exactly on par with Yeti, or for that matter, similar brands like Pelican. Pulling off heavy-duty cooling might be difficult for RTIC. So it does lag behind the big brand in absolute numbers and features. However, for a user who only wants cooling in action for a day or two, RTIC can be the better choice.
Highlights:
Significantly lower price than Yeti
Good quality construction
Excellent cooling
4. Grizzly Cooler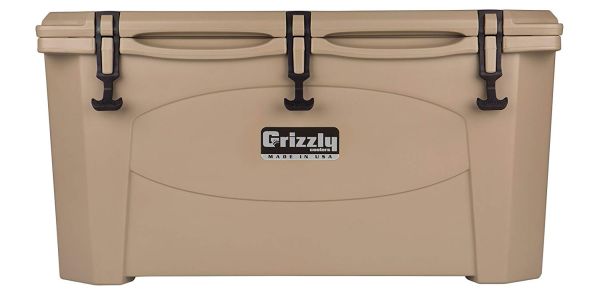 Grizzly cooler is an affordable competition to Yeti. These coolers are built strong and have good cooling qualities, though slightly lower performance than the name brand. It isn't way off the mark, but a Grizzly will likely retain ice for 1-2 days less than a Yeti.
For those who want to take their coolers to relatively smaller trips, this is no problem. It's not that you want the cooler to work for 7-10 all the time. Incidentally, Grizzly coolers take their name seriously. These coolers go through IGBC bear resistance certification to ensure that they won't be opened up if they fall into the hands of a grizzly.
The brand offers a lifetime warranty, which is similar to Yeti, but gets more attractive considering that it comes at a lower cost. Grizzly as a brand has been operating since 1984. However, the big break for the company came with them positioning themselves as a low-cost competitor to Yeti. As such, this company has a fairly significant portion of loyal customers. Grizzly's dependable service has more or less succeeded in keeping its base intact. Another factor that works in favor of these coolers is that they are made in the USA.
Highlights:
Significantly lower price than Yeti
Made in USA
Good quality construction
Good cooling, even though slightly less than Yeti
5. Igloo Super Tough STX Cooler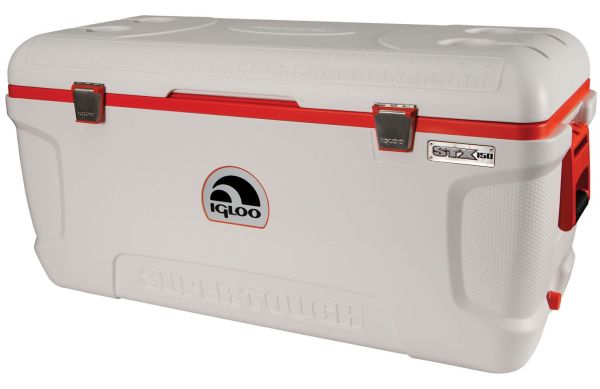 Igloo Super Tough STX Cooler does not get anywhere near the Yeti on quality, but it does have a remarkably lower price. In the best of circumstances, this cooler will hold ice for 7 days. In practical use, I'd say that number is more like 3-4 days, and that's being optimistic. But then again, at the super low price, there isn't much to complain.
Though it doesn't offer impressive cooling, Igloo Super Tough STX Cooler does offer other nice tidbits like cupholders molded onto the lid. They also have a helpful fish scale up there, so this cooler is a little more useful than it seems.
To stay in the cooling line, this Igloo has thick insulation. The lid gets special attention with fully-foamed lid for better insulation. Its drain plug is threaded for easier use and is compatible to be used with a hose. Though this isn't exactly a unique feature, I think this is a helpful one. At the very least, it prevents all that water in the cooler from going to waste once its job is done.
Highlights:
Excellent value for money
Average to medium insulation
Acceptable construction quality
Can hold ice for a few days
See more about this cooler on Amazon
6. Ozark Trail High-Performance Cooler
Ozark Trail has pretty much been a household name for outdoor supplies for a very long time. It stands to reason, that these coolers would get some love too. Ozark Trail High-Performance Cooler is a fine specimen of the inventory of this brand. It offers acceptable quality at a good price. Don't expect it to go head-to-head in specs to a Yeti, but it can work great where value is concerned.
These coolers have a rotomolded construction and offer good cooling. While the brand's claim is that the cooler can keep ice for more than a week, the buyer should be more circumspect. I'd say the ice retention in practical use is good for maybe 3-4 days. Those numbers aren't exactly bad and the pricing is attractive.
Ozark Trail high-performance cooler is a good choice for times when you want the cooler in action for only a short time. Other interesting features on this cooler include cup-holders on the lid, a fish scale for added convenience, oversized threaded drainage plug, and a wire basket.
Highlights:
Good value for money
Sufficient cooling
Can last for several days
Insulation is average at best
7. nICE Cooler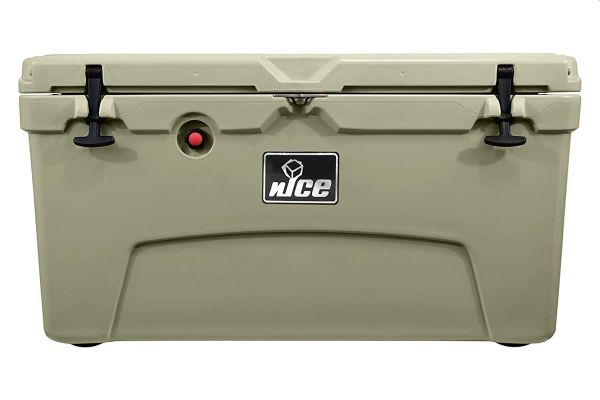 With a name like that, you can expect this cooler to be an overly polite product. But of course, that quality is irrelevant for an ice cooler even if it pretended some way else. Worth noting that this cooler does make an effort at keeping company to ice stored in it. So maybe it really is nICE.
The big draw here is the price. The cooler is significantly cheaper than a Yeti and similar premium coolers. In what I can only assume are throes of optimism, the company says this cooler will hold ice for up to 8 days. In practical use, I wouldn't put that number anywhere above 3-4 days.
nICE Cooler has a seemingly solid rotomolded construction. However, it feels cheaper than its competition. While some points like the hinges are sturdy, other parts like the drain plug and lid feel cheap. Speaking of the lid, they've included four recessed cup holders on there, along with a fish scale and cutting board.
Highlights:
Very affordable
Holds ice for 3-4 days
Excellent value for money
Construction can feel cheap at certain points
Read more about this on Amazon
8. Orion Heavy Duty Premium Cooler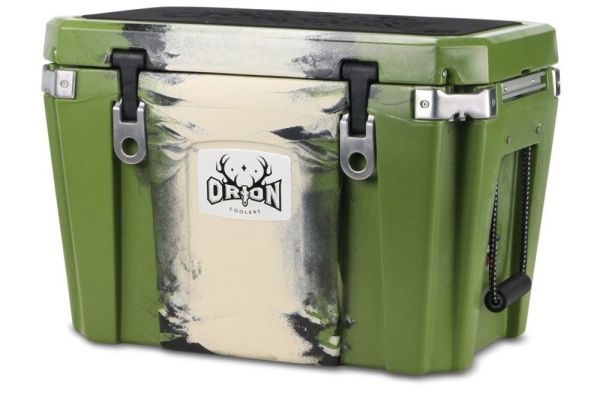 Orion is an interesting and intriguing competitor to Yeti. While other competitors try to match or undercut Yeti on price, Orion overshoots it. These coolers are more expensive than your average Yeti. Orion Coolers focus on style, performance, and durability.
The company focuses quite a bit on quality and usability. The ice chest on Orion is probably the best you'll find in the market. Its construction is rugged enough to last years. Orion says each cooler is hand-built in Tennessee. I think the dedication can be appreciated, but hand-building premium coolers is a bit of a reach. Sure, it leads to remarkable craftsmanship, but surely a machine could do as well a job for an ice cooler!
Other features on Orion include four bottle openers – one placed at each corner, six tie-down points, padded top, IGBC certification, motorcycle grip handles, and a large drain plug. Most of the coolers have the company's well-known camo-swirl exterior paint job. This is another nice touch that makes these coolers stand out. The cooler is available in several colors, each with its own unique touch.
Orion Heavy Duty Premium Cooler claims 7+ days of ice retention, which is mostly true. As a premium, heavy duty cooler, it does lead the other brands in certain performance and features that are the best in class.
Highlights:
More expensive than Yeti
Made in USA
Holds ice for 7+ days
Unique looks and paint job
Excellent construction quality
Excellent insulation
9. Canyon Cooler Outfitter Series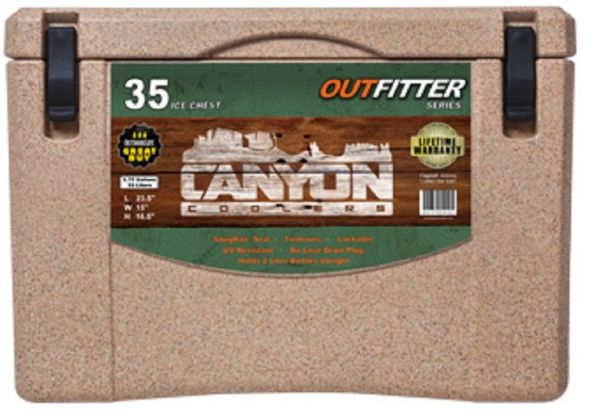 Priced at slightly lower than comparable Yeti models, Canyon Cooler Outfitter Series offers some very impressive quality coolers. The brand may be lesser known compared to its competitors. These include not just Yeti, but also others like Pelican and Orca. The obscurity is undeserved though, and you can expect this cooler to be every bit as good as its competition.
Canyon Cooler has a thick enough insulation to keep ice stored for 5-7 days, which puts it in the same league as some of the best coolers available. Other features on this cooler include recessed latches, lockable lid, and IGBC certification.
The rotomolded coolers also have a molded-in hinge with a steel pin to ensure better cooling and a more reliable lid. Its lid forms an airtight seal that ensures this Made in Alabama cooler stays well-insulated and up to the job. Interestingly, this cooler carries one of the thickest insulations available. It averages at about 2.7-inches of insulation, which is one of the reasons that it can boast better cooling while staying at a competitive price.
Highlights:
Cheaper than Yeti, more expensive than RTIC
Holds ice for 5-7 days
Made in USA
Excellent insulation
10. ENGEL High Performance Cooler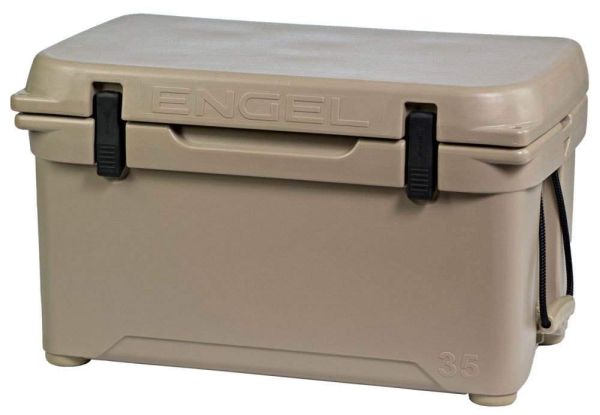 Engel has a simplistic appearance, but it is often noticed for its ability to keep ice for several days. Many say the Engel will hold ice for a long time and might even give Yeti a run for their money. Personally, I find it something of a hit or miss. While its performance looks great on paper, it struggles to bring the same to reality.
The ice in Engel goes out a day or two before Yeti. It isn't way off the mark, but doesn't quite hold up to the same standard and cooling as a Yeti. Engel has an all-round 2-inch insulation, which does some credit to its overall construction. This is a robust build that can take some beating and won't be any trouble on your trips to the great outdoors. It's not just functions, but even in looks Engel is one of Yeti style coolers with similar appearance.
The cooler uses a silicone gasket to form a solid seal. It also has marine great latches and is IGBC certified.
Highlights:
Good ice retention
Priced lower than Yeti
Good insulation
The body and lid form a good seal
11. Xspec Rotomolded High Performance Cooler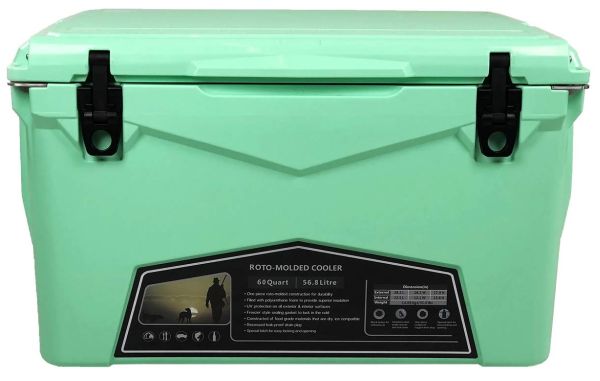 Xspec Rotomolded High Performance Cooler goes slightly overboard with insulation. This cooler has three-inches of insulation. Coupled with a freezer-grade gasket, it offers ice retention for about seven days. With its good price, this means that the cooler can offer exceptional value.
There are two built-in bottle openers in this cooler, attached to the two built-in lock plates. The cooler also includes sundry items like a 22-inch ruler and compass placed on the lid. It also includes regular features like non-slip feet, snap-tight latches, pressure release valve, and heavy duty grab handles.
Highlights:
Excellent value for money
Good insulation
Keeps ice for 5-7 days
All regular cooler features at a competitive price
12. BISON Rotomolded Cooler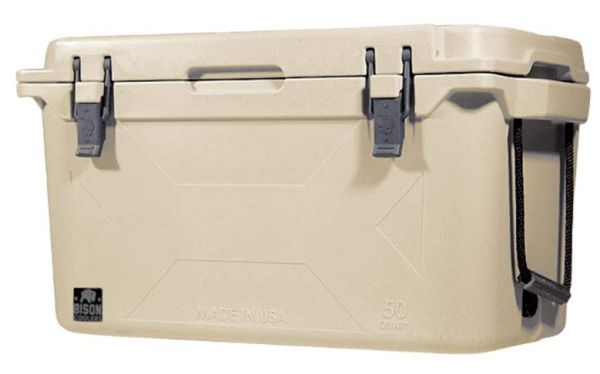 Bison coolers have double-rotomolded construction to get them excellent insulation and durability. The claim is that the 2-inch thick lid helps keep the ice cool for about 5 days. That is pretty much on point. Bison coolers are priced comfortably below the price tag of comparable Yeti coolers, though they strive to offer similar quality.
The coolers include a double-walled silicone gasket to form a tight seal and offer better insulation. These made in USA coolers are available in several colors and offer good value for money.
Bison offers a 5-year warranty on their coolers, but more interestingly, they offer a 30-day trial for their cooler! According to the company, if you don't like the cooler, you can return it for a full refund within the trial period. While this offer isn't uncommon for several valuable items sold, it is a rarity for coolers. It could encourage people to give this cooler a shot. And it certainly does deserve it!
Highlights:
Made in USA
Can hold ice for 5 days
Good value
Good insulation
Offers a 30-day trial program
Yeti Cooler Alternative FAQs
1. Are RTIC coolers as good as Yeti?
RTIC coolers are good, but Yeti is noticeably ahead of them in terms of quality and features. The biggest advantage RTIC has over Yeti is cost. If you don't need ice retention beyond 3-4 days, RTIC could be the better cooler to buy!
2. Which Cooler keeps ice the longest?
Orion Heavy Duty premium coolers can keep ice for 7+ days. These work perfectly well for most requirements. The next in line would be Pelican and Grizzly.
3. Are Yeti coolers worth the money?
Yes, though it depends on your perspective. Yeti coolers are quality products and it is okay to spend money on them. However, if you're on a budget or prefer other brands, feel free to browse them as well.
4. Which Yeti cooler is the best?
Yeti Tundra 45 is pretty much the best regarded cooler you can buy. Its excellent features and value make it a very likely choice. However, if you want a soft-sided cooler, the Yeti Hopper is a good choice.
5. Is Ozark Trail as good as Yeti?
Ozark Trail coolers follow the same rotomolded technology as Yeti. However, Ozark Trail coolers are not built to retain ice as long as Yeti coolers. While Ozark Trail will certainly retain ice for a few days, if you're looking for quality and longer ice retention, pick Yeti.
6. Are Orca coolers better than Yeti?
Orca coolers can be considered to be as good as Yeti. They have similar features and specifications, and pretty much similar prices for comparable models. At the end of the day, it can be about personal preferences, but overall, both coolers are remarkably good in quality.
7. Does Yeti have a lifetime warranty?
Yeti offers a three- or five-year warranty on different products. Most Yeti coolers fall under the five-year warranty.
Choosing A Yeti Cooler Alternative
As you can see, there are a variety of coolers available. These shouldn't be seen as Yeti knockoffs, but actual competitors that can go toe-to-toe with the famous brand in terms of quality and offerings. While many of the coolers mentioned are cheaper than Yeti, a lot of them are priced at a similar level and compete with Yeti on quality. There are Yeti alternatives that are more expensive than Yeti! Overall, the best Yeti cooler alternative is one that fits your requirements for price, quality, and ice retention.