Those who want to sleep off the ground while camping can easily get a hold of the best camping cots. There's plenty of these cots available and there are several options. However, there are only a few double camping cots available. If you want a larger sleeping surface or share a cot with someone, picking the best double camping cot can take some effort. In this article, we'll look at some available options so you can pick the best.
Top Double Camping Cots In 2019
Air Mattress Alternatives Of Note
Double Tent Cot Factors To Consider Before Buying
About Comfort, Options, And Choices
The entire point of getting a double cot is comfort, so obviously that should top your consideration. Is the size of the cot you're buying enough for two people? A double camping cot will often be the size of a twin mattress in width. The sizing is convenient enough, but of course, a twin mattress is not large enough to be comfortable for many people.
Some queen size bed options are also available and can be great for people who find twin bed sizing uncomfortable. You may also want to consider if single, wider cots placed together would be more convenient.
It's worth noting that if you want to share a bed, putting two individual cots together is not going to be as remotely comfortable as a double cot. In the same vein, a prominent supporting wire or frame going across the middle of a double cot is likely to feel uncomfortable.
If your aim is to go minimalist and reduce the weight you're carrying, you can also consider the best cot tents available. Some of these are large enough to accommodate two people, especially the Kamp Rite Double Tent Cot, which is a formidable cot tent.
Longevity And Build Quality
Ideally, the cot should be able to last several years. A camping cot doesn't just have to be fit for camping duties, it should also hold up well for several years of folding, unfolding, and transporting. A sturdy frame is a necessity for any cot. This is more important for a camping cot for two as it is going to be handling more weight. Apart from its strength and longevity, the frame should also be quiet. A cot that creaks every time you move or shift weight is going to get annoying real fast.
Durability and longevity factor also applies to the fabric used. It should be comfortable, breathable, and capable of handling weight. A fabric prone to degradation will kill the cot.
Portability And Folded Size
How much does the cot measure when folded and how heavy is it? These factors can be less important while car camping, but they stay important nonetheless. A large and heavy cot isn't going to do anyone any favors. Sure, the car can take care of transporting it, but having to lug around a heavy and large cot isn't going to be fun. Convenience and practical use are the keys here, and the cot must be capable of fulfilling these requirements.
Top 5 Double Camping Cots Reviewed
1. Disc-O-Bed Large with Organizers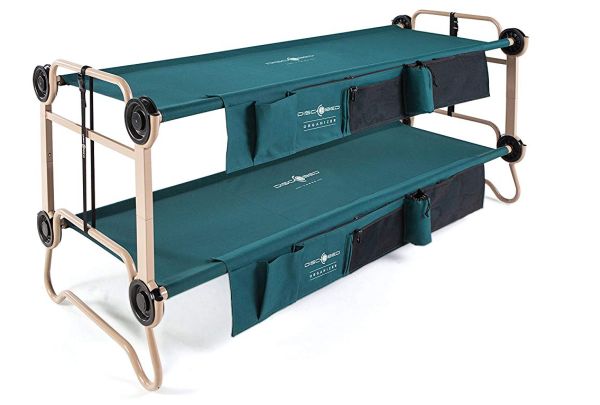 Disc-O-Bed Large deserves special mention for its innovative approach to double camping cots. Rather than take a conventional twin bed route, this one takes the form of bunk beds! This unit is fairly versatile and can be used in a variety of settings and positions.
The bunk bed is the obvious one, though you can also use it as a classic double cot or separate the cots and use them both individually. Each cot has pockets attached to store stuff and also includes a pocket specifically made to hold a water bottle. In terms of convenience, it seems everything has been considered and handled well. As the manufacturer says, "Bunk it, bench it, turn it into two cots".
Each cot is 35-inches wide and has a usable length of 79-inches (82-inches total). Both cots can handle 500 pounds of weight each, thus making them fit for most users. The corners of the cots are rounded for easier use in tents and are resistant to sinking into the ground.
The frame is coated with thick paint to ensure longevity. Its fabric is pretty comfortable and thick as well. You can reasonably expect these cots to last for several years. The total weight of this cot is 63lbs. This two person cot is on the expensive side of things, but given the quality and versatility, it seems worth the price. Disc-O-Bed is also available as a kid-size bunk bed with similar features and quality.
Pros:
Very versatile
Sturdy and rugged build that can last years
Dimensions are large enough to be comfortable
Easy to use and set up
Cons:
2. KingCamp Camping Cot Double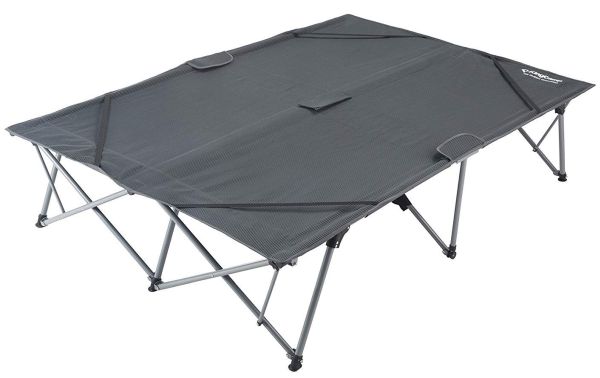 KingCamp Camping Cot Double takes an interest in being robust and durable. This cot has a rated weight capacity of 550 lbs, which is one of the best in this segment. The large cot has the dimensions of 84.5×55 inches, which means there's plenty of room for two people. Given the weight capacity, this cot can also be reasonably used by a single, heavy individual.
The oversized cot makes an excellent impression with its weight as well. It weighs just 35.3 lbs, which is a reasonably impressive weight for a cot this size. The sleeping surface is made from heavy-duty, thickened 1200D Oxford fabric. It has a steel frame support that ensures its capability to carry this weight, but also an impressive durability.
Steel support passes through the center of the cot. This may turn out to be uncomfortable with thin bedding. However, if you use a good quality air mattress, there's a good chance the beam won't get in your way.
Its focus on the user's convenience is a massive selling point for this cot. Some features worth noting in this regard are its large size, ease of use, and convenience of setting up and folding it away. The cot needs no assembly, and though sturdy, it can be setup and packed with relative ease. Its folded dimensions are reasonably compact to allow the KingCamp Camping Cot Double to be easily portable.
Pros:
Large sleeping area
High quality, comfortable, and durable fabric
Easy to set up and pack away
Acceptable weight
Sturdy frame
Cons:
The prominent central bar can be uncomfortable
Tiny wheels at the bottom of the carry bag are practically useless
3. Coleman Camping Cot, Air Mattress, and Pump Combo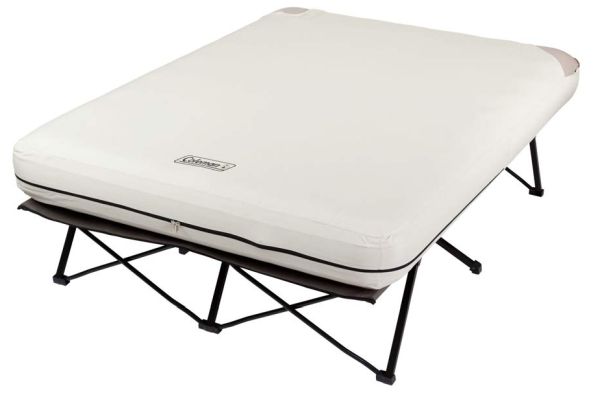 If we were giving any awards, Coleman Camping Cot would win for the sheer value and quality on offer. If you want a comfortable queen-size cot, Coleman is the best option available. It's also available in the conventional twin-bed size, so you have more options available.
A factor that adds to the value of this bed is that it includes an air mattress and pump. Most double cots are going to need an air mattress, and with Coleman offering one, this double cot bed becomes pretty good value. The included 4D battery-operated pump makes things decidedly easier.
Coleman queen size camping cot measures 78×59 inches, can support weight up to 600 lbs, and weighs 42 pounds. The twin bed-size variant measures 74×40 inches, can support weight up to 300 lbs, and weighs 29 lbs. A nice touch I found with the frame is the small night table with included cup holder. It could be considered an insignificant touch, but adds greatly to the comfort and use of this cot.
The included steel frame is sturdy and can be reasonably expected to last a long time. While the mattress surely adds comfort, the fabric used on the cot is pretty good as well. Coleman cot can be folded into reasonable dimensions for easier portability. A carry bag with small wheels is included for added convenience and portability.
Pros:
Excellent value for money
Cot is available in Queen and Twin sizes
Includes cot, air mattress, and battery-operated pump
Queen size cot can handle up to 600lbs of weight, the twin handles 300 lbs
Cons:
Central bar makes it uncomfortable without mattress
Small wheels on carry case don't offer much use
The cot is heavy
4. Kamp-Rite Tent Cot with Rain Fly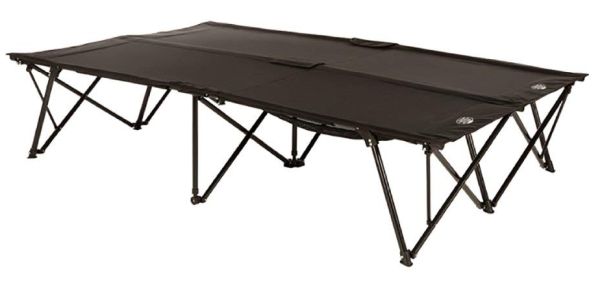 Kamp-Rite is the uncrowned ruler of the world of cot tents. It fairs quite well with regular tent cots/ camping cots as well. The inclusion of a rainfly with this cot also puts it somewhere in the domain of a cot tent, though not exactly there. Kamp Rite Kwik-Cot is fairly spacious, robust, and durable.
The heavy-duty powder-coated cot frame can handle a maximum weight of 500 lbs. It uses a remarkably strong 600D fabric and the head-section is padded for extra support and comfort. Underneath the cots, you'll find a mesh storage area that can hold your belongings and keep them safe.
As a double cot, the Kwik-cot too has a prominent central bar. It can be uncomfortable with two people sleeping on the cot. However, the discomfort is minimized with the use of an air mattress. It's worth noting that though the central beam/ bar isn't exactly comfortable, the Kamp Rite cot handles its presence a lot better than many of its competitors.
Interestingly, while the central longitudinal bar is prominent, there are no other bars (like on the sides) for interference. This adds to the comfort and can indeed make the cot more comfortable. Dimensions of the cot are 85×55 inches. The collapsible design makes it easy to pack away and has the dimensions of just 42×11 inches.
Pros:
Good value for money
Easy to set up
Robust construction
Lack of end bars adds to comfort
Cons:
The central bar can cause some discomfort
5. TETON Sports Outfitter XXL Camp Cot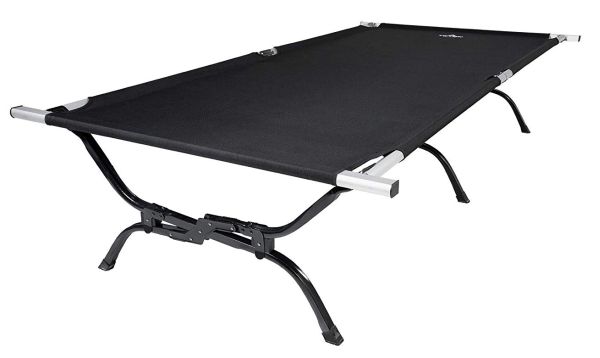 With a weight of just 26lbs, TETON Sports Outfitter XXL Camp Cot is one of the lightest double cots available. Though on the downside, the available width on this cot is also smaller than most of the competition.
TETON Sports Outfitter XXL Camp Cot measures 85×40 inches. These dimensions are in the range of a twin bed, though taller. It may not be entirely comfortable for two people large people, but it can handle two slim occupants in some semblance of comfort. The cot has a maximum weight limit of 600 lbs, which adds some credence to its claims as a double cot.
You need a tough fabric to support weight like that. Teton has made use of a Heavy-duty 600D Poly Canvas that is both comfortable and tough.
The cot uses Teton's patented "S-Leg" frame design. This allows the frame to be relatively unencumbered, but still support a heavy weight. A 600lb rating for this cot is a testament to the effectiveness of the frame's design. It's solid and robust, adding usability to the frame and the cot. The design also makes it easier to set up and pack away the cot.
When packed, the XXL camp cot reduces in dimensions to just 42x12x7 inches, which is fairly compact for its size.
Pros:
Well-priced
Easy to set up and pack away
Teton's patented frame allows the camp cot to handle large weights (rated 600lbs)
Fairly lightweight cot
Cons:
The width can feel too small for two people
Air Mattresses To Consider
Sometimes, cots simply don't cut it. For some, it could just be the weight and extra luggage. Others may choose to give up on carrying a mattress and a cot and simply pick a mattress along. Modern air mattresses can be sufficiently lightweight and be comfortable enough to be used inside tents. Plus, the easier choice of sizes and the larger variety of options available can make things remarkably easier.
6. Coleman Air Mattress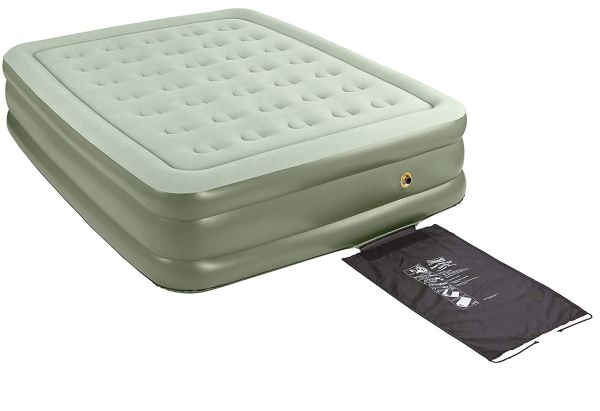 Coleman Air Mattress is built to be used indoors and outdoors. Being a product from Coleman, the mattress does put extra effort into being fit for the outdoors. The dimensions of the mattress when fully inflated are 78x60x18 inches and it is rated to support a maximum weight of 600 lbs. Those numbers are good enough for a queen size mattress, though it is also available in twin-size option.
Presence of an AirTight system and Double Lock valve are useful in preventing potential air leaks. Once fully inflated, the mattress stays in shape for a long time and users don't have to worry about waking up on the ground or the mattress getting overly soft during the night.
The need for comfort has been addressed as well. The mattress has a velvet-like sleep surface which adds to the comfort of the user. This soft plush top is reinforced for added safety and comfort. The surface is anti-slip so neither the bedsheets nor the sleeper run the risk of slipping on the bed. Additionally, the top of the mattress is quilted, removable, and washable. This ensures its hygiene and greater usability.
When not in use, the mattress can be easily deflated, rolled, and packed away. It fits down into a small size when deflated and remains easy to carry and transport.
Pros:
Well-priced
Comfortable
Spacious dimensions
The quilted top is removable and washable
Packs down to a small size
Cons:
Several consumer complaints of the mattress seams springing a leak after a few uses
7. Etekcity Upgraded Camping Air Mattress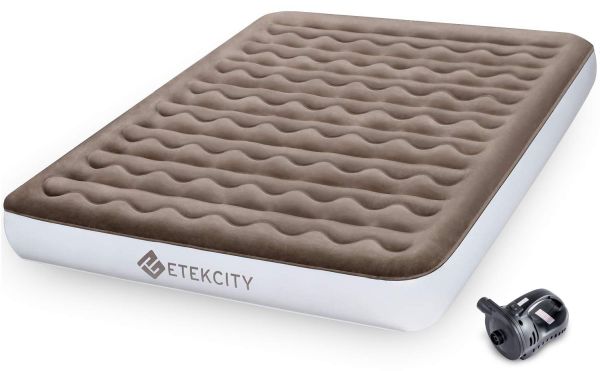 Etekcity Upgraded Camping Air Mattress is a mattress built to high standards of quality. The mattress is made from materials that pass Official US CA prop 65 standards on lead, cadmium, and phthalates. For better and more comfortable use, this mattress is made from 20% thicker PVC (compared to conventional mattresses). This is done with the aim of making it more durable and puncture-resistant.
When fully inflated, the queen size Etekcity mattress measures 80x60x9 inches and it is capable of holding a maximum weight of 650lbs. When deflated, the mattress measures 13x7x15 inches. It is also available in a twin-size variant, which has the dimensions of 75x39x9 when fully inflated.
For enhanced comfort and support, the mattress uses a "wave beam" type structure. According to the manufacturer, this inner support structure is more durable and comfortable than the traditional air coil beams. I think that while this system does give the mattress the ability to handle larger weights, it does not pose much of a change over conventional mattresses in terms of comfort or reliability.
The mattress has a 2-in-1 valve that keeps the air locked in and makes it relatively easy to inflate and deflate. They've also included a rechargeable air pump that makes the use of this mattress remarkably easier. It's especially useful for those of us looking for a mattress fit for the great outdoors.
Pros:
Made from quality materials
Comfortable
Generous dimensions when inflated, folds down to small size when deflated
Cons:
Questionable durability over the long term, even with the promised 2 year warranty
8. OlarHike Queen Air Mattress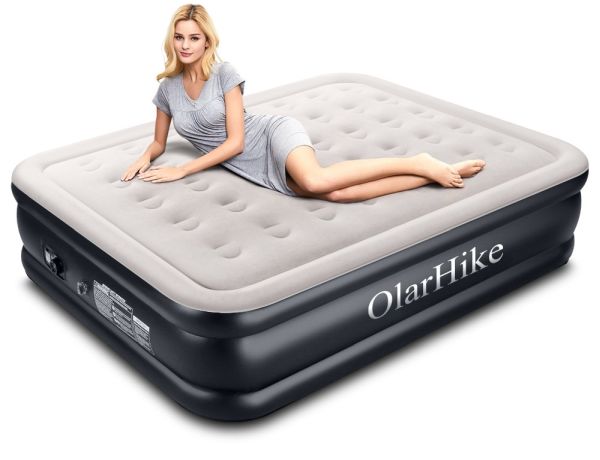 OlarHike Queen Air Mattress puts its focus on user comfort and ease of use. The mattress has welded seams and a thicker layer to vouch for its durability. The seller goes on to claim that the mattress has a 2-year return and refund warranty. If the mattress develops a problem during this period, they promise a free replacement.
That should certainly encourage buyers to give this mattress a shot. Even so, keep in mind that there are terms and conditions involved. It is best to have a conversation with the seller and confirm limitations, especially if the warranty is the deciding factor for you.
OlarHike Queen Air Mattress has a built-in pump for ease of use. All the user has to do is plug the mattress to an electric outlet, and it will fill up easily. Once fully inflated, the mattress should stay in shape for about 48 hours. The full dimensions of the mattress are 80x60x18 inches.
Its inner coil air beam construction keeps the mattress comfortable while providing good support. The sleep surface is a flocked top that is both comfortable and convenient. It also works as an anti-skid surface so there is no worry of the sheets or the sleeper slipping off the mattress. The full package of the mattress includes a carry bag, two repair patches, a color box, and a user manual.
Pros:
Very comfortable
Convenient to use
Built-in air pump
Cons:
May have a chemical smell/off-gassing for the first few days
Questionable durability
9. VENTURE 4TH Ultralight Sleeping Pad
This ultralight sleeping pad has the benefit of being both lightweight and comfortable. Plus it folds down into a small size, which makes it easier to carry around for your camping needs. VENTURE 4TH Ultralight Sleeping Pad is an inflatable mattress, but it doesn't need a whole lot of energy to get it running. It can be inflated with a few breaths, without the need of a pump.
That makes it convenient to use when you don't have an air pump at hand or don't wish to carry one along. It also adds a manual element to inflating the mattress, which may not feel as comfortable for many people.
Once inflated, the 2-inch thick pad becomes fairly comfortable. Made from 40D Nylon with TPU coating, the pad can last fairly long. It weighs just one pound and can be packed down to the dimensions of 10×3.5 inches, which bodes well for portability.
With a thickness of just 2-inches, the pad seems underwhelming at first, especially when compared to thicker air mattresses. And yes, a quality air mattress will be more comfortable, but it can't beat this pad in portability. Besides, the pad itself is no slouch in matters of comfort either. It's surprisingly comfortable for its size, and works exceptionally well.
Pros:
Lightweight
Easy to inflate
Easy portability
Cons:
Susceptible to crinkly noises, though rare
The prominent texture on the surface can feel uncomfortable at times
10. AirExpect Camping AirBed Twin Size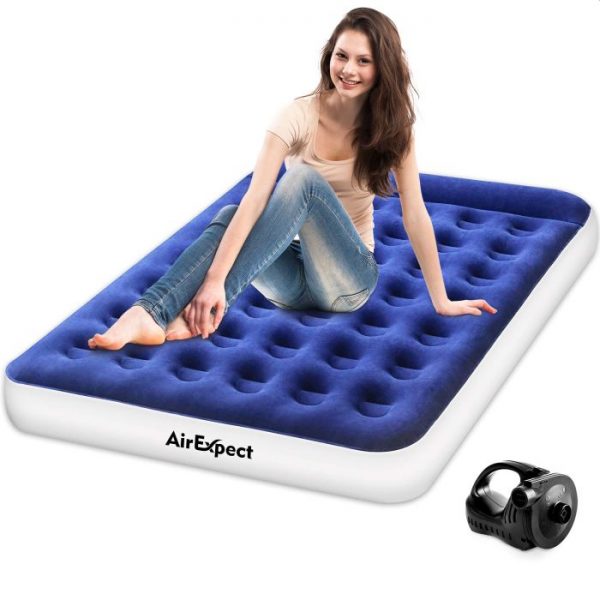 AirExpect Camping AirBed is a heavy-duty mattress that belies its otherwise simplistic look. This mattress is capable of handling a maximum weight of 600 lbs. The mattress is 9-inches high with flocked top for added convenience.
For better longevity and to prevent punctures, the mattress has a layer of 0.45 mm extra thick non-toxic PVC. This layer keeps it well-protected and waterproof. As an additional touch, the mattress has 32 internal coils for added protection and handling weight. The claim is that the mattress can be fully inflated in 90 seconds with the included, rechargeable air pump. Since the pump is wireless and fairly lightweight, taking it along for camping does not require too much of an effort.
AirExpect mattress is very reasonably priced and to make the deal sweeter, the company offer a 2-year warranty and 30-day trial. The touch of the mattress and the overall appearance seem to be way higher than what its price would allow. I guess the premium feel does have its benefits!
Pros:
Good value for money
Convenient to use
Includes rechargeable pump
Cons:
New mattresses can have a disconcerting chemical smell
Though the construction seems premium, the longevity is questionable
11. Therm-a-Rest MondoKing 3D Self-Inflating Foam Camping Mattress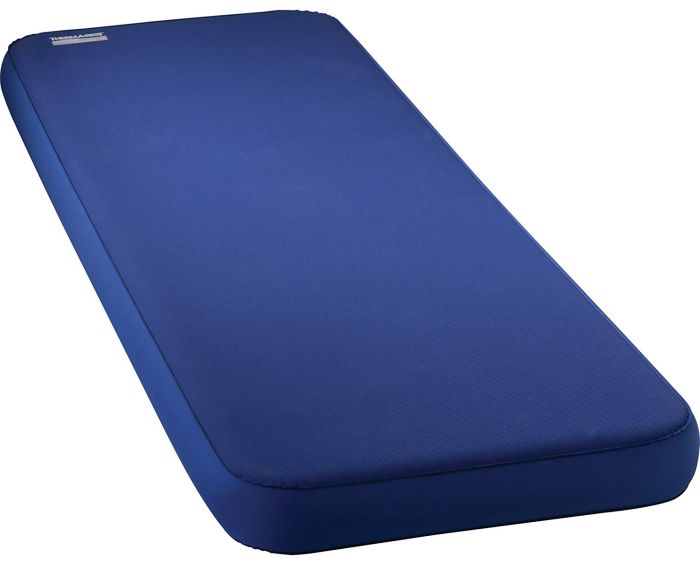 Therm-a-Rest MondoKing 3D Self-Inflating Foam Camping Mattress brings a touch of luxury. Rather than the conventional flocked surface that most mattresses choose, this one takes the route of using foam for better performance.
The mattress has a urethane foam core to expand and contract, giving this mattress excellent firmness and vertical sidewalls. The self-inflating thing is a bit of a misnomer here, because even though you don't need a pump to inflate it, you'll have to do some manual work and breathe into the mattress to set it up.
Using foam does have a price, and the mattress weighs 5.5 pounds. So it's best used for car camping. Given its width, it may not be ideal for a double cot, however, the mattresses pair well together and can fit nicely on most cots.
Pros:
Extremely comfortable
Provides a warm sleep surface, pleasant for most conditions except hot weather
Relatively easy to inflate
Cons:
Somewhat heavier compared to similar air mattresses
No waterproofing
Picking The Camping Cot For Two
Comfortable and useful double camping cots are a rare breed, and few offer a quality of convenience and usability. Using an air mattress on top of your cot can add to the comfort. On the plus side, most quality cots are made from good materials and you can make do with just some padding to keep you warm and protected.