For a family or group of three or four people, the smart idea for camping outdoors is to get the best 6 person tent. A large tent offers enough room to be comfortable and a scope for activities inside the tent. Sure, it is more convenient to carry a compact tent when you're hiking or backpacking. But if you're car camping with a group or your family, think of going big.
Larger tents offer more room to use. Many of them will also have the height to allow you to walk upright inside the tent.
Hottest 6 Person Tents In 2020
Editor's Choice: Coleman Steel Creek Fast Pitch Dome Tent with Screen Room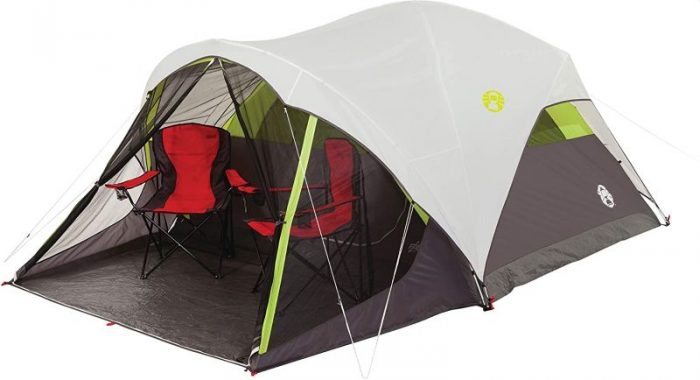 Good looks, comfort, and thoughtful design make the Coleman Steel Creek Fast Pitch tent the editor's choice for this category. The main room is wide and spacious to be a comfortable choice. Its screen room works equally well and has enough space to allow people to lounge about comfortably.
Steel Creek has good waterproofing and can withstand winds. Add to that the good value pricing, and you've got yourself a great tent.
6 Person Tent Reviews: The Tents To Look At This Season
1. CORE 6 Person Dome Tent
A straightforward and simple setup works well for the CORE 6 Person Dome Tent. It plays well to its structure and strengths and uses them to its advantage. A very powerful aspect here is ventilation – I didn't expect this tent to do so well in this department. At best, I'd expect it to be average. Thankfully, I was proven wrong.
The large mesh windows and mesh roof certainly help with ventilation. The good part is that they keep up even when the rainfly is draped around the tent. Its adjustable ground vents work particularly well in keeping the air in circulation.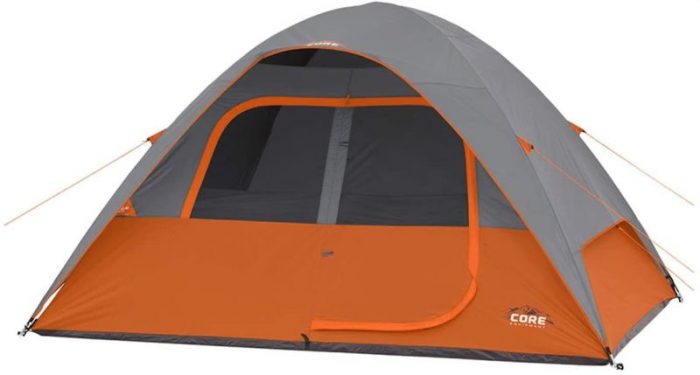 Core 6 Person Dome Tent uses what the company calls Core H20 Block Technology. This basically includes a few waterproofing necessities like water-repellent fabric, sealed seams, rain-resistant seams on windows and doors, and taped rainfly.
These efforts work well and keep the tent waterproof. The dome shape also affords some protection against the wind. When put in place, the rainfly forms an awning over the door of the tent. Interestingly, it leaves a part of the mesh roof uncovered, which accounts for continued ventilation.
Core's 6-person dome tent has floor dimensions of 11 x 9 feet and a center height of 72 inches. There's also a gear loft and mesh storage pockets for extra storage. You may not be able to walk around upright, but the convenient headspace adds some comfort.
Pros
Good value for money
Good waterproofing
Excellent ventilation
Cons
Tent construction feels flimsy at some points
2. Coleman Steel Creek Fast Pitch Dome Tent with Screen Room
Our editor's choice as the best 6 man tent, Coleman Steel Creek Fast Pitch tent has an interesting set of features on offer. This is a tent with a screened porch that leads to the main room. Both of these areas are fairly spacious. Should you feel like it, the screen room/porch is spacious enough to be used for sleeping.
The rainfly goes masterfully over the main room and forms a covering over the windows. It's spaced well enough to allow the windows to stay open, and provides just enough cover to protect them from the rain. The windows and the screen room are covered in fine mesh to prevent insects from getting into your tent.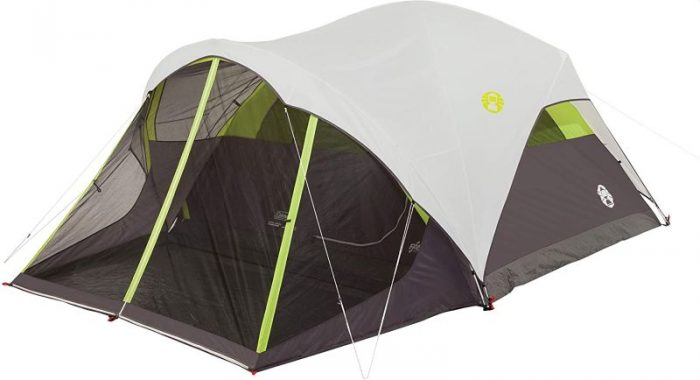 As a "fast pitch" tent, Coleman Steel Creek is quick to set up. The company says the tent can be fully set up in about 7 minutes. As for waterproofing, it makes use of Coleman's WeatherTec system. This means bathtub floors with inverted seams, taped seams, and water-repellent fabric.
The floor extends to the screen room as well, though it won't necessarily be protected from the rain. Given that they usually have mesh walls and are open, screen rooms don't stay well-protected from the rain.
Dimensions for the main room of the Steel Creek Fast Pitch Dome Tent are 10 x 9 feet. The screen room comes in at 10 x 5 feet. Storage options are available inside the tent with a mesh pocket. There's an e-port to allow electric cables, and color-coded poles for easier and quicker set up.
Pros
Excellent waterproofing
Good value for money
Excellent ventilation
Easy to set up
Cons
The back window is always open and cannot be closed
3. Crua Core 6 Person Family Camping Tent
Crua Core 6 Person Family Camping Tent is excellent. Its enemy is the over-enthusiastic marketing with wild claims. This is not a tent for the snow and if you want insulation, you'll have to get the Crua Cocoon Maxx tent. The Cocoon is a smaller, insulated tent and can handle the cold better.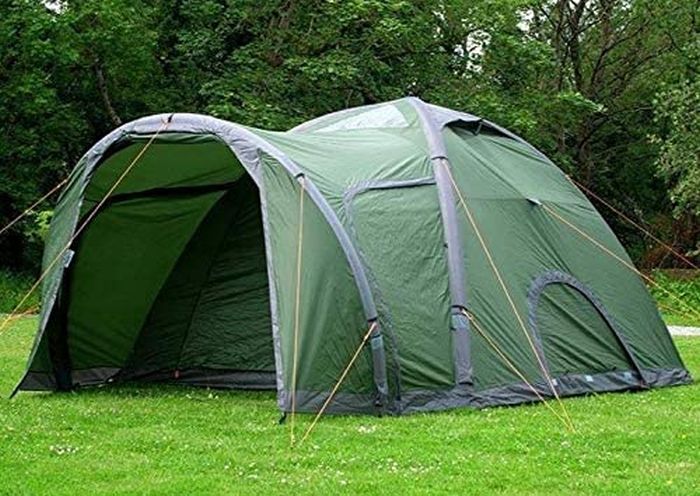 For its part, the Crua Core 6 Person tent is made from a fire retardant and water-resistant outer layer. Large mesh windows and doors make this tent well-ventilated.
Interestingly, the windows are placed near the floor. A lining runs over the windows to prevent rainwater from getting inside. Another reason for this placement is to allow easy connectivity with other Crua Clan tents which can join in with the larger Crua Core.
Dimensions for this tent are 16 x 12 feet, including the outer porch area. The structure is largely an airframe supported by aluminum. It keeps the tent relatively lightweight and works as well as conventional pole-style set ups.
Pros
Well-designed and waterproof tent
Spacious
Can connect with other tents of the Crua Clan system
Cons
4. Kodiak Canvas Flex-Bow 6-Person Canvas Tent
Canvas tents are great when you want a touch of luxury and don't mind the extra weight. Canvas tents, in general, weigh substantially more than polyester or nylon tents. They are also usually more expensive. However, they are likely to be more comfortable and can easily last years.
Kodiak Canvas Flex-Bow 6-Person Canvas Tent is an excellent example of this category. The tent is made from 100% cotton duck canvas that is waterproof, breathable, and long-lasting. As the fabric itself is breathable, canvas tents usually have naturally better ventilation and comfort.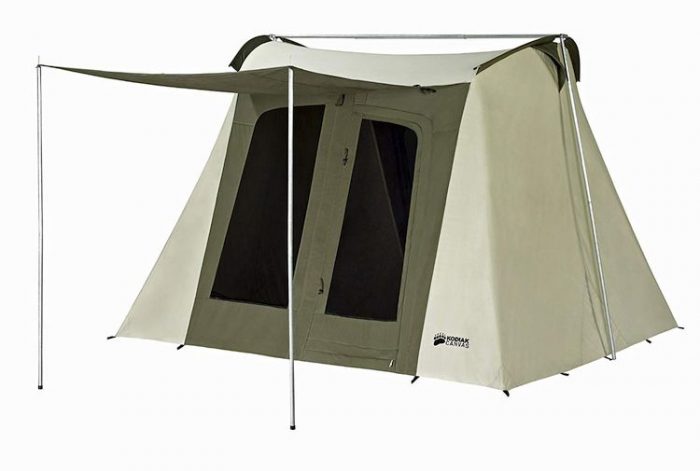 Flex-Bows' fabric is built to be waterproof. A thicker fabric is used at the ceiling to ensure waterproofing. The floor is made from 16-ounce polyester-reinforced vinyl with welded seams to keep moisture from the ground away.
Tents like the Kodiak Canvas Flex-Bow build on those qualities to get the most out of their material. This one has large D-shaped doors with included windows. The large doors make getting in and out of the tent rather easy. An awning can be set at the door(s) to allow more area.
The tent windows are covered in no-see-um mesh, so there's no worry of critters getting in. Both doors (front and back) come with #10 YKK zippers for more reliable movement.
Kodiak Canvas 6-person tent has floor dimensions of 10×10 feet and the maximum available center height is 78 inches. There's plenty of room to relax and walk around in this tent! The total pack weight of the tent is 68 pounds.
Pros
High-quality fabric and construction
Long-lasting tent
Waterproof and well-ventilated
Cons
5. Kelty Sequoia 6 Person Camping Tent
Kelty Sequoia 6 Person Camping Tent feels big and spacious, even for a 6 man tent. It is convenient to set up, the company calls it a single-handed set-up. While that may indeed be possible, use both hands for best results!
For its lower body, Kelty Sequoia uses 68D polyester. Everything else is pretty much mesh. Unfortunately, even with so much mesh, the tent struggles with airflow and ventilation. You can remove the rainfly and enjoy the air, but that solution ends up sacrificing privacy.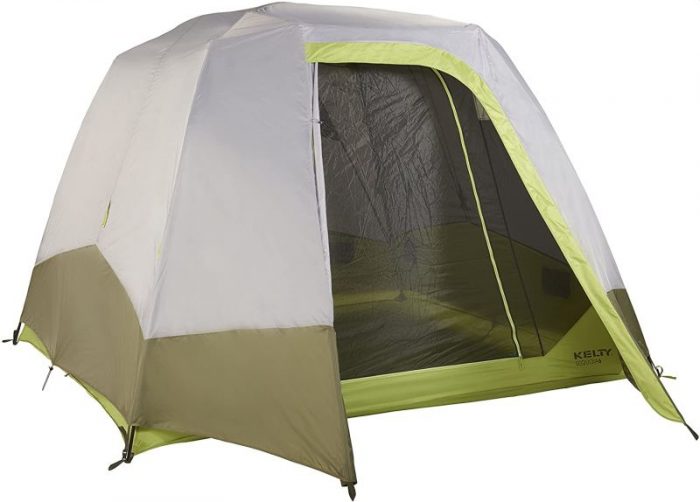 Speaking of the rainfly, it will block the rain and creates a nice shelter. You can position the rainfly over the door to make this a tent with vestibule. That adds some extra space for your gear and other necessities.
A zipper runs through this part of the rainfly. When needed, you can unzip the rainfly and push it aside like a curtain to get a clear path to the tent door. Since it's a cabin-style construction, the tent offers plenty of room to walk around without stooping. Additionally, there are several mesh pockets along the walls for extra storage.
Pros
Spacious and comfortable
Well-constructed with good quality stakes
Acceptable waterproofing
Cons
The tent floor is the same material as the tent fabric rather than being something sturdier
Questionable ventilation
Check pricing and discount options
5. Coleman WeatherMaster 6-Person Tent with Screen Room
There are plenty of things to like about the Coleman WeatherMaster 6-person tent with screen room. For me, the fact that this tent has hinged doors and a screen room are its greatest qualities. Zippered tent doors don't feel half as good once you've gotten used to hinged doors. Hinges just feel more intuitive!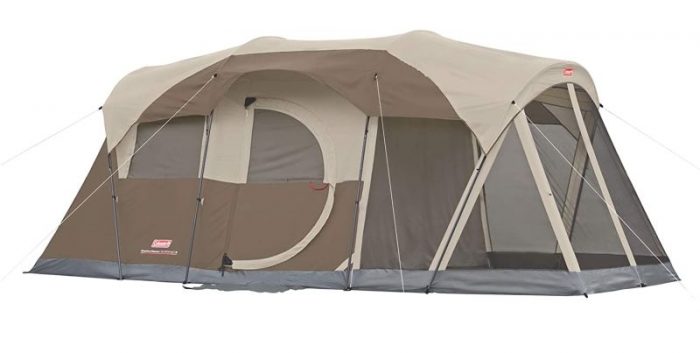 The screen room is large and useful, allowing tent inhabitants to spend time resting and enjoying the outdoors. The lack of a floor on the porch area comes across as a questionable design choice. Consider the Coleman Steel Creek if you want a floor on the porch.
Coleman WeatherMaster's screen room as well as the windows on the tent and doors are made from no-see-um mesh. The rainfly expertly covers the tent and forms an awning over the doors and windows for greater protection against the rain. The screen room floor (ground) is bound to get wet in rain, so maybe skip the plans of sleeping there if the weather isn't especially mild.
For waterproofing, the tent uses Coleman's WeatherTec system. Apart from water resistant fabrics, this includes bathtub floors with welded seams. Additionally, inverted seams are used for greater protection against the rain. Coleman WeatherMaster will hold up pretty well in rain and can handle some wind.
Pros
Spacious two-room tent
Excellent waterproofing and wind protection
Good ventilation
Screen room and hinged door included
Good value for money
Cons
No floor at the screen room
Better quality stakes will work better with these tents
See buying options for this tent
7. Coleman Sundome 6 Person Tent
Coleman Sundome is one of the most popular tents in the company's lineup at the moment. You can get it in several colors and size variants, starting all the way from a 2-person tent to a 6-person tent. Being versatile, easy to handle, and cost-effective are the biggest strengths of this tent.
Sundome is a dome-shaped tent focused on usability. Its low price doesn't allow for frills. however, it manages to stay as a great value option by including necessary features. The tent has good ventilation thanks to large windows and a well-placed ground vent. An e-port is also available to make use of electric cables.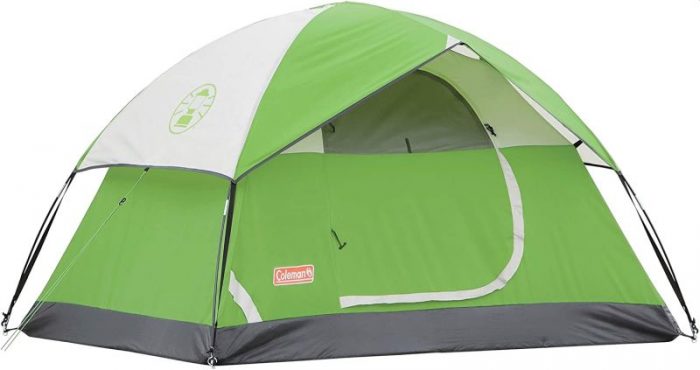 The rainfly covers the top half of the tent and creates an awning over the door. This keeps the door relatively protected, but also leaves room for the window to stay open. That way, you can have good airflow even when it's raining. The tent has acceptable waterproofing through Coleman's WeatherTec system.
Dimensions of the Coleman Sundome 6 Person Tent are 10×10 feet and the max center height is 6 feet. That height's good enough to offer plenty of shoulder space, but perhaps not enough to let people walk around upright. If you want more features like a hinged door and battery quality materials, take a look at the Coleman Elite Sundome 6-Person tent.
Pros
Great value for money
Acceptable waterproofing, though it's best to avoid heavy rain
Good ventilation
Cons
Tent fabric can feel flimsy at times
Poles and stakes need a quality upgrade
8. ALPS Mountaineering Camp Creek 6-Person Tent
ALPS Mountaineering Camp Creek 6- Person Tent is a nice and spacious cabin-style tent. The vertical walls make more of the floor space usable, while simultaneously increasing the center-height. The overall effect is that of plenty of space and comfort.
You can enjoy good ventilation thanks to the four large windows on this tent. The rainfly adds an awning over the front door and back window. This allows good ventilation even if it's raining. The side windows barely get a touch of cover and will have to be shut during rain.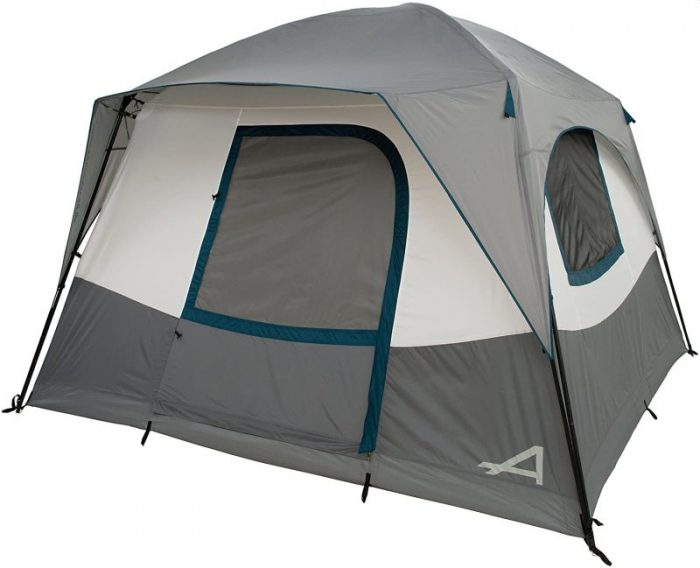 The rainfly is made from 75D 185T Polyester while the floor uses 150D polyester oxford fabric. Together, these bring good waterproofing to the tent, allowing it to withstand heavy rain for a while.
ALPS Mountaineering Camp Creek 6-Person Tent has a hub design that makes it easy to put poles in place and set up this tent. The set up is fairly convenient. The drawback here are the fiberglass poles that don't quite seem to offer good durability. They are shock-corded, but can still end up being very fragile.
You get base dimensions of 10×10 feet and a center height of 84-inches. That's plenty of room to walk about and be comfortable in this good-looking tent.
Pros
Good looks and design
Fairly capable waterproofing
Spacious and well-ventilated
Cons
Questionable durability – the poles appear to be fragile
Can take some effort to set up
9. Coleman Evanston Dome Tent with Screen Room
Coleman Evanston Dome Tent is one of the top rated and best-regarded tents available as a 6 person tent. It is pretty much a twin of the Steel Creek tent, which is our top choice for this category. However, some small differences make these tents stand separate.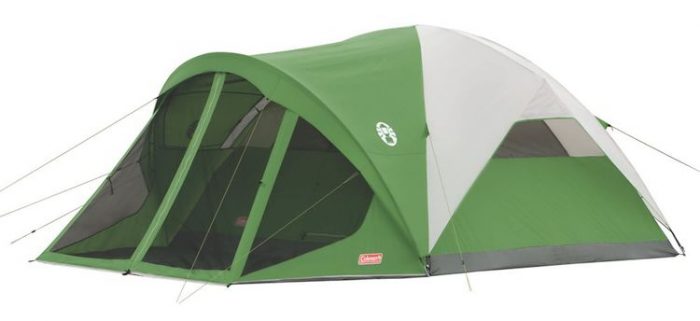 I'm tempted to see them as different versions of a similar product. In that sense, Steel Creek becomes the better choice. Though that's not to say that the Evanston is an inferior tent. It's still very much worth its place.
Important differences between the Coleman Evanston Dome Tent and Coleman Steel Creek Fast Pitch tent are detailed here.

| | | |
| --- | --- | --- |
| | Evanston Dome Tent | Steel Creek Fast Pitch Tent |
| Pitching | Regular, takes about 15 minutes | Fast pitch, with 7 minute setup time |
| Weight | 26.3 pounds | 19 pounds |
| E-port | No | Yes |
| Color-coded poles | No | Yes |
Other properties like dimensions, center height, and available area are largely the same. Both of these have a floor on the screen room and use Coleman's WeatherTec system for waterproofing. I'd say Steel Creek is the superior choice, but you can't go wrong with either tent. Take your pick!
Pros
Excellent waterproofing
Good value for money
Excellent ventilation
Cons
The back window stays open and cannot be closed
If it rains, water is bound to get into the screened porch area
10. Eureka! Jade Canyon Three-Season Camping Tent
Eureka! Jade Canyon is a spacious and dependable cabin-style camping tent. Apart from being spacious with floor dimensions of 10×10 feet, this tent is also tall with a height of 7 feet. That means practically everyone can walk around comfortably inside the tent.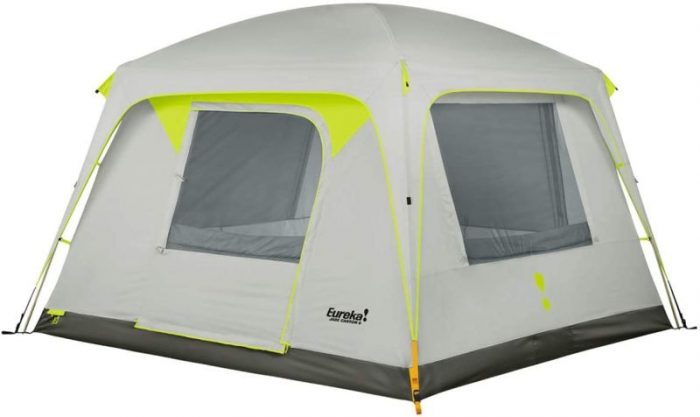 Large windows on each side of the tent (including on the door) ensure good ventilation. Its rainfly covers the roof but doesn't offer much protection for the door or windows. The wise thing to do is to approach this as a point of risk, if not a failure.
Thankfully, the tent holds up pretty well in the rain, contrary to expectations. The door (or windows) don't get leaky in rain. Though there is the obvious risk of water running in if you open the door during rain.
Eureka Jade Canyon has mesh pockets along the top of the tent for easier storage options. A zippered e-port and mesh pockets are placed at the middle for easier access. I think the gimmicky parts of this tent are quite enjoyable, even if they don't appear to be useful on first look.
For example, there's the E! Media Center, which is basically a plastic pocket for your phone or tablet. This is touch-friendly TPU plastic and going handsfree while watching a movie in the tent is definitely likable.
Another notable feature is the E!luminate System. Shiny fabric panels are placed at the roof near the spot for the lantern. You can use these panels to reflect the light to make it seem brighter. This doesn't quite work like Eureka would like it to, but I think there's some appeal to this idea.
Pros
Good waterproofing
Well-ventilated tent
Spacious and comfortable
Cons
Can take some effort to set up
Some Pointers On Buying The Best 6 Person Tent
Don't Put Six People In One Tent!
These are six person tents and they will accommodate six people. However, don't be too sure of the comfort of everyone in the tent. You'll be packed shoulder to shoulder with little or no space to move. Take a look at the dimensions in the 6 person tent reviews above, and you'll know how little the available space can be.
For the sake of comfort, limit yourself to three or four people. This is one reason the average 6 person tent works great as a family vacation tent. Two adults, two kids, and maybe a pet can be fairly comfortable inside the tent. And you'll still have room for your gear and other necessities.
Can I Place Two Queen Size Mattresses In The Tent?
The exact answer here can depend on the specific dimensions and structure of the tent. However, in most cases, you should be able to put two queen size mattresses in a six person tent.
A downside to this approach is that the mattresses will likely cover the entire floor area inside the tent. There will be barely any room to move, and definitely no place to put your gear. A better approach is to use a queen size mattress and a twin mattress. The combination is comfortable and you will have at least some space to walk and place your gear.
Factors Like Ventilation And Waterproofing
Check the ventilation and waterproofing capabilities of your tent. Good ventilation will go a long way on hot and humid nights or you'll find yourself entirely dependent on tent air conditioners.
Waterproofing is practically non-negotiable. The tent should be capable of handling at least a mild rain for several hours. Rain can be unpredictable and leaky tents destroy vacations. So invest in a tent that can stand up to the rain. Any tent will need maintenance so it's useful to learn how to waterproof a tent.
Ease Of Set Up And Packing
This is a big factor, perhaps even a deciding factor in choosing your tent. A tent can have all the features, frills, and whatnot, but what use is it if you can't set it up right? Most modern tents, even with the large 6 person tents are usually easy to set up. But there are outliers that haven't got the memo yet.
Also, see if the company includes a set up guide for the tent with the sale. Following the available instructions can make things remarkably easier. Some aspects of the tent can vary by the manufacturer or model. So an instruction set makes things easier.
Always try a tent at home before you take it on vacation. The tent might have problems, it might need maintenance, or you might be rusty! Whatever the case is, it's better to find out before you're at a camping destination with your family and a tent that doesn't work.
Setting it in your lawn or backyard and checking for any problems should be good enough. This might also be a good time to waterproof and seam seal your tent, if necessary. If you don't have enough space at home, consider checking the tent at a local park or similar place. Before you do this, check local laws and ensure you're allowed to set up the tent in the public place.
The Big Tent For Your Vacation
Picking a big family tent for your vacation makes better sense than carrying several small tents. You get to spend more quality time as a group and everyone can be more comfortable inside the larger and more spacious tent. Our selection of the best 6 person tent reviews some of the coolest and most popular tents available.
Take a look, and keep your comfort first. If you want a quick suggestion, try the Coleman Steel Creek Fast Pitch Dome Tent with Screen Room. For cabin comfort, give ALPS Mountaineering Camp Creek 6-Person Tent. For those who prefer luxury, take a look at the Kodiak Canvas Flex-Bow 6-Person Canvas Tent.