Those of us planning to visit the outdoors during winters need to put extra touches in picking our gear. Getting the best cold weather tent is the first stop. Keeping warm is essential so the gear must match up to the requirements.
Necessary gear includes a good winter tent, a sleeping bag rated for the right temperature, and warm clothing. Your choice of the tent will also depend on how cold you expect things to get. Expecting an inch of snow or a foot of snow represent dramatically different requirements.
Top Of Winter Camping Tents For 2020
Our Choice: Black Diamond Eldorado Tent
Black Diamond Eldorado Tent is built for mountaineering and has the features to be useful for hikers and backpackers. Its compact design makes it easy to handle and its shape adds to the tent's waterproofing properties. This is not an insulated tent, but it will keep dry and remain comfortable in winter.
Reviewed: The Best Of Cold Weather Tents
1. ALPS Mountaineering Tasmanian 2-Person Tent – Best Winter Backpacking Tent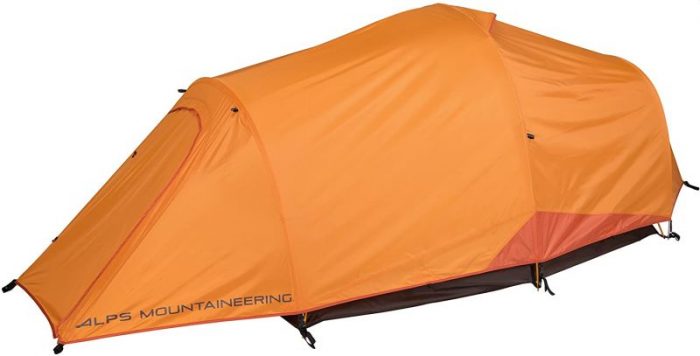 Quick to set up and easy to manage, ALPS Mountaineering Tasmanian 2-Person Tent is a suitable choice for most campers. The freestanding tent has a frame made from "rust free" aluminum poles and can be set up relatively quickly.
Once you place the fly, you get two vestibules at either end of the tent for increased storage. The total area of these vestibules is 13 square feet, which is pretty good for most needs. Doors are placed at either end of the tent and have mesh windows for easy ventilation.
Another good thing here is that the tent doesn't have any major problems with condensation. There is always a chance of droplets forming for any tent, but it seems the ALPS Mountaineering Tasmanian tent doesn't get overwhelmed by this particular problem.
Specifications And Other Features
As dimensions go, the tent has a base size of 5'2 x 7'8. That seems fairly spacious for a 2-person tent. However, the tent has something of a diamond shape and the width of 5'2 stands true for the center, from where it tapers to both sides.
Towards the end of the main area, the width is more like 4 feet. Still not a dealbreaker, but it can be snug for two people – perhaps not the worst thing for a winter backpacking tent!
Mesh pockets line both sides of the main area to provide easier storage. As for waterproofing, the tent has factory sealed seams, 75D 185T polyester rainfly with 1500mm coating, and a 75D 185T polyester floor with 5000mm coating. If it's suitable for your needs, it might be worth buying the optional floor saver for this tent.
ALPS Mountaineering Tasmanian 2-Person Tent has a total weight of 7 lbs 15 oz. The minimum weight here is 7 lbs 3 oz.
Pros
Excellent tent for winter camping
Good waterproofing and ventilation
Spacious and fairly comfortable
Cons
Can be heavy, as compared to similar competing tents
Could use a better floor
2. Black Diamond Eldorado Tent – Editor's Choice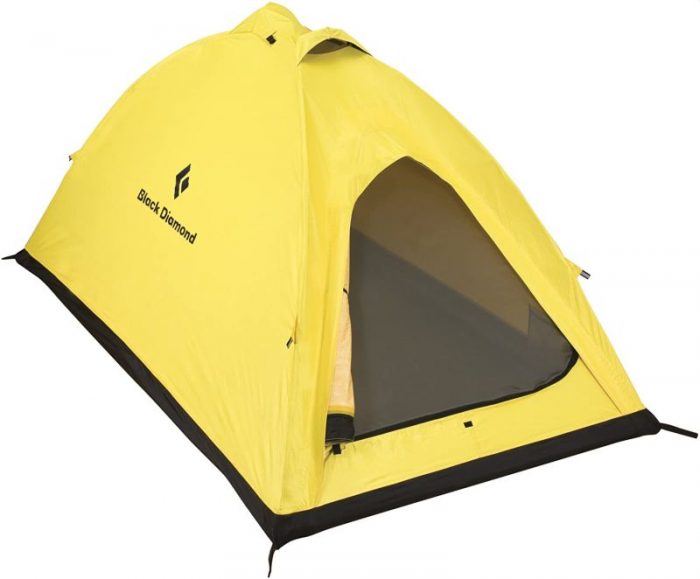 Black Diamond Eldorado is our top choice for this category, mostly for its ease of use and quality construction. This is a spacious 2-person tent with plenty of headroom to accommodate tall campers.
Zippered vents at the top of the tent and a large mesh window at the door keep the tent well-ventilated. A hooded vent is placed at the top of the door, while there's another vent at the bottom. The presence of all these vents plays a big role in reducing condensation in the tent.
Interestingly, this is a single-fabric tent. However, it offers greater protection against the rain, thanks to PTFE coating, which works better than the conventional PU coating.
Additionally, this ToddTex single-wall fabric is waterproof, breathable, and fairly resilient. It's one of the reasons this tent gets an edge over its competitors. It's perhaps also responsible for the tent being more expensive!
Specifications And Other Features
This 2-person tent has a packaged weight of 5 lbs 1 oz and a minimum weight of
4 lbs 8 oz. It's not the lightest tent around, but it's fairly well-placed. Floor dimensions for the tent are 87 x 51 inches and the max center height is 43 inches.
The dimensions are not exactly generous, but can be considered fairly spacious for a 2-person tent. The freestanding Black Diamond Eldorado tent uses aluminum poles and includes extra room for gear storage.
Pros
Waterproof and windproof tent
High-quality construction
Fairly spacious
Cons
Expensive
Can be troublesome to set up
3. Crua Cocoon Maxx Tent – Best Extreme Cold Weather Tent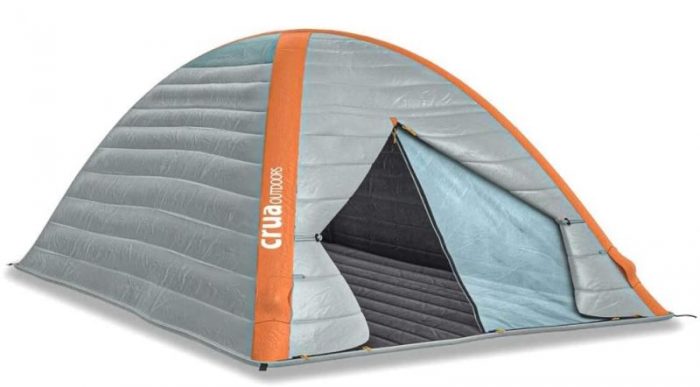 Crua Duo Cocoon Maxx Combo Tent is a very comfortable, insulated tent well-suited for winter camping. Insulation on this all-season tent also works to dampen outdoor sounds and block out light, so your slumber isn't easily disturbed. In a way, this is a useful blackout tent, though it doesn't use the same technology.
This three person tent is large and fairly spacious. There's plenty of room, but perhaps it's still more suited for two people. Though we call it the best extreme cold weather tent, there is a caveat to consider.
It can work as a standalone tent, but Crua Cocoon Maxx works best when paired with others of the Crua Clan, including the Crua Core 6 Person Family Camping Tent. Or you could put it together with the Crua Duo Maxx, which forms a combo with this tent. A similar combination is available with the Crua Duo combo tents.
This is a modular tent and can be placed with other similar tents. Though the compatibility with other Crua tents works best. Placed inside another tent like the Crua Core, the Crua Duo Cocoon can get fairly toasty even if it's freezing outside.
Specifications And Other Features
This is a very lightweight tent, and that's partially due to the use of aluminum and airframe combination. You will need an air pump with this tent, but that has to be purchased separately. Something like the Intex pump can work.
These tent combos can seem unusual, but they're pretty handy and easy once you get used to them.
Dimensions for the Crua Cocoon Maxx are 6.4 x 6.8 feet, with a max height of 4 feet. The insulation covers the tent well and can keep you warm from the harsh cold outside.
Pros
Good quality construction
Well-insulated
Lightweight tent with airframe and aluminum combo
Cons
Needs a separate air pump
Getting the full tent combo or Crua Clan system can be expensive
4. PlayDo 4-Season Waterproof Cotton Canvas Bell Tent – Best Tent With Stove Jack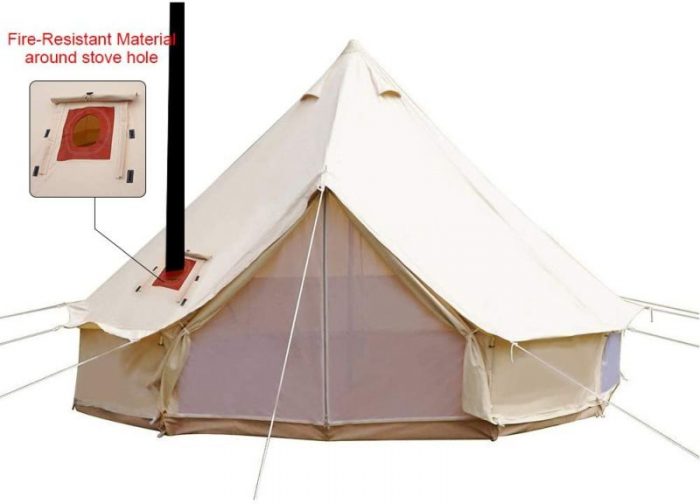 PlayDo 4-Season Waterproof Cotton Canvas Bell Tent has featured earlier as one of our favorite winter tents with stove jack. This four-season canvas tent is well-suited for winter camping as well as glamping! That's all thanks mostly to good construction and the versatility of canvas as a tent material.
Made from 300gsm cotton material, the tent is breathable, well-ventilated, and waterproof. A five-inch stove jack is placed at the roof of the tent. This presents the possibility of using a stove inside your tent and staying warm while camping in the winter. Besides, the canvas will provide some protection against the cold and the tent stays warm.
When not in use, the stove jack can be covered by a flap and secured by velcro. The tent is large, spacious, comfortable and amongst the best cold weather tents for family camping.
Specifications And Other Features
The tent is available in several different sizes. These include diameters of 9.8 feet, 13 feet, and 16.4 feet. This is a bell tent with vents at the top for better ventilation. There are small windows at the back and when necessary, the massive front door can be opened for air. The windows and door have no-see-um mesh for convenience.
PlayDo 4-Season tent has a rugged PVC floor that's waterproof and offers excellent insulation from the ground. Overall, with a tent and quality canvas backing, you can enjoy winter camping with this tent.
Pros
Long-lasting tent made from canvas
Excellent value
Several after-market accessories available for customization
Can easily work with wood-burning stove
Cons
Attention on windows is must for proper waterproofing
Can be pricier than non-canvas options
5. MoKo Waterproof Family Camping Tent – Best Budget Tent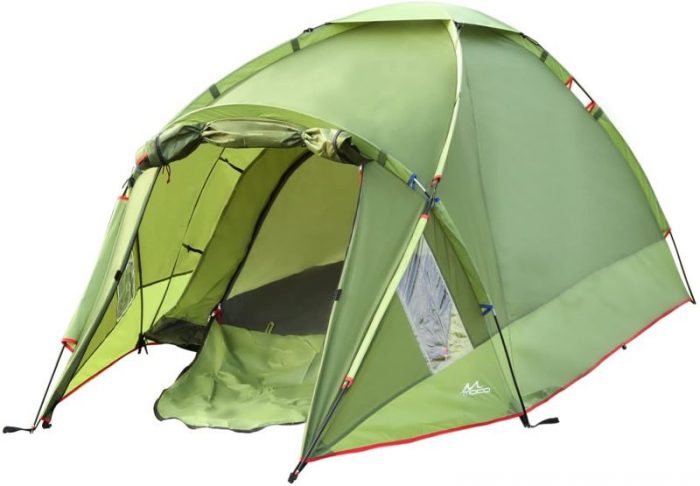 This excellent cold weather tent can also be used for family camping. MoKo Waterproof Family Camping Tent is a 3-Person camping tent that's quite cheap. Even with the good value, the tent manages to offer good construction quality.
The tent is made from weatherproof nylon and can handle rain and some snow. At the tent's door, the is elongated and forms a vestibule for storage of gear and other items. Windows are included on the vestibule for better views and ventilation. Another window is placed at the back of the tent.
Specifications And Other Features
MoKo Waterproof Camping Tent has its body and flysheet made from nylon and rated 2500mm+ waterproof. The floor is made from 1000D polyethylene to be sturdier and is rated 5000mm HH for waterproofing.
Interior dimensions of the tent are 6×7 feet and the maximum height is 3.5 feet. Theoretically, it's good enough to accommodate three people. Practically, maybe it's best used for 2 people, or 2 people and a child.
Pros
Excellent value for money
Fairly easy to set up and pack away
Cons
Seams aren't sealed – you'll have to do that yourself
Questionable longevity
6. Geertop Backpacking Tent – Best Value For Backpackers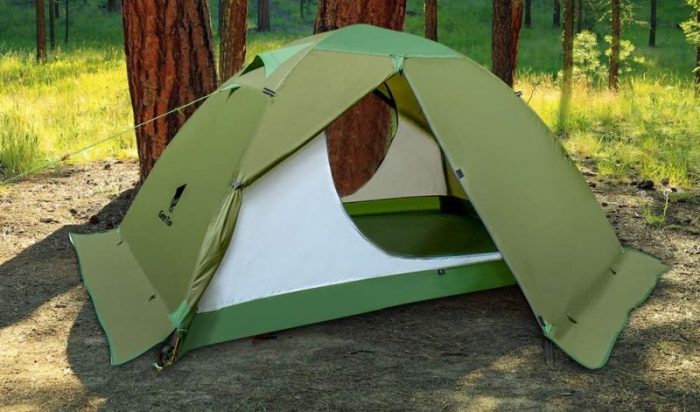 Geertop Backpacking Tent offers value as a low-cost backpacking tent. This is not a cheap tent, however, the two-person tent is priced low enough to be alluring. It tries to include several things usually found in higher-priced tents, which ups its value.
This is a dual-layer tent with the main tent covered by a rainfly. Both these layers are made from good quality materials and treated to be waterproof. Two doors are available on this tent and both of them are practically huge. The doors also include mesh windows to help with ventilation. Additional vents are placed at the top of the tent to keep the airflow going.
Specifications And Other Features
The tent material is 210T anti-tear checkered polyester that is UV resistant and rated at PU 3000mm for waterproofing. Steep slopes of the tent walls ensure rainwater and snow slide down pretty quickly.
Dimensions of the Geertop Backpacking Tent are 78×55 inches for the inner layer, with a maximum center height of 41 inches. Putting on the rainfly increases the width to 102 inches as the fly forms vestibules at both doors for extra storage.
I'd say the 55-inch width is pretty spacious for two people and might even border on comfortable! The tent weighs 6.4 lbs, which is fairly light and could make a good pick since the weight is shared between two people.
Pros
Good value for money
Spacious and well-ventilated tent
Double stitched and sealed seams
Cons
The tent fabric can feel flimsy at some points so the longevity of this tent is questionable
7. Geertop Portable 4 Person 4 Seasons Backpacking Tent – Cold Weather Tents Family Camping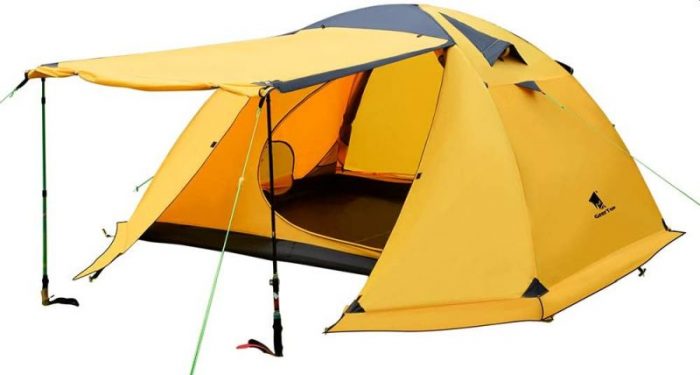 Geertop Portable 4 Person 4 Seasons Backpacking Tent is pretty much the bigger sibling of the Geertop Backpacking Tent that we also see on this list. The difference largely is the size – this one's a 4-person tent.
This is a dual layer tent as well and the rainfly forms a vestibule at its doors. Being a larger-sized tent has its benefits. For this tent, that means the vestibule can be used as an awning when needed. Pretty slick!
Specifications And Other Features
The rainfly is made from 210T polyester rated for 3000mm and high-density nylon mesh. The inner tent is 210T polyester as well, though the floor gets a 210D PU 5000 mm Oxford fabric. Geertop 4 person tent stays on the spacious side and has inner tent dimensions of 94.4 x 82.6 inches. The center height is 53 inches, and the tent weighs just 9.1 lbs.
Pros
Good value
Good waterproofing and ventilation
Fairly spacious and comfortable
Cons
Things To Know When Camping In Winter
The Key To Winter Camping Is Knowing How To Stay Warm
If you're out camping in the cold, know how to stay warm in a tent. It's not just a matter of comfort, but also something that can affect your well-being. The cold can be unforgiving and if you're camping away from civilization, you should be prepared for tough situations.
Get Your Clothing And Sleeping Bag In Order
A good cold weather tent is just one part of the puzzle. You'll also need a high-quality sleeping bag that's rated for the right temperature. Warm clothes and knowing how to keep them dry can be a lifesaver. Be prepared for the weather to be colder than what you expected it to be. And expect the weather to change dramatically if it snows.
Point is, there should not be a situation where you're caught off-guard. Being over-prepared is better than being under-prepared, especially when camping in the cold.
While we're on topic, don't forget to have your food items and stove along. A hot beverage is often an excellent tonic for handling the cold weather.
Setup And Check Your Tent Before You Leave
Before you go, perform general maintenance on the tent. Check if the waterproofing is working as intended, or if there are any ruptures, tears, or other risky situations for the tent. Additionally, you may have to waterproof and seam seal the tent if necessary. It's better to find and fix problems before you leave home, rather than struggling at the campsite.
Quick Buying Guide For Your Cold Weather Tent
3-Season VS 4-Season Tents
Tents are usually sold and marked as three-season and four-season tents. Generally, three-season tents are more popular, and that's because more people prefer to camp in the summer, spring, and autumn.
When you want to camp in the cold, a 4-season tent is what you want. These are also known as winter tents or cold weather tents. Different tents and manufacturers use different strategies to design these tents. However, the following characteristics are most common:
Steep walls that prevent the snow from settling
Usually have tougher and more rugged fabric
Can use more poles and pole crossings
Greater emphasis on being waterproof
Usually heavier than 3-season tents
Generally more expensive than comparable 3-season tents
These also represent some important points to check before you buy a 4-season tent. You should expect the tent to be rugged and well-built to withstand the troubles winter throws at it. Good waterproofing is pretty much non-negotiable. If the tent gives into water or snow, it can represent a danger to your safety. Heck, even if a cold draft is all that a tent lets in, it becomes a big problem to handle.
Weight, Cost, And Other Factors
Car camping allows you to carry heavier, larger tents. Those who are backpacking need to be more careful of the weight they carry. See how heavy your tent is, and if it will be easy to transport with your gear and necessities. There are several very lightweight tents available. These also tend to be very expensive.
Another aspect is the use of canvas tents. They're great for all-weather camping and most allow room for stoves inside the tent. However, canvas tents are heavier and more expensive than competing options.
Also consider other factors like general livability and available usage area of your tent. A tent should have good ventilation. This prevents the tent from feeling stuffy, and equally important, it helps get rid of condensation.
Dealing With Condensation
Ideally, you should never have to deal with condensation. But things aren't that simple and with differences in the interior and exterior temperatures of the tent, some condensation is unavoidable. Good tents will generally use ventilation to their advantage and not allow condensation to form.
In case you're having trouble with condensation, consider taking along passive dehumidifiers. These don't need electricity, last several days, and are an easy fix to high-humidity inside the tent. Make it a point to keep a change of clothes dry and safe for the next day.
Wrapping these clothes in a plastic bag and away from tent walls can work. Many people also keep the change of clothes inside their sleeping bag!
Winter Tents For An Awesome Vacation
Take your time and do your research before you commit to buying a cold weather tent. Most of these tents can be used in any weather, though they are at their best in the winter. All winter tents don't necessarily mean the same as snow tents. That said, winter tents should be capable of handling some snow.
Our top choice for this category is Black Diamond Eldorado Tent (featured above). If that doesn't work for you, give the Crua Cocoon Maxx Tent a chance. If you're willing to haul weight, PlayDo 4-Season Waterproof Cotton Canvas Bell Tent is an excellent pick.