Modern tents can offer tons of comfort. But what if you wanted some privacy too? Many tents have ways to divide the space available, but usually, it's limited to creating two spaces. If you want more, take a look at 3 room tents for added privacy and comfort.
When camping with a group, these tents also help keep the available space more organized. You can have a living room and bedrooms, or separate rooms depending on your preferences. Tents with three rooms are somewhat rare, but their usability makes them quite enjoyable.
Top Three Bedroom Tents For 2020
Our Choice: Coleman Red Canyon 8-Person Tent
Coleman Red Canyon 8-person tent is spacious, yet compact and uses its available space intelligently. Most three bedroom tents tend to be larger. It's simple math – more space equals more rooms. However, the Red Canyon manages to bring that usability to a smaller tent. The tent also offers good ventilation, acceptable protection against the elements, and has a good price point.
Top Tents Reviewed – The Best Of 3 Room Tents
1. Core 12 Person Instant Cabin Tent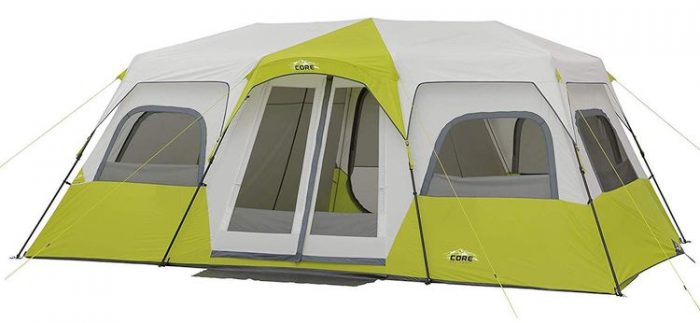 It's large, it's spacious, and it offers great value. Core 12 Person Instant Cabin Tent is a great pick for those who want a multi room tent. The tent includes two fabric room dividers that can be easily set up or taken down. The dividers can be set up independently, so you can also have a two-room tent or a single, large room.
As a cabin tent, it has near-vertical walls and offers a center height of 80-inches. Everyone can walk upright in this tent. The floor area is 18×10 feet. The tent includes telescoping steel poles and steel stakes for quick setup. It is fairly easy to set up and can be pitched pretty quickly. Since it aims to fit 12 people, the tent has several storage options like several mesh pockets along the walls and a gear loft.
Waterproofing is achieved through Core's H2O block technology. This includes water-resistant PU-coated fabric and taped seams. The tent fabric is 68D Polyester rated for 600mm hydrostatic head. Its floor is made from durable 125gsm P.E.
The tent has large doors and windows covered with mesh. Underneath the rainfly, the tent roof is mesh as well. That's a pretty good combo for ventilation and stargazing. Ground vents aid in ventilation and keep the air circulating. Core 12 Person Instant Cabin Tent also includes a zippered electrical cord access port, so it can be shut completely when not in use.
Pros
Spacious and comfortable tent
Good pricing
Easily converted to multi room layout with two dividers
Acceptable waterproofing
Cons
Large cabin tent cannot handle wind – tent poles may bend in strong wind
Questionable longevity – tent fabric and zippers can feel cheaply made
2. Ozark Trail 16×16-Feet 12-Person 3 Room Instant Cabin Tent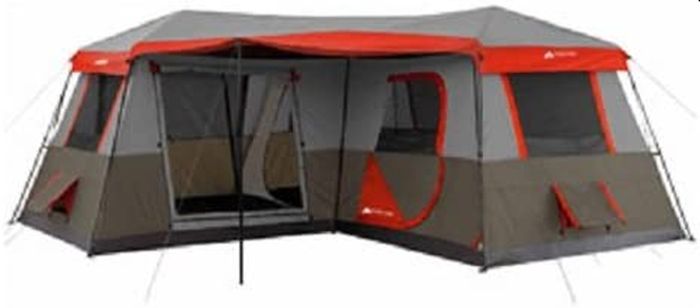 This is an L-shaped tent that requires a 16×16 feet area for set up. So yes, it is not as spacious as reading its dimensions might imply. However, this is a very well-built tent and the awning that completes its square dimensions looks pretty good.
Ozark Trail 16×16-Feet 12-Person 3 Room Instant Cabin Tent has sewn-in dividers. Therefore, the tent is pretty much a permanent three room tent. The two rooms on the edges of the L-shape have doors to the outside. One of these is a T-shaped door, the other is D-shaped. The internal room has two massive D-shaped doors leading to its adjacent rooms.
A total of seven windows are available on this tent. Bring in the two large vents, and you get good ventilation and an excellent tent. If it's particularly hot, the vents are just the right shape to attach a cooler or a tent AC. The tent has an e-cable port for electric connectivity. Several storage pouches are available on its walls.
Ozark Trail 16×16-Feet 12-Person 3 Room Instant Cabin Tent is quick to set up. The claim is that 2 people can pitch this tent in 2 minutes. That isn't far from the truth.
The rainfly is made from 68D polyester with PU coating and 600mm waterproof rating. For more protection, you get a thick bathtub floor made from 1000D polyethylene.
Pros
Excellent ventilation, easy addition of electrical coolers if necessary
Very easy to set up
Well-built and pleasant tent
Cons
No hooks or loops for overhead lamps
Heavy
3. Coleman Red Canyon 8-Person Tent

Our top choice for this category, Coleman Red Canyon 8-Person Tent is a family tent that makes efficient use of space. Interestingly, the floor area for this tent is 17×10 feet. Those dimensions aren't far from an average 10 person tent. Perhaps it is due to the presence of rooms, but the tent does cover more area than its competition.
The tent has convenient hinged doors for easy entry and exit. Large windows ensure good airflow and the use of Coleman's WeatherTec system offers protection against rain and wind. This system includes the presence of taped seams and bathtub floors for greater protection against the rain. The overall shape of the tent keeps it protected from the wind as well.
You get two fabric dividers with this tent, which can be used to create the three rooms. This includes the main room at the center, and two rooms on either side. This 8-person tent only has one door, so everyone must go through the main room to exit or enter the tent.
Pros
Very spacious, well-made tent
Excellent use of available area
Good protection against mild rain and wind
Forms a good, livable space
Cons
Only one door
No internal storage (mesh pockets, gear loft)
4. Wenzel Great Basin Tent

You've probably noticed that the Wenzel Great Basin Tent is shaped pretty much like the Coleman Red Canyon. As it turns out, this particular shape and design is fairly popular with three room tents. We'll see a couple more popular tents that follow this design.
Wenzel Great Basin is a 10 person tent with three rooms. Interestingly, though it is a 10 person tent, this one has a smaller floor area than the Coleman Red Canyon. With this tent, you get a usable floor area of 159 ft² (actual dimensions 18×10 feet). Note, that these dimensions fall well within the range of conventional 10 person tents. Red Canyon is simply more of an exception in sizing.
This is a well-ventilated tent where the mesh room and large windows work to keep air circulation going. Its rainfly covers the roof well and forms a canopy over the door to keep the rain out. Windows on the sides aren't well protected against the rain, so make use of those zippered panels to keep the rain out!
Wenzel Great Basin Tent has zippered dividers to easily set up or remove the rooms. You get three rooms with this tent, but just one door, so everyone has to go to the central room to exit or enter this tent. Other features include a light reflection system, gear loft, and e-port.
Pros
Excellent value for money
Easy to set up and remove rooms
Lightweight tent
Cons
Single door
Fiberglass poles aren't quite suited for a tent this size
5. Ozark Trail 11 Person 3 Room Instant Cabin Tent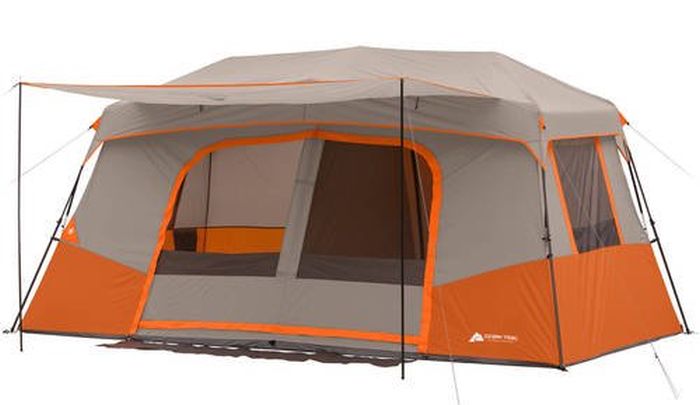 Ozark Trail 11 Person 3 Room Instant Cabin Tent has an interesting design and approach. The front of this tent has massive doors covered by an awning. You walk in through these large doors to a big and spacious room. This is a cabin-style room with plenty of head-room and near-vertical walls.
One wall of this large cabin gives way for another room. This one tapers from the top and forms something of half-dome type design. Though this additional room is smaller, it is big enough to hold a queen-size mattress. The main room too can be divided into two, creating this rather interesting three-room tent.
Its large doors, windows and mesh roof keep this tent well-ventilated. It's well-priced, spacious, and offers adequate protection against rain and wind. What I really like here is the unique design. It's one of the coolest three room cabin tents.
Pros
Spacious tent with plenty of room
Adequate protection from mild rain and wind
Great looks and design
Cons
The additional room can take some effort to set up
Can be troublesome to pack away
6. Ozark Trail 12-Person 3-Room Instant Cabin Tent with Screen Room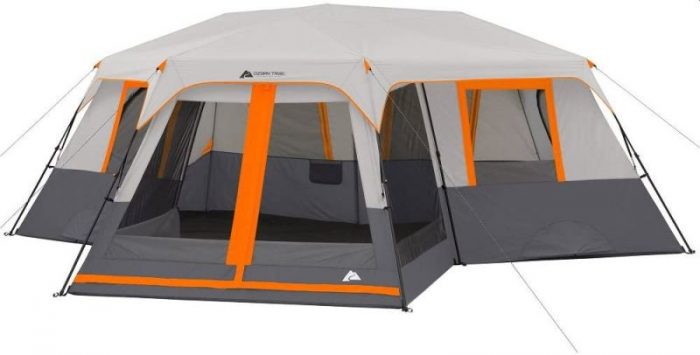 Ozark Trail 12-Person 3-Room Instant Cabin Tent with Screen Room is a massive tent with great value. This is a tall tent, going about 90 inches high. Its large windows, height, and cabin with porch create a pleasant atmosphere. This tent is quite fun as a living space.
The main cabin can be divided into two rooms as required. The third room for this tent is the screen room. It's a great place to relax and spend time, however, the screen room does not have a floor.
There are 10 windows on this tent, which work with the screen room and mesh roof to provide excellent ventilation. Several ground vents also come into play to keep the air moving. Protection against the rain comes with fully-taped seams and a well-placed rainfly. All windows can be closed in the event of rain.
Pros
Spacious tent and pleasant living space
Excellent pricing
Good ventilation
Easy and quick to set up
Cons
No floor for the screen room
Very heavy tent
7. Ferrino Chanty 5 Deluxe Family Tent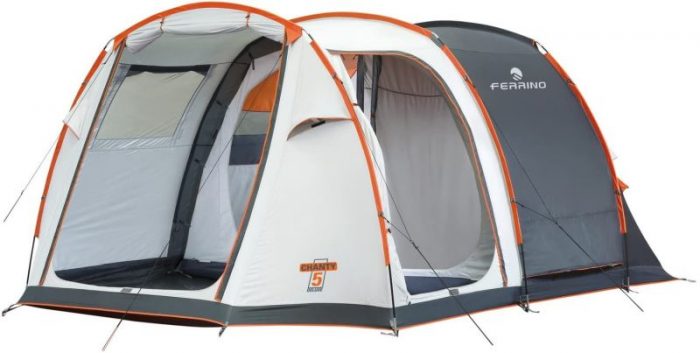 Ferrino Chanty 5 Deluxe Family Tent is a small 4-5 person family camping tent with rooms. The basic setup of this tunnel-style tent has the entrance with large windows and spacious area. This room opens up to the back of the tent, which is designed to be used as the bedroom. A removable partition can convert the bedroom into two smaller spaces.
Overall, this tent has a comfortable living area. The rainfly is made from 70D polyester and rated for 2000 mm waterproofing. Large windows and the huge door on the vestibule keep the tent well-ventilated.
Pros
Good waterproofing
Easy and quick to set up and pack
Compact and well-constructed tent
Cons
8. Ozark Trail 10-Person 3-Room Vacation Tent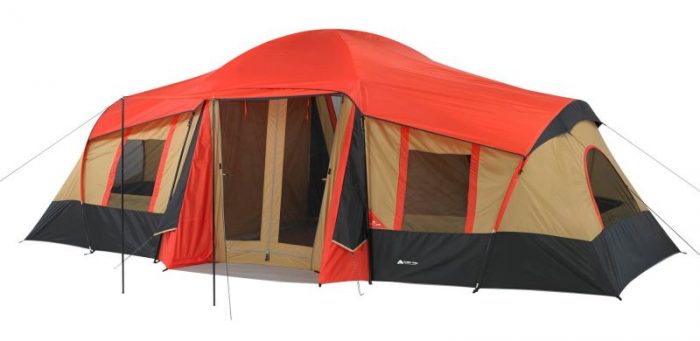 Ozark Trail 10-Person 3-Room Vacation Tent has large front doors with flaps that can be rolled back to let air through the mesh on the doors. Additionally, there's an awning covering the door, which gives this tent a nice look.
Going through the doors, you enter into the spacious main room. You can use the tent as a single room, or make use of the dividers to create rooms at the sides, thus making it a three room tent. Five windows and a mesh ceiling keep the tent well-ventilated and keep the air moving.
Ozark Trail 10-Person 3-Room Vacation Tent has floor dimensions of 20×11 feet. The effective usable area of the tent is 184 sq. ft. and the center height is 78 inches. The rainfly has taped seams and is suitable for protection from mild rain.
Pros
Good value
Fairly spacious
Excellent ventilation
Cons
Only one door for the tent
See pricing and buying options
9. GigaTent 10 Person Family Tent – 3 Room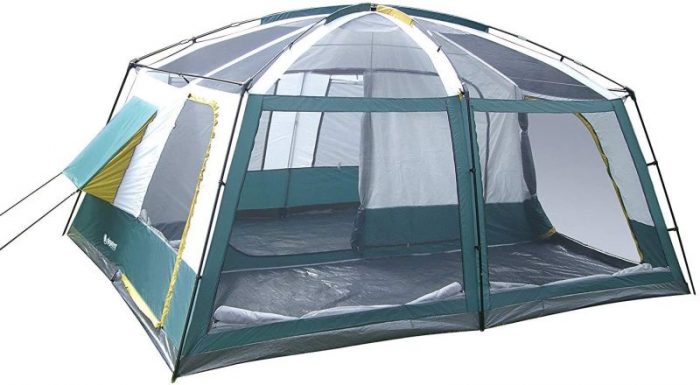 GigaTent 10 Person Family Tent is a large, freestanding 3 room camping tent. This is a cabin-style tent with near-vertical walls which give it plenty of height and headroom. Dimensions of this tent are 15×12 feet, with the center height at 86-inches.
Two large D-shaped doors provide entry to the tent. They're both placed on opposite sides of the tent, but in the main room. One door has a large mesh window that can be rolled back to allow air into the tent. But airflow really isn't a problem with this tent.
GigaTent 10 Person Family Tent makes generous use of mesh in construction. In fact, the main room is practically a screen room, given it houses both doors, has a side made of mesh, and the roof is mesh too. The sides, mesh, and roof can all be covered, but yeah, you could very well use this as a screen room.
Large doors take you to the inner room from the main room. This too has large windows, though towards the sides you also find vents. The large vent is placed higher, like a window, and can be used for air conditioning. A fabric divider cuts through the inner room in half, making this a 3 room tent.
Pros
Well-ventilated with oversized windows and doors
Very spacious with plenty of room
Well-built and sturdy
Cons
The tent can get too bright, even the rainfly has clear panels
Minimal storage options inside the tent
10. Ozark Trail 10-Person 3-Room XL Family Cabin Tent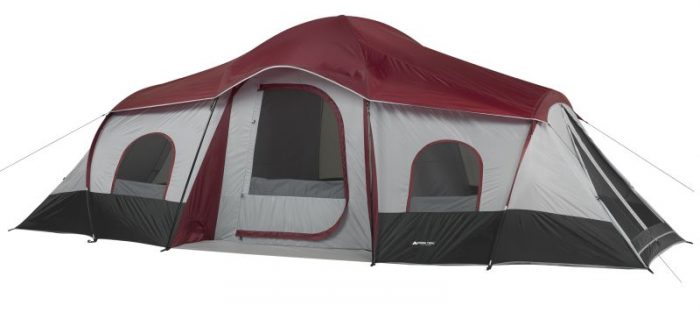 Ozark Trail 10-Person 3-Room XL Family Cabin Tent is practically a twin to the other 10-person Ozark Trail tent we see on this list. Personally, I prefer this one because it has greater focus on usability and convenience.
Each room gets a door to the outside. The main door is a large D-shaped door, while smaller doors are available on each side. One of the rooms has large mesh doors and can be practically used as a screen room. Together with the six large windows and the three doors, the tent has excellent ventilation.
It fares well in moderate rain, thanks to taped seams on the rainfly and a thick and sturdy floor. The overall shape also works well for wind, allowing this tent to be fairly sturdy and stable. Dimensions of this tent are 20×10 feet, effective floor area is 177.5 sq. ft, and the center height is 78-inches.
Pros
Well-ventilated and quality build
Each room has its own entry/exit door
Spacious
Cons
More or larger windows would be useful for this tent
Getting To Know The Multi Room Tents Better
The Number Of People That Can Be Accommodated In A Tent
Conventional measurement that tent manufacturers use involves placing sleeping bags inside a tent. The number of sleeping bags (usually 2 feet wide and 6 feet long) placed becomes the person count. This can be used, but practically, being packed like sardines isn't going to be very comfortable.
The number of people that a large tent will comfortably accommodate will be significantly lower than the advertised number. For example, if you're buying a large tent, consider its use for 6-8 people. This isn't necessarily true in all cases, but is generally a good starting point.
Once you start putting up room dividers like in multi room tents, the number of people can change further. So check the dimensions and usable area of the tent before you buy, and where possible, leave room for error.
How Many Queen Sized Mattresses Can Go Into My Three Room Tent?
A conventional 10-12 person tent may allow three queen-size air mattresses inside the tent. In most cases, one mattress can be used per room. Again, this depends on your specific choice of tent and available area. However, larger tents will usually accommodate 2-3 queen-size mattresses with ease.
Benefits Of 3 Room Tents
Why should you bother with three room tents? There are several reasons why you should take the plunge.
More space: Rather than putting together smaller one or two-person tents, using a large tent allows more space and comfort for everyone.
Privacy: When you're out camping with a group or your family, everyone might not be onboard with the idea of sleeping in a single, large room. Multiple rooms allow privacy and convenience.
Better Organization: There are plenty of ways to make use of the available tent space. Maybe two rooms become bedrooms and one becomes the living room. Or, everyone could have their own room. Basically, you get more choices and better organization.
Waterproofing Your Tent
Before you take your large tent camping, give it a test run at home. Given their size, these tents simply have more points of failure. It's better to spot the problems at home rather than running into them at camp.
For example, you might find that the tent seams need to be sealed or a fresh coat of waterproof coating is necessary. It's easier to waterproof your tent at home, rather than while camping. If you don't have enough space at home, see if a nearby park or open space will allow you to pitch the tent.
The Bottom Line On Three Bedroom Tents
When you're picking the right 3 room tent, remember to look at it with the lens of your unique requirements. Some people might prefer a single door, while others might want a door for each room. Similarly, sewn-in partitions and temporary partitions can affect your choice too. Take a look at the options and our recommendations here to pick the tent that fits you best.