Keeping your tent warm and cozy when you're out camping can be slightly challenging. Sure, we've got the basics, but we could always up the convenience and comfort by using the best tent stove. A good quality stove will keep the tent warm and cold at bay.
This is a luxury rather than an absolute necessity, but if you're up for it, why not? Stoves substantially up the weight you carry, so they're best suited for car campers. Even a portable wood burning stove adds several pounds. They may not be the best pick for backpacking, but car campers can definitely enjoy the luxury!
Top Stoves To Pick For Your Tent
Our Review Of The Top Stoves For Your Tent
1. Camp Chef Alpine Heavy Duty Cylinder Stove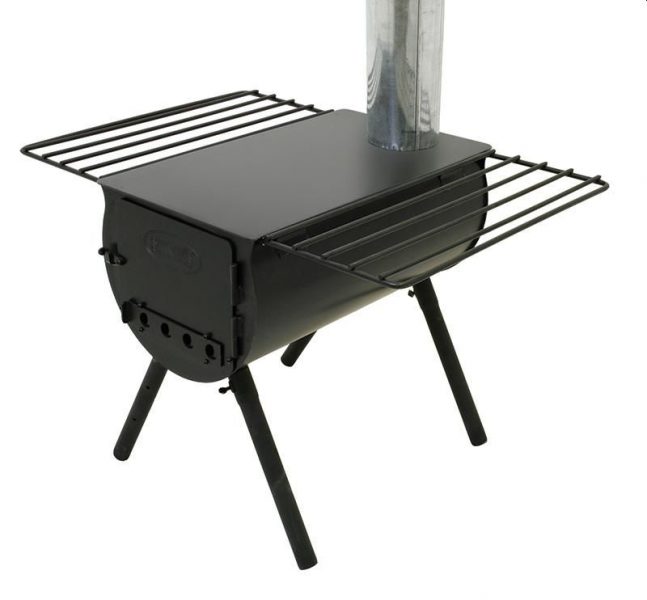 One of the more popular picks, Camp Chef Alpine Heavy Duty Cylinder Stove is a well-performing stove with a good record. The stove has four adjustable legs, so it can place itself steady on uneven ground. The top has a wide shelf and drying rack to make things easier.
A notable quality of this stove is that it includes shelves, chimney, rack, wire spark arrestor, fire grate, and other basic necessities so you don't have to go around shopping for them separately. Solid, heavy-duty steel construction can keep the stove in good shape for a very long time.
As its name suggests, the company picked up experience selling cooking gear for the outdoors. Camp Chef has a good idea of the requirements for campers, heating, and other necessities. That quality shows in this chimney, and makes it a great pick.
Highlights
High-quality and robust steel construction
Has a cooktop and dampers
Removable legs with independently adjustable height
Includes most accessories and necessities
Stove dimensions: 20″ W x 24″ D x 22 1/2″ H
Chimney pipe height 10feet, width 5 inches
Total weight: 74 lbs
2. Bruntmor Camping Rocket Stove with Handle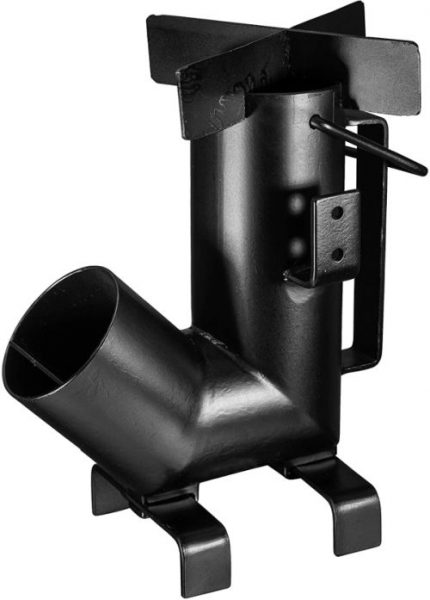 Bruntmor Camping Rocket Stove with Handle is a heavy-duty portable camping stove. It is still fairly big and heavy, but yes, it's much easier to move than larger stoves like the Camp Chef Alpine, which is also on this list.
This stove is built to be sturdy and dependable. It is made from steel and is available as a single unit. This stove works best with wood and you can continue to add small size pieces directly to the fire. Steel attachments can be added to the top of the chimney and convert it into a cooktop.
Highlights
Good, sturdy body made from steel
Possible to add attachments at the top to use the stove for cooking
Works best as a wood stove
Can take some time getting used to
Weighs about 7.2 lbs
Dimensions 13.5"H x 6.5"W x 12"D
3. Lixada Camping Stove Collapsible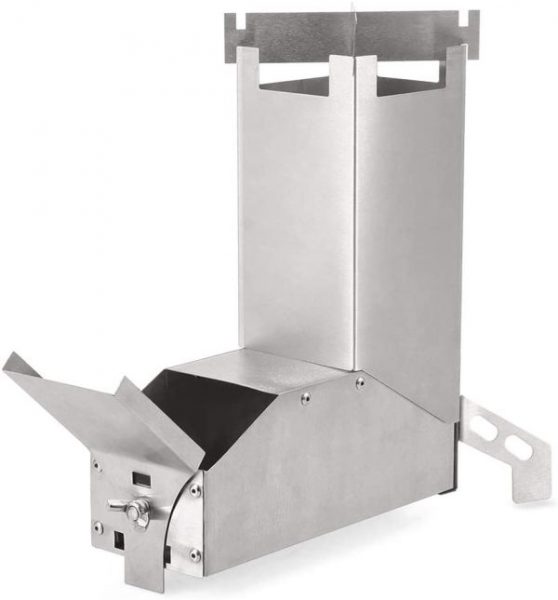 Lixada Camping Stove Collapsible looks more fragile than its competition, but it is a quick, cheap fix if all you want is a rocket stove. The feeding area on this rocket stove is placed horizontal, so it has a flip covering at the top for adding timber.
It's best to use small and thin pieces as you start, though you can start adding bigger pieces of firewood as the flame catches on. Of course, a "big" piece of timber is a relative term for a rocket stove, but yeah, the fingers can be thicker.
Given its overall thin body, Lixada Camping Stove is rather quick to heat up. That shouldn't be a wonder considering it's practically a sheet of metal. It's best to use Lixada Camping Stove on level ground, or you could dig it in deeper to ensure stability.
Highlights
Simple rocket-style wood burning stove
Low-price and good value
Collapsible stove folds into a smaller box
Though it's made from stainless steel, the body is thin and not as sturdy as other stoves
Dimensions: 11.6" x 4.5" x 9.8" H
Weighs 1.2 lbs
4. Danchel Outdoor Tent Wood Stove with Pipe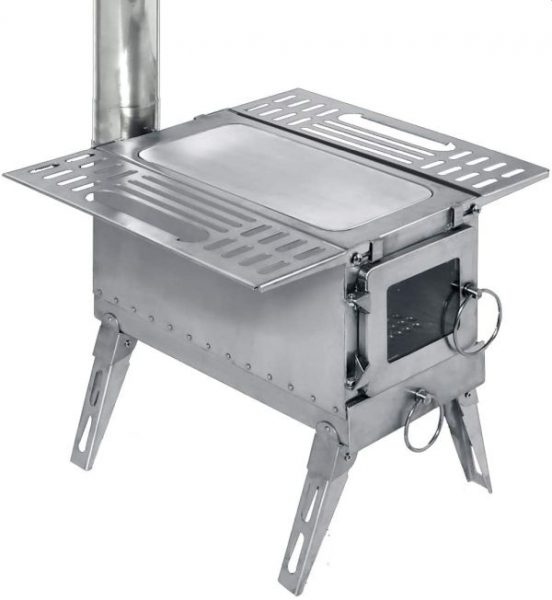 Danchel Outdoor Tent Wood Stove with Pipe has a solid build and interesting look to go along. Made from high-grade 304 stainless steel, this stove is built to be a long-lasting and dependable piece of equipment. The chimney pipe is made from iron, while the heat insulation for the furnace is an aluminum alloy.
It stands on sturdy steel legs and includes a cooktop and rack. Greater adjustability in the legs would have been desirable, but since that is missing, always be sure to place it on level ground. All things considered, it's a pretty useful and sturdy piece of equipment that looks good and works great.
Highlights
Sturdy construction from high-quality 304 stainless steel
Includes cooktop and rack
No dampers – it could have worked much better with dampers
Sturdy, but non-adjustable legs
Good looks and overall design
Dimensions: 15 x 15 x 18 inches
Total chimney height: 7.5 feet (4 pieces of 3.2-inch diameter, 4 pieces of 2.7-inch diameter)
Weighs 22 lbs
Considerations And Buying Guide For Picking The Best Tent Stove
What Fuel Type Does The Stove Use?
For a long time, propane has been a popular choice for stoves. I guess it's still useful for cooking small quantities, but lugging around a propane tank is a massive chore by itself. Wood stoves often tend to be more useful. It's easily available in most camping areas and is convenient to handle.
Plus, many wood stoves also have flat cooktops, extensions, and racks. They can be put to use for several secondary purposes like cooking, heating food, and drying gear.
Of course, more conventional items like propane still have their uses and continue to be popular for all the right reasons. But it's useful to look at all options rather than just conventional hits.
Weight And Portability
Most stoves are unlikely to be used for backpacking. However, there's still a chance that you'll have to carry them from the parking to the campsite. Besides, even when you're using a car, the metrics for portability and weight remain relevant.
Wood stoves often offer a good fit since you don't have to carry the fuel along. Conversely, with propane, you'll have to carry a large stove as well as the necessary fuel to use it as a tent heater. Electric heaters might be useful in campsites where electrical connections/hookups are available.
The Bottom Line — Specifics For Your Tent Stove
A lot of factors can come into play when you look for the best tent stove for your trip. The biggest factor is your personal preference and your tent. Your tent must have a stove jacket if you intend to use a chimney with your stove. Additionally, the tent should be large enough to easily accommodate the stove without any threat of the stove warping or damaging the tent's fabric.