It can be confidently said that inflatable tents have been around for a long time. However, recent developments in technology and materials have made these tents suitable for common use. The modern best inflatable tents break the tag of novelty to be practical and useful tents. Here are the coolest tents to buy for your next outdoor vacation.
Top Inflatable Camping Tent Offerings
Coolest Inflatable Camping Tent Reviews
1. Vango Tents Odyssey 400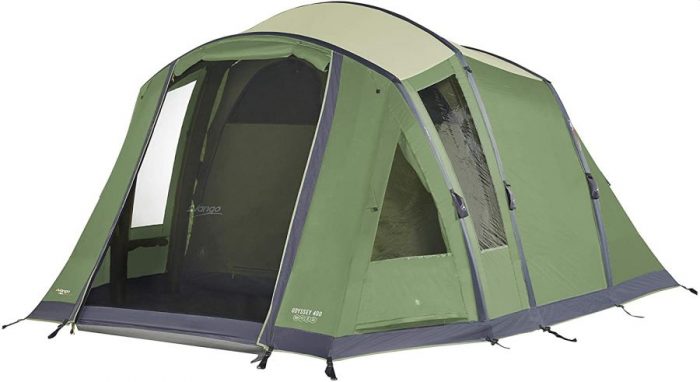 A part of the Odyssey line of inflatable tents, the Vango Tents Odyssey 400 is an impressive, high-quality tent. Its structure is defined by Vango AirBeams that make it quick to set up and give it a strong, reliable structure.
Its styling is somewhat like a tunnel tent. A large vestibule leads to the inner bedroom area of the tent. A large door marks the entrance and there are huge windows in the vestibule area. In some ways, it is very similar to tents with a screened porch, though there is no mesh screen here. You could use this room for the same purpose though.
The large bedroom area has a darker fabric interior that lets it work as a blackout tent. It will keep the early morning sunlight out so you can sleep comfortably. If required, the sleeping area can be divided into two rooms.
Vango Odyssey 400 has good protection against the rain and wind. It has a fully sewn-in groundsheet and a sturdy rainfly to protect the tent from rain. This three-season tent is best used for 2-4 people.
Tent Highlights
Excellent construction
Spacious and well-ventilated tent
Blackout/dark rooms are conducive to good sleep
Good waterproofing and wind protection
Rainfly: Vango Protex 70 denier polyester, 4000 mm HH
2. Vango Odyssey Inflatable Family Tunnel Tent Airbeam 600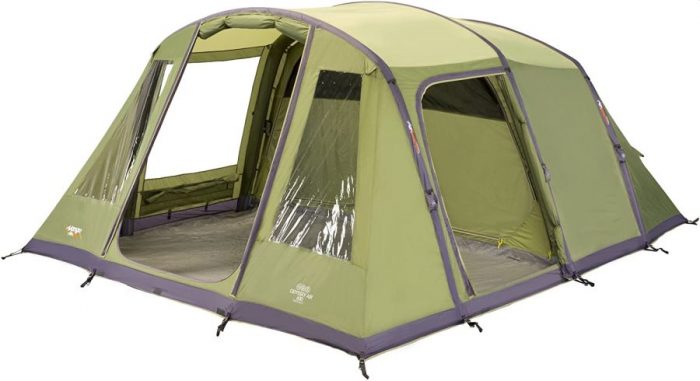 As the name implies, Vango Odyssey 600 is a larger style variant of the Vango Odyssey 400 tent. Since this is a bigger tent, it can be considered a 6-person family tent. Of course, as it is with all tents, the comfortable use number is somewhere around four people.
The construction and design are similar to the Odyssey 400 described here. A large, spacious vestibule opens up to the bedroom area in the back. You could divide the sleeping area into two rooms, effectively using this as a three room tent. Vango Odyssey 600 too has a sleeping area covered in a darker fabric for the "lights out" or blackout tent design.
Its vestibule area is spacious with a huge door and large windows to ensure plenty of light and ventilation. A sewn-in groundsheet and high-quality rainfly ensure the tent is well-protected from wind and rain. Vango Odyssey 600 is built to withstand some tough winds as well.
Tent Highlights
Excellent and good-quality construction
Spacious and well-built as a six-person tent
Lights out design for the bedroom (blackout tent)
Excellent waterproofing and wind protection
Good ventilation, but can feel drafty
Rainfly: Protex 70 denier with taped seams, rated at 4000mm HH
3. Kelty Sonic 6-Person Airpitch Tent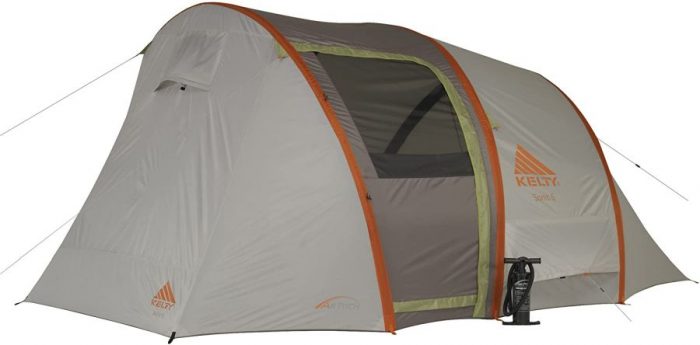 Remarkably lightweight and spacious, Kelty Sonic 6-Person Airpitch Tent is a family tent to reckon. Even as a large family tent, it weighs just 18lb 13oz and is remarkably easy to set up. It's a well-constructed tent with a 68-denier polyester body.
One large door is used for entry/exit from the tent. It's accompanied by several windows and vents that keep the tent well-ventilated. This is a single layer tent and there is no rainfly. That makes the setup remarkably easy but also gives up some benefits like ventilation that a separate rainfly brings.
Tent Highlights
Single layer tent
Six-person tent with plenty of room
Ventilation leaves something to be desired
Easy to set up and pack away
Floor area of 100.5 square feet
Lightweight tent weighs just 18lb 13oz
4. Coleman 6 Man Fastpitch Air Valdes Tent XL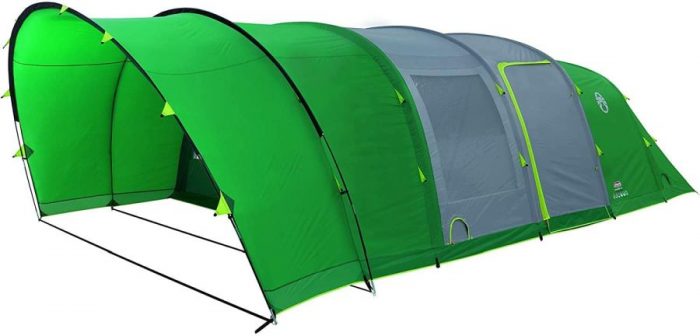 Coleman 6 Man Fastpitch Air Valdes Tent XL is a large and useful tent for camping. This is a 6-person tent and includes additional porch space to provide more room. It's built quite interestingly, and can be used as a four room tent. Coleman 6 Man Fastpitch Air Valdes Tent XL is quite similar to other camping tunnel tents in the way it manages available space.
The porch area opens up into the large living room, which further leads to the sleeping area. The sleeping area has a blackout/lights-out coating that claims to block 99% of sunlight. If needed, users can divide this sleeping area into two rooms.
The large living room area of the tent has two exits; one leads directly outside the tent, the other leads to the porch. What's cool is the use of hinged doors on this tent. They're convenient and more intuitive to use.
Large windows on the living room area provide both light and ventilation. While the living room and bedrooms (obviously) have floors, it doesn't extend to the porch area. Some credit for its fastpitch capability goes to the use of airframes, which help set up the tent rather quickly.
Tent Highlights
Good quality construction
Spacious tent with room for 4-6 people
Good use of space – can be divided into four rooms (including porch)
Uses hinged door
Uses a floor area of 230 square feet
Heavy, the tent weighs 67.2 lbs
Excellent waterproofing, ventilation, and wind protection
UV guard system offers SPF 50 protection
Blackout bedroom(s)
5. SereneLife Outdoor Inflatable Camping 2 in 1 Airbed Tent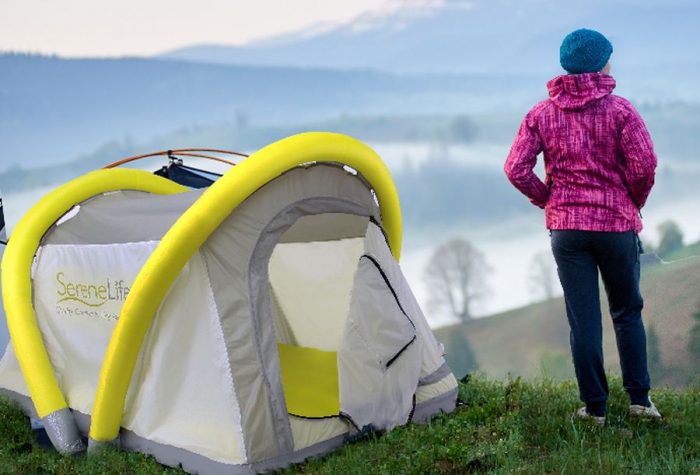 How do you know this tent is inflatable? Just look at it! The airframe here is cartoonishly prominent and is tough to ignore. On the plus side, it uses its inflatable design completely to its advantage and uses it for comfort as well.
It isn't just the frame but the base rises as well and can be used as an air mattress! Comes pretty handy for hikers as there's one less necessary item to carry. The air mattress has a coil beam construction to be more sturdy and comfortable.
For practical purposes, this is a 1-2 person tent, though the maximum weight the tent mattress can take is 450 lbs. The tent material is PVC and polyester for maximum protection against water and for resilience of the mattress. You can expect it to last in mild rain, but heavy rain is likely to result in leaks.
Tent Highlights
Very prominent airframe construction
Includes integrated inflatable mattress (max weight capacity 450 lbs)
Best used for 1-2 people
Tent dimensions: 82.5"L x 51"W x 55"H (including mattress)
Average waterproofing and wind protection
Packaging includes tent, repair patches, storage bag, and pump
Somewhat heavy to be actually useful for hiking or backpacking
6. HEIMPLANET Original Nias Classic Tunnel Tent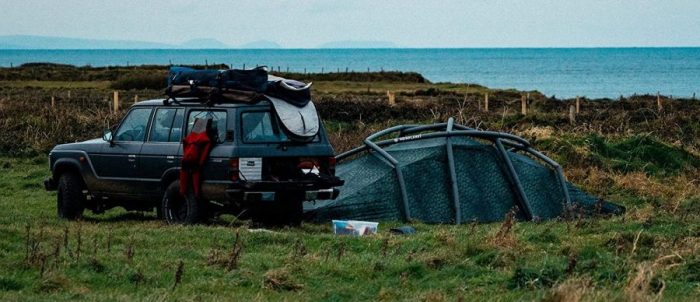 It may cost an arm, a leg, and a few other organs, but the Heimplanet Nias is one fine example of inflatable camping tents. This is a large tent that can house 6 people, or better, four in relative comfort. Even when it's fully occupied, there is plenty of room for storing gear in the tent.
The first step with these tents is to connect the airframe to the inner and outer tent. This is a one-time process, after which the tent can be used regularly and easily. Heimplanet says it's as easy as using a sleeping bag. Just roll out the tent, and get some air moving to have your tent ready!
It is a large tent, but the frame is interconnected, so it can be inflated with a single valve. Heimplanet Nias Classic Tunnel Tent has a two-cabin design for greater flexibility. Essentially, this means there is a temporary divider available to use the tent has two rooms. The tent uses a geodesic frame structure for stability and claims to be capable of withstanding winds up to 110 mph.
Tent Highlights
Very expensive
Lightweight 4-6 person tent weighs just 13.2lbs
Ground area covered: 107 square feet
Very resilient to wind, excellent protection against rain
Can be conveniently inflated with a single pump
Ripstop 66D 210T polyester rainfly with PU coating rated at 5000 mm
Ripstop 40D 240T nylon for inner tent
Groundsheet nylon taffeta 70D 210T, PU laminated 5,000 mm water column
Excellent ventilation
7. HEIMPLANET Original Fistral Tent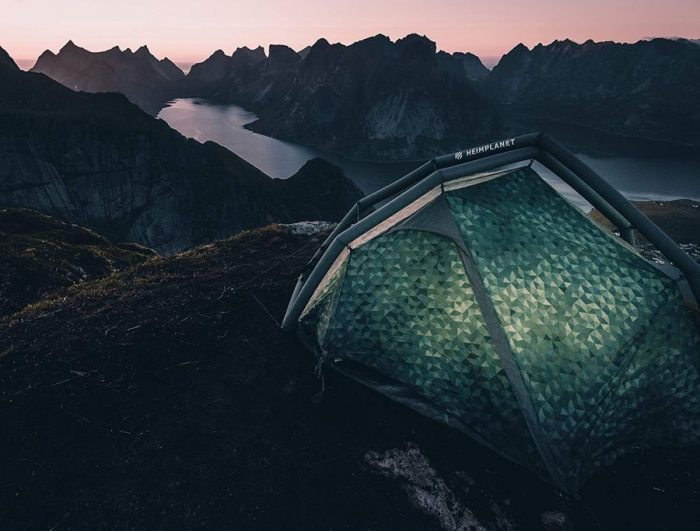 Another excellent offering from Heimplanet, the Fistral Tent is a useful pick for 1-2 people. Once the inner and outer tent are connected to the airframe, the operation of this tent becomes incredibly simple. An air pump will set up your tent and letting the valve loose will flatten it to be packed away.
Heimplanet uses a single pump system. Various chambers of the frame are interconnected and the air flows through to have the tent set up through a single valve. However, once prepared, clips are attached to various parts of the frame, so the entire tent doesn't collapse if one point on the chamber fails.
Fistral tent is built on the geodesic frame structure that keeps it incredibly stable even at high wind speeds. Theoretically, the tent should be able to handle wind speed of up to 110mph. It also has excellent waterproofing and makes a comfortable living space.
Tent Highlights
Expensive
Excellent construction, living space, and ventilation
Waterproof and wind resistant
Easy to set up and pack away
Tent weight: 5.5 lbs
Rainfly made from high tenacity polyester 40d 240t ripstop 2,500mm HH
Inner tent made from 40D 210T ripstop nylon
Groundsheet made from 70D 210T nylon taffeta PU laminated 5,000mm HH
Things To Know About Inflatable Tents
Inflatable Tents Often Weigh More Than Regular Tents
You don't have to carry metal or fiberglass poles, yet, inflatable tents often end up weighing more than regular tents. Plus, you'll have to carry a pump to set up the tent. Plus, they tend to take up more space when packed, as compared to conventional tents.
These are big reasons why inflatable tents don't get much love from hikers and backpackers. However, when you're car camping, none of these are major constraints. For larger family camping tents, inflatable tents offer more advantages. They often are easier to set up and take down. Plus, with kids playing around, inflatable tents dramatically reduce the risk of someone bumping into a tent pole!
They Usually Cost More Than Other Tent Options
Good quality inflatable tents often cost more than conventional tent options.
Watch The Weight
Air Frame (or AirBeams) supporting your tent are generally sturdy and reliable. You can expect them to function normally as with conventional tents. However, the structure is still held together by air! And it will take less weight than a conventional tent to compromise the frame. It is extremely rare for a camper to actually face this situation, but it's something worth remembering anyway.
Inflatable Tents Don't Mind The Wind
A cool thing is how well inflatable tents hold up to the wind! You'll notice some inflatable tents, like those from Heimplanet, claim to be fit for 110 mph wind! If you ever run into wind speed like that, the debris becomes more of a problem than anything. However, it's remarkable how well the airframe tents hold up to the wind.
Since the airframe is flexible, it doesn't come under the same stress as poles when faced with the find. Airbeams don't get misshapen or snap due to the wind. Instead, they go right back into position as soon as the stress is removed. You'll still need to tie down the tent, but the overall performance against the wind is bound to be better.
The Wrap
The list here should make it easier to pick the best inflatable tent for camping. These tents are increasingly popular. As such, there are interesting developments going on and we can expect more improvements in these tents. The ease of setup, management, and overall use makes inflatable tents a great bet.