Jackets with hidden pockets are a new normal to protect your body from the cold. With lots of hidden pockets, it is a great thing to have especially when you want more items to be easily available, without being a part of carry-on luggage.
Because the last thing you'd prefer having is extra luggage to carry with you.
Editor's Choice: SCOTTeVEST Men's Travel Hoodie
The SCOTTeVEST Men's Travel Hoodie is our favorite travel jacket. The brand is highly trusted and the quality is worth the price. It's one of the very few jackets that does not sag or bulge even when fully loaded.

It offers a two-year warranty on top of excellent usability and convenience. With 21 pockets and durable fleece, the SCOTTeVEST travel hoodie beats other jackets on the list.
Top 10 Jackets With Hidden Pockets
1. BOMBAX Travel Jacket Men,10 Pockets Windbreaker Flight Bomber Jacket & Coats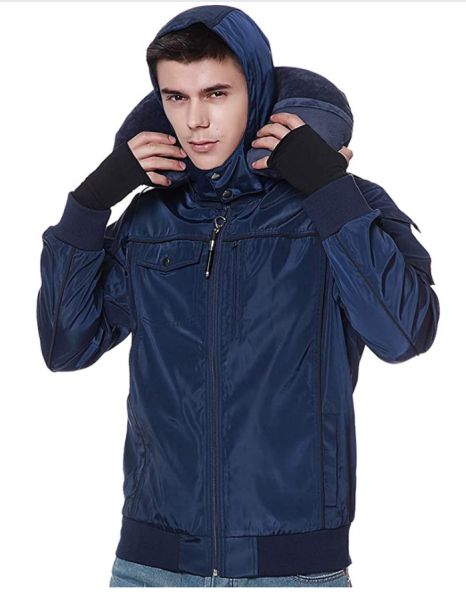 The Bombax travel jacket is a great option for keeping your pocket-sized items safe and at arm's reach. It has 10 hidden pockets that do not feel heavy when filled.
This jacket is water-resistant and lightweight. You do not need to worry about over-exhaustion.
It is equipped with an inflatable neck pillow and fingerless gloves. Both these features are lifesaving when commuting, using your phone, writing, or working in winter. It is also equipped with a soft eye mask that you can use for a quick nap. It has a built-in earphone holder and a pocket for keeping your drink.
Lastly, the design is quite voguish and yet, sophisticated. You can wash it using your machine or by hand, the jacket is designed to last for years.
Pros
10 hidden pockets
Stylish
Water-resistant
Breathable
Inflatable neck pillow, fingerless gloves, and a soft eye mask
Machine washable
Cons
Just two colors available; blue and black
2. AyeGear V26 Vest With 26 Pockets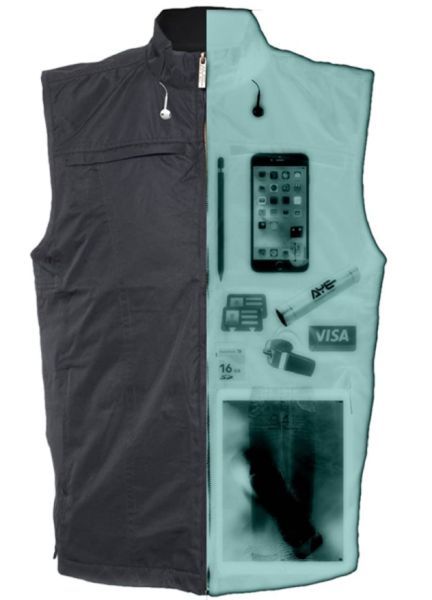 If you are looking for a travel jacket with a lot of pockets then the AyeGear V26 might be a great option for you. It provides 26 hidden and prudently placed pockets that will help you carry your pocket-sized objects. Despite such a huge capacity, the AyeGear 26 is designed to look casual and smart.
The AyeGear V26 is a vest rather than a full sleeve jacket but that doesn't stop it from carrying your smartphones, notebooks, tablets, and smaller laptops. Its two touch-sensitive pockets make it an ideal vest for people who like to use their phone while it is inside their pocket. It is also ideal for workers such as electricians, mechanics, and construction workers, who carry tools while they are working.
The V26 is machine washable and is designed to survive for a long time. It's great for activities like mountain climbing, fishing, skiing, and boating.
Its waterproof, windproof and breathable material will make sure you are protected and carelessly moving on with your work. The V26 is security friendly too, once all your items are removed, it will pass the scanner without any trouble.
Pros
26 hidden and prudently placed pockets
Waterproof, windproof, and breathable
Security friendly
Machine washable
Sturdy and long-lasting material
Cons
Not the most efficient zippers
3. SCOTTeVEST Men's Travel Hoodie Microfleece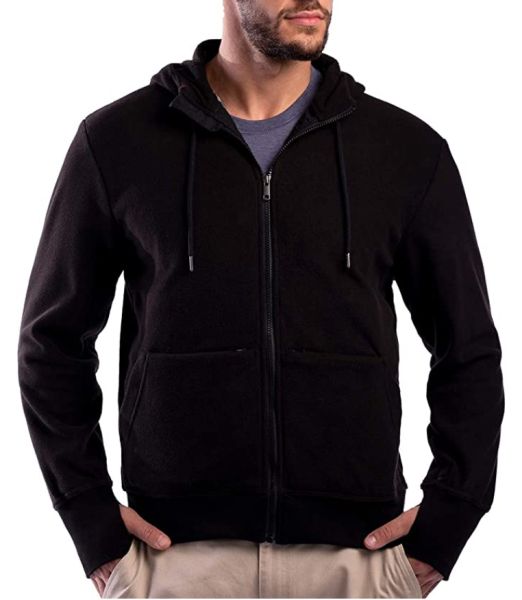 It has 21 utility pockets that are designed for storing specific objects such as phones, passports, documents, glasses, notebooks, and cameras. This hoodie is worn by adventurers, workers, and casual strollers all alike.
It's a good way to keep your valuables at arm's reach and yet protected. You will also feel warm and comfortable with the SCOTTeVEST jacket. It does not sag or clutter at one point due to the items stored in it. It has been designed in consultation with chiropractors to provide buyers with maximum storage, without compromising their backs..
Another noticeable advantage of this jacket is that it's security-friendly. It does not have metal embedded into it that would ring an alarm while you are passing through a security check. All you have to do is take off the sweatshirt, place it on the security desk, and collect it once it has been scanned.
Lastly, it's two-year warranty is a much needed assurance that buyers like us need. All these positives make the SCOTTeVEST our favorite multi-pocket jacket.
Pros
21 utility pockets
Warm and comfortable
Security friendly
2-year warranty
Cons
4. MAGCOMSEN Men's Hoodie Fleece Jacket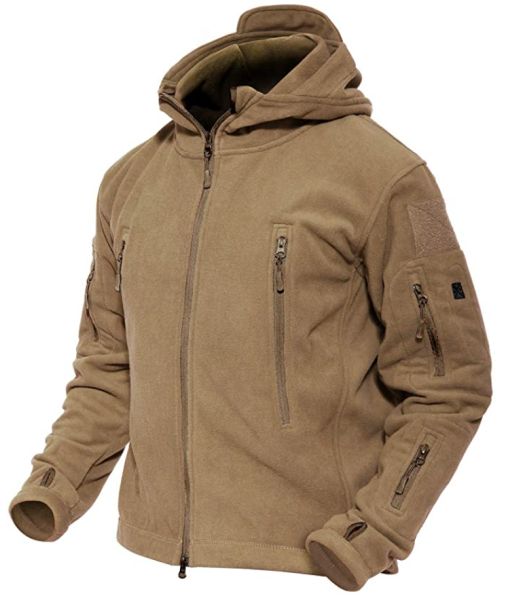 The MAGCOMSEN is another men's hoodie that can keep all your items while keeping you warm. It's made of 100% polar fleece which makes for an ultra-soft and warm jacket. You can wear it for your wilderness experiences as well as casual strolls.
The MAGCOMSEN is a windproof jacket that will ensure you are protected from the cold weather outside. It's also anti-pilling, anti-shrinking, and anti-wrinkling which means it will require less maintenance but serve you for a long time.
It has 6 double zipper pockets that are smooth in use and seem reliable. It has two 4 x4″ hook and loop shoulder patch panels that can store your mobile phones, edibles, and documents. Despite all this, the MAGCOMSEN is a lightweight and trendy jacket that has received a lot of appreciation from all and sundry.
Pros
6 double zipper pockets
Fleece hoodie jacket
5 colors
Anti-pilling, anti-shrinking, and anti-wrinkling material
Ultra-soft and warm jacket
Windproof and lightweight
Cons
Sizes are smaller than US standards
5. TACVASEN Men's Jacket-Lightweight Casual Spring Fall Thin Bomber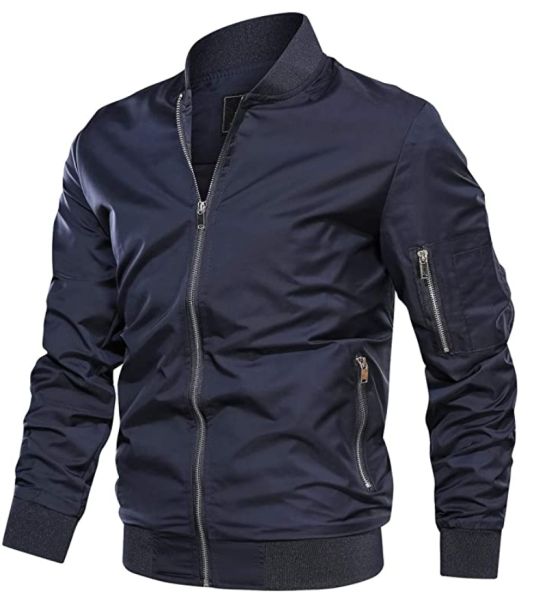 When it comes to stylish bomber jackets we found this TACVASEN men's fall thin bomber meeting our standards. It comes in 12 different colors each being voguish and eye-catching. Its rib knit cuffs and waistband collar are in fashion currently and that's one reason why it's so popular.
However, other things are going great for the TACVASEN bomber as well. Such as its hidden pockets which may not be as much as other jackets on our list but they serve the purpose.
Moreover, the material is lightweight, breathable, and wind-resistant. You will have no trouble wearing it on a cold winter hike or a cold barbeque night. The TACVASEN fall thin bomber can also be used as a bomber jacket for girls.
The zipper on this jacket is also smooth, untroubling, and seemingly long-lasting. The TACVASEN is a great jacket on the go. It's machine washable but keep in mind to not use bleach. The jacket is affordable and offers good value for money..
Pros
Smart and stylish
Lightweight, breathable and wind-resistant
Smooth and long-lasting zipper
Rib-knit cuffs and waistband collar
Machine washable
Affordable
Cons
It's main zipper is backwards; suitable for a lefty but not for a right-handed person.
6. MAGCOMSEN Men's Winter Cargo Jacket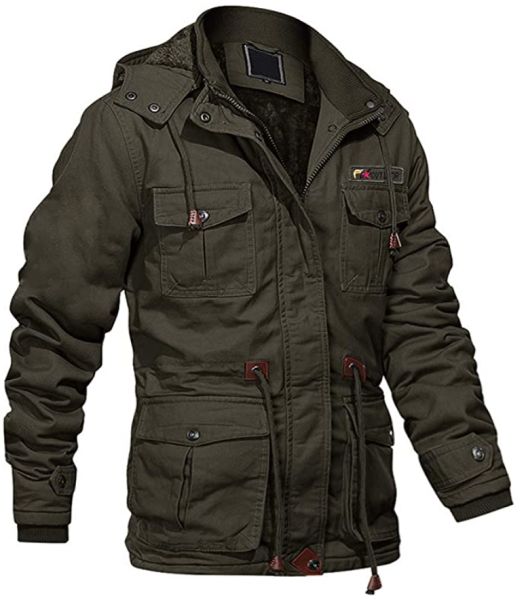 An excellent Parka Military jacket with multiple hidden pockets is what you like, MAGCOMSEN Men's Winter Cargo Jacket is truly worth the price. It comes in 10 colors and sports a modern look. It's made of cotton fabric with fleece linings which ensure warmth and wind protection.
It has a removable hood and an adjustable waist, which are both great options for wearers. Moreover, it has elastic cuffs which further help with keeping the inside warm. The front zipper also seems efficient and long-lasting.
The MAGCOMSEN's winter cargo jacket has 2 front pockets, 2 slant hand pockets, 2 chest pockets. 1 sleeve pocket and 1 internal pocket. This makes for a great jacket for carrying around your essentials while you are hiking, working, or casually strolling.
Just keep in mind to buy this one ½ size bigger because its sizes are a bit smaller than the average American sizes.
Pros
10 colors
8 pockets
Removable hood, adjustable waistband
Groovy and modern look
Cotton fabric with fleece lining
Warm and windproof
Good zippers
Sizes are ½ smaller than US standards
Cons
Zipper pocket on the inside is on the right side. That means it has to be opened with the left hand and hence, an inconvenience for a right handed person.
7. Flygo Men's Casual Outdoor Cargo Vest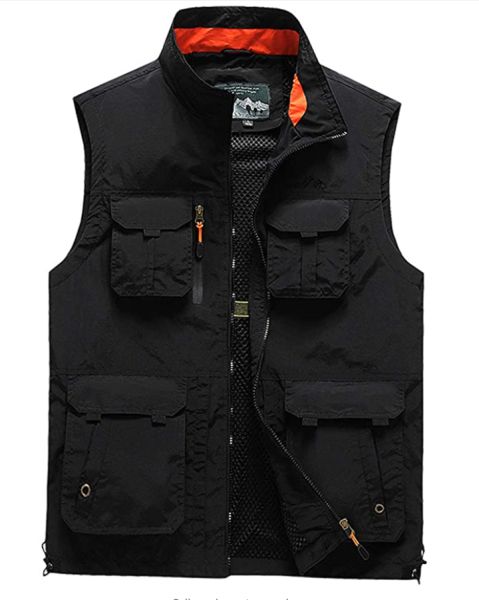 The Flygo Men's outdoor vest is another great vest for travelers, workers, military men, and fishermen. It has 15 pockets of varying sizes that can store a lot of your accessories. Some of these pockets have zippers while others have Velcro closures.
The material is 100% polyester, ensuring breathability, light weighted-ness, and warmth. It is machine washable and its quick-dry feature will get you going much faster than other vests. It's stand-collars and v neckline makes this vest quite fashionable.
It comes in 10 colors and 3 styles, whereas the style 01 jackets have detachable insulation at the back. It can help you stay warm during the cold while in the summer taking it off will make it more breathable. All sizes are according to US standards.
Pros
100% polyester
15 pockets
10 elegant colors and 3 styles
Breathable, lightweight, quick-dry, and warm
US standard sizes
Cons
The velcro pockets make more noise then one would expect
The zipper are also not the best
8. AyeGear H13 Fleece Hoodie with 13 Pockets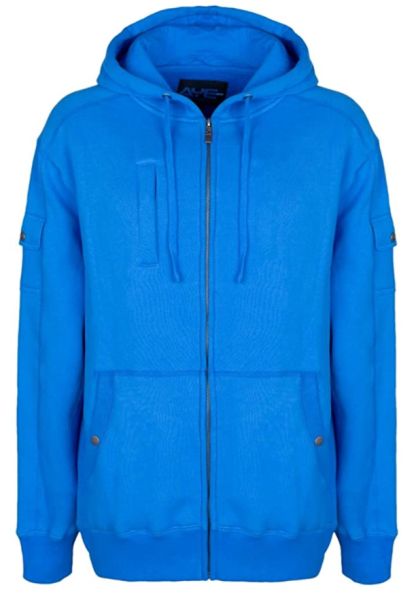 If you are looking for a travel hoodie that can store all of your gadgets then the AyeGear H13 is worth a look. It has 13 discreet pockets that can store all kinds of objects including your smartphones, tablets, and pocket journals. One pocket is specially designed for using your touch screen phones.
The main material of the jacket is premium fleece with a calculated mix of cotton to ensure breathability and light weighted-ness. When all its pockets are filled, no bulges or wrinkles will appear. The jacket is fully capable of upholding the load unless pushed to extremes.
The AyeGear H13 is a machine washable material, it will neither lose color nor shape. Just don't use bleach.
More so, the AyeGear H13 is CAMS activated which means it is designed with a focus on securing your valuables while they are in the pockets. This is a great feature to have for people who commute or enter crowded places like concerts and festivals.
Lastly, it's breathable, waterproof, and windproof, ensuring you have a great time wearing this hoodie.
Pros
13 discreet pockets
Touch-sensitive pocket
Lightweight
CAMS activated
Breathable, waterproof, and windproof
Machine washable
Cons
Problematic zippers
Credit card pockets not ideally positioned
9. Hijewe Men's Military Style Jacket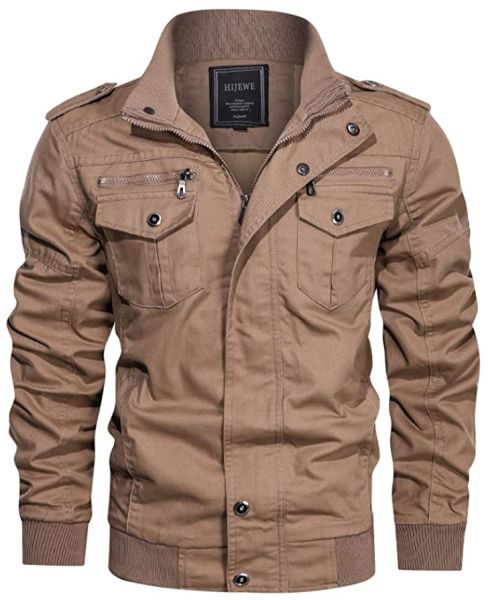 Hijewe Men's Military Style Jacket has two pockets on the front, two for your hands and one inside. This may not be as much as others but it sure can store quite some stuff.
Its rib knit cuffs and hem ensure the jacket stays warm inside. Besides, this one is not for extreme cold weather. It can work well for mild cold temperatures. However, it's waterproof, windproof, and durable.
It's also washable and the material seems likely to outlast a couple of seasons. However, some buyers do complain about the sizes they receive.
Pros
Mild-warm, waterproof and windproof
Durable
Rib knitted cuffs and hem
Machine washable
Cons
Sizing issues are commonly reported
10. Gioberti Men's Casual Outerwear Twill Multi-Pocket Cargo Shirt Jacket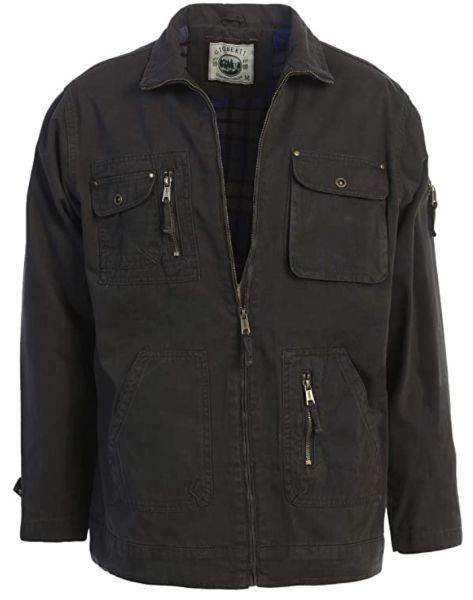 This is a Twill multi-pocket casual shirt jacket and if that's what you like then we have reviewed this one for you. It has seven multi-purpose pockets that can store all your gadgets for your hikes, travel, and casual strolls. It does so without bulging or sagging.
The Gioberti Men's shirt jacket is made mainly from cotton with traditional interior flannel lining. This makes for a design that is becoming popular day by day. Moreover, this shirt jacket is warm, lightweight, and relaxing.
This jacket is machine washable and will most likely outlast a few winters unless washed with bleach. Lastly, it has an adjustable wrist strap that has antique-style snap buttons on it.
Pros
Seven multi-purpose pockets
Warm, lightweight, and comfortable
Adjustable wrist strap
Affordable
Durable
Machine washable
Cons
What To Look For When Buying The Best Travel Jacket With Hidden Pockets?
Now that we have given you a list of our tried and approved multi-pocket jackets, we want to further guide you on this subject. We want to do so because, with so many factors, it becomes harder to decide what factors to prioritize and which ones to ignore.
Number, Size And Type of Pockets
This might seem obvious but hear us out. More pockets are not always the right way to go. Some jackets have too many pockets but their placement is way off.

For example, having zipper pockets on the inner right side of the jacket means you will have to unzip it with your left hand. For right-handed people, this is usually a huge inconvenience. However, lefties will prioritize such jackets and if you are one, keep this point in mind.

Another thing to keep in mind about pockets is that they shouldn't bulge when you fill them with the right sized gadgets. Also, make sure the pockets are designed to keep your gadgets intact and not let them fall out.

Lastly, touch-sensitive pockets are a huge advantage in this day and age as they allow us to use our phones while they are inside the pocket.
Type of Material
We mentioned three kinds of jackets in our list; fleece, bomber, and cotton. These are all good but depending on your environment and purpose of buying, their functionality can vary. Among these, fleece is the warmest and cotton is the least warm but sometimes they are used in varying combinations.

Also, waterproof, wind-proof, and quick-dry are features everyone appreciates. However, sometimes they are wrongly claimed and disappoint later on. The rightful claimants are usually a little expensive but well worth the price.
Latest And Fancy Features
Travel jackets have improved quite a lot and recent features such as neck-pillows, face masks, and fingerless gloves are all welcome additions. Keep them in mind if you think you will end up wearing your jacket in such cold environments.

Also, rib knit cuffs, collars, and waistbands are a huge plus point as they prevent cold from seeping inside and keep you warm.

Lastly, security-friendly jackets are a huge time saver in this day and age, where passing through metal detectors is a frequent occurrence. They do not have such metals that are detected by metal detectors and therefore, help you easily pass through security clearances.
Finding The Perfect Jacket
So, concluding this roundup and guide, we hope you will avoid the mistakes that we and a lot of other consumers make. Our favorite amongst these is SCOTTeVEST's travel hoodie but others on the list aren't anything less either.
We wish you all the best in finding your best travel jacket with hidden pockets and hope this list proves useful in your search.