Going on a hunting expedition is a real rush of adrenalin for professional and recreational hunters. Among various other animals, deer is one of the most sought after hunting animal. And when we talk about deer hunting, there is no doubt that you need to have the best deer hunting knife to make your life a whole lot easier throughout your hunting adventure.
Editor's Choice
The Outdoor Edge RazorLite is the best hunting knife in the world that you can possibly get your hands on.
With its rubberized non-slip TPR handle, high-quality replacement blades and high-grade stainless steel design, this knife is unsurprisingly our top pick in the list.
Our Top 10 Deer Hunting Knives
Outdoor Edge RazorLite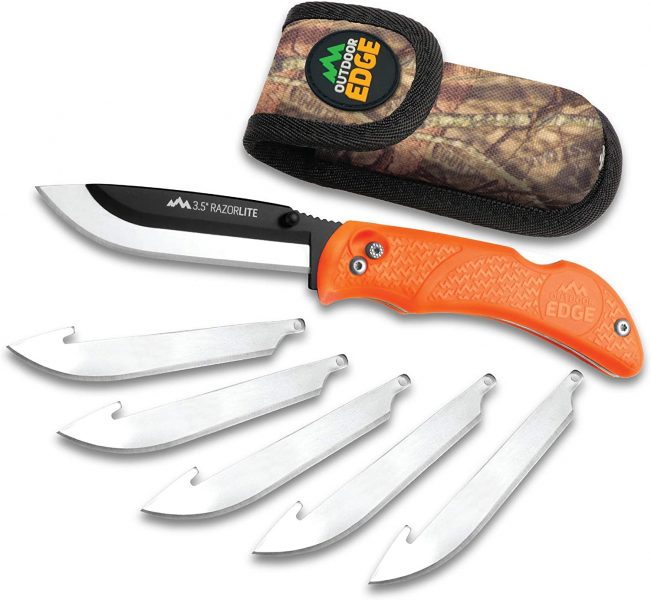 Widely considered as the best deer gutting knife that you can possibly get, the Outdoor Edge RazorLite is a stainless steel, folding knife that can come in quite handy the next time you go hunting.
Sturdy Stainless Steel Blades
It comes with six 420J2 grade stainless steel blades that are heat-treated to ensure optimum blade performance and sharpness.
Perfect for Gutting and Field Dressing
Once you have harvested the animal, the next step is to remove the hide from the carcass. This knife makes the gutting and field dressing process easier with its sharp, perfectly-designed blades.
Hassle-free Change of Blade
If you have a dull blade in your knife, you can easily change it by simply pushing the lock release button in the knife handle to replace your existing blade with a new one.
Pros
Lightweight and Sharp Stainless Steel Blade
Ideal for Gutting and Field Dressing
Rubberized Non-slip Handle
Cons
No Gutting Hook
Not Recommended for Leg Joint Cutting
Morakniv Companion Fixed Blade Knife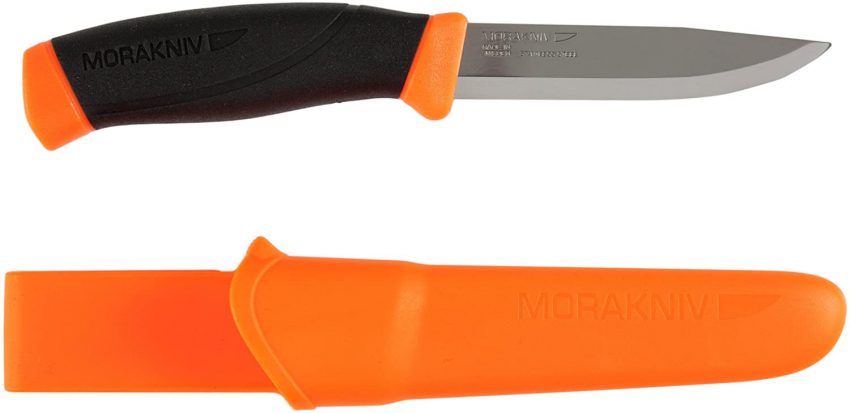 Available in 9 different colors, the Morakniv Companion can be your actual hunting-companion when it comes to skinning and dressing your animal.
Sandvik 12C27 Stainless Steel Blade
The blade is made of high-quality Swedish Sandvik 12C27 stainless steel that gives optimum blade hardness, sharpness and corrosion resistance.
You can further improve the corrosion-resistance element of this knife by cleaning and oiling your knife blade on a regular basis.
High-friction Performance Handle Grip
While you are skinning or dressing your animal, it is important to have a perfect handle grip, and this knife performs well here, too.
It comes with a patterned, high-friction handle that ensures a tight grip in wet, hot or cold conditions.
Carve, Cut, Chop, Slice – Your All-in-One Knife
Whether you are in the mood to carve some fresh tinder, chop limbs, skin your hunted animal or for any other cutting purposes, this knife certainly stands out amongst the rest of the fixed blade hunting knives out there.
Pros
Razor-sharp Stainless Steel Blade
Corrosion-resistant
Includes Color-matching Plastic Sheath
Cons
Not Recommended to Chop Wood
Havalon Piranta-Edge Blaze Knife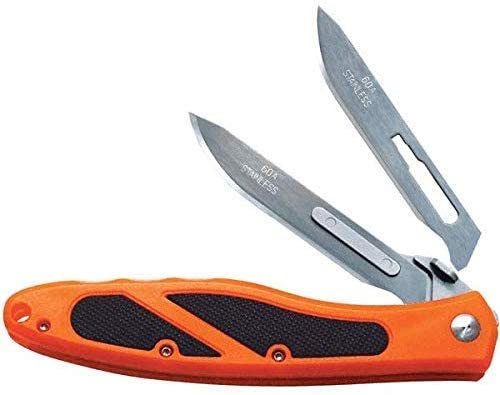 The Havalon Piranta Edge Blaze is a pretty good hunting knife that you can get at an affordable price.
Makes Field Dressing Easy
With its 60A stainless steel blade, field dressing and skinning becomes a relatively easier job using this handy folding knife.
Moreover, it has an easy-grip black rubber inlay that gives you a nice handle grip while you are carrying out your cutting, gutting, skinning or dressing task.
12 Additional Blades
The best part about this hunting knife is that it comes with 12 additional replacement blades – all having the same 60A stainless steel quality for best results.
Pros
Sharp Replaceable Blades
Pocket Clip
Easy to Carry
Cons
Relatively Lesser Blade Life
Uncle Henry Fixed Blade Knife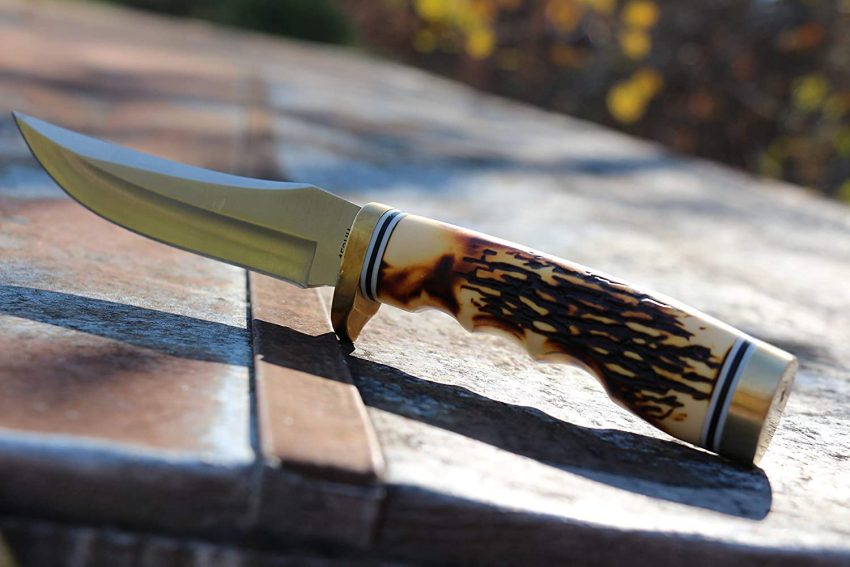 Looking for a sharp blade that can give you precise, accurate cuts while you're out hunting? The 153UH fixed blade knife by Uncle Henry is good piece of equipment to carry along.
Durable and Secure Blade
The blade is made using high carbon stainless steel that gives immense durability and safety with its nickel silver finger guard.
Moreover, it comes with a traditional staglon handle for the perfect grip while field dressing or skinning.
Extra Space But Worth It
Since this is a fixed blade, it will consume a bit more space as compared to a folding knife, however, its sharpness and blade strength makes up for the additional space it takes.
Pros
Strong and Sharp Blade – Ideal for Skinning, Deboning, Butchering, etc.
Staglon Handle Adds to Safety
Cons
Fixed Blade Consumes More Space
Havalon Piranta Z Folding Blade Skinning Knife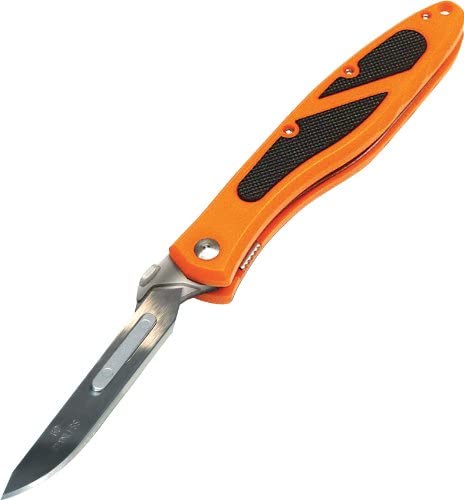 Here comes another hunting knife from the Havalon Piranta series, this time the 'Z' model with a 2.75-inch blade.
Lightweight and Easy to Carry
This knife has an ergonomic design and is quite lightweight, making it a good option if you are looking to minimize the weight or volume your hunting gear consumes.
Ideal Knife for Skinning and Dressing
Even though it is a lightweight knife, it performs quite well in skinning and field dressing. It gives a perfect handle grip and comes with 4-5 replacement blades and a sheath.
Pros
Rugged Stain Resistant ABS Plastic Handle
Replacement Blades Included
Ideal for Skinning and Dressing
Comes with 60A Stainless Steel Blades
Cons
Blade Opens Too Easily And Needs To Be Kept in a Carrying Case To Avoid Accident or Injury
Buck Knives Special Fixed Blade Knife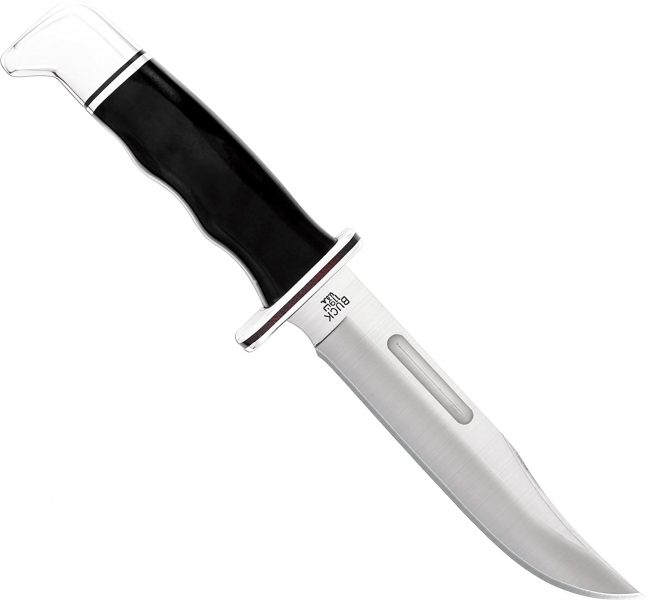 Known for its top-notch quality and craftsmanship, Buck Knives has been in the knife-making business since quite some time.
Premium Quality Stainless Steel Blade
This knife has a 6-inch 420HC stainless steel blade that gives good strength, retention, sharpness and corrosion resistance. These elements combine perfectly for your hunting applications.
Patent Heat Treatment
Buck Knives is renowned for its patented heat treatment, developed by Paul Bos, an expert in the field. This process is based on heating, freezing and eventually re-heating the steel in a way that gives outstanding blade sharpness and durability.
Comfortable Grip and Handle
Field dressing, skinning and gutting are tasks that require optimum knife grip or else it could get messy or even dangerous.
The traditional phenolic handle of this knife comes with palm swells that result in perfect handle grip, making your hunting applications nice and easy.
Pros
Sharp and Durable Stainless Steel Blade
Corrosion Resistance
Perfect for Hunting Applications, Detail Tasks, Precise Cutting, etc.
Includes Leather Sheath
Cons
Not a Budget-friendly Knife
Weighs More as Compared to other Counterparts
Benchmade 15016-2 Compact Fixed Hunting Knife

If you are looking for something compact yet strong and durable, the Benchmade Hidden Canyon Hunter can be a pretty good option for you in your next hunting adventure into the wild.
CPM-S30V High Performance Blade
The American-made high-grade CPM-S30V steel is highly resistant to corrosion and provides optimum edge retention. Additionally, the wide blade radius will make your gutting or skinning tasks quick and simple.
Exquisite Wood Handle
Backfilled with resin, the wood handle of this knife is made from composite materials that can withstand harsh outdoor conditions.
Leather Sheath Adds to Durability
One of the highlights of this fixed hunting knife is its leather sheath, that you can easily attach it to your belt. Moreover, use of leather makes the sheath a lot more durable than other materials.
Pros
Drop-Point Fixed Blade
Durable Wood Handle
Leather Sheath
Compact Size
Cons
No Knife Guard Can Slice the Sheath
Traditional Hunting Knife By Helle Knives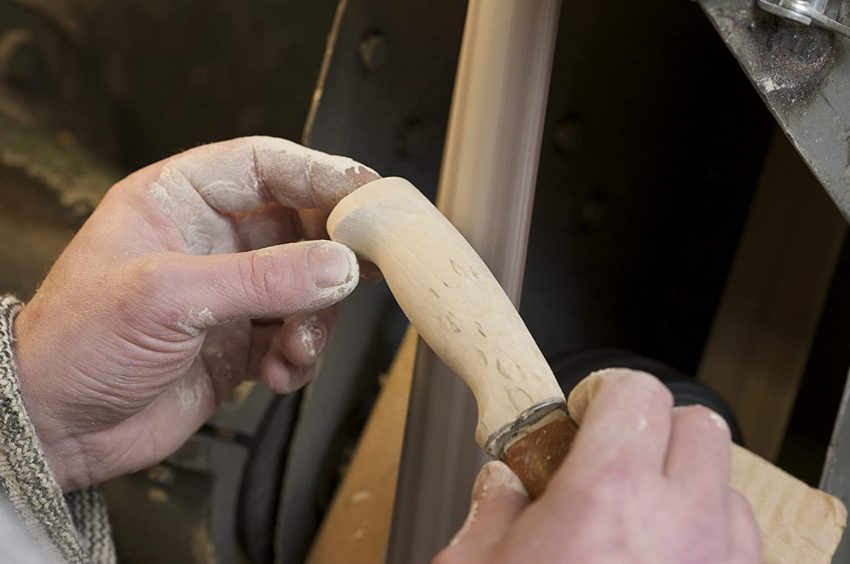 If you are looking for something old school, this traditional hunting knife might do the job well for you.
Generations of Craftsmanship and Quality Control
Helle Knives is a brand that is well-known for their rich history of craftsmanship and high quality standards.
One individual knife goes through a rigorous process that includes 45 different manual operations and quality checks, to make sure you get what you would normally expect from a traditional knife manufacturer.
Use of Top Quality Materials
Knife handle is made of curly grained birch wood in combination with leather or stag horn. These materials result in high grip and ensure comfort while in use.
The Nordic Tanned Leather Sheath
Using unique tanned leather that is carefully treated with saddle grease to enhance durability, the sheaths are unparalleled and stand-out amongst the rest that you might see in the market today.
Pros
Triple-Laminated Stainless Steel Blade
Leather Sheath
Rich History of Craftsmanship
Traditional Look
Cons
Pommel End is Square-shaped, Might Be Felt During a Long Session
Hunting and Skinning Knife By ESEE Knives
This knife was designed by Ashley Emerson, considered as one of the best hunters in the hunting business. From deer hunting to wild hogs, buffalos and squirrels, he has had a considerable amount of hunting experience under his belt.
Manufactured Using High Quality Materials
This knife is built using the highest-quality materials and craftsmanship to achieve the utmost durability and high performance, particularly during deer hunting and other animals, too.
Durable Leather Sheath
ESEE has mastered the art of producing solid, long-lasting sheaths made of premium quality leather.
Just like in their other models, this Ashley Game Hunting knife also comes with a durable leather sheath.
Pros
High Quality Built Material
Perfect for Hunting, Skinning, Field Dressing
Designed by Experienced Deer Hunter (Ashley Emerson)
Cons
Low Brand Awareness and Weak Marketing
Outdoor Edge SwingBlade – Rotating Fixed Blade Hunting Knife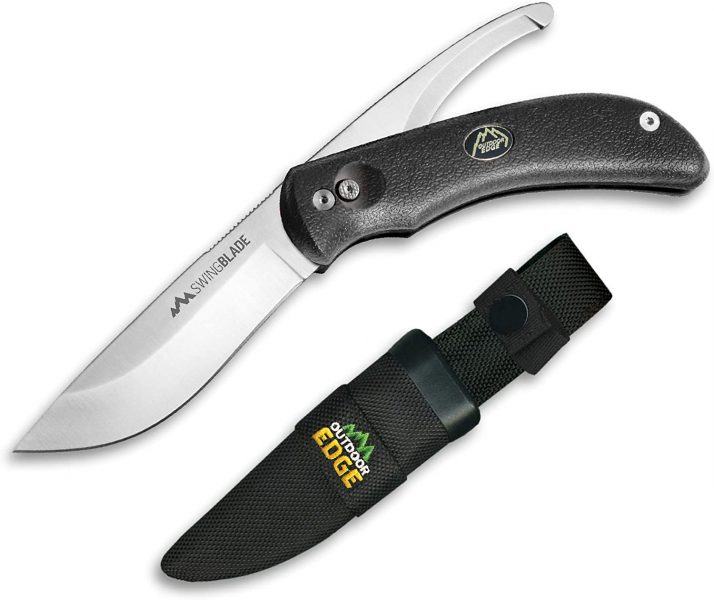 The Outdoor Edge SwingBlade is a rotating fixed-blade hunting knife that is widely known for its dual-blade element and a perfect rubberized handle that offers good grip.
High Quality Stainless Steel Blade
This knife uses the Japanese AUS-8 stainless steel blade that is tough, durable and corrosion-resistant – the ideal combination for deer hunting, skinning, dressing, etc.
The blade goes through a heat-treatment process, followed by a hand-finished procedure to achieve the required level of sharpness and maintain top-notch edge retention.
2 Blades in 1
The highlight of this hunting knife is its blade rotation feature. This mechanism works as the blade rotates from drop-point to a sharp blade on the other side.
Also, there is a gutting blade that gives precise cuts underneath the animal's skin to open the whole thing like a zipper without you having to cut internal organs and make the process messy.
Better Grip with Rubberized Handle
This knife has a pretty decent grip due to the non-slip black handle that is perfectly fitted to the steel frame. This gives a good grip even under wet conditions.
Pros
Rotating Fixed Blade
Nylon Sheath
Rubberized Handle
Japanese AUS-8 Stainless Steel
Cons
Slightly Heavier than Other Knives in the Same Category
Wrapping Up Our Deer Hunting Knife Guide
When looking for the sharpest hunting knife for your next deer hunting adventure, there are a lot of aspects that you need to pay attention to such as the blade strength, handle type, weight, size, etc.
In order to get your hands on the best deer hunting knife, always prefer fixed-blade knives as compared to folding-blade, since the latter has moving components and might not give you the required strength while skinning, gutting and field dressing your animal.
Lastly, the handle needs to have a perfect grip since it is a major part of the hunting process. Both nylon or wooden handles offer good handle grip and comfort.
Enjoy your next hunting adventure!