This Smith Vantage Helmet review takes a look at one of the best-known premium options from the company. It sits at the top of their offerings, with the exception of the Quantum helmet. And it deserves its spot there – this is one remarkable helmet.
Smith seems to have thought of everything when designing this helmet. Comfort, safety, and adjustability – all perform pretty convincingly. So let's take a closer look and see what makes this helmet tick. And if it really is the helmet for you.
Smith Vantage Helmet Highlights
Pros
Convenient and comfortable adjustability
Excellent safety performance
Good ventilation
Cons
Features Of Note For Smith Vantage MIPS Helmet
Ventilation – Keeping It Warm And Comfy
As a helmet for snowsports, Smith Vantage must keep an eye on warmth, but not go so far that the ventilation becomes troublesome. For their way around the problem, Smith Vantage uses the same solution as that by several other premium helmets. The vents can be closed and opened as necessary.
There are 21 vents on the Smith Vantage. The intake and exhaust vents can be operated independently. So, you could choose to open the exhaust vents, while keeping the intake closed. This allows the warm, moist air to move out, without making the helmet uncomfortably cold.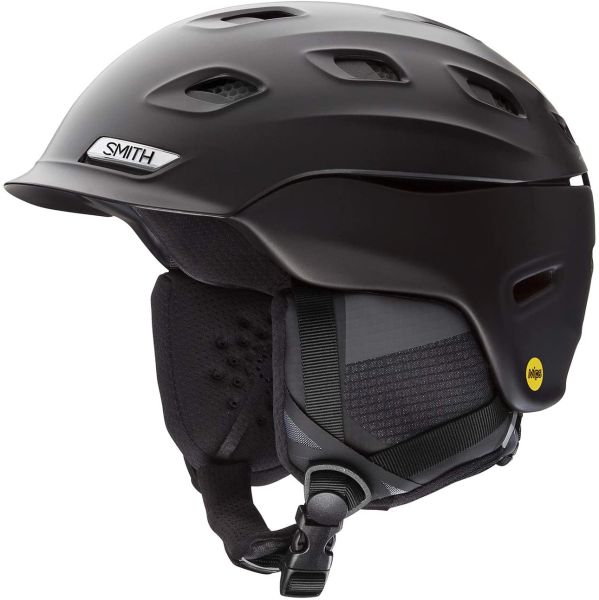 On warmer days, keeping all vents open will provide excellent ventilation. Vantage seems to have a grip on its ventilation. This is where it also beats most of its in-house competition, including the pricier Smith Quantum.
Ventilation here is amongst the best in the category, perhaps better than the Giro Range MIPS helmet as well.
Vent sliders on the Vantage are easy to operate and can be handled conveniently. One of the reasons ventilation here is so impressive is because of the use of the Koroyd liner. The liner goes through the vents as well, so we would assume some loss of ventilation as a natural and acceptable trade-off.
The fact that no trade-off has to be made is impressive by itself.
Adjustability And Fit
Smith Vantage MIPS helmet remains impressive for adjustability and a comfortable fit. It uses the BOA 36 Fit System to allow quick, convenient adjustability. A dial is placed at the back of the helmet for adjustments. It's easily accessible and can be operated with a single hand. It's perfectly fine with operation even if you're wearing gloves.
Moving the dial tightens/loosens the helmet to match your requirements. And it isn't just a band moving, so the Vantage doesn't give in to pressure points so easily. You can get a snug fit with this helmet, or leave some room.
Given the adjustability, Smith Vantage will also acclimate itself if you intend to use a beanie under the helmet for colder days. Overall, the system works as intended and keeps the helmet in a good fit and comfort.
Since it is available in several size options and has high adjustability, the Smith Vantage helmet can get along with any head size. Smith's BOA system also makes allowance for increased adjustability, so you can coax the helmet into just the right fit.
Vantage Helmet's Comfort System
As a premium helmet, Smith Vantage lives up to the expectations of comfort. Good fit and ventilation take on the lion's share of the comfort requirements. As does the comfy padding that lines the helmet.
The antimicrobial padding will happily absorb any sweat. It also takes away sweat from the brow, so you won't have to deal with sweat trickling down your eyes or face.
Technically, the antimicrobial padding should keep the helmet odorless. It does its job, but there is a finite limit to how long such a padding can stay up to mark. Smith Vantage's padding lasts an admirably long time, but be prepared to replace it depending on your usage (and how heavily you sweat)!
Its padding over the ears is comfortable too and doesn't create a sensation of pinching ears. There is a slight attenuation of outside noise, but the ear coverings don't completely muffle sounds. That way, you will be able to hear and talk without much problem.
As with most premium snow helmets, the earpads on the Smith Vantage are compatible with flat audio inserts. Additionally, the ear coverings are removable.
Smith Vantage forms quite a snug fit, so there is no room for cold air to enter the helmet. Yet, given individual preferences for fit and adjustment, there is a slight possibility that some users will deal with cold air pockets. In such cases, wearing a beanie might be helpful.
The helmet uses a standard buckle and chinstrap, which is convenient to use. I'd have preferred a magnetic fidlock as the more superior option. However, it appears that the company has decided to keep it for the pricier Smith Quantum.
See buying options and prices on Amazon
Goggle Compatibility
Smith has a long history of working with goggles and eyewear in general. So it is no surprise that their experience comes in handy for their helmets as well. Smith Vantage works beautifully with goggles.
Vantage allows easy placement of goggles and goggle-straps. Plus, they use Smith's AirEvac2 system. Simply put, this is their ventilation and comfort system for goggles. It prevents moisture and air from being trapped in the goggles. That way, they don't get fogged up.
The visor used with the helmet is small, but it doesn't disturb the placement of goggles. You can conveniently move the goggles to the head when required. The helmet compatibility offers the best performance with Smith's goggles, but it works just as fine with eyewear from other companies as well.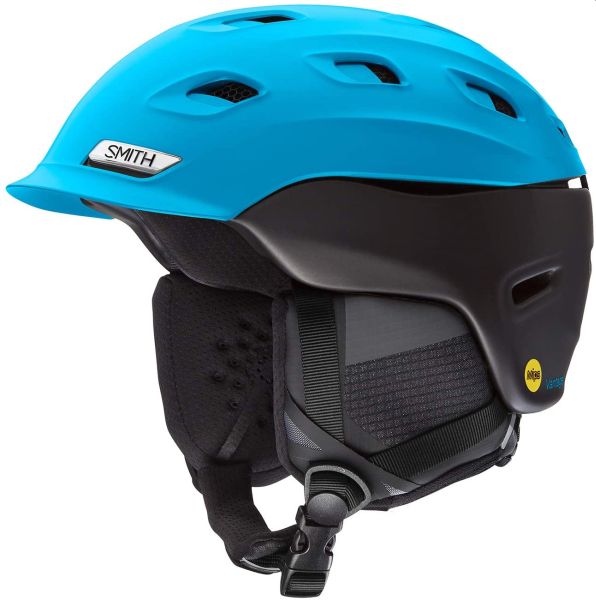 Smith Vantage Safety And Usability Options
Safety Tech And Other Features
Smith Vantage performs remarkably well in terms of safety. The helmet has an in-mold construction that ensures better durability and quality. As with most premium helmets, this is backed by EPS foam and a MIPS liner.
However, the Vantage takes a different route due to its use of Koroyd. This involves the use of vertically stacked tubes in a honeycomb pattern. In case of an impact, the tubes crumble, absorbing force from the impact. Much like the MIPS liner, this is an interesting safety tech that is considered to be superior, but not yet standard.
Besides, the Vantage only gets Zonal Koroyd and doesn't get full coverage like the Smith Quantum. However, even if it doesn't get full coverage, the presence of Koroyd liner in the Smith Vantage is reassuring.
The helmet is also available in a non-MIPS version. Although, I don't see any benefit in buying a non-MIPS product in this price range. It makes better sense to not skimp on safety.
Weight
In the arena of weight, Smith Vantage is one of the lighter snow helmets. For a medium-size helmet, this one moves the weighing scale to 17.7 oz (502 grams). And I think it is remarkable, considering that the helmet is full of features that would increase weight.
The adjustment system, padding, MIPS, etc. all seem to be packed nicely in this low-weight helmet.
Vantage And Its Siblings
When talking about the Smith Vantage, it's practically unavoidable to consider Vantage helmet's siblings, the Smith Variance and Smith Quantum. All of these are premium helmets, with some differences in pricing and features.
Amongst these three, Smith Variance is at the lower-end (it's still a premium helmet) and Quantum is at the top of the line. Vantage sits in-between the two and has features that end up in the mid-zone of its siblings.
For example, Variance has no Koroyd, Vantage gets Zonal Koroyd, and Quantum gets full Koroyd lining. Pricing also works similarly, rising from Variance and going to Quantum on top.
That said, all of these are very capable helmets and worthy of consideration. But yeah, they also have feature sets that justify them being different models with their own pricing.
Is This Helmet Worth Buying?
Smith Vantage is an expensive snow helmet. So it is obvious that buyers would also look for value and capabilities of their helmet. I'd say the Vantage sits at an interesting spot, where it is an expensive helmet, but still short of being amongst the more expensive ones. Its sibling, the Quantum takes that place. Similarly, the Variance is slightly lower in price.
However, as we see in this Smith Vantage Helmet review, it is very much capable of holding its own. This isn't a halfway-there helmet, but a well-built product that justifies its features and capabilities. It has excellent safety features and quality construction that could help it last several years.
Overall, yes, this is a helmet that you can consider positively, provided your budget allows it. Though it's an expensive helmet, it offers good value. Much better if you can get one on sale! Smith Vantage MIPS helmet is available in several color and size options, so you'll likely find one that's best for you.