With this Giro Range MIPS review, we take a look at the company's flagship snow helmet. Giro Range helmet is pretty well-liked, and for good reason. The helmet is built with excellent features and has one of the best approaches to safety tech.
The helmet does well with its fit and adjustability. It also handles ventilation well, considering this is a snow helmet so it wants to keep your head warm. Let's take a deeper look at how it all works out.
Giro Range MIPS Highlights — The Yays And Nays
Pros
Excellent safety tech.
Good for sizing and adjustability.
Very comfortable.
Cons
Features And Specifics For The Giro Range MIPS
The Fit And Adjustability
Giro Range deserves more attention for the way it handles fit and adjustability. While most Giro models use the Roc Loc system, this one takes a different route. Giro Range MIPS employs the ConformFit retention system, which is a highlight and the hallmark of this helmet.
Pretty much the entirety of the features set available could be tied to the work and functioning of the ConformFit. The InForm wheel is placed at the back of the helmet and allows for easy adjustment for a better fit.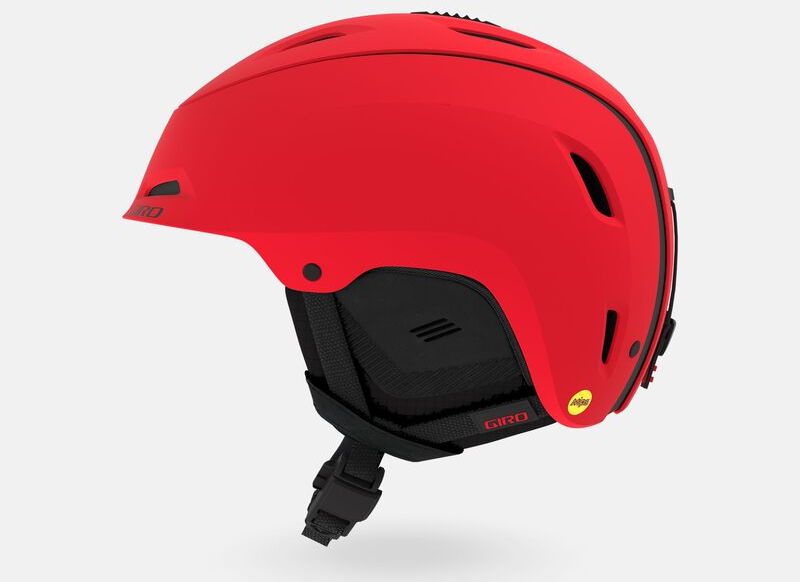 When you move this wheel, it's not the retention system that responds as with other helmets. Instead, it's a movement in the shell that defines the fit. That's an excellent way to put the 2-piece shell to use.
This allows better adjustability. Giro Range MIPS can move almost 2.36 inches (6 centimeters) for adjustability. This gives it an excellent range and allows better adjustment and fit. Giro Range will conveniently cover most head shapes. Those with oval head shapes might find this to be a better fit than similar, competing helmets.
ConformFit also allows better front to back adjustments, which makes it well-suited for comfort and user requirements.
Although there aren't any specific pressure points formed by adjustment, some might feel the helmet getting a tighter fit. While this doesn't necessarily hamper general comfort and fit, the earpads might feel greater pressure.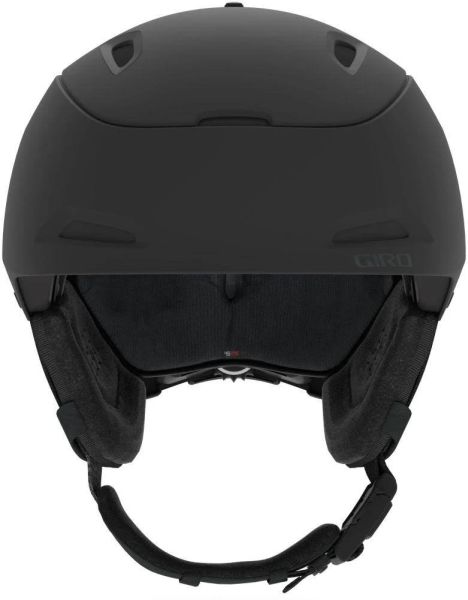 If you've had that sensation of slight pain while wearing other snow helmets, it's likely you'll have it with the Range too. Although that too depends on your specific head shape and the adjustments you make to the helmet.
There is a non-zero chance of discomfort, but there's a better chance that this helmet and its high adjustability might actually work to your benefit.
Comfort And Padding For Your Helmet
Giro Range MIPS takes an excellent approach to comfort as well. The helmet makes use of two pieces of EPP foam. One of these runs through the forehead to the back of the helmet. The second piece runs around the helmet and under the other (front to back) piece. Overall, this creates an excellent setup where comfort and protection come together.
The helmet uses TX2 anti-odor padding. Giro says the secret here is the use of "pure silver" in the padding. This makes it antimicrobial and odor-free. The padding is designed to sit close to the head. It absorbs sweat, wicking away the moisture and then drying itself quickly.
The silver salts used in the padding get into action to kill any bacteria and keep the helmet from smelling bad. Of course, it still needs maintenance and cleaning, but the touch of silver helps!
Ventilation And Warmth
In a basic comparison for ventilation and warmth, Giro Range MIPS is pretty close to the Smith Variance helmet. Both these premium helmets use innovative approaches to keep the head warm, yet vented enough so it doesn't get sweaty and uncomfortable.
There are 12 adjustable vents on this helmet and they're designed to offer great ventilation without compromising on the warmth. You can close off the adjustable vents when they're not needed to block cold air from entering the helmet. With the adjustment system in place and the vents close off, the helmet forms a tight seal so cold air can't find a way inside.
Meanwhile, the exhausts can stay open since they won't be directed towards incoming air. Warm air can escape through these exhaust vents, so there isn't a problem of moisture building up inside the helmet. That way, it won't get overly hot and uncomfortable.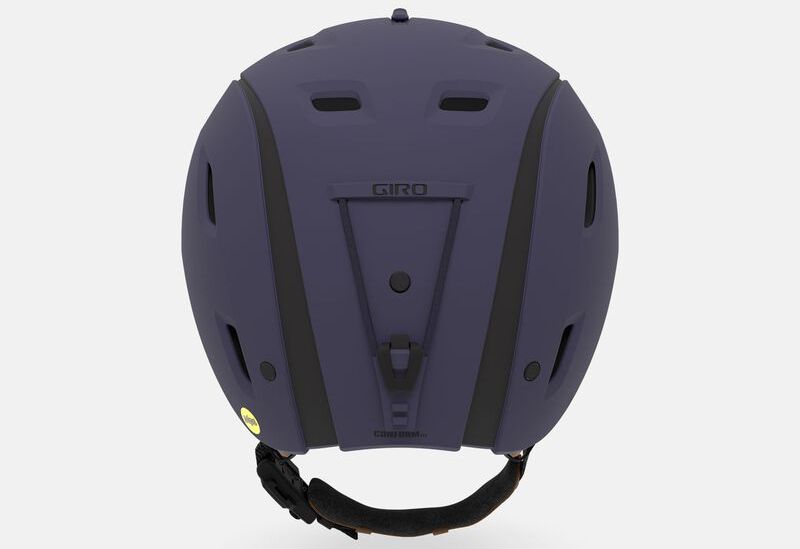 Speaking of moisture, the helmet makes allowances for using goggles as well. It doesn't look good for a helmet to have fogged up goggles, does it? A central goggle vent keeps air moving in this Giro snow helmet. Proper placement of the vent is very helpful in keeping the goggles from getting fogged up.
Oh… I just realized saying fogged up is a great way to sneak words into conversation that wouldn't be acceptable otherwise. This is so fogged up! Teehee.
Besides, the ear pads also fit well and have generous padding. This obviously helps keep your ears warm and protected from the elements. In case you're wondering, yes, the ear pads are compatible with disk-shaped earpad audio devices.
See buying options and discounts
Safety Tech And Protection For This Giro Snow Helmet
EPS foam is generally the popular choice for helmets. Giro Range MIPS has taken a different route and chosen EPP foam. EPS foam works by absorbing the impact and gets deformed with it. Even a minor impact will cause some permanent deformation in the helmet.
EPP foam can withstand multiple impacts. So minor impacts don't permanently deform the helmet's foam. So there can be some benefits to this approach. Do keep in mind that changing the helmet is important if you get into a big impact, irrespective of the foam used.
Another layer of protection comes from the use of MIPS. This is a thin foam insert in the helmet that can be beneficial in protection against rotational impact. It's pretty much an expected feature from premium-range helmets, so it's perfectly reasonable for the Giro Range to flaunt MIPS.
Giro Range MIPS Additional And Notable Features
Weight
Giro Range MIPS tilts the scale at 538 grams (19 ounces) for the medium-size helmet. As weight goes, this isn't terribly heavy, but it does have competition that is lighter. I'd put this somewhere in the mid-range where weight is concerned. I feel most of the weight here is justified, so it's not worth considering a negative for this helmet.
Additional Features
Goggle compatibility has been handled gracefully for this helmet. You are quite likely to use a goggle with a snow helmet, so compatibility is important. As already discussed, Giro Range MIPS has excellent ventilation that prevents goggles from getting fogged up.
Available adjustment options make it possible to use different sized goggles and have them get a tight seal with the helmet. Working these goggle straps can sometimes be a bit of work, but it's a necessity considering the usage environment and general characteristics.
Another quality of life feature here is the use of the FidLock buckle. It keeps the helmet well-secured but remains easy to maneuver. You could work the chinstrap easily with a single hand, even with gloves and/or cold hands.
Finally, there's the mount for GoPro or similar gadgets. It's easy to place on the helmet and allows keeping the camera in a better position. Besides, it's way better than using an alternative system to get some camera action with this helmet.
Is Giro Range MIPS The Helmet For Me?
If you enjoy snowboarding and skiing, Giro Range MIPS is definitely a helmet to consider. As we see with this Giro Range MIPS review, the helmet covers practically all essential features we would expect from a product in this category.
It's simple to use, safe, and comfortable. The price is a bit on the higher side, but that's to be expected from a premium helmet. Even though it's expensive, it does offer great value in terms of features and use.