Smith offers quite an extensive range of ski and snowboard helmets. A very fine specimen of the quality offered by the company is the Smith Variance Helmet. The helmet has been a popular pick and offers features that make it easy to like.
Through this Smith Variance Helmet review, we look at features offered by this remarkable helmet – both important and banal. Things like looks, ventilation, warmth, and most of all, safety form the core consideration of these helmets.
Smith Variance Helmet Highlights
Pros
Good quality construction
Good ventilation, yet warm
Cool looks and design
Cons
Smith Variance Helmet Features And Usability
Appearance And Design
As looks go, the Smith Variance helmet holds its own quite nicely. The helmet is well-shaped, with excellent curves and a thoughtful design. It covers the head and the ears, ensuring you're well-protected against the elements and does so while looking sleek and useful.
Smith Variance is available in several colors and patterns, so there's a good chance you'll find a helmet that's best suited for your taste.
Ventilation And Warmth
There are two seemingly contrary aspects to consider here. Since this is a helmet for cold-weather activities, we definitely want it to be warm. But then again, we don't quite prefer for our head to sit in some overheated sauna either.
Smith Variance walks this fine line deftly.
There are 18 vents on this helmet, and they can open and close as you prefer. When you need some cool air, open the vents. If you prefer to keep it warm, let the vents stay closed. It's a simple solution and it works wonderfully.
I'd say more helmets should take this approach, though obviously there is a cost effect that comes into play.
Ventilation available is good enough for the cold temperatures where you're expected to use this helmet. It's not quite impressive, but it does its job.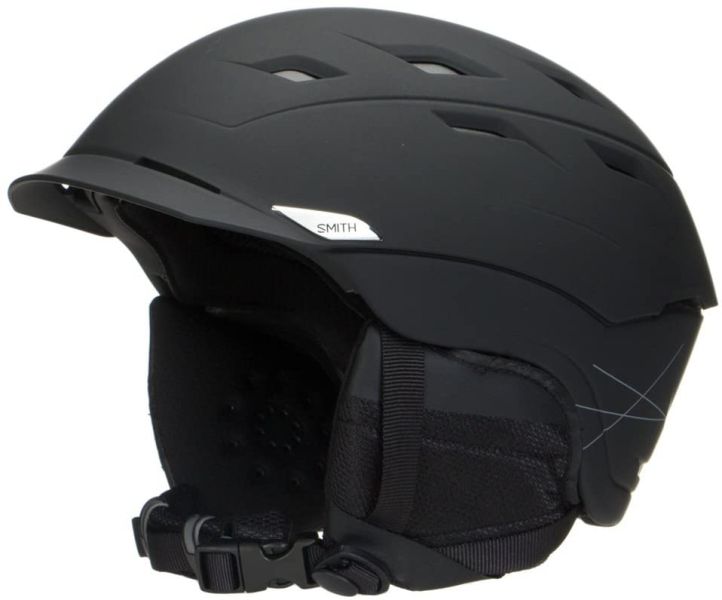 Additionally, the helmet fits well and its overall construction and padding are set in a way that keeps you warm. If you're so inclined (or if the weather demands it) you could also wear a beanie under the helmet without any problem.
Its vents close tight and the earpads do a wonderful job at hugging the ears and cheeks. No more cold ears or icy cheeks with the Variance. The earpads are of good quality and get a comfortable grip on the ears and cheeks.
While they'll keep these parts warm, they don't put undue pressure and remain comfortable. And yes, they're warm and well-built, very different from those cold, flimsy pads available with some other helmets.
Getting The Helmet To Fit
The helmet is adjustable and can be set to fit different head shapes and sizes. It is available in four sizes: small, medium, large, and extra-large. Once you've got the helmet in the desired size range, you can use its BOA Retention System to get a fit that's best-suited for you.
Smith Variance MIPS helmet handles it efficiently. The adjustable system leaves plenty of space for customization. This includes not only getting a snug fit for your head, but also adjusting it to fit a beanie or similar headgear.
For some very chilly days, it's a good idea to keep your beanie in place. Though the helmet does a good job, the cold air can always find nooks and crannies to get in through. It's just smarter (and safer) to have a beanie make sure that the head stays warm.
Is Smith Variance A Comfortable Helmet?
Definitely. As we've already discussed, the helmet does a good job in getting a size that fits your head just right. Apart from adjustability, it offers warm ear pads that keep the cheeks and ears well-protected, and the vents are easy to manage.
Pricing And Value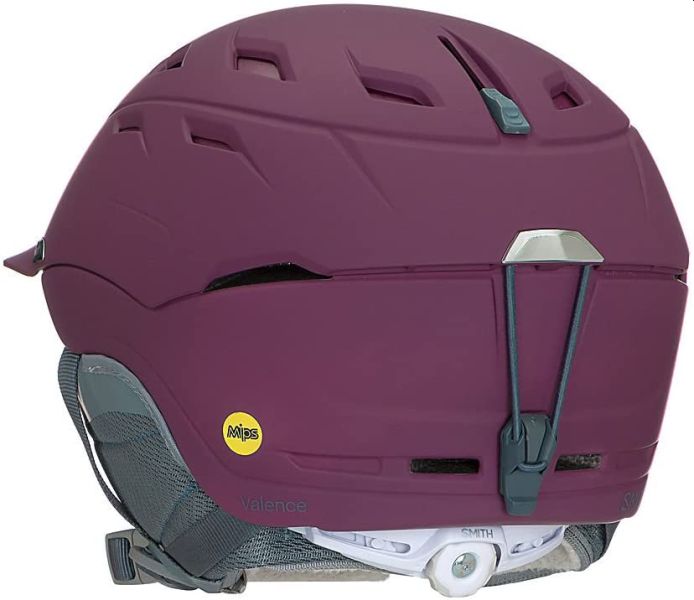 Smith Variance is priced to something on the higher side of things. Yet, its comfort and safety options make this helmet a suitable pick and give it a nice touch of value. And if you can buy this helmet at a discounted price or at a sale, you'd be getting an excellent deal.
At its full price, the cost is a barrier, even if justifiable. But, if you're getting it at a discount, it's probably at a great value.
Just so you know, Smith Sports has discontinued the Variance. While it's still in stock at several retailers, I wouldn't be surprised if it went off shelves soon. There are plenty of other options and helmets to consider, but if you've got your heart set on Variance, it might be a good idea to get one now.
See purchase options and discounts
Getting The Goggles To Fit
Speaking of a helmet for the snow, we'd want something that fits in nicely with eyewear. Since the company has extensive experience with eyewear, they haven't kept helmets out of the loop. Most eyewear will easily fit your Smith Variance Helmet.
Bigger frames, which are more likely to be used with the snow are better fits, so that's a plus. Smaller frame goggles/glasses will fit too, but they don't form as snug and comfortable a fit as their larger counterparts. Still, it's enjoyable and useful that goggles can work with the helmet without a hitch.
The only issue with smaller goggles is that they don't seal off the temple as well as larger goggles. It's a small consideration, but nothing too troublesome.
The Weight Of Smith Variance Helmet
Its weight is often considered a drawback for the Smith Variance MIPS. The weight comes in at 548 grams for the medium-size helmet. Now that's not essentially a deal-breaker weight, but it does clock in at the higher end when compared to similar helmets that the Variance competes with.
Construction And Safety Features Of Smith Variance Helmet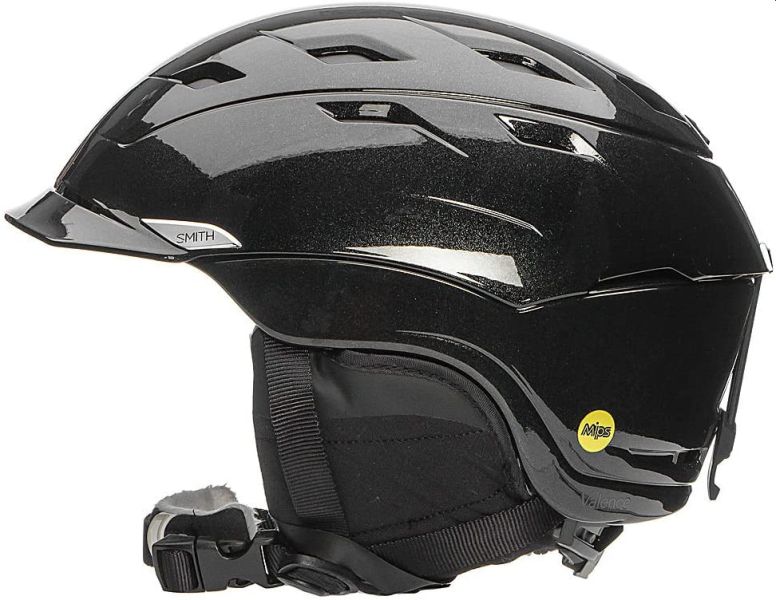 Smith Variance has a Hybrid Shell construction that keeps it solid and comfortable. Much of the safety is handled by the EPS foam, which does its job admirably well. Use of MIPS adds another layer of protection for the helmet, allowing greater safety.
It's worth noting that MIPS is not a standard feature on these helmets, and it's also available without the MIPS layer.
Other construction features include removable earpads and lightweight goggle locks. Interestingly, the earpads are compatible for use with disk-shaped audio devices. So while the helmet covers your ears quite nicely, the door to listening to your favorite music remains open.
Smith Vantage vs Variance
Vantage and Variance are both very popular helmets from the company. Smith Vantage is priced slightly higher, but it more than justifies its price tag with better features. These include conventional usage features and safety tech. Much of that forms the core of the Smith Vantage vs Variance comparison.
First off, where the fit is concerned, both helmets offer excellent adjustability. You could get either to fit your head comfortably. Both these helmets use the BOA system, however, Vantage seems to handle it more effectively.
Maybe they went in for some cost-cutting on the Variance? I don't know! But it feels like the Vantage does better.
Then there's the big difference in safety tech. Vantage gets the conventional EPS foam and MIPS insert. And then it does itself one better with the use of a Koroyd liner. This is a honeycomb-like liner, put together straw by straw. Smith says it can reduce impact by as much as 30%. Now that's not a feature we'd want to miss!
By comparison, the Variance doesn't get the Koroyd liner, and even the MIPS insert is optional.
Vantage is also lower in weight when compared to the Smith Variance. Overall, you could say that the additional cost of the Vantage comes with extra safety and construction features. It's an excellent combo, which makes Vantage a superior helmet.
The Bottom Line For The Smith Variance Helmet
Now that we've had the full rundown with the Smith Variance Helmet review, where do we stand? It is undeniable that this is an excellent helmet with remarkable features for safety and comfort. Plus, it looks good and keeps you warm.
It squares up quite impressively on the metrics of safety, comfort, and construction. Plus, the availability in various colors and design helps its case.