How do comfort and safety stack up when using this full face bike helmet? This Fox Proframe Helmet review has the answers.
As a helmet geared towards enduro racers, Fox Proframe has to keep comfort as the top priority. It also offers excellent breathability, is lightweight, and carries certifications attesting to its safety features.
Fox Proframe is a popular helmet and one that's as comfortable on a regular trail as it is on a hard-charging downhill trail. Let's get up and close to what the helmet offers.
Fox Proframe Highlights — The Yay And Nay
Pros
Excellent breathability.
Lightweight full face helmet.
Easy to use and convenient buckle.
Cons
Top Features Of This Fox Full Face MTB Helmet
Ventilation And Breathability Of Fox Proframe MTB Helmet
One look at those giant vents and you can pretty much assume that the breathability is going to be awesome. The helmet lives up to that assumption. With vents so huge, there's no way airflow is going to suffer.
There are 24 vents in this helmet, including the massive cutouts on the chin bar. The number of vents itself isn't all that special… many premium quality helmets have them. Bell Super 3R MIPS helmet, for example, has 23 vents.
Just to be clear, I mention that solely for the sake of an example. Fox Proframe and Bell Super 3R are very different helmets, even though they're both MTB helmets. A big difference is that the Proframe is a full face helmet, while Super 3R has a removable chin bar.
Anyways, back to our topic, while the number of vents on the Fox Proframe may not be all that special, their function is. This helmet is remarkably well-ventilated. Wind flows through easily when you're on a downhill run, but it remains good on the uphill climbs as well.
Fox says the helmet has "open face breathability." That's a tall order for a full face helmet, but they're not way off the mark there. The Proframe does make it work.
Its large vents and their placement works wonders here. A full face helmet needs excellent ventilation, or it would get unbearable rather quickly. This Fox full face MTB helmet is pretty much the best on offer in its category (where ventilation is concerned).
Aesthetics And General Appearance
As looks and appearance go, this helmet doesn't stand out from its peers. This is a decent-looking helmet with all the design qualities that go on to make a full face helmet.
Its large vents on the Fox Proframe are pretty much a great way to spot this helmet. The helmet is available in several color and pattern options, giving us a fairly wide berth in taking a pick.
Fox Proframe Helmet Visor
For all the praise that Fox Proframe gets, it also gets a few sighs for its visor. On an average helmet, this visor would feel like something great. On the Proframe, the visor doesn't feel all that impressive. Perhaps this is due to the overall higher expectations from this helmet, but yeah, the visor is a bit of a fly in the ointment.
To be fair, the visor has excellent shape and size. I'd say it scores okay on comfort too, but the fixed visor has its flaws. It won't move if you want to stash your goggles over the head or pull them up a bit.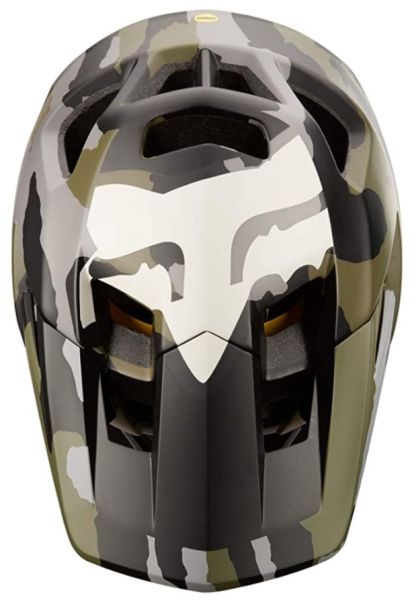 Is this a real problem?
Depends on your individual riding style. If you find yourself moving goggles to your head often, be prepared for some trouble with the Fox Proframe. Other than this problem, the visor does everything expected of it.
This is a minor problem, but these little things have a big effect on quality-of-life and use. If you don't move your goggles or prefer fixed visors, this helmet won't give you much reason to complain about anything.
There's a good reason for why Fox chose the Proframe visor to be fixed. The vents and holes on it play their role in ventilation. And clearly, ventilation comes first for the Proframe.
Adjustability Of The Fox Full Face MTB Helmet
While the Fox Proframe is available in different sizes, some customizations are necessary to get it fit for you. There is no deep, underlying mechanism to get things working to your fit. Instead, Fox takes a basic, yet effective approach to all this – pad the helmet nicely!
Different pads are included in the box to make the helmet a fit for various head shapes and sizes. Place them right, and you've got a helmet that's a snug (and comfortable) fit for your head. The pads, of course, are soft and will eventually compress with continued use.
It might be useful to start with pads that are slightly larger than what you need. That way, once they compress, they'll create a good fit for your helmet. You might have to endure a couple of rides without the feeling of an excellent fit, but that's usually not a problem.
Besides, the change is relatively small and probably won't be as prominent. The bigger part here is placing the pads right for a better fit to the shape of your head.
The Comfort And Use Of Fox Proframe
As we've already seen, ventilation is the key focus for the Fox Proframe. The large bore vents and their accompanying exhausts keep the helmet breathable and very well-maintained. And that makes all the difference when it comes to comfort.
Breathability is the key to comfort in a full face helmet. And this one stays right on path whether it's going downhill or climbing up. The helmet decidedly has a better feel than your average full face helmet. As Fox says, this really has that "open face breathability" nailed pretty tight.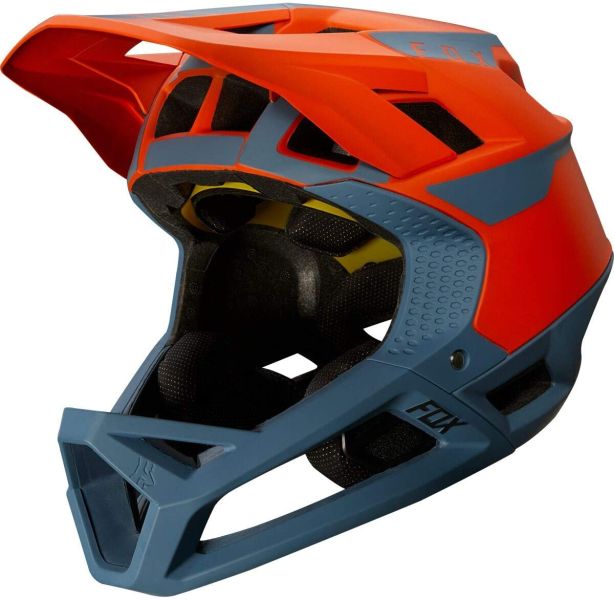 Its fit is another thing going in favor of this helmet. Using pads to get the shape and form right goes a long way. Getting the right fit adds to the overall comfort and the use of this helmet in pretty much any condition and weather.
The large vents on the brow of the helmet take away something from its padding. This can sometimes feel a bit uncomfortable, though it isn't necessarily troublesome. In fact, you'd probably notice it only after a long time of wearing the helmet.
Fox Proframe is held in place by a magnetic Fidlock buckle. The straps have some padding and feel rather smooth and nicely made. The buckles and straps secure the helmet well, and you will find either of these to be convenient and comfortable.
Construction And Safety Features
Fox Proframe is made using an InMold polycarbonate shell. It's well-made and keeps a good profile. The protection is handled by a molded, dual-density EPS foam liner, which is designed to offer protection against low and high G impacts. The Varizorb foam also feels comfortable and dependable.
Another layer of safety is provided by a MIPS insert. So yeah, given the construction of the outer shell, EPS liner, and MIPS layer, I'd say this helmet seems quite reassuring.
Safety ratings hold considerable importance for MTB helmets. Fox Proframe carries an ASTM certification to back up its claims for safety and dependability.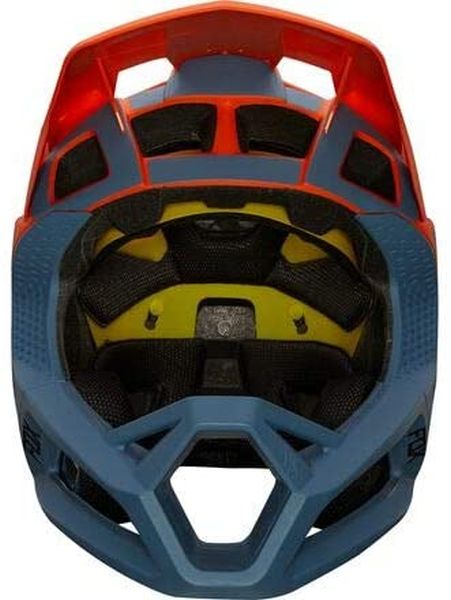 Weight Considerations
For a full face helmet, Fox Proframe is surprisingly lightweight. The medium-sized helmet weighs 725 grams. At an awkward glance, that might seem on the higher side of things. But, as full face helmets go, this one's a very lightweight helmet. Certainly something you won't have to fret over.
Wrapping Up – Where Does The Fox Proframe Stand?
Fox Proframe is a remarkable full face MTB helmet. It's lightweight, very comfortable, and its breathability makes it impressive. As we see with this Fox Proframe helmet review, there are a lot of positives for this helmet, and its negatives fade in comparison.
It doesn't come cheap. This is an expensive helmet, as premium choices often are. But when it comes to value, this helmet seems well worth the price. It's especially meaningful for enduro racers, who are bound to appreciate this comfortable and breathable helmet.