While any biker will tell you the benefits of hydration, the best way to get it done remains somewhat debated. Not so long ago, getting the best hydration pack was the thing to do. They offer a simple and convenient way to get hydrated without having to stop. Plus, there's extra storage for any gear you might want to carry.
Let's be clear: hydration backpacks aren't the most popular option used currently. They've been outdone by other solutions, but there remain situations and opportunities where they come in handy.
Besides, many bikers do prefer to take hydration backpacks along. It helps that the improvements in these packs have removed several issues that originally concerned mountain bikers.
Let's see what's the best on offer, and then we'll take a look at the nitty-gritty of mountain bike backpacks.
Editor's Choice For Best MTB Hydration Pack – CamelBak M.U.L.E.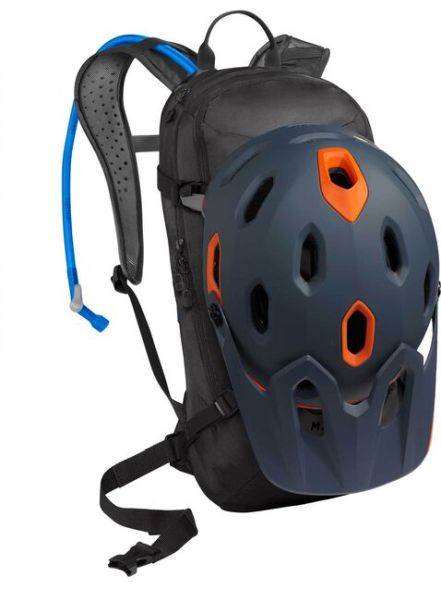 CamelBak is one of the most trusted brands in hydration packs. It could be considered as the brand that defines hydration packs. CamelBak M.U.L.E. is our pick for this category.
It carries on the simple usability and convenience that make CamelBak backpacks so highly regarded. Plus, it's robust and has excellent specs that are definitely going to be appreciated by mountain bikers.
The hydration pack is available in conventional and mil-spec variants. The one pictured here is the conventional setup.
Hydration Packs Reviews – The Best Backpacks On The Market
1. Osprey Packs Raptor 14 Bike Hydration Backpack
As we saw with our Osprey Raptor 14 review, the hydration backpack is a remarkable and useful product. This is a 14L backpack with excellent organization and good use of the hydration system.
Its highlight is the front rollout kit pouch. The pouch is removable and provides a convenient place to stash tools you might need while mountain biking.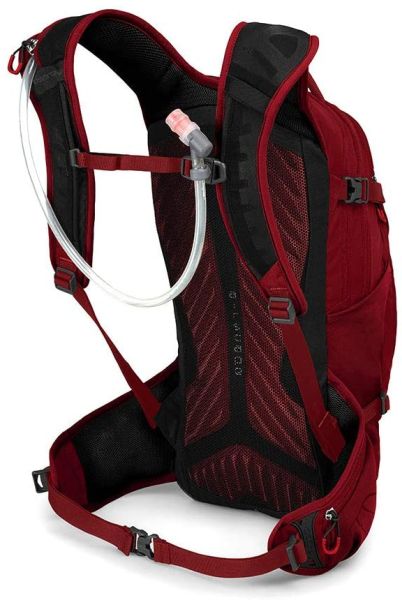 The main compartment is large and provides enough space for storing general items and includes pockets for organization. A lidlock attachment will hold your helmet and a scratch-free stash pocket can be used for items like sunglasses and mobile phones.
But what about the hydration system?
To put it simply, it's excellent. Raptor 14's reservoir pocket holds a BPA-free Hydraulics LT 2.5L Reservoir by Hydrapak. There's enough room to use a 3L pack, but that's up to you.
The tube runs through the shoulder straps and eventually reaches a magnet on the chest strap. The magnet's role is to keep the tube in position while you ride. When you want a drink, the bite valve is easily accessed and water flows through effortlessly. While the flow is good, the water volume can feel a bit low.
Pros
Very comfortable to wear and ride.
Hugs the body closely and doesn't shift around while you bike.
Has good storage space and organization options.
A thoughtful design with useful organization features.
Cons
Available in a very limited range of colors.
Expensive.
The water flow from the bite valve can feel low (though the system is one of the best in this category).
2. CamelBak M.U.L.E.
CamelBak Adult M.U.L.E. Mil Spec Antidote Hydration Backpack is our top choice for this category. This hydration backpack is remarkable any way you look at it and pretty much deserves being called the best mtb hydration pack.
It benefits from CamelBak's excellent record with hydration packs, and indeed, highlights some of the brand's greatest successes. As a mil-spec product, it's built to be remarkably sturdy and it can handle some rough use.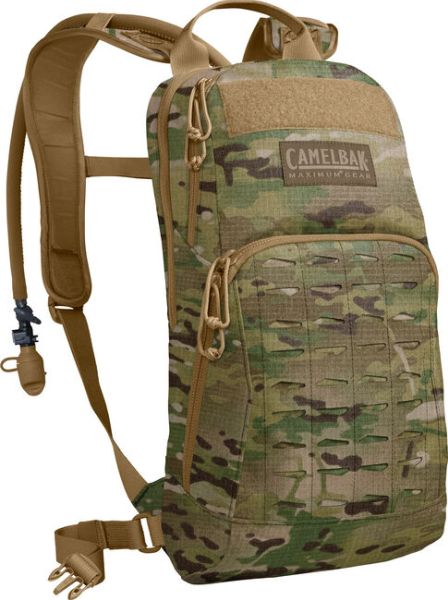 CamelBack M.U.L.E. Mil Spec hydration backpack has a total available volume of 11L. Of these, 8L is available for general storage. The main pocket is sufficiently large to hold a good range of items.
The bag is easy to carry. Its padded shoulder straps and chest strap provide a snug hold. The hip belt doesn't do much by way of distributing weight, so it plays its part by keeping the backpack in position.
Let's get to the hydration system now.
CamelBak has placed a 3L reservoir in this backpack. It's held neatly in place in the insulated reservoir pocket. A tube runs out from the pocket and goes through the shoulder straps.
Eventually, it reaches the prominent bite valve. The water flow is excellent and almost effortless. A one-handed on/off water flow on the drink tube is also available.
Since this is a mil-spec product, it also has a hook-and-loop panel to allow easy addition/removal of name tags and unit badges.
Pros
The hydration pack is lightweight, durable, and very sturdy.
Has an insulated pocket for its 3L water reservoir.
Hugs close to the body and isn't distracting during mountain biking.
Excellent water flow on the bite valve.
Has multiple paths for drink tube routing.
Cons
3. TETON Sports Oasis 1100 Hydration Pack
This backpack is very popular with buyers – and there's good reason for it. TETON Sports Oasis 1100 Hydration Pack does its job as a hydration pack and is incredibly cost-effective. You could shave off almost a hundred bucks between this pack and one of the top-line hydration packs.
Where absolute performance is concerned, this won't hold a candle to specifically engineered packs like those from CamelBak and Osprey. Nevertheless, if you just want a hydration pack, this is as good as any other.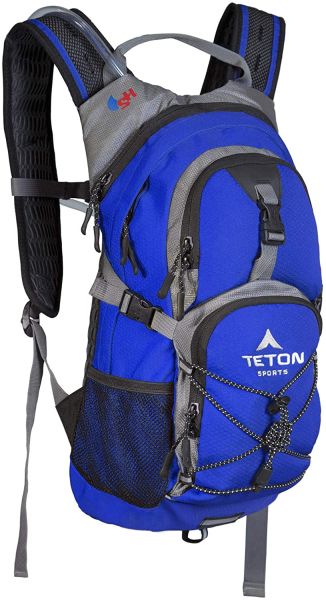 TETON Sports Oasis 1100 Hydration Pack has storage available at 18L, of which 2L is dedicated to the hydration system. In some ways, it's more suitable to be an edc backpack rather than an MTB hydration pack. Of course, it can work as both!
The hydration system is fairly rudimentary. A bladder sits in the reservoir and the tube goes out culminating in a push-lock cushioned bite valve. The bladder is of middling quality, as is the tube.
TETON Sports Oasis 1100 has comfortable shoulder straps and back. Its main pocket is sized well enough to hold a 13-inch laptop, though just barely.
Pros
Excellent value for money.
The main compartment is large enough to hold a 13-inch laptop.
Comfortable shoulder straps and back.
Cons
The hydration system is of middling quality.
See buying options and discounts
4. Hydro Flask 14 L Down Shift Hydration Backpack
Sure, we can always trust the Hydro Flask water bottle, but can its hydration pack live up to expectations? The company has recently made a foray into hydration packs, which is a completely new world compared to flasks and bottles.
So far, it seems to be doing okay. Hydro Flask 14 L Down Shift Hydration Backpack has two liters of space reserved for its hydration pack. The remaining 12L is used skillfully for storage, with the main compartment offering several pockets for easier organization.
Note: In some descriptions, the hydration pack is presented as three liters. That is an apparent oversight or error.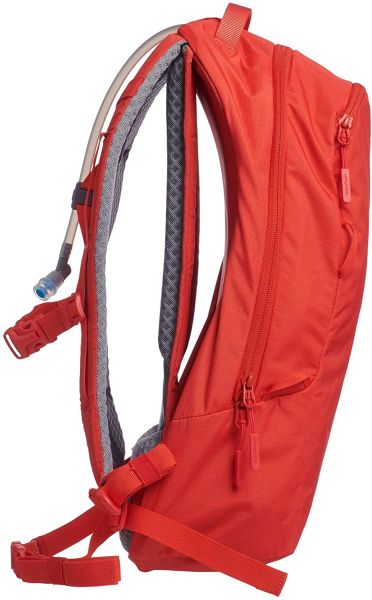 The shoulder straps and back panel have good ventilation and a rather plush padding. So it has quite a nice feel when carrying this around.
Since this is a Hydro Flask product, you'd be right in expecting more from its hydration reservoir.
Here are the unique features of the Hydro Flask DownShift Hydration Backpack:
First, the hydration pack is placed at the bottom of the backpack. They say this helps keep the center of gravity lower.
Second, the hydration reservoir is insulated. It's a soft insulation design with a reflective coating. HydroFlask says the reservoir will keep its contents cold for at least four hours. That's a pretty good number.
Finally, an articulated panel stops body heat transfer between the user and the hydration pack. This way, the insulation can perform better.
Overall, this is a great backpack for conventional hydration pack uses. It's average at best when used for mountain biking.
Pros
This is a very comfortable backpack.
Excellent insulation for the hydration pack.
Good storage and organization options in the main compartment.
Good flow with the HydraPak blaster bite valve.
Available in several colors with excellent finish.
Cons
Expensive.
Average to low usability for mountain bikers.
5. KUYOU Hydration Pack
KUYOU Hydration Pack is a straight-up hydration bladder without any additional storage options. This one simply wants to handle hydration specifics and that's about it. As such, the 2L hydration bladder is lightweight, easy to use, and cost-effective.
However, all that comes at a price.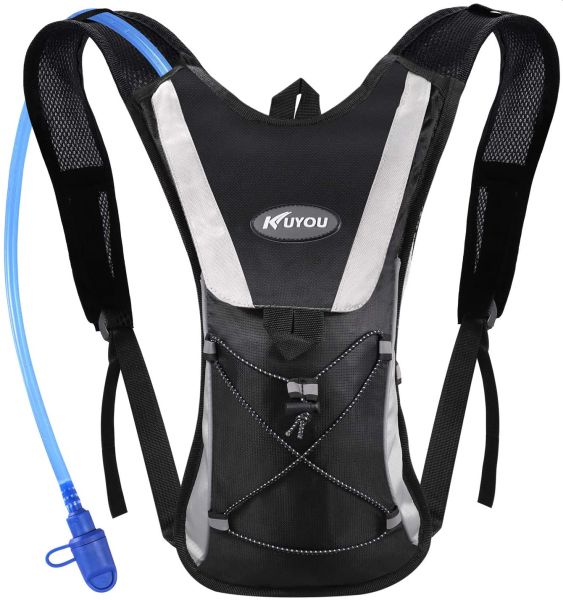 One, its cost-effectiveness is questionable as compared to similar alternatives like the Teton Sports Oasis. Especially so when Teton offers a lot more options at just a slightly higher price.
Two, the water delivery system is pretty basic. You'll have to work the rubber mouthpiece manually every time you want a sip. It has to be opened and closed by the user.
KUYOU Hydration Pack offers mesh panels at the back and on the shoulder straps for greater convenience and ventilation. However, if you have cold water in it, there's bound to be some discomfort.
Pros
Attractive pricing and offers good value for money.
The hydration pack has been made from good quality materials.
It is lightweight and very easy to use.
Cons
The water flow system needs manual operation.
Not for use over long periods.
6. Mubasel Gear Insulated Hydration Backpack
Here's another popular and cost-effective backpack. Mubasel Gear Insulated Hydration Backpack is competition to the other popular option, the TETON Sports Oasis 1100 Hydration Pack.
At the risk of painting with broad strokes, we could say these hydration packs pretty much tow the same line. They offer great value, but some performance options are overlooked. Usually, this isn't a problem for an average person, who simply wants a hydration backpack.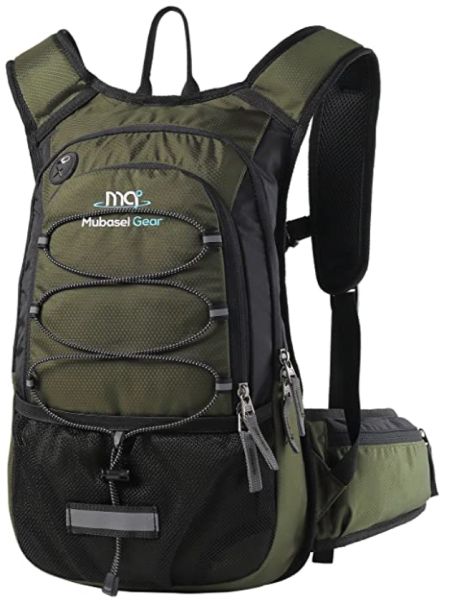 Storage options include a large main compartment with pockets for easier organization. The pack has three storage pockets, not including the hydration reservoir.
They claim that the insulated reservoir will keep the water cold for at least four hours. That's an optimistic number if there ever was one. Personally, I won't put much stock in its insulation capabilities.
The bite valve is extendable, so it's easy to reach. Its fast-flow valve is average in performance.
Pros
Offers good value for money.
Good storage options as well as an adequate hydration pack.
The backpack is available in several colors and designs.
Cons
Several consumer complaints about the longevity of the water bladder.
7. evoc FR Trail Blackline Protector Hydration Pack
evoc FR Trail Blackline Protector Hydration Pack is a chic, almost fashionable hydration pack. It's expensive – the priciest item on this list, but its qualities can make it feel worth the effort. It uses top-quality materials for construction, and could very well be the star of hydration pack reviews.
LiteShield Air suspension system presents a comfortable way to carry this bag. It hugs the body closely but retains good airflow. The suspension also ensures proper weight distribution so things don't get clumsy.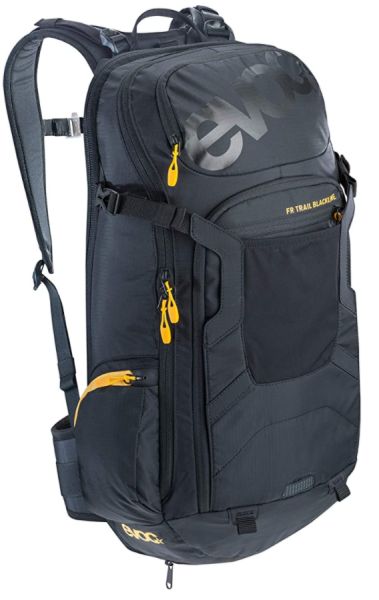 This is a little larger than conventional hydration packs for biking. It's so by design, for those who prefer a bigger backpack. This one's almost 22 liters, where it qualifies to be a conventional daypack over a hydration pack.
evoc FR Trail Blackline Protector Hydration Pack is oddly without a hydration system. Well, it includes a pocket that's good enough to fit a 3L bladder and has systems in place for the tubes. But no bladder! For a hydration pack at this price level, that doesn't quite sit right.
Pros
Excellent construction and build quality.
Designed to be a hydration pack, but with large storage space.
Well-designed loops to hold a helmet and knee pads.
Well-organized storage and pockets.
Quite comfortable for biking or even general use.
Cons
Expensive.
Doesn't include a hydration system or bladder.
8. Dakine Drafter 10L Backpack
A small, but well-built pack, Dakine Drafter 10L Backpack has a build that can be appreciated. It has a single compartment, where the hydration pack sits near the bottom and sends off its tube outside through the top of the bag.
There's a system in place for running the tube over the left shoulder strap and it's set up quite nicely to be comfortable.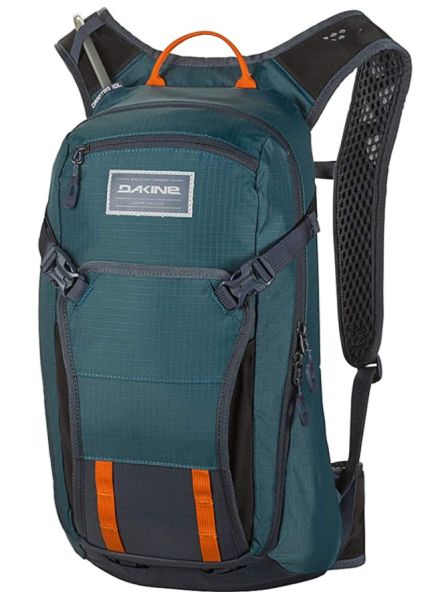 A very apparent downside here is making the bladder share room with everything else in the backpack. Besides, once you put the hydration system in place, it doesn't leave much room for other things.
One aspect that's definitely in its favor is that the straps are rather breathable. Although that comes at the cost of padding, it won't be much of a problem, considering the overall low weight of the pack. The back and hip belt are fairly breathable too.
Pros
Large, 3L Hydrapak reservoir for the water system.
Very compact and comfortable to use.
Breathable and ergonomic shoulder straps.
Cons
The storage capacity can feel way too small.
Priced close to more spacious, better performing packs.
9. USWE Airborne 9L Hydration Pack
Here's another small hydration pack system, and again, one that has earned its place. USWE Airborne 9L Hydration Pack is lightweight and crafted to be a convenient hydration pack.
The system is remarkably breathable and feels rather comfortable. I wouldn't call these the best hydration packs, but they sure are very competent and work amazingly well where usability is concerned.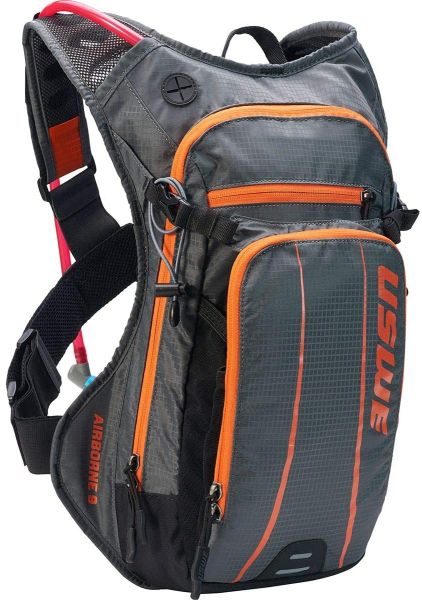 But there are a few things to note here. This one comes with a 3L hydration pack. That means more than a third of the available storage space belongs to the hydration system. There are a few pockets and organization options, but you won't be storing anything substantial in this backpack.
On the plus side, the Hydrapak Elite 3.0L reservoir is pretty great at its job. The water flow is good and the bite valve works wonderfully well. Shoulder straps on this bag are pretty nicely ventilated and padded.
They can take some freedoms because this one won't be handling much weight, so the ventilation system works pretty nicely. NDM Race Suspension Harness used in this backpack looks pretty good!
Pros
The backpack is breathable and well-ventilated.
Easy to use and carry around.
Stays close to the body and remains comfortable when biking.
Cons
Very limited storage space.
Can feel on the expensive side of things.
10. Thule Vital Hydration Pack
Thule Vital Hydration Pack is available in different sizes, at 3, 6, and 8-liter options. The 6 and 8 variants come with a 2.5L Hydrapak reservoir, while the 3L option has a 1.75L reservoir. Of course, the way they're set up, other items get precious little space for storage.
But if you're looking for something compact and light, these packs are the way to go. They're well-constructed and hug close to the body. This stops the bag from shaking around when you're biking.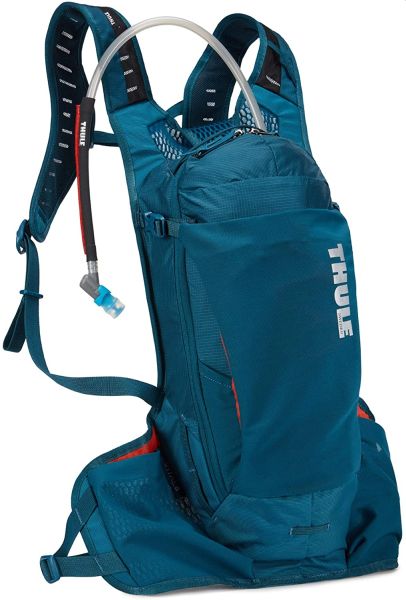 Also, the Hydrapak reservoir system is pretty good with the flow so the hydration duties are handled rather impressively. The magnetic ReTrakt hose return system works well and is impressive in its function.
Thule Vital Hydration Pack makes use of its small size to encourage quick access. I particularly like the Jersey-style pockets for quick access to snacks and similar items. Made from nylon, the pack has dependable construction and works remarkably well.
Pros
Lightweight backpack with excellent hydration system.
Has Jersey-style pockets for quick access items.
Includes a zipper pocket for phone, keys, or similar small items.
Good flow and convenient setup of the hydration pack.
Cons
Things To Know When Buying The Best Hydration Pack For MTB
Do You Really Need A Hydration Pack?
If you really need a hydration pack is a legitimate question. Hydration packs aren't as hot as they used to be with bikers, and that's down to the availability of other options. There are other options available for hydration that don't quite require you to carry a full backpack.
However, hydration packs do have their uses. They can store larger volumes of water than their competitors. And the available storage space lends itself well to carrying along tools and other necessities.
The Size And Storage Options
If you are getting a backpack for storage, it makes sense to check if it will live up to expectations. So take a good, deep look at the available organization and storage options. That's where you put your backpack-choosing hat on and consider how much stuff you want to carry.
As I said, if all you need is hydration, it can be fruitful to consider alternative options. But if you need to carry tools, phone, snacks, and other items, the hydration pack is your friend. Just make sure it has enough space and organization options to be useful for you.
Choosing the water reservoir size is as important. You'll want something sure to cover your needs and do it conveniently. It's better to have some water left in the reservoir at the end of the ride, rather than having it run out halfway through.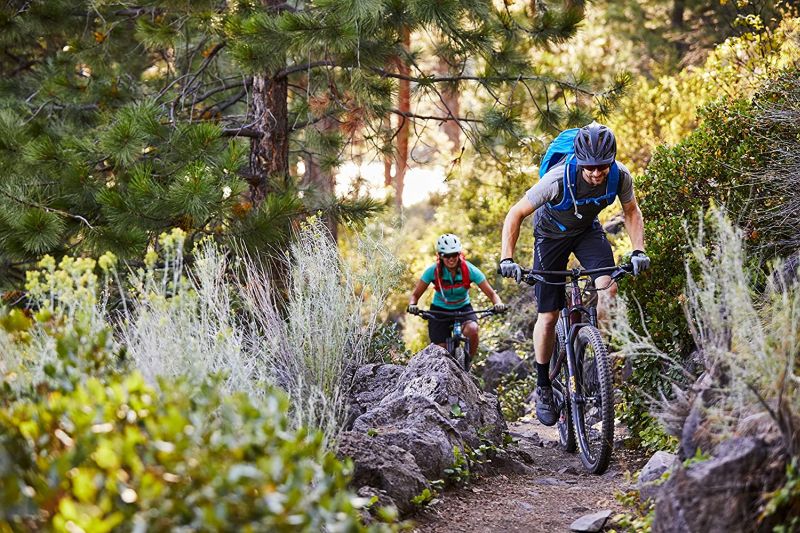 Hydration Pack Quality And The Budget Idea
As we see in this list, the price range of hydration packs can be all over the place! While expensive isn't necessarily better, the available features and attention to detail can make a difference. Besides, a hydration pack that doesn't have a high-quality bladder isn't the one you need.
High-quality materials and design, a good bite valve, and a system to keep it easily accessible are non-negotiable. My recommendation is to always be extra careful and choosy when picking items that will store your food or water.
If the hydration pack smells and/or the water tastes weird even after washing, it's time to ditch it. Hydration bladders and tubings are inevitably going to be plastic-based materials. It's not worth it to skimp on quality here.
Ease of flow and flow rate are other considerations.
When you hit the bite valve, water should flow in at a good pace. The flow shouldn't require you to put in extra effort to get a sip of water.
Choosing A Hydration Pack – What To Get?
Hydration packs are available in several options and you can pretty much get something that fits your specific requirements. Generally speaking, the best hydration pack for mountain biking should have some space for carrying necessities like tools and snacks – and obviously, water.
It should hug your body tight and be stable, rather than being something that keeps irritatingly shifting continuously.
Our top recommendation here is the CamelBak M.U.L.E hydration pack. The Osprey Raptor is a good choice too. If you're looking for something a little more budget-friendly, consider the Teton Sports Oasis. Finally, if small packs are more your speed, Thule Vital is a good choice.