Well, the Patagonia MLC is mostly a hit! This is a very useful bag, but if you make a mistake, it can easily turn into an irritating bag. As we'll see in this Patagonia Black Hole MLC review, the bag has its basis covered. It's well-built and has a good look, but the lack of a frame can turn problematic.
MLC in the bag's name stands for Maximum Legal Carry. This 45L bag is prepared for use as carry on luggage for most US airlines and is sized accordingly. But then again, the regulations are different for each airline, so it's good practice to do your own research on the airline's MLC.
Patagonia MLC Highlights And Quick Look
Pros
Excellent build quality
Good finish with a clean look
Easy organization
Can be used as a backpack, shoulder bag, or suitcase-style carry
Excellent storage space
Fabric made from recycled materials
Excellent warranty
Cons
No frame
Expensive
Can be slightly bothersome when used as a backpack
Patagonia MLC 45 Features And Qualities
About Patagonia Black Hole
Put in the context of Patagonia, Black Hole means a few things. All of which bode well. First off comes the fabric. The black hole fabric is made from recycled materials.
I think it's quite brilliant that not only did the company manage to put recycled materials to good use, they've made it remarkably sturdy and given it a premium look. To be more specific, the material used here is 450D ripstop polyester that gets a covering of thermoplastic polyurethane (PTU) laminate. The plastic used on the pack is Duraflex.
While I mentioned the price as a negative, the material and quality do more than qualify this backpack for its asking pricing. Yes, the threshold is still high, but it's both understandable and acceptable.
Black Hole line of bags from Patagonia has been very successful. Not just because of the fabric, but also because of the finish and general usability. Besides, true to their name, these backpacks can hold a humongous amount of packaging.
You could keep throwing stuff into this bag, and like a black hole, it will make room for it. Of course, for our real-world there are physical limitations, but you get the point.
Looks, Build Quality, And Finish
Moving on with our Patagonia MLC review, let's start with the aesthetics and basic looks of the bag. It has that premium look and finish you'd expect from a bag after shelling big bucks for it. The build quality is as good, and the attention to detail is apparent.
Its straps are well-placed, but when necessary, they can easily be tucked into specific zippers. This helps general usability, and also gives the bag an overall cleaner look. Considering the bag is built for use in several configurations (backpack, suitcase, shoulder bag), it's a good thing that straps don't hang around needlessly.
The build quality is as impressive. Patagonia MLC is a bag built to last. You could consider it a reasonable "buy it for life" purchase. And even then there's a good chance it will be something to hand to future generations!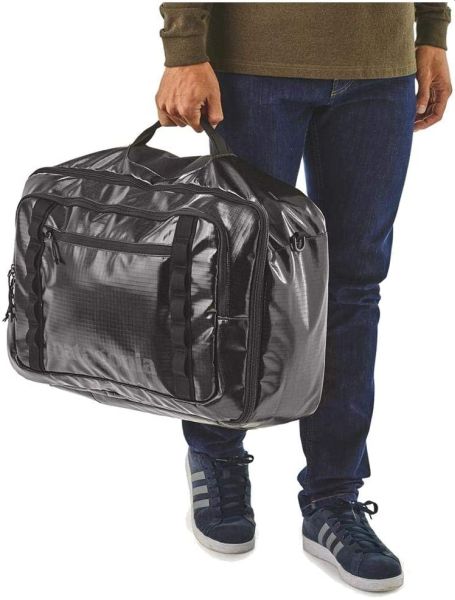 Speaking of build quality, Patagonia's warranty deserves a special mention too. Their "Ironclad Guarantee" ensures buyers that they stand behind every product they make. They'll fix (or replace or return) any manufacturing defects. In case of regular wear and tear, the company promises to fix any issue at a "reasonable price".
I'd usually be leery of such claims and guarantees, but so far, Patagonia hasn't given us a reason to doubt them. The company has a good record of honoring its warranty.
Storage Space And Organization
The highlight of Patagonia black hole pack is its huge storage space. This is a 45L bag, but the way it manages its storage makes it seem like it can hold a lot more. It helps that the organization is well-matched too, so storage becomes easier.
Its main pocket is accessed by moving the large YKK zippers. This is a clamshell design, so the main compartment is pretty much the key to the bulk of the storage space available. The main compartment too is a large zippered pocket.
Plenty of space is available in the main compartment, which allows easy storage. It's a good idea to use packing cubes with this bag. Black Hole cubes fit in well and make an overall good choice.
The use of cubes isn't just for organization, they also lend proper structure to this bag. Remember, this one doesn't have a frame. There are no compression straps for the main compartment, which I think would have helped a bit with storage.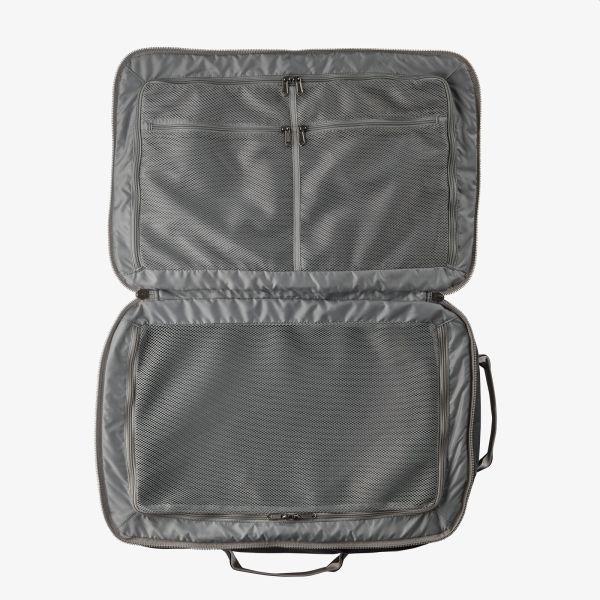 Anyways, just above the main compartment is a translucent mesh divider with pockets. The general trend has been towards contrasting, often brightly colored interiors. Patagonia MLC uses a more subdued color scheme for the interiors, and I appreciate it being easier on the eyes.
The mesh divider and associated pockets present plenty of storage and organization options. Whether you're going solely for storage or organization, this bag can answer your needs.
Laptop Sleeve And Other Pockets
A padded laptop sleeve is located towards the top of the bag. It's big enough to hold a 17-inch laptop, yet the size of the bag allows plenty of space around the sleeve. This way, if the bag were to accidentally slip or fall, the laptop doesn't immediately come at risk.
If you were to use the bag as a backpack, the laptop would sit right against your back. This is the way with most backpacks with a laptop sleeve, but this Patagonia travel backpack is a special case. You see there is no frame on this backpack, so the laptop becomes an active part of the frame and helps maintain the bag's structural integrity.
It feels like a brilliant solution to a problem, but it doesn't quite feel like it! All could be good with this approach, and there might be no reason to worry about it. Still, I can't say I'll ever be comfortable putting that extra pressure on the tablet or laptop. It just doesn't feel right.
Moving to the exterior and other pockets, you'll notice Patagonia MLC doesn't have a water pocket. However, there are plenty of ways to go around it, like using a carabiner or similar methods to attach it to one of the loops.
There is an external zippered compartment. When opened, this shows off smaller organization pockets and a small space for other items for quick storage. There's another, smaller zippered pocket over this compartment. This can be used for the storage of random items or things you'll need easy access to.
Patagonia MLC Review: Carrying And Comfort
As we've said, the Patagonia MLC can be carried as a backpack, shoulder bag, and suitcase. It slips into each of these roles effortlessly. Equally important, a level of clean design is maintained with each option.
You could call it a soft suitcase with convertible straps and that won't be wrong. Even the main compartment and organization give it more of a suitcase look. Anyways, when used as a suitcase, the top handle can be used to carry it around.
There's a good chance you don't want to lug around a suitcase like that. So, it's a good thing Patagonia thought of a solution. A zipper is located at the back panel of the bag.
When opened, the zipper reveals a setup that can slide over the handle of a conventional rolling suitcase. Just slide the MLC over that, and you can easily move it around with another suitcase.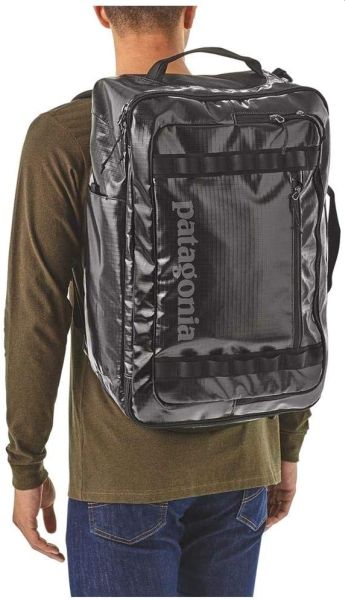 Similarly, unzip the shoulder straps when you want the bag in backpack mode. I like that the straps can stay hidden when not needed. Straps tend to be unnecessarily flappy, so it helps to keep them out of the way when not needed.
If you'd rather use it as a shoulder bag, simply clip on the shoulder straps and get to action. Of course, the length and placement of shoulder straps is adjustable to allow for such changes.
The Frame, Harness, And Carrying Comfort
There is no frame to keep this bag in shape. It will sag, and it can get awkward to carry around. Using it as a soft suitcase won't always be convenient to carry unless you have a rolling suitcase to back you up. My favored option here is carrying it as a shoulder bag.
Sure, the other choices (backpack and suitcase) could work better, but they don't always fit. Besides, using it as a shoulder bag allows better handling of the sagging and easier movement overall. You won't also have to worry if the bag is full or not. Why do we want the bag completely full? Well, that part's up to its role as a backpack.
When using the MLC as a backpack, you want it to be full. Since there is no suspension or frame, an empty backpack will clutter up and be awkward to carry around. Things get easier if the backpack is full and there's no room for things inside to move about.
That's also why packing cubes are a hit with this one. They can take up space and at least provide some semblance of comfort here.
Shoulder straps on the Patagonia MLC are well padded and have good ventilation. If the backpack and its storage line up comfortably, you won't have any trouble with the shoulder straps. They make it quite easy to carry it around as a backpack.
Although there is a caveat. When adjusting most shoulder straps, the idea is to push them forward and up. This is the opposite of most shoulder backpacks that go down and back. The unusual setup can take some time getting used to and might feel uncomfortable for some time.
So Where Does The Patagonia MLC Backpack Stand?
Patagonia is perhaps one of the most liked brands in the outdoors industry. It's not out of bounds to say that this is one of the most liked brands, solely due to their product integrity. In this Patagonia Black Hole MLC review, we see no reason to doubt the goodness of the brand or the product.
Black Hole MLC is a remarkable bag with plenty of storage and an excellent build. It's more suitable for use as a travel bag rather than a hiking backpack. So while car camping should be okay, avoid taking it on hikes.
Other than that tiny factor, Patagonia MLC is one remarkable bag. It's a dependable bag and one that will last years.