The Everyday Carry (EDC) backpack is something that'll have to do a lot of work. It has to be robust and dependable, considering it will go through the daily grind. We also expect the bag to look good, considering it is going to accompany us wherever we go.
The best EDC backpack has to be all that and more. Expectations from a daily bag include carrying books, a laptop or a tablet (or both!), mobile phone, keys, wallet, headphones, water bottle, and maybe a lot more.
Some anti-theft backpack qualities would be nice too. What you carry is up to you, but it is fair to expect the bag to handle all you need.
Of course, we don't all necessarily use the edc backpack every day. It's just an easy-to-carry and convenient backpack suitable for use as a bug-out bag or quick day hikes.
It's tough for all backpacks to meet this long list of demands. But there are plenty of options that manage to do that. Some might even do more!
The backpacks listed here have plenty of space, offer some organization, and yes, they're built to be robust and long-lasting. Needless to say, they're also good as everyday companions for hauling whatever you need.
Editor's Choice: Osprey Daylite Plus Daypack
As we saw in our review of the Osprey Daylite Plus, this is a remarkably robust and well-made daypack. There's pretty much everything here you could ask from the best everyday carry backpack.
This backpack has a spacious 20L storage volume, which is large enough to fit most needs, without getting uncomfortably large. Plus, it gains from Osprey's high-quality construction and general build quality.
Best Everyday Carry Backpacks To Consider
1. Matein Travel Laptop Backpack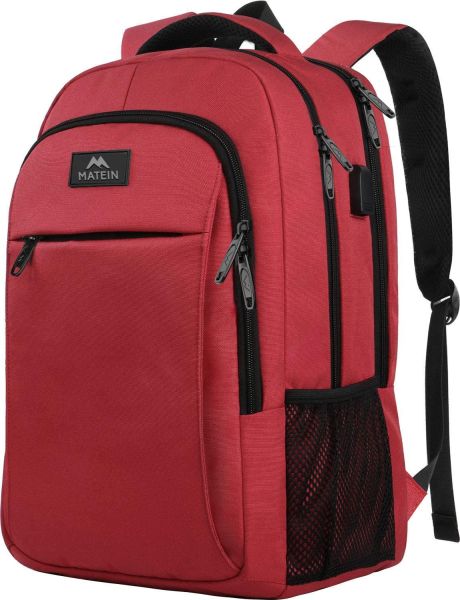 Matein Travel Laptop Backpack could very well have been our top choice here – although for entirely different reasons. This backpack has a very attractive price point and its feature set is fairly impressive as well.
Available in several colors, the backpack has a good look on organization as well. There's a separate laptop pocket that can hold a 15.6-inch laptop. Its main pocket is spacious enough to have room for daily necessities, including books, electronics, and more.
The front compartment has several pockets for easy-to-access items, as well as a sliding pocket. A pocket at the back gives it an anti-theft aspect. Matein Travel Laptop Backpack includes a USB port for your gadgets and is water-resistant.
Backpack Highlights:
Very attractive pricing
Water-resistant
Large enough to hold a 15.6-inch laptop
Separate zipper access to main compartment and laptop compartment
Anti-theft back pocket
Ventilated back
Padded shoulder straps
2. Osprey Daylite Plus Daypack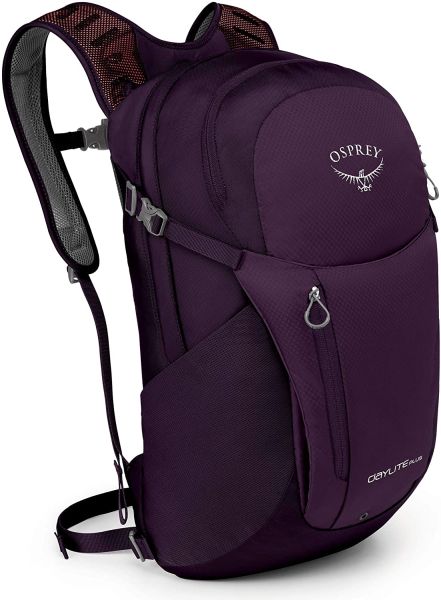 Our top choice for this category is one of the most loved daypacks available. Osprey Daylite Plus Daypack is an excellent urban EDC backpack, though it will as easily adjust itself to life on the trail. It is, after all, an Osprey!
Daylite Plus has a storage volume of 20L making it spacious enough for more needs. And if you're headed to the outdoors, this one can connect to several compatible Osprey backpacks like the Osprey Aether or Atmos. That gives you more flexibility (and more space) for your hikes.
The backpack includes a padded laptop sleeve that's good enough to hold a 15.6-inch laptop, while leaving enough space in the main compartment. Its padded shoulder straps and mesh-ventilated back provide good support and comfort. A hip belt is available too, but it isn't much use at distributing weight.
Osprey Daylite Plus is made from 210D Double Diamond Ripstop Nylon. The backpack is robust and has the high-quality stitching that makes Osprey packs so formidable. It is, however, not waterproof, and could barely be called water-resistant. Water will seep in through the zippers unless they're covered.
Backpack Highlights:
Excellent value for money
Quality construction
Padded pocket for up to 15.6-inch laptop
Padded shoulder strap
Ventilated back
Good storage space
Mesh pockets on the side
Front pockets for easier access
3. The North Face Borealis Backpack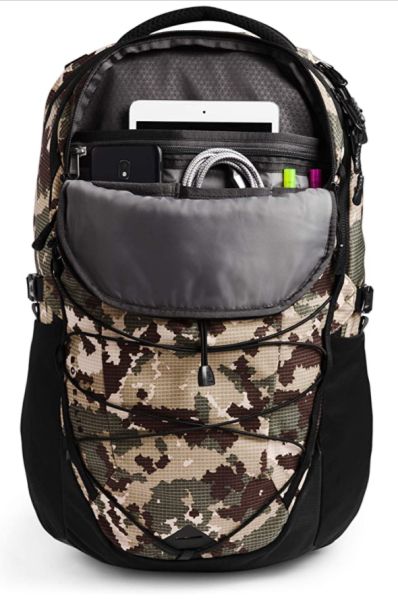 North Face is another big name in the backpack space. The Borealis backpack is available in several sizes and colors, giving you a wider berth to choose from. At 28L storage volume, Borealis backpack is very spacious.
Its qualities make it an easy choice, whether you want to take it to work in the city or to the outdoors for a vacation. The sturdy laptop sleeve holds a 15.6-inch laptop with ease, though you could probably place a 17-inch laptop in there.
North Face Borealis Backpack has a front compartment with several pockets for organization. These include a heavily padded tablet sleeve, a place for electronics, and pockets that could be used to store other items. It's probably a good place to drop keys as well.
Shoulder straps on the backpack are padded and well-adjusted to distribute weight. Its back gets a nice mesh cover and body to ensure proper ventilation and comfort. The backpack body is made from polyester and has a water-repellent finish.
Backpack Highlights:
Comfortable to carry
Good suspension and weight distribution
Available in several colors
Polyester construction with water-repellent finish
Mesh pockets for the sides
Laptop sleeve can hold up to 17-inch laptops
Padded sleeve in the front pocket for tablets and other electronics
4. Maxpedition Falcon-II Tactical Backpack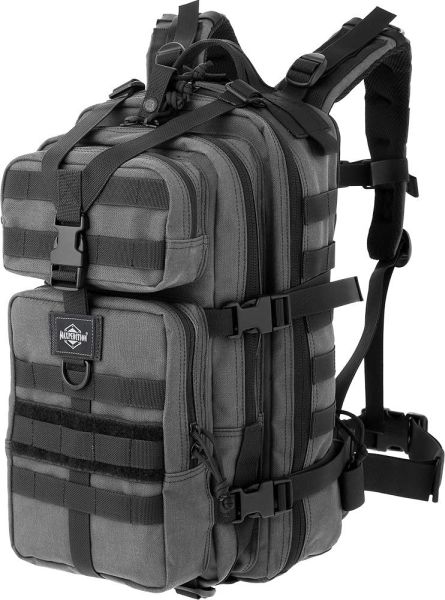 Tactical backpacks and kinda awesome. For one, the name sounds rather cool, and yes, they're well-functional too. While these backpacks could be useful as military gear, they're useful as edc backpacks for the average Joe too.
It's the ruggedness and robustness that forms a big draw here. And yes, if you really need it, the organizational capabilities can be put to good use. Maxpedition Falcon-II Backpack is more expensive than most other backpacks on this list (though it's not the most expensive). While I'd shy away from this laptop at full price, it is worth considering when on a sale or a discount.
The total storage volume here is 23L, that's masterfully divided into several compartments. Its secondary compartment is slightly smaller than the main compartment, but either can hold plenty of stuff. Then there are the front pockets for things you might want quick access to.
Padded shoulders and a nice hip belt help distribute the weight and make carrying this backpack easier. And even though it doesn't look the part, the padded back is fairly comfortable and ventilated. The backpack is made from 1050D water and abrasion-resistant nylon.
Backpack Highlights:
Expensive
High-quality and robust build
Storage capacity at 23L
Large main pocket, spacious secondary pocket, and other pockets
Easy to carry
5. Thule Stravan Backpack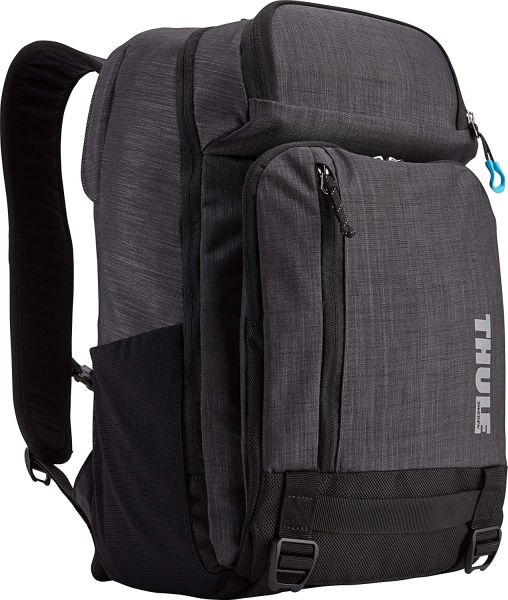 Thule Stravan Backpack is a very versatile and dependable option. This one too is good for use as an edc backpack in the urban jungle, or a day hike in the great outdoors. A padded pocket keeps laptops up to 15.6 inch secure and safe. For added protection, they've included bumper protection too.
A removable, crushproof "SafeZone" compartment can be put into action for storing items like sunglasses or the mobile phone. Once you remove it, you get more space available, but as a regular front pocket.
Other features include side pockets for water bottles and compression straps at the bottom to hold a jacket or yoga mat. The Thule Stravan Backpack is made from water-resistant 500D nylon with TPE backing. It also includes water-resistant YKK zippers for added protection.
Backpack Highlights:
Spacious
Laptop pocket capable of holding a 15.6-inch laptop
Padded straps and back
Removable SafeZone compartment for storing items like sunglasses and mobile phones
Water-resistant
6. Pacsafe Metrosafe LS350 15 Liter Anti Theft Laptop Daypack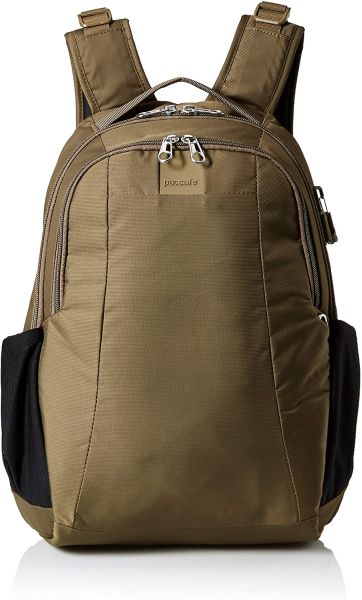 A specific anti-theft design makes Pacsafe Metrosafe LS350 Daypack a good option as an edc and travel backpack. Its incorporation of lightweight steel mesh in the body keeps the backpack safe from threats like cutting or pickpocketing. An additional layer of safety is provided by an RFID blocking pocket that will keep your credit cards and IDs secure.
Storage options include a padded and suspended laptop sleeve. This means the laptop won't touch the bottom of the backpack and thus won't slip through. However, this also reduces the usable storage for the laptop sleeve, keeping it suitable for laptops up to 13-inches.
Pacsafe Metrosafe LS350 15 Liter Anti Theft Laptop Daypack also includes mesh side pockets, interior pockets, key clips, and an RFID-blocking pocket. The shoulder straps are padded and adjustable for added comfort and ease of carrying this backpack. Its exteriors are made from soft but durable and water-resistant nylon.
Backpack Highlights:
Anti-theft design sees use of lightweight steel mesh and RFID-blocking pocket
Laptop sleeve big enough for a 13-inch laptop
Mesh side pockets
Water-resistant
7. Fjallraven Kanken Classic Backpack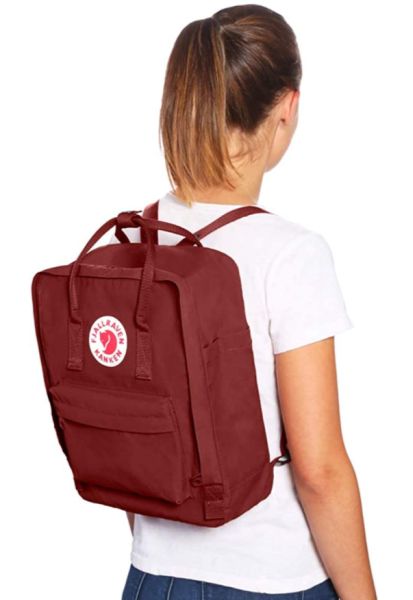 At first look, you'd think Fjallraven Kanken Classic Backpack wanted to be a tote bag. Then maybe circumstances forced it to be a backpack instead! The classic design, however, suits it well and this bag is great for conventional urban or even office use.
It has been designed to be used as a tote or as a backpack. The overall shape lends itself well to both aspects. But then it isn't the most comfortable to carry in either formation. Though to be fair, it isn't difficult to carry either. Besides, the multiple carrying options make more choices available.
Fjallraven Kanken Classic Backpack has adjustable, but non-padded shoulder straps, which isn't so great. It features double zippers with rain flap protection, but can at best be classified as water-resistant.
With a 16L available storage space, it's fit enough for several uses. Plus, it's available in a huge range of colors, so there's a good choice you'll find what you're looking for.
I've always liked this backpack and found it very useful. But it can't be denied that the "classic" design has aged and can't stand up to more modern and convenient backpacks.
Backpack Highlights:
Classic design
Can be used as a tote or backpack
Adjustable but unpadded shoulder straps
Good build quality
Dated looks and features
8. TIMBUK2 Parkside Laptop Backpack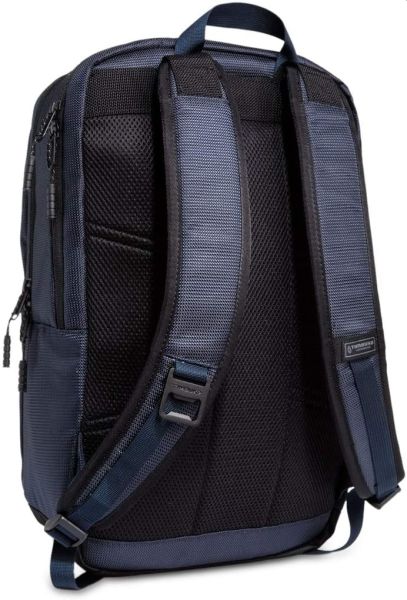 This bag stands fairly well on its own qualities, but I don't think it can ever come out of the shadow of its brand name. But then perhaps the bag also benefits from the easy to remember and convenient brand name.
TIMBUK2 Parkside Laptop Backpack offers easy organization through its use of easy, well-placed pockets. Storage options include a laptop pocket, front zip pocket, secure zip pocket, internal organizer, and of course, the main compartment.
Though its shape doesn't betray it, the pack is remarkably comfortable and convenient to carry. The mesh back and padded shoulder straps carry their weight. Then there's the bottle opener, which is an unusual addition, but a welcome one anyway.
Backpack Highlights:
Comfortable backpack
Good value for money
Several pockets for organization
Good build quality
Can hold a 15.6-inch laptop
Storage space of 25L
9. Osprey Radial Bike Commuter Backpack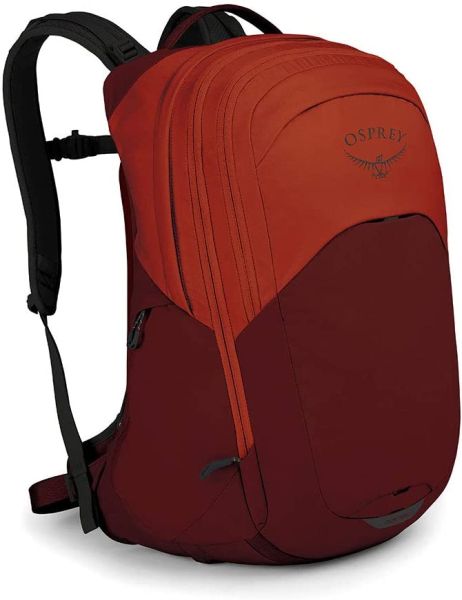 Bike your way through town everyday? Osprey Radial Bike Commuter Backpack has you covered. The backpack includes essentials you'll need, like a padded laptop sleeve and plenty of storage space. But its focus is on bikers, so it can afford to take a more specific approach.
Storage includes a padded laptop sleeve that can hold most 15.6-inch laptops, a scratch-free pocket for sunglasses and electronics, mesh side pockets, and a zipper side pocket. The biker-specific touches include a separate pocket for shoes and clothing, an integrated rain cover, LidLock helmet carry system, and a loop for blinky light attachments.
Overall, Osprey Radial Bike Commuter Backpack is built quite nicely to be of use to the biker. It's also quite comfortable and stable when worn and has a dependable construction. While the available storage volume is 26L, you can make use of an integrated kickstand for zipper expansion that takes available storage to 34L.
Backpack Highlights:
Slightly expensive
Excellent edc backpack for bikers
Very comfortable and stable
Excellent construction
Storage compartment for shoes/clothes
Storage capacity of 26L can be increased to 34L
Can hold a 15.6-inch laptop in its padded sleeve
Several pockets for organization and storage
Integrated rain cover
10. Vaschy School Backpack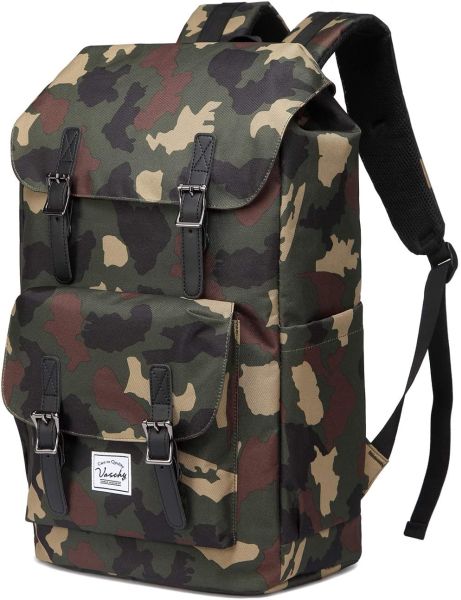 Vaschy School Backpack is a nice, well-designed backpack for men and women. It has a bit of a retro charm and also mimics the look of a canvas backpack. The backpack seems somewhat small, but it will happily hold a 15.6-inch laptop and several other items with relative ease.
The padded laptop compartment is kept company by the main compartment, five internal pockets, and the front pockets. Side mesh pockets are available for holding onto your water bottles. A "secret" zipper back pocket provides a touch of anti-theft protection.
Vaschy School Backpack is available in several colors and is built to last. The backpack has a drawstring closure covered by a flap, smooth SBS zipper, and is made from lightweight and water-resistant polyester.
Backpack Highlights:
Good pricing
Questionable build quality
Padded laptop pocket for up to 15.6-inch laptops
Drawstring closure
Anti-theft pocket
Several color options
11. Arc'teryx Arro 22 Backpack
This is an interesting backpack. The Arc'teryx Arro 22 Backpack is also crazy expensive compared to most of its competition. Sure, it has the good looks and construction quality to match, but the price tag still seems quite a hefty one.
To its credit, the backpack is very comfortable and activity-specific. You could use it as a conventional edc backpack, for day hikes, and even for biking. There's plenty of space for storage, and a design that distributes weight so well that it doesn't put undue pressure anywhere.
Backpack Highlights:
Expensive
Good looks
Good build quality
Comfortable
12. Eagle Creek Wayfinder Backpack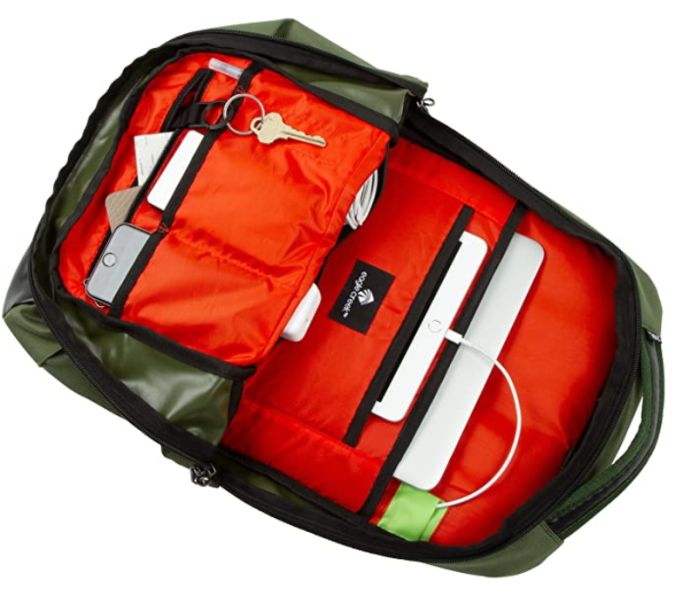 Eagle Creek Wayfinder Backpack is pretty much a straightforward backpack you could use as your everyday carry, go on a hike with, or have it as a travel backpack. At first glance, there aren't many pockets here – just a main compartment and electronics pocket. However, the electronics pocket has plenty of divisions to take the organizing approach seriously.
The nylon-lined backpack is water-resistant, and backed on that quality by water-resistant zippers. A hidden back pocket serves as the anti-theft feature.
Eagle Creek Wayfinder Backpack is fairly comfortable to carry. The padded and ventilated back and padded shoulder straps mean that you won't feel much troubled or burdened carrying this backpack.
Backpack Highlights:
Water-resistant backpack
Comfortable to carry
Large main compartment
Side zip-pocket in the back
Suitable for use as edc, travel, or hiking backpack
See buying options and discounts
13. Herschel Little America Laptop Backpack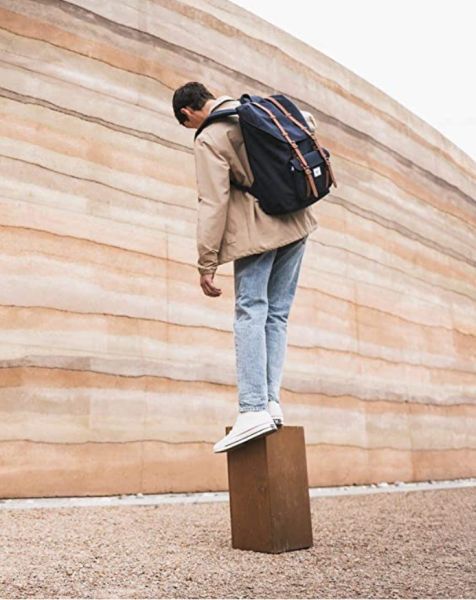 Herschel Little America Laptop Backpack has that classic canvas backpack look, though it is very modern in its construction and use. The main pocket has a drawstring closure covered by a flap. Put together with the use of water-resistant polyester construction, the backpack can be considered water-resistant.
The padded laptop sleeve makes it safer to store your laptop or tablet. Herschel Little America Laptop Backpacks are available in 17L and 25L sizes. And there are a ton of colors to choose from. This backpack makes for quite an interesting pick.
Backpack Highlights:
Water-resistant backpack
Available in several colors
Classic design
Padded laptop sleeve can hold up to 15 inch laptop (25L variant)
14. Hazard 4 Pillbox(TM) Hard-Shell Optics/CCW Pack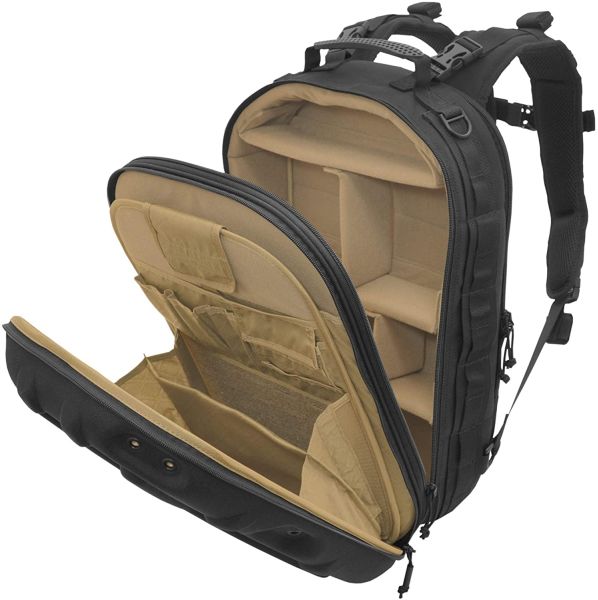 Hazard 4 Pillbox(TM) Hard-Shell Optics/CCW Pack is the most unique backpack on this list. And yes, it has specific uses as well, considering it's not built like other backpacks. Rather than relying on fabric, this backpack is made from a lightweight thermoformed shell.
This solid build keeps its contents relatively safer, providing a good opportunity to carry optics, camera lenses, or similar items. For most people, this doesn't have any big advantages over conventional packs. However, if you're carrying things like a camera or lenses, a backpack like this can be invaluable.
The backpack includes removable padding dividers that make organization easier and more customizable – whatever you wish it to be. Hazard 4 Pillbox(TM) Hard-Shell Optics/CCW Pack also includes velcro covers, removable waist belt, loops for attaching tie-downs, and carabiners.
Backpack Highlights:
Body made of a lightweight thermoformed shell
Customizable interiors due to removable padding dividers
Fixed shape
Good construction
What To Look For In The Best Everyday Carry Backpack
Cost, Comfort, And Reliability
For most products, we naturally assume that higher cost is directly related to better comfort in reliability. Or, in many cases there are exceptions. That clearly isn't the case with EDC backpacks, where we can see some branded and high-quality options being at the bottom of the (price) pool. Sure, we wouldn't call these cheap, but they are in a very affordable price range.
Of course, you could very well buy expensive backpacks as well, but there isn't a reason to expect that cost and reliability are inherently related.
Your Preferences And Use
Before it is anything else, an edc backpack must be robust. After all, it's going to be carried around every day and deal with the daily grind. Being robust and long-lasting doesn't have to be about the fabric lasting. I'd consider it equally important for the backpack to retain its shape and at least have some level of scratch proofing. We don't really want to carry around a beat-down looking bag. Sure, it's not the worst thing in the world, but a backpack that goes shabby in a week can't be considered amongst the best either.
Your Pick Of The Daily Backpack
Now that we have seen the best contenders for the best edc backpacks, what would be your top choice? My preference still lies with the top choice, the Osprey Daylite Plus Daypack. Sure, it has its faults, but it stays a remarkable backpack. There are other quality options too, including the Matein Travel Laptop Backpack and The North Face Borealis Backpack.
We hope that our picks here are helpful in picking the backpack you want.