When it comes to maintaining the quality of camping tents and prolonging their lives to last you an ample number of trips, investing in a good waterproofing spray is perhaps one of the smartest decisions to make.
Not only will the best tent waterproofing spray protect your camp from harsh weather conditions, like heavy rains, but it will also go a long way when preparing yourself for a fun, exciting, and adventurous camping trip in the great outdoors.
Editor's Choice: 303 Fabric Guard for Outdoor Fabrics
303 Fabric Guard for Outdoor Fabrics stands out amongst other tent waterproofing sprays due to its reliability. It provides a great price point for the high quality. It is safe to use and works well on different fabrics, including synthetic and natural.
The quantity of the product is also recommendable, and you can find good use of the 32 oz bottle. The scent-free and highly breathable finish adds bonus points to the product making it our top pick.
Top Tent Waterproofing Sprays Reviewed
1. Nikwax Tent & Gear SolarProof Waterproofing Spray – Environment friendly

Nikwax is a spray-on formula, great for tents, fly, backpacks, and umbrellas. It is a water-based solution containing no PFCs (Perfluorinated compounds) or VOCs (Volatile Organic Compounds). It's water repellency feature added with UV protection, and biodegradable properties make it desirable among many campers and backpackers.
Nikwax formula contains elastic water-repellent polymers that easily bond to fabric fibers, making it more breathable. They stretch along with the fabric, so it works better and for longer.
Nikwax is washing machine safe and available in 17 fl. oz. and 34 fl. oz. bottles.
Pros
Biodegradable
UV protection
Breathable
Spray on
Washing machine safe
Water-based
Cons
Not suitable for silnylon tents
Not the easiest to use
2. Nikwax Concentrated Tent & Gear Solar Proof Waterproofing – Applicable to wet surfaces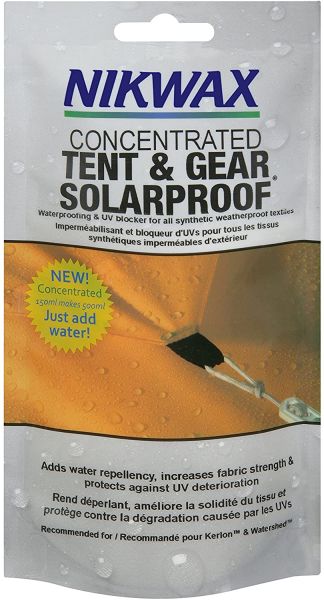 It is a concentrated formula that can easily be sprayed, sponged, or painted on to the tent fabric. It is water-based and contains no fluorocarbons.
Besides, it adds UV protection to the fabric and even works on wet fabric for ease of application.
To help restore and add water repellency to the tents, Nikwax Concentrated Tent and Gear Solar Proof Waterproofing is a preferred choice by many campers.
Pros
Product dimension: 2x2x6 inches
UV protection
Can be applied to wet fabrics
Water-based
No fluorocarbons
Weighs 5.6 ounces
Cons
Needs to be reapplied every season
3. Atsko Silicone Water-Guard – Breathable

Atsko is silicone-based water protection that claims to restore factory waterproofing. It is suitable for outerwear, footwear, tents, and sleeping bags, and also allows the material to breathe.
The guard leaves no odor behind, dries up within 24 hours, and fully cures in under 72 hours.
Pros
Breathable
Suitable for all your gear
Easy to use
Cons
Takes a significantly longer time to be cured
4. Scotchgard Heavy Duty Water Shield – Best for fabrics

This heavy-duty water protection guard is best suited for fabrics and works flawlessly on thin nylon and polyester. It can retain waterproof capabilities with just one coat and can protect up to 60 sq. ft. of light nylon and 20 sq. ft. of heavier fabrics with just one bottle.
Scotchguard claims to leave no odor behind and it is recommended to reapply every season.
It comes in three different packaging sizes of 13 ounces, 21, ounces and 63 ounces.
Pros
Long-lasting
Single coat application
No odor
Cons
Not environmentally friendly
Not suited for water-absorbing fabrics
5. Atsko Sno-Seal Water-Guard Extreme Repellent Aerosol – Ideal for Silnylon

Atsko Sno-Seal is an inexpensive tent sealer spray for waterproofing and weatherproofing the tent. It can also be used to waterproof boots, outdoor clothing, boat covers, and backpacks. It is safe to use on Gore-Tex and waterproof breathable fabrics.
It provides a scent-free finish when dried. It is extremely breathable and comes as an easy to use aerosol spray.
Pros
Breathable
1.6 Ounces
Inexpensive
Scent-free
Heavy duty
Cons
Might discolor when dried
6. KIWI Camp Dry Heavy Duty Water Repellent – Odor-free

It is a silicon-based spray which doesn't give odor upon drying. Silicone may impart a darker, richer tone when dried. It is not as heavy-duty as the name claims, however, it's still a popular choice among users, and therefore, ideally used for tents, tarps, boots, and other outdoor gears.
The package comes with two cans, which is more than enough to waterproof your gear.
Pros
Odor-free
Silicone-based
Breathable
Cons
May require a second coat
Uses a petroleum solvent that is not very environmentally friendly
May stain the surface
7. 303 Fabric Guard for Outdoor Fabrics – High quality and Breathable

If you need a reliable spray for waterproofing your tents and outdoor gear, then 303 Fabric Guard would be your best choice. It is powerful and safe to use for all fabrics, including synthetic and natural fiber.
It keeps the fabric dry and does not affect the original color. It's even recommended by Sunbrella to use without fear of damage.
The high quality ensures water and stain repellency without any odor.
Pros
Scent-free
Maintains color of the fabric
High quality
Breathable
Works on a range of fabrics
Safe for fabric and synthetics
Cons
8. Star Brite Waterproofing Spray – Safe and Easy to Use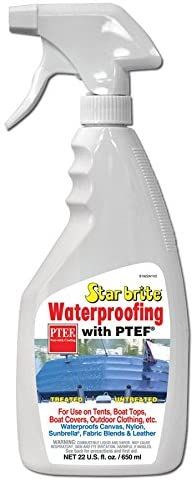 Star Brite is a terrific fabric waterproofing spray that is extremely easy to use. It works great on newer fabrics and extends their life by adding a barrier against harsh weather.
The coverage of the product depends on the amount applied. It requires 6 hours to cure after application. It comes in a nozzle spray bottle and is safe for all marine fabrics including Sunbrella.
A 22 oz. bottle covers 80 sq. ft. area.
Pros
Easy to use
Safe
Time consuming – requires 6 hours to proof
protects against UV damage
Covers a large area ( 80 sq. ft.)
Safe for marine fabrics
Cons
Cannot be used on polyester
Things to Know Before You Buy a Tent Waterproofing Product
When provided with several options, choosing the best product with high performance can seem a little daunting. Hence it is necessary to prioritize your needs and choose the product accordingly.
Below is a guide that can help you choose the products that can serve you best and prioritize your needs.
Understanding the Fabric of Your Tent
Before purchasing waterproofing spray, it is necessary to start with what kind of tent you need it for. There are a variety of synthetic materials such as polyester and nylon and natural fabrics such as duck cloth tents and cotton available.
Your choice of spray is greatly dependent on the material of tents.
Synthetic materials
Nylon and Polyester are suitable materials due to their quick-drying properties and lightweight. However, they are not very breathable and can deteriorate with prolonged sun exposure and harsh climate.
Fabrics
Fabrics such as cotton are usually coated with UV and water resistance, and they can vary from manufacturer to manufacturer.
They are comparatively more breathable but cost a lot more than synthetic materials. Additionally, they are heavier and require more maintenance compared to synthetic materials.
There are many mixtures of the materials available in the market which bring their own set of pros and cons. If you are camping outside in the summer months, the waterproofing sprays with insulating properties would definitely be worth the money. It is necessary to know about the details of your tent before purchasing the waterproofing spray.
Constituents of the Sprays
Checking the constituents of the formula is necessary and is often ignored when purchasing the waterproofing spray. In an outdoor industry, considering the environmentally friendly materials in sprays is a moral duty.
Many waterproofing materials contain harmful substances like Fluorocarbon (PFC) and VOC, which are toxic for humans and the environment and take a long time to break down.
Spraying the tents with these materials would also expose you to the substance.
Ideally, the best waterproofing spray would be the one without any toxic materials such as PFC and VOCs.
Sprays, Nozzle, or Tubes
When picking the sprays, considering this would be a good idea. A regular spray nozzle is easy to use and gives greater control.
Aerosol, on the other hand, spreads the product evenly but can be damaging for the environment and expose you to harmful substances.
The tube carries an adhesive and is usually preferred to fix seals and cracks in the tent. Seam sealing a tent is a necessary part of waterproofing. They act as a sealant between the outer and inner environments.
Your choice should be dependent on the purpose and ease of use. Usually, the reviews suggest that the nozzle works best for an outdoor space tent proofing.

How to Waterproof Your Tent?


To never get caught off-guard by rain, it's good to know how to waterproof your tent. Keeping a waterproofing spray handy is essential but knowing how to successfully waterproof is equally necessary.
First, make sure your tent is free of any dirt and grime.
The best practice would be to go in an open space before waterproofing your tent, this makes sure you don't expose yourself to harmful substances. Make sure there are minimal wind and sun exposure for efficiency.
Spray generously to the exposed surfaces. Apply a second coat if necessary. Bear in mind, not to overspray. If you see it building and dripping, you must realize that you have over-sprayed.
Let the spray dry completely for a few hours before packing.
Storing your tent correctly is equally important. Make sure to store in a dark, dry space and dry it thoroughly between uses.
The Bottom Line
Although waterproofing is an excellent method of protection against rainy days, it should not be your only option. Sometimes, old worn off tents give up against nature, and updating your gear becomes a necessary option.
Using the best tent waterproofing spray can come in handy and is a way cheaper alternative. If you follow our guide and read through reviews thoroughly, you can find the best waterproof tent spray for your tent and gear.
Just make sure to check the weather app, waterproof your tent before leaving, and make the best out of a rainy day.