Hiking pants are incredibly versatile and have become a necessity for outdoor enthusiasts over the years. They're comfy, expand easily, and look good on anyone. Also, the best hiking leggings are easy to maintain outdoors.
Since there are so many perks attached to wearing leggings for hiking, it's something worth checking out.
Many outdoor lovers seek top-quality waterproof leggings for hiking with little success. But with this collection, you'd switch up to something suiting for your outdoor adventure.
Editor's Choice: IUGA High Waist Leggings with Pockets
Chic, comfortable, and sturdy – IUGA leggings have many features hikers need for a fantastic outdoor adventure. The leggings come with a set of pockets and reinforcements in required spots.
With such high-quality designs, it's easier to use this set of pants for hiking and other activities.
Top Hiking Leggings
1. Fjallraven – Women's Abisko Trekking Tights – Best Multi-Material Trekking Leggings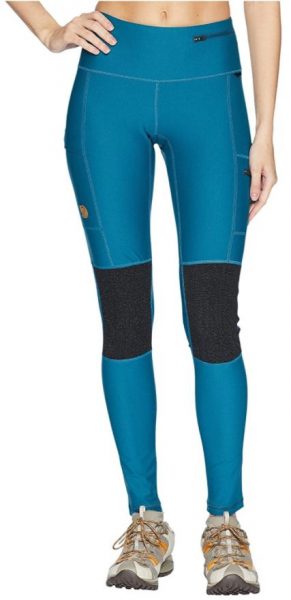 The Fjallraven Women's Abisko tights currently rank as a highly sought after option. It comes with a design focused on high stretch capabilities.
A drawstring closure on this hiking legging elicits more adjustment for wearers. The drawstring design gives this set of pants a better fitting on several waist sizes.
Due to its high-stretch material composition, the leggings could heat up quickly. Such a high chance of heat retention makes it an unsuitable option for warm weather hikes.
Also, there's the issue of its extra weight. At almost ten ounces (9.7oz), this pair of tights isn't the lightest out there.
Pros
Drawstring closure
Knee and rear reinforcements
High-stretch, moisture-wicking fabric
Cons
Weightier
May not support increased airflow
2. Icebreaker Merino Women's Comet Tights– Best Merino Wool Leggings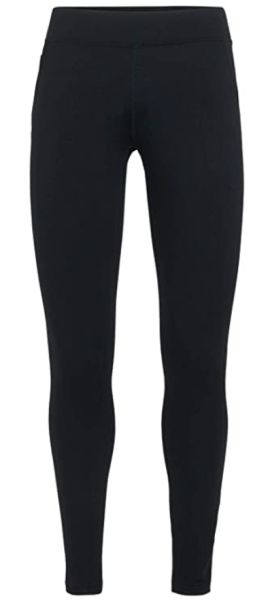 With a specialized composition of features, this set of pants could give you more hiking comfort. The Lycra, Merino Wool, and nylon construction make it a stretchy option.
A drawstring closure features in this set of tights to support easier adjustment on your waistline. Aside from its drawstring closure, this pair of tights comes with a contour waist design.
Reinforcements on this set of leggings could provide better support for hikes spanning several days.
Buyers may not fancy this option based on its lack of pockets and low waist design.
Pros
Merino Wool fiber
Machine washable
Lycra stretch support
Cons
Doesn't come with pockets
The non-high-waist design may not suit some hikers
3. Arc'teryx Oriel Women's Leggings – Best Lightweight Leggings For Women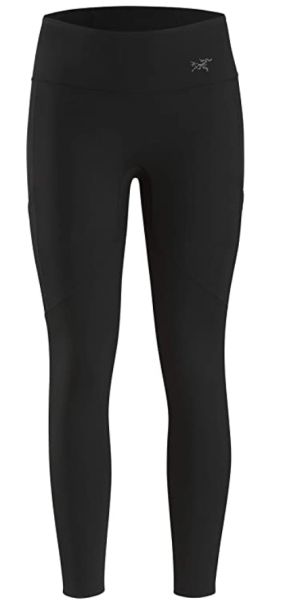 With two cargo pockets and a gusseted crotch, this set of pants could be your dream pick for the outdoors. These add-ons give you more storage support and a lesser likelihood of accidental tears.
These pants are available in five sizes, making it a choice for hikers with different body types. And at a mere 3.9 ounces, this is one of the lightest tights for outdoor enthusiasts.
But its higher price tag makes it a choice many buyers can't afford.
Pros
Gusseted crotch
Mesh-lined waistband
Cargo side pockets
Cons
Has a higher price tag than many other options
Some buyers may not fancy its low percentage of natural fabrics
4. BALEAF Women's Ankle Legging Athletic Yoga Hiking Workout Pants – Best High-Waist Leggings for Hiking

The non-see-through construction of this pair of pants makes it an ideal option.
Also, the leggings feature moisture-wicking and breathable fabric designed to promote comfort in challenging weather.
A hidden pocket on this pants waistband could help you save small items like keys with increased comfort.
This set of tights does not feature enough space to store handy items required for your hike.
Pros
Non-see-through
Moisture-wicking fabric
Four-way stretch
Cons
Doesn't feature cargo pockets
Waistband design may not appeal to all buyers
5. Outdoor Research Radiant Hybrid Tights – Best Unisex Hiking Leggings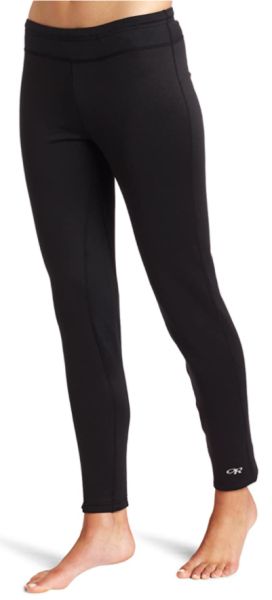 The high price tag of this set of tights is a major turn-off for some buyers. But its full polyester material makes it an option many hikers consider for more breathability.
A full polyester construction and spandex knitting give this set of tights focuses on delivering better breathability.
Hikers could get extra comfort with this set of tights as it comes with a movement-mirroring build.
And if you've got to maintain these hiking tights outdoors, the pants makers claim it has quick-dry support.
Pros
Full polyester
Breathable
Anti-odor material
Cons
Expensive
Doesn't have a high-waist option
6. Eddie Bauer Women's Trail Tight Leggings – Best High Rise Trail Leggings
With a high-waist liner, this set of tights focuses on offering comfort during challenging hikes.
High polyester content in this pair of pants could be ideal for hikers that need better flexibility and airflow.
And with its angled pockets, many handy items can fit in these hiking tights.
Pros
Power mesh waistband
High-rise design
Chafe-free zippers
Cons
Expensive
Waistband may cause discomfort after long-term use
7. BALEAF Ankle Legging Yoga Hiking Pants – Best Non-See-Through Leggings for Hiking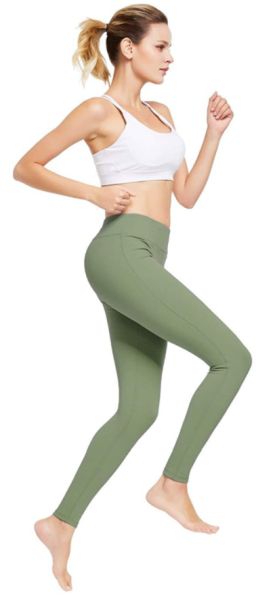 A hidden waistband pouch on these hiking tights could enhance your in-hike storage potential. Even if it doesn't come with big side pockets, the hidden pouch could still come in handy in several scenarios.
Reinforcements feature in this pair of pants, as its flat seams boost stretchiness and mobility potential.
Four-way stretching is another essential feature of this legging that could be ideal for long-hour hikers.
Pros
Flat seams
Motion-support seams
Hidden waistband pouch
Cons
No big side pockets available
Doesn't come with the best breathability potential
8. IUGA High Waist Leggings with Pockets – Best Four-Way Stretch Leggings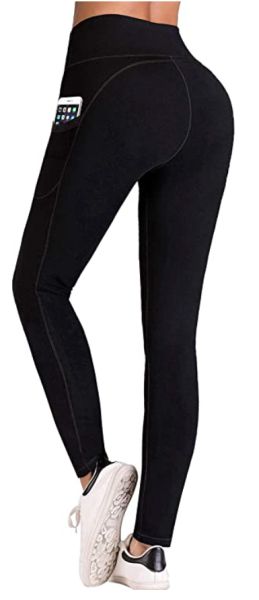 The tummy control feature from this 4-way stretch option gives hikers a better fit when outdoors. Even if it's a weightier option, it still comes with features that could make your hikes more comfortable.
Angled pockets feature in this pair of pants, making it possible to store some handy stuff for your trip.
And with reinforcement seams at the crotch and rear area, it could offer better flexibility for long journeys.
Pros
Tummy control
Ultra-stretch fitting
Interlocking seams
Cons
Weightier than many leggings
May not offer enhanced breathability
How to Pick the Best Leggings For Hiking
Choosing the best leggings for hiking transcends picking items with face value alone. Hiking leggings should possess qualities capable of withstanding tough conditions. That's why you need to check these factors out before placing an order;
Breathability
Getting breathable leggings for hitting the trail is important. Without the right airflow through your leggings, that outdoor journey could become uncomfortable in moments.
Tights that support better breathability adds a nice touch to get more relaxed outdoors. .
Stretch Potential
Several hiking tights offer some level of stretchiness, but settling for anything isn't enough.
Consider placing an order for hiking tights with a high-stretch potential. If you're unsure which leggings suit your needs, go for an option with high synthetic material composition. But in most cases, selecting high-stretch hiking leggings means you need to compromise on breathability.
Comfort
Tights hugging your skin could make you feel uncomfortable, particularly in hot weather. Your preferred hiking leggings should have a soft interior that's not irritating to your skin.
Consider selecting hiking pants that aren't baggy or skinny. Hiking tights with sleek, malleable materials provides more comfort when you're outdoors.
Multipurpose Use
Tights with multipurpose designs make yoga sessions, jogging, etc. easier to manage.
Other Features That Influence Your Buying Choice
Crotch Seams
Confirming the crotch seams on your preferred hiking leggings is important. Hiking tights with gusseted crotch seams could offer increased support for long treks.
With gusseted crotch seams, no lines run through your tights bottom. Such a design focuses on enhancing walk support and limits any chances of wear and tear.
Weatherproofing
Tights without water resistant material could expose you to unforgiving weather. The only way to avoid an uncomfortable hike is to confirm your preferred tights' waterproof potential.
Several waterproof options exist, but leggings with high weather-resistance usually come with more synthetic materials.
Tights with high wool and cotton content may not be suitable for your journey. But there's a high chance tights with Lycra, Spandex, or other material will keep you dry. Also, some newer leggings now merge cotton and wool with elastic material for more waterproofing and sturdiness.
Waist Liner
While some buyers may prefer high waist leggings, not all outdoor enthusiasts will find this option satisfying. Generally, your choice for leggings based on its waist orientation rests with your tastes. If you plan to bend over a lot, consider an option with less stress on your waist.
Pockets
You could need some extra storage space for a phone or essential gadget outdoors. When you're keen on storage support from your tights, a pocket-less option could leave you red-faced.
There are several options with side and back pockets in stores, so a natural choice in this regard is more likely.
Reinforcements
Several inferior hiking leggings could have been a lot better with the right reinforcements. You need to check out your preferred leggings design to max out its use in challenging conditions.
Materials
Your fancied set of tights is only as good as its material makeup. Without decent material compositions, your preferred tights could perform much lower than expectations.
If you're keen on better airflow from your tights, go for an option with natural/synthetic fibers.
Cotton, wool, spandex, Lycra, and other materials can merge at different measures to form leggings. A high natural material percentage could promote better airflow. High-stretch options usually have a significant amount of synthetic materials over natural fabrics.
Ideal Tights for Your Next Hike
It could be a head-scratcher selecting among the best hiking leggings. From what we've seen above, tights could underperform in certain environments.
But in general, the IUGA High Waist Leggings with Pockets performs better when it comes to outdoor adventures. These tights offer features focused on achieving increased durability and better fitting.
Also, hiking in cold weather could get better support from BALEAF Ankle Legging Yoga Hiking Pants. Aside from being lightweight, these leggings come with ideal features designed for increased warmth generation.
Finally, hikers keen on a fashionable option should consider a pair of Arc'teryx Oriel Women's Leggings.