Hikers and backpackers could swear up and down on their Osprey bags and backpacks. While the brand has a solid reputation in that niche, it's a bit of a novice in the hydration packs world. That's why when we go the route of this Osprey Raptor 14 review, the reputation and expectations from the brand have to be re-evaluated.
To be fair, hydration packs aren't exactly an entirely different world, but there are specifics that matter. Let's dive into our review and see if the Raptor is worthy.
Osprey Raptor 14 Hydration Backpack Highlights
Pros
Very comfortable
Several options for organization
Good storage
Thoughtful and useful design features
Cons
Limited color options
The magnet could be stronger
Osprey Raptor 14 Qualities And Features Of Note
The Front Rollout Kit Pouch
Hey, this is a hydration backpack, shouldn't we be talking about that first? Nope, the rollout kit pouch comes first! It's not something we'd always use, but I consider this the highlight of the Osprey Raptor. The kit pouch is designed to hold the necessary tools in a clean, easy to access system.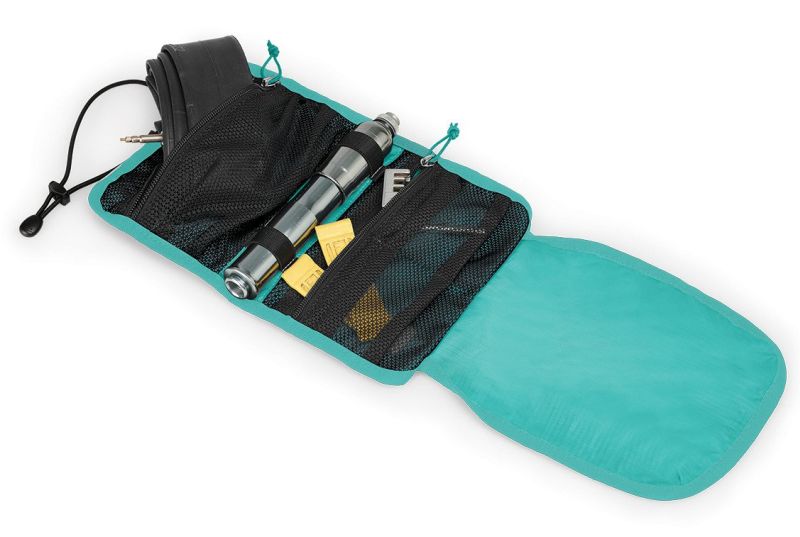 Attached to the front of the backpack, the pouch remains easily accessible and provides an excellent place to place tools. It's way more convenient than an internal pocket simply because of its easy accessibility. Besides, it's better not to go about fumbling for tools in the main compartment of any backpack.
This system keeps tools easy to access and even provides a medium to arrange them securely. For added convenience, the pouch is detachable, so the tools can be carried separately if necessary.
Osprey Hydration Pack Reservoir And Ease Of Use
The pack comes with a BPA-free Hydraulics LT 2.5L Reservoir by Hydrapak. The reservoir goes into its own compartment, which too remains easy to access and use.
One aspect you can admire about the Osprey Raptor is that it seems to consider ease of use and accessibility as a top priority. And that's a great approach. The way I see it, it's the minor conveniences and inconveniences that make or break a product. A consistent focus on usability is something worth enjoying and admiring about this backpack.
Speaking of usability and the hydration system, there is a big consideration here. The zippered sleeve results in a fixed hose routing that essentially goes to the right side. Prefer to run the hose through the left? No can do.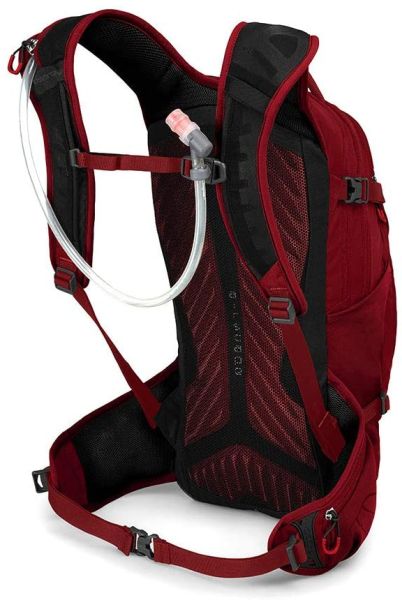 This isn't a huge problem, but certainly something to consider, especially with a focus on your personal preferences.
As for general usage, the reservoir remains fairly competent. A magnet on the chest strap keeps the bite valve accessible and at a convenient angle. You could drink without having to unclip the magnet.
Several users say that the magnet is a bit weak and it can be an annoyance. However, even when this problem exists, it isn't something way too troublesome.
Another aspect is the ease of drinking. Water flows fairly steadily and nothing appears to be lacking. The water volume per sip is lower than some of its competitors, though not exactly a dealbreaker.
I should point out that the problems with the magnet and volume per sip are somewhat relative. In general use, we wouldn't consider the Raptor to be truly lacking. It's just that some of its competitors handle these specific aspects better.
Cleaning And Refilling The Hydration Pack
Osprey hydration pack includes a 'pour shield' system that makes refilling, cleaning, and using the pack easier. Overall, the hydration pack has a wide opening that is easy to maneuver. It could be filled anywhere, including through faucets, water bottles, camping filters, or even a spring you found by the trail.
The pour shield folds over and zips tight to close, securing the hydration pack's contents and preventing spills. Having a wide opening also has advantages for cleaning. Since it has enough space to fit a hand, cleaning it becomes relatively easy.
Reservoir Compartment On Osprey Raptor
The reservoir compartment is the next piece for our Osprey Raptor review and its hydration system. As the name implies, this is where the hydraulic pack finds its place when in use. Though the included pack is 2.5L in volume, you could very well fit a 3L pack in this compartment.
It's very easy to access and doesn't require additional effort from the user. The zipper here extends onto the shoulder strap and is maneuverable. Inside, there's a small clip to hold on to the Osprey Raptor 14 hydration pack and keep it in place.
The back of this compartment is reinforced and has a hard panel. This lets the compartment keep its shape whether it's empty or full. This also means that the hydration pack remains safe from pressure when the bag is in use.
Organization And Comfort For The Osprey Raptor
Pockets And Organization
We've already talked about two interesting organizational aspects of this hydration pack; the reservoir compartment and the kit pouch. But there are several other organization and storage aspects for this backpack. If you are into considering organization, this has quite the set of options.
A vertical zipper leads to a "quick access pocket" in the front of the pack. This pocket is useful for anything you want available quickly, though snacks seem to be the most likely resident for this pocket.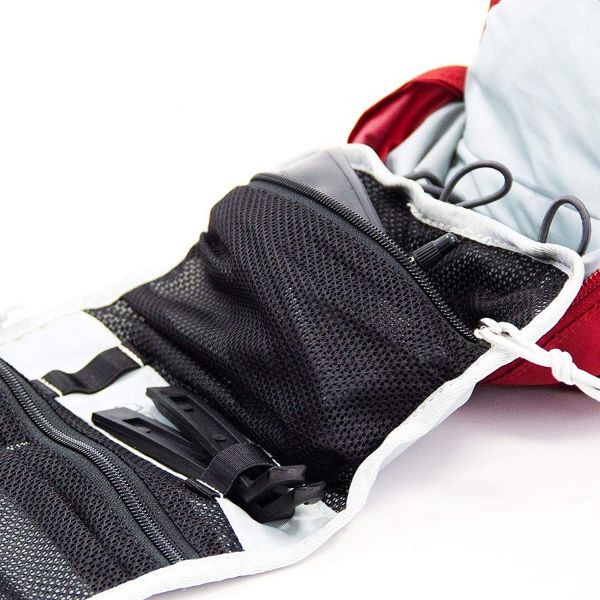 Right on the top of the bag is a "stash" pocket. This is a good place to keep other easy to access items, including the mobile phone and keys. A plastic key clip is included for better organization. This clip isn't very secure, but that's not a big problem.
Osprey Raptor "14" represents the total available storage volume of this hydration pack. In this case, that's 14-liters of available space distributed across numerous pockets. Osprey Raptor is also available in a 10-liter version.
A small pocket on the front of the pack can accommodate a small rain jacket, or a rain cover – the pack is not waterproof. There's also a larger stretch pocket with compression straps that can store a chin bar or knee pads.
This pocket could also hold a helmet, but it makes better sense to keep it with the "lid lock" attachment. Side compression straps on the bag can be used to carry a full-face helmet. A small bungee strap and tab on here can keep the helmet secure. Other pockets include two small hip-belt pockets.
The Main Compartment
Raptor's main compartment is accessed through a U-shaped zipper. It's a fairly large space, with several mesh pockets for organization. If you're big on specific organization, this would exactly be your jam!
I think there are way too many pockets for the backpack and main compartment. It would be way too complex to use all of them. Perhaps I should get post-its and start labeling. I find the alternative approach works just as well. Dump things into the main compartment and ignore the mesh pockets unless they're absolutely needed!
Comfort And Suspension
Osprey has a reputation of keeping its backpacks comfortable, and this one's no different. Riding with Osprey Raptor doesn't feel like you've got a dancing monkey on your back. Instead, the pack hugs the user quite well, while avoiding getting in the way. It's a fine line, and this hydration pack walks it nicely.
With a pack that hugs the back this close, you'd expect things to get uncomfortable or sweaty. Raptor manages to largely mitigate the problem. Its AirScape suspension and back panel are rigid, but stay well-ventilated.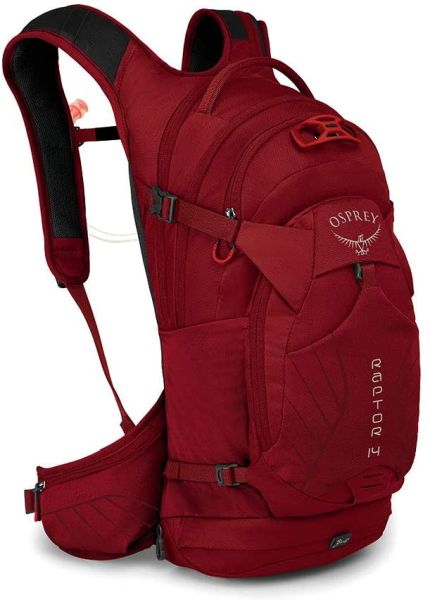 The Atilon foam frame sheet keeps the pack comfortably in position and allows it to be flexible to the user's movements. Even so, it manages to keep its shape and stay true to it. The mesh-covered back panel and suspension keep the weight well-distributed while also keeping the backpack well-ventilated.
Another notable feature comes in the shape of the winged shoulder straps. They're winged in the sense that they're designed to reach and stay on the shoulders comfortably while the user is on their bike. This setup lets the bag hug the body and stay in position.
The bag moves dynamically with the body of the user, so there's no unwanted shifting or weird pulls to negatively affect the comfort. Raptor's shoulder straps and back are padded for comfort and work well with the hip belt to distribute weight.
Overall, this is a very comfortable and convenient backpack.
Weight Considerations
All those features, padding, and panels don't quite come without their cost in weight. Osprey Raptor 14 weighs almost about 800 grams. It can't be called ultralight, but the backpack does seem to justify its weight with the comfort on offer.
But yeah, if you intend to stay light on weight, this hydration pack probably isn't it. But then again, hydration backpacks aren't really the category that pinches weight. In conventional considerations, the weight of this backpack is no problem at all.
Should I Buy An Osprey Raptor?
The Raptor is a very capable backpack. Even with our in-depth Osprey Raptor 14 review, the only negatives to be seen are a relatively weak magnet and limited color options. As backpacks go, those aren't major issues. And if those are the only negatives, I'd say this backpack is a good buying choice.
It excels in comfort, quality, and use. Well, the price is a bit on the higher side, as you would expect with Osprey. But if it fits your budget, this hydration pack is worth serious consideration.