Planning for your next camping trip with your loved one, a colleague or a friend? Guess what, going with the best 2-person camping tent will make your trip a whole lot better.
When it comes to buying a camping tent, you should leave no stone unturned in making sure it provides the safety, comfort and durability that you will need.
In this read, we have picked the best 2-person tents for your next camping, backpacking, hiking, mountaineering, kayaking or any similar outdoor trip.
Our Top Pick – Nemo Dragonfly Ultralight Backpacking Tent
Out of all the 2-person camping tents that we reviewed, Nemo Dragonfly is undoubtedly the best camping and backpacking tent available out there today. Be it safety, convenience, comfort or price affordability – this camping tent performs well in all areas.
Best 2-Person Tents to Buy in 2020
Nemo Dragonfly Ultralight Backpacking Tent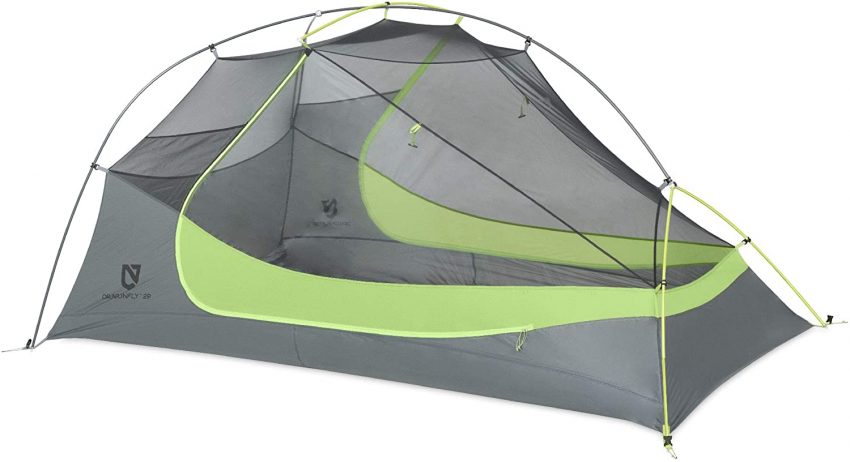 An extremely lightweight backpacking tent, Nemo Dragonfly is our top pick and one of the best camping tents that you can get in this range. This 2-person weather-tight, rugged and livable tent offers top-notch protection, convenience and space that you and your loved one need during an outdoor adventure.
Weatherproof Design Provides Safety and Protection
The 20D Nylon tub gives you an extremely lightweight, waterproof tent base to ensure water resistance under wet conditions.
Moreover, the 15D Nylon Rip-stop fly is silicone-coated that results in added weather protection.
A Lightweight and Spacious Camping Tent
With a minimum weight of just 2 lbs. and 10 oz., this is an ultralight camping tent that requires only 19.5 X 4.5 inches when packed.
It gives a perfect balance of space, livability and portability that you and your loved one will need.
Dual Door, Dual Vestibules Means More Convenience
This tent has two doors and two vestibules that allow you to store and keep your gear dry. Moreover, this smart design assists in ease of entry and exit – something that you and your partner or friend would need throughout your outdoor trip.
Pros
Spacious Interior
Lightweight & Durable
High Water Resistance
Color-coded Poles Allow Easy Setup
Better Ventilation with Protected Strut Vents
Cons
Lowest Gear Pocket Requires You to Sit Up to Reach
Moon Lence Camping Tent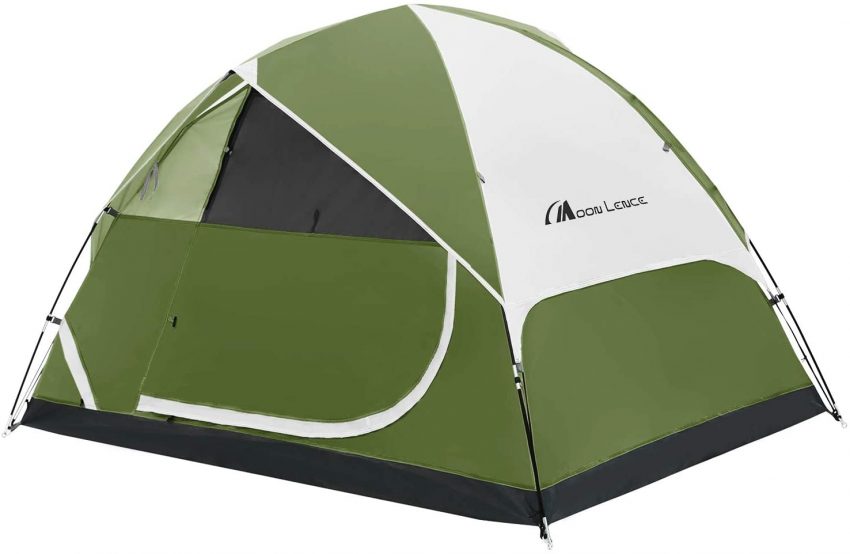 This is an easy-to-setup, double-layered outdoor tent with enough space for two persons (also available in 4 and 6 person sizes).
Whether you are going to camp under dry, damp or wet conditions, this tent will ensure optimum performance.
Spacious and Lightweight
With an unfolding size of 83.8 x 59.8 x 48 (inches), this tent is roomy enough for two adults.
Additionally, it weighs just 2.7kg (5.95lb), and can easily be packed in a carry bag of size 16.5 x 5.9 x5.9 (inches). This makes it a good backpacking option.
Excellent Ventilation with Breathable Mesh
With a big breathable mesh, a ground vent, two windows and a removable rainfly, this tent performs well as far as ventilation is concerned.
Perfect Under Wet or Dry Conditions
One of the most important elements that should affect your buying decision is the tent fabric and its resistance to water, wind, UV, etc.
This tent is built using the highest quality waterproof fabric that gives you 1000mm water resistance and great UV resistance as well.
Pros
Roomy, Lightweight and Compact
Waterproof, Windproof & UV Resistance
Easy to Setup
Detailed Design
Keeps Air Fresh Inside with Breathable Mesh
Cons
Contains Delicate Components that Require Care and Maintenance
2-Person Dome Tent by Wakeman Outdoors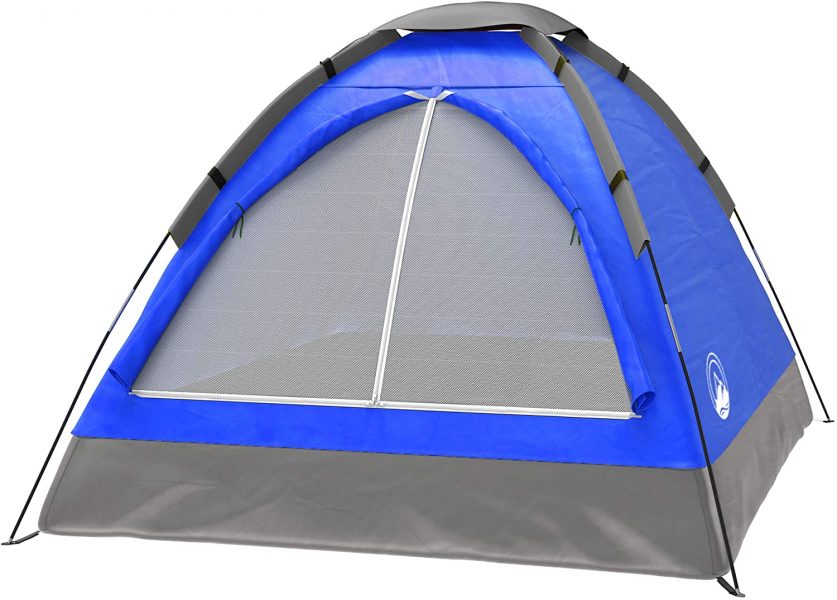 If you are looking for a nice, strongly built 2-person dome tent with a decent price tag, the Wakeman Outdoors tent should work for you.
This compact and lightweight tent offers great versatility, portability and performance to make your outdoor trip a memorable one.
Nylon Material Offers Great Durability
If your tent is unable to withstand high wind pressures or mild storms, you could land in some serious trouble.
This tent is made with top-quality nylon material that adds to its overall strength and enhances performance in challenging conditions.
Large D-style Door Adds to Overall Space
When it comes to space, the Wakeman Outdoors know how to do it. With dimensions of 6.25 x 4.80 x 3.50 (inches), this camping tent gives you ample space for two persons.
For added comfort, easy entrance and exit, this tent comes with a large D-style door. Moreover, there is a pocket storage inside the tent for you to keep your things organized during your trip.
Pros
Ventilation Window Good for Summer Camping
Lightweight
Affordable
Includes Storage Bag
Durable and Portable
Cons
Not a 100% Waterproof Tent
Pacific Pass Camping Tent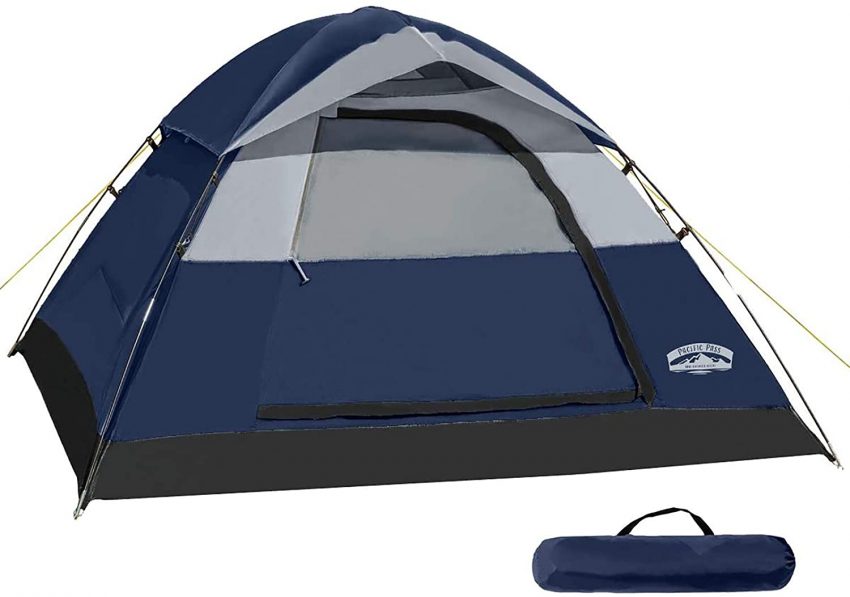 Pacific Pass is another renowned brand that manufactures affordable tents for camping, backpacking, hiking and other outdoor trips.
This dome tent is specifically designed for two persons and offers great convenience, space and maneuverability.
Easy to Set It Up
Being someone who regularly goes camping or other outdoor expeditions, you would not want to carry a tent that is not easily deployable.
This tent comes with 2 ropes and 6 stakes that only requires a few minutes to set up.
Lightweight & Portable
With a carry bag that only weighs around 5.7 lbs., this is quite a lightweight tent that can be easily carried around in your backpack.
Good Airflow with Improved Design
The large D-shaped door gives added ventilation and better airflow inside the tent. During summer camping, we all know how important the ventilation element is and this tent performs well.
Pros
Made from Polyester Material
Removable Rainfly Helps in Keeping Water Out
800mm Waterproof
Mesh Pockets for Storage
Cons
Not the Best Water Resistance
Low Built Quality
Featherstone 2 Person Backpacking Tent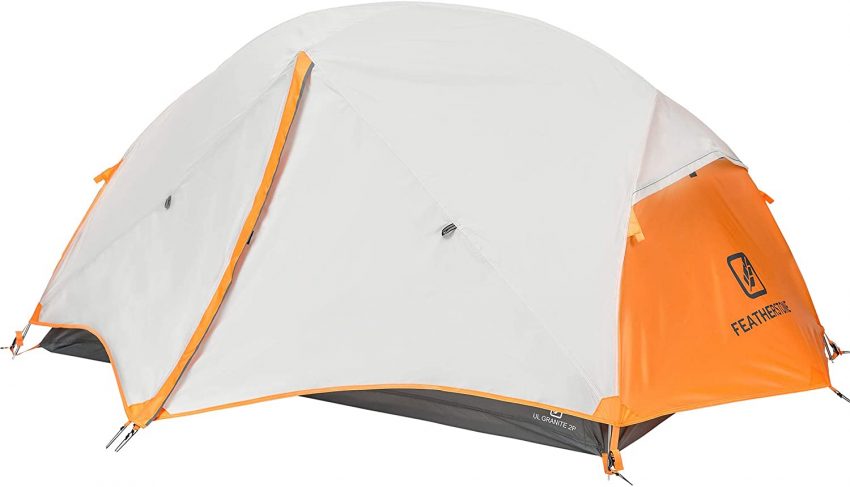 Looking for a rugged, waterproof camping tent that is lightweight, durable and affordable? The Featherstone 2-person backpacking tent is a pretty decent option.
This 3-season camping tent will make your next camping trip a whole lot fun, convenient and memorable with your loved one!
Freestanding Design Makes Life Easier
One of the highlights of this camping tent is its freestanding design that lets you relocate the tent without having to disassemble it.
This can come in quite handy when you are out in the wilderness and have to move your tent to a nearby location due to unfavorable terrain conditions or any other factor that you didn't or couldn't think of beforehand.
Polyester Rainfly and Bathtub Design to Keep You Dry
This tent comes with a seam-taped, polyurethane-coated polyester rainfly that has a hydrostatic rating of 3000mm. This gives a lot more resistance to water penetration and keeps the inside of the tent dry even during the worst of storms.
Additionally, it has a bathtub floor design that keeps the bottom of the tent in an elevated position to keep you dry from any wet terrains.
Easy Setup with Single Aluminum Pole
Using a single aluminum pole, this tent is quite easy to setup. It comes with all the necessary buckles and straps that make the tent-deployment all too easy and quick.
Pros
Enough Space for Two Adults
3-Season Tent Best for Camping, Hiking, Fishing, Kayaking, etc.
2 Doors and 2 Vestibules Offer Great Storage
Micro-mesh Fabric Adds to Comfort and Breathability
Cons
Combined Pole System Design Adds More Pressure on the Central Pole
BFULL Camping Tents 2-3 Person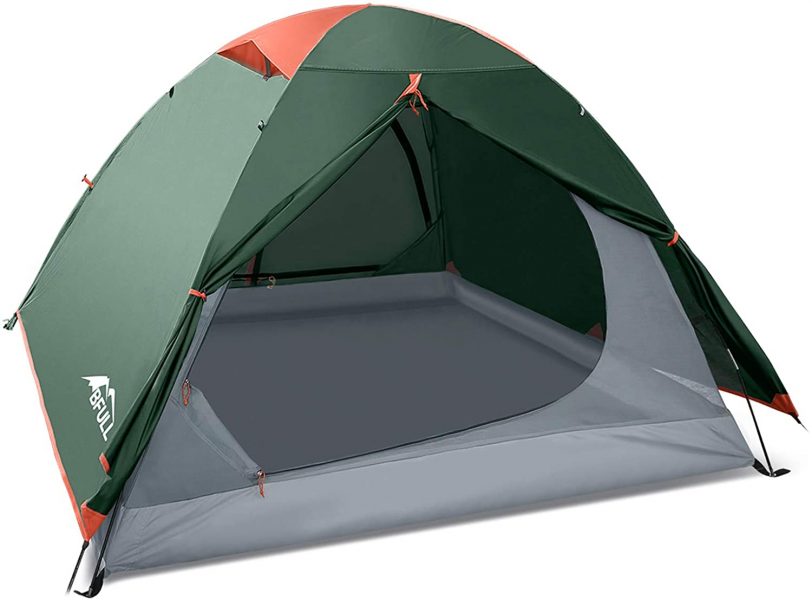 The BFULL camping tent is another great option if you are planning for an outdoor trip with your loved one. This double-layered dome tent offers great comfort, safety and portability at an affordable price.
The best part about this family tent is that it has enough space to accommodate queen-size airbeds and can easily fit in 2-3 persons.
Quick Setup and Lightweight
The BFULL camping tent is one of the lightest two-man tents available in the market today. It comes with integrated fiberglass poles that make the whole installation process quite easy and quick.
Rain flies can be easily setup using buckles and straps, considerably reducing the overall tent setup time.
3000mm+ Waterproof Index
This is a fully seam-taped camping tent that is made using high-density 190T polyester fabric, giving it high water resistance during a rainy day.
It has a waterproof index of more than 3000mm, so you can expect to stay dry inside the tent during your entire trip.
Keep Pests Away
One of the major problems every camper and backpacker faces is the presence of pests and insects during an outdoor trip. This tent comes with an inner ultra-fine B4 mesh that keeps those bugs away at all times.
Pros
Weighs Only 4.72 lbs.
Double Entrance Design Gives Better Ventilation
High Resistance to Water
Freestanding Design
Cons
Has a Thin Bottom that Decreases Tent Performance in Challenging Conditions
ALPHA CAMP 2/3 Person Camping Dome Tent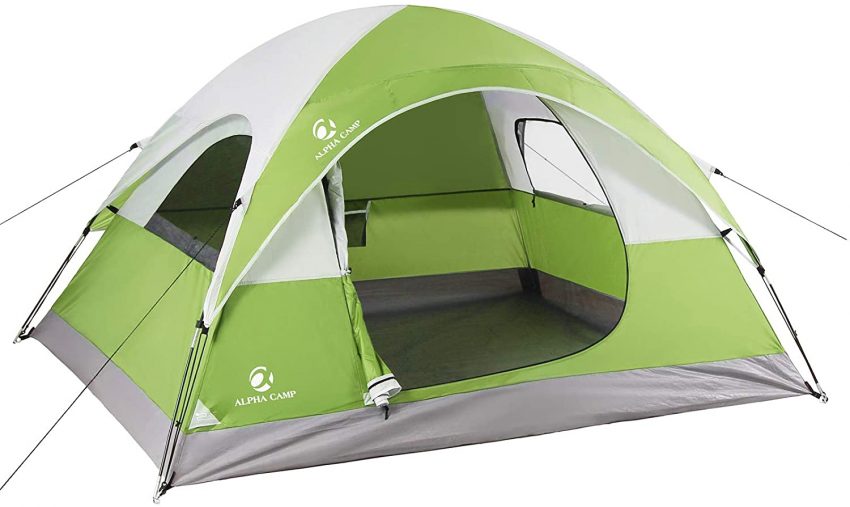 One of the renowned names in the camping tents niche, the Alpha dome tent is a lightweight, waterproof family tent, ideal for 2-3 persons.
With all the basic elements of a camping tent such as good ventilation, easy installation, good storage space, etc., this tent will add a lot of fun and comfort to yours and your loved ones' outdoor expedition.
Ideal Tent for 3 Persons
With dimensions of 8'L x 7'W x 50″H (8 by 7 feet base), it has enough room for three people instead of just two. This means that even if you are still two persons, there is plenty of room for your dog or your things that you can easily accommodate.
Or, if there are three adults including yourself, this tent will still be comfortable for all of you.
Super Ventilation with Triple Zippered Windows
Ventilation is one of the most important factors that should impact your camping tent buying decision. This tent has three zippered windows that result in good ventilation.
Also, the mesh design keeps the pests away while allowing you to enjoy the breathtaking views and nature outside.
Multi-functional Design
The Alpha dome tent has multiple functions that adds more convenience and versatility during your entire trip. With dual side pockets and a big overhead mesh pocket, there is ample storage area inside the tent.
Moreover, there is an electrical port for your gadgets to ensure you can keep your devices powered at any given time.
Pros
Perfect for 3 Adults
Ample Storage Space
High Grade Fiberglass Poles
3 Zippered Windows Ensure Better Ventilation and Protection Against Insects
Cons
Zipper Material Not Too Durable
Stansport McKinley Camping Dome Tent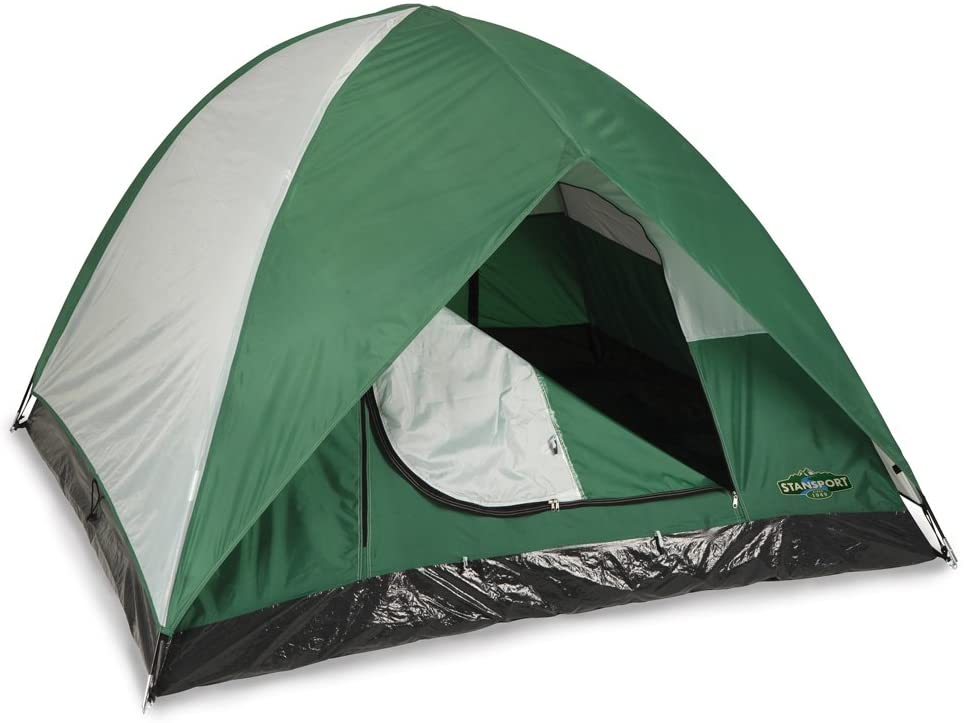 Stansport McKinley has been serving campers, kayakers, hikers, etc., for more than 7 decades. This brand is well-known for its high quality, yet affordable camping tents that cover all the basic elements of a good 2-3 person family tent.
Bath Tub Floor Design Keeps the Base Dry
There are times when you are unable to find a sweet, dry spot as far as the terrain is concerned. The bath tub floor design of this tent helps to keep the base of the tent completely dry even on wet grounds.
Storage Bag Included
This tent comes with a stuff bag that can be used for storage and easy transportation either in your backpack or in your vehicle.
Dual Peak Roof Offers Resistance Under Wet Conditions
The dual peak roof design and a fully taped rain fly give you better resistance against water penetration. However, the waterproof element of this tent is not a 100%, so try not to expose this tent to severe wet conditions, heavy rainfall or storms.
Pros
Enough Space for 2-3 Adults
Dual Doors and Mesh Panels Allow Proper Ventilation
Easy Setup with Shock Corded Pole Design
Cons
Not Recommended Under Severe Wet Conditions
Kelty Late Start Backpacking Tent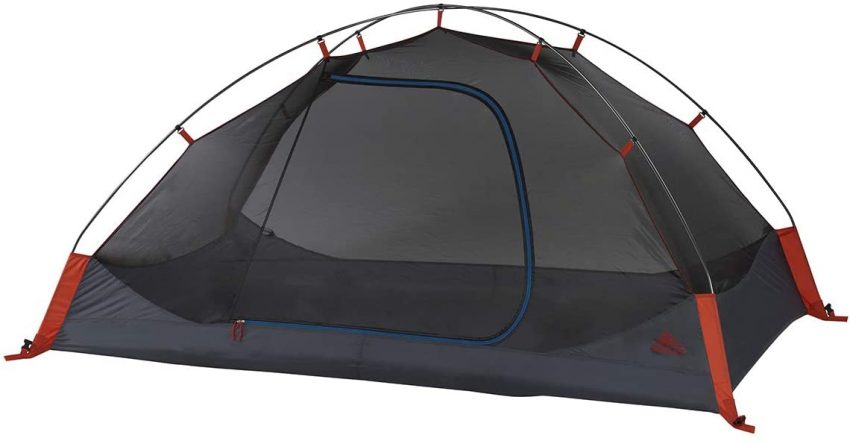 This freestanding, water-resistant backpacking tent is a good option for two adults who give preference to comfort and convenience over anything else.
Lightning Quick Setup with Kelty Quick-Corner Technology
Nobody wants to go out in the woods with a camp tent that takes ages to just setup. With their patented, Kelty Quick-Corner technology, this tent takes very little time for deployment.
Moreover, the freestanding design allows you to move the tent at your preferred campsite without having to disassemble it.
High Water Resistance
With a 68-denier rain fly, a single door and completely sealed seams, this tent gives water resistance up to 1800 mm. It might not be the best waterproofing tent out in the market, however, it does the job well.
Pros
Extra Interior with Pre-bent Aluminum Poles
Includes a Ceiling Pocket for Storage
Patent Technology for Quick Tent Installation
Affordable Price
Color-coded Rain Fly Attachment
Cons
No Vents in Rain Fly Adds to Condensation during Hot Days
yodo Lightweight 2 Person Camping Backpacking Tent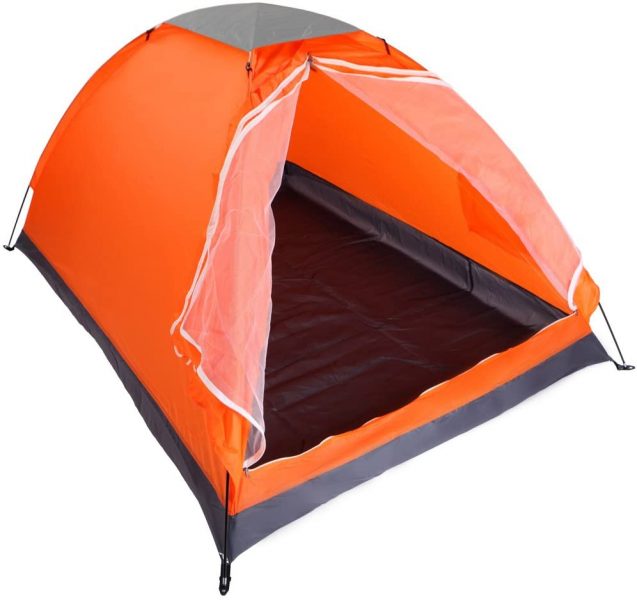 Have enough weight in your backpack already? The yodo 2-person camping tent is a decent option if you are looking for something extremely lightweight yet durable and efficient.
Lightweight and Easy to Install
With a weight of around 2.9 lbs., this is an easy-to-carry camping tent that offers great portability, especially if you are backpacking.
Moreover, it only takes a few minutes to either assemble or disassemble, making it super easy and convenient for two people.
Good Ventilation with Side Vents
With large mesh vents on the side wall, you get proper ventilation while you are inside the tent.
Also, these mesh vents keep the insects away and allow you to have a wonderful view of the sky.
Decent Option in Clear Weather
Remember, this is not a waterproof tent, so make sure you have your weather forecasting done right before you leave for your outdoor expedition with your loved one.
Pros
Quick Setup
Extremely Lightweight
Includes a Carry Bag
Roll-up Door Curtain Design
Dual Glass Fiber Poles
Rain Fly Vented Roof
Cons
Marmot Limelight 2 Person Camping Tent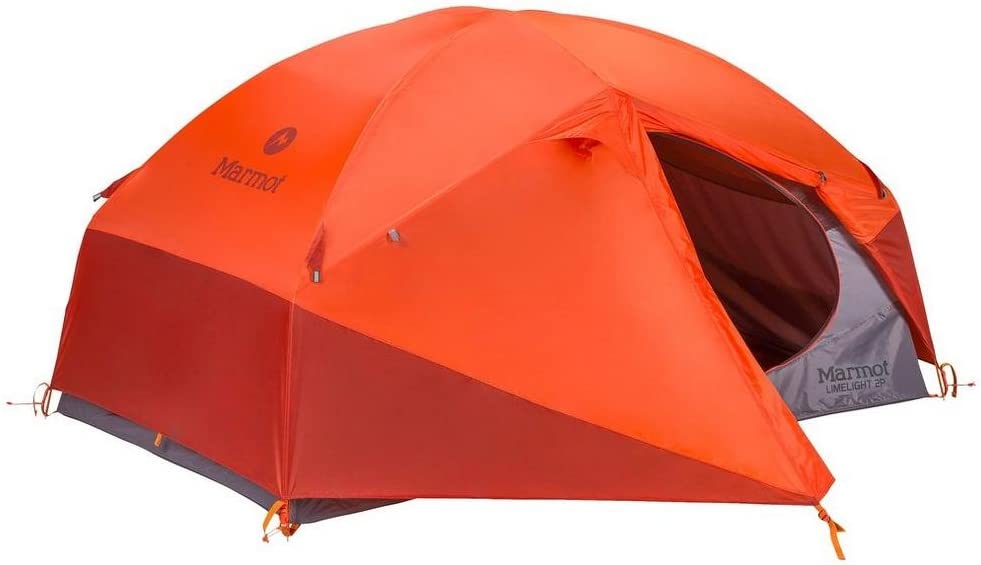 The Marmot 2-person camping tent is a pretty good option if you are looking for something in the low-to-mid price range that offers durability, portability and efficiency.
This is an ideal camping tent for two adults with all the basic amenities that you would normally expect in a $250+ camping tent.
Pre-bent Pole Design Adds More Space
The pre-bent pole design makes the interior more spacious and roomy, mainly because it provides almost vertical inner walls that gives ample headroom space inside.
Highly Water Repellent
This two-person igloo tent gives a 1500 water column resistance to water. The seams are completely sealed and the base of the tent is slightly raised to keep moisture out.
Additionally, this tent is UV-resistant and highly wind-resistant.
Pros
2 D-shaped Entrances
No-See-Um Mesh for Protection Against Insects
High Water Resistance
Compact and Rugged Design
Cons
Not a Lightweight Tent (5.7 lbs.)
ALPS Mountaineering Zephyr 2-Person Tent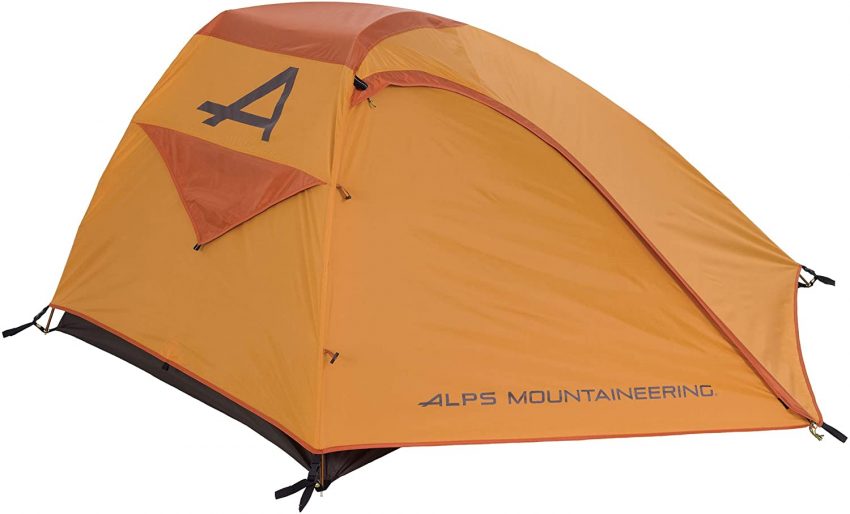 Another renowned camping tent that you will hear or read about a lot, the ALPS Mountaineering Zephyr 2-person tent is ideal for you and your loved one, provided that you are planning your trip under moderate conditions.
Free-standing Design Adds Mobility
The free-standing ability comes in quite handy when you have to move your tent to a nearby location or campsite without wanting to disassemble it.
UV and Water Resistant
This tent comes with polyester tent fly that assists in resisting water and UV penetration.
Enormous Head Room
With a spreader bar that provides around 38 inches height in the center, this camping tent will give you a lot of space to sit up and move around, even if you consider yourself as a tall person.
Pros
Easy to Setup
Comes with Mesh Storage Pockets
Dual Mesh Door Design Enhances Ventilation
Cons
Leakage Issues Have Been Reported by Users in the Rear Plastic Window
TETON Sports Mountain Ultra Tent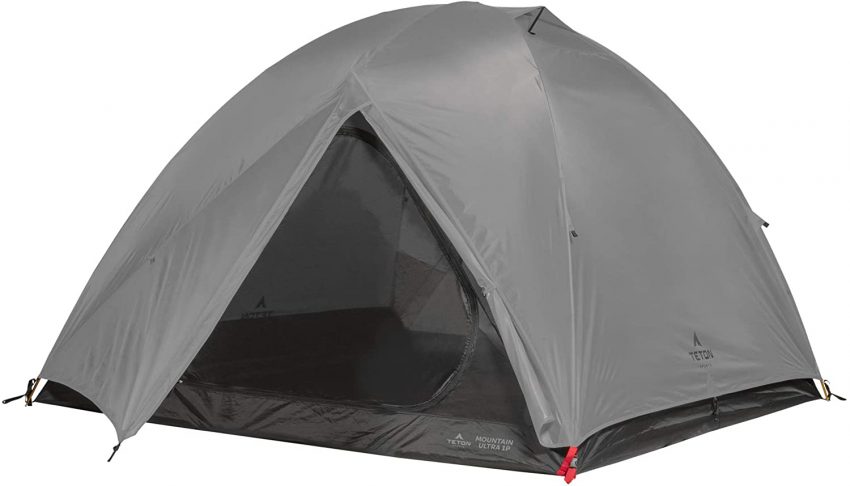 Choosing the right camping or backpacking tent plays a vital role in your overall outdoor experience. Available in different sizes, the TETON Mountain Ultra tent offers great mobility, safety and performance – a 'must-have' combination if you are an outdoor person.
360-Degree Ventilation Mechanism
The vents in this tent's rainfly can be opened from all sides of this camping tent. This allows for optimal air circulation for a better experience.
Large Gear Loft and Pockets for Storage
There is a large gear loft where you can hang your light when it gets dark outside, or you can use it to store other light items such as your cap, small torch, watch, etc.
The inner tent comes with additional pockets to help you keep your items organized during your entire trip.
Enjoy a Stargazing Experience
The full dome mesh-top allows you to have a wonderful stargazing view while you are lying down in your sleeping bag during the night.
Pros
Comes with a Waterproof Rainfly
Easy Setup and Lightweight
360-Degree Ventilation System
Ideal for 2-Person Backpacking or Camping Expedition
Cons
Does Not Withstand High Wind Pressure (reported by users)
Wrapping Up Our 2-Person Camping Tent Guide
With so many options available in the market, we understand that shopping for the best 2-person camping tent can get difficult and time-consuming.
Factors such as campsite locations, weather and terrain conditions, interior space and storage, built quality, etc., will eventually decide which specific tent best suits your needs and preferences.
Enjoy camping with your loved one!