The rolling backpack is a great item to have on hand if you travel often and your luggage tends to be on the heavier side. Travelling can be more tiring than anticipated, and wheeled backpacks offer the flexibility of choosing between carrying your bags on your back or rolling them along. It is essential to weigh out the pros and cons and choose the best wheeled backpack that suits your needs.
Carrying heavy bags for extended periods often causes back problems to many travelers, and wheeled backpacks come as a solution to this, offering equal parts convenience and functionality. But with so many different options, it is essential to weigh out the pros and cons, and choose a backpack that fits you the best.
Editor's Choice: Ambor Rolling Backpack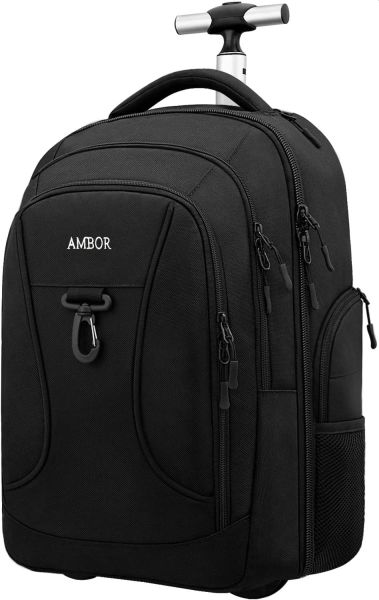 Having wheeled backpack luggage is all about convenience. They may not be the most stylish looking bags, but nothing can beat the comfort.
Among the rolling wheel backpacks reviewed, our favorite is the Ambor Rolling Backpack. It is a complete catch for the price point. It offers durability, is lightweight, and does a great job with compartments.
11 Best Rolling Backpacks Reviewed
1. Osprey Ozone Wheeled Carry-on – Compact

Osprey Ozone is an ideal sized bag for traveling with external dimensions at 27 x 19 x 9 inches. It meets the requirements of carry-on size restrictions for most domestic airlines. Even though it is smaller than most bags mentioned here, it is sturdy and very lightweight, weighing only 4.5 lbs.
Osprey Ozone also stands out for its large zip-panel and easy to access liquid pockets at the top.
The padded handles keep it comfortable to carry while internal compression straps keep things organized. The wheels are of high quality, making it a reliable backpack for longer trips.
Pros
Lightweight
Durable
Ideal size for carry-on
Affordable
Cons
Limited space
Not ideal for adventure seekers
2. Eagle Creek Expanse Convertible 29 Carry-On Bag- Comfortable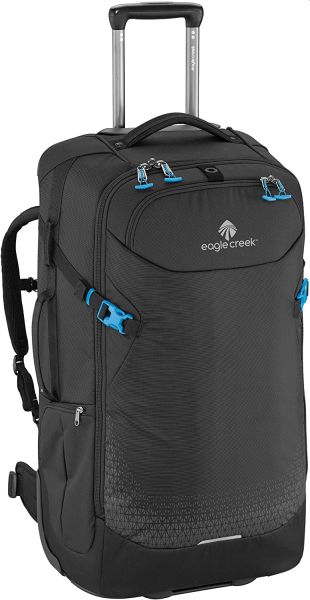 Stylish, lightweight, and highly durable, Eagle Creek offers multiple travel-friendly features for the price.
It's made from 420D Polyester and 300D diamond ripstop poly, which ensures durability. The top and side grab handles make it easy to carry for long term travel. It has a zip-away extension system, which includes padded straps making it more breathable and comfortable.
With 16.14 x 29.13 x 12.2 inch dimensions the bag weighs a significant 8.82 pounds. This includes a load stabilizer and the lower back panel has a hip belt, which makes the bag easy to carry. The adjustable strap helps to fit different sized bodies.
Pros
Lightweight
Adjustable straps
Padded and well ventilated
Durable
Cons
Big size – not ideal as a carry-on
No organizer pockets
3. Ambor Rolling Backpack – Water-resistant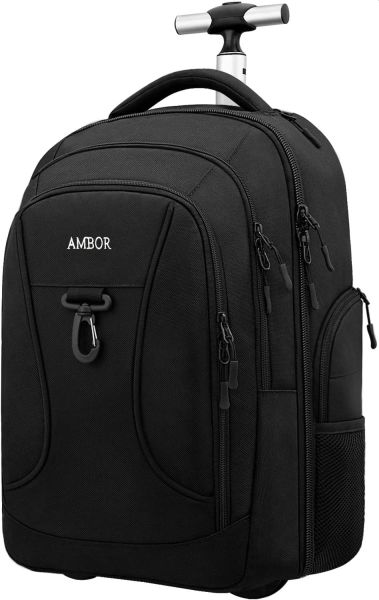 This wheeled backpack makes traveling a breeze. It is one of the most affordable options on the market, and given the durability and convenience factors that come with it, this bag is a complete catch.
The well-thought design provides a large separate sleeve for your laptop, and the second file compartments can be used to organize your tablet and your files. It also includes a separate mesh on the sides to fit in a water bottle.
This bag is multi-purpose and is ideal for traveling and day-to-day use. The straps are breathable and can be tucked away into a zipper pocket. The wheels are incline-style, and the telescoping handle allows it to move smoothly without effort.
The durable polyester fabric with water-resistant coating keeps it dry in wet weather. Additionally, the reinforced edges and steel frame gives it ample strength and support while keeping it lightweight.
The bag is spacious with 19.8 x 13.5 x 7.8 inches external dimensions and weighs 6 lbs.
Pros
Unisex
Affordable
Compartment for laptop
Large and spacious
Easy access
Cons
Thin shoulder straps
No padding on straps
Inset wheels
4. SKYMOVE Wheeled Rolling Backpack- Convenient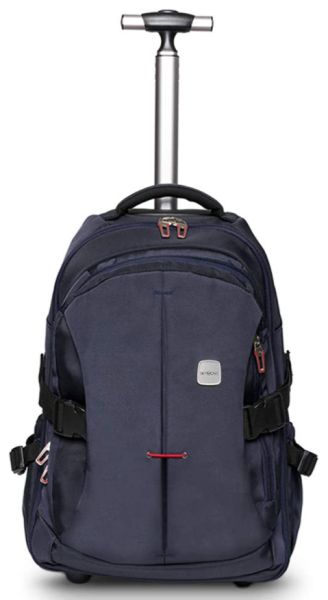 SKYMOVE is another great affordable option in the market. It is lighter than other available carry-on backpacks, weighing only 4.6 lbs.
It is better suited for people shorter than 6 feet as the handle does not extend enough. The 1200D washing printing oxford fabric keeps it water-resistant and protects your gear. The details are well thought, and a smooth aluminum rod gives it a sleek finish.
The back wheel cover design is convenient, and the thick wide belts can be put in concealed pockets while wheeling.
It is better suited for shorter trips and has a dimension of 19 x 13 x 8 inches.
Pros
Affordable
14" Padded computer sleeve
Waterproof
Ventilated straps and harness
Cons
Not for taller people
Suitable for shorter trips
No organizer
5. Wenger Luggage Synergy Wheeled Backpack – High-Quality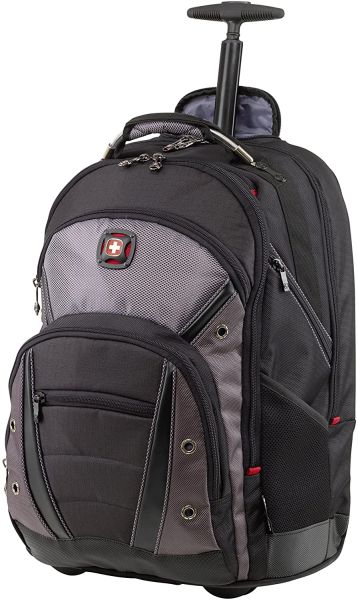 Wenger Luggage Synergy Padded Wheeled Laptop Bag is unbeatable when it comes to durability. It is on the more expensive side but offers high quality. It comes with a secure lock, retractable handle and smooth glide wheels.
The interior has a triple padded 16" laptop sleeve and a 13" tablet sleeve. There are multiple pockets and compartments to keep your items organized. Its 11.8 x 15.4 x 20.9 inch dimensions restrict its weight to 6 lbs.
A breathable mesh and back panel harness is also included to provide stability. Although a little heavy on the pocket, it is a worthy selection because of the quality it offers.
Pros
High quality
Carry-on size
Multiple pockets and compartments
Cons
6. Matein Waterproof College Wheeled Laptop Backpack – Strong wheels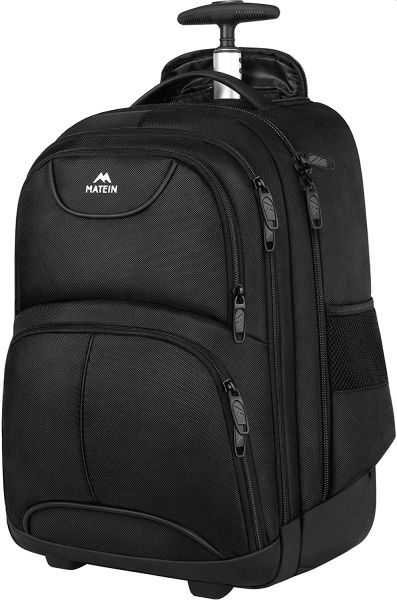 Matein Wheeled Backpack is a great option for travel or school. Quite similar to the Ambor rolling backpack in looks, Matein is a brand with a well-established name in the market.
Its best feature is the convenience it offers with its water-resistant properties. The kick plate protects the bag from abrasion, and the corner mouthed wheels make it easy to drag. It has lockable metal zippers and durable Polyester fabric.
The bag comes with a padded shoulder, strong rubber wheels, and an aluminum telescoping handle.
Perhaps the biggest selling feature of this bag is the versatility it offers in terms of its size. It comes in 15 and 17-inch sizes and weighs around 5-7 lbs.
Ideal for students and adults, this stylish and functional bag is a good choice in this category.
Pros
Affordable
Adjustable straps
Quick access compartments
Unisex
Durable
Bottom protection
15.6-inch Laptop sleeve
Cons
Difficult to control
The laptop sleeve has a very light padding
7. AOKING Water Resistant Rolling Wheeled Backpack- 360-degree turning wheels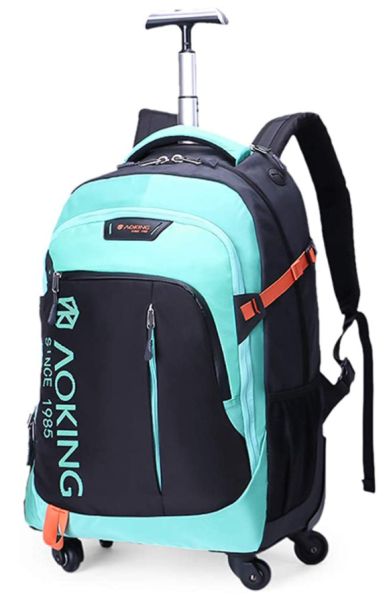 The Aoking Backpack is for those travelers who like to pack heavy. It is very spacious with 15 and 17 inch sizes, and is likely to fit everything you could need while traveling, including your 17" computer and books.
The high-quality wheels are large and durable. This means that you don't have to worry about carrying it. Just roll it over the stairs or rugged terrain.
Aoking claims to be water and tear-resistant and best suited for rainy cities. It also has 360-degree turning wheels that are quiet and can be hidden.
The bag offers smooth functioning with an aluminum handle. There also includes an earphone space design and packable straps for added convenience.

Pros
Water and tear-resistant
360-degree turning wheels
Spacious
The padded and ventilated back panel
Cons:
8. High Sierra Powerglide Wheeled Laptop Backpack – Many pockets and compartments
High Sierra Powerglide claims to be multi-functional and spacious. It is an ideal bag for students carrying bulky books or adults with a lot of gear.
It comes in a range of colors and is 21 x 14 x 9 inches in dimension.
It comes with several compartments, including a laptop compartment, interior zippered mesh pockets, zippered side pockets, pen pockets, a lidded media pocket, and a key fob hook.
The backpack is specially designed for comfort and all kinds of terrains. It is also very easy to maneuver it.
This backpack has a retractable and locking handle, which can be stored under a zipped cover when not in use. Further, the molded kick plate offers stability and extra protection. Although this backpack is slightly on the expensive side, it is well worth the money.
Pros
Many pockets and compartments
Padded laptop sleeve
Durable
Includes side pockets
Suitable for all-terrain
Cons
Comparatively expensive
Not waterproof
Not suitable for carry-on
Thin fabric
9. High Sierra XBT – Business Rolling Backpack – Smooth-rolling wheels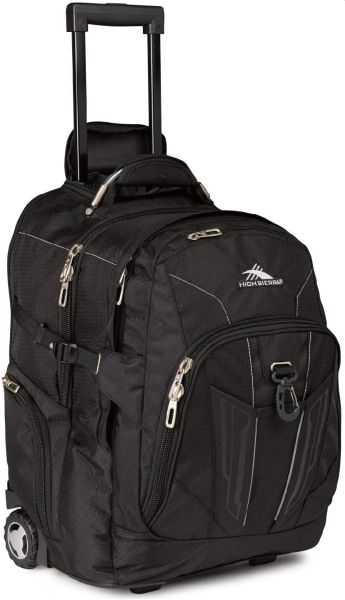 Durability and quality work in favor of this Backpack. Sierra XBT Backpack offers a very stylish and functional backpack at a great price. Made from Ripstop and Tech-Weave Duralite fabric, it is ideal for rainy weather.
The ergonomic design of the bag makes it easy to carry and the smooth-rolling wheels make it easy to maneuver. The product weighs only 4 pounds and has a 21 x 9 x 14 inch external dimension.
The soft grip padded handle has a comfortable grip, and the sternum straps stay centered on the shoulders.
It has many compartments that allow good organization, including a padded laptop sleeve that fits a 17" laptop. It also has a dedicated shock-proof microfleece tablet sleeve. Several external pockets included in its design also come in handy when traveling.
Pros
Water-resistant
Spacious – fits 17" laptop
Carry-on friendly
Many pockets and compartments
Adjustable straps
Corner guards
Cons
Doesn't offer a hip belt
No ventilation on the back panel
10. JanSport Driver 8 Rolling Backpack – Durable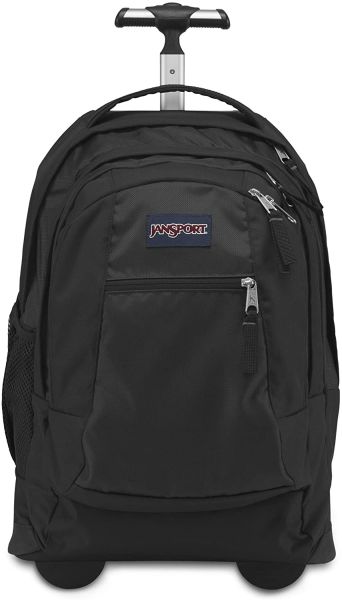 JanSport Driver 8 has a reputation for lasting you a long time. If not, the company guarantees to replace or repair any issues with the bag.

The company has made a name in the market for highly durable bags. Their high quality and smooth functioning make it a popular choice among travelers.
JanSport comes with an option to convert from a backpack to a roller with hidden shoulder straps with ease. Its dimensions are 21″ x 14″ x 10″ and it weighs 5 pounds.
Further features include a 15-inch laptop sleeve, side water bottle pocket, and a front pocket organizer.
The backpack has 80mm skate wheels and a padded handle for easy usability. It is made from Nylon, providing water resistance and a padded back panel. It is available in various styles and colors.
Pros
Padded sleeve and straps
15" laptop sleeve
Skid rails adding protection
Good stability
Carry-on luggage
Cons
Handles are not sturdy
Water seeps through seams
11. Kipling Luggage Sanaa Wheeled Backpack – Functional and Unique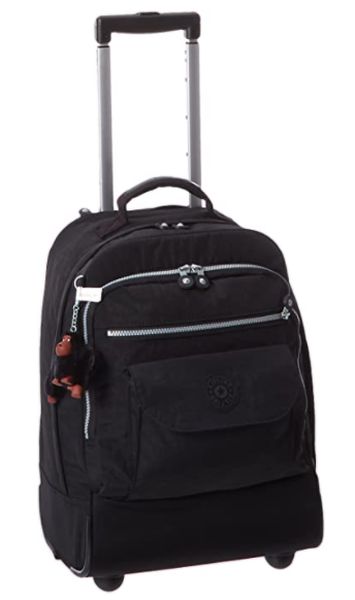 Kipling offers a simple design with its signature crinkle nylon. It is a functional backpack, ideal for travel or school. It comes in a variety of colorful designs and a playful monkey keychain.
The bag is lightweight at around 4.2 pounds with 12.5 x 18.5 x 10.75 inch dimensions. It can be carried on your back or rolled around with a telescoping handle and smooth wheels. The backpack straps are adjustable and padded, keeping the weight off your shoulders.
The bag is spacious yet compact enough for air travel.
Pros
Easy to carry
Lightweight
Spacious
Variety of design and color
Side mesh pocket
Cons
Things To Look Out For When Choosing The Best Wheeled Backpack
Before choosing a backpack, it is wise to decide what you are going to use it for.
If you plan on air-traveling more often, you will need a carry on backpack with wheels. If you need a backpack for everyday use, you will need a durable one.
With your priorities sorted, you can use our quick guide to find the backpack, which is right for you.
Comfort
Comfort is necessary even with wheeled bags because you will be carrying it at some point. Make sure to choose a well-padded harness and straps.
The back and straps should be ventilated through a mesh to keep you comfortable throughout the journey. Hip belts also ensure the weight is equally distributed, and you are not straining your back.
Materials
When choosing a bag, you should check the materials. The fabric of wheeled bags is usually rougher than the normal ones, but it should not weigh you down. Many bags have synthetic materials like nylon and polyester, which are dense but light.
The frame of the backpack should be sturdy, and the wheels must be strong and robust enough to bear the weight of the luggage. Go for waterproof material if you feel you will be out in the rain a lot.
Size and weight
The size and weight of the backpack should be your priority when choosing a backpack. There are plenty of sizes available, depending on your preference – Smaller ones for a shorter trip or larger ones for longer trips.
It should also not weigh more than you can carry at a time. Look for a waist harness to distribute the weight equally.
Pockets and compartments
Not all bags come with compartments and pockets. If this is an essential feature for you, make sure to check before buying a backpack. There are many backpacks with padded laptop compartments and organization pockets.
Pricing
The guide above shows a range of backpacks that costs from $50 to several hundred. There are options available for everyone with different budgets.
If you choose a higher-end one like Osprey, you will spend a lot more money, but they can stand the test of time. There are several less pricey options available as well. A cheaper backpack does not always mean bad quality. You can get an excellent deal if you go for lesser-known brands.
The Bottom Line
Wheeled backpacks are hybrid and can add convenience to your travel. Choosing the best wheeled backpack can be a tough choice to make. The answer comes down to your preference. It is advised to not cheap-out when choosing and pick the one which will last you a long time.