If you have decided to spend more of your free time outdoors and explore nature, investing in a good external frame backpack would be a smart choice.
You could look for a small and compact bag for your solo trip or a spacious one with many compartments for your next family vacation. There are numerous options present and making the right choice is essential.
Heavy, poor quality backpacks can add unnecessary strain on your back and shoulders, which can even result in an injury. External framed backpacks are trendy, comfortable, and have multiple uses. To make your trip hassle-free, a durable, weight distributing backpack with ample storage is a must-have.
To find out about the best external framed backpacks, scroll through our top picks and find out which one would suit you the best.
Top 10 Best External Framed Backpacks Reviewed
1. ALPS OutdoorZ Commander + Pack Bag – Comfortable and light-weight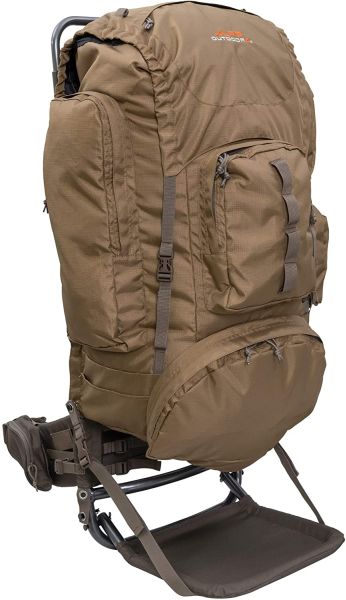 Made to last in the harshest of environments, the ALPS Outdoor bag is a recommendable choice for hikers and hunters. It is a military-grade bag with an excellent price point. Made with durable Nylon Ripstop fabric, it weighs just 7 lbs and 5 oz.
The backpack also comes with many pockets: two side accessory hinged pockets, one main pocket, front pocket, and a spotting scope.
This bag has also been tested for longevity and reliability, and has a secure lashing system so that you can easily detach your bag.
It keeps your heavy loads secure, utilizing the freight shelf. The padded external frame and straps ensure comfort while still allowing air circulation.
Pros
Padded straps
Detachable external frame
Lightweight
Breathable Nylon Ripstop fabric
Spacious
Multiple exterior pockets
Adjustable from 17" to 23"
Cons
The backpack can be noisy
2. Kelty Tioga 5500 Classic External Frame Backpack – Huge capacity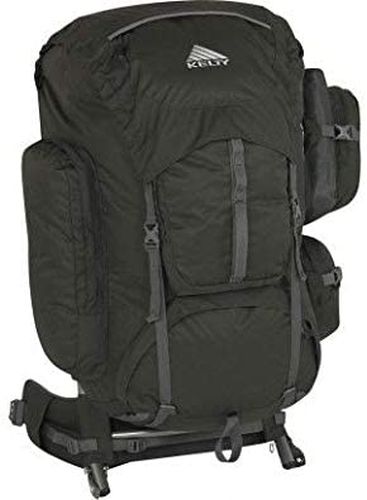 The Kelty Tiago is extremely lightweight and great for hiking. Made from toughened synthetic, it can stand the test of time. Its rigid aluminum frame provides amazing stability and support. It comes with an enclosed sleeping bag compartment, a lid pocket, zippered side pockets, and a mesh water bottle pocket.
It has an astonishing storing capacity of 5500 sq. inches and comes with a compression system. With a great price point and huge capacity, Kelty external frame backpack is a terrific choice for your next hiking trip.

Pros
Huge capacity – 5500 sq. inches
Lightweight
Padded straps and belt
Quick access exterior pockets
Adjustable suspension
Includes sleeping bag compartment
Cons
Doesn't have many internal compartments and pockets
3. Kelty Yukon 48L Backpack – Best for smaller framed body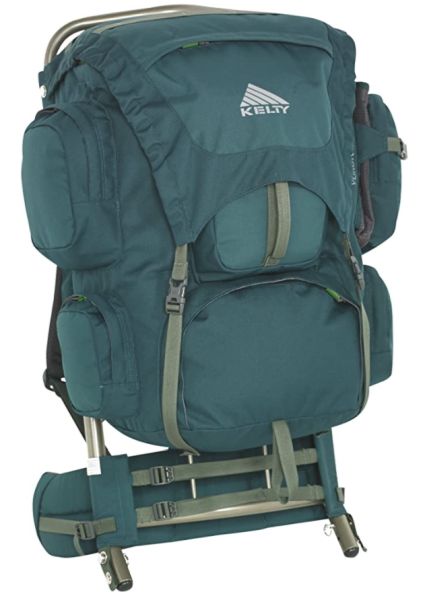 This metal frame backpack is most popular among scouts and young adults for its smaller size.
Its external frame design is lightweight yet durable. This makes it comfortable without feeling overburdening.
The Kelty Yukon comes with great capacity and has a large main compartment. Also, it has a laptop/hydration sleeve with many gear loops. Padded straps and a breathable mesh make it a great choice in hotter months.
Pros
Compact size
Lightweight
Comfortable
Padded shoulders and waist belt
Good capacity
Cons
4. Eberlestock Mainframe Pack – Lightweight but strong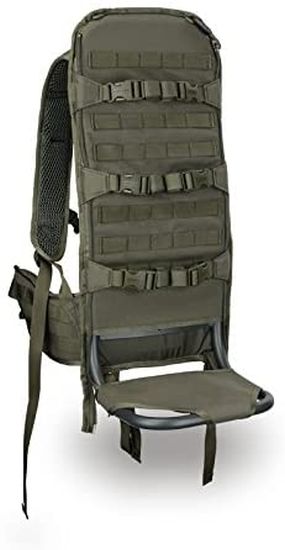 Eberlestock is a commendable choice for external framed backpacks. It is an Intex ll aluminum frame with a zipper attachment point. It is great for those who prefer a higher load lifter strap.
It comes with three built-in horizontal compression straps to secure your gear. The zippered attachment points are compatible with duffels, drybags, and more. It comes in two sizes: tall and regular. The tall one weighs 4 lbs 8 oz., while the regular weighs 4 lbs 8 oz.
It is a great choice for those with a longer torso and has an adjustable ladder harness system.
Pros
Adjustable harness for different sized body
Variety of design and colors
Built-in horizontal compression straps
Lightweight but sturdy
No breakable part
Cons
Doesn't come with its own bag
5. Seibertron 65L Internal-frame Waterproof Backpack – Great price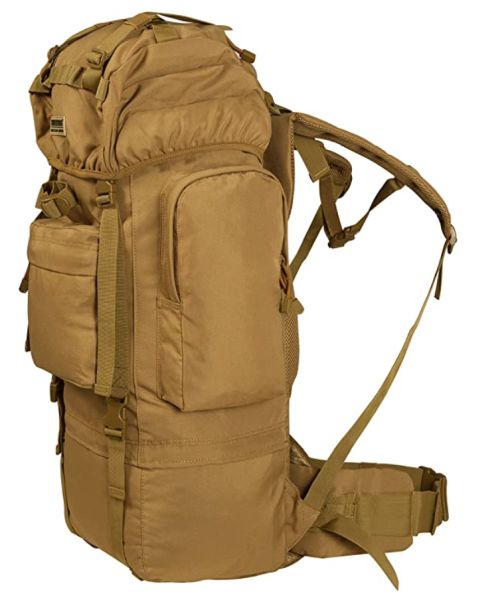 The Seibertron stands out for its waterproofing feature and is an inexpensive option for your next hiking trip.
It comes with a built-in rain cover and is made from lightweight fabric. It is easy to carry around and has a capacity of 40 lbs.
It also comes with several attached pockets and a water bladder sleeve made from nylon. This metal frame backpack keeps the weight distributed and light on the shoulders.
The mesh keeps the air circulating and breathable. It comes in two colors and has a removable aluminum alloy frame.
The reliability with a great price point makes it a famous choice among many hikers and backpackers.
Pros
Waterproof
Breathable
Lightweight
High capacity
Water bladder sleeve
Several pockets
Cons
Doesn't include any expansion feature
6. Kelty Trekker Hiking Backpack – Adjustable suspension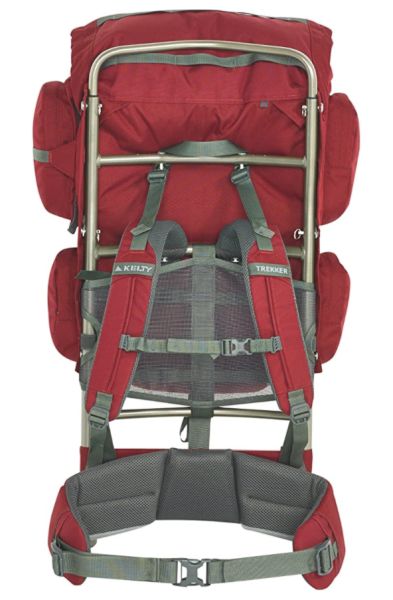 Another great option from Kelty is its trekker hiking backpack. It has a simple design made especially for hikers. It comes with a huge capacity of 5 lbs 5 oz. The external framed backpack has adjustable straps and a dual-density foam waist belt. The stabilizer strap makes hiking easy without putting any pressure on your body.
It has multiple attachment points and a zippered side and front pockets.
The padded straps keep it breathable and remain comfortable during long hikes.
Pros
Stabilizer straps
Adjustable suspension
Top loading
Zippered pockets
External frame
Dual-density foam waist belt
Padded shoulder straps
Lightweight
Cons
Load placement is higher than usual
Best to carry only essentials
7. ECEEN External Frame Hiking Backpack – Solar Charger Panel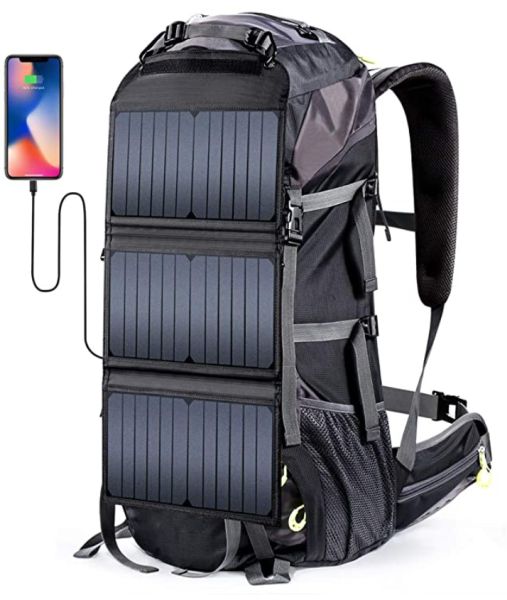 To help you navigate your way during the next trip, this external framed backpack will be the best choice for you. It comes with a 20W foldable solar panel charger, which is also waterproof. The USB port helps you charge your devices easily, and is compatible with several phones like Samsung, iPhone, HTC, or LG.
The material is eco-friendly with waterproof nylon and poly fabric.
Weighing around 3.6 lbs, this backpack is light and easy to carry. Moreover, the shoulder and chest straps make the weight manageable. The large capacity and multiple compartments are sufficiently spacious, and the tight closure and drawstring design make sure you don't lose your stuff.
It has a separate shoe storing pouch and two side pockets to carry your water bottle and umbrella. The padded back keeps it breathable and ensures stability. It is a terrific option for adventure seekers.
Pros
Solar panel charger
Lightweight
Large capacity
Multiple storage compartments
Travel friendly
Adjustable size
Cons
Too big to fit in some cars
8. ALPS Mountaineering Red Rock External Frame Pack – Solar charged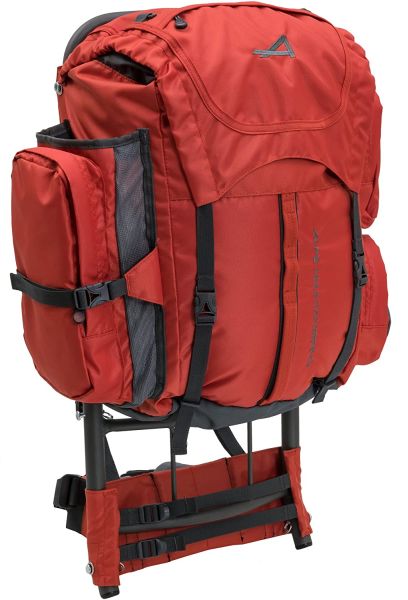 It is a small and light backpack that is great for higher altitudes. Made from lightweight polyester with Lycra covered suspension, the coating is water-resistant and keeps your items dry even in heavy rain.
The aluminum-based external frame with polyester makes the bag just 3 lbs in weight. The metal frame backpack is fully equipped with lumbar support, telescoping frame, hold-on bar, and water pouch. It comes with padded shoulders and straps which adjust the overall weight on your shoulders when you carry it.
The removable waist straps can adjust to different body types and can help you tighten it around yourself accordingly. The capacity is not as big as other bags, which makes it good for shorter trips.
Key features
Lightweight
Adjustable waist strap
Comfortable
Breathable straps
Functional tool attachment
Heavy-duty carry handle
9. ALPS OutdoorZ Commander Lite – Unique lashing system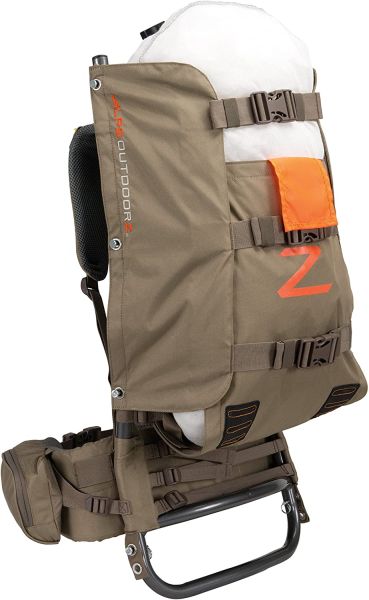 Another backpack by ALPS is the OutdoorZ Commander Lite. It is made with specially toughened waterproof material and also offers rain cover. The unique and efficient lashing system of the backpack makes it a great pick for longer adventures.
It also comes with a padded waist belt that makes it comfortable throughout the journey, coupled with its clip-style holsters to carry a gun.
The backpack is military-grade and weighs only 4 lbs. The external framed aluminum packs make it easy to carry. Detachable and allowing ample air circulation, the backpack has a limited capacity but it is still enough to carry all your essentials.
The bag is extremely functional and provides maximum comfort at a great price point.
Pros
Comfortable
Lightweight
Limited capacity
Waterproof
Unique lashing system
Padded straps
Cons
Not suitable for longer trips
10. TERRA PEAK Adjustable Hiking Backpack – Sturdy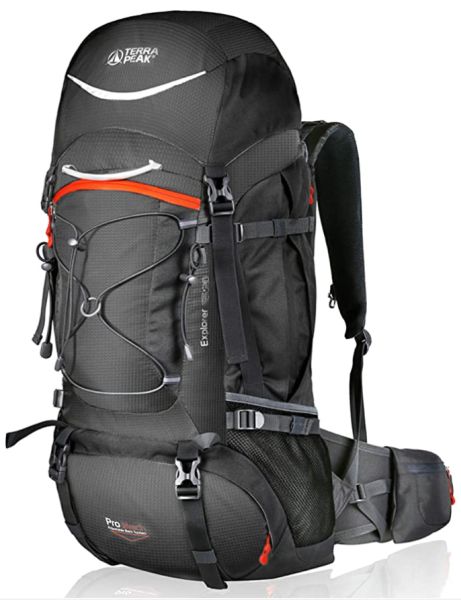 This is a high-quality, professional backpack made with waterproof material. The rain cover feature is an added benefit, and it has an adjustable frame, which is ideal for longer journeys. The padded mesh at back keeps the air circulation going and provides cushioned comfort.
It comes with multiple pockets and 8 compression straps. Numerous external and internal lid pockets and sleeping bag dividers are also included with this backpack.
The exterior is treated with water repellent coating and has a high capacity, accompanied with deep butterfly expansion which adds to its storage capacity.
It comes in two colors: Navy/Red and Black/Green.
Pros
Lightweight
Highly functional
Comfortable
Adjustable straps
Waterproof
Includes tool attachment points
Compatible with hydration system
Cons
Straps are not very comfortable
Cheaper material used
Things To Consider Before Buying An External Framed Backpack
The right external framed backpack allows you to carry heavy luggage without overburdening yourself. However, there are a few things to consider to find out if your pick for a backpack is actually the right one for you.
While this may seem like a daunting task, taking the following factors into account can make this a much easier decision. To facilitate you with this, we've made this comprehensive guide where you can find the external framed backpack that best suits your needs.
Quality
You definitely wouldn't want to invest in a backpack that will last you only two weeks, or worse, break down in the middle of your trip. To ensure good quality, make sure that your backpack is made of materials that do not rip off and keep your belongings safe from rain and sun.
Weight
You must pick a backpack that is light and airy. Heavy backpacks can cause strain on your shoulders and might cause injury if carried for an extended period. A lighter backpack keeps off the additional load off your back and is far easier and more convenient to carry around.
Capacity
A good backpack must be able to carry all your essential gear. If you are a heavy backpacker make sure you look for a spacious and lightweight option. If you don't like carrying too many things around, a small one would be enough for you.
Make sure you can keep yourself organized with ample pockets and compartments.
Fit
Many people are unaware of the importance of getting a backpack which fits your body type well.
It is not at all advisable to use a backpack that is not the right fit for you. If you are small-bodied, carrying a huge backpack to fit your belongings might not be the best idea. Many bags come with adjustable straps and waistbands but if it is ill-fitting for you, it cannot serve you well and may cause injury or aches that could be avoided with the right fit.
Comfort
Carrying a backpack on your bag for an extended period can get quite uncomfortable. Some backpacks are made with thick material that can stop air circulation and make it difficult to carry the load on your shoulders.
To avoid this, make sure your backpack is airy and breathable. Many bags come with mesh padded back and straps to keep things light and comfortable.
Choose the Best Backpack To Accompany You on Your Trips
A good external framed backpack is your secret to a light, comfortable, and hassle-free trip. If chosen wisely, the right backpack can last your lifetime and make your trips a lot easier. There are endless options to choose from and we hope our buying guide above helped you choose the right one for all your memorable trips to come.