Bell Stratus MIPS is a mid-price offering that aims to offer users a taste of the premium segment. This is a well-made helmet that seeks to cover the ground for user requirements while keeping the price low.
As we see in this Bell Stratus MIPS review, the helmet offers a lot of features seen in premium offerings. So why is it priced low? For the most part, it is how those features are implemented. Let's take a deeper look!
Highlights For The Bell Stratus MIPS Biking Helmet
Pros
Good ventilation
Good value for money
Lightweight helmet
MIPS for additional safety
Cons
Adjustment system is rough around the edges
The Element Of Comfort, Fit, And Adjustability
Ventilation And General Aesthetics
Ventilation is always a good place to start when talking about bike helmets. Bell Stratus MIPS has 18 vents. They're well-placed and well-designed enough to ensure good airflow to keep your head cool.
The general design looks fairly good and is fit for purpose. It's not something to write home about – it won't blow you away, but there's nothing to find fault here. This is a fairly good-looking and reliable helmet.
Is Bell Stratus MIPS Comfortable?
I'd say the helmet scores well on the consideration of general comfort, with some points removed for its adjustability troubles – we'll get to those in a minute. But as its conventional duties go, this helmet does a great job of keeping the wearer comfortable.
A generous sweat guide padding across the forehead keeps the sweat off your face. The overall padding and set up is comfortable, the straps line up well, and you can basically ride the bike without much worry about your helmet.
Adjustability And Getting The Right Fit
Stratus comes with Bell's FloatFit System for adjustment and fit. It's a good system, though obviously not as refined as the one that Bell uses in its top-line helmets. It does a good job at cradling the head while allowing convenient movement.
It employs a two-way dial to loosen and tighten, thus presenting easy adjustment options. Simply twisting the dial should get you to the right setting of fit and adjustability. Bell Stratus MIPS is available in three size options: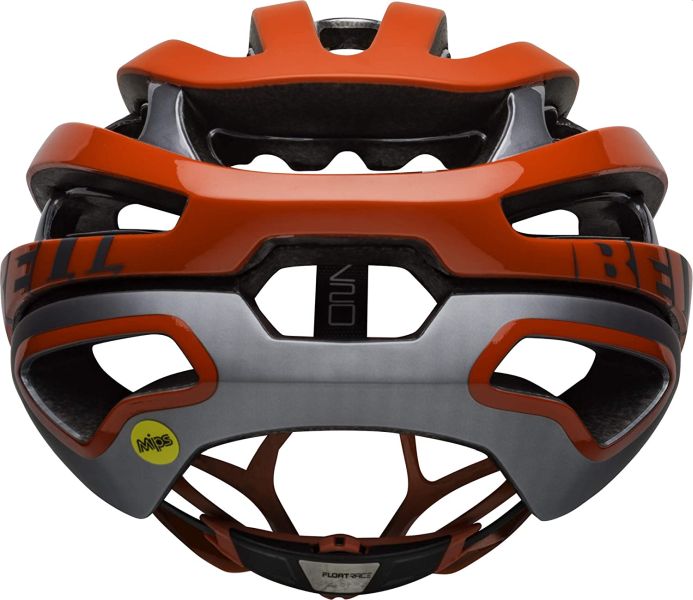 Small (52-56 cm)
Medium (55-59 cm)
Large (58-62 cm)
A sliding flip handles the vertical adjustments and overall makes it possible to get the right fit. Once you're done, the helmet does feel adequately comfortable and convenient.
Since the system is not as refined as the company's top-level, it might take a small time to get it all together. It doesn't take a lot of effort or time, just a bit more, and it's something to be aware of. Well, the height adjustment can be a bit fiddly, and that's annoying, but it's not a big negative, especially once you get used to it.
The dial as well as the height adjustment are easy to access and can be worked at with little effort. Overall, the adjustability for size is relevant and fairly likable.
Using And Adjusting The Straps
Bell uses its No-Twist Tri-Glides system for the straps on Status MIPS. Theoretically, this is a good system and is also used on the company's higher range models, like the Bell Z20. The large Y-straps come with buckles for easy adjustment. You could move the straps and buckles to your preference and get an excellent, well-oiled working system.
There is, however, an adjustment problem. The use of buckles and fasteners doesn't quite add up that well, and they tend to get loose. There's a good chance you'll have to readjust the buckles and fasteners a couple of times when you're wearing this helmet. Not a terrible way to go, but another inconvenience to think of.
This is perhaps one of the reasons why premium segment helmets like the Kask Protone don't use adjustable Y-straps. To be fair, that's more of my assessment than an actual (or confirmed) reasoning from helmet manufacturers.
The straps used are average, perhaps a bit stiff, but overall without anything to make them stand out.
The Weight Equation
This is a fairly lightweight helmet. Bell Stratus MIPS weighs in at 296 grams for a medium-sized helmet. It's fairly close to its premium competitors, and does an excellent job with the overall weight.
Keep in mind, the MIPS layer adds about 30 grams to the weight here. What's more interesting is that the Bell Stratus MIPS is almost 20 grams lighter than its more advanced sibling, the Bell Z20.
Aerodynamics Of This Helmet
Let's just say that the aerodynamics of this helmet is acceptable. It wasn't designed to be a high-end product with low drag coefficient. It's only goal is to protect your head and be comfortable. It does remarkably well where comfort and ventilation are concerned. It's pretty much average about aerodynamics.
For an average biker, this makes little to no difference. In fact, you might even prefer the better ventilation this helmet offers. Besides, this is sleek and well-made enough, so it's not like the aerodynamics are bad.
Usage And Buying Considerations For The Stratus MIPS
Value And Durability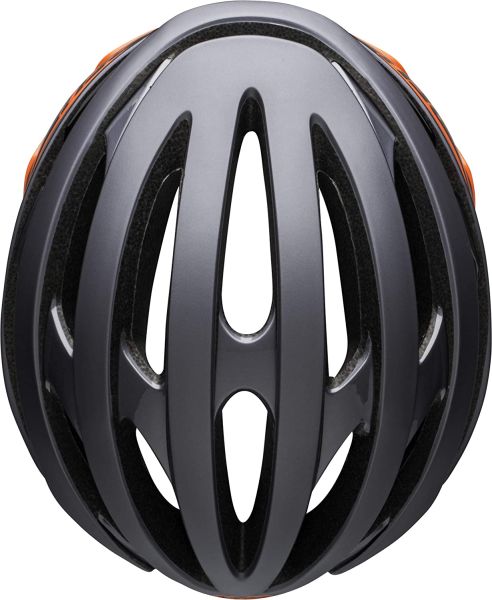 As things stand, the Bell Stratus MIPS is a good-quality mid-tier helmet with plenty of likable features. Sure, it can feel a bit rough around the edges if you compare it with premium helmets, but with similarly priced helmets, it does have a remarkably good presence.
It offers good looks, design, and best of all, excellent safety features. Most of our comparisons here end up talking about premium segment helmets, which is a sign in favor of the Stratus. It has great features that make it worthwhile to compare this helmet to higher-priced offerings.
Sure, it feels a bit off when we compare it to a leading helmet like the Giro Synthe, but this isn't supposed to go toe-to-toe with the leader(s). If you're looking for good value, and don't want to spend on a premium helmet, the Bell Stratus MIPS is a good choice.
The helmet can reasonably be called durable, though it makes a few sacrifices that reduce the durability. For example, the larger front vents affect the structural integrity of the helmet, making it more prone to cracks or breakage due to general use and regular wear and tear.
Safety And Protection
Bell Stratus MIPS fairs pretty well where safety is concerned. Its polycarbonate shell covers the EPS foam molded inner, and the setup is designed to absorb impact and protect the user. The presence of MIPS is a plus, adding another layer of protection for the wearer. It meets (and at points, exceeds) all required parameters for helmet safety.
The durability part does come into play here. And the weakened supporting bridge for the front vents can get problematic. It doesn't negatively affect the safety of the user – it is a helmet durability situation. However, I'd have preferred it to look more reassuring.
Customer Opinions On The Stratus
As a mid-priced helmet with premium features, Bell Stratus MIPS reviews from customers have been favorable. Most customers enjoy the helmet and its fit; its ventilation is also a big hit. Easy adjustability and movement continue to be encouraging factors.
However, many customers aren't at all enthused at the prospect of regularly touching up the buckles so the helmet stays in shape. And those who've used premium helmets can't help but compare the adjustability options. Again, they remain favorable, but a more refined approach could be appreciable.
One customer review says:
This helmet has a great reputation as a top buy for safety and airflow. Has similar design to my 5 year old Specialized helmet so it made sense to me to go with what works. Unfortunately the medium would not fit my head so had to return. I read that the manufacturers are adding MIPS liners to non-MIPS designs and it impacts the sizing. DOn't know if that is the case with this design but according to the chart a Medium should fit. Going to order a large.
By the way, that's sage advice on sizing. If you're upgrading from a non-MIPS helmet, keep in mind that the MIPS will need space. So you'll have to accommodate for that with sizing and go larger for your size. Of course, it's no problem if you're safely within the range of the three sizes. However, if you're near the end of any size, it might be worthwhile to try a larger size.
The Verdict – Is It Worth It?
There's a very iffy area for mid-range helmets. Should you add a few bucks and get a premium option instead? Or save a few more bucks and get a cheaper option. There are tons of cheaper options and several more expensive options. At the end of the day, it all ends up on where you want to spend your money.
This Bell Stratus MIPS review sees the helmet to stand good on its merits. Perhaps it could do better with value and durability. It doesn't help that this helmet flirts with the price line of premium segment helmets without actually going there.
I don't see it as the best value, but in most features, it manages to justify its pricing well. Top-quality features and a good build are enjoyable and encouraging factors to consider.