This semi-aerodynamic and stylish helmet is a popular pick for customers in the premium segment. Well, if it was good enough for Team Sky in the Tour de France, it has to be good enough for the average rider, right?
Theoretically true, and this is a decent helmet to buy. But then the average buyer may also look at other choices and see if the market has a better helmet to sell. In this Kask Protone review, we take a closer look at the helmet and all it has to offer.
It makes sense to consider all options before you commit to an expensive helmet. Let's see what's on offer.
Kask Protone Helmet Highlights
Pros
Highly adjustable
Aerodynamic
Good ventilation
Comfortable and lightweight
Several color options
Cons
Protone Features And Settings That Matter
What Say The Looks And First Impressions
The helmets are designed and made by Kask in Italy. Many often compare them to Italian suits – great looking, comfortable, and expensive! As far as appearance goes, the Kask Protone helmet is definitely good-looking and stylish. The design looks stylish, yet one that manages to keep functionality intact. In fact, Protone includes several features that make it a great pick.
Kask Protone is available in several colors and three size choices. Considering available options, there are ample opportunities to customize the helmet to your preferences. Or rather, get the helmet in the size and color of your choice.
It looks pretty good when you wear it. There's no mushroom head problem, which is a big plus. Speaking of, much like the Kask Mojito, is also a great fit for people with larger-than-average heads.
Ventilation And Aerodynamics Of The Helmet
This Kask bicycle helmet looks like it has great ventilation. But let's foray beyond that. There are 20 vents on the Protone and they are quite prominent. The well-placed and large vents ensure that the airflow is continuous and your head stays cool.
The vents form internal channels that keep the air moving steadily and direct airflow. Quite like the Giro Synthe, these vents work best when you're biking at speed. If you're moving slow, the vents aren't all that effective. Since we are comparing it with the Giro Synthe at the moment, I'd say Synthe works better.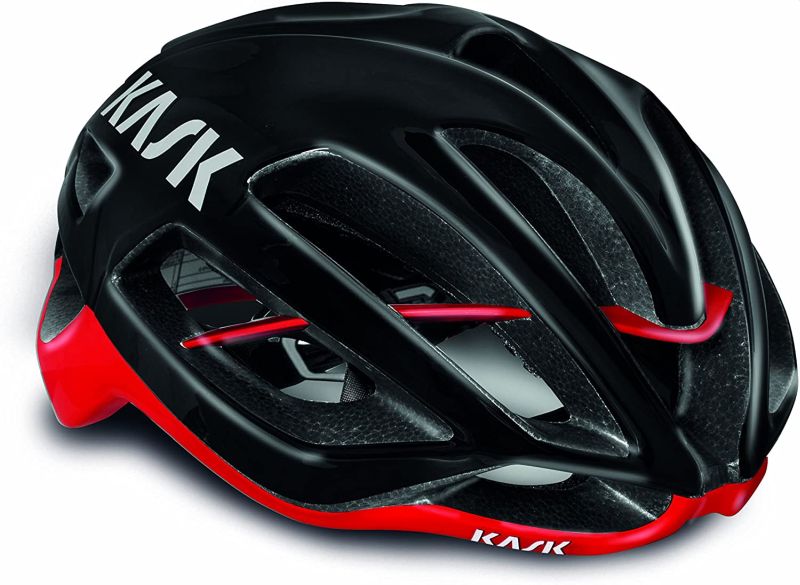 Kask says that Protone has excellent aerodynamics. They like to present it as the aerodynamic helmet for everyday riding. The company claims that Protone has the lowest drag co-efficient of any ventilated helmet available. Well, there is no way to test this claim without a wind tunnel, but for the average user, Kask Protone is likely to feel (at least) as aerodynamic and comfortable as other premium helmets.
Kask Protone Review Of Comfort, Fit, And Adjustability
Adjustability Options – Getting The Fit Right
Kask Protone gets the company's Octo Fit adjustment system. This system allows eight planes of adjustment, allowing the helmet to fit a variety of head sizes or custom preferences. It's one of the helmets that people with larger than average head-size usually prefer.
There are two ways to position and adjust the helmet. The vertical positioning bar enables the helmet to move about two inches. Two sliding cups help with the adjustment and fit. An initial setup brings the fit, after which, moving the dial at the rear secures the helmet. It's a fairly convenient process and the fit is usually comfortable.
However, there are a few user complaints about the helmet pushing against their temples. Rare as these incidences are, they're certainly something to keep a note of. To be fair, this isn't a complaint exclusive to Protone. Many other helmets, including the better-fitting Giro Synthe, deal with similar issues.
The helmet is available in three sizes. These are:
Small (50-56 cm)
Medium (52-58 cm)
Large (59-62 cm)
The overlap between the small and medium sizes is a good thing. It can lead to a better fitting helmet, one more suited to your head size.
Protone's rear dial remains easy to access and maneuver. It's prominent enough to be easily accessible and can be maneuvered well even if you're wearing gloves.
See pricing and buying options
Strapping The Helmet
Kask Protone has fixed Y-straps that go around the ears. Though not adjustable, these straps aren't irritable to the skin and don't cause any annoyance. Since these aren't adjustable, there is a possibility that they may rub against the ears. In practical scenarios, this almost never happens. Though I'm including this as a possibility – simply because there's a chance it might happen.
The chinstrap is comfortable. It features Kask's approach of using faux-leather (or eco-leather), which makes it feel comfortable against the skin. The soft and plush feel is more than welcome!
How Comfortable Is The Kask Protone?
Comfort takes the center stage in the helmet. The padding is plush and the foam sits in nicely. Its inner padding is made from CoolMax fabric, which does the job of keeping the helmet comfortable. This layer is removable, washable, and treated with an antimicrobial process to keep germs and odor away.
Then there's the 3D DRY padding with its multi-layer open-cell construction. Overall, these layers create a good sensation of comfort and a plush setting. Interestingly, these multiple padding layers are perhaps the only "excesses" you'll see in this otherwise weight-conscious helmet.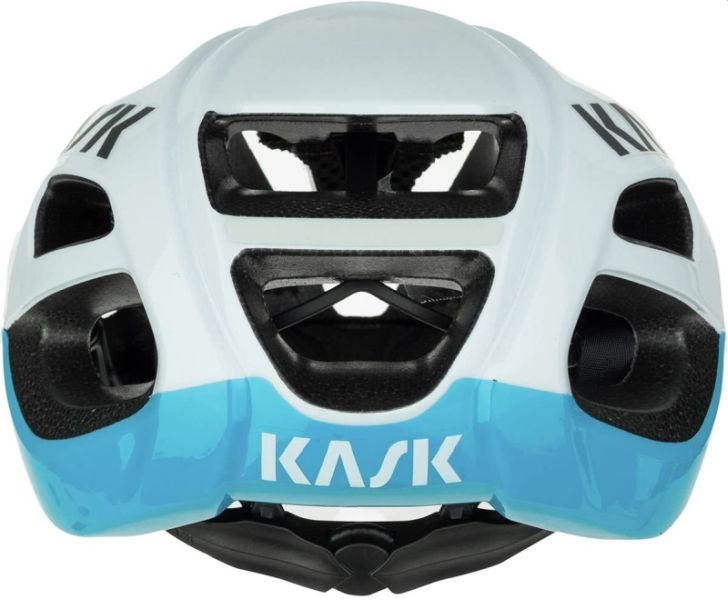 On the other hand, it makes the lack of a MIPS layer stand out, considering all the foam and padding. The extra touch of safety that MIPS promises would be well worth the investment in a premium helmet like this.
Anyways, the plush padding and fit of the helmet keep it firmly in place. Apart from being genuinely comfortable, the setup also ensures that sweat doesn't roll down from your head to your face. Those little droplets can be annoying buggers, so it's good that they're kept out.
Weight
The lightweight helmet weighs in at 230 grams. It's lightweight and does better than most of its competition in this category. But then again, most of its competition uses MIPS inserts, which add 30 grams to the overall helmet weight.
So, it seems like the gains made in a lower weight come from the lack of MIPS. Though to be clear, the helmet does have a remarkably lightweight construction. Especially considering the plush foam padding it uses.
The Safety Angle – How Good Is This Helmet
Safety is the primary motivator for the need for a helmet. And when you're buying a premium helmet, it makes sense to expect premium safety features. On that note, the Kask Protone does pretty well. The helmet has excellent safety ratings and is CPSC Certified.
Kask says their helmets meet (and usually exceed) the required safety parameters for American and European standards. Now that's quite encouraging.
But there's an aspect we've touched in previous sections – the lack of a MIPS layer. A premium helmet without the extra touch of safety feels underprepared. Even the (much) lower-priced Giro Foray offers a MIPS layer.
To be fair to this helmet, MIPS isn't a part of the required safety standards in either European or American systems. Some might even question its actual usability in providing additional safety. I'd say let's err on the side of caution.
Overall, yes it can be said that the Kask Protone has a good build quality and offers excellent protection. The polycarbonate shell is thicker than average and does an excellent job of protecting the EPS foam (and your head). The strengthened inner frame has better mechanical strength and thus offers greater protection against an impact.
Kask makes use of their Multi In-Molding technology that joins the inner polycarbonate cap with the outer one. The full-wrap helmet helps with the durability of the helmet, as well as the overall safety.
Kask Protone Value And Customer Opinions
Kask Protone claims to be durable and safe. The specifications and numbers point to that, as do the numerous Kask helmet reviews from customers. Its solid build and reliability are huge selling points. But the adjustability stands out too. Several reviews suggest happy consumers finally finding a helmet that was the "right fit."
The excellent ventilation and aerodynamics also make an appearance in user reviews. One review on Amazon says:
For my 57cm head went with [a] medium which fits like a glove with included padding although I would not mind [a] slightly deeper fit. Still, these helmets look nowhere as mushroomy as the other more common designs. Plenty options for adjustment with vertical/horizontal retainer system. Tried the large one and there was too much wiggle room side to side but it sat lower. Probably someone between sizes could consider larger size if riding with a cold weather cap.
The Finale — What's Our Take On The Kask Protone
We can safely say that our Kask Protone review found the helmet to be impressive. It has great looks, design, safety, and comfort – practically everything you can ask from a helmet. Well, it does have a big price tag as well, but that's to be expected from premium helmets.
My only gripe here is that the helmet often feels second to the Giro Synthe. That one has the Kask Protone on the ropes. Except for the eco leather chinstrap – that one's great.