Kask is an Italian company with a very rich range of helmets. Mojito is one of the better-known offerings from the company. Though these helmets are on the expensive side, the workmanship and quality often convince users that they're well worth the price.
Mojito has undergone several iterations and improvements. For our Kask Mojito reviews, we'll consider these changes too. These include the Kask Mojito, Mojito X, and Mojito3 (Mojito Cubed).
Top Factors And Consideration For Kask Mojito Helmets
Ventilation And Airflow To Keep You Cool
Mojito helmets are all big on ventilation. You get plenty of vents and the airflow stays quite on the impressive side of things. A few vents on the helmets are large enough to allow some airflow even when you're going slow. Since biking slowly is when you often feel the hottest, these helmets do pretty well in cooling things down.
Kask Mojito and Mojito X both have 26 vents. That's quite a lot, but the idea here is to keep air moving and both helmets fare admirably well at that. It should be noted, that while they have the same number of vents, the placement changes between these two iterations.
There are some huge vents in the Mojito that expose a portion of the head for extra ventilation without compromising on safety. Mojito X follows a similar model, though the vents are more subdued. Still, they remain equally prominent functionally similar. The larger difference here comes with safety. Kask says Mojito X offers greater protection than the original Mojito.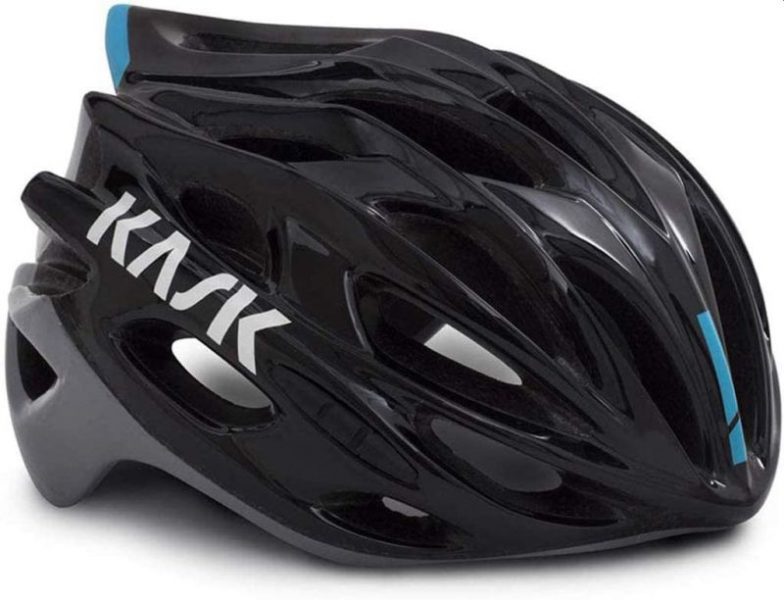 Things change quite noticeably for the Mojito3. There are differences between Mojito and Mojito X, but Mojito3 is evidently a different beast. The latest iteration of the Mojito line, Mojito3 has fewer vents, though it does better with ventilation.
Mojito Cubed (Mojito3) has reduced the number of available vents to 17. Kask says that though the number of vents has been reduced, the vents on Cubed are larger. Well, that part is pretty apparent once you put these two helmets together. This has also resulted in better ventilation for the latest model.
To sum up, Mojito Cubed has the best ventilation amongst the three. Mojito X and Mojito are pretty much at the same level, though some may say X does better.
See Kask Mojito on Amazon
Get Kask Mojito X
Buy Kask Mojito Cubed
Overall Appearance And Design
Kask knows good looks and it shows in the design of their helmets. All of these helmets look fairly good and well-designed. Mojito and Mojito X are very similar in looks, though there is a slight difference. Cubed takes a different approach, but there isn't anything to fault it for, as far as the looks are concerned.
Aerodynamics is an inherent part of the appearance of helmets. And while these are good looking, none of these helmets can be considered particularly aerodynamic. The helmets fair average at best in this scenario. But then again, the average user probably won't notice a difference!
Although if aerodynamics does matter to you, there are plenty of non-Kask options that offer better performance than Kask Mojito helmets at a similar price.
Weight is another important consideration. Practically the entire Mojito line walks the fine line of being considered low to medium weight. Well, if you aren't being very specific, these helmets can be safely considered low weight. Their weights for medium-sized helmets are:
Kask Mojito: 226 grams
Kask Mojito X: 220 grams
Kask Mojito Cubed: 230 grams
Kask Mojito Helmet Review – Use And Performance
Adjustability And Comfort
All Mojito helmets have good handling for adjustments, although it varies by each helmet. However, all variants have vertical and circumference adjustments.
Kask Mojito makes use of the Kask up and down hinged adjustment system. The rear dial is large enough to be easily accessed and moved as necessary. It's placed well and can be operated easily even with gloved hands. This property pretty much stands true for all Mojito helmets.
Moving the dial provides an adjustment of the circumference, while the up-down system can be moved for better vertical maneuvering. There's relatively slim padding near the rear dial, though it stays secure and comfortable.
Mojito X follows pretty much the same line where adjustability is concerned. We're still on the Kask's Up & Down fit system and the dial remains easily accessible. The padding in the helmet is comfortable and it fits in light and convenient.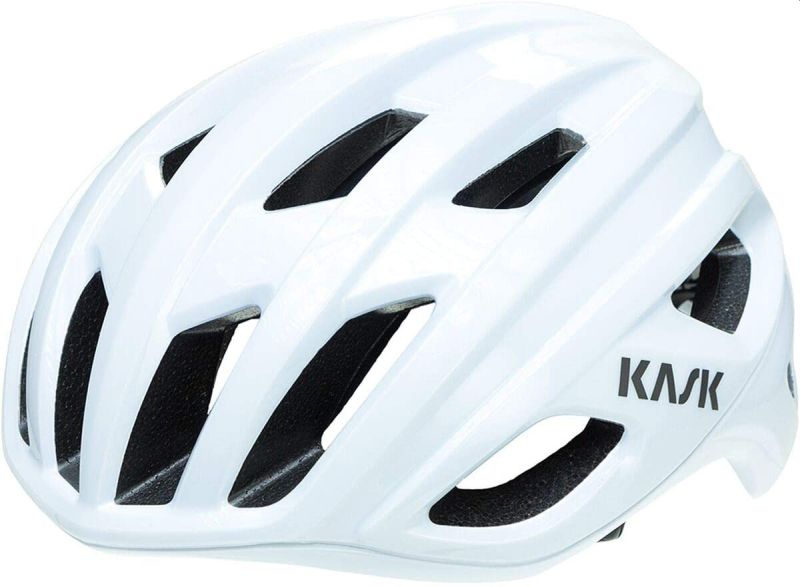 It's at the latest iteration where Kask upped the adjustment system. Mojito3 uses the better suited and designed Octo Fit retention system. It's easier to adjust, fits better, and feels more comfortable than other options. Its performance is very similar to Giro's Roc Loc Air Fit system. Although if we are comparing, I'd say Giro Synthe does it better.
As comfort goes, you won't have anything to complain about. The cushioning and foam is placed well to stay out of the way, but still be comfortable. There won't be any sweat rolling down your face either.
Strapping Down The Mojito
Mojito has largely the same approach to straps for all helmets. And you either love them or find them to be meh. Y-straps that go around the ears are made from nylon and feel fairly comfortable against the skin.
Chin straps take a different route. The bit that goes under the chin is made from faux leather (or eco leather, whatever your preferred terminology is). It feels soft and plush, and that's really something. It's a nice touch – and I love it.
The presence of leather also adds a premium feel and look to the helmet. Although to be balanced, I should say that not everyone is as impressed by the leather chin strap as I am. Many people prefer the straight and smooth nylon over the leather fix.
See Kask Mojito on Amazon
Get Kask Mojito X
Buy Kask Mojito Cubed
Safety — Where The Mojito Helmets Stand
All said and done, any helmet's primary job is safety. And before we get to discussing specifics for this Kask Mojito Helmet review, let's talk about MIPS!
It is pretty much standard for all premium helmets to have MIPS. Heck, even the much cheaper Giro Foray includes a MIPS option. So it's odd that Mojito skipped on this safety tech. The presence of anti-rotational impact protection is reassuring, so the lack of MIPS is a letdown.
To speak for the other side, the benefits of MIPS aren't essentially accepted. While I am on the pro-MIPS wagon, it's a good idea to keep an open mind to the counter-arguments as well. Besides, MIPS doesn't figure as a necessary technology in either European or American safety standards.
As far as protective qualities according to requirements are concerned, all Mojito helmets perform admirably. In fact, they go beyond safety standard requirements in pretty much all categories.
For example, Mojito Cubed beats the European safety requirements by 48%. It's also way ahead of the curve compared to Mojito X and features far better protection for rear, front, and top impacts.
The helmets make use of Kask's in molding technology to offer greater protection and safety. The polycarbonate shell wraps around the entire surface area of the helmet for greater safety. This also helps avoid the EPS shell cracking open in case of an impact.
I still vote for MIPS, but apart from that, there are no issues with the safety features of these helmets.
Kask Mojito Highlights
Pros
Good looks and design
Excellent ventilation (Mojito and Mojito X have 26 vents. Mojito Cubed has 17, but they're larger)
Very comfortable and easy to fit
Good safety specifications according to standards
Easily adjustable
All variants have plenty of color options and choices
Cons
Lack MIPS for extra safety
No exceptional features. For everything that Mojito helmets do, some competitors offer the same but excel in some features
Consumer/User Opinions On Mojito Helmets
User impressions of Mojito helmets are overwhelmingly positive. Each variant, Mojito, X, and Cubed has buyers affirming their satisfaction in the purchase of these helmets. The most common themes are the available color options, design, and overall dependability of these helmets.
Many users absolutely love the adjustability options and there are several recommendations for using the helmet with large or huge heads. One customer reviewing the Mojito X on Amazon says:
My head is just a bit bigger than a Large, so XL it is for me. The side effect of this is that most helmets look huge on top of my head making me look like a 6'3" mushroom. This helmet however sits nicely on my head, low and sleek. And it's very light too allowing me to forget its on. And the leatherette fastening strap that clips on the left of the face rather than under the chin is awesome. I don't think I will be able to [go] back to a different helmet after this one.
(Some changes were made for presentation. Although the content and its import remain unaltered.)
It's Decision Time – What Say You On Kask Mojito?
If I were to declare a verdict, I'd say… meh. Don't get me wrong here, these helmets perform quite well in pretty much every metric that our Kask Mojito reviews care about. But they don't quite capture attention and interest. Or even excel at something.
That said, all three variants are very capable helmets and safe picks for your biking needs. If you are interested in Mojito helmets, I'd suggest putting more interest in the Mojito Cubed. It's newer, more refined, and better than its predecessors or practically all counts.
See Kask Mojito on Amazon
Get Kask Mojito X
Buy Kask Mojito Cubed