Getting on your bike and setting off on an adventure is an exciting and exhilarating experience. Exploring new bike trails and different territories is something we all enjoy. However, on our odyssey to seek new bike trails, we may have to transport our bikes.
Taking care of bikes during transportation is essential for keeping our bikes in top shape. This is why it is necessary to have a great tailgate bike pad to keep yours intact.
In this guide, we have reviewed some of the best picks for bike transportation gear for pickup trucks.
Editor's Choice: Race Face T2 Tailgate Pad
A well-regarded bike pad with excellent construction and durability, RaceFace does inspire some confidence. Race Face T2 Tailgate Pad is available in several sizes, making it fit for use in trucks of varying sizes, or for the number of bikes to be transported.
A rugged PVC tarpaulin exterior and a micro-brushed inner lining ensure that the pad has a good lifespan. More importantly, it makes sure things go easy on the truck and the bike.
Top Picks for Best Tailgate Pads
1. Softride Shuttle Pad Tailgate Bike Rack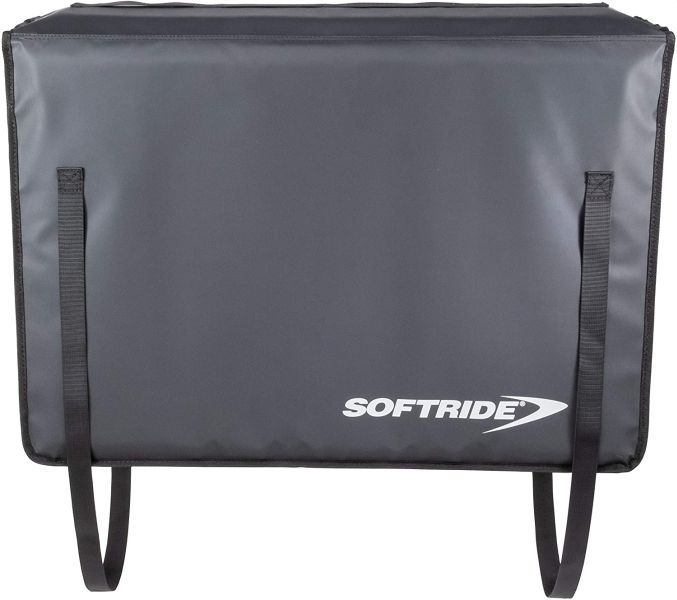 For a quick trip and easy transport of two bikes, the Softride Shuttle Pad works just fine. The Softride Shuttle Pad is a compact pad for pick-up trucks. It is 25 inches in width and is compatible with all trucks. It can carry up to two bikes in the pick-up truck bed and includes four soft wraps to secure two bikes to the tailgate. The straps are made of rugged nylon for durability.
Heavy-duty foam padding ensures additional protection to the bikes and truck paint. You can also use the Softride pad to transport other things such as equipment, paddleboards, and tools.
Pros
Attaches easily to the pickup tailgate
Available in several sizes to suit specific needs
Easy to use velcro straps to secure it in place
Convenient padding for added protection
Cons
May need frequent readjustment to stay in position
Uses plastic buckles to hold on to the tailgate, but they can break relatively easily
2. Race Face T2 Tailgate Pad

One of the most durable tailgate pads, the Race Face T2 is available in two sizes. Available options include an S/M for most mid-sized trucks, and an L/X that is compatible with most full size pick-up trucks. The smaller model accommodates up to five bikes, while the larger accommodates up to six bikes.
The RaceFace tailgate pad is made of PVS tarpaulin, a high strength plastic cloth. This makes this tailgate pad 100% waterproof. It's also easy to clean and wash, which makes life a lot easier whether you're transporting bikes or other cargo.
Other useful features include a micro-brushed inner lining and extra padding to keep the paint of your truck protected. Additionally, the strong and reliable straps ensure that the pad stays put even for long durations.
Pros
Bike pad attaches securely
Can handle 5-6 bikes
Good construction
Cons
Setting up the bike pad can be a 2-person job
Lacks padding at a few points
3. evoc Tailgate PAD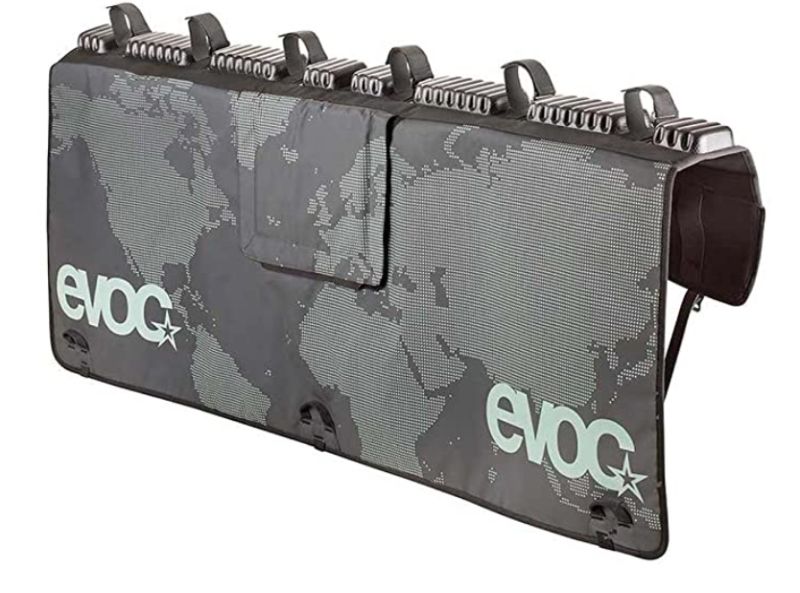 The evoc Tailgate PAD is often considered amongst the best truck tailgate bike pads because it's light-weight and ease of use. Available in multiple sizes, this pad has options for medium sized trucks (five bikes) or for larger sized trucks (six bikes). It is extremely easy to install, needing only a couple of minutes for doing so.
The pad makes generous use of silk in its construction, making it attractive and also durable. It has a quick access to the flap lever for easy loading. A fold-away flap allows you to use your pick-up truck's rearview camera unhindered by the pad. This is a small touch but makes a big difference in the overall safety and quality of the pad.
Pros
It attaches easily with three straps
Quality (almost luxurious!) construction
Can be used for 5-6 bikes
Cons
Might not last long with bigger, heavy-duty bikes
The fold-away rear camera flap may not work with every truck model
4. Yakima – GateKeeper Tailgate Pad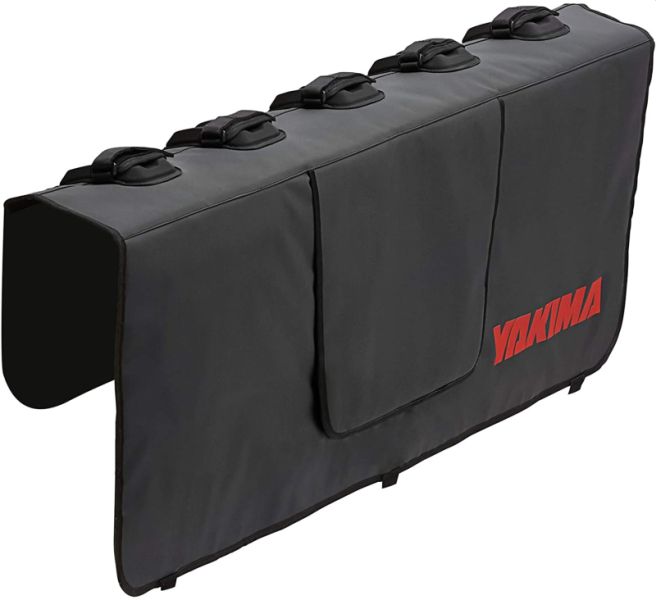 Yakima GateKeeper Tailgate Pad can carry up to five bikes and conveniently fits mid-sized and full-sized pick-up trucks. It has a Velcro cradle system that is strong, yet soft enough for carbon bike frames and paint.
The cradle keeps your bikes from shifting and moving during your transport, thus providing a more secure environment. Yakima tailgate pad has a rugged nylon exterior allowing it to resist all types of weather. The under layer is made of extra soft felt, protecting your truck from scratches or damaged paint.
This bike pad is lightweight and easy to install. It also has a HindSight Cover that makes it possible to continue using the rear-view camera when the pad is attached.
Pros
Rugged, weather-resistant nylon exterior
Soft and reasonably protective under-layer
It is easy to install, but it may take a bit longer than other tailgate pads
Cons
Hindsight cover for rear-view camera may not work well for all trucks
Large overall size
See pricing and buying options
5. Fox Racing Large Tailgate Cover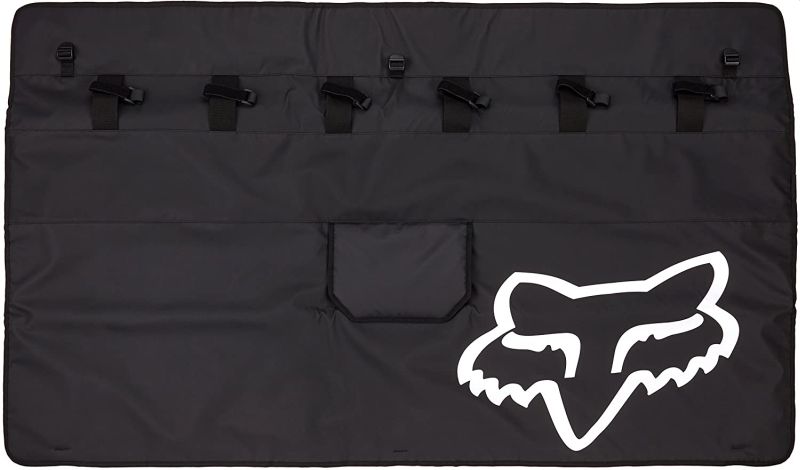 Fox Racing Large Tailgate Cover is excellent for adventurous trail bikers. Large enough for six bikes, it's also great at protecting the bikes and the pickup truck. It has three straps, keeping it secure and the velcro bike loops are a nice touch. Extra padding in all the right places provides extra protection for the tailgate.
The cover is highly durable and can withstand any type of weather and precipitation. It is extremely easy to install (under two minutes) and load, and stores easily. It also features a flap that allows you to use your truck's rearview camera. Its good looks and overall quality design do help its case.
Pros
High-quality and durable build
Quick to set up
Offers good protection
Cons
Rearview camera flap not compatible with all models
Straps may sometimes come loose
6. Demon Tailgate Pad for Mountain Bikes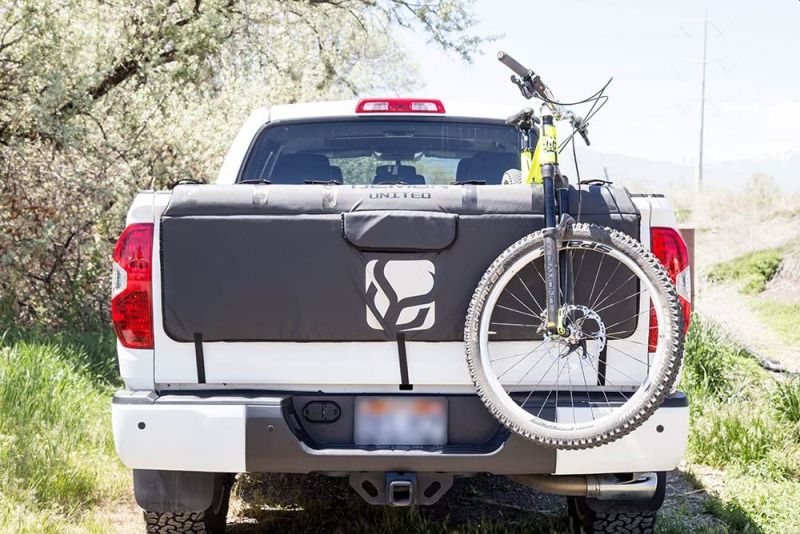 The Demon Tailgate Pad for Mountain Bikes is the largest tailgate pads and also amongst the least expensive. The price and value combo is pretty attractive and doesn't fail to garner attention for this pad. With 62 inches in length, it is suitable for full-size pick-up trucks. With the large size, it can hold up to seven bikes at one time. It also features a pocket for mechanical tools.
Other notable features include a thick foam padding and a super soft under layer. The duo offers adequate protection for bikes and the paint on your pick-up truck. The Demon Tailgate pad allows you to open your tailgate while still strapped on. The straps are web cinch and secure the pad to your pick up truck. It also has a flap for your use of a rearview camera.
Pros
Attractive pricing and good value
Heavy-duty, waterproof vinyl cover
Flap for rearview camera
Cons
Questionable longevity
Its straps might prove short for some trucks
7. atliprime Truck Tailgate Pickup Pads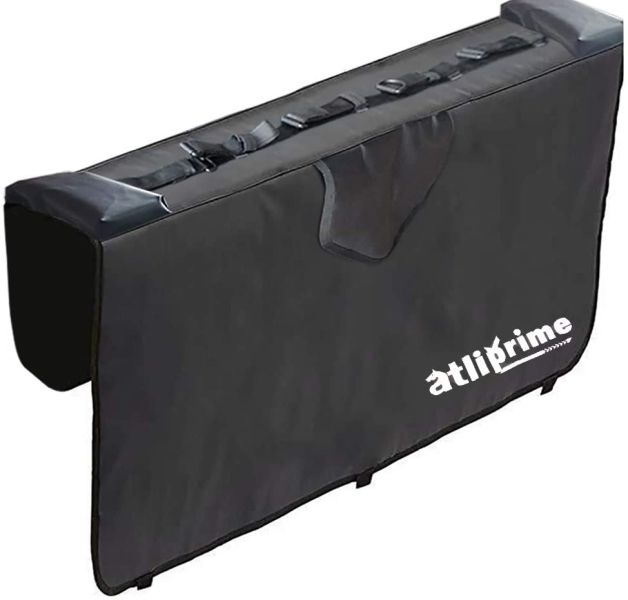 Another option with excellent value, atliprime Truck Tailgate Pickup Pad has five points to secure bikes. A flannel and foam combo protect the truck as well as the bikes from dings and scratches. With a thickness of 0.7cm, it manages to provide adequate protection without being overly bulky.
The pad is easy to install and allows the tailgate to open while still in place. The atliprime tailgate pad also features a tool pocket for any mechanical tools you may need on your biking adventure. A PVC layer keeps the pad waterproof, though the same protection isn't extended to the tool pocket.
atliprime Truck Tailgate Pickup Pad is easy to attach to the truck. Also, securing bikes to the pad remains simple and easily accessible.
Pros
Easy to install and easy to store
Special pocket for mechanical tools
Waterproof and durable
Cons
Its sides start to fray rather quickly – though not always a danger to its longevity
Ideally, it shouldn't be used at full capacity
8. Kraken Tailgate Pad
Kraken Tailgate Pad is another great pick. With a killer logo, it makes for an interesting, adventurous look. Its 54-inch width is good enough to accommodate up to five bikes. It has a vinyl outer lining, making it durable in most weather. A thick padding layer and soft underlayer keep your pick-up truck and bikes well protected.
The Kraken has straps to enable installation on most sized pick-up trucks. You can use the Kraken for transporting not only bikes but other heavy-duty tools, lumber, or anything that might damage your pick-up truck's paint or finish.
Pros
Thick, dependable padding
It is lightweight and easy to store
Good build quality
Cons
Fits most pick-up trucks, but it is difficult to pull straps under tailgate for installation
Can develop cracks with continuous exposure to the sun
9. DLX Dakine Pickup Pad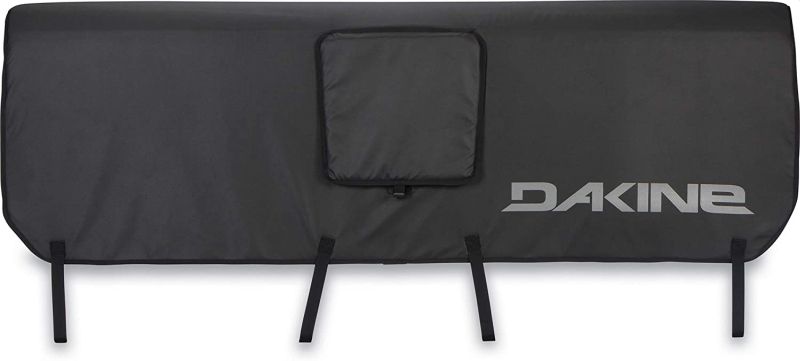 DLX Dakine Pickup Pad shows what a virtue simplicity is. It is available in a small size, fitting five bikes, and large size, fitting seven bikes. The Dakine tailgate pad is built for easy installation, and ease of use. Its bike anchor straps keep each bike in place during transport.
There's attention to convenience as well. The Dakine pad allows access to open your pick-up truck's tailgate while it's still installed. With four web cinch straps, it stays in place after installation. It also features a large access flap allowing the use of the rearview camera.
Pros
Excellent, durable construction
Good sizing and fit for most pickup models
Cons
Usually needs at least two people to set up
Rearview camera flap is not dependable
No soft underlayer
Which Tailgate Bike Pad will Best Suit Your Next Adventure?
When deciding which one of these tailgate pads will be the best choice for you, there are things you must consider. Your personal requirements come first, followed by the specs and qualities of the bike pad most suited. After reading this review, let's go over a few things to keep in mind.
Usage And Performance Aspects To Consider
One of the first things you should think about is how many bikes are you likely to be transporting. This way, you will know if you need a smaller tailgate bike pad or a larger one. Is your normal routine with a crew? Or are you more of a loner bike rider? Take note of the average amount of bikes you transport normally to find out how many bike anchors you are looking for.
Also, keep in mind how much you will be using your tailgate pad. The more you plan to use it, the better quality you will need in order to maintain your bikes and truck protected. Additionally, the size of the bikes will have to factor in. For bigger, heavy-duty bikes, you will need a tailgate pad that is much sturdier than other models.
Terrain And Atmosphere
The next thing you want to think about is the types of trails/ terrain you normally venture through. If your rides are normally rocky and harsh, you want to look for a tailgate bike pad that is sturdier. Because these trips can get bumpy, you need a tailgate pad that will keep all your bikes in place without much movement. Having a good strap system will be essential if this is the case.
This also means you will need thicker padding and a soft underlayer to avoid scratches on your car and your bikes. Having good straps will keep the tailgate pad in place without shifting, allowing you to travel with ease of mind. However, if your biking adventures are on flatter and smoother terrain, you can search for a lighter and easier to use tailgate pad for your bike transport.
Climate – A Tailgate Bike Pad That Can Withstand The Sun And/Or Rain
Climate is a huge factor in what you might be looking for. If you live, or bike in areas where there is much precipitation, you will need a 100% waterproof truck tailgate bike pad. Remember that high levels of precipitation can cause much damage to materials that are not waterproof and could possibly cause damage to your truck and / or bikes.
Similarly, if the climates in your area of biking are hot, sunny and dry, you will need a tougher built tailgate pad. The sun and heat will wear and tear almost any material, they will also potentially crack plastic-like covers or layers. It is essential that you keep that in mind.
FAQs For Choosing The Best Bike Pad
What is a tailgate cover?
Tailgate covers or tailgate pads are rectangular covers designed to go over the tailgate of a pickup truck. They're often padded and water-resistant or waterproof, so as to be more comfortable and safe for use. Once in position, a tailgate pad makes it suitable to transport a bike on the truck.
It prevents dings and scratches likely to happen when a bike is transported through a pickup. Parts of both these would damage and scratch each other. The pad serves as a protective layer that prevents damage to either vehicle.
Are tailgate pads safe for bikes?
Tailgate pads are designed to be safe for the bikes and the trucks that carry them. However, there is an element of ruggedness involved. The pads, of course, must be capable of handling all the rough use, weight, and pressure brought on by bikes. So they can't exactly be soft.
In some cases, they can damage the paint on the fork and downtube. If your tailgate pad has a rough finish, it is worthwhile to use some foam to protect parts of the bike. Overall, tailgate pads are a far superior option for protecting the bike and the truck.
How do you put a bike on a tailgate?
The overall process is fairly simple and straightforward. Start with placing a tailgate pad on the pickup truck. Pads often come with relevant instructions and are easy to install. Usually, you open the tailgate and spread the pad over it. Check the orientation of the pad – several pads have logos that should be placed towards the back of the tailgate.
Once placed, the long end of the straps should be hanging from the tailgate. Secure these straps and any buckles to ensure that the pad stays in place.
As the next step, put the bike on the truck bed, but put its front wheel over the edge (of the closed tailgate). Secure your bike to the pad and the truck as necessary.

What's The Suitable Tailgate Pad For You?
Once you have considered all these factors, the last thing you need to do is consider your budget. With this review on tailgate bike pads, we hope to find something that suits your requirements or budget. Finding just the right tailgate pad for your truck will make your life a heck of a lot easier. Not to mention, it will make your next biking adventure an unforgettable one.