Carrying a pocket knife at all times is a smart thing to do. This tiny, yet versatile and sturdy piece of equipment can come in quite handy for several daily tasks.
Whether you want to remove a tag from your new suit, cut paper or tape, open a delivery package or an envelope, cut fruits and vegetables or open boxes – a pocket knife can make your life a whole lot easier. And if you have the sharpest pocket knife, that is even better!
In this guide, we will review some of the best pocket knives available in the market today. So let's get on with it!
Editor's Pick – Victorinox Swiss Army Pocket Knife
Out of all the knives that we reviewed, the Victorinox Swiss Army pocket knife is our top choice – mainly for its multi-purpose use and the number of functions that it offers.
In an unforeseen situation, a pocket knife's blade might not be the only thing that you require to get your task done. Functionalities such as scissors, screwdriver, bottle opener, etc., come in quite handy for everyday use.
Best Pocket Knife in 2020
Victorinox Swiss Army Tinker Pocket Knife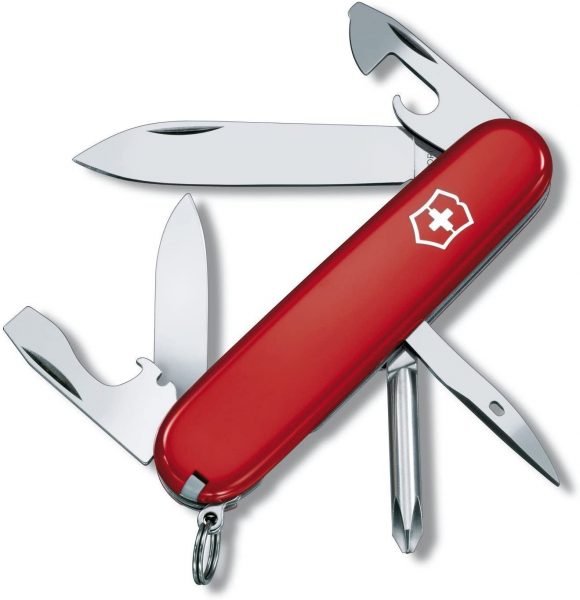 Victorinox Swiss Army knife dates back to 1891 when Karl Elsener developed and supplied it to the Swiss Army for the very first time. Since then, it has been an iconic pocket knife sold all over the world.
12 Versatile Functions
The standard Tinker model comes with 12 different functions including a reamer, Phillips screwdriver, primary 2.45-inch blade, a secondary cutting blade, corkscrew, bottle opener, etc.
Compact and Durable
This Swiss Army multi-tool pocket knife is renowned for its sleek and durable design. You can easily carry it around while you head out to work, on a vacation, or any daily activity without having to worry about the weight or size. It only weighs 2.2 oz.
Clean and Accurate Cuts with Large Blade
Whether you want to peel a fruit or a vegetable, cut paper, or a piece of wood, the large and strong blade of this knife will do the job well. This is one of the sharpest folding knives that you can get your hands to.
Pros
Offers convenience and versatility, especially outdoors (camping, vacations, family gatherings, etc.)
The bottle opener function can also be used as a flathead screwdriver or wire stripper.
One of the better EDC (Everyday Carry) items
Cons
The individual functions of a Swiss Army knife are not meant for heavy-duty or commercial purposes. This means that they can only withstand a certain amount of pressure.
Gerber LST Ultralight Knife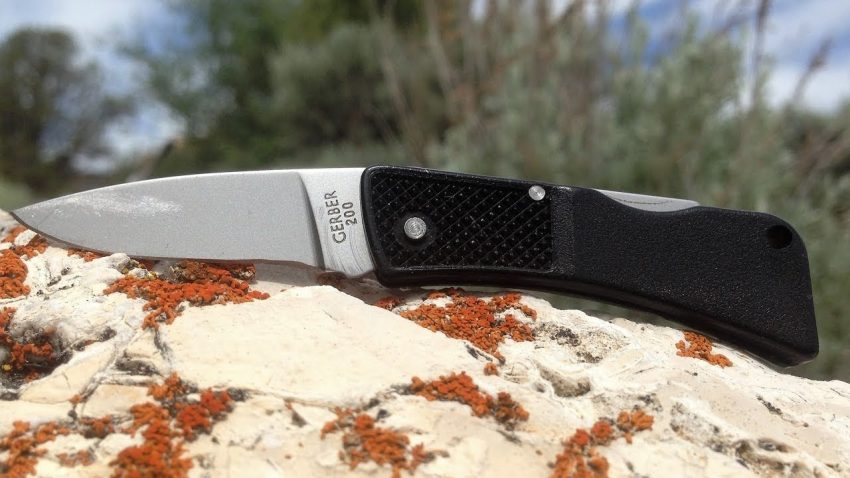 If you are looking for a smooth, easy-to-operate pocket knife, Gerber LST will serve your needs well. With a 420 HC stainless steel blade, this is a lightweight folding knife that comes with a synthetic handle to assist you better.
Small Knife with a Big History
Back in 1980, Pete Gerber envisioned the use of synthetic materials for the handle design. Together with knife design expert Blackie Collins, they came up with an all-out rugged, lightweight, and easy-to-carry pocket knife.
The craftsmanship put in to develop these knives has the modern-day technological advancements, while maintaining the classic traditional design that this knife is known for.
General Purpose Pocket Knife
The size and weight of this pocket knife is just about perfect to be classified as a 'utility' item and not a weapon. The blade is sharp enough to assist you with opening boxes at the workplace, cutting edibles, carving in the wood, etc.
Moreover, the tactile texturing on the handle gives a nice handle grip, making sure it locks firmly inside your hand while you are using it.
Pros
Lightweight and compact (0.6 oz. or 17 g)
Portable
420HC stainless steel blade
Back Lock keeps blade in place once opened
Cons
Too small for cutting relatively large surface area
Not recommended for challenging conditions
Spring Assisted Pocket Folding Knife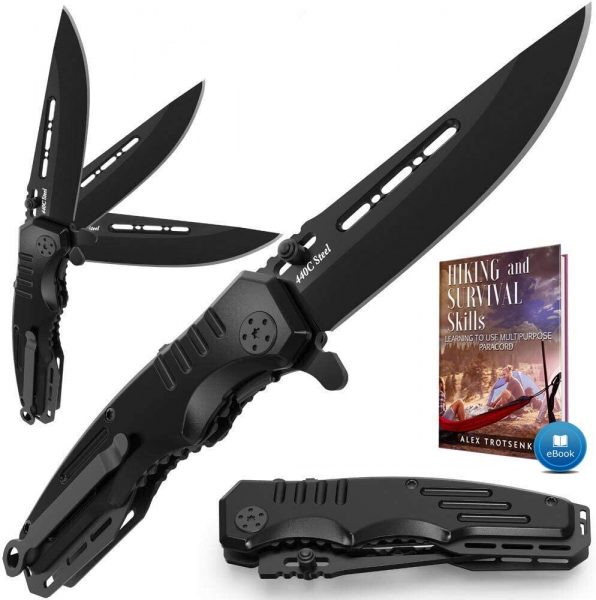 The Grand Way 6681 spring-assisted knife is undoubtedly one of the best razor-sharp pocket knives that you can get in this product category. With a multi-purpose, spring-assisted mechanism, the blade of this knife will handle most requirements – whether indoors or outdoors.
Corrosion Resistant 440C Stainless Steel Design
The black-coated, high-quality 440C stainless steel blade of this knife ensures durability, better cutting performance, and portability.
Unlike a lot of other pocket knives, this knife will give you optimum performance without having to sharpen the blade too often.
The Right Tactical Knife to Meet Your Needs
It doesn't just look like a military knife, it actually meets military needs in the best of ways. This is the perfect choice for all your hunting, camping, self-defense, emergency, or any DIY needs.
The Spring Assisted Mechanism
For smooth functionality and better handling, this knife comes with a spring-assisted system that makes it a semi-automatic device. Without having to apply a lot of force, you can easily open or close the blade in a blink of an eye.
The best part is that even if the spring breaks, you can still use this knife as a classic pocket knife.
Easier to Carry with a Pocket Clip
Outdoor trips require a good, firm grip on any item that you are carrying in your pocket. This knife comes with a pocket clip that gives added convenience, especially when you are on a camping or hiking expedition.
Pros
Spring-assisted mechanism
Multipurpose pocket knife
Black-coated 440C stainless steel
Comes with a pocket clip
Cons
Some users have complained about poor after-sales and customer service
Opinel Carbon Steel Folding Pocket Knife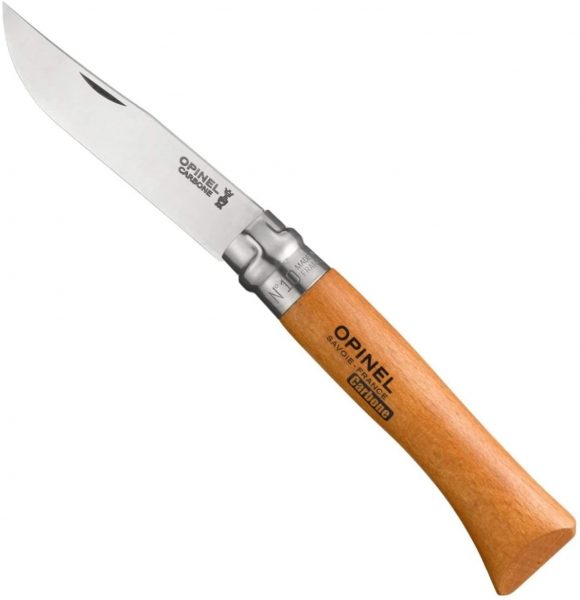 The Opinel carbon steel folding pocket knife is a decent option if you are looking for something sturdy, durable, and efficient. Carrying the traditional exquisite design since 1890, this knife has a classic look that you would normally expect from a traditional pocket knife.
A Variety of Woods for the Handle
You will get a variety of woods for the knife's handle – for example, the carbon steel blade model comes with a stained beech handle. If you opt for the plain stainless steel blade model, you will get an unstained beech handle.
Stainless steel models also use woods like olive, walnut, oak, or bubinga. However, carbon blades with stained beech handles are much easier to sharpen as compared to the stainless steel blade models. Just make sure you keep them clean and dry to avoid rust.
The Virobloc Safety Ring
This knife uses the Virobloc safety ring – a mechanism that not only locks the blade while open but also locks the blade when it is closed.
The safety ring is divided into two sections, the fixed part takes care of the open state, while the sliding section ensures blade locking when it is open.
Best for Your Outdoor Needs
Opinel pocket knife is a good option to take care of your outdoor or indoor needs. With an excellent cutting quality, this is an easy-to-sharpen knife with good wear resistance.
Pros
Virobloc safety ring gives safety on the go
95% wood sourced from sustainably managed European forests
Relatively easier to sharpen
Cons
Carbon Steel Models are Sensitive to Corrosion
Buck Knives Two-Blade Folding Pocket Knife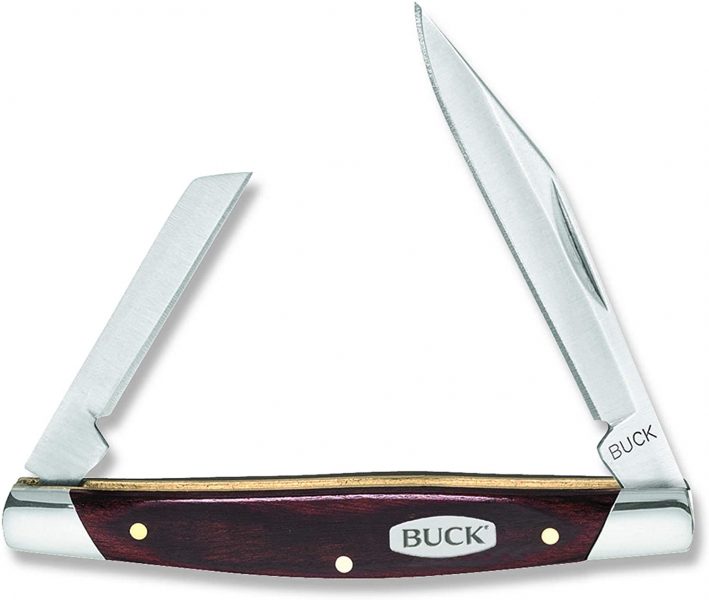 Established in 1902, these versatile and high-quality double-blade folding buck knives come in quite handy for everyday use. The 420J2 multi-purpose stainless steel is capable of taking care of most requirements.
Noticeable Craftsmanship and Expertise
These twin-blade knives have a long history of some of the best players in the knives manufacturing industry, such as Paul Bos, who is globally known for his heat-treating skills.
Due to his heating, freezing and re-heating concept, Buck knives are well-known for having the right sort of sharpness and durability.
Classy Touch with the Woodgrain Handle
These knives use the Woodgrain handle that comes with Nickel Silver Bolsters that gives it a nice, sturdy look.
Pros
Two folding blades adds versatility
420J2 stainless steel good for everyday applications
Can be easily re-sharpened
Comes with a nail notch on the blade for easy opening
Cons
Due to the extremely small size of this knife, it can be easily lost
Dark Side Ballistics DS-A019 Series Folding Knife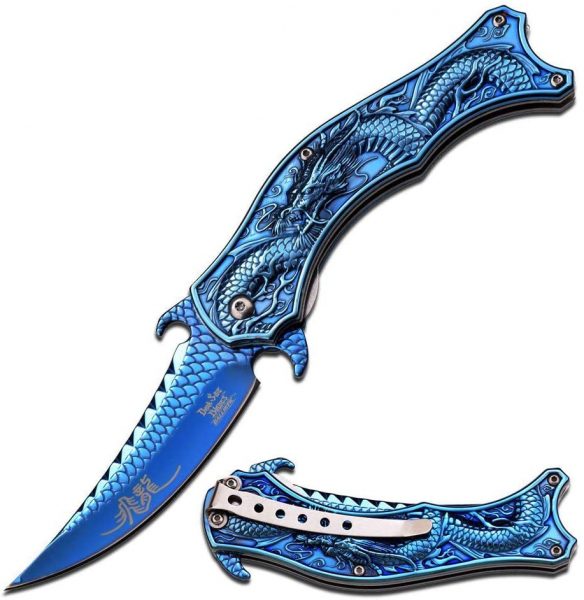 With a 4-inch 3mm thick stainless steel blade, this spring-assisted folding pocket knife is a portable and safe-to-carry option.
Detailed Dragon Design
Are you tired of those same, boring knife designs that you have been seeing for the past many years? Well, this product is going to change that for you.
Sculpted with a 3D Dragon Scale, these knives come in a variety of various fantasy themes, designs and colors.
Safe and Secure to Use
The DS-A019 folding knife offers safety by locking the blade using its liner lock once the blade is open. The firm lock position reduces the chances of you getting hurt or injured while the knife is operational, and also increases blade efficiency.
Pros
One-handed deployment saves time and effort
Portable and safe
Funky 3D designs and colors
Cons
Blade sharpness is not as good as rival products.
Columbia River Knife & Tool M16-14DSFG EDC Folding Pocket Knife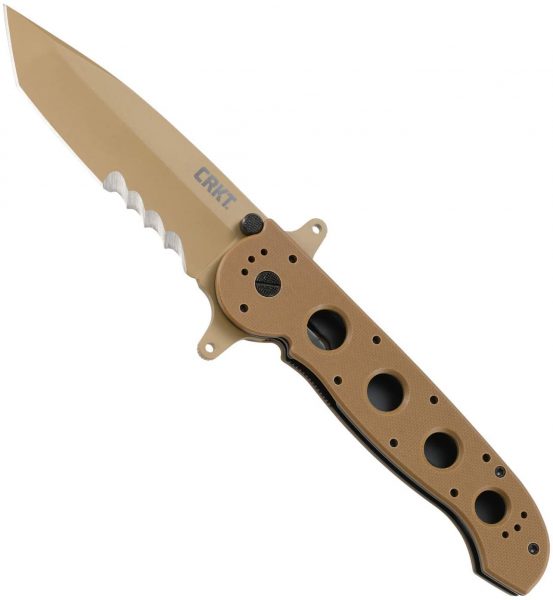 Considered as one of the revolutionary designs in the pocket knife industry, the Columbia River Knife & Tool (CRKT) M16 folding pocket knife has been serving US military Special Forces for a long time.
Originally envisioned by Kit Carson, the M16 model carries an unparalleled design legacy that has been renowned not only in the military but in other walks of life as well.
The Iconic Carson Flipper
This knife uses a special flipper mechanism that adds to its overall performance and safety. Once light pressure is applied, the blade is deployed in a blink of an eye and the flipper acts as a blade guard.
This mechanism comes in quite handy due to the tactical nature and expectation of the M16 knife. Moreover, this is the mechanism that earned Kit Carson a place in the Blade Magazine Cutlery Hall of Fame.

Automated Liner Safety
Once the knife is opened, a pin separates the liner and the knife frame, keeping it safe while in use. To close the knife, you simply have to move the red pin aside and then push the liner back.

Pros
Titanium Nitride finish adds to corrosion resistance
Rapid blade deployment and safety with carson flipper innovation
Ergonomic handle design
Patented Veff Serrations improves blade performance
Cons
Crossguard is too large
Veff Serrations require frequent re-sharpening
Victorinox Swiss Army Classic SD Pocket Knife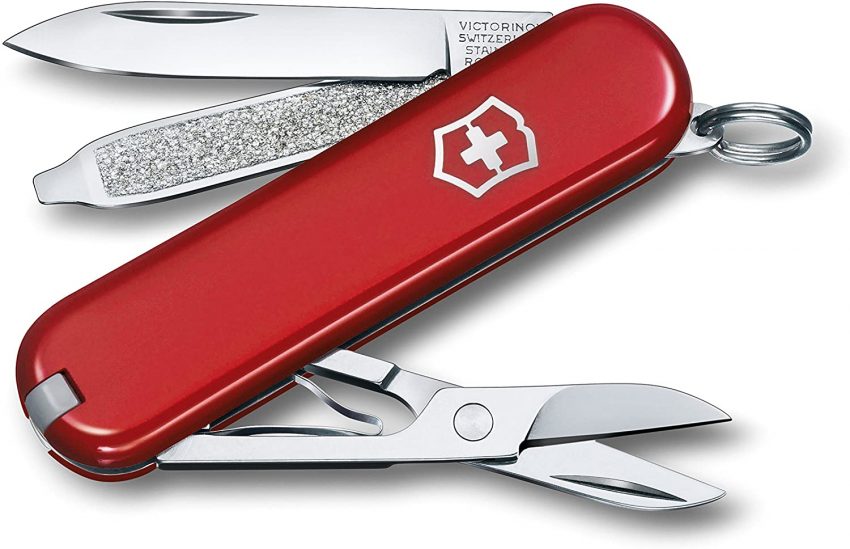 The previous Victorinox Swiss Army model that we discussed was more versatile and dynamic. This version, the classic SD pocket knife, offers relatively fewer functions, but at the same time is more lightweight and cheaper than other Swiss Army variants.
With the same design and build quality as other Victorinox variants, the classic SD has a relatively slimmer blade profile with similar work efficiency and product performance.
Even More Compact
If you are looking to cut down on space, weight and price of your pocket knife, this is the right option. Whether you are going on the mountains, camping under challenging conditions or for routine tasks, the classic SD Swiss Army pocket knife will serve you well.
Multi-purpose Pocket Knife
The classic SD comes with 7 functions that include scissors, screwdriver, key-ring, tweezers, small blade, nail file, and toothpick.
Pros
Renowned brand image and recognition worldwide
Compact and lightweight
Durable stainless steel blade
Affordable price
Cons
The keyring position is right next to the blade, making it difficult to use it at times if the keychain is attached.
Kershaw Clash Folding Pocket Knife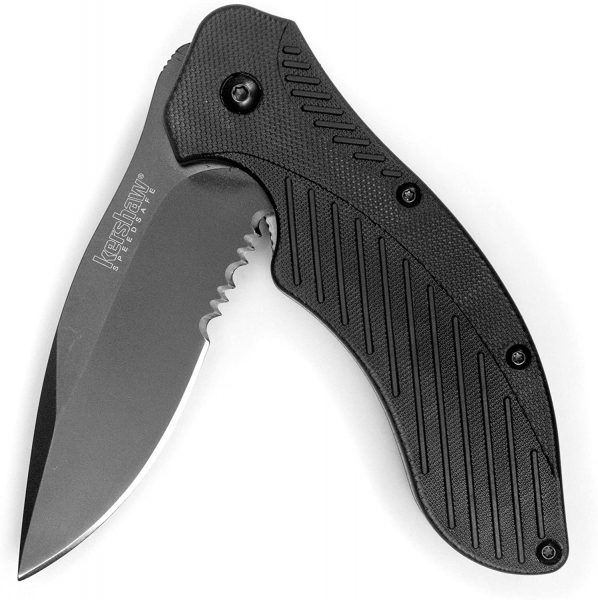 Using advanced technology and innovative designs, Kershaw Black Clash is a state-of-the-art folding pocket knife that is well-suited for most indoor or outdoor environments.
Hiking, hunting, backpacking or gardening – the 3.1″ stainless steel blade of this knife performs well.
One-Handed Deployment with Patented SpeedSafe Design
The SpeedSafe innovation enhances single hand blade deployment. Simply press the flipper and the blade will swing open and lock itself into a firm position. Once the blade is in an open state, the flipper will disappear, or in some models, remain there for added finger safety.
Moreover, this revolutionary mechanism uses a torsion bar that helps the blade move out of the handle, which makes the blade deployment fast and easy.
High Quality Steel for Better Performance
This knife uses a solid and durable 8Cr13MoV stainless steel blade that has more carbon and lesser nickel to improve edge retention and blade hardness. The high-quality blade steel can withstand substantial damage.
Reversible Pocketclip Enhances Usability
To offer convenience and ease-of-use, this knife comes with pocketclips that are specifically designed to fit knives as per their intended use, weight, size, etc. This reversible pocketclip lets you carry the knife tip-up, tip-down as well as the side where you wish to carry the knife.
Pros
High-quality blade
Durable handle offers more versatility and reliability
Comes with a convenient pocketclip
Secure locking system
Bead-blasted knife coating
Quick deployment
Cons
Comes with a slightly higher price tag
How to Choose the Best Pocket Knife
The core element of any sort of knife is the blade. Before buying your next folding pocket knife, you need to double-check the blade quality and how well it can perform in indoor or outdoor environments.
We recommend a blade length between 3 to 4 inches and a serrated edge, provided that you are looking for the sharpest knife in the world that can cut through all surfaces and materials.
Additionally, knowing the intended use will play a vital role. Are you buying a pocket knife for fun or do you want it for your next camping trip? Are you okay with a relatively heavier pocket knife with more functions to meet your requirements? – knowing the answers to these questions beforehand will allow you to make a better decision.
Why Do You Need a Pocket Knife?
So do you need a pocket knife in the first place? Let's have a look at some of the benefits of having a pocket knife with you:
Outdoor Environments
Folding pocket knives come in quite handy in outdoor environments such as camping, hiking, mountain climbing, kayaking, etc. Whether you are going solo or with your friends or family members, pocket knives will assist you in your survival in the woods in a lot of different ways.
Food Preparation
When you do not have a kitchen knife available, a pocket knife can be quite useful to cut your meat, fruits, or vegetables. Apart from cutting, a pocket knife can also be used as a spoon.
DIY Activities
If you like to experiment with various DIY activities or projects, a pocket knife will come in handy. Whether you want to cut a wooden piece, carve, cut paper, boxes, etc., a pocket knife can be of great assistance.
Self-Defense
Pocket knives can be used as a weapon for self-defense purposes. If you feel that your safety is being compromised, you can quickly take out your pocket knife, deploy the blade, and use it for self-defense.
Tactical Use for Marines
These knives are well-known for their military use and making a soldier's life somewhat easier. Apart from specific combat use, a pocket knife can help marine open canned food, cut an animal's meat, or write an SOS message on a hard surface under dire situations.
Multi-purpose Use
Pocket knives can be a smart tool to carry at any given time, under any given environment or situation. At times, you might not have the right tool that is needed to perform a certain task or that tool broke or didn't perform for some other reason. In such circumstances, a pocket knife might prove to be the perfect substitute to perform the task.
Our Final Word on the Sharpest Pocket Knife
If you are reading this, it means by now you know how handy and useful a pocket knife can be in a number of different circumstances, whether indoors or outdoors.
Having the sharpest pocket knife might save you a lot of trouble, or even save yours or your loved one's life if you are in a dangerous or a challenging situation.
Buying the right sort of pocket knife is imperative. Considering all the aforementioned factors and benefits of owning a pocket knife, go for a product that is easy to use, easy to sharpen the blade, durable and provides you good value for money.