Osprey Daylite Plus would very much like to be one of the company's dependable and loved backpacks. But can be slightly challenging for the Daylite Plus. The daypack is better seen as an everyday pack. This is one you use for daily use around the urban jungle, and also take it along to the outdoors.
Our Osprey Daylite Plus review takes a closer look at this pack and what makes it tick! Opinions can be sharply divided on its usability, but there are things that this pack does exceptionally well.
Top Points: Things To Know About Osprey Daylite Plus
Pros
Good build quality
Versatile and can be employed for daily use
Padded internal laptop sleeve/compartment
Can attach to compatible Osprey backpacks
Cons
Expensive compared to its competition
Not suited for more challenging hikes
Pack Basics: What's Available At Daylite
First Impressions, Construction, And Aesthetics
Let's start with the appearance because that's where most of us form a lasting opinion. Perhaps even before we get to the features. Osprey Daylite Plus pack doesn't disappoint when it comes to looks and design. It is pretty much the classic Osprey design, though in a smaller and sleeker package.
Though I'll suggest you temper your expectations if you're basing your opinion on the product photos the company puts out. Let me be clear, this is a good looking pack. But it's not nearly as vividly bright as the photos would suggest.
Whatever filters or effects Osprey is using also changes the color perception a bit. Expect your Daylite Plus to be slightly different than whatever the image color suggests.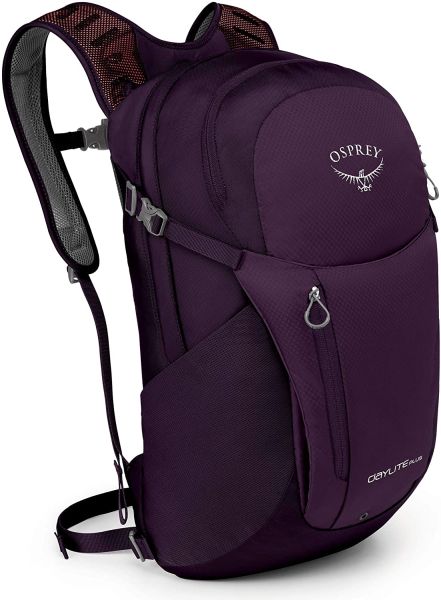 As for construction, the bag is made from 210D Double Diamond Ripstop Nylon. The material is dependable and water-resistant. You can expect it to last a reasonably long time, though it feels like a (small) step down from the classic Osprey build.
Apart from the thicker fabric, Daylite Plus also uses robust zippers, buckles, and pulls. These are sourced from YKK, Woojin Hardware, and ITW hardware. Overall, the fabric and materials used are both excellent and reliable.
Osprey Daylite vs Daylite Plus
Quite like the name suggests, Osprey Daylite Plus is supposed to be an upgrade to the original Daylite. And yes, it does pretty much play that role in the Osprey Daylite vs Daylite Plus comparison.
The most obvious difference is size. Daylite is a smaller pack with a storage volume of 13 liters and a lack of padding for the laptop sleeve. It also had noticeably smaller dimensions. There are other minor aspects as well, but most of it comes down to size, dimensions, padding, and related aspects.
Daylite Plus has padding for its laptop sleeve and can hold a 15-inch laptop. The padded sleeve is topped by a buckle that's supposed to keep the laptop firmly in place. I think the sleeve is small enough to hold the laptop firmly in position, so the strap seems sort of unnecessary. But it's not necessarily a negative, since many people are likely to appreciate it.
Another aspect is the available storage space. Daylite Plus has a storage volume of nearly 20L. That's substantially more than what the older Daylite offers, and also adds greater versatility to this pack.
Check buying options for Osprey Daylite Plus
Comfort And Usage Review For Osprey Daylite Plus
Comfort And Carrying The Bag
A notable aspect here is that Osprey Daylite Plus is as much a bag for everyday use in the city as it is for day hiking trips. It doesn't fall short where comfort is concerned, though it does have a couple of eccentricities.
The back panel is simple and straightforward mesh over foam. There are some grooves for extra ventilation. Overall, the backpack remains fairly breathable. Simply put, the risk of a sweaty back is remarkably lower.
The shoulder straps are thin and fixed. It isn't the best combination, but Osprey Daylite Plus makes it work. There's adequate support and you won't be uncomfortable carrying the backpack.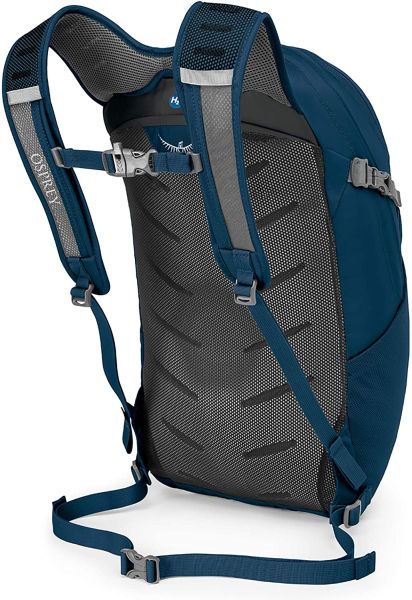 Interestingly, the handle for lifting the backpack is also placed on the straps, a few inches above the backpack's body. It's not the most comfortable position and doesn't quite work as a comfortable handle either.
Overall, it is comfortable to carry (unless you use the handle)! The shoulder straps are good enough and the sternum straps do a great job at keeping things comfortable.
The total weight of the bag is 20 oz or 1.19 pounds. It isn't exactly light, but it is to be expected considering the construction of the bag.
Suspension And Straps
Osprey Packs Daylite Plus daypack has a minimalist suspension, if it can be called that. Though the shoulder straps are fixed, they're designed carefully enough to be suited for people of various heights and build.
Two additional straps are available to better distribute the weight and pressure. The adjustable sternum strap also includes an emergency whistle. The strap fits nicely and easy adjustment makes it quick to suit your liking.
A removable hip belt is available too, though it doesn't quite transfer weight or provide adjustments like its counterparts in larger hiking backpacks.
Storage And Compartments
There are plenty of options for storage and organization in this daypack. Its available volume of 20L isn't exactly huge, but the organization options do help in making things easier and manageable. Several well-placed pockets dot the exterior and interior of the daypack.
The main storage compartment lies right next to the padded laptop compartment. There are smaller pockets here, including open pockets and a keyring holder. Though there are several pockets available, Osprey has kept the approach overall simple and easy to manage.
Its main compartment remains spacious and easily accessible. You could probably use storage organizer cubes or similar solutions here, though the overall storage doesn't quite call for these options.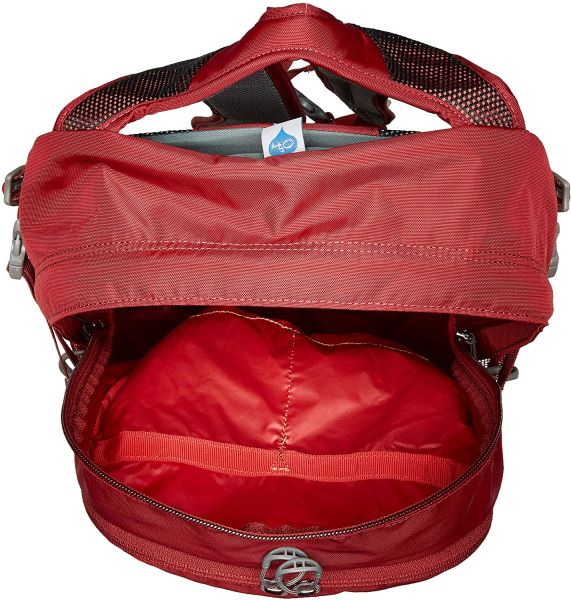 Moving to the exteriors, it's probably best to start with the water bottle pocket. This little mesh pocket has been the source of several criticisms of the Daylite. It's wide and relatively low in height. Therefore, it has trouble holding any bottle in place. There's a good chance any bottle placed in that spot will fall out.
A strap is available, though it's slightly higher than where an average water bottle would be. It's sort of annoying, considering just a small change would have solved the entire problem. Anyways, the strap is capable of holding taller objects (like tripods) in place, though not many bottles reach it.
External Pockets And Positioning
Exteriors of the daypack are as useful for organization as the interiors. A hydration bladder sleeve is available just behind the back panel and is accessible from the top of the pack. There's also a "shove it" panel on the exterior, where small items can be stored.
Osprey says you could store a light rain jacket in there. It doesn't feel big enough for that. It's better to stay limited to small, not-so-important items.
Osprey Daylite Plus can be connected to larger hiking and trekking bags like the Osprey Porter and Farpoint series, and other compatible backpacks. Straps on the Shove It panel of the Daylite are the ones used for attaching the Daylite to larger backpacks. This can leave the panel loose or open and risk things falling out of the pocket.
Versatility And Ease Of Use
The sizing, good looks, and robustness of this daypack make it useful for a variety of purposes. It's easy to use as a regular city bag. There's more than enough room to securely carry your laptop and other necessities. Plus, it is relatively comfortable to carry around all day.
For the outdoors, the small size limits it to being a daypack. You could take this along for day hiking trips, or attach it with a larger backpack for extra storage. It's unlikely to work as a standalone bag for a full outdoor outing, but it's great for small trips.
Customer Opinions On The Osprey Daylite Plus
Buyers generally see the bag as a useful product. It has thousands of positive reviews, where users find its quality and usability to be impressive. There are some negative reviews as well, especially those where holding the water bottle securely is important.
As one reviewer on Amazon says:
I bought the daylite plus to be my go to carry on backpack. As I travel lots for work I wanted a small simple backpack that could carry my laptop and other necesseties on to the plane but not be bulky and a pain. The Osprey pack fulfills it all and more. It's got plenty of storage space and pockets to fit whatever you need. The outside water pouch is actually perfect to put my laptop in so I dont have to open my bag whenever I need it. It fits everything I need plus a little extra if I need to shove my jacket in if it gets too warm.

My one complaint on it and the only reason I docked a star on it is that the two side pouches for water bottles are useless. They will not hold any decent sized water bottle securely and I am constantly losing them if I dont secure them to the bag a different way. For a pack that is meant for hiking this is a pretty poor design. If they were just a little larger or had a bit better elastic on them it would be a superior design. Oh well, I guess I just wont be using them
It's notable that though the fabric itself is water-resistant, the bag isn't. Water can find a way in through the zippers, which are not covered. Plus, like most Osprey bags, this one doesn't include a rain cover either.
Daylite Plus: Yay Or A Nay?
As this Osprey Daylite Plus review goes, the bag has proven itself to be more than useful. Sure, it carries a larger price tag than most of its competition, but few of those can boast the build quality and usability of this Osprey bag. Besides, this one is likely to last several years easily, even with regular and continued use.
It's a sensible pick for an everyday bag or even for a quick hiking trip.