Giro Synthe is a top-quality helmet that brings the best of helmet technology together with comfort and ease of use. It is stylish and takes care of offering excellent protection and comfort. That's pretty much all we want in a helmet. With this Giro Synthe MIPS Review, let's take a closer and in-depth look at all this helmet has to offer.
Giro Synthe MIPS At A Glance
Pros
Excellent comfort
Great fit and adjustability
MIPS safety tech
Good aerodynamics
Cons
Overall Looks And First Impressions
This is a premium helmet and this is very much apparent as soon as you hold the Giro Synthe MIPS in your hands. The road biking helmet is cleverly styled and gives off the vibes of being a race day helmet, which is good for everyday use as well.
It's available in several patterns, colors, and sizes. So you can pretty much always get the design and combination that speaks to your preferences. The colors, ventilation system, and straps line up pretty well to give the impression of an aerodynamic, modern, and sleek helmet.
Giro Synthe MIPS helmet weighs 268 grams (medium size). It's pretty much within the range of other helmets in its class, though I do wish they'd get lighter already!
Giro Synthe Reviews: The Element Of Comfort
Moving from the visual aspect, let's see what we have going with the usability of this helmet. Comfort is the key here. And Giro Synthe does its job like a pro. Every little detail is well thought out, and the comfort and convenience of the user are religiously ensured.
Ventilation – Keeping It Cool
Getting sweaty while biking is natural, having a helmet that ensures ventilation is divine. Wearing a helmet increases the chances of sweat, simply because you've got a covering on your head.
Giro Synthe won't make the sweat magically go away, but it does a good job at managing it so things don't get too problematic. The job starts with ventilation.
There are several well-placed vents on this helmet that keep the airflow going good enough that it becomes noticeable. At high speeds, this helmet is second to none. At slower speeds, the (relatively) smaller vents struggle to keep up. To be clear, this is when comparing the Synthe to other premium helmets. It's leagues ahead of regular buckets.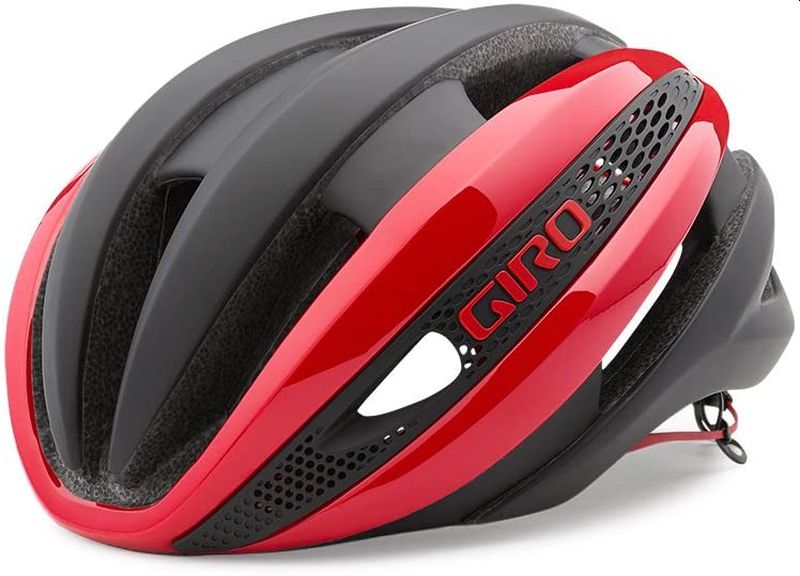 While this helmet may not look the part, Giro says it's designed to be aerodynamic. They've apparently put it through the good ole' wind tunnel. While it isn't exactly possible to verify their claims, the performance of the helmet is credit enough.
The aerodynamic gains seem to come at the cost of ventilation. The ventilation feels lacking at slower speeds. However, if you're going fast on the bike, this helmet is second to none.
Available padding here is basically a small antimicrobial pad. It's present in two parts, one sits against the forehead, while the other is at the crown of the head. This setup works well as a sweatband, and does a good job overall keeping sweat off your face.
See pricing and buying options
About The Fit – Keeping The Helmet On Your Head
How does the helmet feel when it's fully set up and secured in position? The answer is pretty darn comfortable! It would seem Giro has thought of everything.
Synthe is adorned with Giro's very well received Roc Loc Air Fit system. With this system, the top of the helmet doesn't hug your head but sits slightly above it. This is a great system for comfort and adjustability. Basically, Giro Synthe helmets can easily fit a variety of head sizes without putting too much pressure on the head.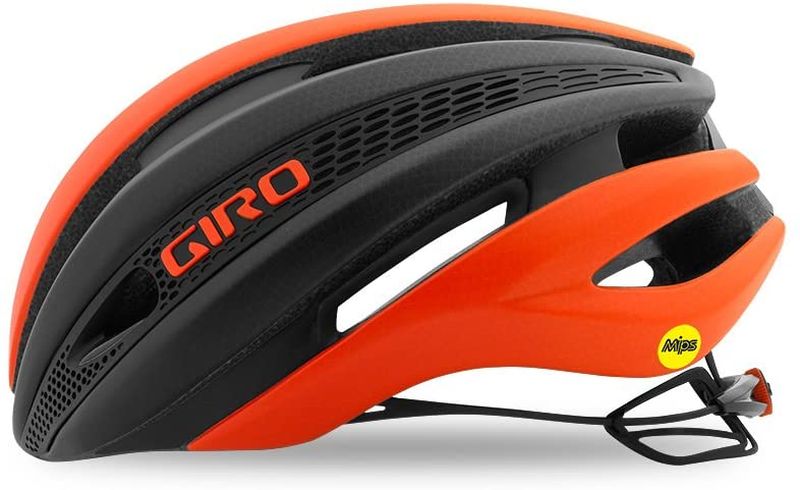 Of course, there's an element of sizing involved. The helmets are available in three sizes:
Small (51-55 cm)
Medium (55-59 cm)
Large (59-63 cm)
If your head is reasonably within the range of any size, the helmet will fit just right. Roc Loc Air Fit system wraps around the full circumference of the head so it doesn't create any specific pressure points. Many conventional helmets put the pressure near the temples. However, that's not a problem for Synthe since the system covers the full head.
An adjustability dial at the rear of the helmet makes it easy to manipulate this system. It's also easier to get a setup that suits you. The dial is a bit small, but it remains easily reachable and adjustable, even with gloves on.
Another factor here is the headband system, which allows 2cm of fore and aft adjustment. Overall, yes, you can pretty much adjust this helmet to suit the shape of your head and your preferences.
Straps, Buckles, And More Adjustability
Excellent adjustability of the Giro Synthe MIPS pretty much the high-point of this helmet. The straps and buckles go beautifully well with the Roc Loc Air Fit and headband adjustment system. It's easy to adjust this helmet to your liking even when you're biking.
Adjustable Y-buckles go comfortably around the ear and are positioned easily below the ear. The rear straps have a fixed anchor, so there isn't much adjustability. Yet, they're comfortable and good to the skin.
The Y-buckles work with the front and rear chin straps to create a convenient, evenly-matched fit. Buckles on the chin straps are adjustable, so you can always get them in the right position. It helps that the fabric is well-made and comfortable against the skin.
Safety And MIPS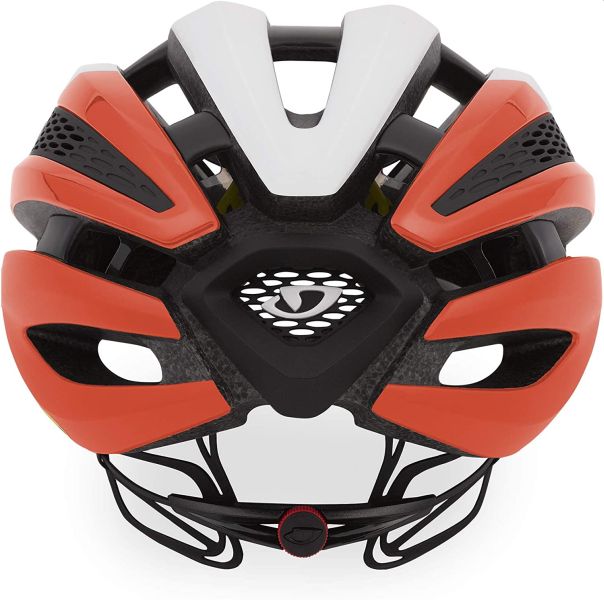 Safety is the primary purpose of any helmet. Like most of its duties, the Giro Synthe MIPS leaves no stone unturned here as well. As can be deduced from the name of the helmet, MIPS plays a central role in the safety side.
MIPS stands for Multi-directional Impact Protection System and is an excellent Brain Protection System (BPS). Placed inside the helmet, this foam padding system is designed to reduce harmful forces targeted to the brain, in case of impact.
Most modern top-tier helmets are designed with MIPS protection. The liner, even if it's a thin layer, adds some weight to the helmet. But that's a small price to pay for the greater safety and protection afforded by helmets.
Durability And Value
This is an expensive helmet, so durability and the value for money are essential aspects to consider. Thankfully, there's nothing to complain about with the Giro Synthe MIPS helmet. It holds up well and doesn't appear to pose any problems with durability.
Straps remain well in place and robust even after prolonged use. The larger chance for failure would generally be attributed to the mechanical Roc Loc Air Fit system. But that isn't too troubled either, and you can reasonably expect the helmet to last a very long time.
It is expensive, no doubt. But the price is acceptable considering the safety and overall comfort of the helmet.
Consumer Giro Synthe reviews are overwhelmingly positive and most people consider this a worthwhile investment. As a reviewer on Amazon says:
This was the most expensive helmet at the bike store, so we said let's try it on just to see what the best feels like before we choose a more value-oriented model. Well the difference was so staggering, compared to the other models available, we ended up buying this one (and a 2nd here on Amazon for me)! The helmet is feather-light and VERY comfortable. And best of all we found out later (since we purchased w/out ever riding w/it) that it has amazing air flow that keeps your head cool.
The Verdict — Where Our Review Lands Us
As biking helmets go, this is a pretty good choice. Giro Synthe MIPS is one of the best picks even among the premium segment helmets. It is expensive, but it is also comfortable, durable, and offers excellent safety.
As we take a good look with this Giro Synthe MIPS review, there doesn't seem to be any major issues with this helmet. Well, the price point is a barrier. This is an expensive piece of gear without a doubt.
But if you can afford it, it's well worth the price.