Premium price for a premium helmet is the way things always are. However, premium and high-end technology does find a way to trickle-down to the budget segment as well. That's what we see with the Giro Foray MIPS review.
Premium features on this road bike helmet go along well with its budget pricing. It isn't exactly a cheap helmet, but it is way less expensive as compared to Giro's conventional, premium offerings. Premium features and high-end technology at a low price is the USP here. And it lives up to those expectations remarkably well.
Highlights For The Giro Foray MIPS Bike Helmet
Pros
Attractive pricing
Good construction
MIPS safety
Cons
May not be as durable as expected
Somewhat bulky
First Impressions: What's Up With Giro Foray Bike Helmet
The Giro Foray MIPS helmet has its looks pretty similar to its premium (and more capable) sibling, the Giro Synthe MIPS helmet. Synthe is more capable, it is also far more expensive than the Giro Foray.
It's worth noting that these are similar helmets, they don't look the same. The difference between these two is very evident. It would, perhaps, be more sensible to say that the Giro Foray follows the company's design language.
Giro Foray helmets are the entry-level pieces for introduction to the Giro lineup. Foray shows off large swooping lines and an overall rounded shape. It may not be an expensive helmet, but it sure does manage to get a touch of Giro's premium look.
Ventilation And Keeping It Cool
For bike helmets, the approach to ventilation is a big factor in the overall appearance too. There are 21 vents in this helmet, designed to ensure airflow. It's pretty good for a helmet in this range and perhaps might even be better than most of its competition. Large, rear-facing ports make sure that the air keeps moving and that your head stays cool.
Giro has given attention to aerodynamics as with most of their helmets. If we could put this in a wind tunnel, it would perform pretty well. Well, not as good as its premium siblings, but good enough for its own price range and setting.
There is, however, a touch of a problem here. The ventilation is good, but it shows its best at higher speeds. If you're just cruising, the ventilation might not be that apparent.
Since this is a product from Giro, it does inadvertently end up being compared to premium segment helmets and competitors. I should point out, the ventilation here is pretty good for its price range. It could even go toe to toe with several of the premium priced helmets. 
Giro Foray Review: The Comfort And Adjustability Factor
The fit, comfort, and adjustability are inherently related for many biking helmets. So it's only natural for our Giro Foray review to consider these factors as well. Giro is banking on its tried, tested, and dependable Roc Loc 5 retention system to get the best out of adjustability.
A sizable, easily accessible dial is available at the back of the helmet. You can move this dial to get the right adjustment for your helmet. While the helmet is adjustable, it doesn't have a full circumference headband. It goes only part-way around the head and anchors at the temples.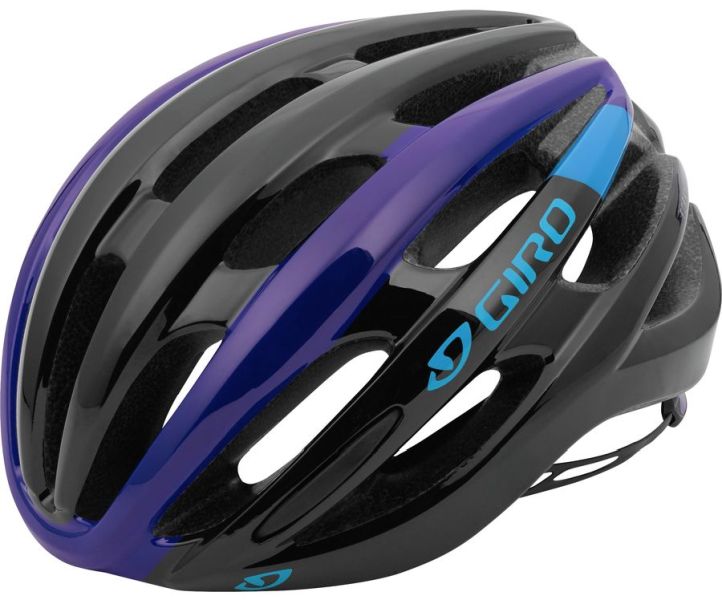 This setup works okay, but it isn't nearly as comfortable as full circumference headbands. However, the overall helmet does remain free floating and is easily adjustable. A small problem, though not a regular one, is that the retention system can sometimes lose its adjustments as time progresses. You might have to adjust the helmet once or twice a day.
The adjustment dial and fore/aft adjustment systems are the same for Giro Foray as they're for premium options from the brand. As such, they remain pretty easy to adjust and can move to a setting you find more comfortable rather quickly.
Straps, Buckles, And Sizing
Adjustable Y-buckles on the Giro Foray are pretty much the same as those on its siblings. They're comfortable, easily adjusted, and are comfortable against the skin. The chinstrap is pretty much the same. Overall, Giro's system works great across the board and provides quality comfort and protection.
As for sizing, similar standards of Giro are applicable. The small size goes from 51-55 cm, medium at 55-59 cm, and finally large at 59-63 cm. They remain easily adjustable, but yes, they're not as good as premium offerings. At this price, I wouldn't expect it to be!
Weight: Is This A Bulky Helmet?
Giro Foray MIPS clocks at 300 grams on the weighing scale. This isn't anywhere near being ultralight and some might even consider the Foray to be a bulky helmet. About 10% of this weight (or 30 grams) comes from the MIPS lining. That's a small price to pay for safety.
Besides, this isn't an uncomfortable weight, or something that wouldn't be expected from a competent helmet in this range. After all, it's not just the bulk that matters. It's a few grams overweight, but that's not really a huge problem. Besides, the small bulk isn't all that uncomfortable, especially considering that the safety factor is well taken care of.
Safety And Construction
The highlight of Giro Foray is the use of MIPS at a relative budget pricing. This small piece of foam moves independently of the helmet shell and can help reduce the impact force. It has been a staple for many premium helmets, so its use in a relatively budget pricing is something to note.
MIPS aside, the overall construction of Giro Foray is pretty reassuring. It's made from Giro's In-Mold construction, a technique well-regarded in the industry. The shell is polycarbonate and its build is solid enough to be considered dependable.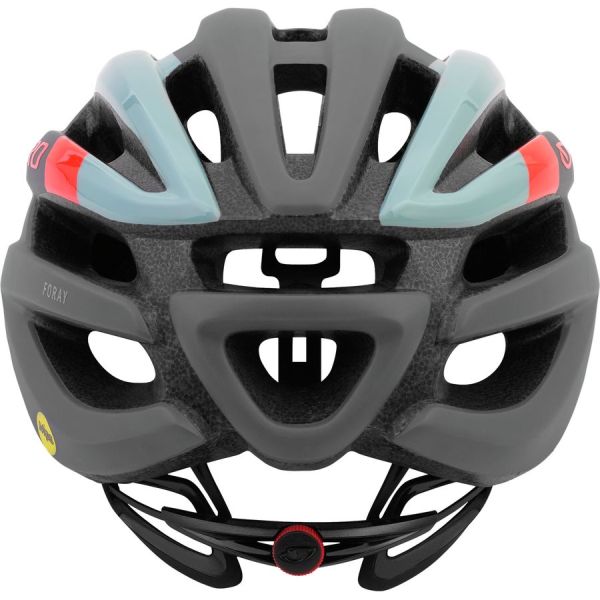 If you're not all that big on MIPS, there's an option to shave off a few grams off the helmet and a few dollars off the pricing. Giro also offers Foray in a non-MIPS format, which is about 20 grams lighter than the MIPS version and is available at a lower cost.
That said, MIPS is a safety device that's making its way to lower price helmets as well. Personally, I think it's a few dollars and a few grams for a chance of additional safety.
It should be noted, MIPS is not a required safety standard from the government. It's an add-on feature that many manufacturers provide to add another layer of safety for their helmet, or rather, the user of the helmet. 
Durability And Value
We get that this is a cheaper Giro helmet that includes premium features. But is the Giro Foray worth the price? Does this helmet have good value, and does it last?
Giro offers a one-year warranty on the helmet, which is pretty standard. It helps that the company has a good reputation of honoring its warranty. As for the helmet itself, the durability may be called into question.
Though the outer shell is made from Giro's in-mold construction, it feels thinner and flimsier compared to other models from the company. Besides, a lot of EPS foam liner is exposed at the brim and risks damage from day-to-day transportation and use.
Overall, I'd say this has good value, considering the features and pricing. But, expecting it to be a long-lasting helmet is probably a bridge too far.
What Consumers Say About This Helmet
Consumer response to Giro Foray has been overwhelmingly positive. Most consumers find this helmet to be a great value and a good safety pick considering the presence of MIPS. Its overall construction and aesthetics have found interest from the users. However, many do point out the flaws, especially the troubles with ventilation.
One consumer review on Backcountry reads:
First of all the helmet fits great, it feels very protective and does not sway or move. The straps are easily adjusted and the inner line too. But the part that I'm not so pleased with is how much I sweat when I wear this thing. Most of my riding is in the early morning before or just after sunrise and even at this time of day I'm feeling warm with it. I can still recommend it and it's an upgrade in protection and looks from what I had.
The Bottom Line – Where Does The Review Lead Us?
Giro is best-known for its premium, high-quality helmets. As we see with this Giro Foray MIPS review, this helmet has several features of premium products, but at a much lower price. The helmet offers excellent safety, design, ventilation, and of course, pricing. It can take on pretty much any helmet in its price range and do an amazing job at that.