Cold weather hunting season is upon us. Those of us who love the thrill of the outdoor sport understand that protection against the elements is very important. Diverse conditions and all types of weather and precipitation can happen and the ground might already be covered in snow.
Keeping your feet dry and in good shape is the key to getting around any type of hunting terrain. Getting the best cold weather hunting boots will keep your feet (and you) comfortable and ready for the terrain.
We look at and review some of the top boots in this article, to see what works best.
Editor's Choice: LaCrosse Men's Alphaburly Pro 18″ Hunting Boot
Its good looks and the history of LaCrosse is by itself an excellent recommendation for these boots. That said, LaCrosse Men's Alphaburly Pro 18″ Hunting Boot stands tall on its own, and delivers pretty much everything we could ask from a quality hunting boot.
The rubber and neoprene construction is warm and comfortable. Several other features, like quality soles, arch support, and excellent waterproofing make these boots a natural pick for your hunting trip.
Warmest Hunting Boots To Take Along For Cold Weather
1. The Original MuckBoots FieldBlazer Hunting Boot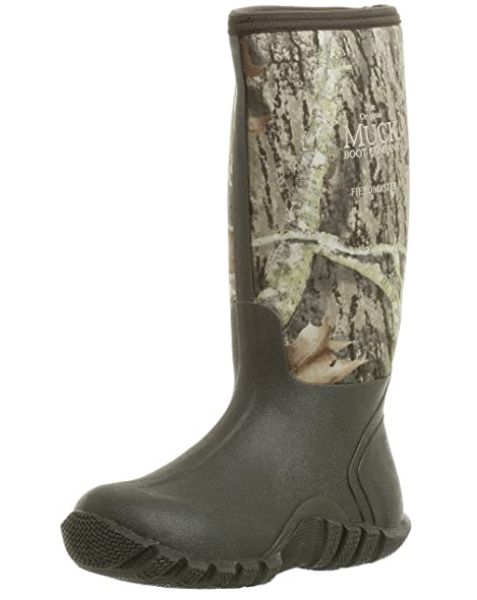 This is a well-known all-around hunting boot. They are some of the warmest hunting boots in the market. There are a few color options, though the Mossy Oak/Camo is the most popular and does a wonderful job of blending with the surroundings.
The Original MuckBoots Adult FieldBlazer Hunting Boots have a tough rubber sole for great traction on any terrain. These Muckboots go knee-high, providing maximum protection from water, mud, snow, and stay toasty even in extreme cold.
FieldBlazer Hunting Boots have a rubber shell, a soft and flexible shaft, and a reinforced Achilles support panel. These features bring more comfort to walking and running in the shoes. A breathable air mesh lining keeps odor problems away, and also helps the feet stay dry and comfortable.
Pros:
High-quality waterproof boots made from textile and rubber
Warm, yet breathable
Comfortable boots, perfect for walking long distances
Excellent traction
Cons:
They are heavy, weighing over five pounds
The neoprene above the rubber shell is more prone to damage
2. Columbia Men's Bugaboot Plus IV Winter Boot, Omni-Heat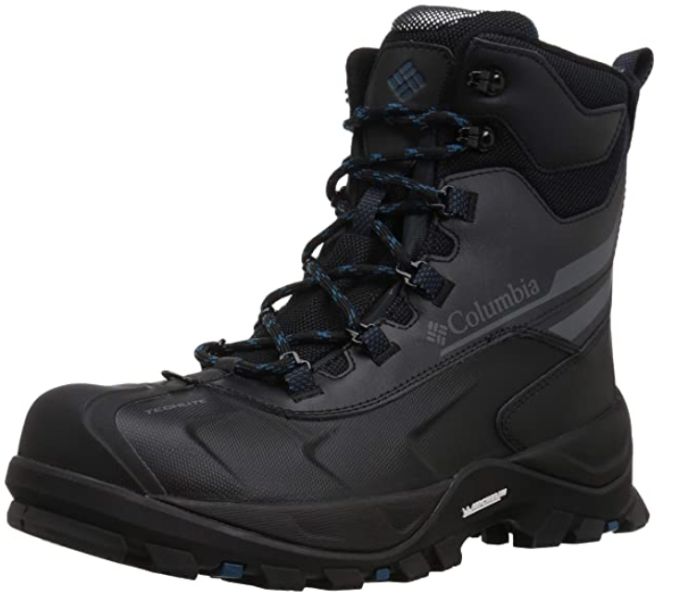 Columbia Men's Bugaboot Plus IV Winter Boot is built for snow and cold temperatures. These boots are made of leather and nylon to be robust and long-lasting. A thick rubber sole (0.5) inches with OMNI-GRIP gives these boots excellent traction and is great for tough terrains.
The company uses its OMNI-TECH system to keep the shoes breathable, even as they remain waterproof. It's a great way to keep feet dry and comfortable.
With 200 grams of insulation, they will definitely keep your feet warm. The style and color make them a uniquely fashionable style-hunting boot. The BugaBoots are also very lightweight (for hunting boots), making them great for long-distance walking.
Pros:
One of the lightest hunting boots
Insulated – the shoes have about 200 grams of insulation
Thick rubber sole for excellent traction
OMNI-TECH technology keeps the shoes breathable and water-resistant
Good looks and design
Cons:
Many customers report that the boots are unexpectedly narrow at the heel and the toe area
They're better described as water-resistant, not waterproof
The breathability makes them less effective in lower temperatures
3. Danner Men's Pronghorn 8″ 1200G Gore-Tex Hunting Shoe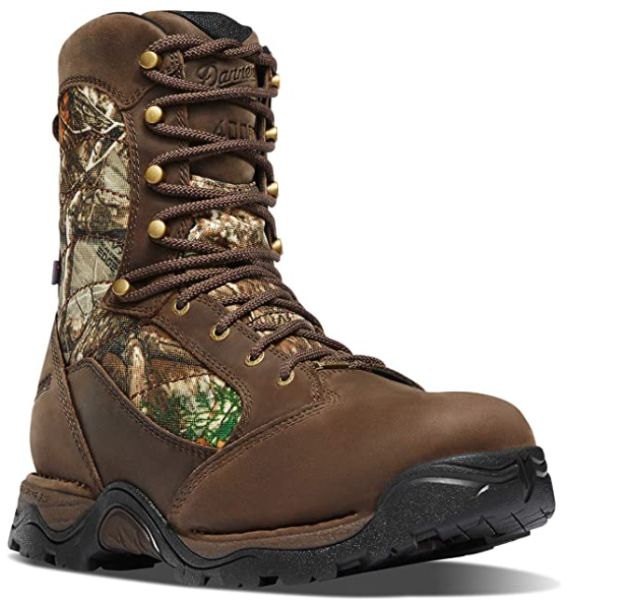 Putting form and function together makes these winter hunting boots an excellent and stylish pick. Danner Men's Pronghorn 8″ 1200G Gore-Tex Hunting Shoe is colored in Realtree and blends well with most outdoor environments.
The boots feature GORE-TEX lining and leather exterior, making them 100% waterproof for your feet to stay dry and comfortable. Combined with a shank system that supports your arch, the cushioning is exceptional, making them comfortable for those harsh walks.
They also provide high stability thanks to the TERRA FORCENEXT platform. The great traction comes from their excellent outsole, which was created by Vibram for Pronghorn.
Pros:
Very comfortable and warm
Excellent waterproofing
The insulation keeps your feet warm even in extreme cold
Exceptional support for your arch
Cons:
The treading could be a bit better
4. LaCrosse Men's Alphaburly Pro 18″ Hunting Boot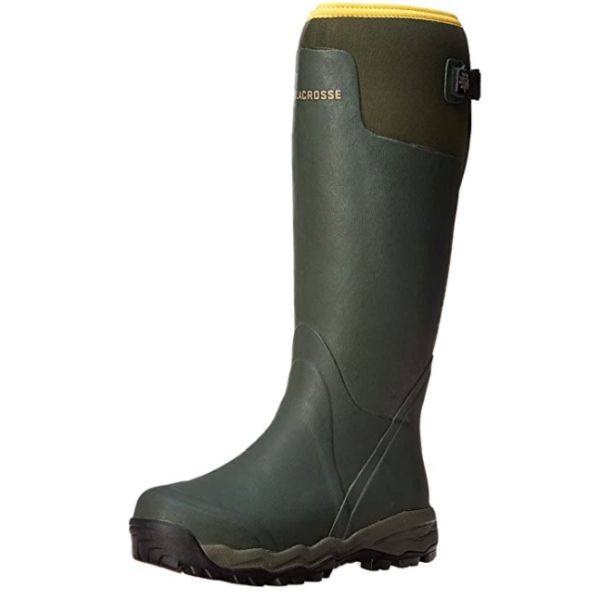 LaCrosse Men's Alphaburly Pro 18″ Hunting Boot is a tall boot that has more than proven itself as a hunting boot. It is available in four different camouflage colors, and one solid green color, allowing you to find the perfect one for your hunting area. It's perfect for the cold and is amongst the warmest hunting boots on the market.
Alphaburly is made of 100% rubber and neoprene for complete waterproofing. The sole is rubber and provides great treading for most terrains. The shaft is high, measuring 18 inches from the arch. The neoprene core is 3.5 millimeters, providing flexibility and the odor-free/scent-free properties of the shoe. The toe and heel area have multilayers of rubber for extra protection.
Pros:
Excellent waterproofing
The high shaft provides extra protection
Extra protection on heels and toes
The neoprene inside provides enough warmth for cold weather
Cons:
They are not as durable as other hunting shoes
Better suited for marshy, wet areas
5. TIDEWE Rubber Neoprene Boots for Men and Women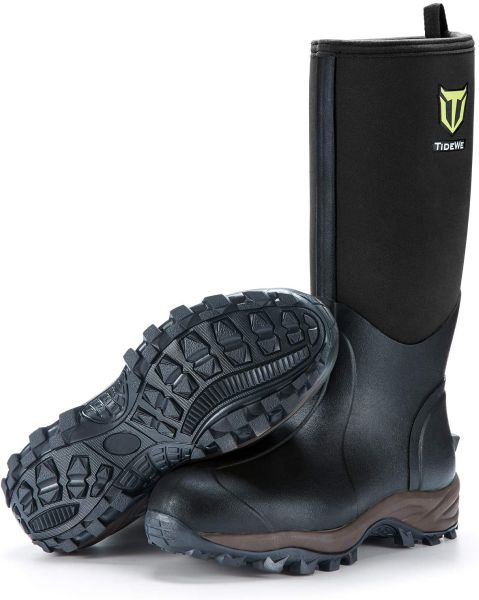 TIDEWE Rubber Neoprene Boots are warm, excellent cold weather hunting boots for men and women. Best suited for marshy terrains, the boots can be put to use in other areas as well.
The use of CR Flex Foam in the design allows the boots to absorb most impacts and be flexible. This makes them comfortable to wear and walk with.
High-quality insulation in these boots allows them to retain up to 90% of the body heat. TIDEWE Rubber Neoprene boots are lightweight, making those long walks a breeze.
Pros:
Lightweight, comfortable, and 100% waterproof
Insulation makes it possible to retain up to 90% of your body heat
They are effective in temperatures as low as -4 degrees Fahrenheit
They have a unique sole, allowing for good tread and absorbing impacts
There are models and sizes for both men and women
Cons:
Not as durable as claimed
Sizing them to your feet can be a bit complicated
Only available in black
6. HUNTSHIELD Men's Neoprene Muck Boot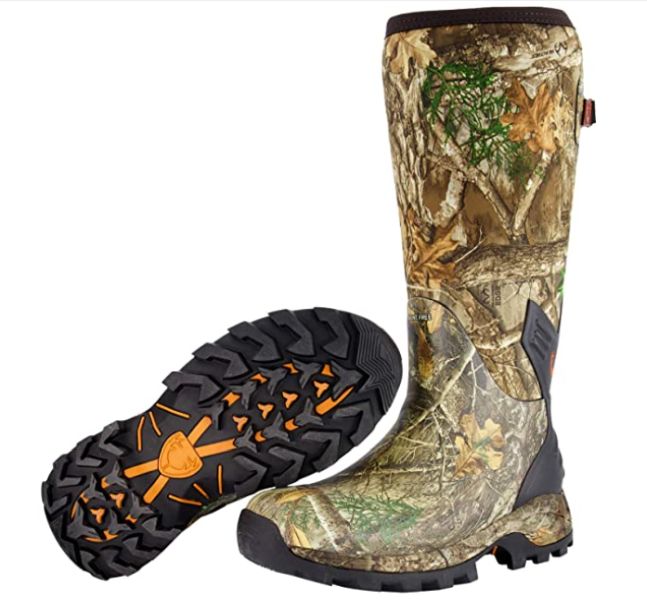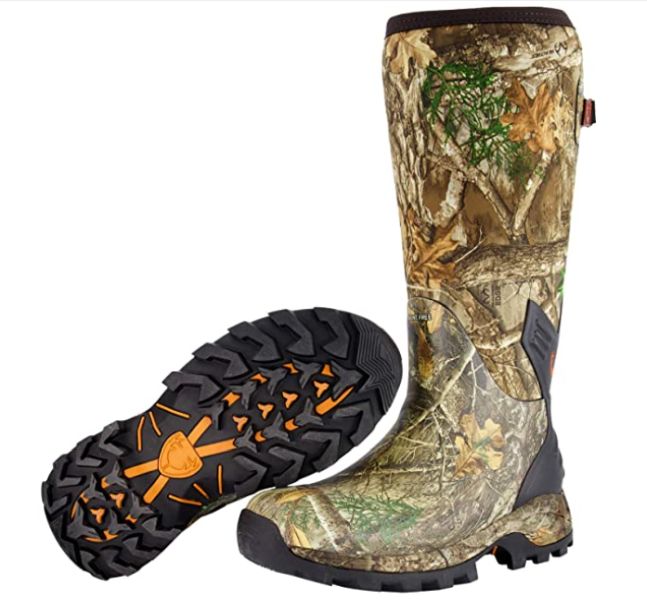 HUNTSHIELD Men's Neoprene Muck Boot is a great boot for hunting in the cold. With a Realtree Xtra Camo, these outdoor hunting boots for men blend in with a variety of terrains.
These boots keep the extreme cold and debris out thanks to elastic cuffs that securely latch it to the calf. HUNTSHIELD boots are also 100% waterproof and have 4 millimeters of insulation for maximum comfort and warmth.
HUNTSHIELD Muck Boots are comfortable and flexible, perfect for those long hunting trips. They also provide a scent-free track, thanks to the fleece lining. The sole is thick, providing traction and stability. They also provide extra protection for toes thanks to a reinforced rubber toecap.
Pros:
Snug fit thanks to the elastic cuff, yet extremely stable and sturdy
Excellent heat retention and waterproofing
The rubber sole provides excellent traction and extra protection for toes
Comfortable cushioning
The camouflage look and scent-free feature allows you to blend in with most terrains
Cons:
Not recommended for hunting in the snow (as they will not blend into the environment)
Correct sizing might be difficult in the calf area, or for wide feet
7. Timberland PRO Men's AG Boss Pull-On Alloy Square-Toe Work and Hunt Boot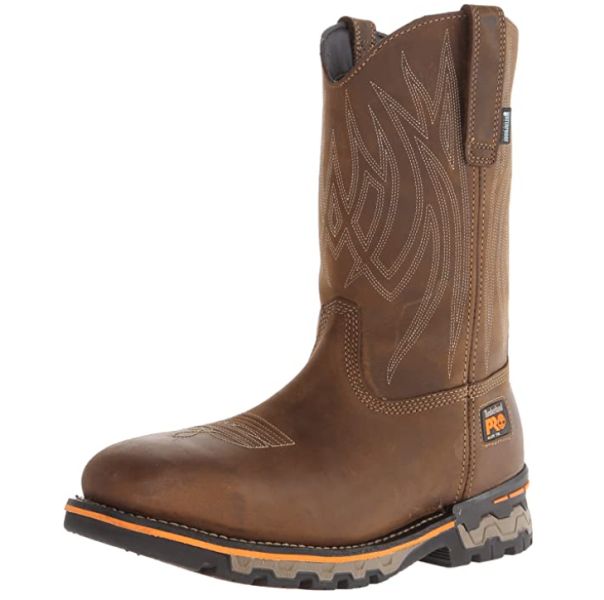 Timberland PRO Men's AG Boss Pull On work and hunt boots are the most different on our list because of their look. Although a bit more "cowboy" like in their appearance, they still perform as great hunting boots. They come in two colors to choose from and are made from 100% leather.
These hunting boots have a shaft of 11 inches from the arch. They have a thick platform, providing great protection for your soles. They also protect your toes, as they have an alloy toe. The heel is designed for maximum stability, with a Goodyear welt.
Pros:
They are 100% leather and have a unique, western look
Expandable shaft makes it easy to put on/take off these boots
The heel is exceptionally designed, providing great stability
At only 2.2 pounds, they are very lightweight
Cons:
They are not waterproof, making them safe for only dry terrains
No insulation
Best suited as work boots, though they can be used for hunting as well
They have a synthetic sole
8. The Original MuckBoots Scrub Boot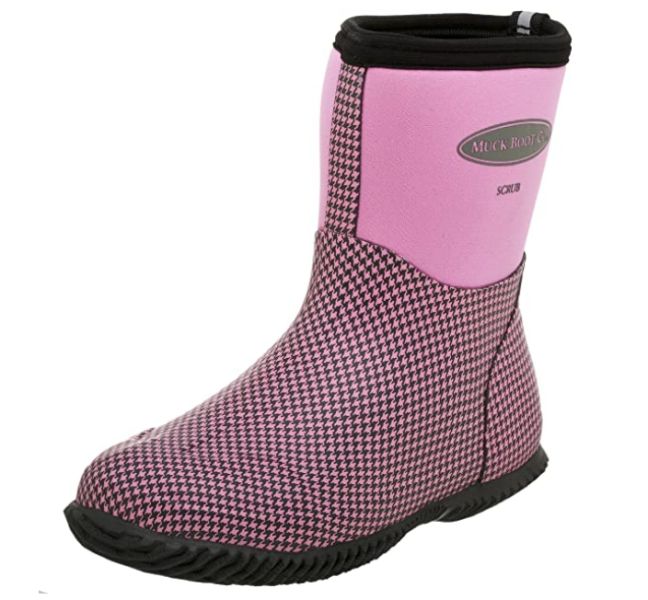 The only outdoor boots on our list specifically for women, the Original MuckBoots Scrub Boot are completely feminine, yet made for the outdoors. They are made of 100% rubber and textile for waterproofing. Additionally, they have a breathable air mesh lining, keeping your feet warm and dry.
These boots have a mid-shaft of approximately 8 inches from the arch. The sole is rubber, making them very flexible and as comfortable as household slippers. They come in two colors, one in green and the other Dusty Pink Houndstooth. They are great for outdoor work such as farming, gardening, or even just a camping trip.
Pros:
Designed specifically for women
The rubber material makes them 100% waterproof
The mesh lining provides a huge level of comfort and warmth
Cons:
Other, better-performing hunting boots available
The mid-shaft allows for spillage into the boots
The sole is not too thick, making them susceptible to cracking
9. LaCrosse Men's 4xAlpha 16″ Waterproof Hunting Snake Boot
LaCrosse Men's Hunting Snake boot is the only boot designed for those that enjoy the thrill of hunting, or extreme outdoor sports. Made of 100% rubber, and having a high shaft, they will keep your feet 100% dry.
These shoes have a wonderful hand-laid premium rubber make. The sole is thick, measuring 1 inch, while the neoprene interior is 3.5 millimeters, allowing maximum comfort and flexibility.
The LaCrosse Men's Hunting snake boot also has four layers of cushion for maximum comfort. The boot opening is 16 inches, allowing for ease of putting on and taking off. The protection is unmatched, having multilayered rubber on both toe and heel areas. It also has this on the shin guard. These boots are quick-drying thanks to the polyester jersey lining.
Pros:
Excellent and dependable protection
The neoprene core gives flexibility and comfort
They have extra cushioning for extra comfort
Waterproof and quick-drying on the outer layer thanks to the outer polyester jersey liner
Cons:
Because of all the layers, they may feel extra tight
They are a bit difficult to take off
They might smell funny if used too much in very wet or muddy terrains
No insulation
Things To Consider When Purchasing Boots For Hunting In Cold Weather
When out hunting in the cold, keeping the feet warm is a tough job. They're in contact with the cold ground and might also have to deal with water and snow. That makes it very important to find the right boots that protect your feet, while also ensuring comfort.
It's also important to consider your local climate. A cold weather hunting boot for North Dakota might end up being overkill in Florida. The difference can be as simple as using insulated hunting boots, or a difference in soles and overall build.
What Are Your Hunting Trips Like?
When you go on hunting or outdoor trips, you want an outdoor boot that will endure the length of your hunting/outdoor trips. Your winter hunting boots need to be fit for however extreme (or low key) your hunting/outdoor activities.
They also need to protect your feet, keep them warm, and dry during your specific activities. Remember that keeping your feet protected is essential, as well as being comfortable during the entirety of your trip.
The Terrain, Weather, And Insulated Hunting Boots
Knowing the terrain and its environment is something you have to understand to pick the best cold weather hunting boots.
Before you head out, do some research on the average temperatures of the area in which you will be hunting. Additionally, research what types of precipitation are the most common in that terrain.
Using insulated hunting boots is pretty much a necessity in several areas. Dealing with the cold and snow becomes a lot easier when you don't have to worry about keeping your toes warm!
When considering terrain, it is also important to get to know the flora and fauna. Knowing what kinds of critters roam around, hidden from sight. The level of danger these critters might have is important to understand when choosing the level of protection you want.
Your Personal Preference And Budget
Knowing yourself is ultimately the biggest deciding factor. Because these boots for cold weather are so diverse, think about your personal level of comfort. Higher shaft will offer more protection, but they may not feel comfortable to you.
If your feet are more sensitive, you need a higher level of cushion to keep them comfortable.
Lastly, when picking your boots for extreme cold, decide if you will use them solely for hunting or if you will also use them for other activities (farming, work, etc.). Once you have thought about all this, all you have left to do is know the price range that you are willing to pay for your boots.
Which Cold Weather Boots Will You Choose?
Going hunting requires patience and excellent gear. Safety for your feet is a top priority when it comes to being in the outdoors in extremely low temperatures.
Keeping your feet to be warm, dry, and protected is essential to a safe and successful cold weather hunting trip. We hope this article will help you consider your options and find the best cold weather hunting boots that will keep you safe, dry, and cold.