A versatile canvas rucksack or a waxed backpack that is an extension of your style and adventurism is an excellent companion for your outdoor trip.
You want the best canvas backpack for utility reasons. But there's no reason it can't be stylish and eye-catching at the same time. And let's not leave out comfort, because together with utility, these form the very foundation of a good backpack.
Editor's Choice: Kenox Large Vintage Canvas Backpack
Comfortable, stylish, and built to take on the beating of the trail – this backpack gets a leg up on the competition. Kenox Large Vintage Canvas Backpack is great for use in school and an urban setting. And it's as fun and reliable for camping and hiking.
Top Canvas Backpacks For You (Views And Reviews)
1. Ibagbar Canvas Backpack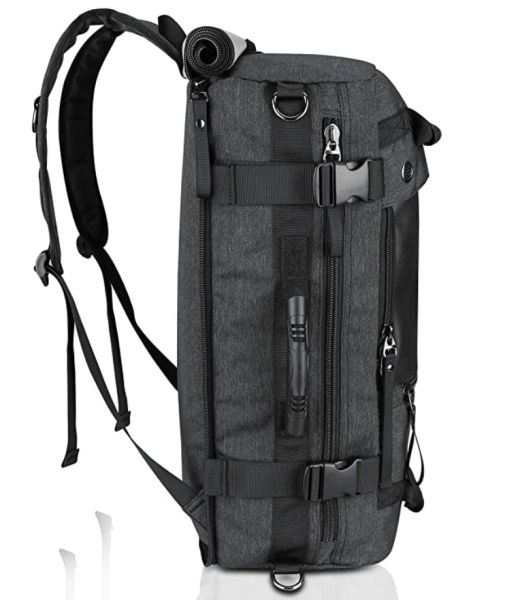 This canvas backpack is an all-around bag that can be used in multiple settings. Ibagbar Canvas Backpack can take on the role of your duffle/handbag/briefcase when need be.
There are two durable straps placed in a hidden compartment that make it possible to turn this canvas backpack into a rucksack or a satchel. A detachable shoulder strap that allows you to wear this backpack over your shoulder or cross your body.
This unisex bag is made of heavy-duty and water-resistant fabric and includes reinforced sewing and strong buckles for sturdiness.
The main zip opens up into the primary storage area. It's large enough to hold plenty of your stuff. The exact dimensions here are 12.5″L x 20″H x 7.5″W – plenty of space! A convenient laptop pocket is also available and it's big enough to hold a 17-inch laptop. Now that's some serious storage space.
Backpack Highlights:
Durable, high-strength construction
Laptop pocket large enough to hold 17-inch laptops
Padded shoulder straps for greater comfort
Huge storage space
Two front pockets, one side pocket for extra storage
2. Gootium Canvas Zippered Backpack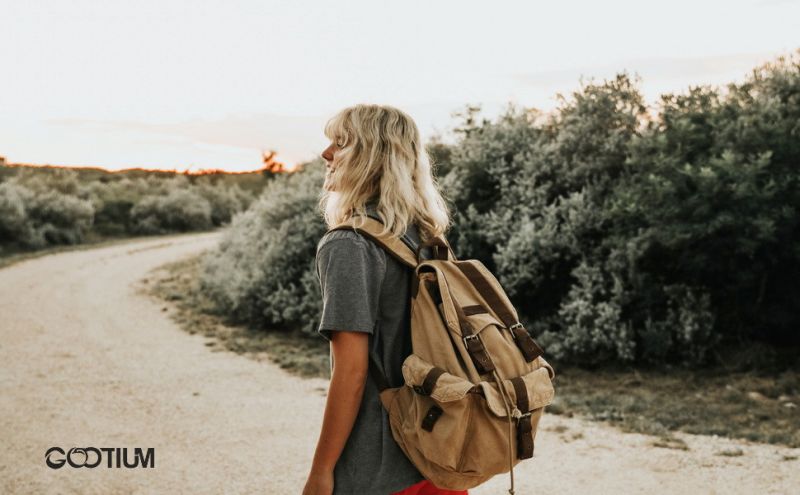 This canvas rucksack has a conventional look. And it's every bit as reliable as you would expect from a conventional – stereotypical canvas rucksack. Being conventional is a good quality in this case. That means it has plenty of storage space, is comfortable, and is rugged enough to be fit for the trail.
Gootium Canvas Zippered Backpack has a vintage appeal to it but there's more. The bag brings modern compatibility to an age-old design.
Adjustable and padded shoulder straps make carrying the backpack easier and more comfortable. And that's very important, considering this backpack has a storage capacity of 30 liters. You could put a lot of stuff there and it's large enough to hold a 17-inch laptop. The bag is also available in a small variant that has a capacity of 23 liters.
Constructed completely out of cotton canvas, the bag is sturdy and reliable. It's also a bit on the heavier side and weighs 2.1 lbs.
Apart from the main compartment, you'll find an interior zippered pocket, one front pocket, and two side pockets. There's hardware closure for extra security and a genuine leather trim to add to its looks.
Backpack Highlights:
Available in two sizes (large and small)
Large has main compartment storage at 30L, small bag has 23L storage
Made from cotton canvas
Sturdy build
One front pocket, two side pockets
Adjustable and padded shoulder straps
3. Kenox Large Canvas Vintage Backpack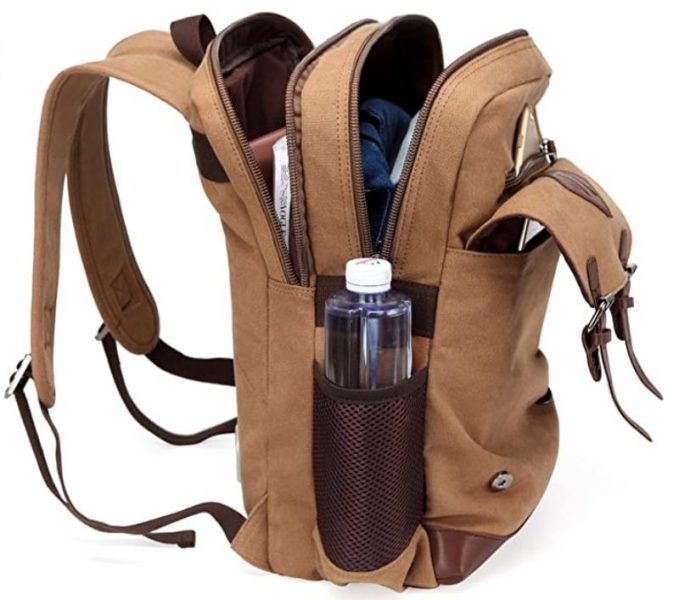 Our top choice here is this remarkable backpack that's every bit as tough as it looks. The canvas travel backpack has drawstring closure and a polyester lining. Kenox Large Canvas Vintage Backpack is made from canvas and has leather accents throughout.
It is large and pretty comfortable to handle. That's made possible thanks to a 15″ shoulder drop, and padding for the straps and back. All of this is available for an attractive price, which is what makes this backpack a good pick.
As for storage, there's a laptop compartment big enough to house a 15.6-inch laptop. Right next to it is the main storage area, which is spacious enough for the usual necessities. At the front, there's a small zipper compartment and a larger pouch that's secured by two buckles. For the sides, there's one mesh pocket, while the other side gets a small zipper pocket.
The mesh side pocket is often used for a water bottle. Kenox Large Canvas Vintage Backpack has a relatively small pocket, which is best suited for a 22oz bottle.
It is fairly spacious and good to use as a hiking backpack. However, I'd say it's only good for day hikes, given its overall smaller size. The dimensions of this backpack are 6.5×11.8×5.9 inches.
Backpack Highlights:
Construction: Canvas body, leather trims, polyester lining for the interior
Spacious main compartment
Laptop compartment big enough for a 15.6-inch laptop
Four outer pockets
Padded shoulder straps and back
4. Lifewit 17 inch Canvas Laptop Backpack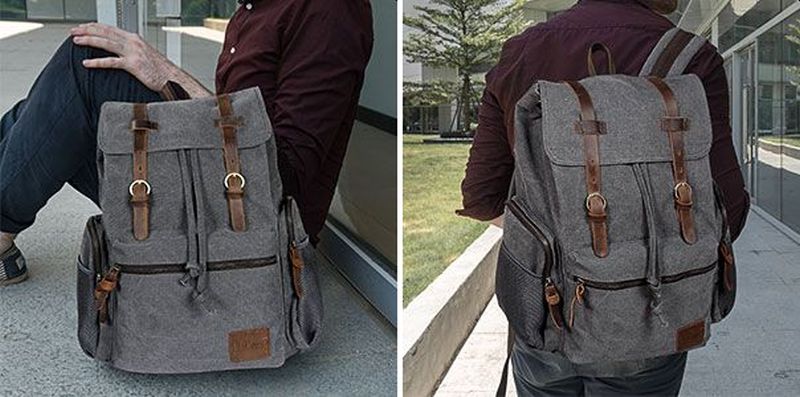 Quality of material and craftsmanship shines in this backpack by Lifewit. The fabric has a distinct softness to it and the color does not pop out but blends in.
It's a sturdy and well-built canvas laptop backpack, but perhaps it's best used as your regular daily-use backpack. This one's not really up for the action of the outdoors. It's large, no doubt, but it can be deceptively smaller than it looks.
The overall dimensions of this backpack are 6×18.10×13 inches. Theoretically, that should be large enough for a 17-inch laptop, but it won't fit in. The laptop pocket is best used for a 15.6-inch laptop or smaller. The main compartment has a drawstring closure covered by a top loop, which in turn is secured by buckles.
Storage options include a large front zipper pocket, zipper pockets at each side with a mesh overlay (so that's sort of two pockets), and a back pocket. The back pocket is accessed through a zipper on the side and is intended as an anti-theft backpack mechanism.
Backpack Highlights:
Convenient storage space
Good build and comfortable to carry
Several pockets for additional storage
Good looks and design
5. KAUKKO Travel Backpack Outdoor Rucksack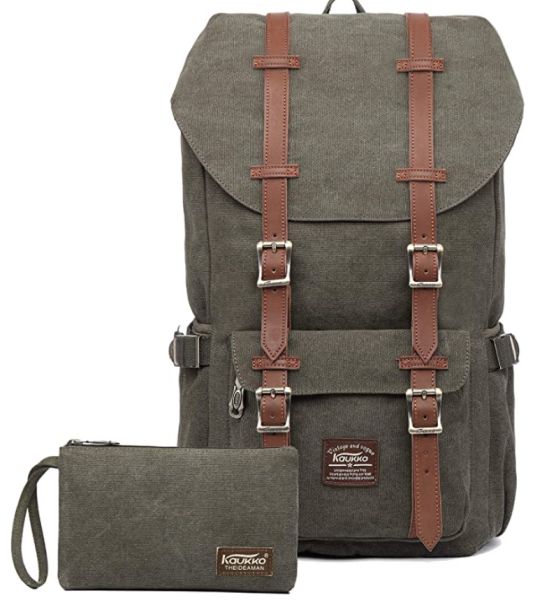 KAUKKO's latest collection gives you what you want – an everyday bag that can hold your accessories with ease. Their travel backpack has unique patterns that build on modern functionality needs without straying away from traditional design fundamentals.
It has a mix of urban and adventure feel to it, and KAUKKO claims they have taken their customer's feedback to heart. It looks thought out and can be your companion in multiple situations be it traveling, sports, work, university, or any other use that you can find for it.
Contrary to its looks, this is not a canvas backpack. The backpack is made from 600D polyester fabric and is finished in the style of conventional canvas backpacks. We've included it as a non-canvas option, though with similar aesthetics. It's available in several color options, so you can explore what suits your style the best.
This backpack has an acceptable storage capacity at 22L. The laptop compartment is good enough for a 15.6-inch laptop, while the main compartment has a max height of 18-inches. The interior is lined with nylon.
As for external pockets, there's a big front pocket secured by buckles. You also get two smaller side pockets for a water bottle or other items. The back is padded and has mesh at spots for shoulders and lower back. Similarly, the shoulders straps are padded to make carrying it easier.
Backpack Highlights:
Made from 600D polyester
Designed to look like a canvas backpack
Good storage options
Sturdy build
Available in several colors
See buying options and pricing
6. VASCHY Vintage Waxed Canvas Anti-theft Backpack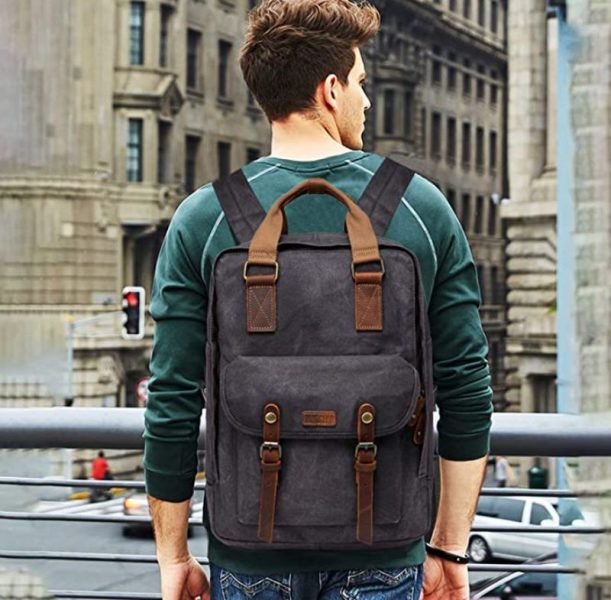 The vintage, almost worn-out look of this waxed canvas backpack is quite something. VASCHY Vintage Waxed Canvas Anti-theft Backpack for men has an attractive design coupled with attractive pricing.
Its design borrows heavily from the tradesmen of the past, yet it's completely modern. Vaschy's canvas leather backpack uses top quality genuine leather and waxed canvas for its construction. This makes it both durable and water-resistant. Overall, it's good looks and utility combined.
A padded sleeve marks the laptop compartment and is good enough for a 15.6-inch laptop. The main compartment also has a couple of small pockets, including a zippered pocket. The front pocket is secured with a magnetic buckle and has a leather key clip. Mesh pockets find home on each side of the backpack. And finally, there's the back zippered pocket for more secure storage.
The back also has an earphone port (which may also be used as a charger port if required. The shoulder straps are padded for greater comfort.
Backpack Highlights:
Sturdy backpack made from waxed canvas
Anti-theft backpack
Good storage for main compartment
Padded laptop compartment
Earphone port at the back
Good value for money
7. Wowbox Canvas Backpack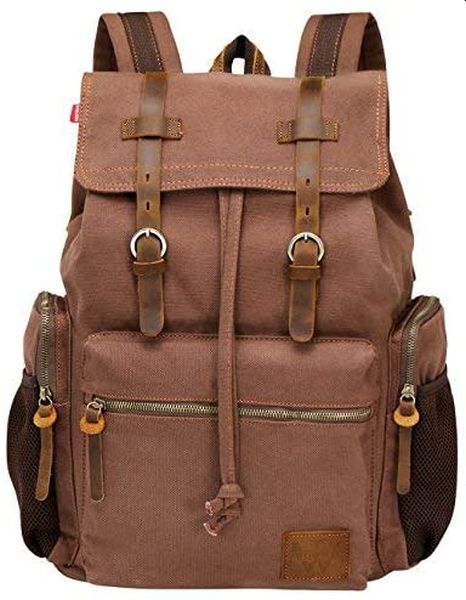 Wowbox specializes in fashionable travel accessories that you can use every day. This backpack is an excellent symbol of that commitment. Wowbox Canvas Backpack is every bit a fashion accessory and a workhorse built for use in the great outdoors.
They've used a durable canvas fabric for the body, while the leather trim and zipper pulls give it a nice modern touch. Seamless stitching employed in its production benefits the durability of the backpack.
The interiors of the Wowbox Canvas Backpack have a padded laptop compartment and a large main compartment for storage. A small zippered pocket is also included with the main compartment.
There's a zipper on both side pockets, plus the additional mesh pocket that overlays these small pockets. The front pocket is large and maneuvered with a zipper.
Wowbox has employed a drawstring closing mechanism for the main compartment, while magnetic slips clasps are used for other areas. The zippers keep items in pockets separate, while the padded laptop pocket can also be easily fastened.
The padded shoulder straps are easily adjustable. The backpack is available in a few color options.
Backpack Highlights:
Attractive pricing
Laptop compartment good enough for 15.6-inch laptop
Padded shoulder straps
Acceptable construction quality
See current price and discounts
8. S-ZONE Vintage Canvas Leather Rucksack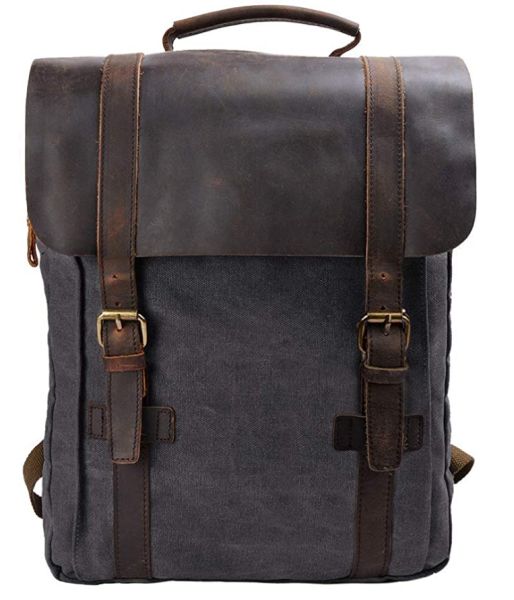 S-ZONE Vintage Canvas Leather Rucksack utilizes high-density canvas. The leather trim adds to the looks as well as functionality of this rucksack/backpack. It looks cool in that rugged, old-fashioned look. However, it does take modern considerations into account.
Storage options available are pretty much the standard and usual stuff. The interiors host a padded laptop compartment (15.6-inch laptop), and a large and spacious main compartment. Two smaller interior pockets are also available.
The exterior has a large front pocket, with its zipper hidden by the leather flap. Its shoulder straps and back are padded for greater comfort. However, the lack of side pockets for easy placement of water bottles remains painfully apparent.
Backpack Highlights:
Sturdy build with canvas and leather
Snap closure
Main pocket includes smaller pockets for gadgets
Front pocket zipper concealed by flap
No side pockets
A Buying Guide: Things You Should Know To Buy The Best Canvas Backpack
Choosing A Canvas Rucksack Over Other Materials
Canvas is the classic material that's been used since forever to make backpacks. That's one big reason why canvas backpacks can feel "vintage", even though they're thoroughly modern. The reason canvas continues to survive even in the face of modern materials is the inherent usability of this fabric.
Cotton canvas is breathable, durable, and water-resistant to some extent. You can expect a good quality canvas backpack to last a very long time. You'd likely be using one for years before it needs replacing.
And that's considering a relatively tough environment your backpack has to deal with while camping or hiking. For regular urban use, these can pretty much be extremely long-lasting.
The biggest drawback of canvas over modern materials (like polyester and nylon) is the weight. Canvas backpacks are relatively heavier than their modern-material counterparts.
A Laptop Sleeve That Fits
If you intend to carry a laptop along, ensure that the backpack of your choice has a padded sleeve. Another thing to check is if it will actually fit your laptop. This is especially true for those who have 17.2-inch laptops. Those with 15.6-inch laptops have relatively more options, but the larger concept remains the same.
Your backpack should have a sleeve big enough to hold the laptop comfortably, not barely. The laptop needs a snug, yet comfortable fit for good placement.
Backpack Straps, Your Shoulders, And The Back
How comfortable is the backpack going to be when you carry it? Depending on how you pack, a backpack can get fairly heavy. We certainly don't want the back and shoulders being sacrificed to carry this weight.
Adjustable, padded shoulder straps are the way to go. When I say padding, I don't mean nominal padding with an extra layer of fabric. It has to be actual padding that's comfortable and doesn't push the weight to your shoulders.
The same goes for the back as well. The lower back has to be well-protected with padding. Ideally, there should also be a mechanism to allow ventilation so your back doesn't get all wet while carrying the backpack. While canvas is naturally more suited for this, it helps if the manufacturer takes additional steps.
Compartments, Pockets, And Storage Options
Compartments help organize things better. We've already discussed the laptop compartment, but other pockets need the same attention as well. You might want some anti-theft options as well.
Backpacks handle these problems in different ways. Some might have a port for charging your devices placed in the backpack, without having to open the backpack. Similarly, outlets for headphones may also be available (assuming the device is placed in the backpack).
Another good option is a back pocket, where the access either hugs your back or is located at the back of the rucksack. With the latter, the only way to access the pocket would be to take the backpack off your shoulders. It's a pretty good place to store necessary documents or even gadgets.
I'm a big fan of easily accessible side pockets for water storage. Hydration shouldn't be ignored. Easily accessible pockets make it easier to access the water bottle and stay hydrated. It's a far superior option to carrying the bottle in your hands or placing it inside the main compartment.
The main compartment storage is the most important part of the decision-making. Is it large enough to meet your needs? Don't just think of one vacation, think of the future uses of the backpack as well.
A Canvas Backpack To Cherish
Choosing the best canvas backpack comes with the understanding that you'll be using the backpack for several years. It might not be a buy for life scenario, but it is one where you can reasonably expect a good lifespan for the backpack.
In such a scenario, it is the smarter play to skip looking for cheap deals and put greater focus on quality. Our selection here is intended to help make the pick easier for you.