CamelBak is a leader in the world of hydration packs. Practically all of their offerings are carefully designed and well-suited. The company offerings can delve pretty good into specific requirements. That's what makes CamelBak's offerings amongst the best hydration packs available.
Our focus here is the CamelBak LOBO review. This is a remarkable hydration pack that's great for bikers who want to go ultralight. There's not much by way of weight or storage here. Then again, it's built to meet a specific set of requirements and handles them beautifully.
CamelBak LOBO Highlights — What's To Note
Pros
Very lightweight
Hydration bladder capacity at 3L
Convenient drinking valve with good flow
Cons
Average ventilation for the back
Camelbak LOBO Hydration Packs Features Of Note
Build Highlights And Construction
LOBO is built to be lightweight. It clocks at just 480 grams, which puts it amongst the lightest picks available. Of course, the quality and assurance of CamelBak helps, as does skillful construction.
While the overall storage in the pack may be on the lower side of things, its hydration pocket is fairly generous. With the available capacity at 3 liters, this can be suitable for many mountain bikers.
It won't quite fit the needs of those who want to carry copious amounts of water, but for the average MTB ride where you just want enough water for a few hours.
The construction and build of this backpack are meticulous. The zippers work flawlessly, the material is rugged, yet good looking, and the sewing and seams are top quality. CamelBak has used 70D diamond ripstop nylon as the primary material for the bag.
It is water-resistant, though not entirely waterproof. But where it really shines is the quality of construction and the expected long-life of the product.
Storage Space And Pockets
To reiterate, CamelBak LOBO isn't big on storage space. The hydration pack is about, well, hydration, and not so much about carrying things. As such, the available storage space is tiny, though it can still be useful.
The total available storage space on the CamelBak LOBO is 6L. In terms of absolute space, it falls behind competitors like Osprey Raptor 14. But then the Osprey isn't built to be ultralight. And for many bikers, even 6L may seem like a bit much!
LOBO's available storage space is designed more for necessities than carrying random items. It's large enough to allow you to carry some tools, snacks, and similar items, but it won't replace a backpack.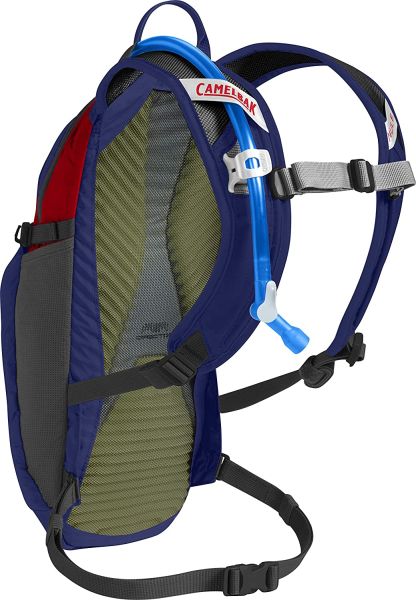 A zipper leads you to the main compartment. Contrary to most backpacks and hydration packs, it's not the large U-shaped zipper reaching for the main compartment. That one's busy serving the hydration pack. Instead, it's the other zipper that leads to the main compartment.
A few pockets are available for additional storage. There's a subdivided quick-access compartment on the front of the pack. This one's quite prominent and easy to spot, plus it allows some organization. Right above it is another, smaller quick-access pocket.
Overall, the available main storage is convenient for carrying necessities – and even being somewhat generous with those. It could hold necessities like a pump, multitool, extra tube, and perhaps a few additional items. The ease of use and accessibility make it a good pick.
Comfort And Suspension Of This Hydration Pack
For a backpack this small and light, comfort isn't that big an issue. It's unlikely to be heavy enough to cause discomfort. And while weight distribution remains important, it doesn't quite take the center-stage.
Even so, the hallmark of a well-designed backpack is to consider these situations. And yes, the CamelBak LOBO fairs well in these metrics. While it (understandably) doesn't go too deep into features focusing on comfort, it does a good job staying on the comfortable side.
LOBO's sleek profile hugs close to the body and remains stable. The bag won't dance around on your back as you bike. Additionally, it stays out of movement for your arms and shoulders, so there is no hindrance or trouble.
A narrow hip belt accompanies the hydration pack. Its job is simply to secure the pack to your back, so it won't jump around even if you move over rough terrain. Conventionally, many backpacks utilize thick hip belts as a way to distribute weight and add comfort. That isn't necessary here, so the role of the belt is much simpler.
A similar role is played by the chest strap, so the bag remains securely in position.
Ventilation Specifics
For a backpack that is designed to hug close to the body, ventilation becomes an important aspect. Though the lower weight and narrow profile don't quite require intense action. Even so, improper ventilation has a way to make itself felt.
To get into specifics, there are two components for ventilation here; the shoulder straps and the back. The shoulder straps here are lightweight and well-ventilated. They have some padding, but since they don't carry much weight, they don't have to take on a heavyweight role.
CamelBack LOBO tries to go in for excellent ventilation for the back too. It has carefully placed padding and mesh to provide good ventilation. It is acceptable, however, the ventilation isn't quite impressive. The company uses Air Director back panels in the hopes of better ventilation.
These don't quite measure up to better-performing hydration packs, where ventilation is concerned. At best, the ventilation is average. Thankfully, the pack doesn't have much by way of storage or weight, so this doesn't get too problematic.
Water Reservoir Handling And Hydration System
Hydration systems are where CamelBak shines and makes the drawbacks seem less of a problem. CamelBak LOBO hydration packs fit the bill pretty nicely.
The heart of the system here is the CamelBak Crux Reservoir and Big Bite drinking valve. It's the same system also used in the MULE lineup and the performance is as impressive. This water system is what made the MULE our top choice as the best hydration pack. And yes, its use in the LOBO is as impressive as you'd expect it to be.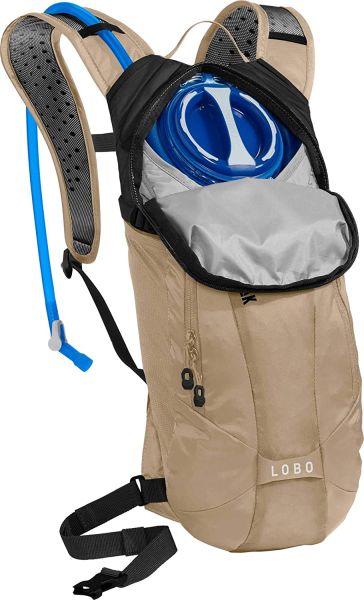 It's all down to the water flow and how easily it is accessible. The water system checks both requirements impressively. The volume of the reservoir here is 3L, which is the maximum the pocket can accommodate. Of course, you can easily switch to a smaller system. Although with 3L available, the hydration system is pretty generous for biking in hot weather.
The tube travels stealthily in the bag, coming out at the shoulder strap, which it follows on. A magnet is available to attach the tube, so it can be operated single-handedly. Once attached to the magnet, it stays in position and remains easily accessible. A shutoff valve is also available to make things easier and provides another layer of protection against water leaks.
The hydration system's bite valve is easy to access and the water flow is second to none. The convenience of use and better handling are all in favor of this system.
Cleaning And Managing The Hydration Reservoir
For all its positives, the hydration system doesn't seem to have escaped the shadow of a negative side. It uses a twist off opening valve. I'd say that's old-fashioned and doesn't quite live up to modern usability expectations.
In general use, it is no problem. But in comparison to the reservoirs used by Osprey, the valve seems to be lacking. Filling in water takes some effort, but it's cleaning where this gets troublesome. This means cleaning the reservoir requires more effort, as you can't simply put your hand in there.
Again, this is a minor inconvenience. But these small improvements are what make things get better and be considered as quality of life improvements.
Is The CamelBack LOBO Worth It?
Absolutely.
For a 9L hydration pack, this one has the necessary qualities that make it a great pick. The high-quality construction of the pack, the reservoir, and the water delivery system, all make this hydration pack quite likable.
As we see in this CamelBak LOBO review, the pack and associated systems aren't without their faults. However, the faults are minor and can often be overlooked in favor of the more substantial positives of this hydration backpack.
It's good value, but I'd still recommend getting one while it is on sale. That would truly make this a remarkable purchase.