Giro Montaro has been around for a long time now. It covers most requirements from cyclists and presents a good design that makes it likable. The helmet touches base with most of the desired features, putting up a favorable response to most needs.
With this Giro Montaro MIPS review, we take a deeper look at the features on offer and how well they perform when put to practical use.
Well, let's see where this helmet stands!
Giro Montaro Highlights — What's To Know About This Helmet
Pros
Comfortable
Good looks and design
Adjustable visor
Good protection
Cons
No standout features that place it above its competition
Features That Make The Giro Montaro MIPS Helmet
On Looks And Design Of The Helmet
Giro Montaro MIPS Helmet is the company's premium offering for open face helmets. You could consider it as an old favorite, considering that the helmet has been around for a few years now.
As looks go, I'd say Giro Montaro shows off its rather prominent visor. Some would say the visor is too long, and they wouldn't be too far from the truth. However, the visor is a good part of this Giro mountain bike helmet. It's adjustable and adds to the usability and general looks of the helmet.
The vents are well placed and add to looks, apart from adding good functionality to the helmet. Overall, this is a good looking helmet with remarkable features.
Ventilation And Keeping It Cool
There are 16 vents on the Monaro. Carefully designed, these wind tunnel vents with internal channeling should (theoretically) get excellent ventilation going. Thankfully, theory meets practice, and the helmet has excellent ventilation. It will channel the air masterfully and keep your head cool.
There is no reason to complain about the ventilation on offer here. However, it isn't quite the best in class. This is a theme that's common with the Giro Montaro. It offers great features but doesn't stand out above the rest where specifics are concerned.
While it can be seen as a negative, it's nothing to look down upon. I wouldn't say it's a jack of all trades, it does better than being an all-rounder. This is, in itself, a great quality and makes it fit for most users. However, those with specific preferences would obviously find better alternatives elsewhere.
Fit, Adjustment, And Comfort
Giro Montaro aces the considerations for fit, adjustment, and control. The helmet uses Giro's well-known Roc Loc Air Fit retention system to get its sizing right. This is pretty much the same system as used in the Giro Synthe. But I feel the Synthe does it better.
The helmet is available in four sizes:
Small (51-55 cm)
Medium (55-59 cm)
Large (59-63 cm)
Extra-large (61-65 cm)
Roc Loc enables setting up the helmet in a way that allows adjustments to the helmet vertically, as well as around the circumference. The system is remarkably good at getting the setting just right. It forms a snug fit, though at times it can feel "too snug", but not enough to be uncomfortable.
The only drawback here would be that the dial seems too small. It is still easy enough to move and maneuver, but being even slightly larger would make it easier to use.
The padding used is well-placed and covers the circumference of the helmet. It's a thin layer, made from hydrophilic, anti-microbial, x-static foam. Giro says the foam can absorb sweat almost 10 times its weight. While I haven't ever measured it, I haven't had sweat roll down my face with this helmet.
So I suppose it should be doing something right!
Speaking of the pads, they're set up inside the helmet in three pieces. They tend not to hold up their place so well after washing. And they won't hold up to regular use all that well. So if you intend to use the helmet regularly, be sure to keep some spare pads as well.
Getting To Know The Visor And Other Features
The visor is a rather prominent part of the Giro Montaro, so it makes sense that it gets some attention in our review. Giro has been very careful in designing the visor. It is, after all, an important part of the whole setup.
The adjustable visor pairs rather well with the integrated goggle strap grippers. The visor is highly adjustable and easily moves up if you need it to. There's also enough room here to wear your goggle, or move them as you see fit.
It's possible to raise the visor enough so that the goggles can be raised and placed on the helmet. The combination makes it convenient to wear or remove your goggles as you see fit.
The large visor can be an asset and a negative for the Montaro. Many people love it, but several also find it problematic. Some people say that the large visor interferes with their field of vision.
Another interesting feature available here is the breakaway camera mount. It's easily attachable to the helmet and makes it easy to connect a camera like the GoPro to record your bike rides.
Construction And Safety Aspects Of Giro Montaro MIPS Helmet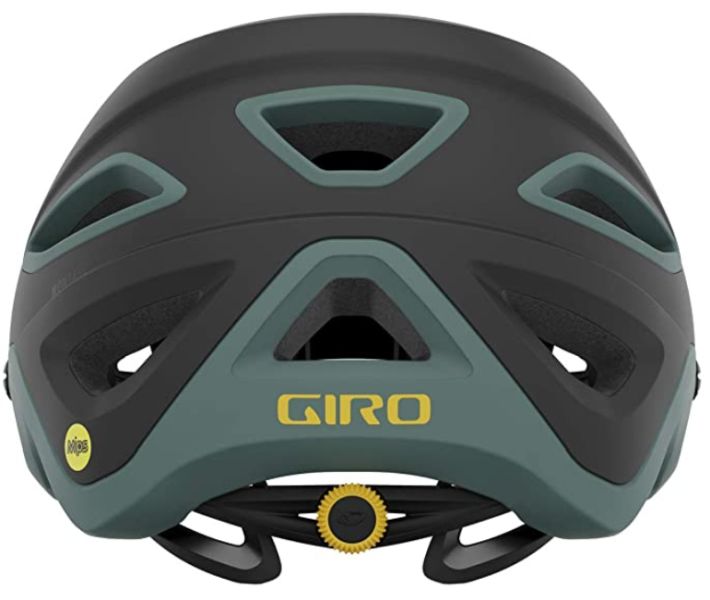 Build And Safety
Montaro uses a high-quality in-mold construction. It's fairly common for Giro helmets and adds an angle of quality to the overall construction. This Giro MIPS helmet also gets a roll cage reinforcement for better protection. Essentially, this means a lightweight web is molded into the foam for extra protection and structural integrity.
Speaking of the foam, the EPS is well-placed and comfortable. I could say it's too thin, but it works, so that's probably good enough for use. The helmet does score well on safety, so I suppose the foam has its benefits. Even so, I'd have liked it to be a bit more plush. It's just more comforting that way!
Next in line is the MIPS layer. Giro says that the helmet has been built with thoughts to the MIPS layer, rather than just adding it after construction. Essentially, this should mean that MIPS doesn't interfere with the ventilation and should feel more comfortable.
The ventilation, as we see in this Giro Montaro MIPS review, is acceptable. However, this doesn't seem necessarily due to the placement of MIPS. Also as far as comparison with other Giro helmets goes, I don't see any major difference in the comfort of the helmet, whether it's built like the Montaro or not.
All said and done, the helmet scores well in safety tech, construction, and related features.
Weight Consideration
Giro Montaro MIPS weighs just 400 grams for the Large size, 369 grams for the medium sized offering. Both of these are a good weight category, though not exactly ultralight. As we see, the pattern continues, with the Montaro performing just about average in each category.
Keep in mind, this is average for the premium category. A regular helmet would be unceremoniously blown out of the water by the Montaro.
To be fair, Montaro isn't far behind its competition as far as weight is concerned, though it doesn't quite stand out either.
The Analysis — What To Think Of The Giro Montaro MIPS Helmet
As a premium offering, the Giro Montaro MIPS has quite a bit to offer. It's a feature-packed helmet that shows off good ventilation, weight, and safety features. The visor is pretty good and can move to make room for your goggles or eyewear. This open face mask is a good companion for mountain biking.
As we see in this Giro Montaro MIPS review, the helmet provides almost all essentials and does a good job at handling its features. It does have some very specific negatives that might not apply to all users. For example, some people dislike the large visor, while others find it useful.
Overall, in terms of value, comfort, and features, this helmet is a good pick. It also offers good safety features, so that's a big plus. It's a good helmet to buy at full price, it's a steal if you get the Montaro on a sale.