Smith made its name and fame by working the optics niche. And while we admire the company's other outdoor gear, eyewear is where they truly shine. We take a look at one of the company's popular offerings with this Smith IO Mag review.
The name comes largely from the use of magnets by these goggles to hold the lenses. This also means the ability to change lenses as and when required. It comes in pretty handy on those snowy slopes where changing weather and light conditions might necessitate a change of lenses as well.
Plus, quick convenience is something we can all like. Of course, it's not just changing lenses that make the Smith I/O Mag worth a look. That would be plain gimmicky! These glasses perform well on other metrics as well. Let's do a deep dive to see where we stand!
Smith I/O Mag Highlights — What's Hot, What's Not
Pros
Top-quality lenses
Good performance
Ease of changing lenses
Comfortable
Cons
Features And Qualities — Smith I/O Goggles Performance
Lens Quality
Smith's position as a leader in optics ought to show up with its performance eyewear! Lenses for the Smith I/O Mag are well-built, high-quality, and clearly up to the challenge of those snowy slopes.
The company uses their Spherical Carbonic-x lens system here that makes the lenses impact-resistant, while also providing distortion-free optics. Smith's spherical lenses are based on 6×4 toric shape, which apparently follows the curvature of the eye. These qualities allow the lens to be distortion-free and offer better clarity.
There's a lot more tech and qualities going on here. For example, the Tapered Lens Technology (TLT) that decreases the light refraction passing through the lens. Another notable aspect here is Smith's proprietary Chromapop lens technology.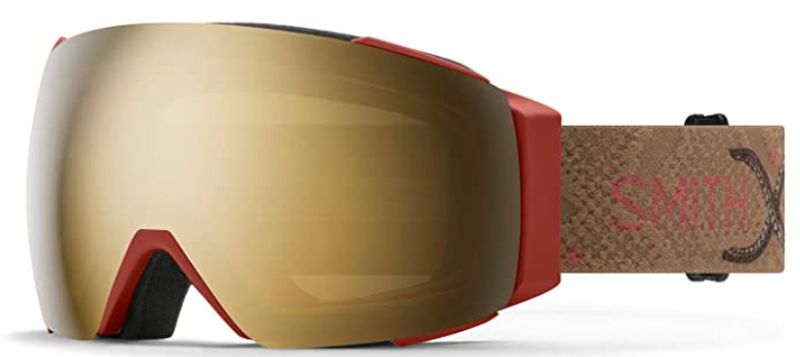 Chromapop claims to enhance contrast and definition, enabling the lenses to be more useful in low-light settings. Overall, all these systems get together to create a system that offers excellent clarity and vision. The lens curvature means that the frame won't get in the way of your vision, even though as snow goggles, these do have very prominent frames.
Smith also uses a "Porex Filter" for the lens, which makes it possible for the dual lenses of the system to equalize pressure and retain their shapes. This way, changes in elevation won't disfigure the lens or the goggles. A quick change in altitude is very likely when you're skiing or involved in similar sports, so lenses that can keep up are appreciable.
Dealing With Fog
Goggles built for the snow have to consider the requirements of ventilation. Plus, there's the ever-present risk of the lenses getting fogged and distorting vision. Prevention is better than cure. And lenses that don't get covered in fog are way better than lenses that have to be wiped clean.
Smith I/O Goggles use a 5X anti-fog inner lens that gets the ball rolling on clarity. The name is self-defining, and means that the lenses have been given Smith's anti-fog treatment five times. This allows them to be robust in preventing fog and lasting longer.
The lens also gets Smith's Fog-X hydrophilic etching. The point of this exercise is to safeguard the anti-fog coating so it isn't wiped away when the lenses are cleaned. Anti-fog coatings getting wiped away has been a problem for snow goggles for a long time now. The hydrophilic etching reduces this problem dramatically.
Of course, only relying on coatings isn't the way to go. Ventilation has to be up to the mark too!
See colors and other buying options
Smith IO Mag Ventilation
Proper ventilation is the key to clarity and paves the way for glasses that remain fog-free and comfortable. Obviously, we want goggles that are a tight fit and don't let the cold air assault the eyes. Yet, there is a need for flow of air so the goggles don't see a moisture build-up.
The 5X anti-fog treatment sure helps, as does the ventilation system and high-quality foam used in the construction of these goggles.
DriWix padding used with these goggles pulls moisture away from the face. It will quickly absorb any sweat and wick it away. The three-layer DriWix is rather efficient at its job and moves sweat quickly. Plus, it can absorb a good amount of sweat. With lower moisture inside the frame, the problem of fogging and ventilation is reduced.
Smith I/O Mag also works great with snow helmets equipped with the company's AirEvac technology. These include the formidable Smith Vantage and Smith Variance snow helmets. It's worth noting that helmets from other companies that have systems to allow goggle ventilation will likely work just as well. Though, of course, it is to be expected that Smith's own systems and products work better as a combo.
The Comfort And Fit Factor
Goggles that are supposed to stay on for a long time and come with outrageous price tags ought to be comfortable! Thankfully, Smith I/O Mag doesn't disappoint in this category. The good ventilation, excellent lens quality, and DriWix padding ensure that the goggles are a comfortable companion.
There is, of course, the question of a good fit. Goggles can't be as adjustable as premium helmets, but they do allow some changes for a better fit. Those with medium and small faces will find that the goggles fit perfectly well. They do get along with larger faces as well, but the fit would be more dependent on the individual, rather than general assessment.
The strap for the Smith I/O Mag is wide and convenient. A silicone beading along the strap allows it to stay put on the helmet or cap. It will stay in position as you go about conventional activities with these goggles. The strap is a good fit and fairly comfortable.
Changing Lenses On Smith I/O Mag
One highlight of the Smith I/O Mag goggles is their ability to – and ease of – changing lenses as necessary. As you can guess, even the name I/O is a reference to the ability to change the lenses.
Smith has done an impressive job with the way IO Mag handles lens changes. There are magnetic contacts on the goggles and lenses. These small, but powerful magnets hold the lens in position. This makes it easy to manage lenses.
Two clips are also included to get a more secure grip and ensure that the lens stays in position. The magnets alone could probably do a good job at keeping the Smith IO lenses in place. However, the clips provide an additional level of security and convenience.
With the mechanical touch combining with the magnetic hold, the lens is held in position more securely. This reduces the chance of the lens falling off due to impacts, bumps, etc. For goggles and lenses this expensive, we can certainly appreciate the extra steps that come with the use of clips.
The goggles come with two lenses in the pack. The ease of switching between goggles definitely adds to the convenience of their use and makes it worthwhile to go for the Smith IO Mag goggles.
The Verdict — Where Do We Stand?
Now that we've been through the Smith IO Mag review, where do we stand on the capability of these goggles? The goggles are pretty impressive in terms of usage and performance. They fit in well, stay in place, and are remarkably comfortable. The lenses are top of the line and your vision will stay clear and undistorted on those challenging ski slopes.
The only element worth hesitating here is the price. Smith I/O Mag is expensive. While it does offer reasonable value and excellent features, the price consideration can be a challenge for many customers. But yeah, they are pretty impressive premium snow goggles.