To speak of the Kelty Redwing 32 review is to speak of all its pockets. If you love organizing things – and can remember what went into which pocket, this is the backpack for you. It's good enough even if you don't want to use all those pockets, most of us probably won't ever use them, but it's a good option to have anyway.
While its pockets and organizations may stick to the limelight, Kelty Redwing 32 is a remarkable daypack in its own right. The lightweight, well-priced daypack gives you plenty of reasons to like it. That should explain its popularity. Let's see how well the pack performs and dive into things with this review!
Kelty Redwing 32 Highlights — Pros And Cons
Pros
Good value for money
Lightweight
Convenient padding for shoulder straps
Several pockets for organization
Cons
No true frame, backpack uses HDPE
Basics — What To Expect From Kelty Redwing 32 Backpack
First Impressions, Construction, And Aesthetics
Kelty Redwing 32 backpack is one of the larger daypacks for hiking. The number here signifies the volume, so this one's a 32 liter backpack. It's also available in other size variants, like the Kelty Redwing 44, 50, and others. There are subtle changes with each size, but generally, in how the front pocket is managed.
The 32L Kelty daypack is a popular pick and can come in quite handy. It's built nicely and can handle pretty much all requirements for a day hike. It is a bit larger than your average daypack, so it's not as well suited as an EDC backpack. However, for a day hike where you need to carry some extra items, this can be the right pick.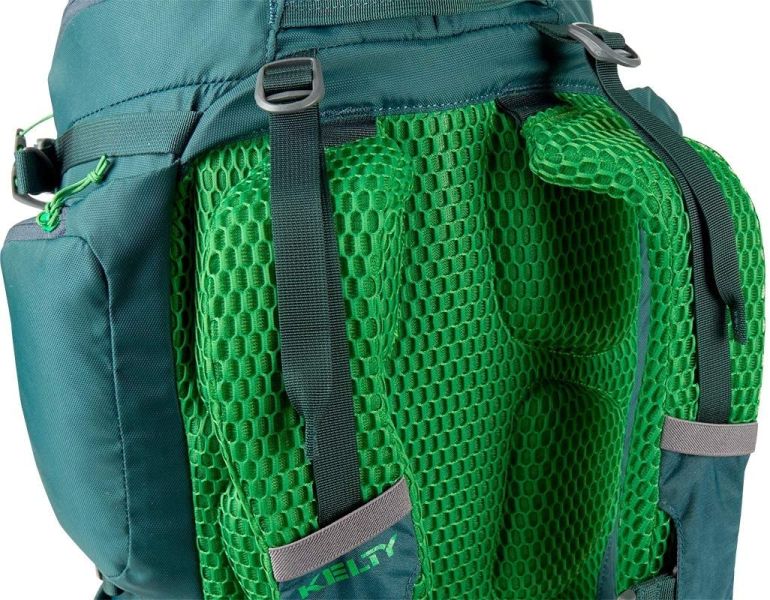 This is slightly larger than conventional hiking daypacks. The Osprey Daylite Plus, for example, holds on to about 20L. At 32L, it isn't that big compared to larger daypacks, but it could still be considered being towards the higher side.
The backpack is built to be reliable and uses sturdy material as well as strong stitching. Kelty Redwing 32's body is made from poly 420D small back stafford. Reinforcement fabric is made using poly 75x150D tasser coal.
General aesthetics of the daypack are pleasing. It isn't something too catchy or noteworthy, but it's a neat and well-designed pack that you can use.
Kelty Redwing 32 Suspension And Comfort
There is no explicit frame in this backpack. It has an HDPE back panel for greater support and comfort. Wrapped in foam, this helps the backpack retain its shape and keeps the overall structure intact.
Redwing could perhaps be compared to the Patagonia Black Hole MLC in the way the panel is offered for support. However, Patagonia MLC does a better job at handling the frame, even with less padding. But then again, the MLC has several carry options and doesn't necessarily need to be used as a backpack.
The lack of a proper frame can appear as a problem for the Kelty Redwing 32. Though it isn't quite a debilitating issue. The back panel is covered in mesh and padding to add more comfort to carrying this backpack. Though not the best solution there is, it's still pretty comfortable for using the pack for the day.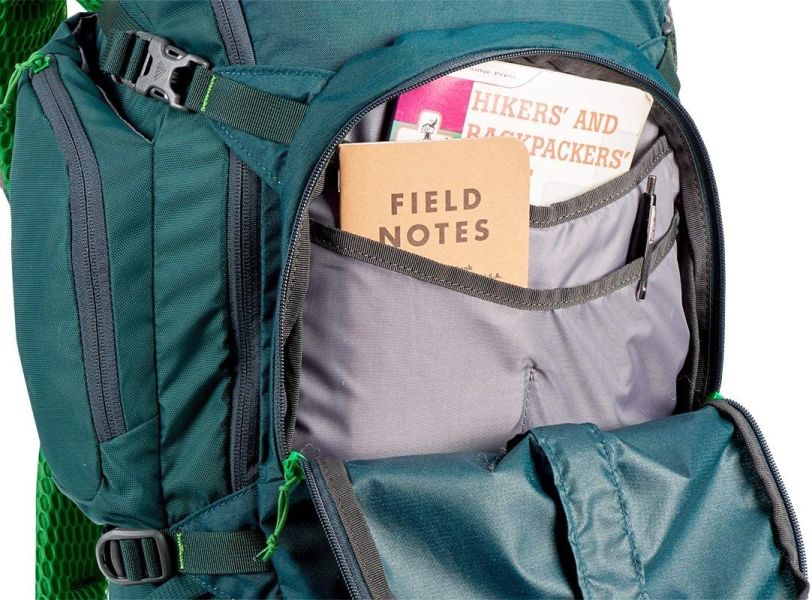 Shoulder straps on the Redwing do a better job at handling their position. Generous padding and a curved shape suitable for the setup makes them easier to use. Slight contouring over the straps makes them easy on the shoulders. The padding and the mesh layer help keep things cool and comfortable.
A chest strap helps keep the backpack in place, while the hip belt helps better distribute the weight. The belt is not padded but is wide enough to provide a better distribution of the pack's weight. Oddly enough, while Kelty seems to love pockets for this backpack, there aren't any on the hip belt.
Overall, this is a fairly comfortable backpack. And while the suspension could have been better, it is good enough for carrying the pack without much problems.
Storage, Pockets, And Organization
Storage and its use of pockets is the highlight for the Kelty Redwing 32. As previously explained, the backpack has a total storage capacity of 32L. The lion's share of this capacity goes to the main compartment, however, the pockets get their fair share too.
The main compartment has a dual zipper closure and is covered by a fold over lid and compression straps. It's fairly secure and well-packed, plus you can use the room under the lid for some extra storage if necessary.
There's also a padded compartment available with the main compartment. Kelty says it can be used for either a laptop or a hydration pack. It's big enough to fit a 17-inch laptop. Or remove the laptop and shove in a hydration system.
It will work, but the overall setup of this backpack isn't that conducive to hydration packs. At least not as efficiently as dedicated hydration backpacks. Well, running a tube through this backpack and pushing in a bladder isn't rocket science. But it may not be as comfortable as dedicated solutions.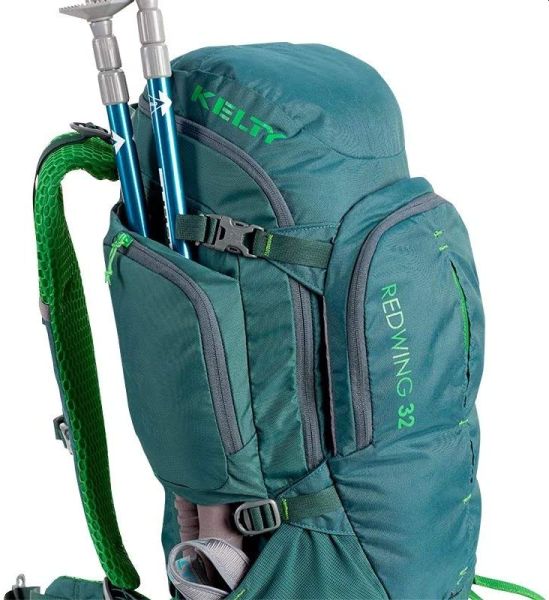 On the topic of specific pockets, there are two mesh pockets on the exterior for holding water bottles. A zippered pocket is available at the top of the backpack. This one's designed to stash smaller items and includes a key clip.
Moving further, opening the front pocket will give you access to several organized storage pockets. This is relatively flat, so it's a good place to store maps, other smaller items, and maybe even the mobile phone. Along here is also where you find the grab handle and daisy chain loops.
Zippered pockets are available at the sides for additional storage. There's pass-through room behind the front pockets. You can use this to store tent poles, hiking poles, and similar items, secured through straps.
More Specifics For The Kelty Redwing 32
While the backpack is large and spacious, it avoids tilting the weighing scale too much. It weighs just about 2 pounds, which is acceptable for a pack of this size and built. The dimensions here are 22x14x11, allowing it to be spacious without going for an uncomfortable size.
Compression straps are available on each side of the bag. These can be used to either keep additional items you carry in place, or to cinch down the bag in case of a lower load.
While the frame isn't solid, it helps the bag keep its shape and makes it more comfortable overall.
I like that the laptop pocket is spacious enough for a 17-inch laptop. But it's also a bit worrisome since the laptop will have to share a part of the weight due to the frame of the backpack. While this isn't likely to adversely affect the laptop, I'm not in favor of any approach that puts greater pressure on the laptop.
The Word On This Backpack
Our Kelty Redwing 32 review sees this as a useful backpack, especially for its price point. Great value and storage options do this Kelty daypack a favor and make it a desirable pick. The construction quality is good and the materials used can stay in action for several years. It's a good purchase in terms of value. Even a better one if you get the Kelty Redwing 32 on sale.