When it comes to taking those relaxing camping trips, nothing is more important than being prepared. Being out in the wilderness, the darkness of night comes fast. It's useful to have good lighting. It's practical, and also has an aesthetic component about it.
Having the best rechargeable camping lanterns is one of the best decisions you can make. It's an important piece of equipment to own when going camping, so a worthy investment is necessary.
Rechargeable lanterns are a good choice because we don't want to be hobbled by the need for extra batteries. Or getting stuck in the dark because someone forgot to pack extra batteries. If you're going to stay out, a good camping lantern is an excellent companion to your Cree XML-T6 flashlight.
Editor's Choice: LE LED Camping Lantern Rechargeable (1000 Lumens)
Our top choice for this category, the LE LED 1000 Lumens Rechargeable Camping Lantern gets points on usability and convenience. It helps that it has an attractive price tag. It's robust, splashproof, has multiple light modes, and a dependable rechargeable battery. Oh, and there's a hook at each side (top and bottom) so you can use this in any orientation you prefer.
Best LED Camping Lanterns For The Outdoors
1. LE LED Camping Lantern Rechargeable (1000 Lumen)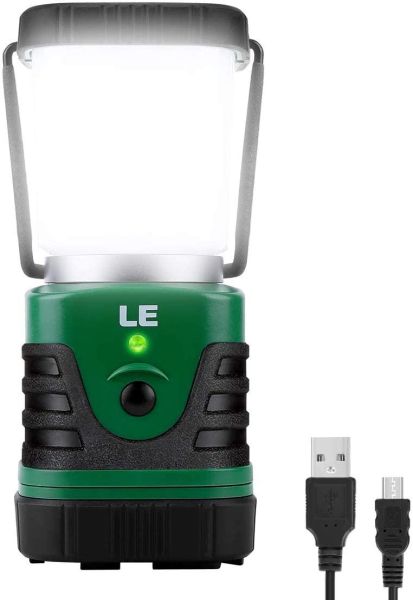 LE LED camping lantern is a high-quality product. It can serve many purposes and is highly valued among avid campers because of its ease of use. It is useful as a reading light, bright enough to make car repairs or light during a power outage, or just for lighting around the tent during a camping trip.
The lantern is powered by an impressive 4400mAh power bank that can last up to 12 hours. That's more than enough for regular use and likely will last at least a couple of days on a single charge.
You get access to four lighting modes with this LE rechargeable camping lantern. These are white light (6000K), warm light (3000k), a combined mode of the previous two, and a flash mode. Long pressing the power button allows its use as a dimmer.
Its power bank can be charged with a 5V port like that used for charging your mobile phone. It is USB chargeable – the package includes a cable, but no adapter. In a pinch, you could use it to power your smartphone or gadgets, though it will only provide a small backup.
Lantern Highlights
Water-resistant: it is splashproof, however, it cannot be submerged in water
It doubles as a power bank and can charge gadgets (smartphones)
Four different lighting modes and a dimmer
It has two hooks for attachment, one on the top, and one at the bottom
A 360-degree beam angle
Lights at 1000 lumen
The battery can last for up to 12 hours
2. LE LED Camping Lantern Rechargeable With Detachable Flashlights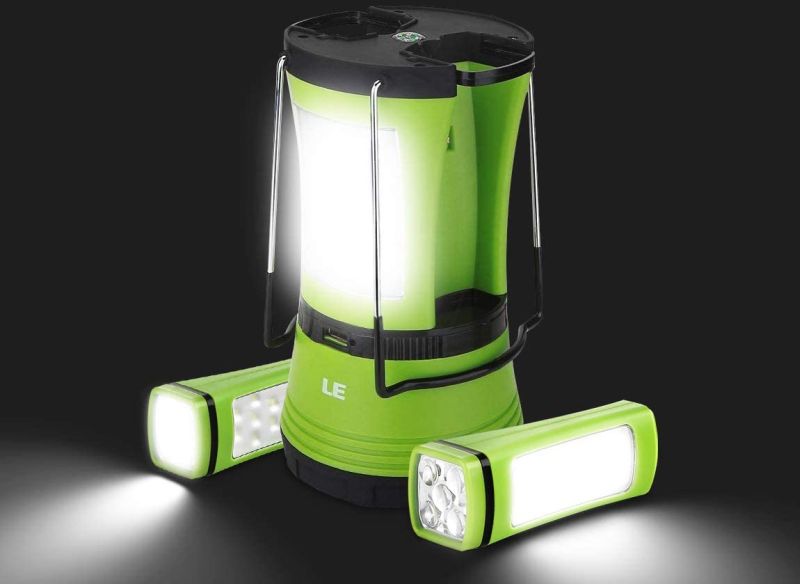 This camping lantern is multifunctional. It can be used as a lantern, but its lights are detachable and can be used as two separate flashlights. This is the perfect camping lantern when not much power is needed, and a quick trip is underway.
It is light, compact and multifunctional use adds to its appeal. Even with the two flashlights removed, the lantern has two panels that can continue to be used. Total available light from the lantern is 600 lumen, and it can cover full 360-degrees.
Power comes from a built-in 1800mAh rechargeable battery. You can also use 3 D batteries as an alternative to the built-in battery. Each removable flashlight requires three AA batteries. The brightness here is 200 lumen for the sides, 20 lumen for the headlight.
Lantern Highlights
The built-in compass can come handy in some situations
Sidelights on the lantern can be used as two separate flashlights
Rated at 600 lumen
Offers 360-degrees
Splash-resistant (Rated IPX4)
It can be powered by recharging the battery or using D batteries
Removable flashlights need AAA batteries
The light lasts 2 hours (in full mode) and charges in less than 5 hours.
3. Luxpro Dual Power Rechargeable Lantern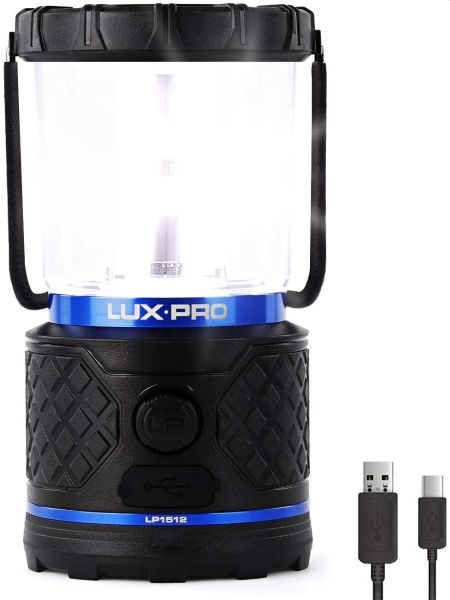 The Luxpro Dual Power Lantern is one of the most recommended for enthusiastic campers and outdoorsmen and regarded as an excellent camping lantern.
Although small, it is powerful and very durable. Rated at 1000 lumen, this lamp is bright and covers a fairly good area. The brightness is adjustable and can be changed from 75 to 1000 lumen at the simple twist of a dial. I like the range here and there is huge potential for use in various circumstances.
Luxpro Dual Power Rechargeable Lantern offers 360-degree lighting, and can be powered by the built-in battery or three C-batteries. Battery backup here can go up to 150 hours, depending on the brightness of the light. The USB-chargeable lamp has a robust construction and is splashproof.
Lantern Highlights
Dimming function allows light to change from 75 lumen to 1000 lumens
Lightweight and small
Robust construction and rubber casing for the body
Rechargeable 2000 mAh battery can double as a power bank
It fully charges in 4 hours
Alternate power through 3 C batteries
4. LETOUR Camping Lantern, USB Rechargeable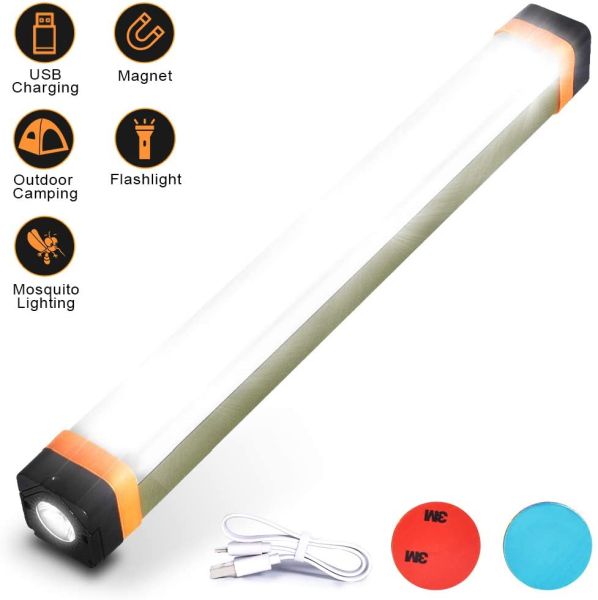 If you enjoy watersports, fishing, or hanging out by the lake, the LETOUR camping lantern is for you. Made with specialized materials, it is waterproof and shockproof. This one's not just for outdoor use, it has multiple functions for both indoor and outdoor spaces.
For a more flexible camping lantern, the LETOUR is a great choice. Designed with water in mind, it is uniquely wonderful for watersports and extreme sports lovers, as a soft light, or a bug repellant, the possibilities the LETOUR offers are useful.
There are four working modes and adjustable brightness. First is the regular flashlight (lamp on the top). The other three modes use the main light and include high brightness, warm white, and mosquito repellant lighting mode. It's questionable if the mosquito repellant lighting mode works, but it is useful nevertheless.
The light can be attached through a magnet or by using a hook. Its built-in 3600 mAh battery may also be used as a power bank.
Lantern Highlights
3+1 different lighting modes, including flashlight
Lightweight and easy to pack and carry
Can be attached through magnets or using a hook
The rechargeable battery can be used as a power bank
Waterproof and shockproof (rated IP68)
5. EZORKAS Camping Lanterns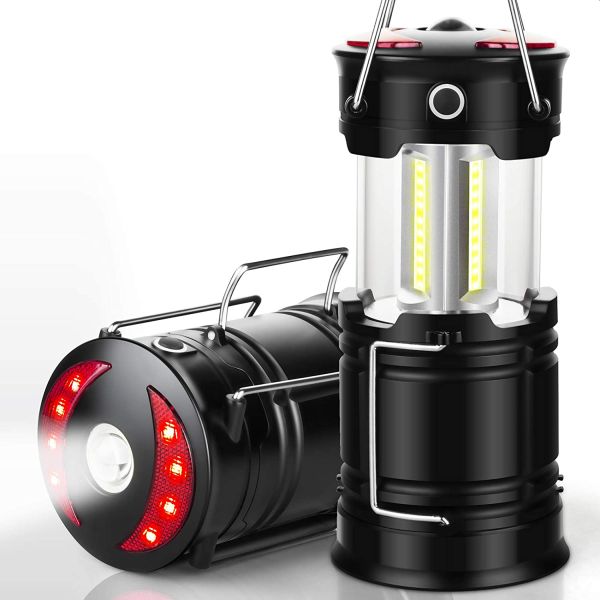 EZORKAS Camping Lanterns are quick to grab attention with their attractive price tag. It's not just the low pricing these lanterns have going for them, it's also the durability and efficiency. Their durability makes them the perfect companion for those that are more adventurous in their travels.
The lanterns are light and easy to pack, making them a great companion for short trips. Ezorkas lanterns are powered by a 18650 battery and unlike most others on this list, they cannot be used as a power bank.
Ezorkas lanterns can be used as classic lanterns, flashlights, and red warning lights that have strobe and SOS function.
Lantern Highlights
Attractive pricing
Availability of four lighting modes, including COB LED lantern, flashlight mode, and two warning modes (strobe and SOS)
USB-rechargeable or alternate power through three AA batteries
Lightweight and easily portable
Sturdy and rugged build
Magnets at the bottom make placing the lantern easier
6. Wsky Rechargeable Camping Lantern Flashlight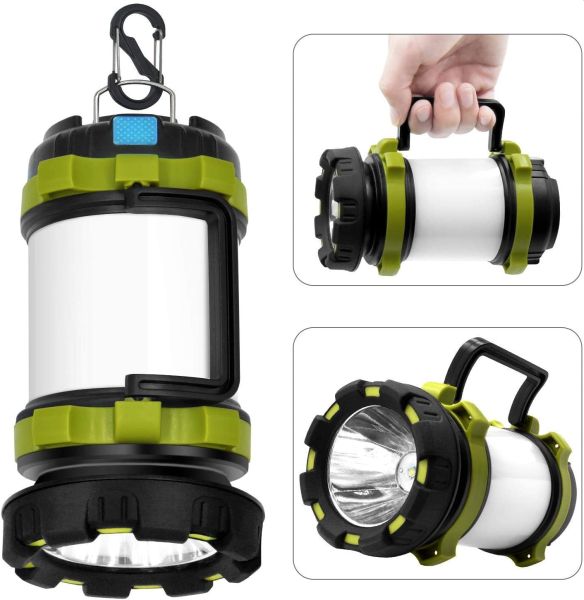 For a quality lighting camping lantern, the Wsky Rechargeable Camper Lighting Flashlight is one of the best LED camping lanterns available. Not just a lantern, but also a flashlight, it is mighty and powerful.
Wsky has incredible features that make it a great companion but also useful in any disaster or emergency. For rugged terrains and outdoor adventures, it has a powerful battery, 6 lighting modes, and quality waterproofing.
Power comes from a USB-chargeable 3600 mAh battery, that can also function as a power bank. A prominent hook/carabiner at its back makes the lantern easy to manage and use at your campsite or tent.
Lantern Highlights
Six different lighting modes: high and low lighting, flashlight mode, lantern mode, red light mode, and SOS mode
All modes available through a button
Rechargeable 3600 mAh battery can be used as a power bank if necessary
Lightweight lantern is easy to pack and carry
Water-resistant
7. Sinvitron LED Camping Lantern, Rechargeable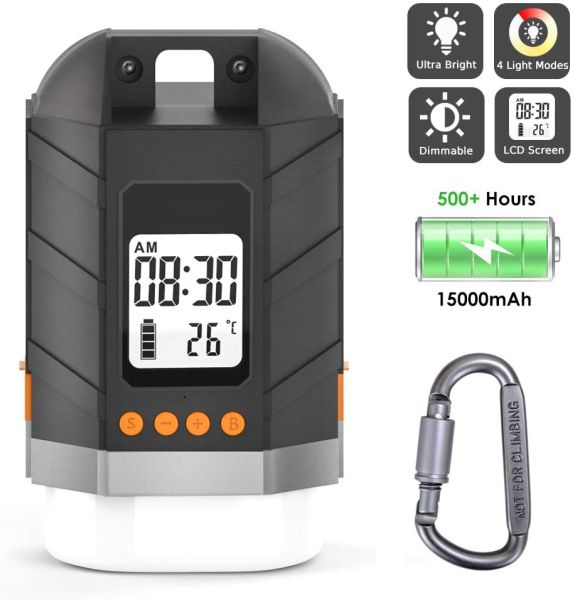 If you're looking for a high tech camping lantern, the Sinvitron LED Camping Lantern will not disappoint. It is one of the most technologically advanced camping light devices available in the market.
It offers an array of features and options. For those of us that enjoy the best in technology, the Sinvitron LED Camping Lantern is a definite must-see. Perfect for camping trips, or power outages and emergencies, the lantern is packed with interesting features.
The power bank here is a massive 15000 mAh. That's good enough for 500+ hours of lighting and also for charging smartphones and other gadgets. It utilizes a DC 5V/2A fast input/ output charging port for quick charging and ease of use.
A small screen on the lantern shows the time, battery status, and ambient temperature. Four lighting modes available on the lantern include cool white, warm white, natural white, and red SOS. It is rated IP65 waterproof, which means it can withstand heavy rain, but shouldn't be submerged in water.
Lantern Highlights
Offers 360-degrees lighting
Dimmer switch for easy control of light intensity
Battery lasts up to 30 hours on high light mode and over 500 hours at dim lighting
Four light modes: warm white, natural white, cool white, and SOS light
Impressive 15000 mAh battery can be used as a power bank
Large LCD shows time, battery status, and ambient temperature
Durable and lightweight
8. LE LED Camping Lantern Rechargeable (280 Lumen)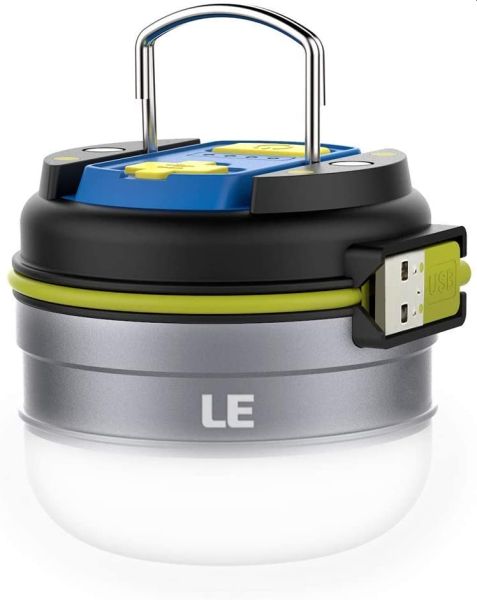 Here's another LE rechargeable camping lantern for our list! A compact, yet attractive and sleek design, the LED Camping lantern is as powerful as it is chic. The compact dimensions and low weight are pretty attractive for hiking and backpacking.
Do not let the size fool you, it has many features that make it a good pick. For a fancier look with necessary features, this LE LED Camping Lantern is a great choice. It weighs just 0.38 lbs and offers maximum brightness of 280 lumen. There's a mid mode at 140 lumen and SOS mode at 260 lumen.
The compact lantern packs a 3000mAh battery, which is available for use as a power bank as well. Two magnets at the base and a hook make it easy to place where necessary. This one's rated IPX4, which means it is water-resistant and will be okay with a few drops of water (like light rain) falling on it.
Lantern Highlights
Lantern offers three lighting modes: full level (280 lumens), mid mode (140 lumens) and an SOS mode (260 lumens)
Low battery indicator light
Compact size
Uses 3000 mAh polymer battery, which can also work as a power bank
Water-resistant
Two magnets and a loop for easier use
9. LE Rechargeable LED Camping Lantern Flashlight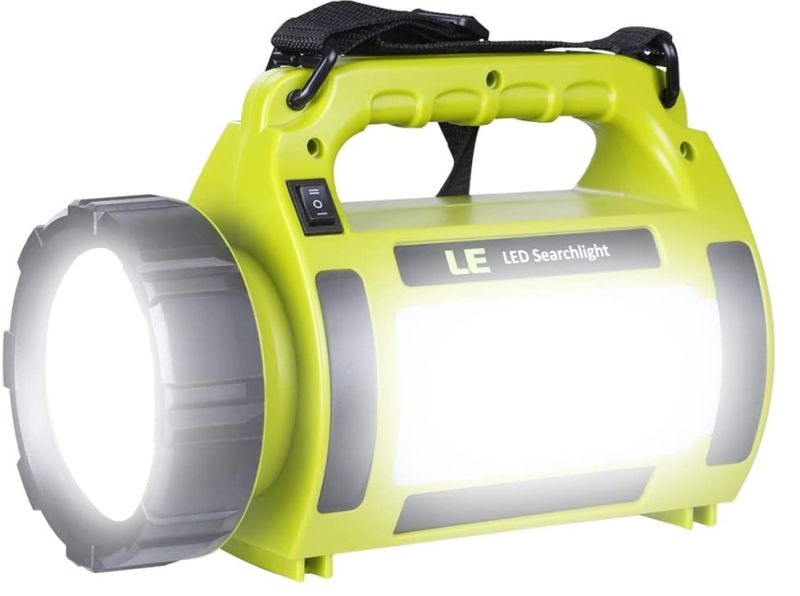 For a truly powerful backpacking lantern, LE Rechargeable LED Camping Lantern Flashlight is a great choice. This one's pretty much a twin of the Wsky Rechargeable Camping Lantern Flashlight, which too gets a review on this list.
The lantern is available for use as a flashlight, or as a broader lantern with lighting on the side panels. It is equipped with CREE T6 LED for better quality and offers maximum lighting of 1000 lumen.
At about 30 ounces, it isn't exactly lightweight, but that's acceptable, given the range of features and uses. It uses a rechargeable 3600mAh battery, which is also available for use as a power bank. It's rated IP44, so it's water-resistant, but can't handle heavy rain or being submerged in water.
Lantern Highlights
Uses high-quality CREE T6 LED with 1000 lumens
Water-resistant
USB-rechargeable 3600 mAh battery can work as a power bank
Multifunctional lantern for use as a flashlight or lantern
10. Blazin' Battery LED Rechargeable Lantern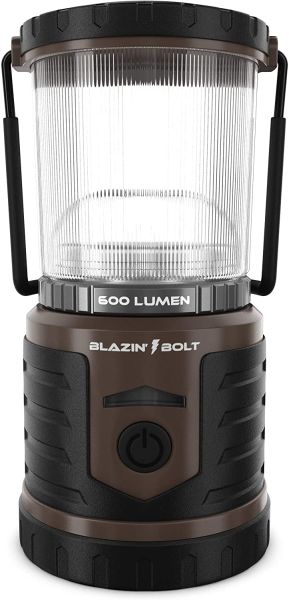 True to its name, this is an impressive blazin' lantern. This one includes two batteries, each rated at 6000 mAh. Separate batteries make its use as a power bank and lantern possible and easier. It offers full 360-degree lighting and six modes, including red light SOS mode.
Blazin' Battery LED Rechargeable Lantern can have up to 500 hours of battery use in low power mode. Though running it at 600 lumen will drain the battery in 36 hours. It is shockproof from up to a height of 5 feet and water-resistant.
An included carabiner clip at the bottom makes it possible to use this as a traditional lantern. Blazin' Battery LED Rechargeable Lantern is available in several color options, and three brightness options. These include 400, 600, and 1000 Lumen.
See buying options and discounts
Things To Know When You Buy A Rechargeable Camping Lantern
Buying an LED rechargeable lantern is fairly straightforward. Though considering the number of options available, it makes sense to look for specific features. Your budget is a good indicator. There's little benefit to buying an expensive light if all only intend to use it sparingly.
When purchasing the best LED camping lanterns or camping lights, think about your exact needs. Consider which conditions you will be using it under. Some important pointers are:
What is your budget, and how much are you willing to put in extra for something a bit better?
Are you purchasing the lantern for camping, as a backpacking lantern, or for use in emergencies?
How long will your camping trip be?
The brightness is very important (1000 lumens on the average is a good level). How much lighting capacity do you need?
Modes and options that you want from the lantern.
A dimmer: do you see the need for a feature like this?
Charge time, how long will it take to charge the camping lantern?
Usage duration. How long will you be able to use it before you need to charge it again?
Are they waterproof? Whether fishing, walking, or rain, you need to be secure your camping lantern will have you covered.
How long is the warranty on the product? While it's easy to throw numbers like 2 years around, the after-sales services are important. Also, consider the scope of the warranty.
After asking yourself these questions, and finding out your exact needs, you are ready to begin your search for your camping light. Make sure you look at all the highlights and get exactly what you need.
Which Lantern Is Your Choice?
Your camping outing deserves the best gear. Those exciting and dreamy nights outdoors require the top camping lights. Using the best rechargeable lantern allows peace of mind and convenience of reliable lighting for your campsite. Take a look at our choices here and see what fits your camping requirements best.