Chilling on a hammock and sleeping under the stars seems awesome, as long as you find a way to keep the bugs and mosquitoes away! Finding the best hammock bug net for your use should take care of that problem. Like other purchases, this one too deserves some serious thought and consideration. After all, staying away from the creepy crawlies in the great outdoors saves you not just from the yucky feel of it all, but also from potential health hazards.
Top 10 Bug Nets For Hammocks In 2019
Quick Considerations For Your Hammock Bug Net
Put Your Hammock Up Wisely
Even with the best bug net, keeping a healthy distance from bugs and mosquitoes is important. To that end, the hammock must be placed somewhere with a lower chance of running into bugs. Camp away from places that have moisture. Rivers, ponds, and moist soil are all places where mosquitoes and other insects breed.
Similarly, treat your hammock/ bug net with insect repellants. This is helpful in keeping bugs away from you. It also ensures you don't wake up staring at a carpet of mosquitoes and insects sitting on your hammock or net.
Considerations On Size And Mesh Of The Bug Net
Size and material are two important factors in picking the right bug net. Ideally, you want one that is slightly larger than your hammock. A full fitting net is likely to have trouble staying in place as the hammock bends and moves. With extra room available, you can be sure it stays right in place.
Mesh is the defining characteristic of a bug net. A regular mesh will allow air ventilation to go unimpeded, but may have enough space in its lattice to allow some very tiny critters to get in. A no-see-um mesh takes care of that problem, and effectively blocks critters from making their way past the mesh. However, this structure also ends up restricting airflow to some extent. So weigh you choices carefully when buying a net.
Another obvious consideration is cost and value for money. More expensive is not necessarily higher quality. You may also consider buying the best hammock with mosquito net, rather than purchasing a net separately.
Best Hammock Mosquito Nets To Consider
1. Eno Guardian Bug Net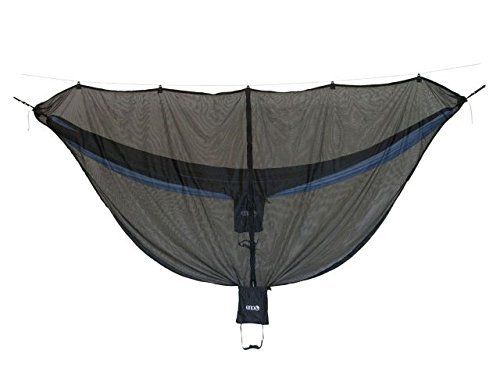 Eno Guardian Bug Net is a top quality, top of the line bug net to consider for your hammock. This bug net works by surrounding your hammock on all sides, so there is no room for critters to enter. Unfolded, it measures 9'4″ x 4'3″ and includes a 3mm ridgeline for easier placement.
Eagles Nest Outfitters (ENO) are well-regarded for their camping equipment in general and hammock camping gear in particular. As such, this product is one of the more reliable ones. To keep critters out, the net is constructed from superfine SkyWeave mesh rated at 950-square-inch. It weighs just 16 ounces and is easy to set up and pack.
Highlights:
High-quality construction
Easy to set up and pack away
Conveniently sized for best use
No-see-um mesh
2. Serac Camping Hammock Bug Net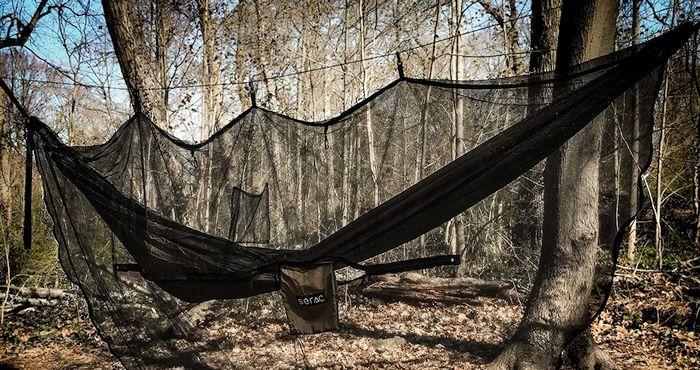 Serac Camping Hammock Bug Net is another quality product that focuses on performance and longevity. Its superfine mesh will keep critters out while you chill comfortably in your hammock. With the dimensions of 10×5 feet, this bug net is large enough to provide a 360-degree coverage for your hammock.
A ridgeline is available to make working with this hammock bug net easier. It weighs just 15oz so this bug net won't add much to the weight of your backpack. Additionally, its large size comes as a benefit to ensure the net is secured properly. Serac has made efforts to make setup and packing away the net convenient, and it shows in application. The bug net is simple and fast to set up and pack away.
Highlights:
Robust no-see-um netting
Can provide 360-degree coverage for your hammock
Easy to set up and pack away
Lightweight
3. Wise Owl Outfitters Hammock Bug Net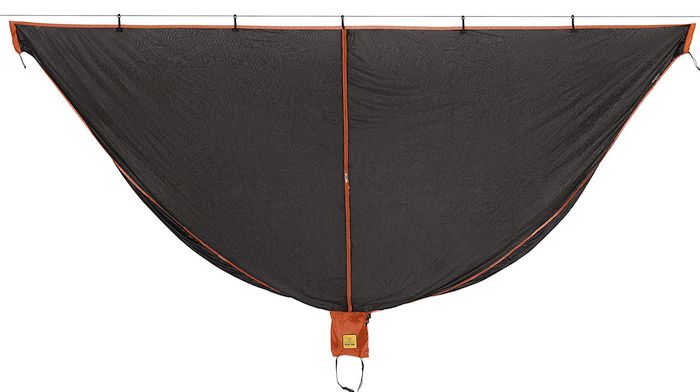 Measuring at 11×4.5 feet, Wise Owl Outfitters Hammock Bug Net is large enough to cover most single-person hammocks. The bug net can go a full 360-degree around most hammocks. It makes an excellent effort to merge its usability and functions for the best experience.
The included ridgeline has a generous length so you don't have to worry about the hammock bug net's setup. Matched with the generous dimensions, this ensures that the net won't get in your way. To stay easy to set up and use, this bug net includes heavy-duty zippers and high-quality fabric.
Highlights:
Good length for ridgeline
Can cover the entire hammock
Easy to set up and pack
Weighs 20oz
4. Legit Camping Hammock Bug Net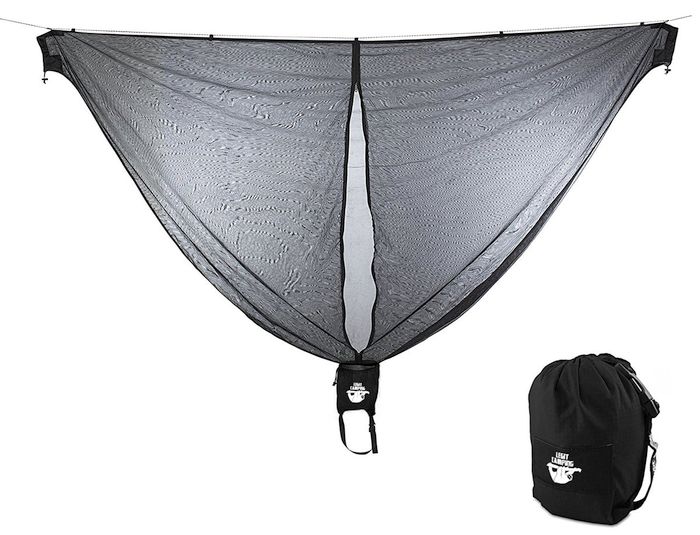 Legit claims to offer excellent value for money. This hammock bug net somewhat lives up to that claim. The price is towards the lower end of the spectrum, but the quality isn't anything to complain about. With a length of 11 feet, this net goes all around the hammock. A sturdy zipper has been included for easy movement.
It is easy to tie and use, and the net forms a tight grip along the ropes so there's no worry of insects crawling to the hammock by traveling on the ropes! Legit Camping Hammock Bug Net uses a no-see-um mesh, so ventilation suffers a bit, but you can relax in the knowledge that no bugs are getting anywhere near you!
Highlights:
Good value for money
Sturdy net made with good material
Easy to set up, convenient to pack away into the stuff sack
5. Chill Gorilla Hammock Mosquito Net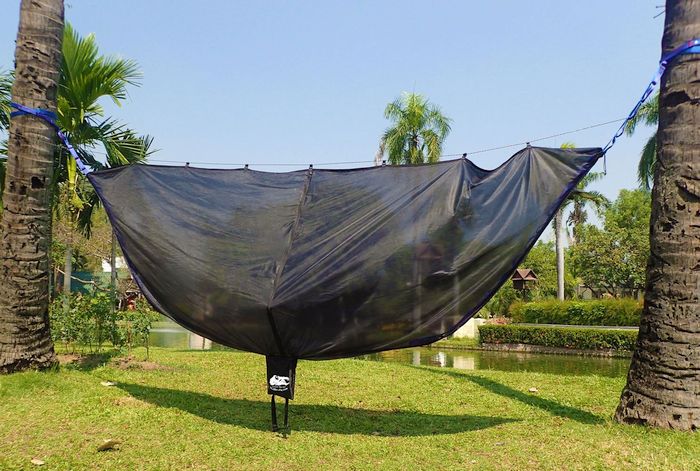 With a name like Chill Gorilla, I'd like to assume this net lets users chill without a worry in the world. The net is massive in size, measuring 132×51 inch. Thanks to the large size, it can conveniently go around your hammock and offer complete protection against insects.
The superfine 950-square-inch bug netting keeps no-see-ums out of your sight, and you don't have to worry about waking up with itchy or painful insect bites. It packs down into a gear bag with compression strap. Though the larger size means you have to utilize more space, a good quality bug net is practically essential for several treks and camping locations.
Highlights:
Good value
The large size is a welcome convenience
No-see-um mesh works pretty well
6. Unigear Hammock Bug Net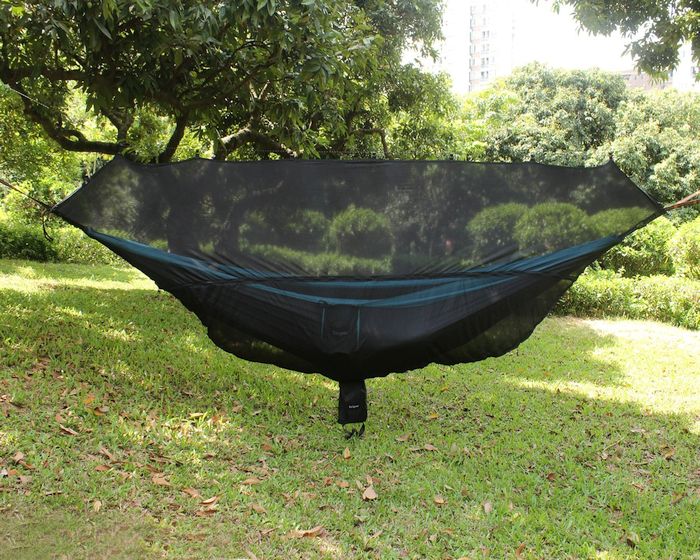 Unigear Hammock Bug Net is another large-sized net to keep you well covered and safe in the great outdoors. This one measures 132×55 inches, which is sufficient to offer a full 360-degree coverage of the hammock. Even with the large size, it manages to maintain its weight at 21 oz (600 grams).
While it is spacious and large, the Unigear hammock bug net and others of similar size are best used on a single hammock. These won't be worth much on a double hammock. I'm pointing this out because some products (including this net from Unigear) have some suggestions that it could be used for a double hammock. Unless you want poor coverage that negates the use of having a bug net, stick to single hammocks for nets this size.
The lifehack here is to use the hammock bug net the way it is intended to be used. Stretching it to more than the optimal size won't bring good results.
Highlights:
Large sized bug net measures 132"x55"
Weighs 21 oz (600 grams)
The mesh works fairly well
7. Live Infinitely Hammock Mosquito Net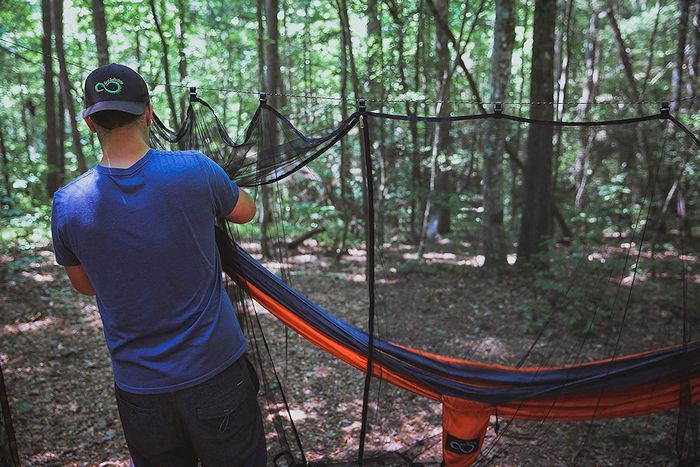 This 11×5 feet bug net may be slightly smaller than some options on this list, but it is still sizeable enough to be comfortably used on a single hammock. Live Infinitely Hammock Mosquito Net can offer 360-degree protection and keeps The net comes with a 12-feet ridgeline, which makes it easier to place it in position.
A very interesting thing here is that it weighs just 12oz. Now that is remarkably light. Interestingly, this is lighter than the ENO bug net that also appears on this lis, and has similar dimensions. What sets these two apart is quality. While Live Infinitely Hammock Mosquito Net focuses on value, ENO puts a greater premium on product quality.
Just to be clear, this does not mean this particular hammock net is an inferior product. Both of them have their own uses, and your choice should be guided by how often you intend to go camping, and how rugged you want your gear to be.
Highlights:
Very lightweight at 12 oz
Measures 11×5 feet
Good mesh to keep bugs out
Offers 360-degree coverage of hammock
8. Foxelli XL Hammock Net
Foxelli XL Hammock Net measures 12 feet in length, and 4-feet 4-inches in height. I suppose the XL in the name points towards the length, because the width is nowhere near being large, let alone extra large.
Anyways, the dimensions are sufficient to offer a full 360-degree coverage to your hammock. If you've used wider nets before, the difference here, though just a few inches, seem pretty well pronounced when setting up the net. It weighs just 16 oz, which makes it convenient to carry along. The tent also includes one 25-feet long ridgeline, for easier set up.
Highlights:
Dimensions 12'x4'4"
Weighs 16 oz
Full 360-degree coverage
Check current price and discounts
9. pys Hammock Bug Net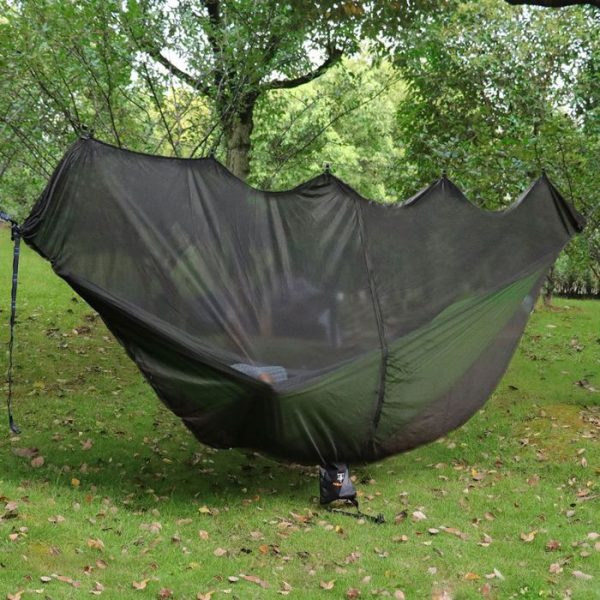 Though it has its eyes on the budget line, pys Hammock Bug Net keeps its product quality well-maintained. Measurements of this hammock are 12'x4'4". While it is more than sufficient in length, I can't help hoping for a higher width. The bug net provides coverage at a full 360-degree so you don't have to worry about bugs bothering you.
A ridgeline is included in the package for easier setup. Like most nets on this list, pys net too has a vertical zipper that makes it easier to enter and leave the tent. It weighs just 21.5 ounces and can be conveniently carried in a backpack.
Highlights:
Dimensions 12'x4'4"
Weighs 21.5 oz
Good value for money
Full 360-degree coverage
10. Wecamture Hammock Bug Mosquito Net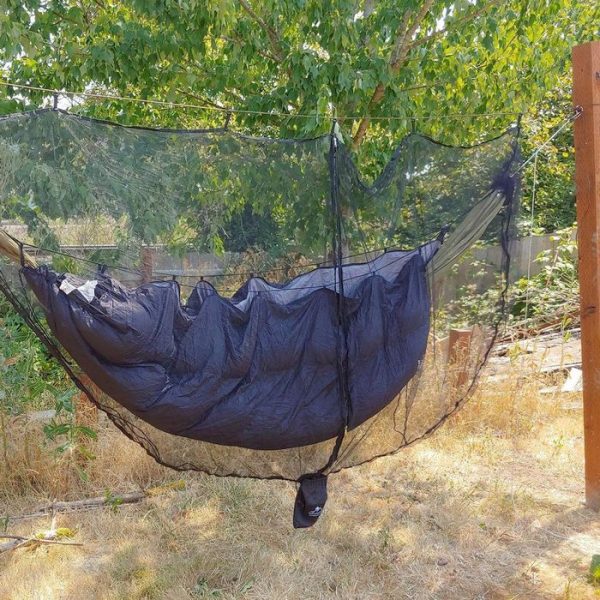 Wecamture Hammock Bug Mosquito Net measures 11'x4'6". The dimensions are average, as is this mosquito net. In theory, it has everything you would want from a mosquito net. It is lightweight, cheap, and easy to set up and pack away. However, it has a wider weave, and may not be as effective in some scenarios.
If mosquitoes and larger insects are all you want to keep out, then this tent will not be a problem. However, if you are worried about no-see-ums and other tiny critters, this one may not work as well. On the plus side, it does have excellent ventilation!
As another factor of its lower cost, the net is lighter and more prone to damage. It will probably last a few trips, though asking it to last years would likely be in the realm of fantasy.
Highlights:
Dimensions 11'x4'6"
360-degree protection against mosquitoes
Wider weave may not be able to stop the tiny no-see-ums
Value for money product
A Hammock Bug Net For The Discerning Buyer
The choice of the best hammock bug net comes down to your own personal preferences. If budget and value are what you crave, there are several well-priced variants available. As you go towards the cheaper variants, you may find that though the mesh holds well against mosquitoes, some no-see-ums can get through. A thicker weave can deal with the no-see-ums, but it comes at a higher cost and lower ventilation.