When camping with a large tent, comfort is often the desired option. Most of these tents can fit in a queen-sized amir mattress. Wouldn't it be as simple to get in queen size camping cots for an as comfortable and enjoyable experience?
Turns out, that's easier said than done. Queen-sized cots are practically a rarity. While camping cots in general offer a range of options, the world of queen-sized cots isn't so generous. Thankfully, what we do have in this range is useful and remains a trusted option. Let's take a look!
Queen Size Cot Review — Coleman Queen Size Camping Cot With Air Mattress
That Looks Nice, Tell Me About It
Coleman Queen Size Camping Cot pretty much has the market cornered. It would be speculation, but we can wonder if its popularity is due to the lack of competition, or because of its good qualities. It appears both these factors play a role and are relevant.
The cot has an excellent standing in terms of its usability and performance. It's spacious, convenient, and best of all, comfortable. Of course, "comfortable" is a relative term here. The cot probably isn't as good as your bed at home, but it is top-of-the-line for camping comfort.
Build quality is in favor of this queen size cot. It has a sturdy and reliable steel frame that can support a weight of up to 600 lbs. That's generous-enough for the cot's intended use. I'll recommend you keep a healthy gap between the cot's maximum allowed weight and your own weight.
Maybe 450-500 lbs is a good enough limit. It's not that the cot can't take a higher weight, but more because a healthy gap will lead to a better life (age) and structural integrity of the cot.
Get more information about this cot
Comfort And Usability Of Coleman Folding Camp Cot
Comfort is the lifeline of a camping cot. That's especially true for a queen size camping cot. Let's face it, if we're dragging along a big cot, we expect good comfort. On that count, I'd say this cot is satisfactory.
When used without the mattress, the fabric provides adequate support. As with all camping cots, the fabric will sag slightly with the weight. However, it doesn't go too deep to become a problem.
A steel support goes through the center of the cot and it isn't comfortable at all to sleep on this. So with two people on the cot, they're essentially limited in movement and comfort. This is why the air mattress is a really good idea for comfort as well as usability.
Coleman's camping cot mattress placed on top of this mattress gives it a stable and relatively comfortable surface. The support structure is no longer an impediment, so your sleep becomes a lot more comfortable.
Coleman Cot With Air Mattress – Adding Comfort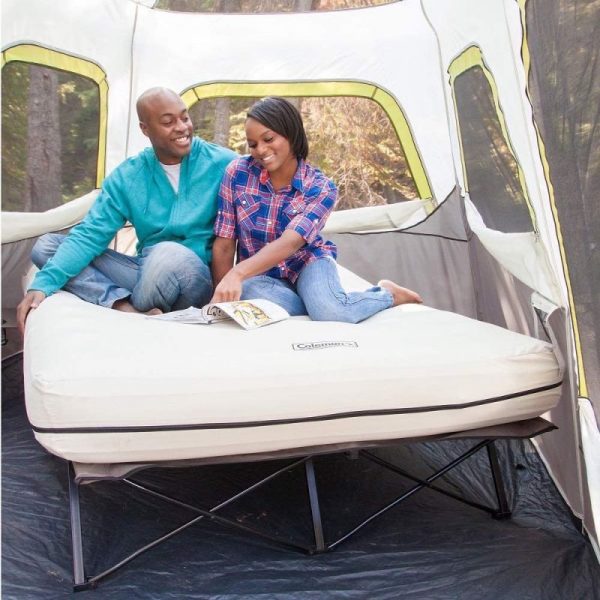 I'd say the included mattress is the jewel in the crown of this cot. The camping cot mattress is a queen-sized air mattress. Much like the cot, you could use this mattress as a standalone mattress and be comfortable.
Coleman's air mattress uses a coil construction for greater support and comfort. To put it simply, the insides of the cot has structures that work very much like springs in a traditional mattress. In this case, of course, they're filled with air. The result is a comfortable and reliable cot.
For some reason, Coleman decided to have a sewn-in cover for the mattress. It serves its purpose in keeping the mattress in place on the cot. However, it makes cleaning and maintenance quite a chore. Still, a small price to pay for the overall convenience and comfort.
Dimensions And Other Features Of Coleman Queen Size Sleeping Cot
One thing I enjoy here is the presence of two side tables on either side of the cot. The flippable tables show up when needed and are a good place for your phone, tablet, or other gadgets/necessities.
Coleman includes a battery-operated pump for the mattress. It makes setting up the mattress a breeze and adds value to the cot. This thing will need four of those huge D-cell batteries, and it's a good idea to keep a few more as a backup.
The dimensions of the cot are 78×59 inches. That's pretty much your standard queen size. It also sits at a height of 22-inches from the ground. That's a bit higher than most cots, but it's not uncomfortable.
The weight of this cot is about 42 pounds. It's not lightweight, but then it's not intended to be lightweight! Given the size and build quality of this cot, that's a pretty reasonable weight. Given its size and weight, the cot is difficult to maneuver. It does also require some effort in setting up and folding away.
When fully packed and folded, the queen size camping cot can be placed inside a carry bag. Coleman has included wheels at the base of the carry bag, which makes it easier to move around.
Pros And Cons Of The Coleman Queen Size Cot
Pros
Excellent build quality
Good value for money
Useful fold-away side tables included
Included mattress is comfortable
Includes battery-operated air pump
Excellent usability
Cons
Heavy
Can be difficult to set up and pack away
The mattress has sewn-in sheets, which can be difficult to maintain
Alternatives – Other Camping Cots You Can Consider
Given that there aren't many queen size camping cots available, the next best thing to consider are double camping cots. As the name implies, these cots are practically twin-sized and have space for two people. Here are the top picks.
1. Kamp-Rite Tent Cot with Rain Fly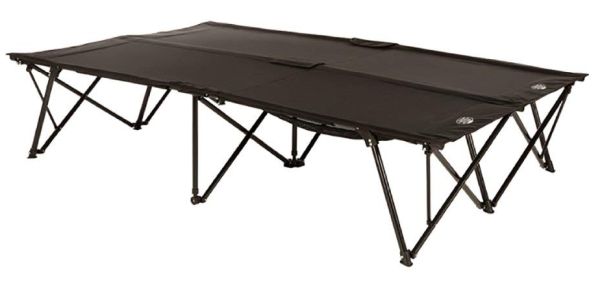 Kamp-Rite Tent Cot with Rain Fly is a suitable and useful pick as a double cot. It is sturdy, reliable, and performs its duties admirably. Given that the cot has a rainfly, it comes close to the domain of cot tents. Yet, it would be too hasty to consider this a full-fledged cot tent. It works better as a tent cot!
The cot is made from good quality materials. Its 600D fabric can easily handle the weight and manages to be comfortable. The cot sits on a heavy-duty powder-coated frame that is rated for a max weight of 500 lbs.
Given that it's a 2-person cot, a prominent central bar runs through the cot for structural integrity. For the sake of comfort, it's best to include an air mattress with this cot. A mesh storage area is located underneath the cots for quick and convenient storage.
The dimensions of the Kamp-Rite Tent Cot are 85×55 inches. That's pretty close to a queen-size cot. In fact, what it lacks in width, it makes up in height. This cot might be a better pick for tall people. The cot has a collapsible design and can fold away to 42×11 inches.
Pros
Robust and reliable construction
Generous sizing is almost comparable to queen-size cots
Relatively easy to set up
Cons
Heavy
The prominent central bar can cause some discomfort
See buying options and read more
2. KingCamp Camping Cot Double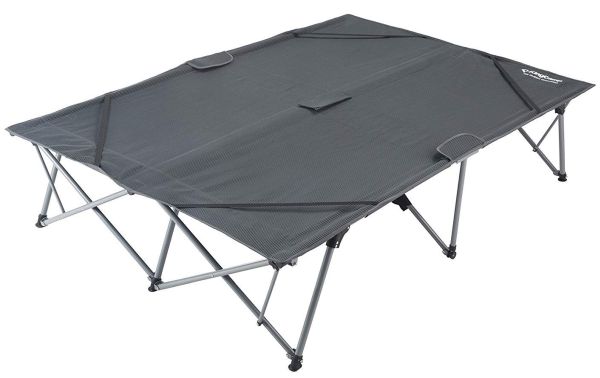 Sitting on a robust steel frame and backed by a comfortable Oxford fabric, this cot is a decent pick. The 1200D Oxford fabric keeps the cot comfortable and ensures longevity. Given the high-quality construction, KingCamp Camping Cot Double is capable of handling a max weight of 550 lbs.
At 55 x 85 x 19 inches, its dimensions are generous enough to allow comfortable sleep. Elastic bands placed at each corner allow this cot to hold a queen-size mattress. Effectively, this can work as a queen size camping cot, though a slightly less reliable one. Even so, it's usability is unquestioned.
Pros
Large sleeping area
Durable fabric and sturdy frame
Cons
The central bar is uncomfortable
Tiny wheels at the base of the carry bag are practically useless
3. Kamp-Rite Double Tent Cot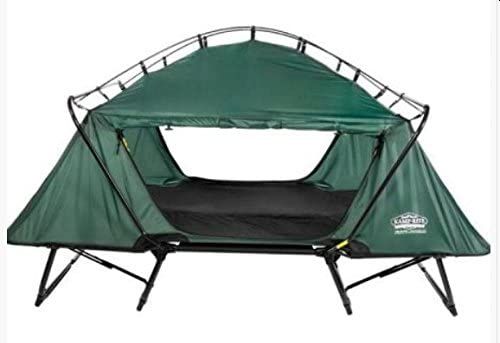 This is a full-fledged tent cot for two people. Practically speaking, it's a combo of a Kamp-Rite Double Cot and a rainfly carefully placed to make it a useful tent as well as cot. Dimensions of the sleeping area are 84×53 inches, which makes it fairly comfortable – just make sure you've got a nice air mattress!
Steel supports make the Kamp-Rite Double Tent Cot stable and allow it a maximum weight of 500 lbs. Once the rainfly is drawn, you get a 40-inch headroom, which is enough space to sit comfortably on the cot.
Pros
Spacious tent cot with included room for luggage
Easy to set up
Sturdy
Cons
At 51 lbs weight, it is heavy
The prominent central bar is uncomfortable when sleeping
Things To Know When Buying A Large Camping Cot
Keep An Eye On The Folded Size And Portability
When you buy a large camping cot, you expect it to be heavy. You'll have to lug it around and that will take some effort. But, it's important to choose one that doesn't become a pain to move around.
Portable sizing, at least when folded, must be seen as a key requirement. Coleman's Queen Camping Cot, for example, folds down to a neat size and includes a very useful carry bag. Large wheels on this bag make it easy to move the cot around. That's a big win, when you consider the alternative is to lug around a (nearly) 50-pound cot!
While I specify one cot, the principle remains relevant for all others. Also, see that the cot doesn't try to go overly small when packaged. That is bound to affect the structural integrity and will considerably shorten the cot's lifespan.
Longevity And Build Quality Of The Cot
You'll notice that most of these cots have a prominent central bar, which makes it quite uncomfortable for sleeping. However, this bar is a structural necessity that ensures a longer lifespan for the cot in general and its fabric in particular. It's a small price to pay for all that trouble.
As such, construction quality remains a key element to consider for a cot. A steel frame is practically a necessity for any large cot that hopes to have a long lifespan. A sturdy, reliable fabric is a close second. However, keep in mind that fabric is (relatively) easily replaced, while the frame won't take so kindly to repairs.
Sleeping In Comfort On The Queen Size Cot
Queen size camping cots are something of a rarity. As things stand, Coleman Queen Size Camping Cot With Air Mattress is the only practical option to consider. If you're willing to compromise slightly on the size, twin cots can be a useful proposition. Many of these come very close to the dimensions of queen size cots, and can even be more spacious in some aspects. We hope that the suggestions here help you in getting the right fit.