Utah is often seen as an arid state and it is no wonder many of the popular camping spots here build on the beauty of these landscapes. However, the best camping in Utah and the appreciation of its natural beauty comes not just from the arid wonderlands, but also some very beautiful forests and lakes that call this state home. We'll see them all as we scout the best camping locations in Utah.
Greatest Camping Locations In Utah
1. Bear Lake Camping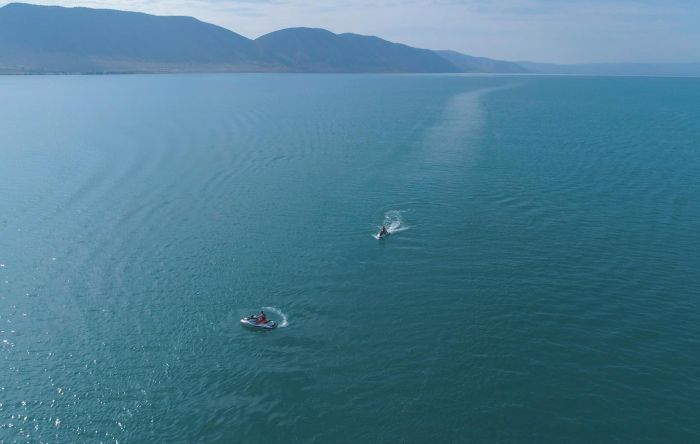 Bear Lake State Park is perhaps the most popular location for outdoor recreation in the state. Brilliant blue waters of the lake are contained by sandy beaches. The blue color of the water is largely due to calcium carbonates suspended in the water. The park is open year-round and there are several activities available. Most of these activities are centered on the lake and depend on the season.
Popular activities include fishing, boating, and swimming. When it's winter and the lake is frozen over, you can get some snowmobiles to have fun. And of course, there is still room for fishing through holes in the ice! The west side of the lake has a marina for boats.
Several campgrounds are available for a Bear Lake camping experience. These range from primitive campgrounds to full hookup sites with plenty of room for larger RVs.
2. Antelope Island State Park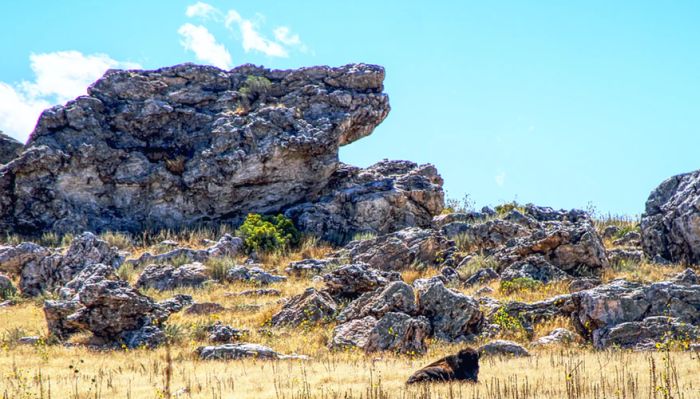 Located in the Great Salt Lake, the island is well-known for its beautiful scenic beauty. The area is also home to some amazing wildlife species including bison, mule deer, pronghorn antelope, and bighorn sheep. Several bird species can also be seen on the lake's shores.
Activities at Antelope Island State Park include sailing, boating, and wildlife viewing. The area is also known for saltwater bathing and its clear skies are great for stargazing. Several campgrounds are available. These are primitive campgrounds with no showers though pit toilets are available. Better amenities are available in the day-use area, which is fairly accessible.
3. Zion National Park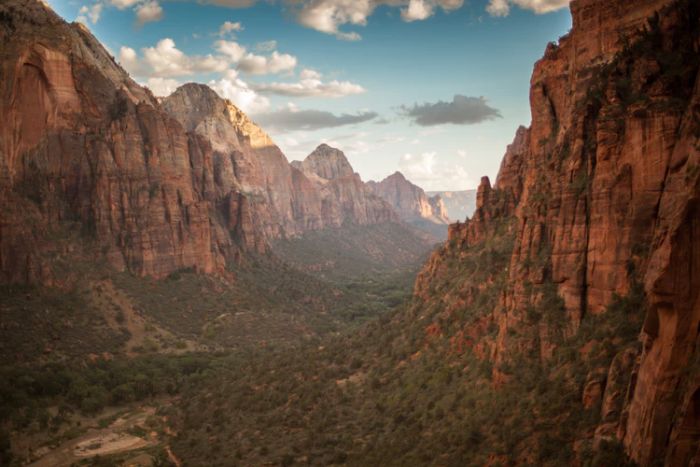 Zion National Park is a massive nature preserve in southwest Utah. The first national park in Utah, the area is known for the steep red cliffs of Zion Canyon. Sandstone cliffs of red, pink, and white show the beauty of nature, and the Virgin River adds to the scene with emerald pools, waterfalls, and hanging gardens. The park is spread in an area of 229 square-miles.
Several campgrounds cover the various remarkable points of this vast park. Activities available include hiking, backpacking, horseback riding, canyoneering, rock climbing, and whitewater rafting. Both RV and tent camping is available at various campgrounds in the park.
4. Arches National Park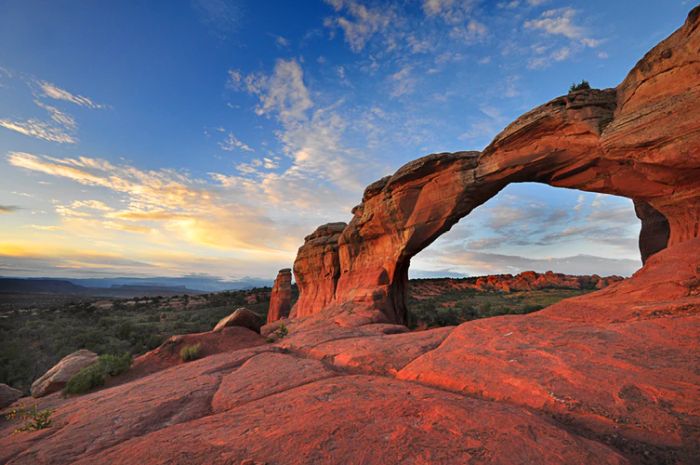 Spread across nearly 120 square-miles, this national park is best known for its wondrous geographic features. There are more than 2000 natural stone arches in the park, along with several pinnacles, balanced rocks, and fins.
Devil's Garden Campground located deep within the park is an excellent place to stay and has unbeatable views of Arches National Park. This is a primitive campsite with 51 total campsites. There are no RV only sites, though vehicles up to 40 feet in length are permitted. It's a popular location, so it's best to reserve your campsite in advance. The campground is known to fill up with bookings made months in advance, so plan your visit carefully.
5. Bryce Canyon National Park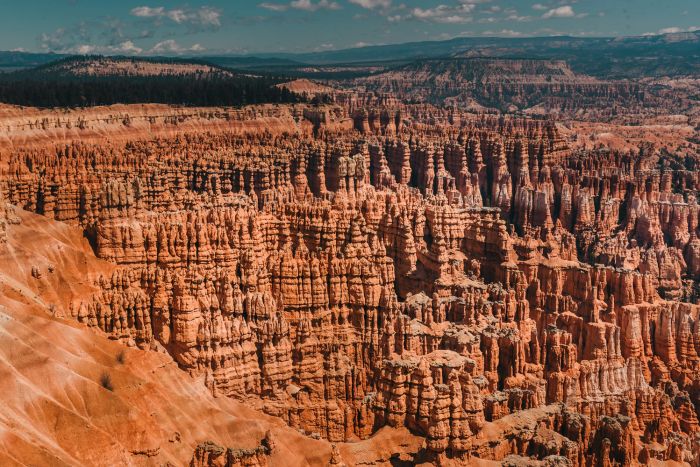 Bryce Canyon National Park is best known for its endless vistas and the hoodoos that cover its landscape. While these irregular rock columns (hoodoos) can be found at several places, Bryce Canyon has the highest concentration of these rocks in the world. The park's high elevation, red rocks, pink cliffs, and dark skies make it a sight to behold. Popular areas for visitors include Bryce Point, Inspiration Point, Sunset Point, and Sunrise Point.
Camping at the park is available at North Campground and Sunset Campground. The latter is more spacious and more popular. There are 100 sites available on the Sunset Campground, and its proximity to Sunset Point makes it more desirable. Camping is available in three loops, the first reserved for RVs and the other two dedicated to tent camping.
6. Gooseneck State Park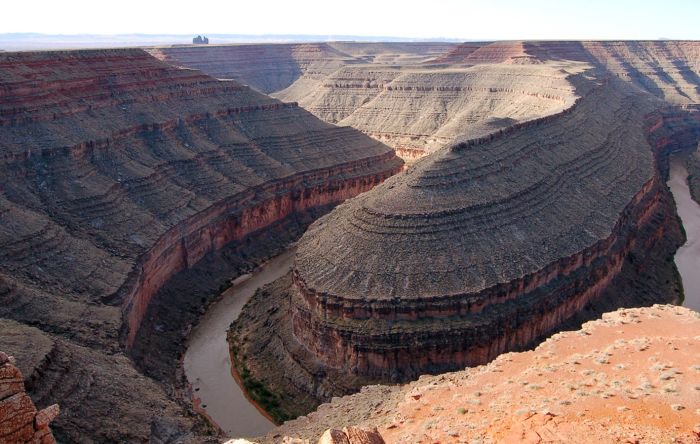 Gooseneck State Park is a small park with views to kill for. The San Juan river meanders through, making its way to Lake Powell. It's the dance of the river, wind, and desert that gives this unique park its shape. The campground here sits along the rim, staring down 1000 feet to the river. Only eight camping sites are available at the remote park.
7. Wasatch Mountain State Park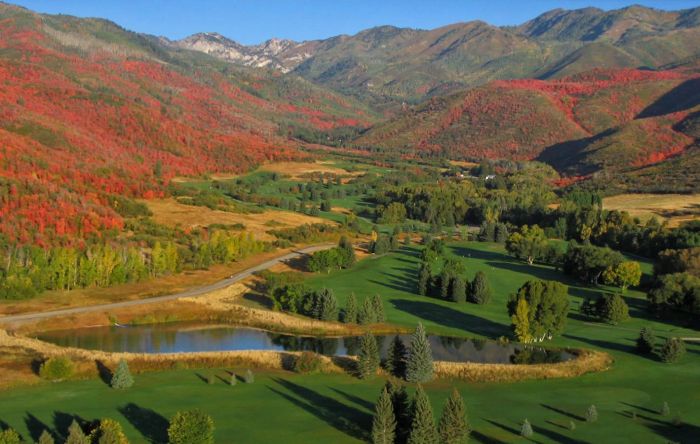 Wasatch Mountain State Park offers a beautiful scenery with access to several material benefits. This one breaks away from the usual fare of primitive camping sites and state parks in remote areas. Wasatch Mountain State Park has close access to areas for shopping, dining, and golfing.
Campgrounds here have sites that range from primitive to full hookup sites. Cabins are available as well. Though things cool down in the park during winters, some activities remain available and visitors make their way to Wasatch Mountain State Park. Making reservations is a good idea when planning your visit. Utah camping reservations for state parks are mostly handled by ReserveAmerica.
The park is located in Heber Valley and offers hiking, biking, horseback riding, and ATVs during summer. Come winter, and you can ski, snowshoe, or ride on snowmobiles.
8. Spruces Campground
Spruces Campground Utah is part of the Uinta-Wasatch-Cache National Forest. Located close to Salt Lake City, this campground in Big Cottonwood Canyon is a popular destination, perhaps on account of its location close to the urban center. Anyway, the picturesque beauty of the campground justifies its popularity.
Several activities are available in the area, including hiking, biking, and fishing. Its elevation at 7,500 feet above sea level opens up huge vistas to view and admire. The campground is large and includes several sites. Flush toilets and drinking water are available, though there are no electrical, water, or sewer hookups.
9. Mirror Lake Campground
Mirror Lake Campground is another popular location on the Uinta-Wasatch-Cache National Forest. This campground looks at the Mirror Lake Scenic Byway, which gets its name from the beautiful Mirror Lake, situated at an elevation of 10,400 feet. The large campground has several sites, though Mirror Lake camping is primitive with no electric, water, or sewer hookup.
10. Bullfrog Basin Campground, Lake Powell
Bullfrog Basin Campground is one of the most popular places for lakeside camping in Utah. The location is popular for camping and fishing, and more than 2 million people visit Lake Powell every year.
11. Moab Daily River And Hittle Bottom Group Sites
Running parallel to state route 128, Moab Daily is a popular, 13-mile section along the Colorado River. The stretch runs from Hittle Bottom Recreation Area to Take Out Boat Ramp. Several camping opportunities are available on the Moab Daily River. Easy access to the town of Moab and the scenic beauty of the location are attractions that bring visitors to this site.
12. Snow Canyon State Park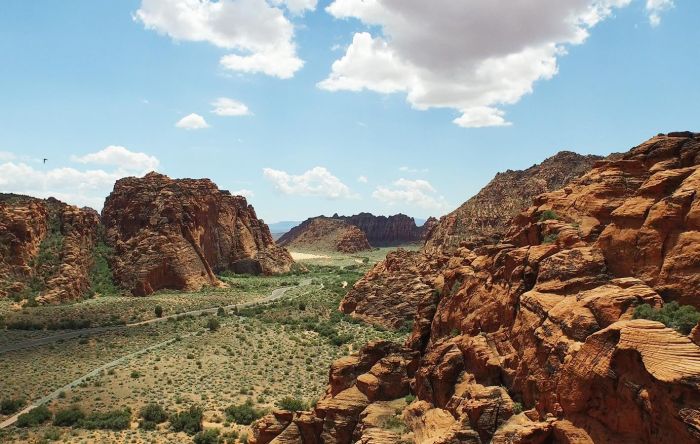 Snow Canyon State Park is a tranquil location surrounded by ancient lava flows and red sandstone. The desert landscape offers several activities. Hiking, biking, rock climbing, and horseback riding are very popular. Interestingly, the park offers assistance with several of these activities, including gear for rent.
The park recommends Utah camping company, which can handle the packing, hauling, and pitching for visitors. They also offer rentals ranging from camping gear to canvas tents and trailers. Campgrounds at Snow Canyon offer several camping sites, including hookup and primitive sites.
13. Natural Bridges National Monument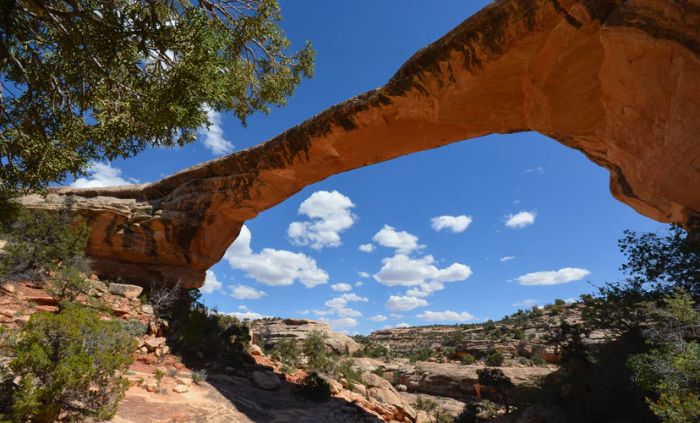 Natural Bridges National Monument shows a unique side of nature. The biggest attractions of the area are "Kachina," "Owachomo" and "Sipapu" natural bridges. Sculpted by natural forces, these bridges are a source of wonder to visitors. The campground in the area offers primitive camping. Only 13 sites are available, all on a first-come, first-served basis. The campground is open year-round.
14. Canyonlands National Park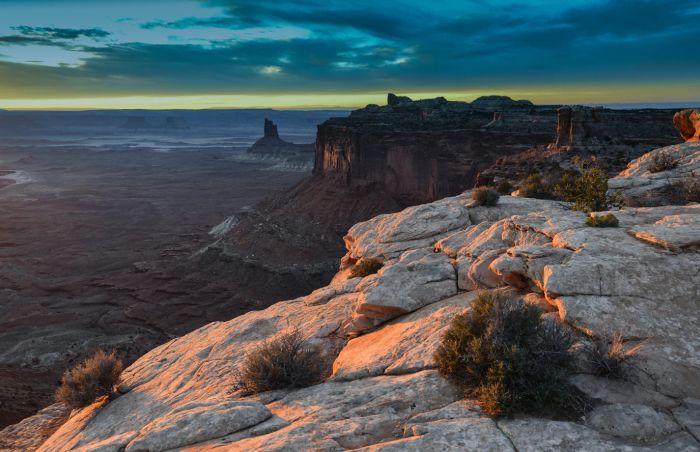 Another beautiful landscape located close to the town of Moab, Canyonlands National Park boasts a dramatic desert landscape carved by the Colorado River. Several activities are available, including hiking, backpacking, horseback riding, auto touring, and stargazing. Two activities that stand out here are climbing/ bouldering, and flat water boating.
Camping at Canyonlands National Park is primitive. Two campgrounds are available. Island in the Sky (Willow Flat) Campground has 12 sites available on a first-come, first-served basis. Vault toilets are available at this site, though there are no water or shower facilities.
The Needles (Squaw Flat) Campground is more popular and spacious. This location has 29 sites, five of which are reserved for tent use only. A view of towering rock formations is a huge plus for this campground. It has slightly better amenities available, though this is a primitive campground as well. Potable water and flush toilets are available seasonally.
15. Dead Horse Point State Park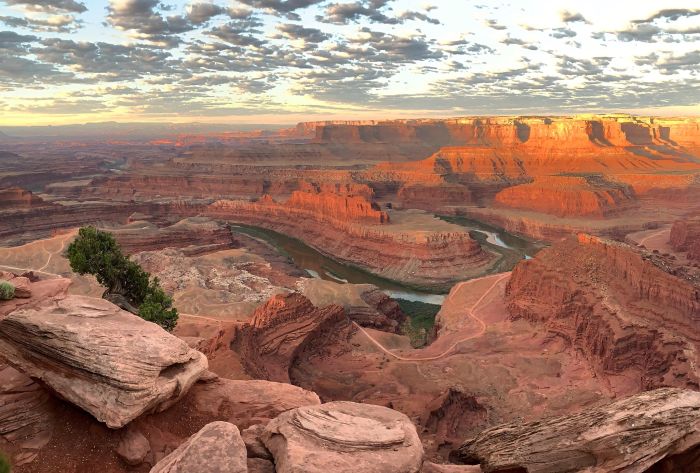 I'd laugh at this park's name, but that would be beating a dead horse. Jokes aside, Dead Horse Point State Park is a very popular destination in Utah. The vast canyons and the Colorado River cutting through the landscape provide a spectacular landscape. This state park is located 2000 feet above the Colorado River and has a delightful view of a gooseneck as the river meanders on its course.
Camping here can have a touch of luxury. While there are the usual campsites, glamping is on the table here as well. Yurts are available in the state park, and include heating and air conditioning, electrical outlets, and lights. For better sleeping comfort, you get a bunk bed with a full mattress on top and a queen mattress on the bottom. Other amenities are available in the form of a futon, tables, and BBQ grill on the deck.
RV campsites feature paved driveways, 20/30/50 amp hookup, and access to a dump station. Tent-only campsites at Wingate Campgrounds are more secluded than others and offer a 15×16 foot tent pad, which is fit for even the larger tents.
16. Capitol Reef National Park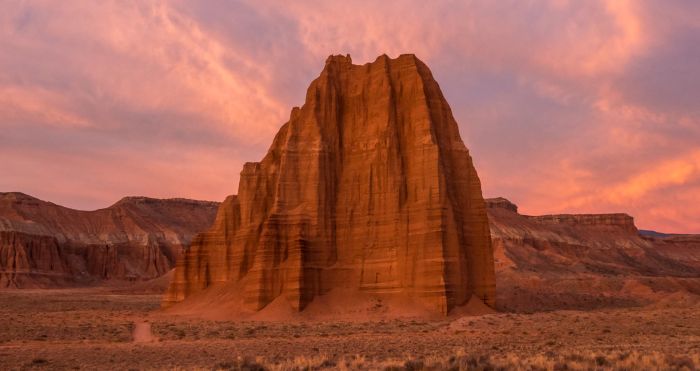 Admire the wondrous geological treasures of cliffs, canyons, domes, and bridges at the Capitol Reef National Park. The area is also a treasure for those interested in stargazing and is one of the few sites that can boast of natural darkness to admire the night sky.
Camping opportunities are aplenty at the park. Primitive camping is available at Cathedral Valley Campground and Cedar Mesa Campground. Both of these locations do not offer any reservations.
Fruita Campground is the only developed campground in this national park and offers 71 sites. There are no hookups available, though the site has a potable water fill station. Restrooms have running water and flush toilets, but no showers. The location of the site is excellent, and it has a wonderful green coat that stands out in the otherwise arid landscape. Fremont River flows close to this campground.
17. Coral Pink Sand Dunes State Park
Love offroading? This is the place to be. Coral Pink Sand Dunes State Park is a sea of rust-colored sand dunes with sand forming hill-like features. Yet, these hills remain at the whims of wind, and some of them can move as much as 50 feet in a year. Offroading over these dunes is a popular pursuit, though areas have also been set apart for non-motorized pursuits.
Spread over 3000 acres, the park also boasts of red rock cliffs, juniper, and pinion trees, apart from its sand dunes. The old campground does not have any hookups. However, the new campground has water and electricity available.
18. Goblin Valley State Park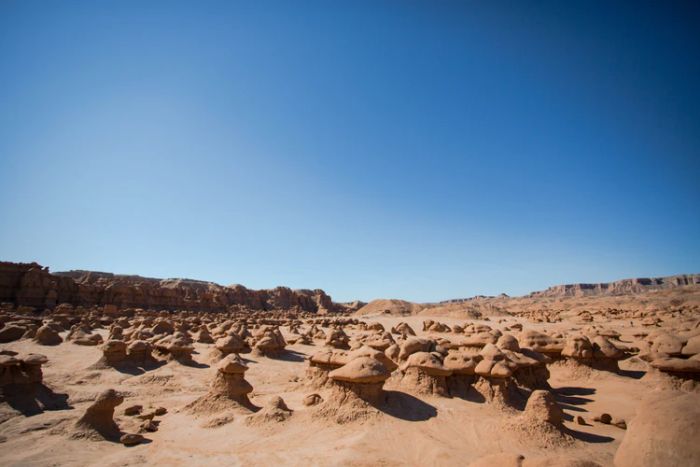 The uniquely chiseled sandstones of Goblin Valley State Park are its biggest attraction. These unique figures have been carved out of the rock by forces of nature working over millions of years. A lot of these hoodoos take mushroom-like shape, adding to the uniqueness of this state park.
Goblin Valley offers a more luxurious touch to camping. The campground offers two yurts for glamping, each with heating and air conditioning. The tent sites here have tent pads and 14 RV sites are available. Water station, showers, flush toilets, and dump stations are all located accessibly. It is worth pointing out that the campground is not located in the valley of goblins, but has a great view of rock formations nevertheless.
19. Lava Point Campground (Zion National Park)
We talked about Zion National Park above, but the Lava Point Campground deserves special mention. This popular campground is located 7890 feet above sea level and is an hour's drive away from the entrance of the park. Six campsites are available on the grounds, and these walk-in campsites are usually filled up quickly as the day begins. Vehicles more than 19 feet are not permitted on the campground.
20. Calf Creek Recreation Area Campground
Calf Creek campground looks at the wonderful Grand Staircase-Escalante National Monument. Popular, yet peaceful, the campground hosts 13 walk-in campsites. Due to the small number of sites available, the campground fills up pretty fast. However, dispersed camping is permitted outside the developed campground. Though the national monument is the big draw, the calf creek itself is a popular location to enjoy.
21. Sand Hollow State Park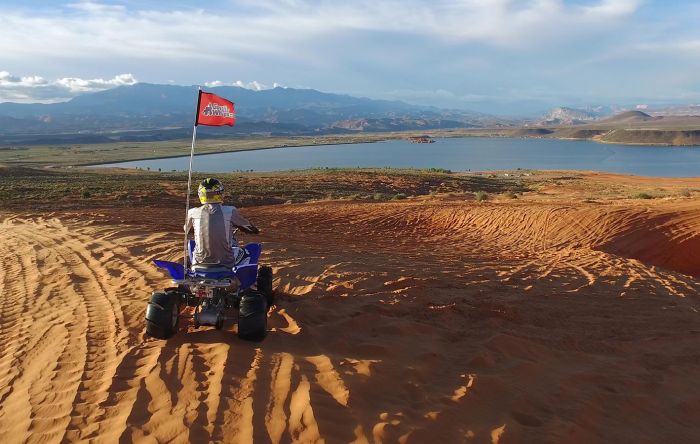 One of the newer state parks in Utah, Sand Hollow is also one of the most popular. Located along the Sand Hollow Reservoir, the state park has some amazing activities available. Visitors to Sand Hollow State Park can enjoy boating, fishing, and diving at the reservoir. Or, take an off-highway vehicle and go exploring the sand dunes and mountains that line the reservoir.
Two major campgrounds are available at the park, both with access to restrooms and showers. Westside campground has full hookup sites with room for two vehicles per site. Sandpit Campground is geared more towards OHV lovers. This campground has three types of sites, no-hookup sites, no-hookup group sites, and partial hookup sites.
22. Crystal Geyser
Crystal Geyser is located a few miles from the east bank of the Green River. The geyser is an interesting geological site, mostly because unlike most geysers, its eruptions are not fueled by geothermal activity. This is a cold water geyser driven by carbon dioxide. It could almost be a soda!
Free camping is available near the geyser, fit for RVs as well as tents. Dispersed camping is also available near the area, though most sites are primitive.
23. Spiral Jetty
Spiral Jetty is one of the most notable earthwork sculptures, completed by sculptor Robert Smithson in 1970. A camping area is located close to the sculpture and is an excellent campsite near Salt Lake City owing to its easy accessibility. Dispersed camping is also available close to the campsite. Spiral Jetty is located on the northeastern shore of the Great Salt Lake near Rozel Point.
24. American Fork Canyon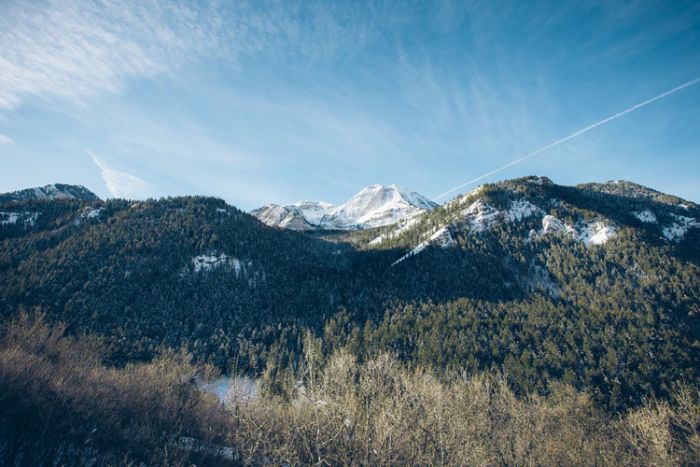 American Fork Canyon is a popular site visited by an estimated one million people each year. The canyon is a part of the expansive Uinta-Wasatch-Cache National Forest. Recreational passes and permits are required for visitors making use of the area's recreation facilities.
25. Valley of the Mortally Inspired
An increasingly popular site, Valley of the Mortally Inspired is very close to the famous Monument Valley. Red rock surrounds most of the area, giving this valley and interesting look and feel. Being a location off the beaten path has its advantages in the form of the site rarely seeing any crowds. On the downside, this means that the road to the valley is very rough and not suitable for all vehicles. If you're out camping on the truck bed, the power of a 4×4 could come in really handy.
10 Best RV Camping Locations In Utah
1. Salt Lake City KOA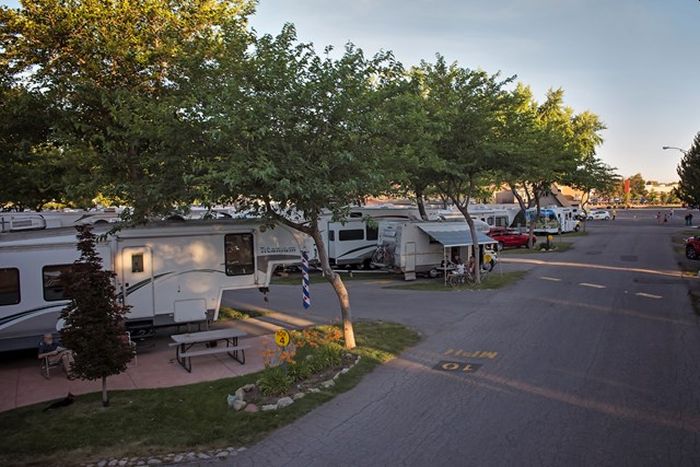 A KOA is generally a great place for RV camping, and these seem to shine through when RV camping in Utah. Salt Lake City KOA is an excellent site close to the city and is barely 14 blocks from downtown. Being close to the city, it offers easy access to most city locations. Yet, the site is large and spacious.
The campground can accommodate RVs with a maximum size of 80-feet. Amenities include up to 50amp hookup, cable TV, WiFi, pool, hot tub, media center, and several outdoor playgrounds. There's a ton of things you can do at the park apart from the usual fare. Apart from RVs, the campground also offers room for some tent camping and cabins.
2. Mountain Valley RV Resort in Heber City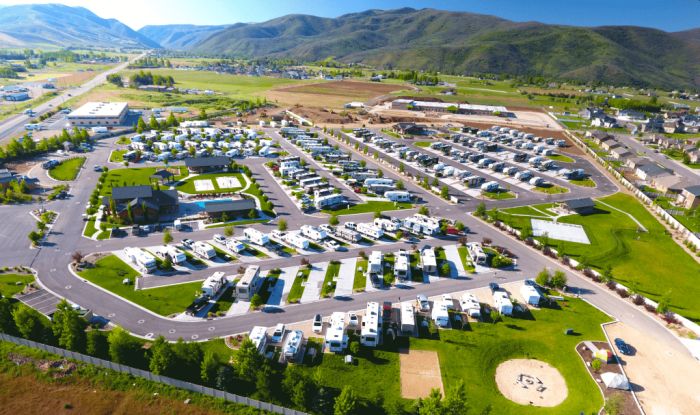 Mountain Valley RV Resort is large, spacious, and big rig friendly. Open year-round, the resort offers spectacular views of Rocky Mountains of the Heber Valley. The resort is easily accessible and is barely an hours drive from Salt Lake City. Amenities include RV sites with 30/50/100 amp hookup, WiFi, Cable TV, heated pool, laundry, private bathrooms and showers, and playgrounds. Though RV camping is the star here, some tent camping and cabins are also available.
3. Pony Express RV Resort in North Salt Lake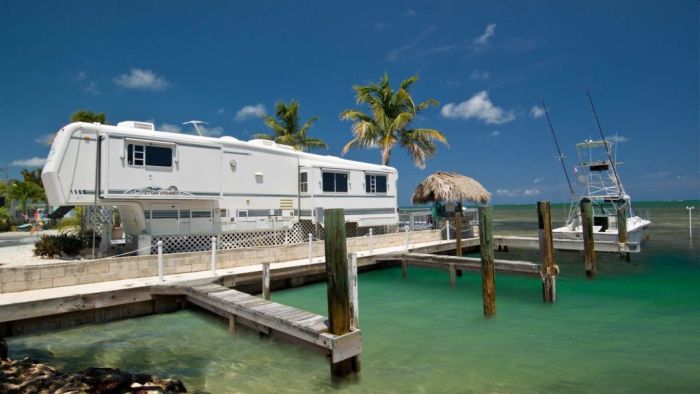 Pony Express RV Resort offers luxurious camping near Salt Lake City. Many of the RV sites here are located at the waterfront. The full hookup sites also offer cable TV and Wifi. Amenities at the resort include playgrounds, a life-size chess board, bike rentals, and DVD library. Tent camping and cabins are also available.
4. Zion River RV Resort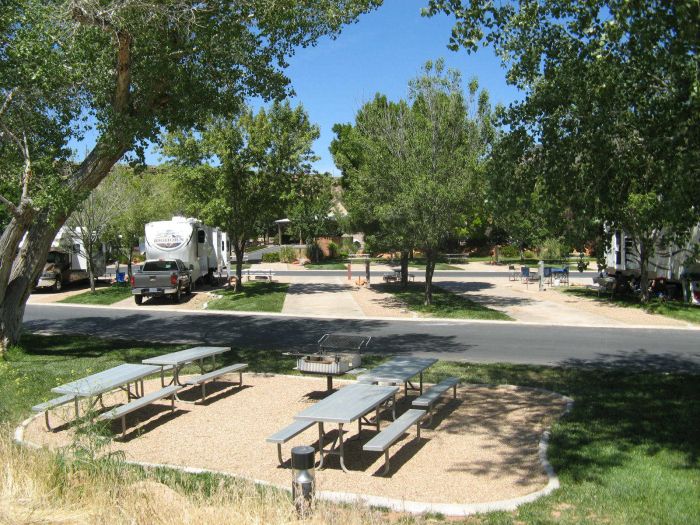 Often considered as one of the best places for RV camping, Zion River RV Resort is a popular spot for campers visiting Zion National Park. It is located in a green oasis in the otherwise arid landscape, thanks to its proximity to the tranquil Virgin River. More than 100 sites are available, along with additional amenities like a large swimming pool and playgrounds.
5. Monument Valley KOA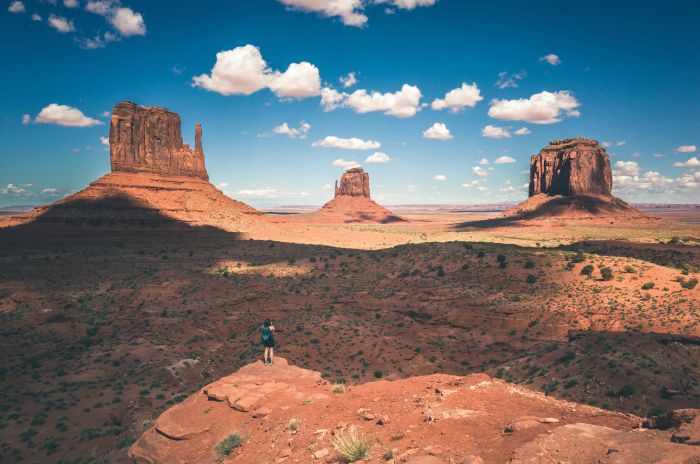 Monument Valley KOA is a gateway to the wondrous world of Monument Valley. Monument Valley Navajo Tribal Park is located on the Utah-Arizona border and presents a spectacular sight. The KOA here is very much worth the location and the visit. Sites can accommodate RVs with a maximum length of 75-feet, Though WiFi is available on the campgrounds, it is slow and unfit for streaming use. It's pretty good to stay connected, so that's a plus.
6. Fossil Valley RV Park
Fossil Valley RV Park says it is located at the heart of Utah's Dinosaurland. What I can say with certainty is that their website certainly is prehistoric (at the time of writing). Thankfully, the campgrounds are way better, and that's what matters. All their sites have full hookups and several amenities are available on the campground. It is also a great place to start your exploration of the Dinosaur National Monument.
7. Leeds RV Park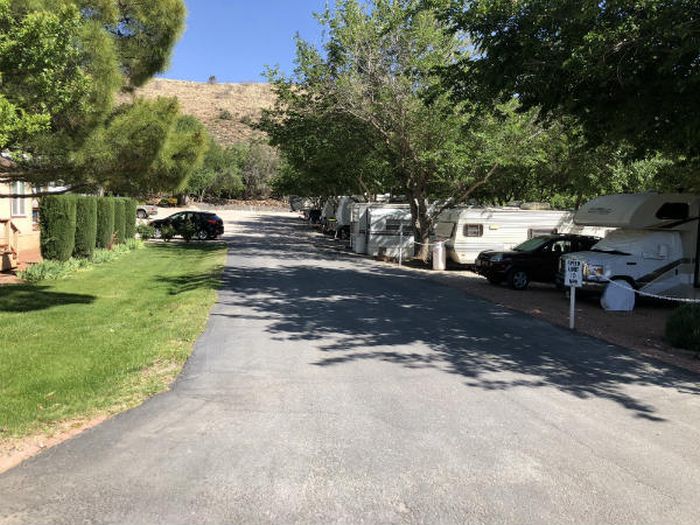 Leeds RV Park is located in Southern Utah and is only a small distance from St. George and Hurricane. This well-regarded RV park is close to several major attractions including Zion National Park and Sand Hollow State Park. Some of the amenities available at the park include full hookups, WiFi, cable TV, and laundry. RV camping is the most popular, though they also offer tent camping and a motel.
8. Moab KOA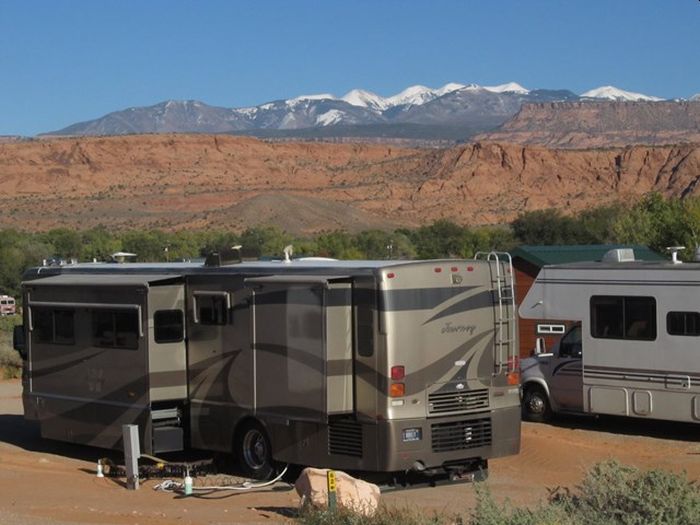 Located in the scenic Moab, which is close to several popular camping locations, Moab KOA wins on account of its location and services. The park is very close to Arches National Park, Canyonlands National Park, Dead Horse Point State Park, and some other popular attractions. Visitors here get full hookups, cable TV, wifi, pool, playgrounds, and other amenities.
9. Thousand Lakes RV Park
Thousand Lakes RV Park is just a few miles from Capitol Reef National Park. The full-service RV park has 65-foot pull-thru spaces, full hookups, WiFi, Cable TV, and several other amenities. Cabins and sites for tent camping are also available.
10. WillowWind RV Park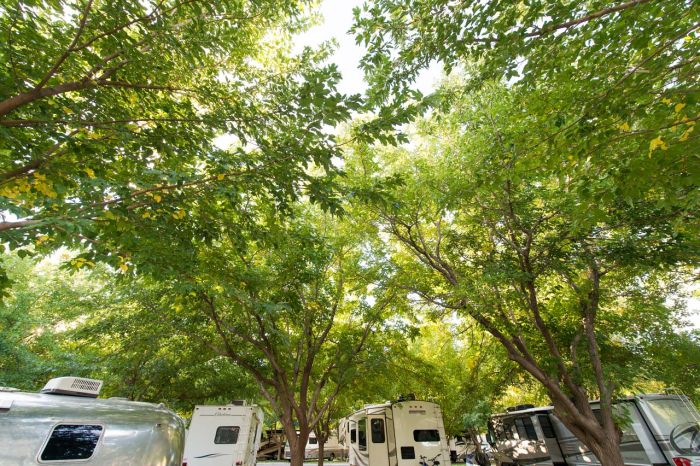 WillowWind RV Park is located in the town of Hurricane. The campground is surrounded by beautiful red rock, giving it an amazing feeling of being close to the great outdoors. Amenities available include full hookups, cable TV, WiFi, laundry, and several others. Tent sites and teepees are also available for campers.
Enjoying Camping In Utah
The secret to enjoying the best camping in Utah and any other location is to be prepared. Be well prepared for the expected weather, and check to see if the campground or location of your choice offers reservations. Preparing and having backups is way better than arriving at a site unprepared and realizing the campground is already full. When going out in the summer, remember most locations in Utah are arid and it can get uncomfortably hot, so be well-prepared.