Washington State offers a ton to explore and experience. The beautiful Pacific Northwest is full of magical scenery and pristine views. Rugged coastline, an alpine environment, and rainforests – Washington has got it all. Enjoy the experience of the best camping in Washington with this selection of amazing camping locations. Gear up!
National Parks And Campgrounds In Washington
1. Colonial Creek Campground, North Cascades National Park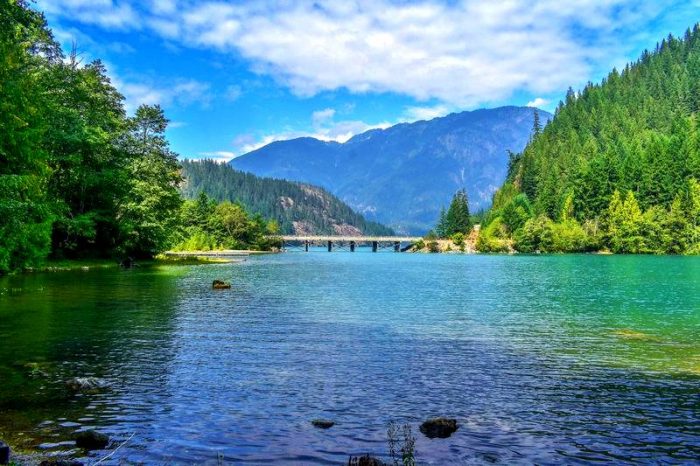 Colonial Creek Campground is located along the shores of Diablo Lake. Some of the campsites are located along the shoreline of the lake, offering amazing views and a very relaxed atmosphere. There are facilities like drinking water available at many sites, though obviously the biggest draw here is the campground itself. Some of the sites are big enough for smaller RVs but most of the campground is all for tents.
It is also close to Ross Lake so there's more for you to enjoy and explore. You can fish, kayak, and canoe in the lakes – maybe even through that inflatable lounger and chill! There are some remarkable camping trails near this campground, including Thunder Knob Trail. Oh… and before you set off on the trails, keep in mind that the area bears inhabit the area so be prepared for your trek.
2. Purple Point Campground, North Cascades National Park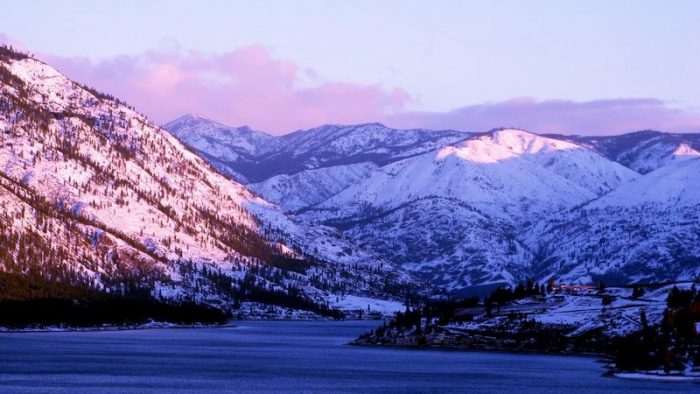 Purple Point Campground is one of the few campgrounds in North Cascades that isn't dominated by Ross Lake. This one is more about Lake Chelan. It's a gateway to Stehekin Valley and all its amazing views. Camping sites in Stehekin are primitive, though some have access to luxuries like treated water and flush toilets.
If you don't want to explore the several trails that this campground has access to, you can enjoy the lake. Boating, fishing, and lakeshore camping are all amazing ways to spend your time.
3. Newhalem Creek Campground, North Cascades National Park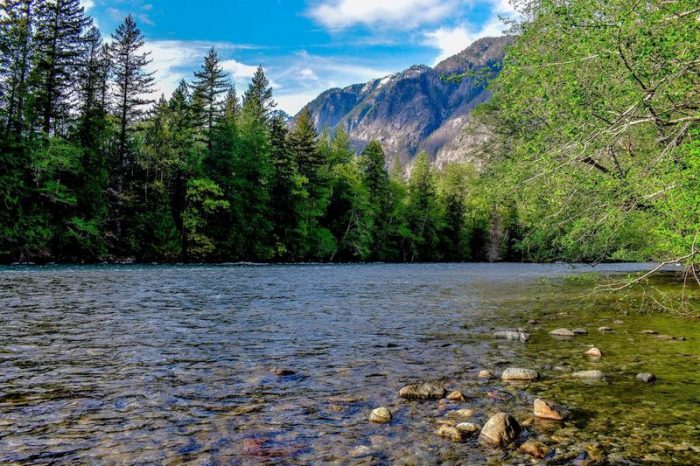 Located close to the town of Newhalem, this campground manages to stay insulated from the bustle of the town. Newhalem Creek Campground offers plenty of trails for hiking. You can also enjoy some biking trails on these campgrounds.
Perhaps it is part of being close to a town, but the campground offers several amenities. Conventional vault toilets of remote campgrounds make way for flush toilets, several of the campsites are paved for easier access, and many are large enough to host RVs. Drinking water is easily available, and you get access to paved roads on the ground.
4. Lone Fir Campground
Lone Fir Campground is all about beautiful trails and rich views. The most popular trails this campground has access to include Cuttthroat Creek Trail 483 and Lone Fir Trail 535. Head west, and you'll find yourself at the next campground along the shores of Diablo Lake.
Located in the Okanogan-Wenatchee National Forest, Lone Fir is a very popular spot with bicycle campers. As such, the campsites are small. Though you could fit in a small RV, it's better to go expecting a more primitive camping experience.
5. Kalaloch Campground, Olympic National Park
Kalaloch Campground accepts advanced reservations, a bit of a rarity for campgrounds, and certainly rare for grounds in Olympic National Park. It's worthwhile to have your reservations in before you visit this campground.
Overlooking the Pacific Ocean, the campground sits on top of a bluff. The rich forest cover on the land and the vast ocean for the view create a heady mix. Take to the trails available, or head to the Ruby Beach and enjoy the ocean.
Many sites on the campground are big enough for RVs, though primitive camping is the way to go for most other sites. There is no electrical hookup, but you get access to drinking water and flush toilets.
6. Hobuck Beach Resort

When you want pristine beaches for your trip, Hobuck Beach Resort is worth a shot. The beach resort is a part of the Makah Reservation and offers everything from cabins and full hookup RV sites to primitive camping sites.
Hobuck gives you access to the wonderful Shi Shi Beach. Apart from the beach, there are trails to explore, and birds to watch for ornithologists. You can also visit Cape Flattery, which apart from its views, also holds the distinction of being the northwestmost area of the contiguous USA.
7. Campbell Tree Grove Campground, Olympic National Park
As the name implies, the Campbell Tree Grove Campground offers camping under the shade of trees. The campground is surrounded by hemlocks, cedars, and firs. Together, these trees create a wonderful aura and view.
The campground is off the beaten path, and is perhaps better served for the more experienced camper. There are several trails, as well as opportunities to fish in the West Fork Humptulips River. There is no potable water, though vault toilets are available.
8. Fairholme Campground, Olympic National Park
Waters and shoreline of Lake Crescent are the selling points for the Fairholme Campground. There are 87 sites on this campground and a boat launch. Fishing, swimming, boating, are all on the cards at this site. Most campgrounds can accommodate RVs, though none offer hookup.
Should you be in need of something more, the Sol Duc Hot Springs are a short distance away from this campground.
9. Cougar Rock Campground, Mount Rainier National Park
There are plenty of inappropriate jokes I want to make about the name of Cougar Rock campground. It so happens, I can't think of any that are actually funny. Thankfully, the usefulness of this campground does not rely on my wit.
Take your time and enjoy the trails, the most famous being the Wonderland Trail and Paradise on the Skyline Trail Loop. This campground offers advance reservations; make use of them! The campground is huge, and allows space for RVs up to 35 feet.
10. Alder Lake Park
Alder Lake came into existence in 1945, with the construction of the Alder Dam. Located close to Mount Rainier, Alder Lake Park offers great views, as well as the use of the lake. Swimming, boating, fishing, are all available. There are technically four campgrounds in the area, Rocky Point campground being the most notable.
Amenities vary by location, and can go from primitive camping sites to full water, electric, and sewer hookups. Reservations for sites can be made through the park's online system.
Washington State Parks Camping
11. Blake Island Marine State Park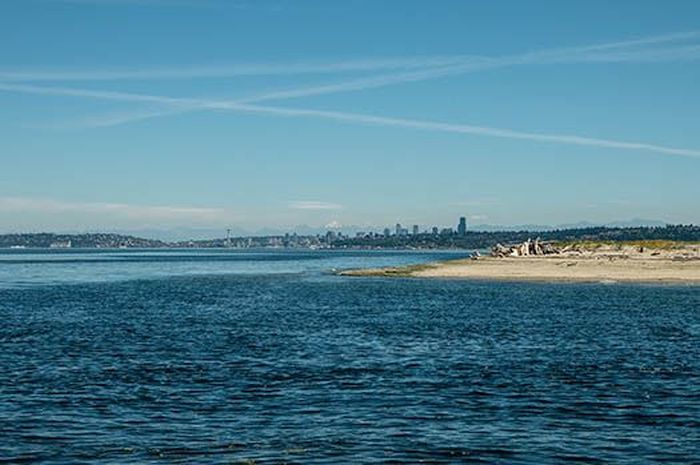 Washington State has a wealth of beautiful islands, and it is only natural that these should figure on this list. Blake Island Marine State Park is a wonderful camping location near Seattle, and a remarkable island camping getaway. The 1,127-acre marine park has 5-miles of saltwater beach shoreline.
Awesome as the beach is, you can also enjoy other activities on the biking and hiking trails. Of course, there are water-related activities to enjoy, including boating, fishing, crabbing, and clamming.
12. Fort Flagler Historical State Park
Fort Flagler Historical State Park offers a dose of history with an exploration of the Fort Flagler, which was built in the 1890s. The fort is located on the Marrowstone Island. Beyond visiting the fort, you can also enjoy hiking and biking trails, alongwith beach trail. Wonderful as they are, the trails are far overshadowed by water activities on this campground. Visitors can enjoy activities like swimming, fishing, saltwater fishing, boating, clamming, crabbing, and a ton of other activities.
Paragliding services are also available for those who like to take to the sky. There are several tent sites as well as RV sites. All RV sites offer full hookup.
13. Deception Pass State Park – Camping In Northwestern Washington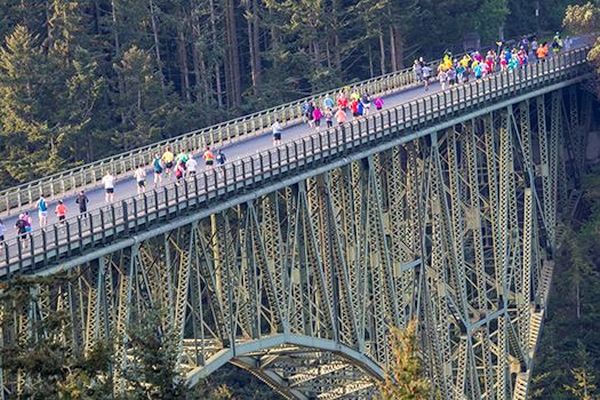 Deception Pass is the most visited state park in Washington. Deception pass has a large saltwater shoreline and a similarly interesting freshwater shoreline. The high bridge is perhaps a high-point of this park, though it is only one attraction in a large list.
Visitors to the park can enjoy a slice of American history, bike trails, horse trails, hiking trails, swimming, fishing, white water kayaking, and a whole lot more. You can see why this park is so very popular!
Sprawling over 3,854 acres, the park offers camping at three locations. Amenities available include showers, restrooms, and partial hookups. Primitive campsites are available as well. The maximum site length is 60 feet and only a few campsites of that size are available.
14. Moran State Park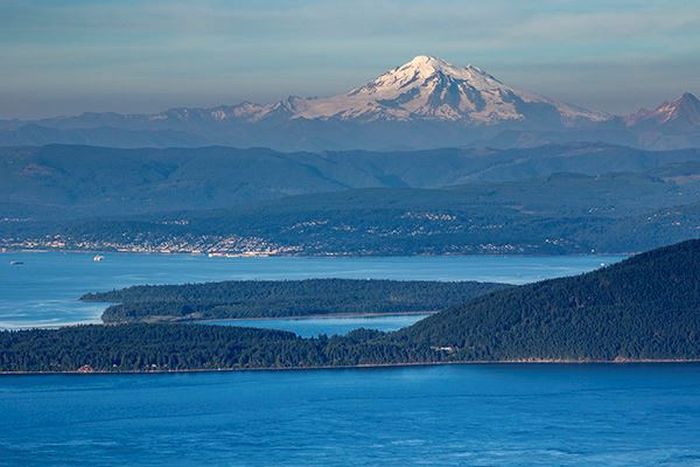 Accessible by ferry, Moran State Park on Orcas Island is a perfect place to camp and relax. The serene views from Mount Constitution and San Juan archipelago are both calming and enthralling.
Enjoy the five lakes on this park or its trails. Or just chill with luxury platform tents for glamping. Interestingly, if you are in an RV, there are no electric hookups available. Activities include boating, fishing, swimming, bird watching, and wildlife viewing.
15. Jones Island State Park
Jones Island Marine State Park is accessible only by boat. It is a relatively lesser visited park, though don't let that sway you from visiting this quiet retreat. Deer and otters abound on the island, and visitors may indeed be approached by deer angling for food.
Intriguing and fun as it sounds, do remember that the park discourages feeding wild animals. In fact, make that one a rule for yourself. Responsible campers should not feed wild animals, or leave their food unattended in a way that attracts animals.
The park offers 24 primitive campsites. Drinking water and toilets are available. However, there is no garbage service so be prepared to carry away your trash from the park.
16. Lake Wenatchee State Park — West Washington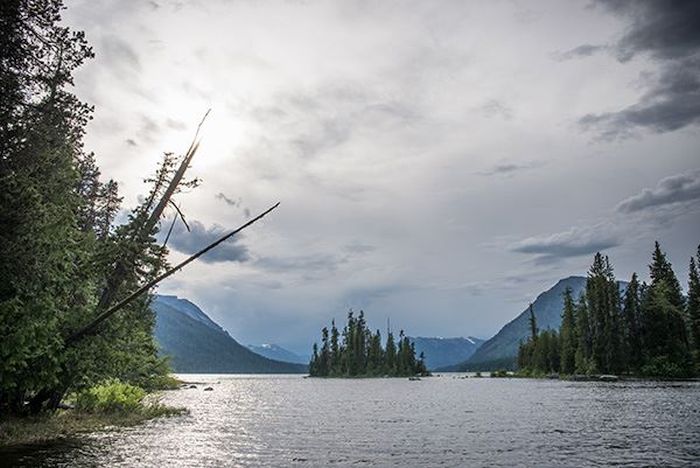 A vibrant location in northwest Washington, Lake Wenatchee State Park offers something for everyone. The glacier-fed Wenatchee lake and the Wenatchee river are the lifelines of this park. Mountains in the backdrop of the lake present a sight that's tough to forget.
Activities abound on this 492-acre camping park. Enjoy the trails or challenge yourself to hike the Dirtyface Peak where a 9-mile trail brings 3,950 feet of elevation gain. Fishing, swimming, and waterskiing are popular activities. The park remains open for the winter and offers dog-sledding, skiing, and snowmobiling.
Whenever you choose to visit the park, be sure you are prepared for the weather. Not just clothes, your tent should be a 4-season tent if you intend to visit the park in winter. There are partial hookup sites for RVs, primitive camping sites, and horse stables.
17. Bowl and Pitcher Campground, Riverside State Park
Bowl and Pitcher Campground at Riverside State Park is located very close to Spokane. The easy access to this park means there often are throngs of visitors. Spread over 9000 acres, the park has a lot to offer for visitors, though most enjoy the Bowl & Pitcher Loop Trail which is a 2.1-mile roundtrip across a swinging bridge on the Spokane River.
18. Wanapum Recreation Area, Ginkgo Petrified Forest State Park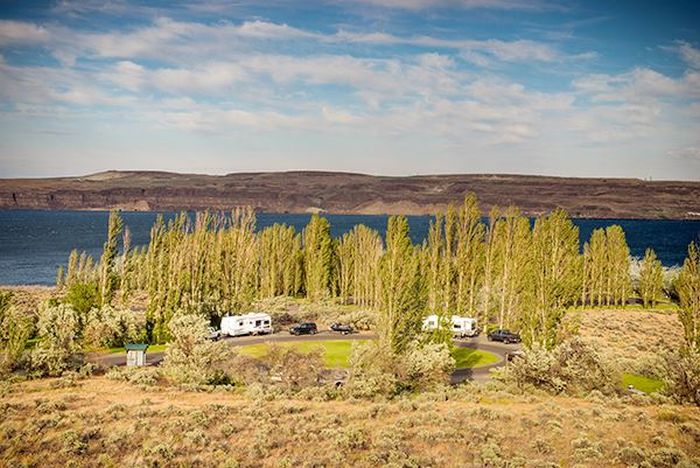 Ginkgo Petrified Forest State Park is a diverse fossil forest and offers views not seen in many other locations. The 7,124-acre park is especially awesome for people interested in the fossils and the history of our planet.
It isn't all academic. The Wanapum Recreation Area makes great use of the freshwater shoreline along the Columbia River and Wanapum Reservoir. Activities include boating, swimming, fishing, and waterskiing. There are 50 full hookup sites for RVs up to 60 feet in length. Conventional tent camping sites are also available.
19. Curlew Lake State Park
Another great site in Western Washington, the park is only 25 miles from the US-Canada border. The park gets its name and fame from the 5.5-mile Curlew lake. Visitors come to the lake for its great views and great catch. Popular activities include fishing, boating, swimming, and waterskiing. Two miles of biking and hiking trails are also available for fun and more activities.
20. Spencer Spit State Park, Lopez Island
Spencer Spit State Park on Lopez Island has stunning views of the lagoon from the waterfront campground. Some campsites are located right on the beach, while most of them are located up on a bluff. While the latter may lack the location of being right on the beach, sites on the bluff tend to be roomier.
The beach is a fun place to explore, and visitors get to add to the fun with more activities. Enjoy swimming, fishing, clamming, boating, and diving. Kayaking is also available. Hiking is limited to a 2 mile trail.
21. Cape Disappointment State Park, Western Washington
The name lies! Another great park in Western Washington, Cape Disappointment does not disappoint! Get your own tent, or enjoy glamping in style with the yurts available on the campgrounds. Cabins and historic vacation homes are available as well. Although you could still go with the good old tent and enjoy nature (and save money — the campground's offerings are expensive)!
Activities to enjoy include hiking, clamming, fishing, boating, and crabbing. The campground includes 50 full-hookup sites, 18 partial hookup sites, and 137 standard campsites.
22. Steamboat Rock State Park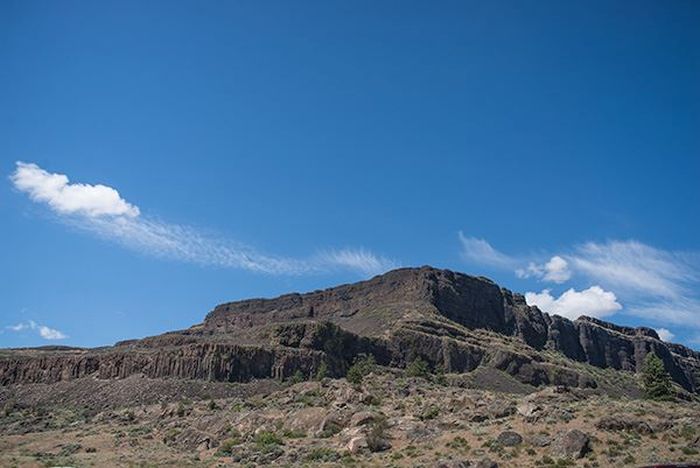 Steamboat Rock is a majestic basalt butte that rises 800-feet and spans 600 acres. The wildlife and the flowers are amazing, but the thrill of hiking up 650-feet on the columnar basalt butte is an experience unto itself. Other activities include fishing, swimming, boating, and waterskiing.
You can hike or bike 13.1 miles of trail or go 10 miles on horseback. The campground includes 136 full hookup sites, three cabins, and 26 standard campsites.
More Washington State Campgrounds
23. Salt Creek Recreation Area
Located near Port Angeles, Salt Creek Recreation Area uses its 200 acres to cover the eastern edge of the Crescent Bay and surrounding areas. The views overlooking the Strait of Juan de Fuca are the stuff of legend. Proximity to Port Angeles helps the usefulness of the campgrounds in Salt Creek.
Tide pools, bluffs, and sandy beaches define the features of these campgrounds. The area also has quick access to Tongue Point Marine Sanctuary, which is a big plus.
23. Camp Long
Camp Long is a marvelous retreat for city dwellers. Located in West Seattle, this 68-acre park is your gateway to camping without actually leaving the bustling metropolis! Being in the city, this campground offers some other amenities apart from having a major city right outside its doors. Flush toilets and drinking water are available.
On the downside, there are no tent or RV camping sites here. There are 10 cabins available to visitors, making it a suitable destination for glamping. Activities on offer include rock climbing, a 1.6-mile roundtrip hike, and outdoor orienteering.
24. Maury Island Marine Park
It takes an hour on a ferry out of Seattle to reach the Maury Island Marine Park. The park has lovely views of Mount Rainier and the Cascade Mountains. The beach is wonderful and the hiking trails are worth your time. Only 7 campsites are available on the campground, so make it a point to reserve a spot online before traveling.
25. Tinkham Campground
Here's one of the best places to camp near Seattle. It takes about an hour to reach Tinkham Campground from Seattle. The pervasive hiking trails attract a lot of visitors from the city. The campground sits on the side of a river, which is surrounded by Douglas fir, cedar, and western hemlock.
Hiking, camping, and biking are the usual fare, though the river makes it possible to enjoy some fishing as well. There's a good mix of trails here, going from simple ones that measure barely a mile, to bigger trails. Drinking water and vault toilets are available, though electricity is not.
26. Liberty Lake Regional Park
Liberty Lake Regional Park is barely a half hour from Spokane and is a wonderful place for family camping. The park sprawls across 3,591 acres. Within its bounds, it includes a shoreline, wetlands, and irrigated lawns. Activities include BBQ area, picnic areas, playgrounds, swimming, and trails.
The park is located on the border near Washington and Idaho. It includes campsites for tents, campsites, and cabins.
27. Mount Spokane State Park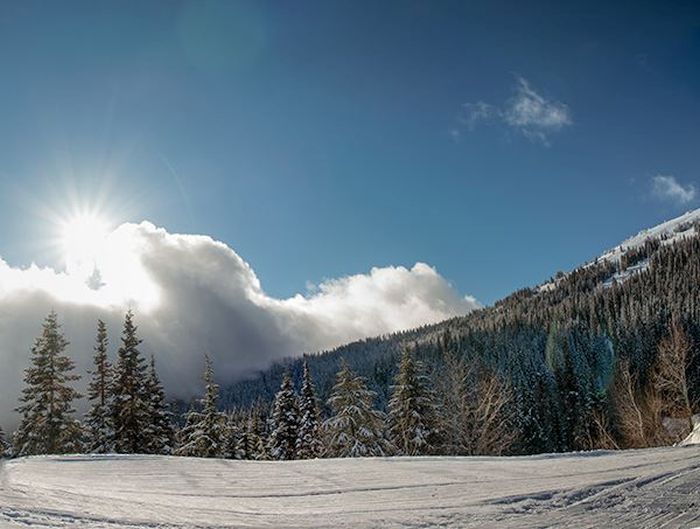 Mount Spokane State Park is barely an hour from Spokane. Though one of the largest state parks in Washington, it has one of the smallest campgrounds available. There are only eight standard campsites, with a maximum length of 30-feet.
There is a lot to do here, especially for those who like to hit the trail. Over 100 miles of trail is available for exploration in the Selkirk Mountains. The beautiful views and the elevations that come along the path create an exhilarating experience. At its summit, Mount Spokane has an elevation of 5883-feet.
This state park stays open in winter as well, offering 37 miles of ski trails and a variety of terrains.
28. Dragoon Creek Campground
Another beautiful campground near Spokane, Dragoon Creek is a quiet little spot to enjoy your camping vacation. Sites are available for RVs as well as primitive camping, though no hookup is offered. There is no garbage service either, so be sure to pack and take away all of your litter. The creek is a nice place to relax and while away time, and the atmosphere at the campground is calm and serene.
29. Lake Chelan State Park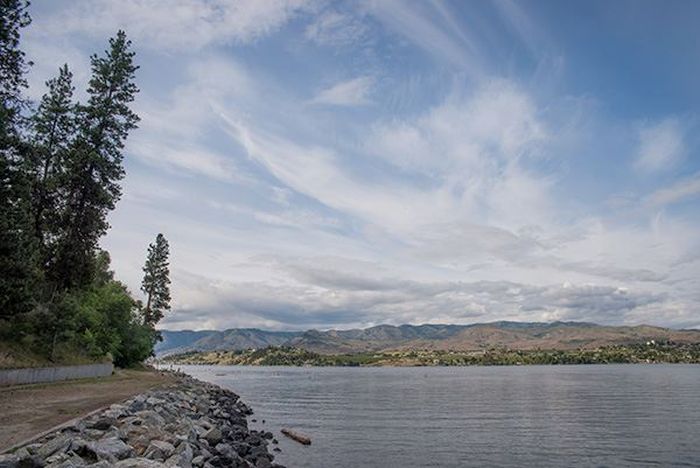 Lake Chelan State Park is a popular haunt for many families. This state park prides itself on being a part of the "family traditions" of many people who throng this location in the summer. A lot of activities happen around the beautiful Lake Chelan, which is a 50.5 mile lake with a maximum depth of 1,486-feet.
Fishing, boating, water skiing, sailboarding, paddleboarding, – you name it, someone's probably enjoying it on the waters of this lake! There are trails to explore and enjoy as well, the most popular one being Little Bear Trail that runs for 2.3 miles.
Several camping sites are available, including standard camping sites, and partial or full hookup sites for RVs.
30. Panther Creek Campground
Panther Creek falls are a sight to behold, and the big reason to visit these campgrounds. There's also the Pacific Crest Trail to enjoy, but yeah, the creek is an excellent place to start. Panther Creek Campground, like most other campgrounds, does charge a small fee for its campsites. However, there are several sites along the area that can be used for free camping.

RV Parks In Washington
31. Icicle River RV Resort
This resort attracts visitors with the promise of "Fifty acres of forest with the Icicle River running through the center". And yes, it delivers exactly that. It's a beautiful site located just 120 miles east of Seattle. Icicle River, running through the park offers fishing, wildlife viewing, and a river's edge access.
Icicle River RV Resort has eight cabins and more than a hundred RV sites. Amenities include laundry facilities, cable TV, a hot tub, and free internet access.
32. Anderson's RV Park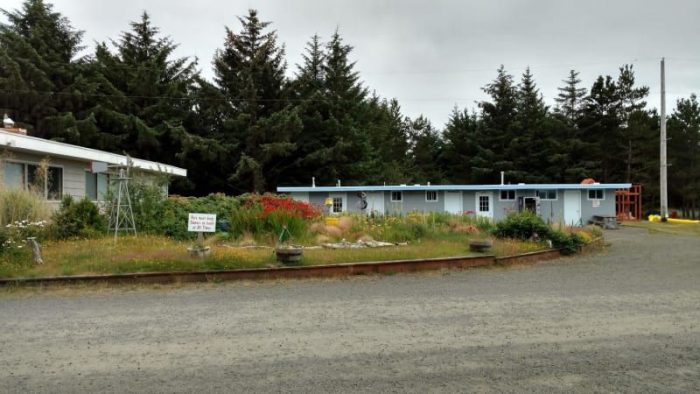 Anderson's RV Park covers 7 acres of land next to the ocean. With its own private access path to the beach, and a very short distance from the beach, this is a location to enjoy. While you enjoy the wonders of Long Beach Peninsula, the park will keep you happy and cozy. Amenities include full hookup, laundry room, restrooms, hot showers, and a children's playground.
33. Concrete/Grandy Creek KOA
There are more than 15 KOAs in Washington, and it's a good choice to visit one of those in your RV. Concrete/Grandy Creek KOA is located near the North Cascades National Park and offers everything you could want from an RV site.
Amenities on offer include full hookup, pool, hot tub, and pavilion. Some paid amenities are also available, like Mini Golf, firewood, and Wi-Fi.
34. Riverbend RV Park
Riverbend RV Park is located in the Methow Valley area. It offers access to the great outdoors and stunning riverfront views. Other amenities include full hookup, showers, and Wi-Fi. The half-acre dog park is a treat!
35. Kenanna RV Park & Campground
Kenanna is a cool RV park, but they will also let you pitch your tent, or stay in a cabin. Located near the Grayland Beach State Park, the Kenanna RV Park & Campground offers easy access to the wonders of the state park. There's saltwater fishing, clamming, and crabbing at the park.
The park offers a range of amenities. These include heated restrooms, laundry, walking trails, hot showers, and free Wi-Fi.
Enjoying Camping In Washington
There are a lot of opportunities to enjoy the great outdoors and get the best camping in Washington state. A ton of popular sites and campground are in Western Washington and Northwestern Washington. However, it would be folly to ignore the east and south, for the wonders and pristine beauties they offer are second to none.