If you are packing for a vacation now, the outdoors could be adventurous. No matter if you are planning a picnic or a camping trip with your kids and family. Bubble tents are an unconventional but very useful option to get the most out of your vacay.
Panoramic 360-degree views through a protected bubble are quite a sight. Stargazing, camping on the beach, or in the wild, and having a wholesome picnic can all be on the cards.
Coolest Bubble Tents To Take For Your Vacation
Editor's Choice: ZHFEISY Clear Bubble Tent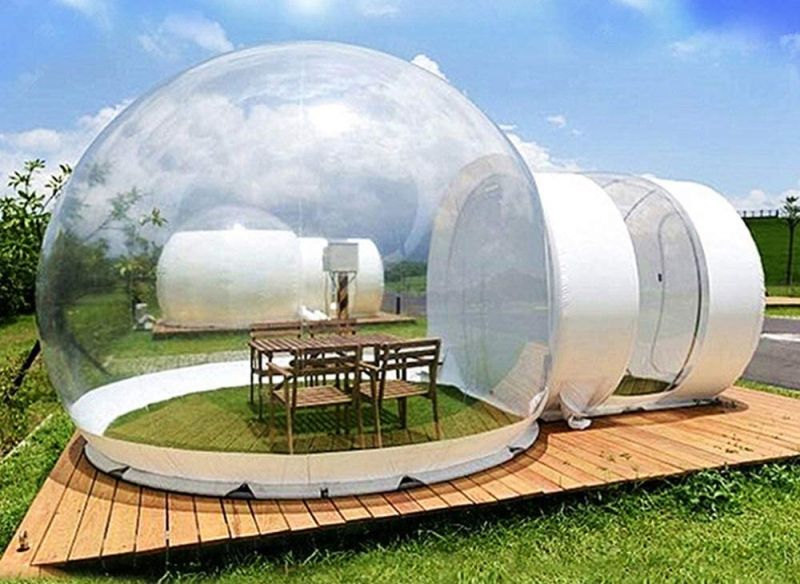 Clean, elegant design and good value are the pillars of this tent. ZHFEISY Clear Bubble Tent is made from sturdy, high-quality materials and includes a virtually noiseless blower. It's a treat to the eyes and a comfortable place to spend your time. With a 3m (about 10 feet) diameter, the tent is spacious and can be turned into something cozy and comfortable.
Bubble Tents – A Tale Of Camping, Glamping, And Instagramming!
Though they seemingly keep a low profile, bubble tents are a smash hit with the glamping industry. They fully fit into the idea of glamorous camping and the clear body makes itself available for experiences that are unique to bubble tents. And for a generation that loves to share images on social networks, bubble tents are a natural friend!
It's (something) like getting your own version of the great hall at Hogwarts. The weather is always visible from your tent, but you're safe and prepared in your own bubble!
The Northern Lights (Aurora Borealis)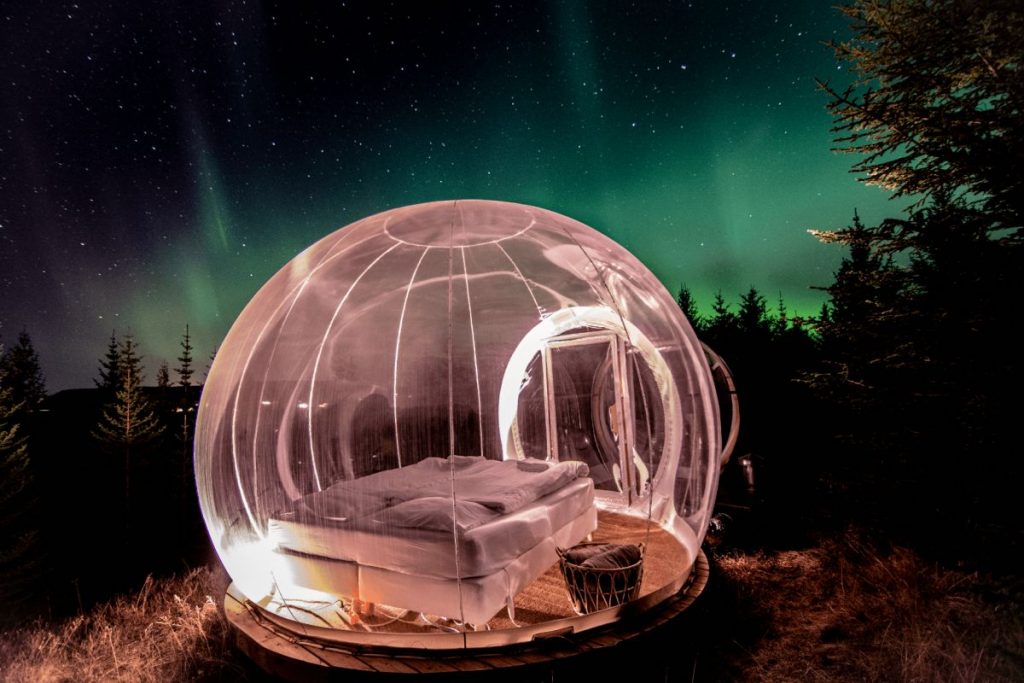 Lying on a comfy bed and watching the northern lights dance over the sky is an experience difficult to beat. Bubble tents make it possible to do just that. Even if it's biting cold outside, you could be safe and comfortable in a bubble and enjoy this wondrous natural phenomenon.
Several bubble hotels, like the Buuble in Iceland, offer this experience and are a big hit. The uniquely luxurious setting and the wondrous phenomenon draw huge crowds.
By The Beach In A Tropical Wonderland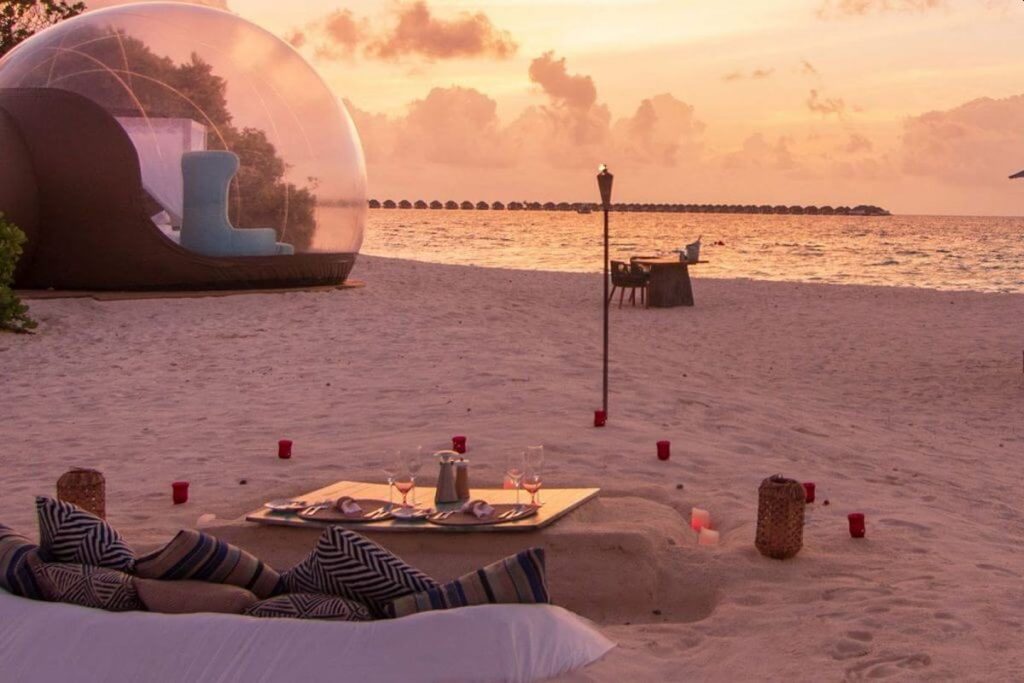 Sleeping under the stars with the ocean just beyond your tent is the perfect romantic setting one could imagine. A luxurious and private getaway at a tropical beach seems like just the thing to enjoy. Experiences like the Finolhu Beach Bubble in the Maldives are where unforgettable memories are made.
Exploring The Australian Wilderness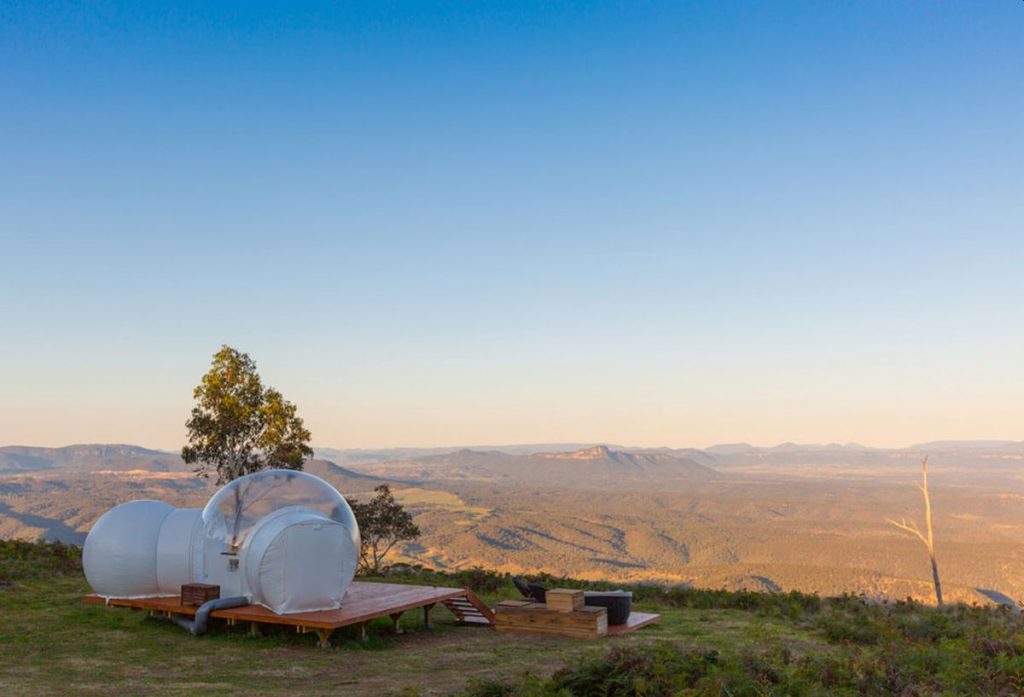 Overlooking the wonderful Capertree Valley, this wonderful glamping experience in Australia is a luxurious delight. Virgo is a secluded tent, but you get all the amenities to be expected from a luxurious hotel room. Plus, there's the joy of enjoying a pristine valley and all it has to offer.
Reviews: Hot Bubble Tents To Consider
1. Alvantor Winter Screen House Room Camping Tent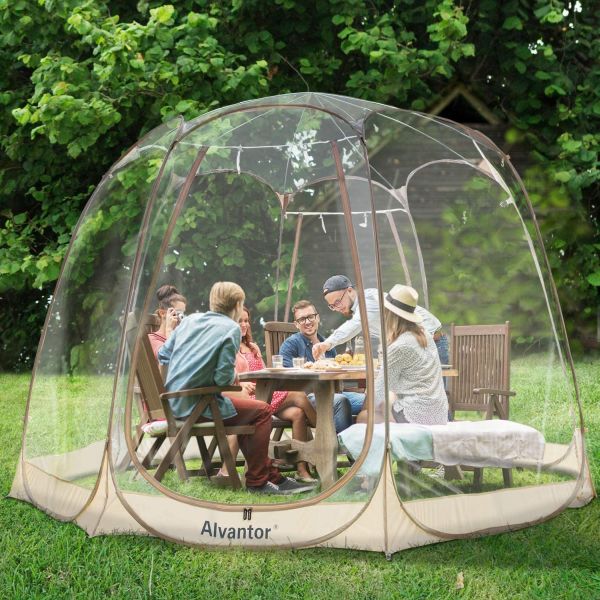 This clear bubble tent from Alvantor is great for camping in winter. Made of PVC, it provides a warm environment and can fit 8-10 adults. Every possible way of imparting comfort along with other travel-friendly features are included in this tent.
Alvantor Winter Screen House Room Camping Tent is a four-season tent and can easily handle cold weather, as well as being a friend for warm weather. It can get hot for the summers, but that's why the world has screens and tent air conditioners! It helps that this tent has wonderful ventilation, so it remains comfortable and fairly pleasant inside.
The tent has two windows on top and two large entrance doors. Both entrances are fitted with sturdy silicone zippers for ease of use. Its build is good enough to handle rain and strong winds.
The tent stays firmly in place thanks to the use of ten sandbags and double guylines. Other notable features that the designers have included are hooks for hanging stuff and strong detachable support poles.
Its PVC construction can feel thin and a little flimsy, but that shouldn't be a problem for regular use of the tent.
Pros
Waterproof, 2 top covers
Ten sandbags and twenty guylines
360-degree clear view
Two top windows for ventilation
Two large entrances with silicon zippers
Cons
PVC is a bit thin
May feel warm during summers
2. Tierra Garden Sunbubble Greenhouse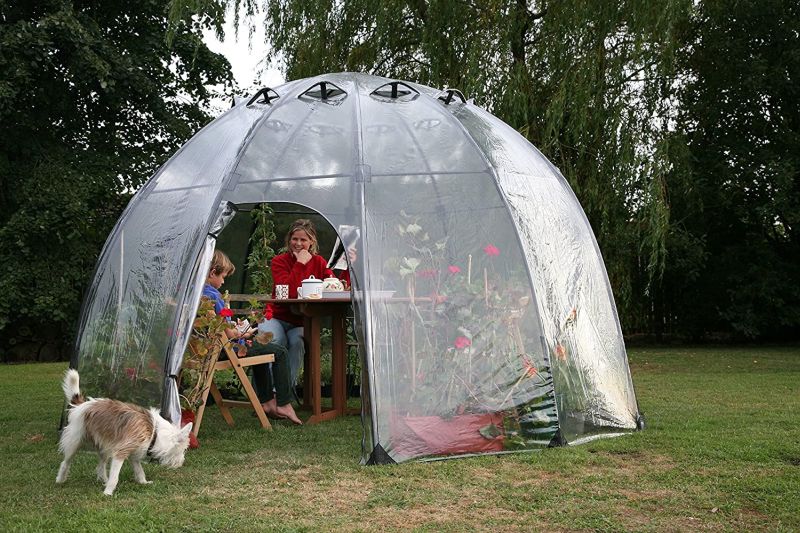 Tierra Garden's Sun bubble tent is truly a masterpiece that fits all your gardening and outdoor camping needs. As the name implies, you can use this UV stabilized tent as a greenhouse for planting trees and also chill with friends and family. It is easy to move, set up, and store, which makes it a great choice for anyone looking for a sun bubble tent.
The tent has an innovative dome curve that makes it look extraordinary. The dome shape allows for better warming up of the bubble. Premium-quality PVC and flexible fiberglass rods offer structural integrity to this tent. Essentially, this sun bubble is quite sturdy and long-lasting.
This isn't a tent built for strong winds. Although it is stable in light breezes, the overall shape and fiberglass poles don't really work well with strong winds.
Adjustable vents are a great feature and keep the tent well-ventilated. It has a large entrance door fitted with a zipper.
There is no floor with this tent. You'll need to buy a floor pad if you intend to use it for camping, Or, skip the floor and keep it as a wonderful sitting area in the backyard. It could very well work as a small greenhouse and host some exotic plants. If you've got the space for it, this could be better than a grow tent.
Pros
Easy to assemble and store
UV stabilized – good for gardening
Cons
Too warm to chill inside during hot weather
May collapse in strong winds
3. HHAiNi Transparent Single Tunnel Inflatable Bubble Tent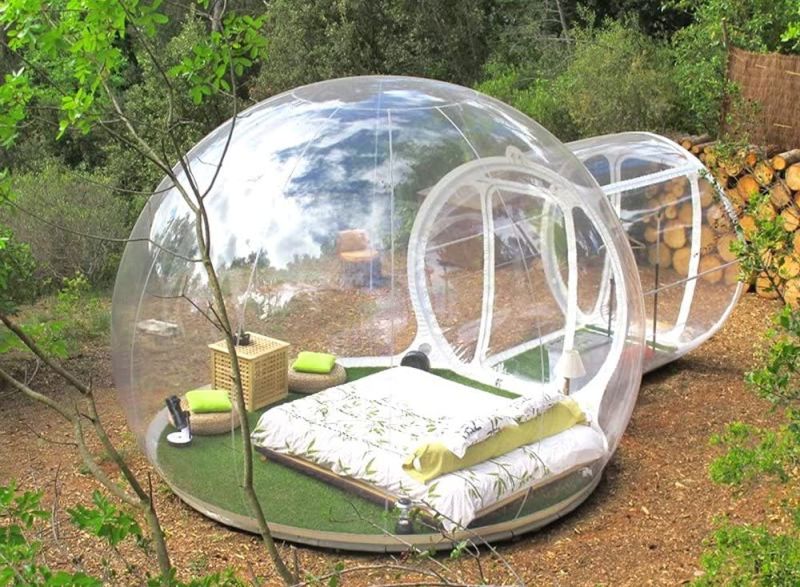 An extraordinary bubble tent from the house of HHAiNi, this one is suitable for several purposes. You can use it for traveling, camping in the woods, a night under the open sky, or a family holiday on the beach.
This item has a long list of praiseworthy pros against just one con. While you get a lot of useful and user-friendly features, the price tag is quite hefty comparing it to other options
PVC used in the construction of this see-through tent is flame resistant besides being high-quality. It's also waterproof and does a great job of keeping this simple.
The see-through tent is accompanied by a blower to maintain its shape. When using the tent, you should keep the blower on. Ventilation is also not an issue as the airflow inside is equally distributed to all corners. HHAiNi offers the tent in various sizes, so there's plenty of options and uses to consider.
Pros
Flame-resistant and waterproof material
High-quality PVC material
Offers strong shield against wind
Cons
4. Qnlly Inflatable Tent House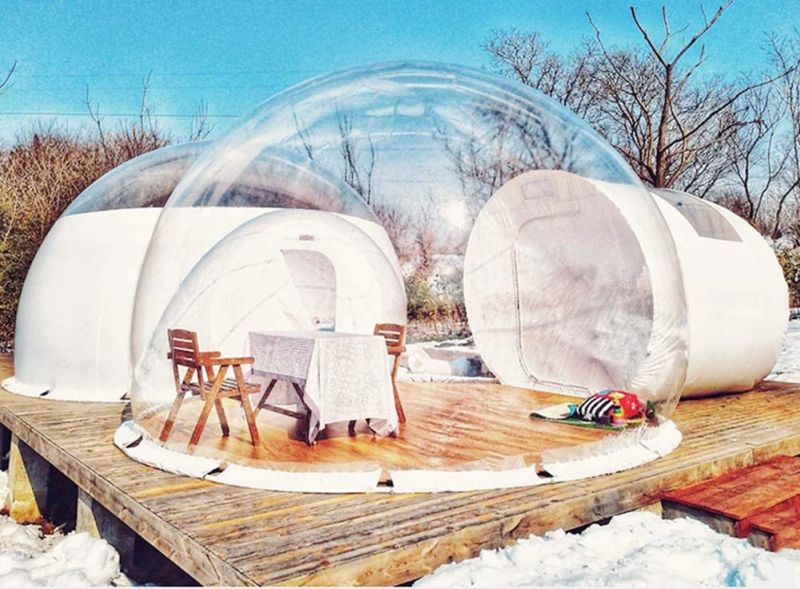 With a flawless clear bubble, Qnlly's Tent House looks like it's from movies. It is a fabulous choice for beach parties, garden parties, meetings, date nights, sleepovers, and so on. It is also good for camping in the snow as it makes for a warm space and flawless look.
The tent is waterproof and made with high-quality materials. The shape is really an igloo, and you will need a blower and inflator to keep this tent in shape.
It covers a 3*3M area, which is comfortable enough for use as a family tent. The PVC material is 0.8mm thick and offers strong support and a clear 360-degree view of the surroundings. The price tag is the only negative for this product but is worth reexamining given the positives.
Pros
High-quality PVC material
Easy to inflate (10 mins)
Easy to store and carry, Waterproof
Cons
5. JYNselling Inflatable Bubble Tent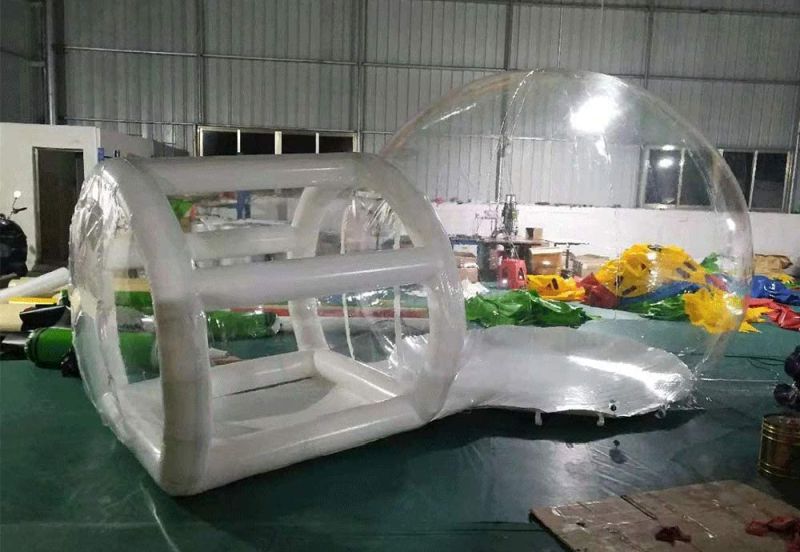 JYNselling's inflatable bubble tent is suitable for all weather conditions and has various uses other than just camping. It comes with a dome, air pump, and a blower that is super easy to set up. The blower inflates it within a few minutes but needs to be kept on. This will ensure the tent doesn't collapse.
The PVC is non-toxic, flame-resistant, sunproof, waterproof, and durable. It is 4P/ROHS/EN14960 certified and has excellent tensile strength. The tent is available in a variety of sizes – 3M, 4M, 5M, 6M, 8M.
When inflating the tent, be careful not to go overboard, as that may cause problems. The air pump can be detached after blowing the tunnel, but the blower needs to keep running.
A detailed guide of how to use and maintain the tent is included in the package. Though the material is pretty strong, you should avoid using it in rough weather.
Pros
Has multipurpose uses
Non-toxic, waterproof, sunproof, and flame resistant material
Sturdy and durable
Affordable price tag
Cons
Requires delicate handling
6. Greenhouse Garden Supply Geodesic Dome Tent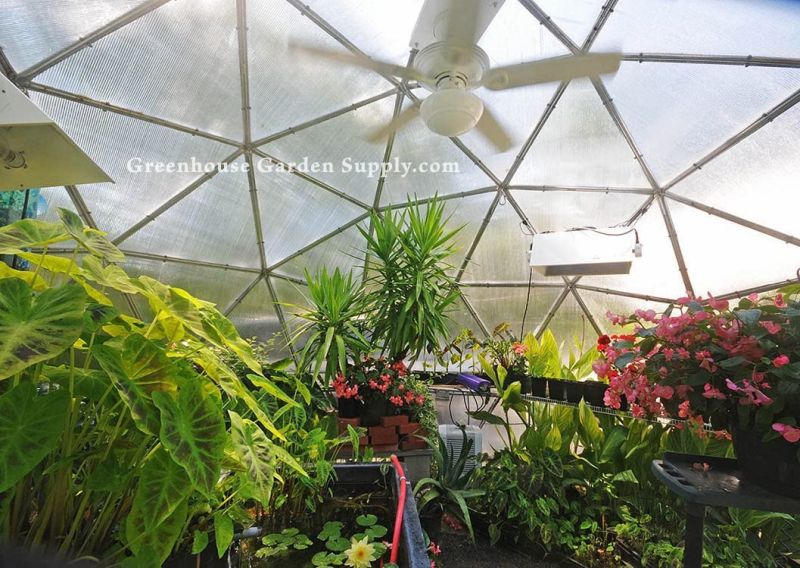 A popular and multipurpose bubble tent from Greenhouse Garden Supply that has earned some fame. You could theoretically take it camping, but it is best used as a greenhouse. Set it up, and never think of packing it up again!.
The galvanized steel frame is capable of withstanding very strong winds (even hurricanes) and heavy snowfall. Its geodesic structure gives better integrity to the tent and lets it stand against the forces of nature.
Greenhouse Geodesic Dome Tent isn't intended to be used as a regular tent. It takes forever to set up and costs roughly an arm and a leg. The time-consuming setup may take up to 2 days. But if you don't plan on wrapping up, the 2 days time frame is well worth waiting for gardening.
You can choose between two options – 12 ft and 14 ft dome kits. The seller also offers polycarbonate, poly covers, and summer netting for extra protection. An easy guide is included as to how to set up the tent – and you're going to need it!
Pros
Resistant against strong winds & snowfall
choose between two size options – 12 ft and 14 ft
Poly cover and summer netting can be obtained
Cons
Expensive price tag
Takes time to set up
See more details and buying options
7. HUKOER Clear Bubble Tent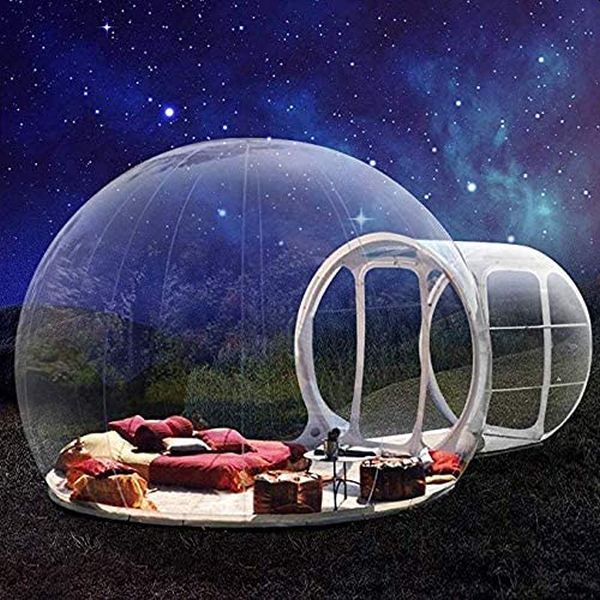 Time for a large tent for fitting your entire family for an outdoor camping vacation. HUKOER's bubble tent is renowned for its environment-friendly PVC and sleek design. The transparent, 0.08mm PVC windproof, insect-proof, and humidity resistant.
The tent is priced somewhat higher, but it is a good investment. It is foldable, easy to set up, easy to store, clean, and carry while you are traveling. With a 2m tunnel and 3m diameter, the design is also very unique and attractive. You can inflate and deflate it within minutes.
Ventilation is also not an issue as the airflow inside is equally distributed to all corners. You have to handle it gently and not keep it away from sharp objects.
Like other options, this item also comes with a blower that needs to be kept on while inside it. The tent is suitable for use in rains as it is waterproof but may not be good during snowfall or strong winds. It makes for an excellent family tent for camping, partying, or even a beach vacation.
Pros
More than 3000MM waterproof index
Insect proof
Adequate room for 4-5 people
Cons
Expensive price tag
Requires delicate handling
8. Foammaker Bubble Igloo Tent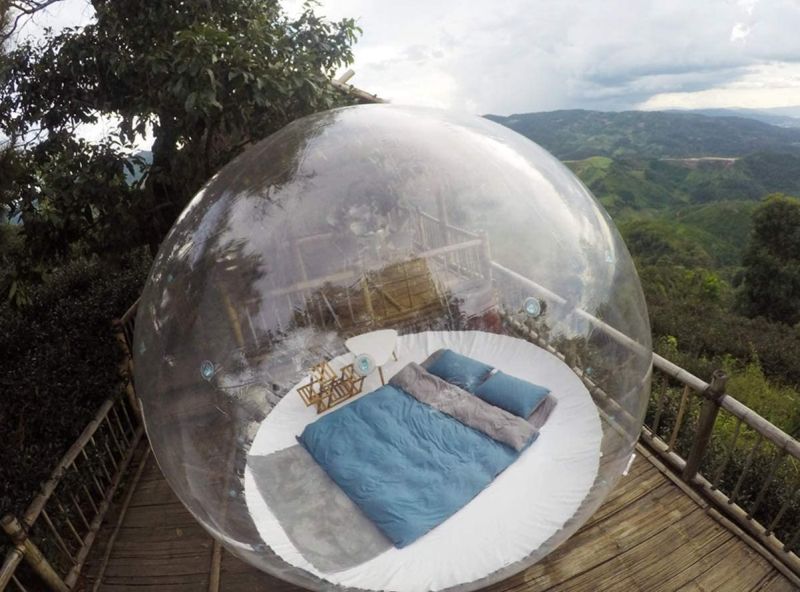 Foammaker Inflatable tent offers one of the best camping experiences. The tent lets you enjoy a 360-degree view of your surroundings wherever you travel – beach, mountains, or the riverside. It is not prohibitively expensive, nor is it of poor quality.
The blower inflates it within 10 minutes and lets you enjoy a luxurious stay like that in a hotel. This is an excellent, waterproof, 3-season tent. Make sure the tent is placed away from sharp objects and handled carefully. Before setting it up, you'll have to find an even ground free of rocks or sharp objects. The tent is available in multiple size options.
The design is sleek and suitable for individual as well as commercial use. This item does not have any significant issues to complain about except for delicate handling, which is universal for most bubble tents.
Pros
Available in several sizes
Waterproof, Insect proof, and windproof
D-rings for better support in strong winds
Affordable option
Cons
Requires delicate handling
Not suitable for very strong winds and snow
9. Sayok Inflatable Snow Globe Transparent Bubble Tent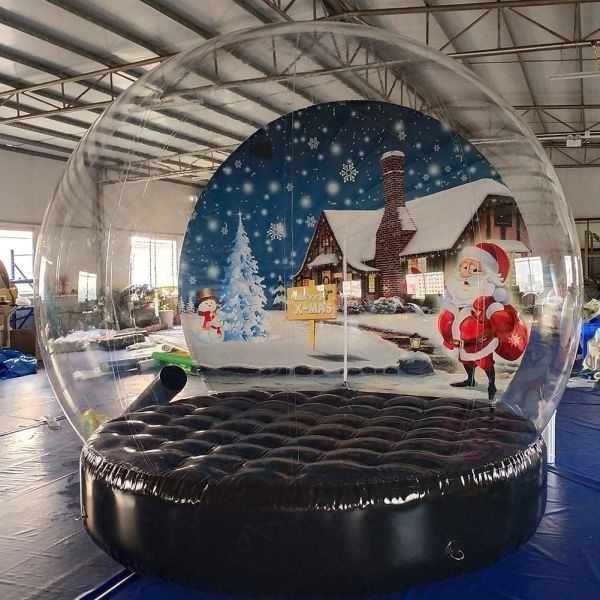 Sayok Inflatable Snow Globe Transparent Bubble Tent pretty much follows the design of a giant snow globe. That's a big reason for its popularity for use in Christmas fairs, carnivals, and shopping mall displays. However, this clear bubble tent is also suitable for personal use, such as camping and partying.
The tall inflatable floor and the bubble on top complete the snow globe look. Its screen completes the background look and adds a delightful touch.
In comparison with other popular options, this is somewhat semi-expensive. The PVC material is excellent and supported by a tarpaulin layer. It comes with an air blower, air pump, repair cloth, and printed background.
As a major negative, its background is glued and cannot be removed. Hence, you don't get a 360-degree clear view as one side is blocked. I enjoy the snow globe look, but the glued-on background is probably a step too far. The snow globe requires delicate handling and must be kept away from sharp objects.
The globe takes minimal time to inflate and the blower has to be kept on. You also get sandbags to secure it to the ground firmly. For added safety, D-rings are included in the pack which provides a strong set up when used with sandbags and ropes. The door also has a two-way zipper for easier handling.
Pros
Two-way zipper door
High quality PVC tarpaulin body
Comes with D-ring, sandbags, ropes
Package contains repair cloth, blower, air pump
Cons
Semi-expensive
Requires delicate handling
Background blocks 360-degree view
10. ZHFEISY Clear Bubble Tent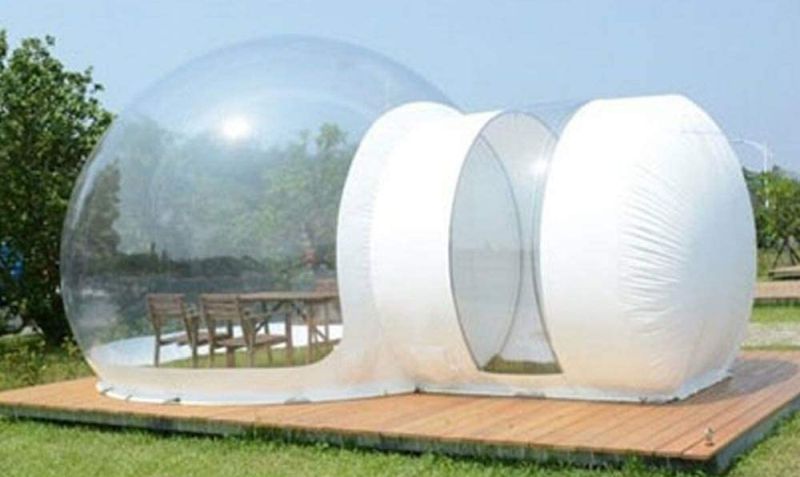 A product from ZHFEISY, the Clear Bubble Tent that offers several useful features. It is lightweight and easy to carry wherever you go.
The tent includes a noiseless blower that inflates it quickly. The blower must be kept on at all times when you are using the tent. The tent is made of high-quality TPU/PVC that is waterproof and windproof.
D-rings are also included to fix it firmly with ropes. This foldable tent can fit multiple people simultaneously and even has room to fit 1.8×2.0m beds. The 3m long tent also gives a flawlessly clear 360-degree view without any obstructions.
Pros
D-rings for better support
High-quality TPU/PVC material
Cons
Semi-expensive
Requires delicate handling
A Quick Guide To Buying A Bubble Tent
This user guide is intended to help you choose the best bubble tent as per your requirements. It is a good idea to explore all options before choosing one, but keep your eyes on the features you want.
The Tent Size That Suits Your Group
The price tag depends a lot on the size of a bubble tent. However, what's more important to check is whether the size of the bubble tent is suitable for your specific needs. Some consumers use bubble tents for fun outdoor campings, while others want one to build a greenhouse.
Bubble tents, of course, are rarely used the same way as regular tents. You wouldn't be looking for a six-person or 10-person tent with these, even though these can be huge. Instead, you look at the purpose. Is it spacious enough for all the things you want in there?
Different Bubbles Are Well Suited For Different Seasons
Even though they're very similar in construction and design, not all bubble tents are suitable for all seasons. Some bubble tents will work cheerfully as four-season tents. Others will stay with three seasons and shouldn't be used for the winter.
Plus, there's always the chance of using some of these tents as greenhouses and gazebos, so your purpose should guide your choice. Bubble tents aren't generally suitable for regular camping, and might require careful planning before use.
Ease Of Setting Up Is The Key
Most of the tents reviewed above are easily inflatable with a blower that takes 8-10 minutes. The self-inflatable ones are the most preferred because of the minimal effort required. However, you may also find bubble tents that require more time than usual to set up and are not self-inflatable.
You may need to screw the bolts together, which is time-consuming. Such products include guides and can take a long time to set up, even for experienced users.
Durability Matters In A One-time Investment
To most of us, this is the most important parameter before buying anything. Obviously, we don't want to pay a hefty price for a thing that doesn't even last a few months. When it comes to bubble tents, the price tag could be really expensive.
Most bubble tents require delicate handling but if the durability is poor, even careful handling cannot suffice. Some items come with a one-year warranty, others get trickier. All these tricks could ultimately affect you as a user especially if you are refused a refund.
A good idea is to look for bubble tent reviews about durability, check the warranty, and look into the manufacturer's reputation. You can also look for one that is accompanied by repair kits.
Find One That Fits All Purposes
Consider all the purposes for which you will be using your bubble tent. Most of the inflatable bubbles are crafted for flat grounds like gardens, beaches, and so on. If you don't want to use it as a greenhouse, then you probably won't need to invest in a multipurpose tent.
Consider Cost According To Features
Usually, a bubble tent will cost you anywhere between $600 to $2000+. But, the best way to source an affordable yet useful tent is to shop during the sales season.
Also, if you don't have any issue in paying a higher amount, do not settle with anything not worth the money. Carefully look at its specs, quality, durability, accessories, pros, and cons. Because for you it will be a one-time investment so that you can use it for a long time.
Don't just invest in one by looking at its cheap price tag as you might end up losing money.
Privacy In A Bubble Tent
The see through bubble tent is a nice touch, but how does one go about getting some privacy in here? Well, these tents make it possible to use screens for privacy. You could also place separate screens to be doubly sure. It takes a bit of effort to get the screens in place, but well, there aren't many choices in this department!
Picking A Clear Tent
These clear and strikingly shaped tents find favor due to their unique shape and their ability to be set up for unique experiences. The clear views and unique styling of bubble tents has won them a lot of interest from curious users as well as those who have experienced these tents before.
Sure, they're often not suited for conventional use like regular tents, but bubble tents have captured a good section of the market, experience, and imagination!