A trusted name and affordability are the biggest draws to this 6 person tent. The tent has a fairly good record and is well-liked. Even with a relatively low price point, the tent offers some of Coleman's best-known features.
With this Coleman 6 person instant tent review we'll see just how well the tent holds up in actual use. Does it look as good on the campsite, as it does on the sales pitch?
Coleman Cabin Tent with Instant Setup At A Glance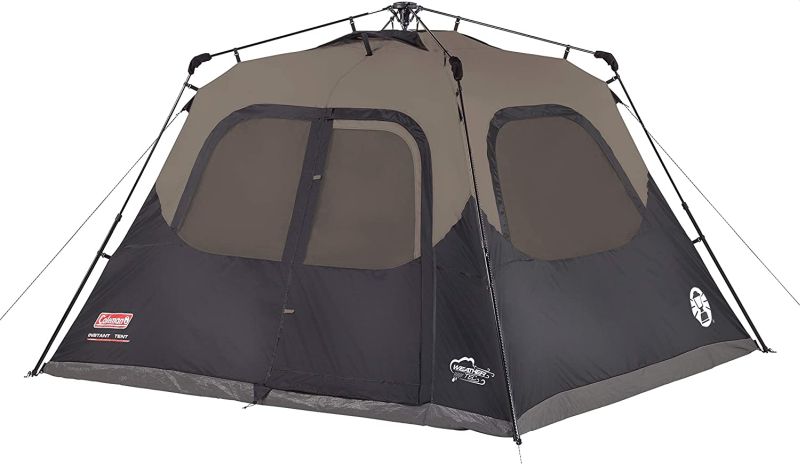 Pros
Very fast to set up
Attractive pricing
Very easy to use, setup, and pack away
Tent fabric is robust and long-lasting
Single layer tent with built-in rainfly
Cons
No vestibules for additional storage space
Doesn't hold up well against rain
Top Features Of The Coleman 6 Person Instant Cabin Tent
Setting Up And Packing Away The Tent
I think it makes perfect sense to consider setting up and packing away the tent before we talk about other features. Setting up is your first "real" interaction with a tent and it goes a long way in how the tent is perceived. You know, first impressions and all that jazz.
As pitching the tent goes, Coleman 6 Person Instant Cabin Tent performs admirably. As a 6-person tent, it isn't small, which would generally require a good amount of effort to set up. However, this Coleman tent stays true to its performance and is incredibly quick and easy to set up.
You can very well have this tent set up and ready to go in 60 seconds. Yeah, it's not instant, but as larger tents go, it very well might be.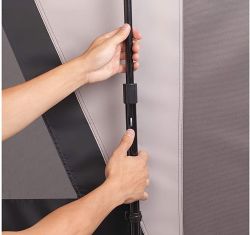 A big reason for this is the use of telescopic poles. As the poles extend, clips pop out at the right spot and keep the poles in their place. This works the other way too. When it's time to pack away the tent, simply work the clips and the telescopic poles will fold quickly.
The corner poles on this tent are 16 mm heavy-duty poles. They're quite sturdy and capable of handling the weight and stresses of the tent. Roof poles on the Coleman 6 Person instant tent are 12mm. Not as sturdy as the corner poles, but strong. Besides, roof poles don't need to have the same strength as corner poles.
When fully packed, the dimensions of this tent are 42×9 inches. It feels pretty large and heftier compared to similar tents. One possible reason for that could be the thick fabric used to make this tent.
Construction And Overall Reliability Of The Coleman Instant Tent
We've already touched one part of the construction and build of the tent – the poles. This tent does pretty well in that area. Another point of note is the 150D fabric used for this tent. Coleman says it's a "double-thick" fabric that's intended to give longevity to this tent. They aren't wrong.
The fabric definitely is way thicker and more robust than other tents in this category. And you can reasonably expect it to last for a few years.
Coleman probably chose the thicker fabric because unlike most tents in this category, the 6-person Instant tent doesn't come with a rainfly. The company claims the tent has an "integrated" rainfly. That's not much help and you'll likely have to get the Coleman Rainfly Accessory for this tent.
The floor is made from pretty strong and reliable tarpaulin. Much like the tent fabric and poles, you can expect the floor to last for a long time. It's also thick enough to be comfortable and long-lasting.
As far as construction goes, there isn't much to find fault with the tent. In fact, it's all unicorns and rainbows so far.
Weatherproofing – How Well Does This Tent Stands Against The Elements
Theoretically, Coleman 6 Person Tent should be a shining example of weatherproofing. It comes equipped with Coleman's patented (and famed) WeatherTec system that promises excellent water- and wind-proofing.
Practically, it's pretty much a dud. The tent doesn't stand well against rain. Most tents have problems with heavy rain – this one doesn't do well against moderate rain either. If it's been raining consistently, expect water inside the tent.
Adding a rainfly should make sense, but it isn't much help. The rainfly covers the roof nice and well, but the windows and doors don't get much cover. It's coverage to the sides is meager and water will find a way into the tent. The taped seams do help, but with continuous rainfall, there's a fair chance the fabric will start soaking water.
Like most Coleman tents with WeatherTec, the fabric is treated to be waterproof. However, for whatever reason, it doesn't seem to work that well at keeping the rain away. Maybe it's just due to the minimal cover. But the way things stand, this tent can't take sustained rain or even a moderate to a heavy shower.
Another point of consideration is the floor. By itself, the floor is tough and waterproof. It won't let moisture from the ground get into the tent. But, Coleman decided not to give this tent a bathtub floor. That means if there's enough water on the ground, some of it is bound to creep into your tent.
Given its cabin-tent shape, it isn't exactly built to handle the wind. But it does manage to stay stable in some wind. However, with even moderate wind, you can expect some trouble. Or, at least, discomfort.
Ventilation, Windows, And Doors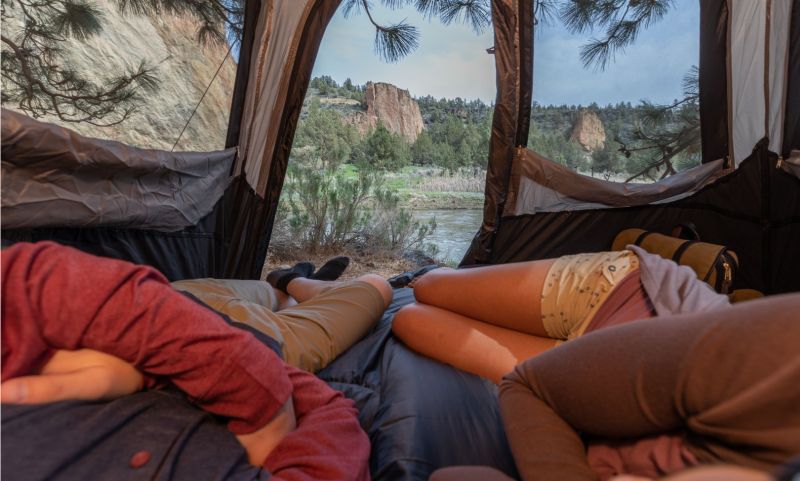 Windows and doors are a necessary part of the ventilation for any tent. This tent features a large door and three large windows on each remaining side. There's a window on the door too, so there's plenty of room for air to move around. No dearth of ventilation here.
Add to that the roof and floor vents, and you have a tent that won't give you a single hint of a problem with ventilation. But… yup, there's a but.
The ventilation goes poof the second you put on a rainfly on this tent. The roof vent is of no use with the rainfly. If it rains, you'll have to cover the gigantic windows too. There you have it, a tent with poor ventilation, plenty of room for condensation, and questionable waterproofing.
Its windows and door come with zippers and flaps, which should give you more room to maneuver. Unfortunately, these measures don't quite work as intended, much like the waterproofing. This forms a serious design flaw with this tent.
Seriously, watch the weather before you start your journey with this tent.
Interiors And Living In This Tent
Is The Coleman Six Person Instant Cabin Tent Comfortable?
This is a wonderfully spacious tent. The available floor area is 10×9 feet, which is spacious. Add to that the center height of 6 feet, and you have a comfortable living space. You could walk upright in this tent and have plenty of room to move around.
Coleman says the interiors are large enough to hold two queen size mattresses. That is technically true. Except, if you were to push two queen size mattresses in there, there won't be an inch of ground left uncovered inside the tent. That might be usable in some scenarios, but for most practical uses, we'll suggest you stop at a single mattress.
That leaves enough room for everyone to be comfortable, walk around, and enjoy themselves. A stuffy living space isn't doing anyone any favors. So yes, use the tent's large available space carefully and make the most of it. You'll have a wonderful time.
Can Six People Be Accommodated In This Tent?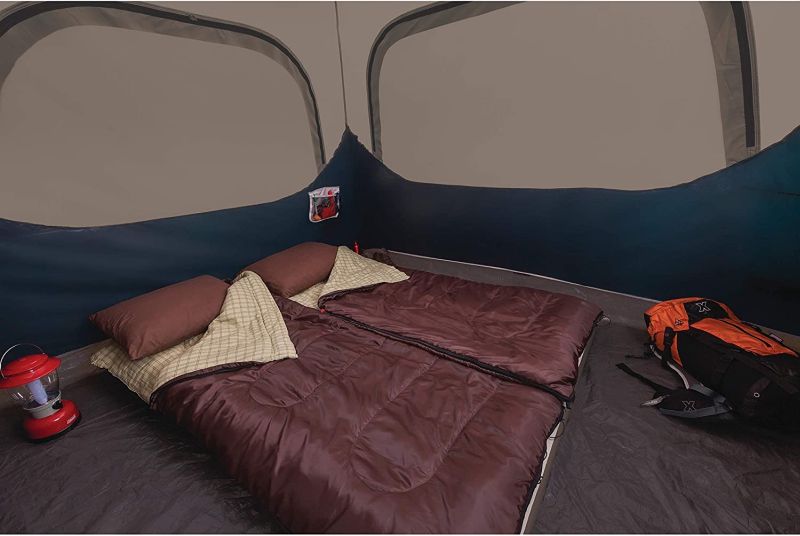 If you have any consideration for comfort, the answer is no. Though this is a six-person tent, and you can definitely put six people inside, this family tent, it's best to keep the number to 3-4 people. Two adults and kids should fit in just fine and be comfortable.
The problem is the way the industry measures tent space. If they can put in six sleeping bags straight inside a tent, it becomes a six-person tent. We would also like the option to move, thank you very much.
This isn't just a Coleman problem, it's a tent-industry problem. Keep your comfort in mind and never buy a tent that fits exactly the number of people you want. One person tents are an obvious exception!
Storage And Space For Gear In The Tent
The tent doesn't seem to have given much thought to storage space for gear or other items. There are two mesh pockets inside the tent. But they're disappointingly small and won't hold much beyond a phone and a few other similar items.
This also extends into a lack of a vestibule. The small covered space a vestibule creates can be immensely useful. From keeping your shoes to backpacks and other items, the vestibule is useful. The lack of such a storage area is a problem in this tent, though not a fatal one.
What Consumers Are Saying About This Tent?
Coleman 6 Person tent has been around for a few years now. And has received thousands of positive (and negative) reviews from customers. Like us, most people are impressed by how easy this tent is to set up – perhaps second only to pop up tents! The comfortable living space and usability are also highly appreciated features.
As you can guess, it doesn't get much love for waterproofing. But even somewhat careful planning should keep you safe from such issues.
Highlighted Features Of Note
Freestanding instant cabin tent
Easy to set up and pack away
Floor dimensions: 10×9 feet
Center height: 6 feet
Weight: 25 lbs
Roof and floor vents
Large windows
Single door
Thick, 150D polyester (double-thick fabric is thicker than what's used in most similar tents)
Has an "integrated" rainfly. You'll have to purchase the rainfly separately
Sealed seams
Should You Get This Tent? Our Recommendation
Yes, this tent is an absolute delight. This is a comfortable tent that's also easy to set up and pack away. Plus, it's got great ventilation and the large interior space gives it a nice and comfortable touch.
As we see in this Coleman 6 Person Instant Tent review, the fabric is thick and well-made. You can expect this tent to last several years.
However, do check the weather before you set off camping. If there's a chance of rain, it's better not to use this tent. Keep an eye on the weather or visit the dry(er) campgrounds, and you'll be golden.