Core 9 Person tent is an excellent large tent to take along for your vacation with the family or a large group. This is an incredibly well-made tent with great features and reliable design. Plus, it offers great value.
While we'll see a few negatives as well in this Core 9 Person Instant Cabin Tent review, the tent's usability remains undeniable. I consider being spacious, livable, and well-priced to be the core draws of this Core tent. But there's more to know, so let's get started!
Quick Look At The Core 9P Instant Cabin Tent
Pros
Spacious and pleasantly livable
Easy to set up and pack away
Divider for 2-room set up
Attractive pricing
Cons
Door zippers can be problematic
No vestibules for organization
Feature Review – What Moves The Core 9 Person Instant Cabin Tent
Pitching And Taking Down This Tent
For a large tent, like this one, you have to pay extra attention to pitching and packing away the tent. The good part is, that this tent scores exceptionally well in this department. We usually approach larger tents expecting them to take some effort in pitching up. Thankfully, Core 9 Person Tent doesn't warrant that kind of skepticism.
Core says that the tent is "instant". And by that, they mean you can set it up in less than sixty seconds. An average user working alone could take a few minutes in a conventional scenario. Sure, it's possible to do it in under 60 seconds too, but running like that only makes sense if this were an Olympic sport.
Taking the tent down is simple as well and can be done without too much effort. The cornerstone of this performance is the use of telescopic corner poles that are permanently attached to the inner tent.
When ready, extend the steel poles until a "click" sound lets you know that it's in position. Similarly, to fold the tent, you press the clip and push the telescopic poles back.
This is a freestanding tent. Even so, you should make use of the included 7-inch steel stakes and guylines. The fully packed Core 9 Person Instant Cabin Tent measures 48×11.5×11.5 inches. It is large, but that isn't much of a problem considering the size of the tent.
Construction Quality And Reliability Of This Tent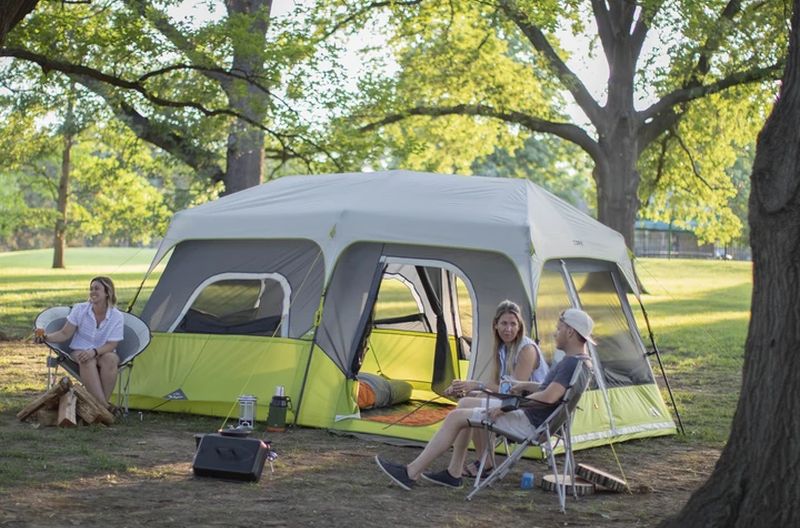 The tent fabric is made from 68D polyester, which certainly is up for the job. It feels fairly sturdy and capable of handling the tough conditions that a tent must endure. The floor is thicker (as it should be) and made from 125gsm P.E.
As the walls of the cabin tent end, it opens up into a mesh roof. This is great for ventilation, as well as for stargazing. On a warm summer day, you could skip the rainfly and instead watch the stars while sleeping in your tent. For obvious reasons, this is also good for ventilation and keeping the ten cool.
The rainfly forms the outer layer of this tent. It's pretty much the same material as the tent fabric, though the coating here is equipped to handle a higher hydrostatic head. When placed on the tent, it entirely covers the roof and slightly hangs over the sides. This allows an additional cover for the tent windows and door.
Ventilation – Windows, Doors, And Vents On This Tent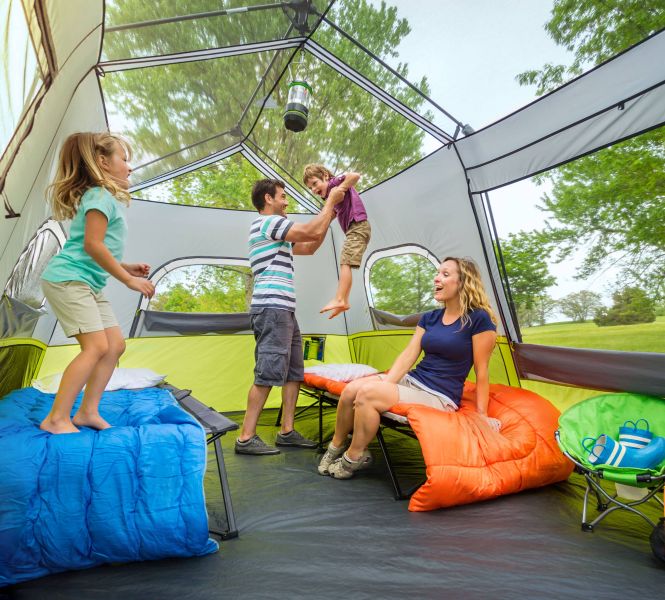 This is a huge tent, so airflow usually isn't a problem. Even so, Core 9 Person Tent is built for remarkable ventilation. The massive mesh roof at the top keeps the air flowing. Even if you add the rainfly, the ventilation remains excellent.
The large mesh windows and doors play a big role as well. Another excellent touch is the adjustable ground vent. It's easily adjusted to suit your requirements and can keep working even if it's pouring outside. That way, the air keeps flowing even if you have to close the windows and doors in the rain.
Several large mesh windows ensure that ventilation is never a problem. Even the large D-shaped door has a window. Towards the side, you'll also find a T-door, which is excellent for creating an open setting inside this tent.
Weatherproofing – How Wind And Rain Affect This Tent
Let's start with windproofing. As expected, the big cabin tent doesn't hold up to wind very well. That's really not much to worry about and is pretty much expected since this is a tall cabin tent.
Its straight walls provide too much resistance to the wind, and the tent is likely to be knocked over by strong gusts. On the plus side, it does put up a strong fight and won't go down so easily.
Waterproofing for the Core 9 Person Cabin Tent is impressive. The rainfly is covered in heat-sealed thick tape, which gives it a better shot against the rain. The inner tent fabric has a 600mm hydrostatic rating, which is good enough to prevent any water from coming into the tent.
Core calls it the H2O Block Technology. It's basically the usual drill of coating the fabric with water-resistant materials, taped seams, and a more resistant rainfly. Conventional as the setup is, it's still well-managed and works very well.
Windows and doors all have waterproof panels that can be closed during rain. However, there is a tendency for these panels to collect water. The windows are seam-sealed, so the risk of water entering the tent is minimal. But, be careful when you open the windows
The door has a similar problem. It is waterproof, but the spot where the zippers meet ends up having a small hole. Usually, covering this point should be enough. Although there's always a chance of water coming in, it isn't likely to be problematic.
The floor too is thick, well-built, and sturdy. It will keep the water and dew out of your tent, so you won't feel any discomfort.
Impressions And Review Of Core 9 Person Instant Cabin Tent Interiors And Livability
Is The Tent As Spacious As It Claims To Be?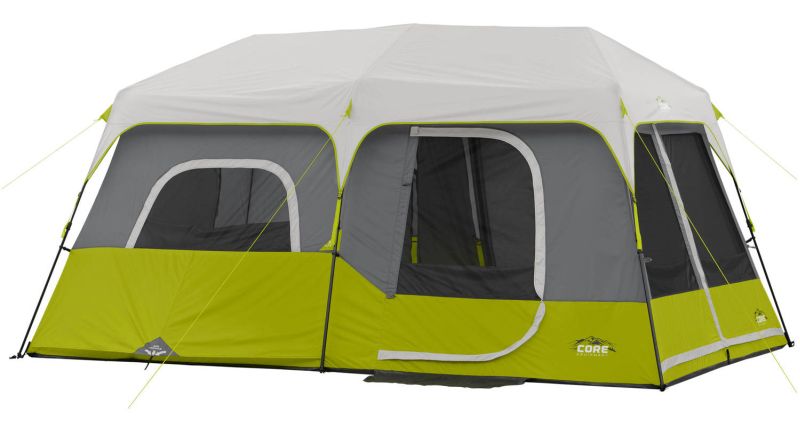 Yes, it's every bit as spacious, and probably goes beyond your assumption. When fully set up, the dimensions of the tent are 14×9 feet with a center height of 78-inches. Since this is a cabin tent with almost straight walls, the center height doesn't taper considerably to the sides.
Given the generous center height, almost all would be able to walk upright in the Core 9 Person Instant Cabin Tent – 14′ X 9′.
Comfort aside, the bright interiors are very comfortable and livable. There's plenty of space to move around and walk about, ventilation isn't a problem, and the waterproofing works just fine.
Core says there's room enough for two queen size mattresses in the tent. You can place both mattresses and have room to move about, which is a big plus. Smaller tents, like the Coleman 6 Person Instant Tent too can accommodate two queen size mattresses. However, in such cases, there isn't any room left to walk in the tent.
Another useful feature is the fabric room divider. The zippered divider is easy to place and creates two rooms in the tent. This is excellent for added privacy and can be utilized by a family or a group.
You could also open up the T-door and use the back room as the bedroom, while the outer room becomes a living room or something of a tent with a screened porch. There are several ways to benefit from this option and the Core 9 Person Tent is all the more better for all the added choices.
Can This Tent Actually Fit 9 People?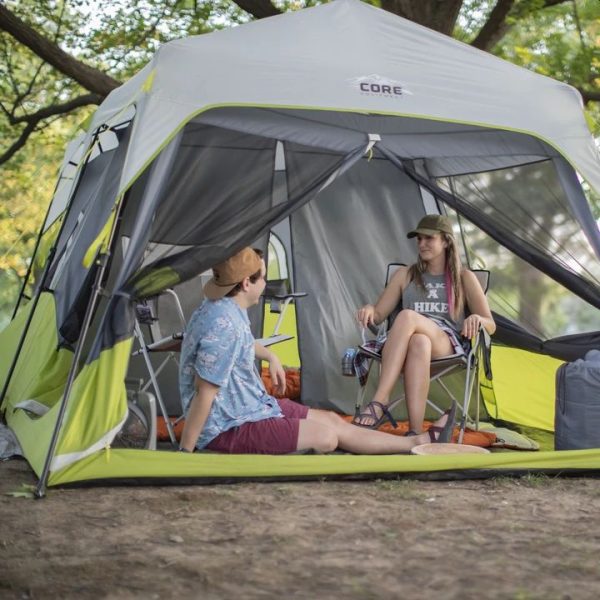 Assuming you're not using the divider, yes. Although everyone will have to be in standard-size sleeping bags and cots. As with all other tents, it's best to be generous with the available space. I'd say a maximum of 4-6 people is good enough for this tent. That way, all inhabitants of the tent can be comfortable.
Storage And Other Features Of The Core 9 Person Tent
If you put 9 people inside this tent, there isn't going to be any floor area available for placing your gear. But if you choose to be more generous with the available space, there's plenty of space to be used for the gear.
Storage pockets line the wall of the tent. These are mesh pockets and lend themselves well to the storage of various items.
Core has also included an electrical cord access port with this tent. When not in use, this port can be closed completely, so any risk of bugs finding their way in is minimized.
What Are Consumer Opinions On This Tent?
Core 9 Person Instant Cabin Tent has been around for a while now and has found favorable reviews from customers. There are well over 2,400 reviews and ratings across various websites and listings for this tent and they are overwhelmingly favorable.
The ease of setting up this tent is the most beloved and enjoyed feature of this tent. I agree with this assessment. Even small tents can be notoriously difficult to set up and pack away. For example, while pop up tents might come up instantly, packing pop up tents is a whole other beast. A large tent being easier to maneuver is a huge plus.
Customer opinions on waterproofing and construction quality remain largely favorable as well. As a three-season tent, it can comfortably handle weather conditions a camper is likely to face. That said, I wouldn't put my faith in any cabin tent, including this one, for a campground that's expected to be windy.
Using and configuring the room divider too is popular with customers.
Its zippers are the most disliked feature of this tent. Numerous users find them bothersome and at risk of randomly getting stuck. They're also somewhat difficult to maneuver and aren't as conveniently used.
Top Features Of Note
Instant cabin tent is easy to set up and pack away
Freestanding instant cabin tent
Good quality stakes and poles
Floor dimensions: 14×9 feet
Center height: 78-inches
Weight: 35.15 lbs
Packed dimensions: 48×11.5×11.5 inches
Removable fabric room divider
Good ventilation
Good waterproofing
Fabric: polyester
What's The Bottom Line On This Tent?
The large and comfortable tent is a formidable presence on the market. As we see our detailed Core 9 Person Instant Cabin Tent review, it becomes clear that the tent has plenty of good features. It helps that the negatives are largely cosmetic. They're annoying for sure, but the zippers not being up to the par isn't that big of a problem.
The tent's also very attractively priced. If this has been on your buying list, now might be a good time to take the plunge.