As a beginner, it can take some time to get immersed in and enjoy the wonderful world of hiking. Some preparation is necessary to ensure you get the best experience and enjoy hiking the way it should be. Experience is a great teacher for hikers.
Beginners will get there in time, but it helps to jumpstart things by learning some tips and ideas that experienced hikers often share. Here are some hiking tips for beginners that can help in planning a better outdoor adventure.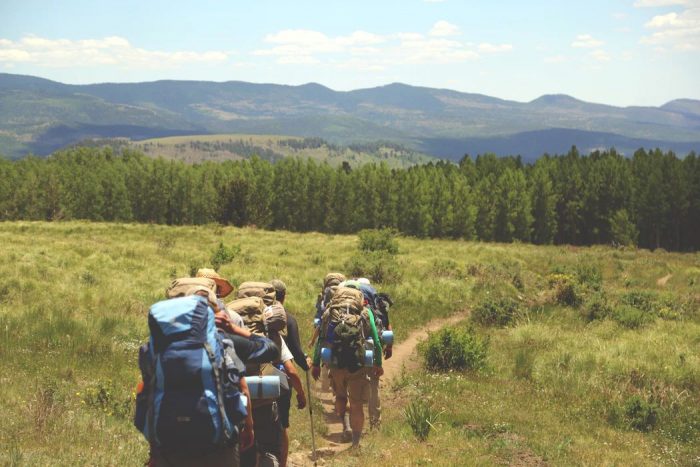 1. Join Your Friends Or Find A Hiking Group
If you have friends that hike regularly, ask them to take you along. Being together with more experienced hikers can make your trip easier. They can help you plan, hike, lend some gear, and offer support for your first hike.
If you don't have friends who hike, look for local groups or clubs that focus on outdoor adventures and hiking. Most cities have some form of hiking groups that can help you start. You can look for groups on websites like meetup, or visit your local outdoor goods store and see if they have some information.
The implied safety of being in a group and the possibility of learning from more experienced members can be a great advantage.
In case being a solo hiker is what you want, or if it is your only option, it is better to put greater focus on reasonable caution. Start with very small trips, get to know your gear intimately, and choose trails that are popular and well-traveled.
2. Start Small And Pick A Trail Suited For Your Experience
Don't start on conquering the Appalachian Trail just yet! Make an honest assessment of your fitness and experience when picking a trail. Going beyond your comfort zone and pushing yourself is nice, but so is being reasonable.
Start with small, simple trails that give you a taste of what to expect. They can also work as experiments in understanding what to expect when hiking on tougher and longer trails.
It's as well to start with a trail that is close to your home or is in a park near you. It can be easy to access, you understand the local climate and weather, and it can be a great learning experience.
A simple day trip or even a few hours will be time well spent. You can also consider this a chance to try out your gear so build a greater familiarity with using it.
Additionally, making walking a habit is an important part of successful hiking. Walking on trails and in the outdoors builds endurance and you better understand how to negotiate trails.
3. Get The Right Footwear
Choosing footwear depends on the trail or hike you've chosen. If the route is mostly boardwalk or a well-maintained trail without many obstacles, lightweight trail running shoes work great.
However, if you expect a rugged trail with obstacles like stones, roots, or uneven terrain, quality hiking boots should be your pick. You can dive-in to buy expensive ones, or consider budget-friendly hiking boots for your trip. 
Shoes are the first thing that comes to mind when people think of footwear, but it would be folly to ignore socks. Do not wear ankle-length socks. You want longer socks that reach around the mid-calf.
For cool and strenuous trails, skip cotton socks and put faith in blends or synthetic materials. A wool blend will work fabulously. Some people pick performance socks that have support like heel cups and arch contours. It's worthwhile to carry some blister bandages and dressings as well.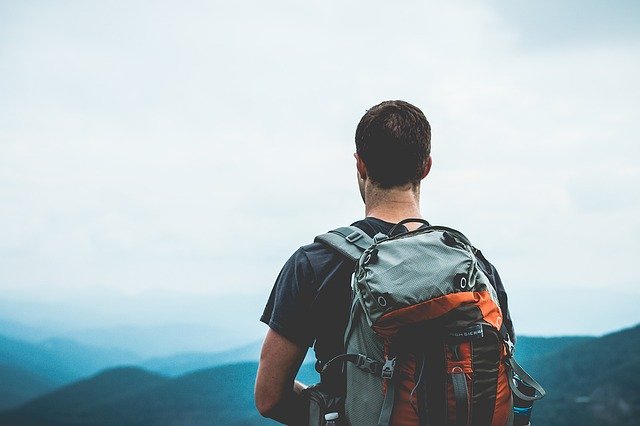 4. The 10 Essentials To Carry
Some gear is considered a part of the essentials that a hiker should carry. You might not necessarily need these on your hiking trip. However, it's better to carry them along, rather than not have them when they're needed. Items included here are:
Navigation: Something to tell you the way! A topographic map, GPS that can work offline, personal locator beacon, or a satellite communication device.
Sun Protection: Cap, sunscreen, sunglasses, or anything else you need for protection against the sun.
First Aid Kit: Bandages, foot care, necessary medicine, insect repellants.
Extra Clothes: Something to change into if necessary.
Fire: Something to start a fire. Waterproof matches, lighter, and similar items.
Light: A flashlight or headlamp with extra batteries.
Extra Food: Some food beyond the minimum you're carrying.
Extra Water: Some water beyond the minimum necessary.
Shelter: Items to protect you from rain and provide shelter. Even a bivy will do.
Knife: A small knife and possibly gear repair kit as well.
5. Know The Trail And Weather Before You Start
Getting information on the trail you're about to take is the first step. Parks may sometimes have to close trails for maintenance or weather. Or, you may possibly need a license for the trail.
In any case, you don't want to reach at the trail-head and learn you can't move forward. Most parks have websites with updated information that you can access. 
You'll also want some information on the trail to familiarize yourself a bit. The hike doesn't have to be a surprise on the nature of the trail. Know what to expect and how to deal with emergencies.
Checking the weather forecast is also useful. Getting stuck on a trail in inclement weather is nobody's idea of a good time. Bad weather on the trail is not the beginner hiker's best friend.
6. Let Someone Know Your Itinerary
Someone who's not on the hike with you should know your itinerary. Ideally, this person should know where you are, and where you should be at an expected time.
Stay in touch with this person as frequently as possible, but keep in mind that much of your hike may not have phone connectivity. Should you be unable to contact this person at specific checkpoints, they should be prepared to call for help.
Also, leave some room for flexibility in your plan. You might be delayed simply because you stopped somewhere to enjoy the scenery or otherwise decided to spend some more time, or you miscalculated your speed and got delayed.
7. Clothing And Layering
Dress right for your hike. Know what the expected temperature range will be, and prepare well. Many hiking locations can get cool or cold, even during the summer. If you're on a location like that, remember to cloth right and layer up.
Carefully layered clothing works better for keeping you warm, as compared to carrying heavy and thick clothes.
8. Hydrating And Snacking
Staying hydrated during your hike is necessary. Carry along a water bottle placed within easy reach. You'll want to sip water at regular intervals. Do not wait until you get thirsty, and then drinking a lot of water. Maintain a steady water intake so you drink water before you feel really thirsty.
The amount of water you should drink depends on the trail, weather, temperature, your body, and other factors. Generally speaking, about two liters every four hours might be a good point, but drink what feels right.
Similar rules apply to snacking as well. You should eat something as you walk, beyond your meals. Energy bars, jerky, chocolate, and similar items are all good options.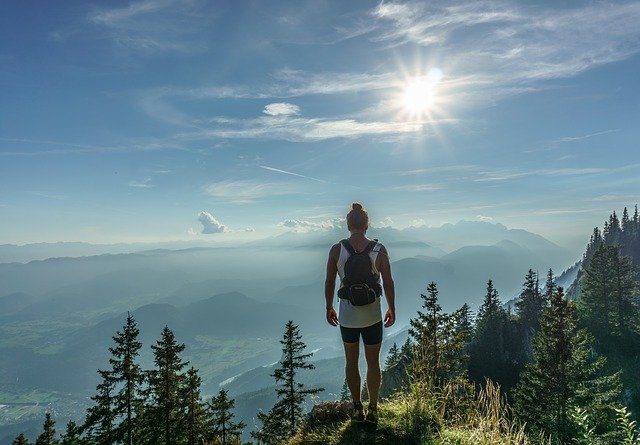 9. Maintain Pace And A Good Posture
Walk at a steady and good pace. Do not rush, but pick a comfortable pace that you can keep for a long time. Rushing and spending all your energy on a small portion of the route will tire you out.
A steady pace that can get you where you want in time is the most desirable, and it should leave room to enjoy the sights and for stops along the way.
Your pace is connected to posture. Walk straight and avoid stooping or hunching. Often, due to feeling tired or due to the weight of the backpack, newbie hikers tend to stoop. This position constricts the lungs and reduces air intake.
Hikers end up considering this an effect of the increased altitude. The rarified air's effect on breathing will not be so greatly apparent until you're about 2000 meters above sea level. And in that scenario, it becomes all the more important to maintain a good posture!
10. Watch And Learn
Imitation and learning from others are some great options available to humans. Watch other hikers, see how they do things, and perhaps you could employ similar things to improve your technique as well.
Things like packing, hanging bear canisters, or even pitching a tent – watching more experienced hikers can give you good ideas.
11. Answering The Call Of Nature
Well, you will need to answer the "call of nature". If you have to pee while on the trail, move away from the trail for a small distance. In case there are any water sources nearby, stay at least 200 feet away from them. If you need to use a toilet paper, put it in a specific bag after use. You can dispose of it later.
In case you have to poop, again pick a spot away from the trail and water. Dig a hole about 6-8 inches deep, and do your business there. If you use toilet paper, you can put it in the same hole and bury it all together.
Some areas require hikers to pack out human waste. For such locations, carry along waste disposal bags. A hand sanitizer might be the only way available to "wash" your hands.
12. Maintain Trail Etiquette
Good trail etiquette makes hiking a better experience for everyone. The rules are simple and not far away from what can be expected from any civilized person. Here's how right of way works on the trail:
The hiker going uphill has the right of way.
Ideally, bikers on the trail should yield to those on foot. However, bikes are often moving fast, and it might be simpler to have the bike go on.
If you share the trail with equestrians, horses have the right of way. Just move out of the way and let the horse pass!
Some people listen to music while hiking. If you're one of them, bring headphones along. Really, no one wants to hear you blaring your playlist. It's terrible in an urban setting, but especially jarring on trails.
Many areas and trails allow dogs. While regulations vary, it is generally expected that dogs be on a leash on the trail. In fact, it is mandatory for most of the trails. It doesn't matter how friendly, sociable and obedient your dog is.
Keep it on a leash. Some people are genuinely scared of dogs and could be upset. There's also the risk of dogs ending up in a fight, which can turn pretty ugly and get out of hand pretty quickly if the dogs are not on a leash.
Finally, wherever possible, follow the principle of "leave no trace". This is a hiking tip that beginners, as well as pros, should hold close to their hearts. We must preserve the trail and its beauty, and strive to leave the area as pristine as we found it.